How to Start a Backyard Garden
There is nothing quite as wonderful as growing the food you and your family need in your own backyard. And it's true there may be no better time to learn how to start a backyard garden.
It's like shopping right outside your door, and that alone may be a reason why so many people are trying it. And a big reason why we love to talk about gardening on Simple Living Country Gal.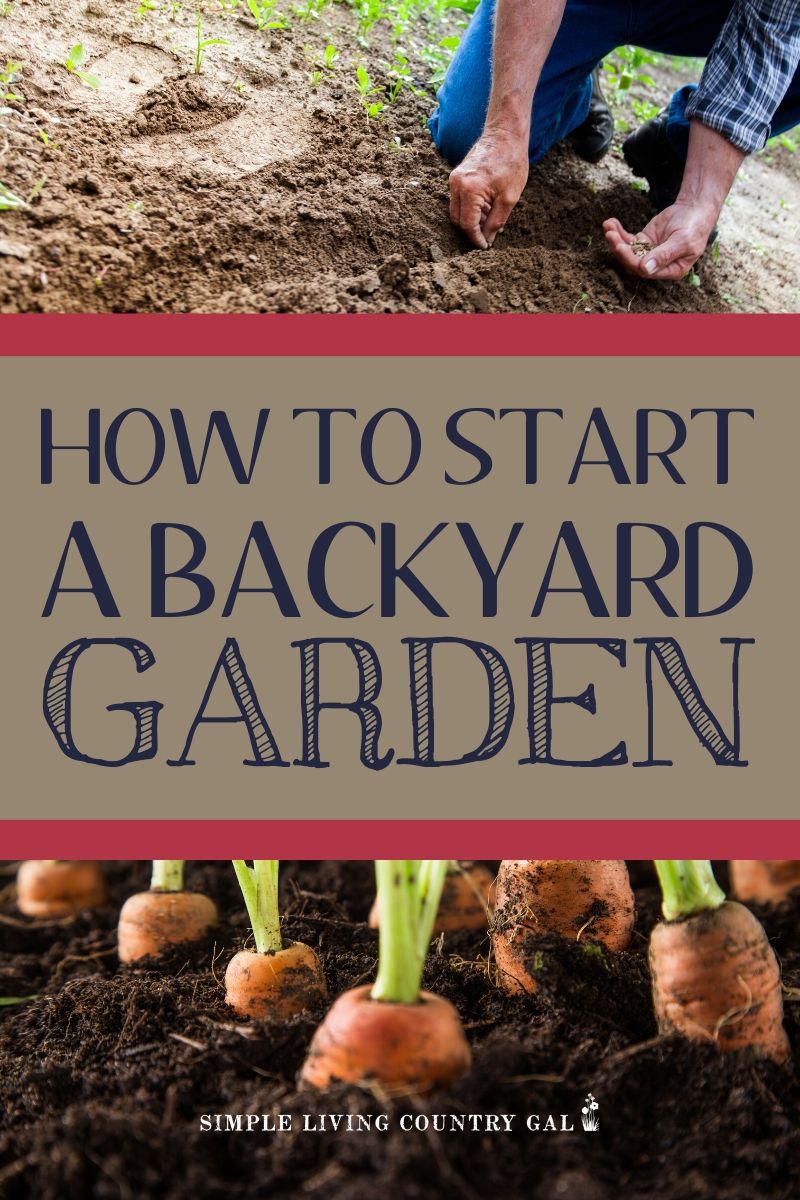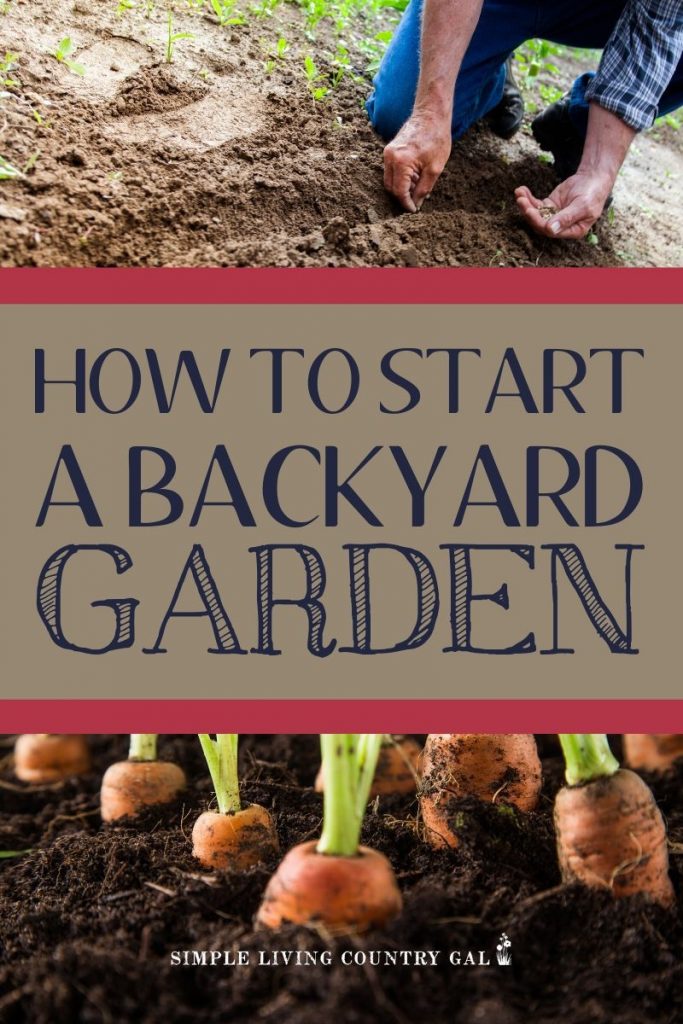 Not to mention knowing just exactly where your food came from. Like knowing for sure if that tomato you are about to put into your wonderful salsa recipe is truly organic. This may be the next most important reason why so many people are starting to grow gardens right in their backyards. Having so much control over your food, from seed to table, is quickly becoming a part of many homes.
However, finding the knowledge you need to truly grow a natural and organic garden can be incredibly overwhelming. There are so many books and articles out there, and it takes time to find them all. Add to that knowing if the books you are reading are up to date and current to your situation takes even more time. And extra time may not be something you have a lot of right now.
With gardening, there are timelines and deadlines. Things that need to be done each month in order for the end result to be it's very best. Planting needs to happen in the spring, and thinning needs to be done by June, for example, so finding the information you need for all the steps is a huge help and a huge time saver.
Be sure to bookmark this page so you can refer back to it again and again. This will help you to, in a sense, set up a gardening library just like that. Allowing you to have all the information you need at your fingertips right when you need it.
How to Start a Backyard Garden
First, you will need to know the Tools that are Best for Gardening. This will help you to buy only those things you are going to use. Gardening can be expensive, but it doesn't have to be! Read over this list, then reach out to family and friends. Most may have a few extra tools lying around waiting to be used again.
BEGINNER garden resources:
If this is your first garden, then these 10 Tips for Beginner gardeners will help you start on the very best foot.
Before you begin planting those seeds, you will want to make sure your soil is at its very best. Soil really does matter, and more so than you may realize. Do a little testing and make a few adjustments and you are off to having a wonderful garden this season. How to Prep Your Soil Before You Garden and How to Prepare a Raised Garden Bed.
Improving Garden Soil
Over the years, I have found that improving our soil all comes down to compost, and having a supply of fresh compost in our backyard is crucial, and surprisingly easy. Backyard Gardening Compost really does make a big difference to how well your garden does.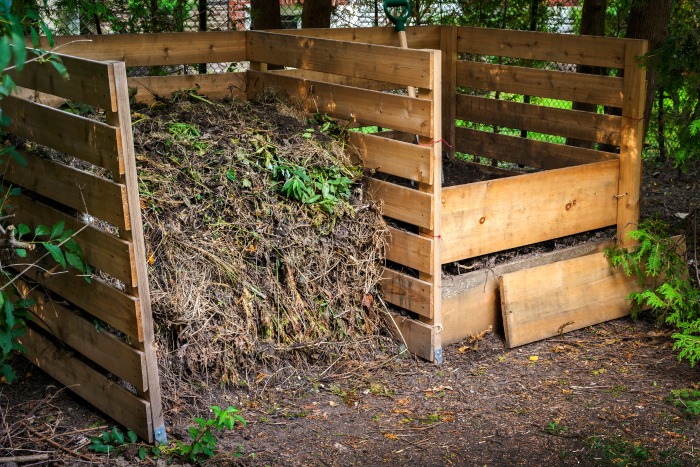 If you are new to gardening, it can be hard to know what to grow first. With so many wonderful vegetables out there it can be so easy to want to plant all the things. This list of First-Time Gardener Vegetables will help you to narrow things down just a bit.
Jump Start the growing season
Now that you have the ground adjusted and your list of vegetables to grow, your next step is to start a few of the slower-growing plants indoors to give you a lovely head start. Most folks skip over this part, but for me, I want to be sure all of my vegetables are grown organically from day one.
The best way to do this is to Start Gardening Plants Indoors a few months before they need to be planted. Pssst, there's a video in that post that will show you how to make a super cheap indoor growing house for your seeds!
Just a word of warning here. Before you take those lovely seedlings you spent the last few weeks growing from seeds, you need to take one very crucial and often overlooked step. Hardening Your Seedlings Up. This step helps your seedlings to adapt to the outside temps more easily and strengthens them so they can flourish in your new garden.
Where to Plant Each Vegetable in Your Garden
Did you know it matters what you plant where? It really does! Plant things the right way, and you will deter pests, diseases, and even weeds! It's called Companion Vegetable Planting, and it is the secret to a successful garden. Get your FREE guide to help you remember who will grow better next to whom.
Control Weeds in Your Garden
Most gardens get a bad rap because of one word: weeds. For some reason, people are afraid to try their hand at gardening because of all the weeding they think they will need to do. Well, I have a shortcut for that. The Benefits of Mulching Your Garden might just be the best tip out there. Do a little prep work when you plant and cut your weeding time in half! You can also set up a garden shed with the Best Gardening Tools for Weeding so you have what you need to get the weeds gone fast.
If you are new to gardening or an older gardener like I am, then finding an easier way to work the soil can be helpful. How to Rototill Your Garden so it's easy on your time and your back.
How to Water a Garden
Next on our list, and one of the most important parts of gardening is the water. Watering your vegetables the right way really does matter. Too much or too little can quickly kill your plants and seeds. Read How to Water Your Garden for the best time to water each plant and how much they need.
Grow a healthier garden
There is nothing as disheartening as seeing pests eat your plants. This is, however, one of the reasons so many folks start to garden in the first place. To be the one in charge of what chemicals, if any, are to be used on their vegetable plants. Here are a few organic tips on How to Stop Pests Without Using Chemicals.
Where we live, cucumber beetles may just be the biggest annoyance out there. Early in I learned a few tips on How to Stop Cucumber Beetles in my Garden. Sometimes these tips work, and sometimes they are too late to help.
Start each growing season with the healthiest soil you can. Follow this guide on cleaning up the garden to ensure you are removing any debris before winter hits.
How to Vegetable Garden in Containers
Not everyone wants a traditional backyard garden. The good news is you can grow just about any vegetable inside of a container like grow bags, flower pots, buckets, or even straw bales.
Straw Bale Gardening
This has quickly become my preferred way of gardening. Not only is it easy to grow just about anything, watering is no longer a worry because root rot is pretty much nonexistent!
This is why it is so important to be in your garden a little bit every single day. The earlier you can catch a problem, the quicker you will be able to correct it.
Learning How to Start a Backyard Garden can be a bit overwhelming. Now that you have your go-to list of resources, you can get started with confidence.
Get all the help you need for growing just about any fruit or vegetable in your backyard garden. Gardening 101 has growing tips that you can use from planting to harvest and more.
You might also like: