How To Water Your Garden To Get The Best Results
How To Water Your Garden
To Get The Best Results. Tips you can use to water your garden more effectively. Another great tool to have in your library to use to
start a backyard garden
that will fill your pantry and freezer.
You worked so hard getting things ready for your garden.
You prepped your soil, did the tests and adjusted things to get a good solid foundation. You bought good strong seeds and started them in organic soil.
You then took those young fragile plants and planted them in perfect rows spaced exactly as suggested.
You finished it all up with a good organic mulch to ensure your plants have moist ground for their roots to take hold and grow strong.
So, you're good now, right?
Unfortunately, no. Not quite.
I cannot tell you how many times I would take care to do everything right only to ruin it all with my watering. Little did I know there is a right way and wrong way to water the plants in your vegetable garden and unfortunately for me back in the beginning, I was doing it all wrong.
I was watering my plants the wrong way and at the wrong time of day.
Once I learned HOW to water and WHEN to water my garden took off strong and healthy. I now get double the produce from each of my plants. Not to mention the quality of my vegetables is by far the best I have ever had. Now, that I am watering correctly, diseases are infrequent and pests are easier to control
Yes, it's all in the watering my friends.
A simple yet crucial task that can be a game-changer if done correctly. On the flip side, it can also encourage disease and pests if done incorrectly.
How to Water your Garden Step by Step
Step 1. Know your soil.
Not all soil is the same and knowing what you have will help determine how often you will need to water. It is always best to test your soil so you can adjust and prepare for an optimum growing foundation. If, for example, you have clay soil, more water will be held in the ground and longer. Sandy soil will hold less water meaning it will dry out faster.
By knowing just what soil type you are starting with, you will learn to treat your soil and better prepare your ground to hold water long enough to give your plants the moisture they need without allowing your plant's roots to sit in overly wet ground.
You can improve your soil by adding compost or other organic materials that will create a balanced PH giving your plants the very best growing conditions.
READ: HOW TO COMPOST IN YOUR OWN BACKYARD
Step #2. Watch the weather.
I know, probably a no brainer, yet if you water blindly you will not get the results you want. Watch your weather and adjust things accordingly. If you have hot dry weather, you will need to water more frequently and for a longer amount of time. This is called a soaking.
If you see cooler temperatures, then you may want to cut back on your watering just a bit. If rain is in the forecast, you will still need to check things before adjusting how much and how often you water.
To test the soil you can poke your finger into the ground at the base of your plant. You are looking for damp and cool rather than dry and hot.
Step #3. Know your plants.
Not all plants need to be watered as frequently as others. Larger plants require more water as do young seedlings. Vegetable plants have shallow root systems so they too need to be watered more often than say trees or shrubs.
I like to keep track of what I have planted throughout my garden so I can more easily set a schedule for watering. This not only helps me to remember what needs to be done when, but it also is quite useful for anyone that may be filling for me.
The easiest way to do this is to use a calendar and write in what is to be watered, the time of day, and how much in minutes. Having this all down on paper it allows me to really stay on top of things. Sure, maybe a bit of overkill but for me, it is worth it. A lot of time and money goes into our vegetable garden and we rely on it to fill our pantry and freezer for the winter season. For this reason, it is important I get the best results possible.
Step #4. How to water.
The best way to water your plants is at the roots and close to the ground. The roots are actually what need the water most so focus your attention there. Since most garden diseases originate in the soil, it is important to keep that soil off of the plants and leaves. When watering try to avoid splashing dirt onto leaves, this one tip will go a long way to helping your plants grow disease-free.
Water slowly and keep the ground down off of your plants for a healthier garden.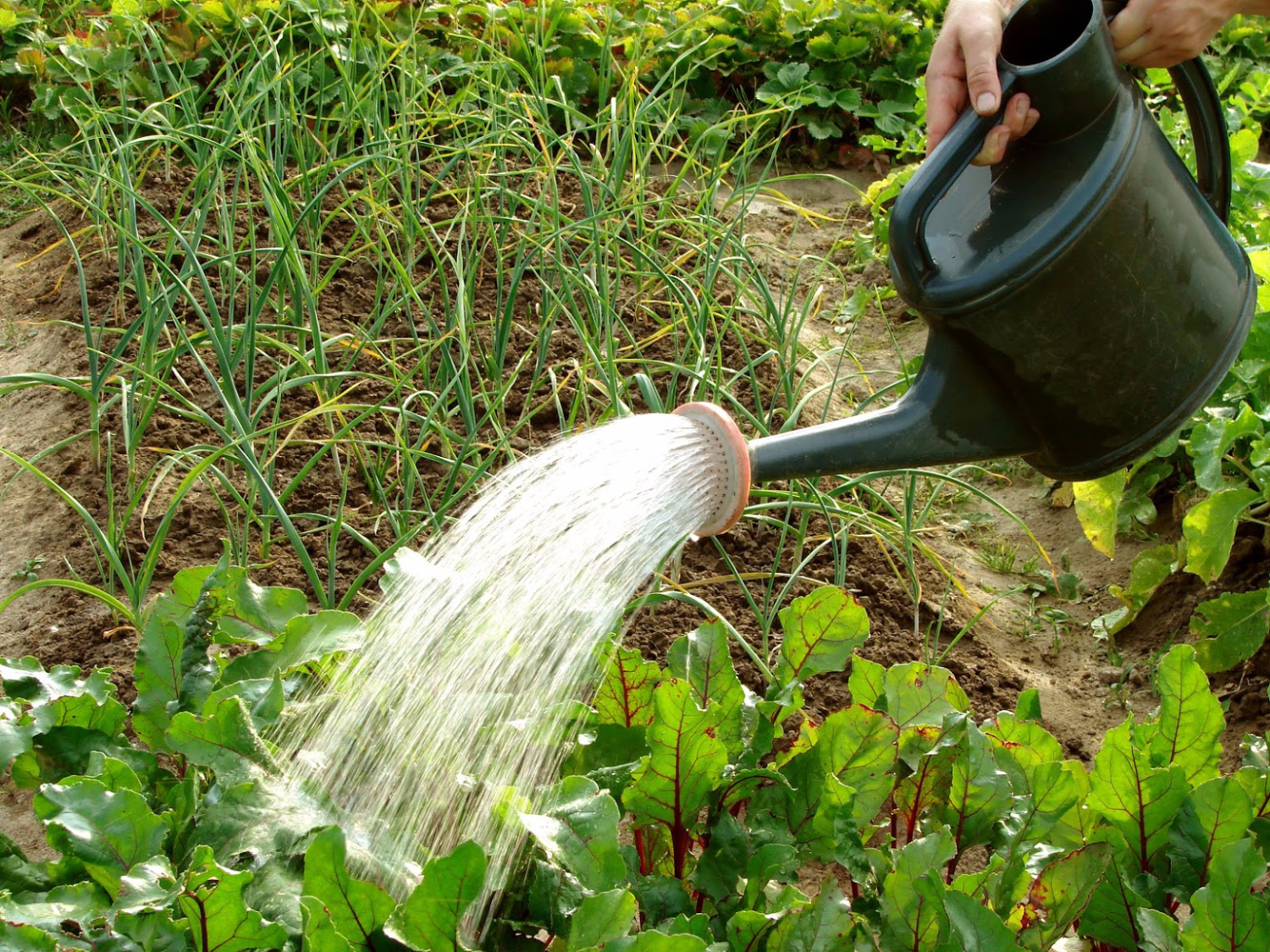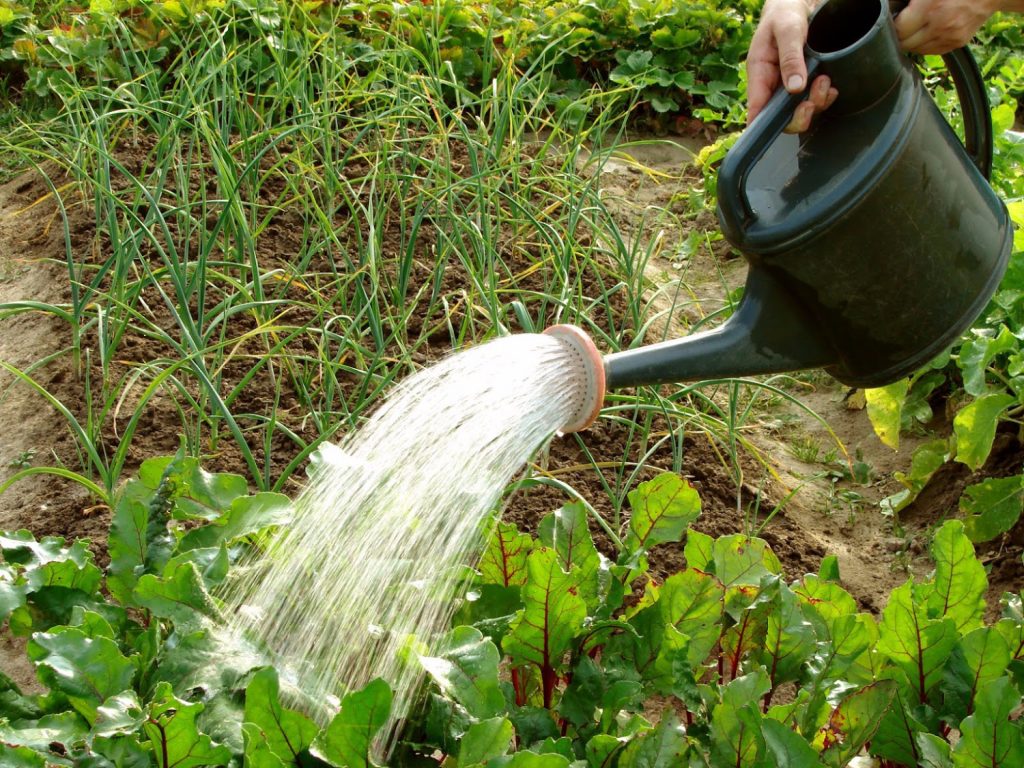 Step #5. Mulch your plants.
Mulching is an easy way to keep moisture on your root systems longer. Not sure how? Read my post on How To Mulch Your Garden for tips. This will help you to understand why you want to mulch and what materials are the best to use in your vegetable garden. Mulch acts as an insulator keeping the dirt moist for longer periods of time throughout the day. Mulching will also ensure the soil stays off of the plant when watering.
I cannot stress enough the importance of keeping the soil off of the plant and it's leaves. Rule of thumb: keep water at the base of the plant, do not water from the top down. If you must water from the top down, then have a layer of mulch around your plants to keep the ground put.
To mulch, you can use any organic materials that are healthy for the ground around the base of your plants. Grass from your lawn, shredded leaves, even straw all work great to keep your plant from drying out.
SLCG PRO TIP: Do NOT use mulch from other people unless you are sure of their garden and lawn care practices. One year I was given several bags of leaves to use as mulch in my garden. A good idea I thought at the time, however those leaves also came with a few pests that I did not have in my area. The following summer my garden was full of hatching larvae that turned into a full infestation. To be safe, only use purchased reliable mulch or mulch from your own property.
Step #6. When to water.
Mornings are the best time to water since temperatures are cooler reducing evaporation. Watering in the mornings is also a great way to keep your leaves from getting mildew. This can happen if you water at night and from the top down. You want your leaves to remain dry to encourage a healthier plant.
If you must water in the afternoon make sure you focus the water at the base. This will keep the water from quickly evaporating in the hot midday sun.
Watering at night is never really recommend especially if you suffer from slugs as we do. The water attracts the slugs and they can do crazy damage to your plants in a short amount of time.
Another weapon against slug invasion is a Chicken defense, but know what you are doing before attempting this sophisticated technique. Chickens can quickly and efficiently destroy a garden in no time flat. Read how I use my chickens in the garden to learn the best way how. The good news is there is a way to do it without risking your garden.
Step #7. How much to water.
If you give a good water, say about 2 inches deep worth, you should only need to water once or twice a week in optimal conditions. This is called giving your garden a "soak". Watering lightly and daily will only promote weak root systems and result in a poor harvest.
Please remember young plants and seedlings will need more frequent watering. When in doubt check the soil with your finger to see just how wet it is. You are looking for damp, not dry, or over sopping wet.
Step #8. What to use for watering.
The best tool for the job is a soaker nozzle that will allow for drip irrigation. Drip irrigation is a great way to give a good steady water to your garden that will be entirely focused at the base of the plant.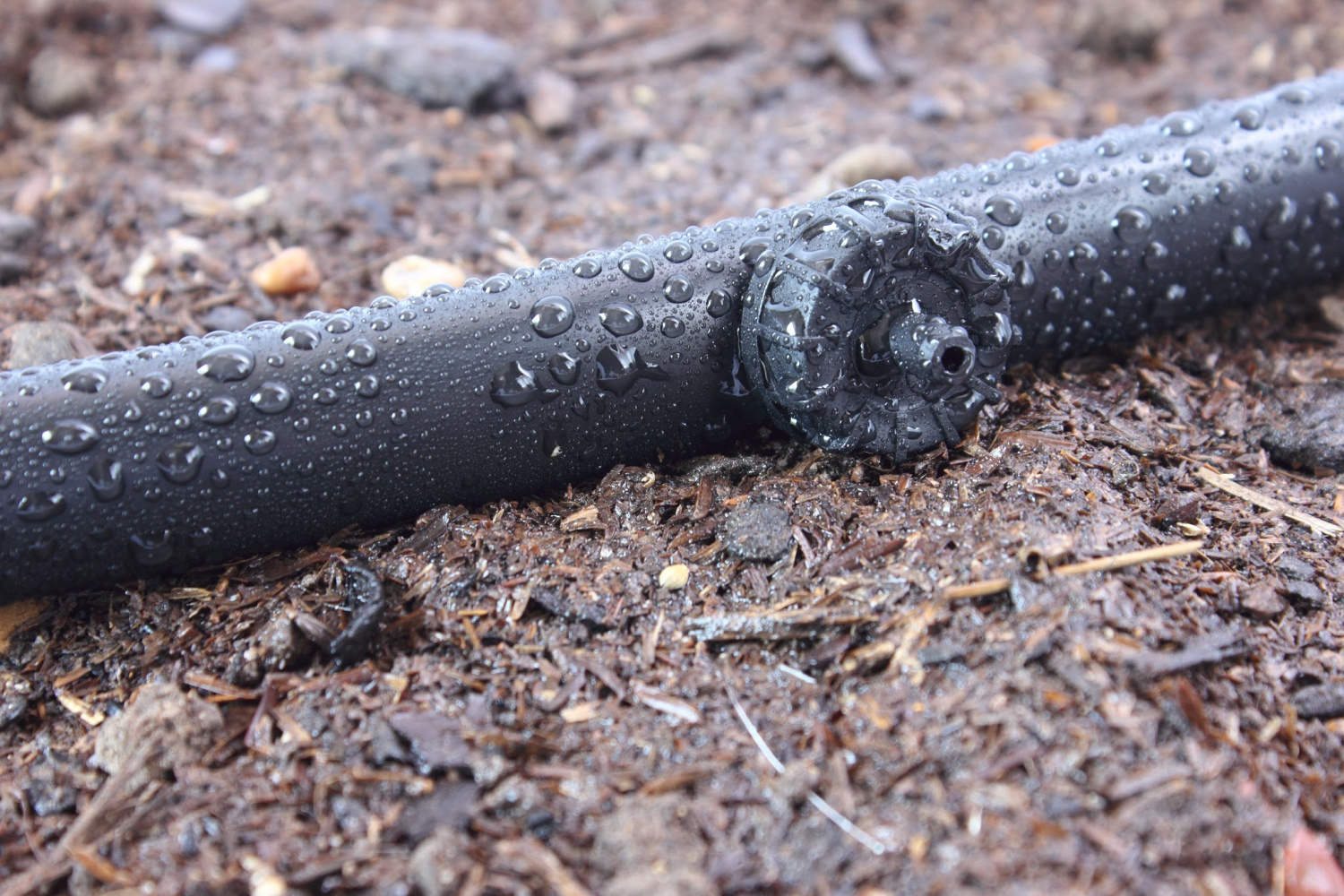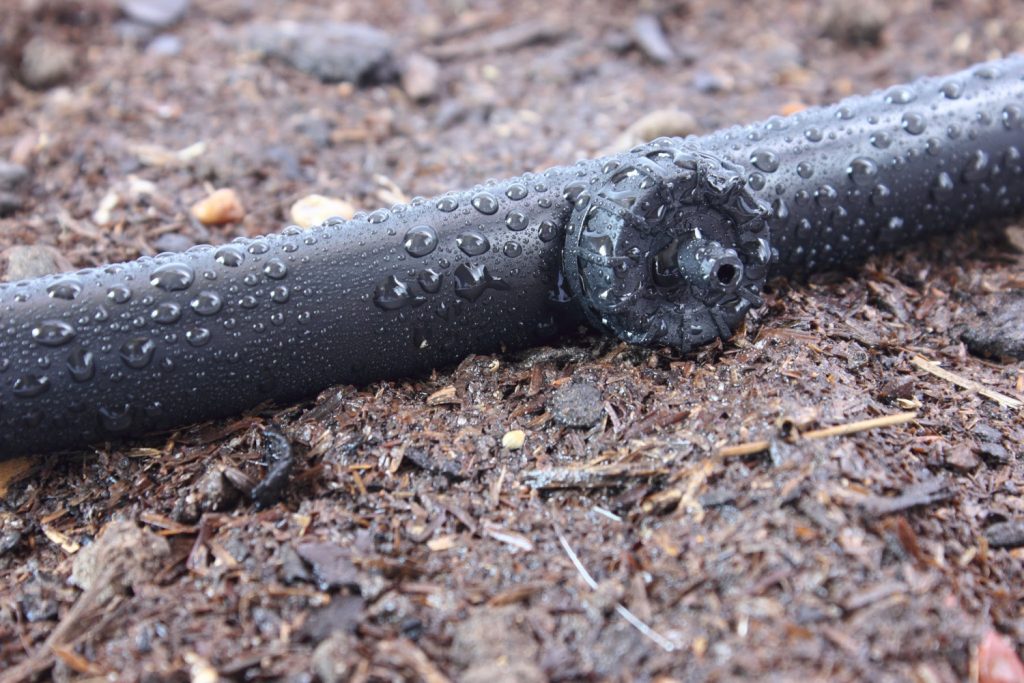 Since we have a well and a large garden we are unable to use drip irrigation. Instead, I prefer to use this soaker wand and I have had excellent results. The long handle helps ensure that water stays down near the roots where it is needed. It also gives a good and heavy shower of water that helps me to give that "soak" I am looking for.
If you have a small garden you can simply hand water with jugs or a watering can and do the job just fine.
BONUS STEP: How to Water your plants in containers.
If you are a container gardener, then you will want to adjust things a bit when watering plants that are in pots. Too much water and you can drown the roots risking root rot, water too little and you risk the plant drying out.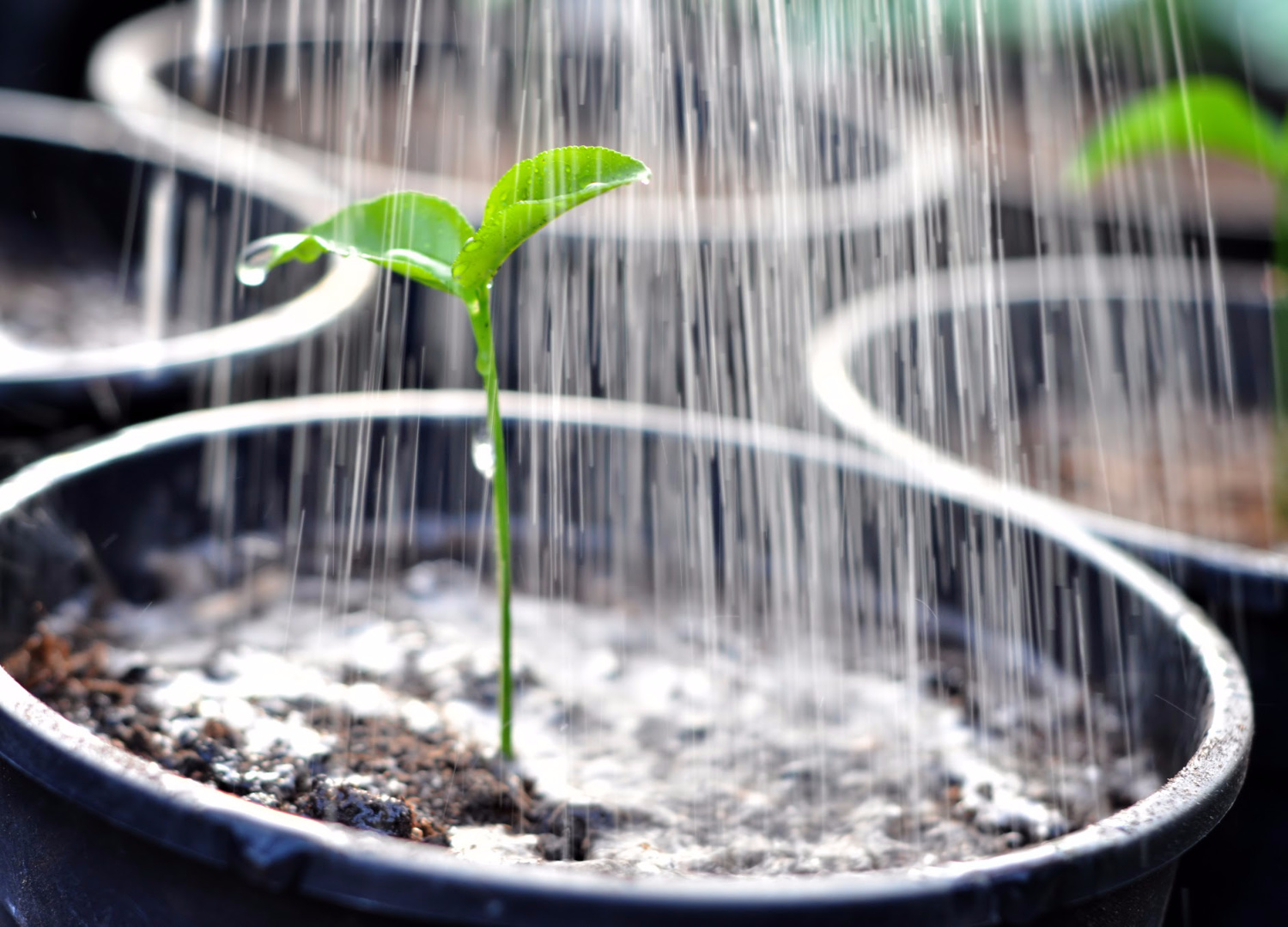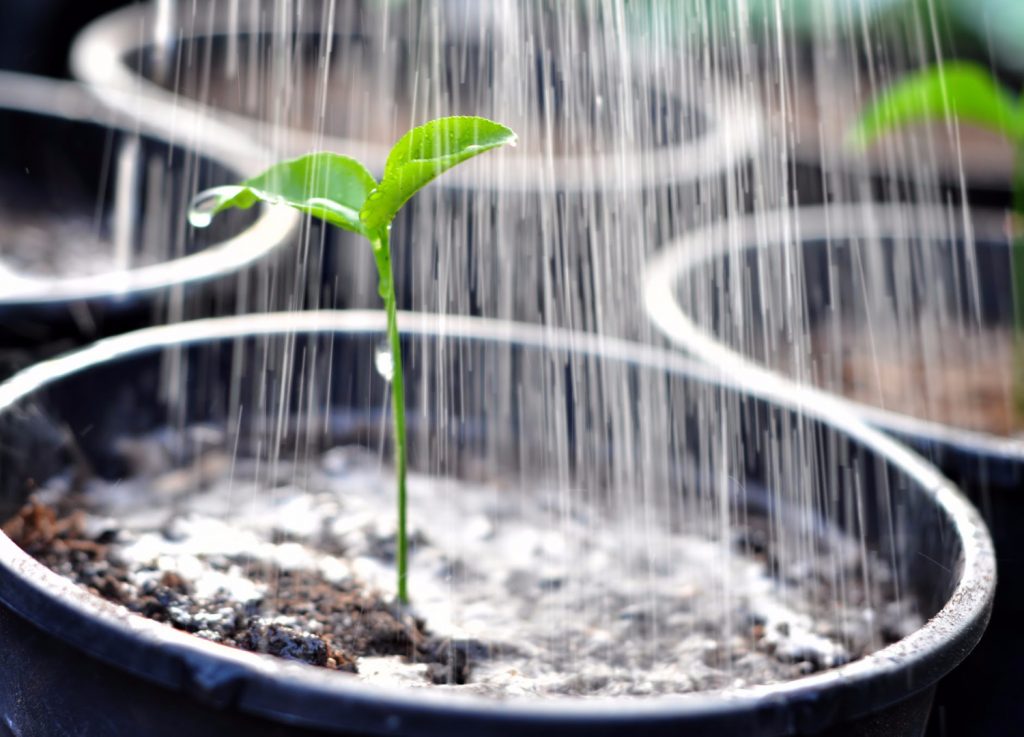 The trick to watering plants in pots is to do a little and more often. That means you are going to be watering your plants at least once if not twice a day. The time you water will still be the same as the tips I gave above but the amount will all depend on the age of the plant and the size of the pot.
To know how much to water, simply stick your finger into the soil at the base of the plant. If it's damp you are right on target. Wet means you will need to cut back a bit and dry means you will want to water more frequently.
Knowing how to water your garden is such a simple yet important step new gardeners mistakingly overlook. If you know when and how to water you will not only ensure a bountiful harvest but you will lay a foundation for plants to fight off pests and diseases. Be proactive in your care so you can avoid having to resort to chemicals for help.
READ: ORGANIC GARDENING PEST CONTROL