The Benefits Of Mulching Your Garden
Use this tip to help you grow a bigger and better garden year after year. All the amazing benefits of mulching your garden do outweigh any work involved.
Simple mulching tips that you can use to start your backyard garden that will prevent weeds, disease, pests, and dry roots. Be sure you grab the FREE compost checklist at the end of this article.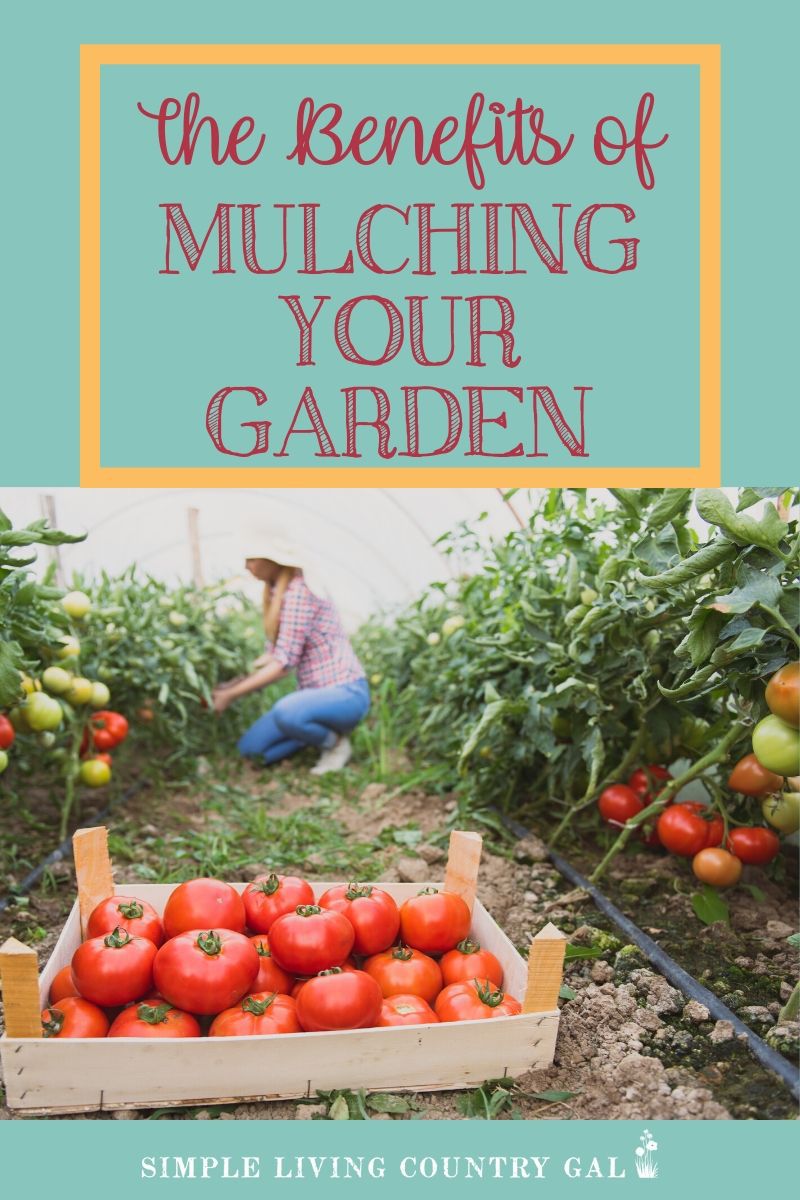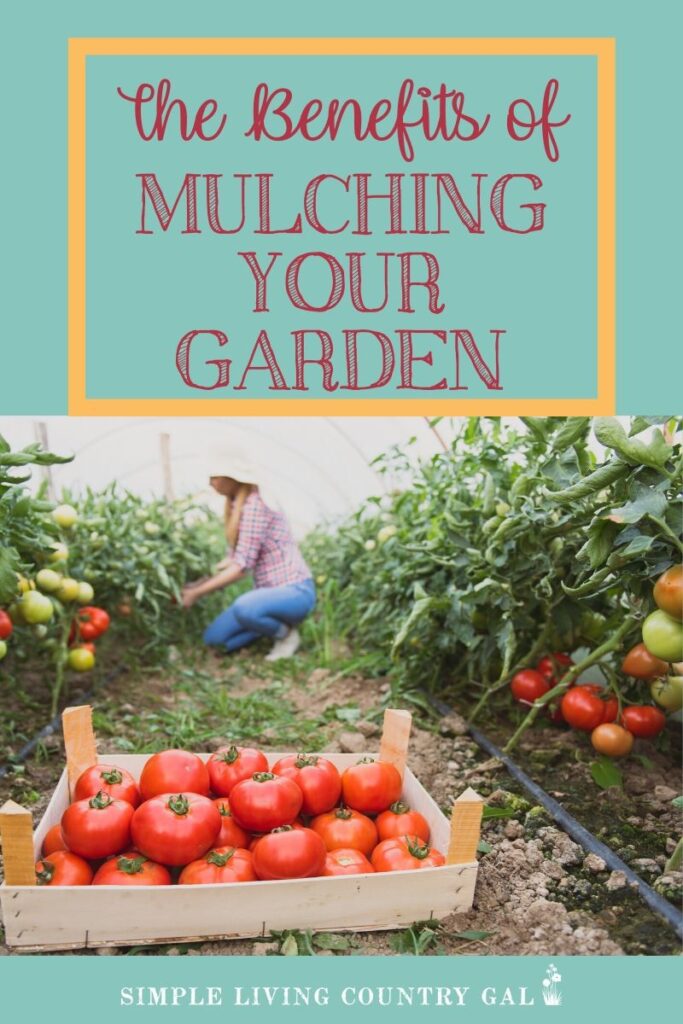 If you love to garden but hate to weed, this tip will be the game-changer you have been looking for. This is a step that most gardeners skip over but is incredibly beneficial to not only your plants but your back and knees as well.
I love to garden, really I do.
Every January, it's the same. I get excited when the seed catalogs appear in the mail. Once they arrive, I spend most of February planning and mapping everything out for my summer garden. I have some very lofty dreams in February.
I am an "eyes are bigger than my stomach" kind of gardener. 🙂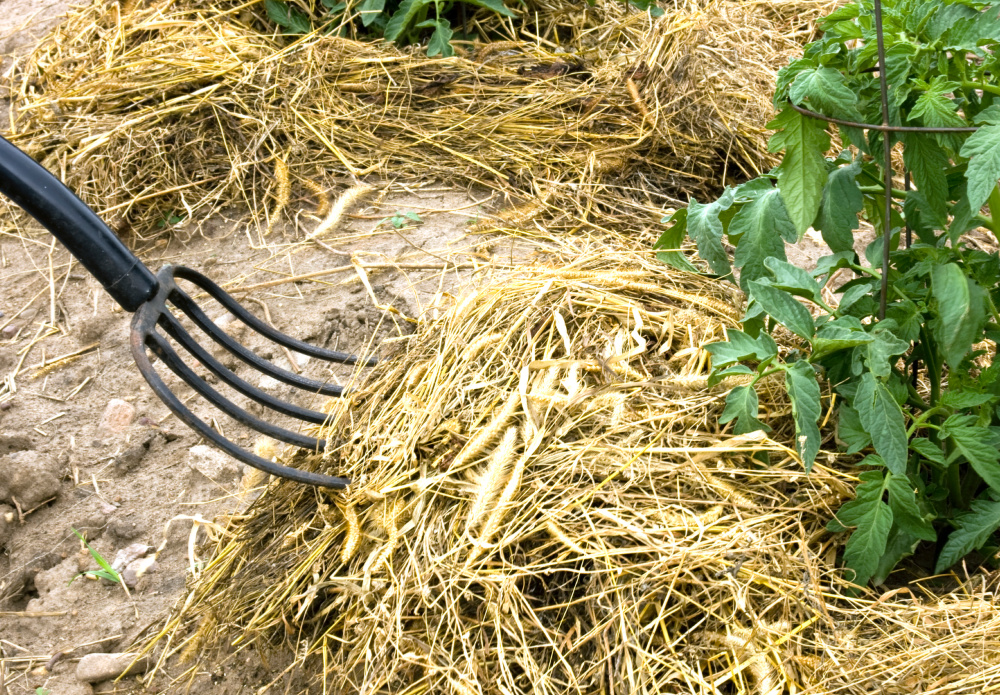 For me, the growing season begins in March. I will share my garden prep timeline with you but know it's for Northwestern PA, so it will not be the same for everyone.
March
This is when I start all my peppers and tomato plants indoors by planting seeds in small containers and letting them grow in a warm, bright area. If you have not tried this yourself, the good news, it's easy and enjoyable. It's also a great way to share your love of gardening with your children and grandchildren.
Read How to Start Tomato Plants Indoors to learn how.
Once my seeds are planted in our indoor growing area, I set a schedule to tend them daily.
READ: The Benefits of Gardening With Children
Daily Seed Care Schedule:
Check seeds are adequately watered. You want to give them enough to encourage a strong root system without overwatering.
If needed, adjust the lighting in the growing area.
Watch for signs of sprouting through the soil.
It is amazing what happens simply because we put a small seed into a little pot of dirt.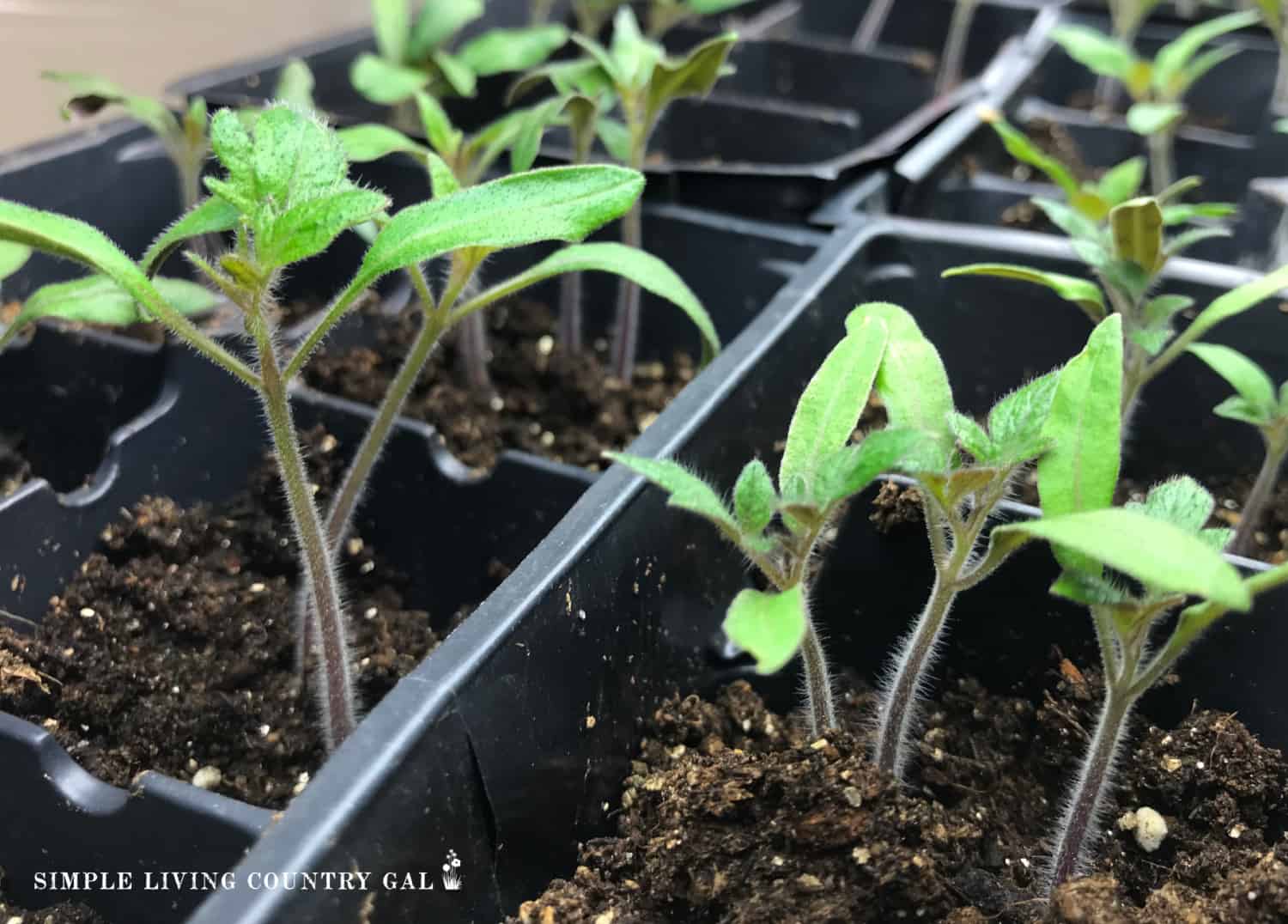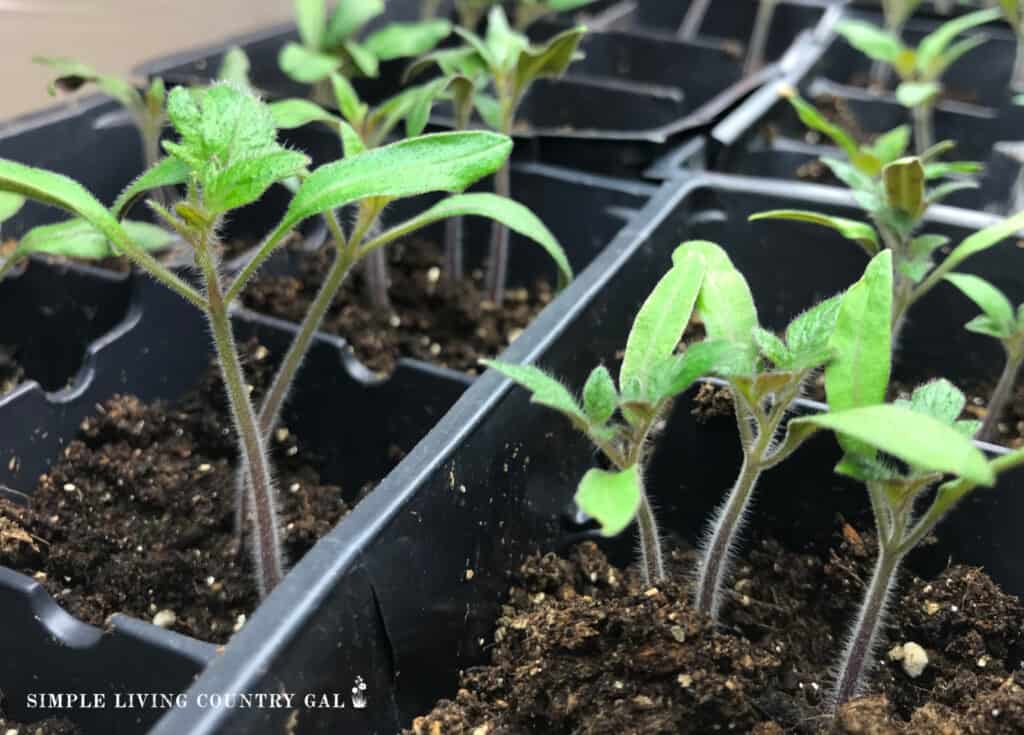 At the end of the month, I will plant a row or two of onions if our soil is workable. Onions are a great vegetable to grow, and they freeze well. I like to plant a row every week for a constant summer supply.
READ: How to Grow Huge Organic Onions
April
I will begin to prep the soil outside in our main garden in April by adding compost and turning the soil. This will help to balance the pH to where it needs to be for my plants.
To improve your soil for a better growing season, start by testing the levels in your soil so you know what you need to add.
I usually plant a row of onions each week throughout the month. April is also when I start to check in on my garlic, watching for shoots and removing some of the covering if the weather is warm enough.
More April GArden Resources:
May
May is when everything gets planted and transplanted outside. From the new seedlings I grew over the winter to the packets of organic seeds I recently purchased. Each plant has a designated spot that I have mapped out in my gardening planner over the winter.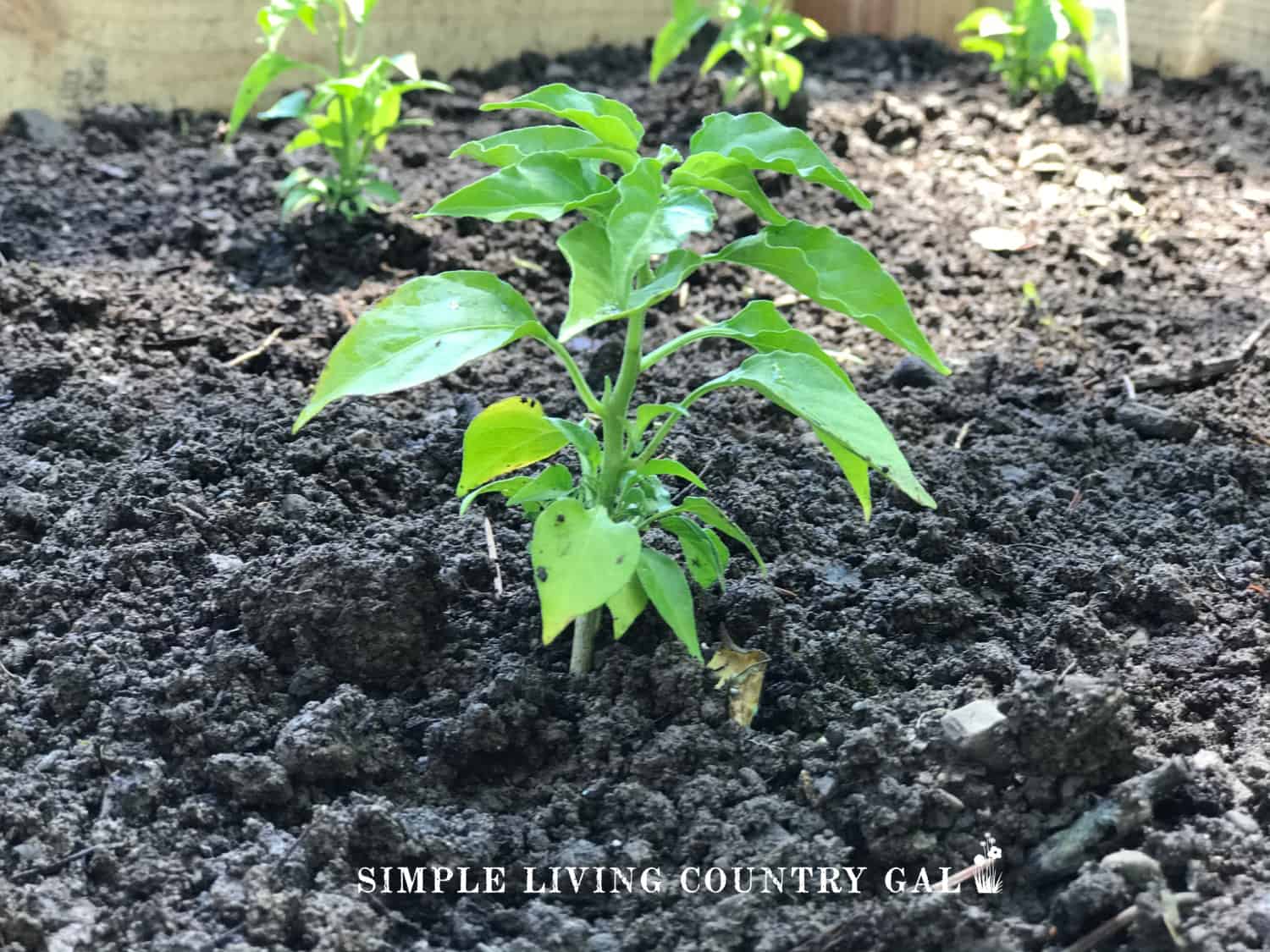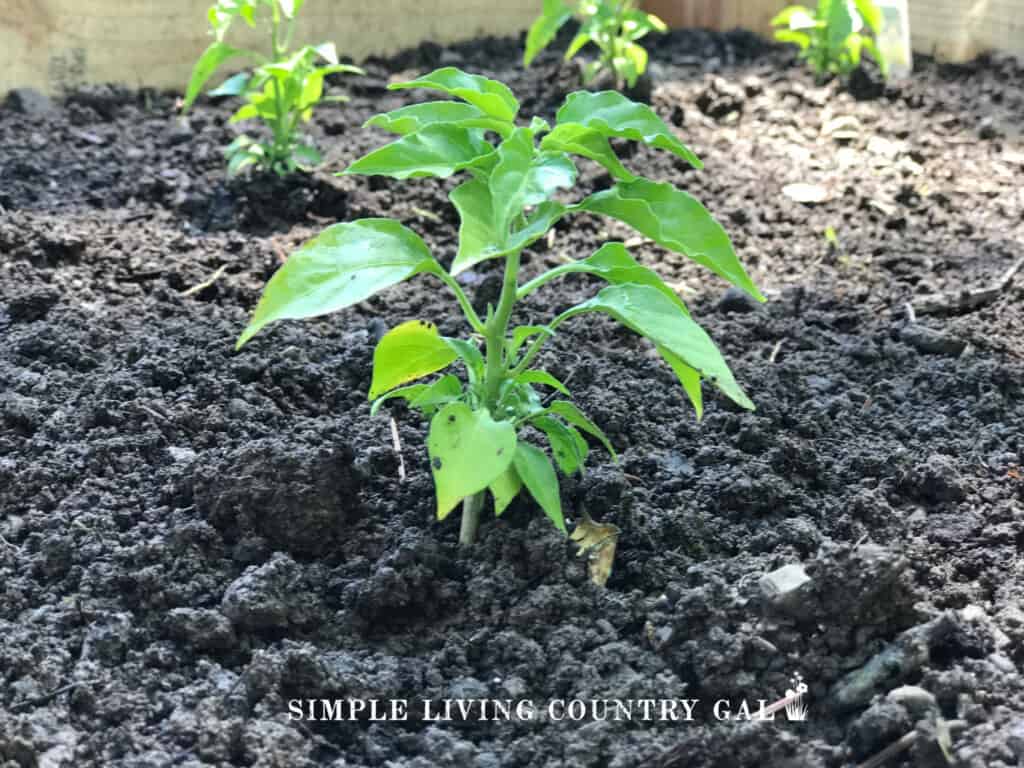 June
June is all about watering as seeds grow and seedlings begin to develop a healthy and strong root system. Roots are important and the key to a big and healthy harvest later on.
July
July is when it hits.
The weeds.
Thousands and thousands of weeds. This is when I begin to lose interest. A girl can only weed a 40 x 80-foot garden so much as the novelty begins to wear off. For some reason, people tend to frown upon dirt as a nail polish option.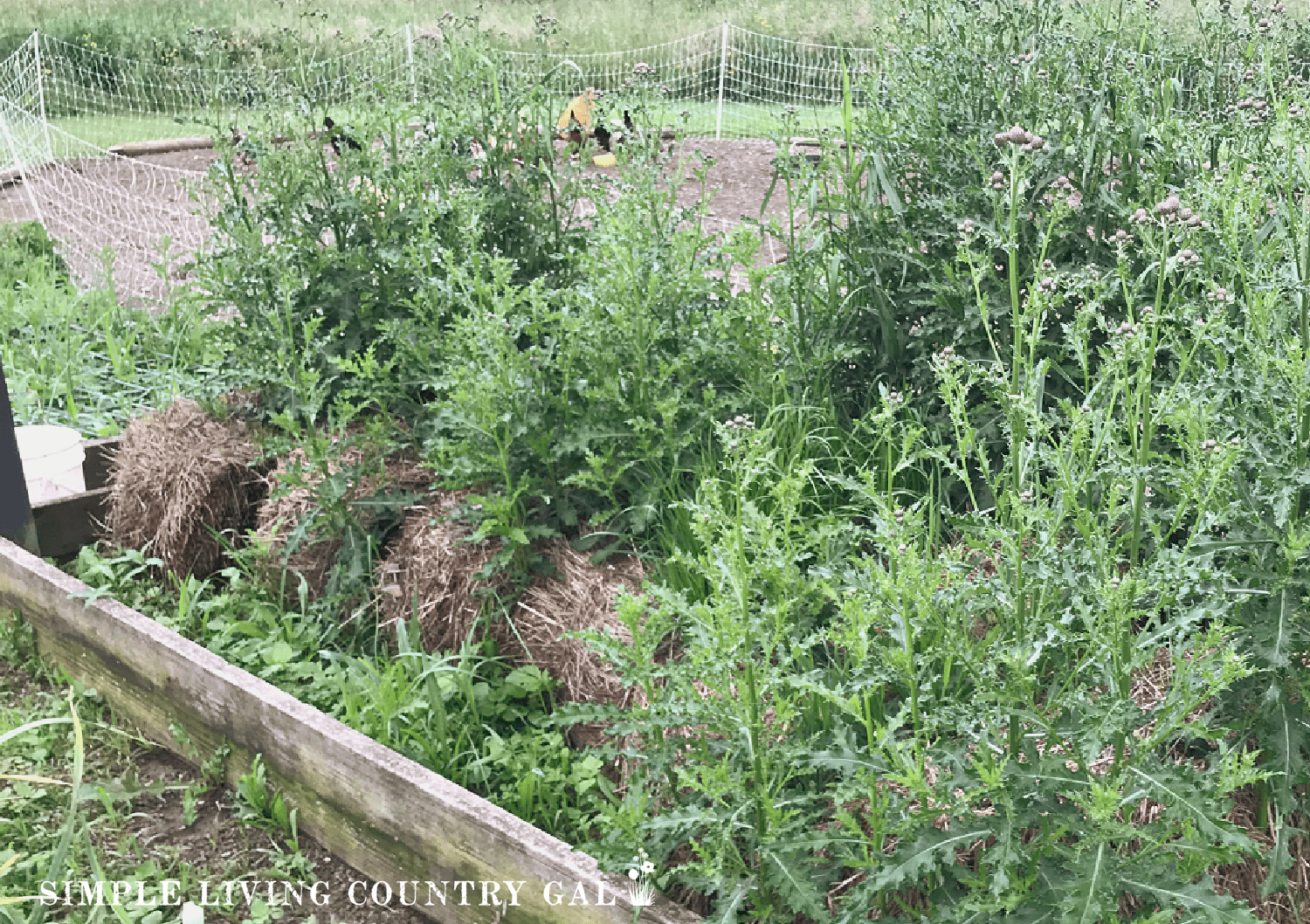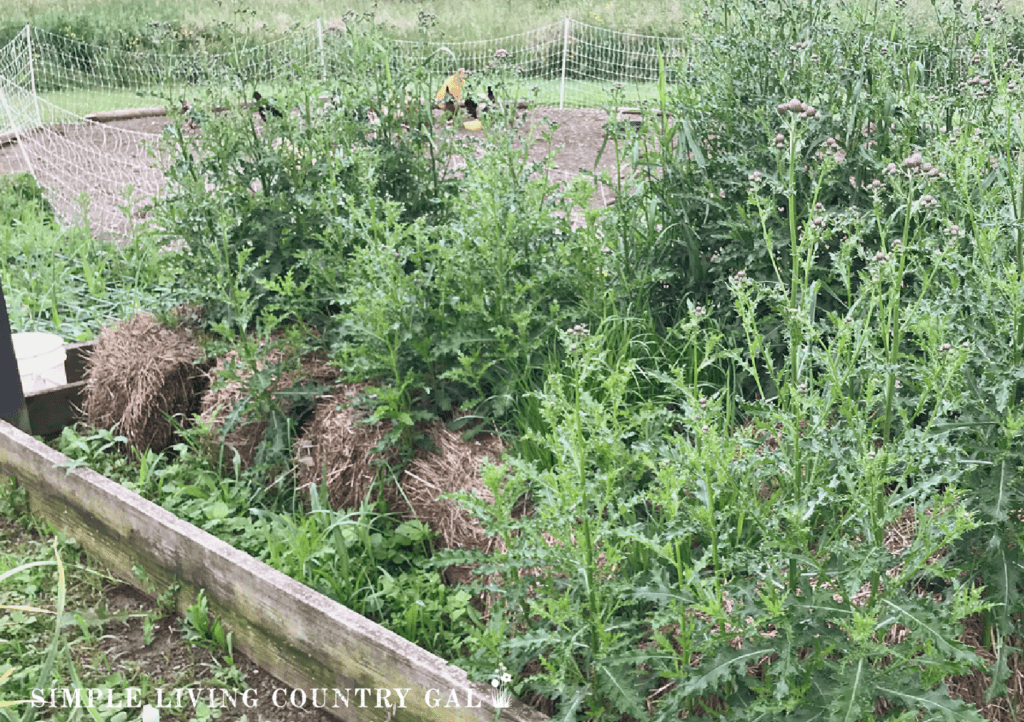 A few years ago, I began mulching my garden…HEAVILY.
Hubby was appalled. He insisted that rototilling in between the rows was the way to go. Unfortunately, he doesn't have the time to till up a garden every week or even more, especially if we have a wet summer.
Therefore I am left to my own devices (Little does he know how much I LOVE to be left to my own devices!), looking for an easier way to keep the weeds under control.
I researched heavily and realized that mulching wasn't just for flower beds. If done correctly, that mulching could work well in my vegetable garden. After some trial and error, I now have the perfect recipe for how to mulch my vegetables so that the weeds are fewer, I have less disease, and I no longer need to water like crazy. 
Yes, just by mulching, you can cut your work time in half. And that is a good thing. A very, VERY good thing.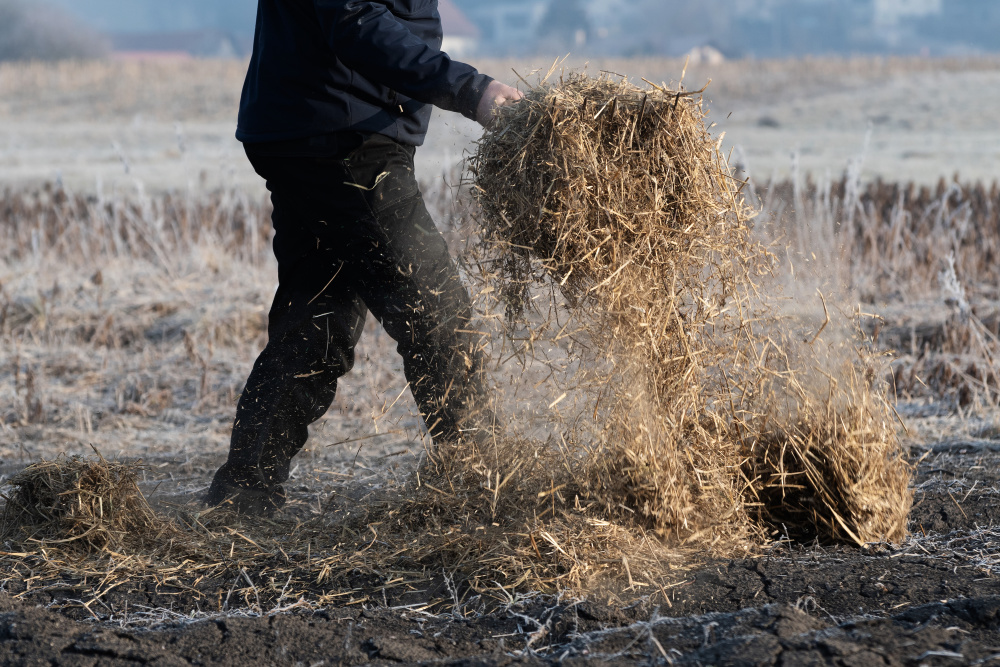 Why should you mulch your garden?
There are a few benefits to mulching your vegetable garden.
Benefit #1.

Stop weeds.

The primary purpose of mulching is to deter the weeds from growing and, in turn, taking nutrients away from your plants as they try to grow. And fewer weeds naturally means less work, less stress on your back, and less time wasted on an unnecessary project.  

Let's face it, homesteading is a lot of work, and there seem to be so many chores that always need to be done. Why not do what you can to limit how often some of those chores need to be done so you can put your attention elsewhere?

Be sure you grab the FREE compost checklist at the end of this article.
Benefit #2.

Protection.

Mulching protects your plants from disease. You may not realize this, but most diseases happen during watering. When you water from above, covering the entire plant, you risk any soil-borne pests or illnesses splashing up onto the leaves.

This is less than ideal and something you must keep from doing if possible.

One way is to be sure you always water close to the ground where the roots are. You can do this by holding the hose close to the ground or setting up irrigation lines using a ground soaker hose to do the work for you.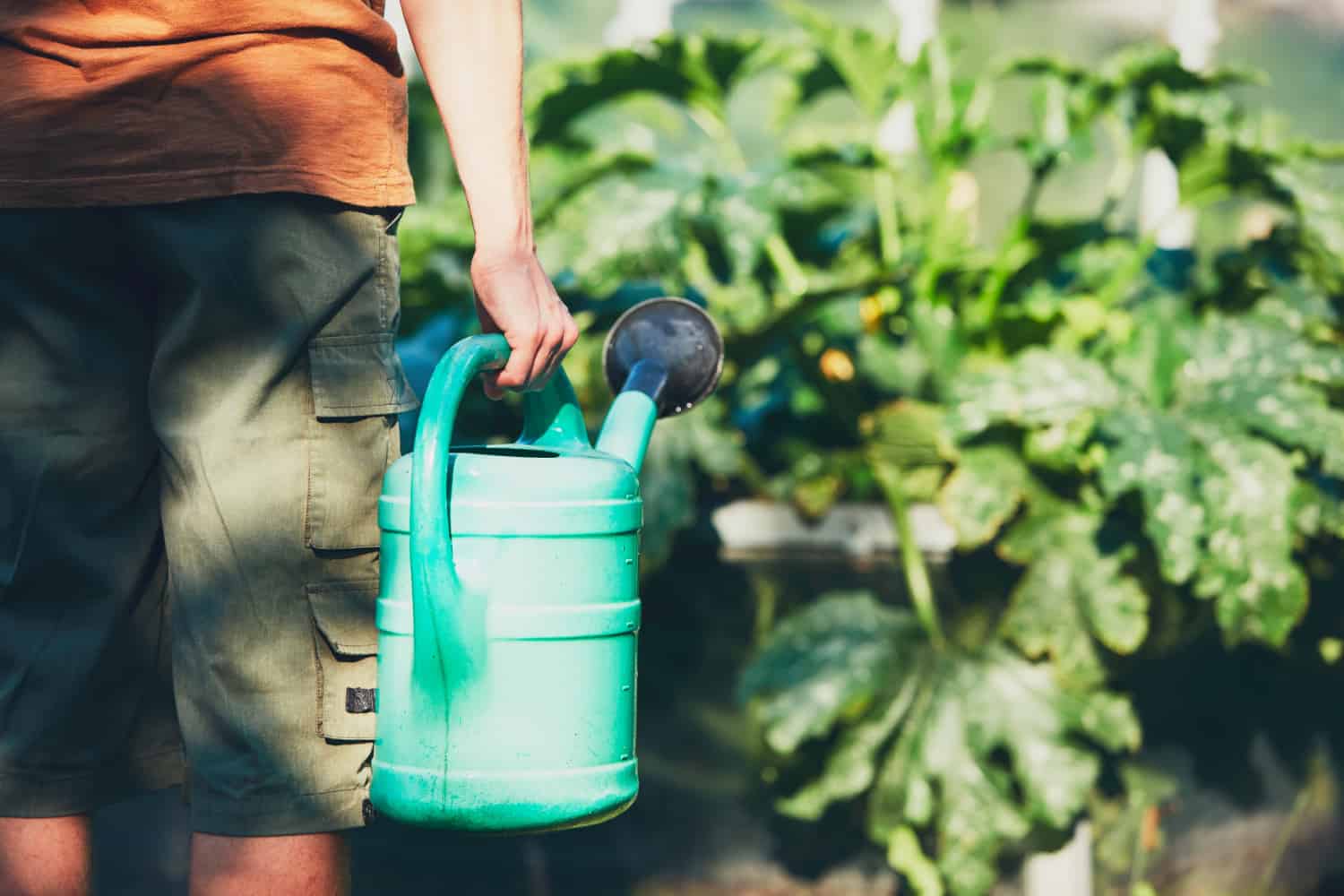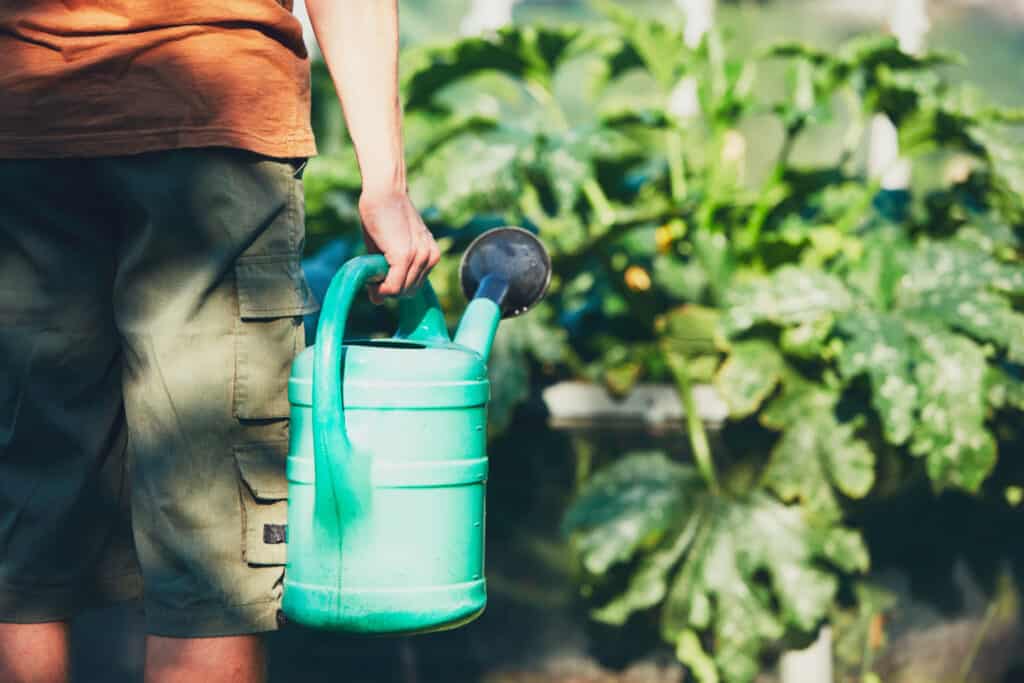 Another way that mulching helps when watering is it acts as a splash barrier keeping the soil off of the leaves of your plants.
Benefit #3.

Keep moisture in.

Mulching also works well at keeping moisture in the soil. This is great, especially if you live in a dry area. Keep that moisture where the roots are, encouraging a strong and healthy root system which is the key to a healthy producing plant.

The good news is since I have been mulching my garden, weeding is pretty much a thing of the past. You may still have to weed a bit, especially in the beginning, but as you build up a nice mulch foundation, the weeds will get choked out, allowing your vegetables to flourish.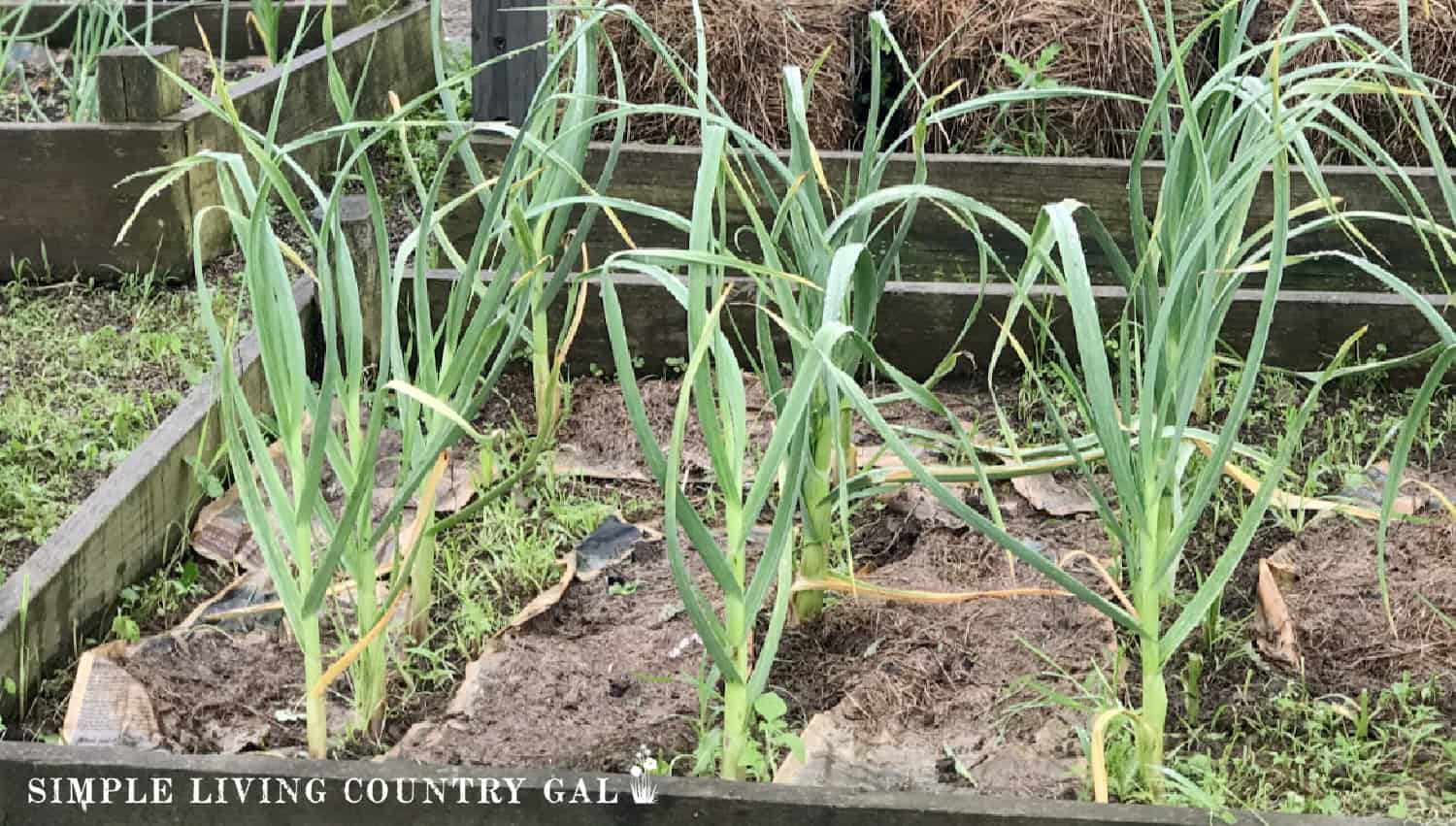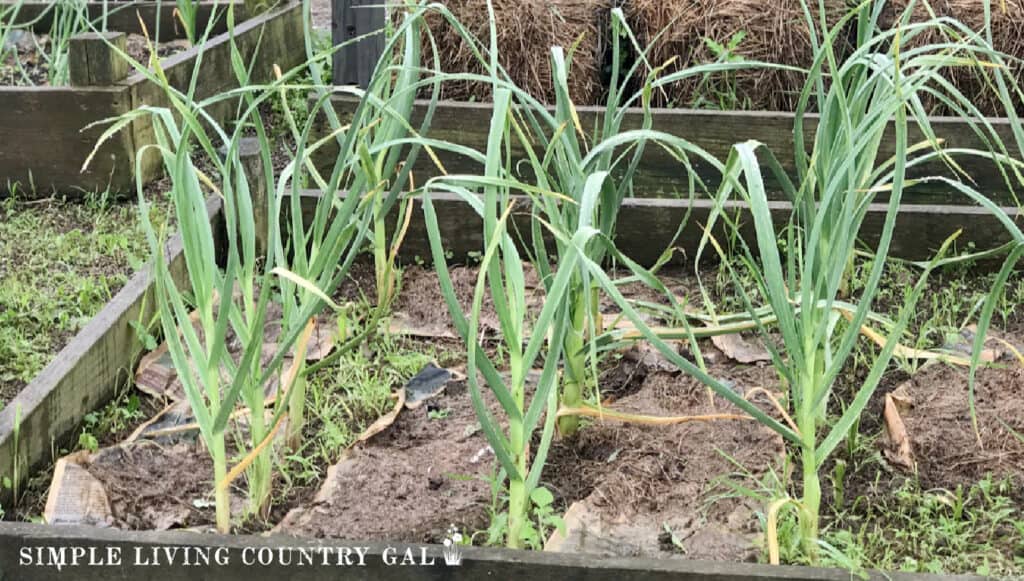 Mulching Your Garden Step-by-Step
No matter when you are reading this, you can incorporate mulching now to keep weeds from getting any worse later on.
Step #1 Plant

your garden

When planting seeds, you will want to be sure you are marking your rows well. This will make knowing where to put your mulch easier, ensuring you are not covering up your new seeds.

I like to use mounds when planting my garden. This helps regulate moisture and allows me to see my planted rows more clearly. This can be incredibly helpful in the beginning. Planting in raised mounds is also helpful if you have a very rainy season or live in an overly wet area, as we do.

The mounds keep the water from pooling near the base of the plant. A condition that can cause rotting out of the roots. Root rot can deter your plants from flourishing and producing a healthy harvest.

Using raised rows can also help to organize a very large garden.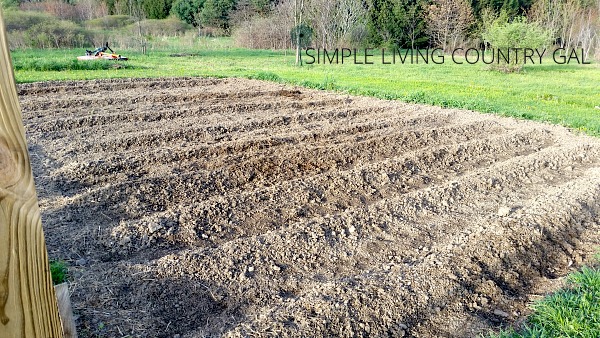 Raised rows work especially well with our onion crop. Onions grow so much bigger when planted in mounds. Not only does it produce larger onions, but it also keeps the water evenly dispersed and helps prevent bolt from occurring.
Find out how I plant this way HERE.
Step #2 Start With Paper
Start by laying down a layer of newspaper or brown paper bags wherever you plan to lay mulch. If you have livestock on your homestead, you may have a collection of feed bags. If so, these work great for a base in your garden when mulching.
The main area I aim to mulch is in between the rows because the weeds can get pretty intense in this area. The newspaper will act as the main barrier for the weeds making it hard for them to get through and grow. 
Newspaper is also perfect to use because it is thin and will compost fairly quickly. Usually, by the end of the growing season, you will only have shreds of paper left instead of the whole sheets you put down in the spring.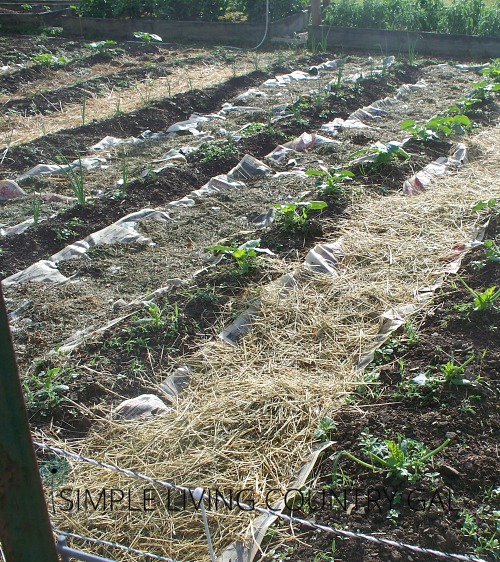 When you close up your garden for the fall and see too much newspaper, you can remove some of the larger pieces. Leave behind any small or shredded pieces of newspaper as they can be worked into your soil or left to finish composting over the winter.
PLEASE NOTE: If you are concerned about the ink and composting it directly into your garden, you can read more here. There is some debate as to whether or not composting with newspapers is a bad thing, so do your research and make the choice that is best for you and your garden. Today, most newspapers use soy-based ink for printing, meaning it should be fine as compost.
Final Tip: Be sure to place your paper as close to your plants as possible without hindering your watering. You want to keep the weeds away yet not crowd your plants with newspaper and mulch. A few inches of space will be just about perfect.
Step #3 Cover the Paper
To keep the newspaper from blowing away, you need to put a layer of mulch on top of it. A few ideas are:
Fresh-cut grass clippings
Straw
Dried leaves
Grass clippings are a great option for mulch in your garden and are what I mainly use. I like to have a "grass dumping pile" near my garden; whenever we mow, I can dump the clippings there. This way, I can replenish the mulch in my garden whenever I need to.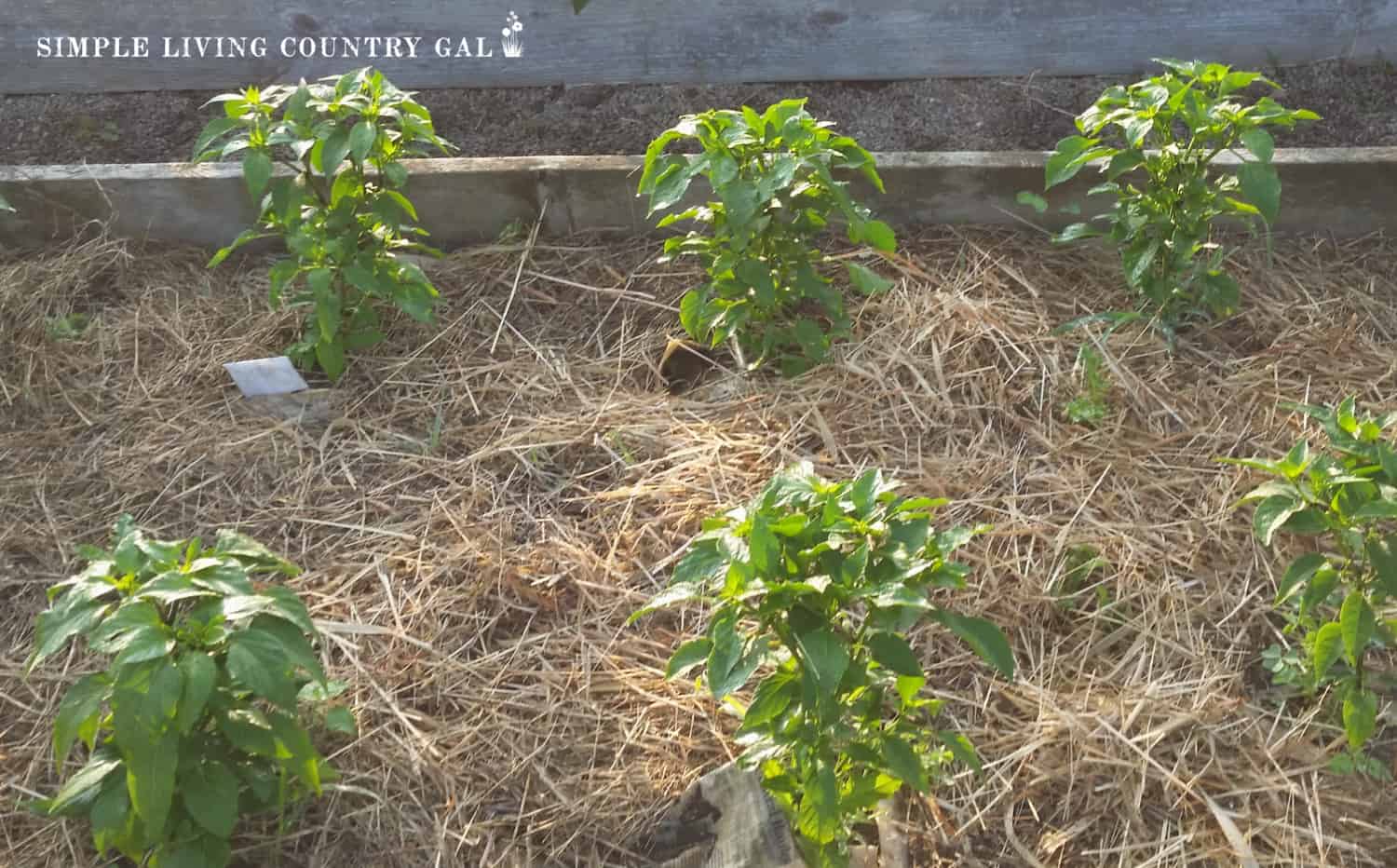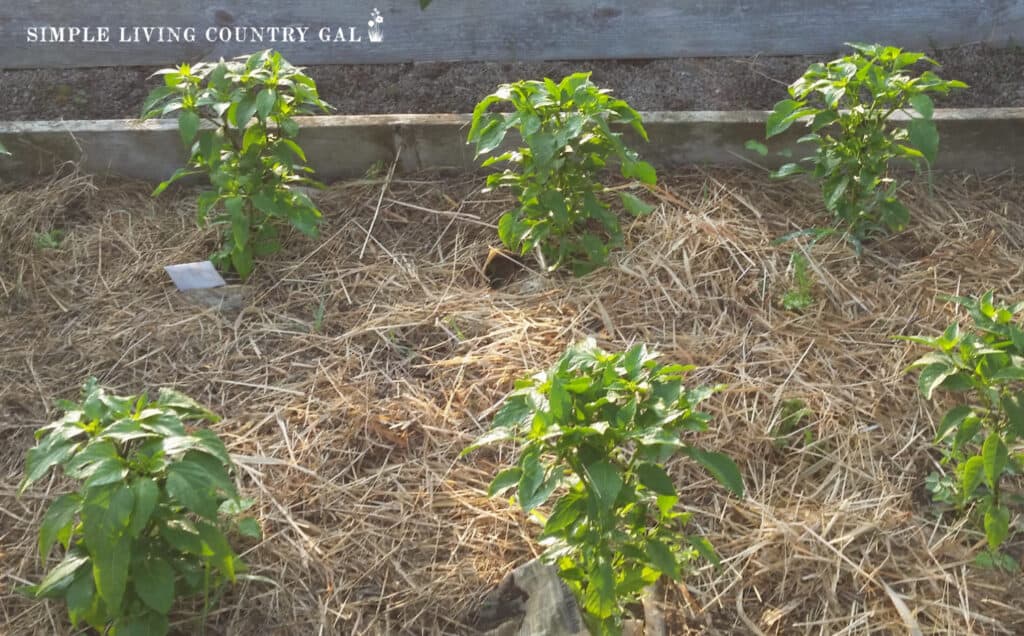 Just use caution with grass. If your lawn is covered in weeds, you may not want to use grass as a mulch as you risk having weed seeds in your vegetable garden.
SLCG PRO TIP: Do not let the grass clippings sit too long before using, or they will start to cook in the warm sunshine turning the loose grass into damp clumps. Use fresh grass clippings within a few days.
You can also use dry leaves or straw as mulch in your garden.
Many gardeners prefer these options as they tend to be the least invasive regarding weeds and seeds. Again you will want to be sure any leaves you use are from healthy trees. Also, you will want to be sure you never use hay when mulching between your rows since hay contains plants' seeds and any weeds cut in.
Seeds mean weeds, so always use straw to mulch in a garden.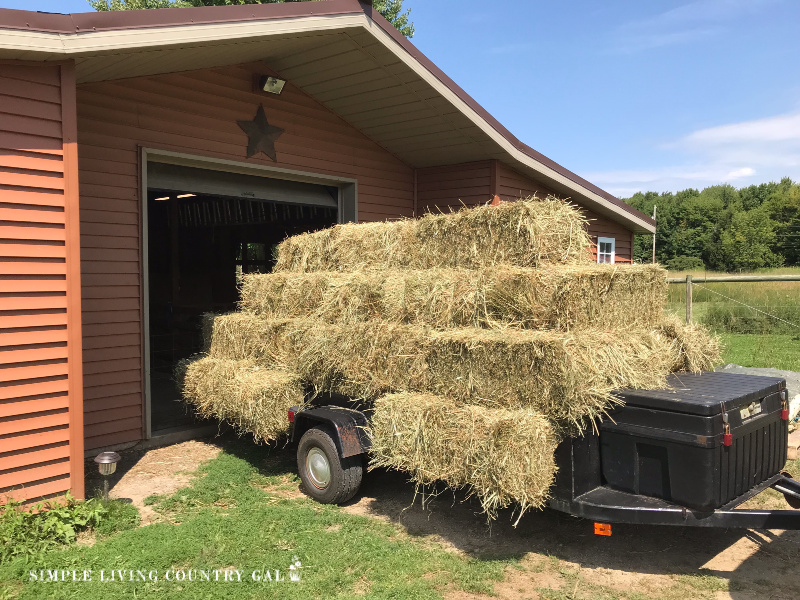 What is the difference between straw and hay?
Let's discuss this a bit so you fully understand the difference. This will help not only you out in your garden but with your animals as well.
A straw bale is made of up stalks which is the waste product of wheat. This type of bale is most commonly used as bedding for livestock, or it can be used in a garden. Since it contains no seed heads or seeds, it can be safely used in gardens as a mulch or a winter cover.
A hay bale is cut grass or alfalfa used to feed livestock. It contains every part of the plant, including the seeds. If you use this type of bale in your garden beds, you will add a load of seeds to your beds, including weed seeds. Trust me on this; I have done the legwork. Hay in a garden is a no-no and will only cause you to weed more than you ever imagined.
Be sure you grab the FREE compost checklist at the end of this article.
The purpose of the mulch is three-fold.
First, you need to hold that paper down so it doesn't blow away. Remember, the paper is the weed barrier, and holding it securely in place is key.
Second, is that green matter (nitrogen-rich) and brown matter (carbon-rich) will, in turn, benefit your soil. This means as it composts down, it will give your soil natural benefits.
Third, the mulch is also there to hold that newspaper in place so it doesn't blow away.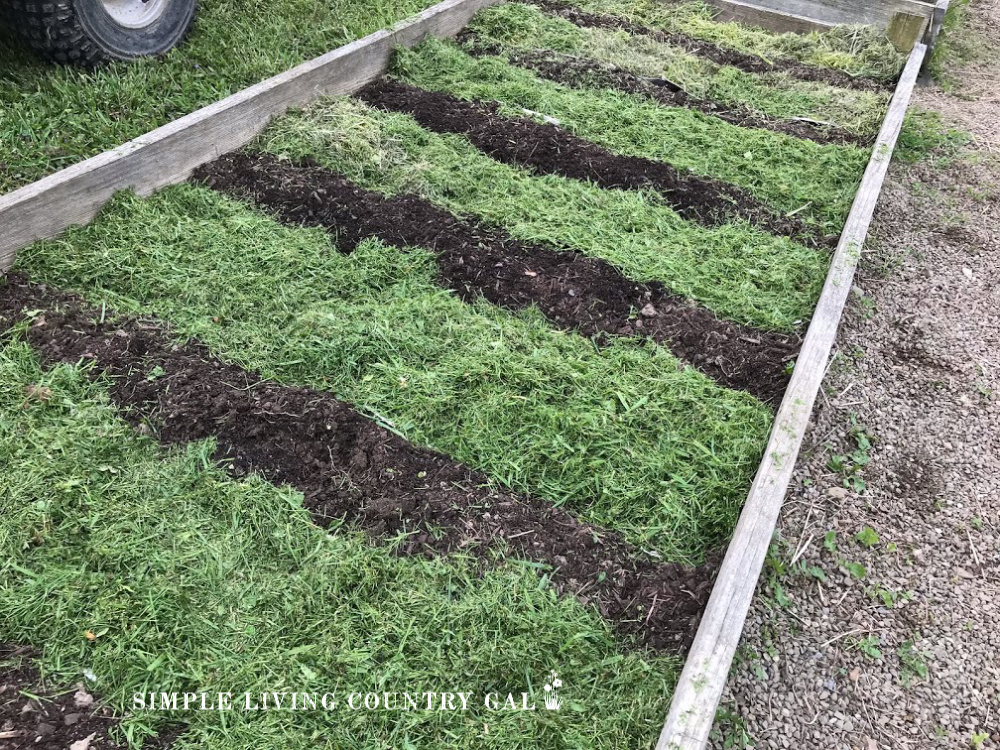 If unsure of what your soil needs, you can purchase an inexpensive soil test kit. These kits are great to have on hand. They are super easy to use and work remarkably well. If you want a more thorough test of your garden's soil, you can contact your local county extension office to see if they offer this service.
Natural options for mulching your vegetable garden
Cut grass clippings
Leaves
Straw (remember, do not use hay)
Bark (be sure to use non-treated)
Sawdust (be sure it is not from pressure-treated woods)
Step #4 Water Everything
Once you have a lawyer of mulch down onto the newspaper, you will need to spray things down with a garden hose. This step ensures that all your hard work doesn't blow away. The goal here is to give a good watering but not heavily soak things. As I said, you are just anchoring down the mulch and the paper so it doesn't blow away in the wind.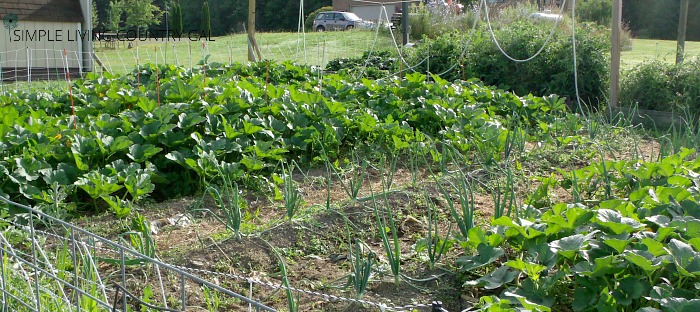 And that's it!
In the beginning, Mulching can take about a week or two to complete for a large-sized garden. Remember, as time passes, you may need to add more mulch and even paper. Just watch for any weeds poking through in different areas. If you see any, you can add another layer of newspaper and mulch material, which should take care of things. 
What type of natural garden mulch do I prefer to use?
I prefer to use grass clippings in our garden, but in spring, those cut grass can be hard to come by as we usually do not begin cutting our lawn until early to mid-May. Until we can get clippings, I will sometimes use straw to get started.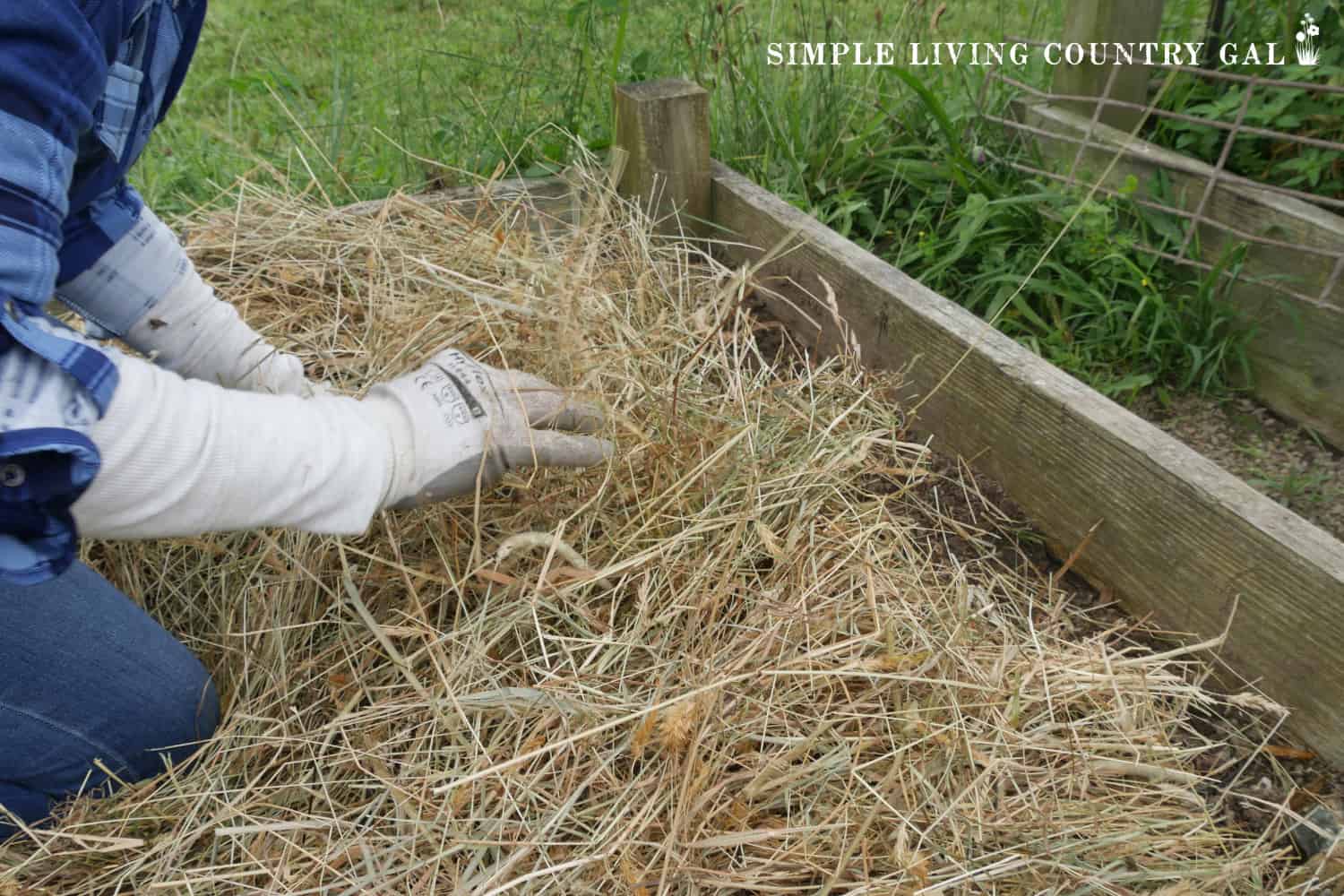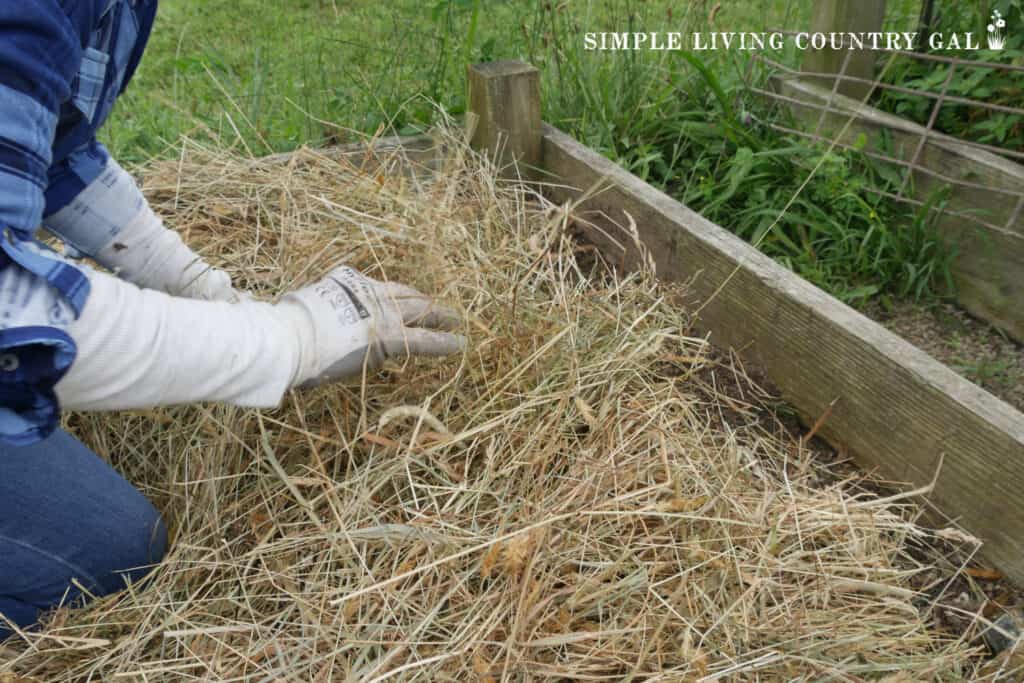 Later as we begin to cut the lawn more routinely, we will dump all grass clippings in an area next to the garden. This way, I can mulch as I go, and everything I need to do the job is nearby.
My spring mulching routine is this:
Every day when I water, I look at the area between my plants and rows.
If things look sparse or mulch is missing, I can add more grass clippings from the nearby pile.
If you have a large garden, mulching all at once can be a pretty big job. To help, work to do a little every day until it's all done. Small steps help to make a large job less overwhelming.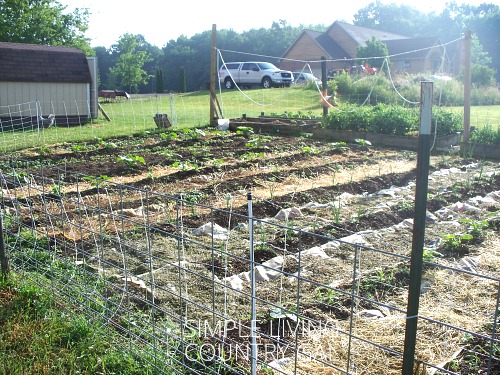 Weeding can be very time consuming and sometimes a shock to a new gardener. Although mulching is quite a bit of work initially, it is an investment that will save you a lot of time later in the season.
And don't forget the added benefits of giving your plants room to flourish and grow.
Have you tried your hand at mulching your garden? If so, how did it work for you?
More Gardening Resources: