The benefits of mulching your garden. Simple tips you can use to prevent weeds, disease, and dry roots.
If you love to garden but hate to weed then you might want to learn the benefits of mulching your garden. A step that most gardeners skip over but one that is so incredibly beneficial to your plants.
I love to garden, really I do. I get so excited in January when all the seed catalogs come. I then spend most of February planning and mapping everything out. Oh, I have myself some very lofty dreams in February. I am an "eyes are bigger than my stomach" kind of gardener. 🙂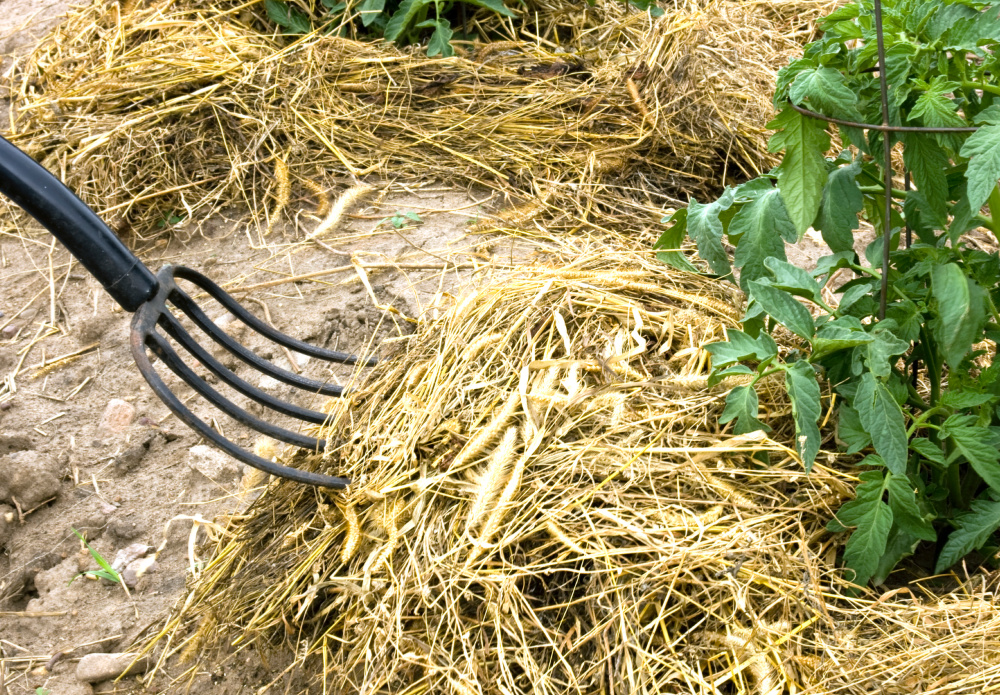 Then in March, I start all my peppers and tomato plants indoors, which is easy by the way. If you have never done it you can read How to Grow Your Own Tomato Plants From Seed to learn how.
I tend to them daily, watering, and adjusting their lighting. I patiently wait for them to sprout and grow. It really is amazing what happens all because we put a seed into a little pot of dirt.
In April I begin to prep the soil outside in our main garden. Getting everything ready for my young and fragile plants.
READ: HOW TO PREP YOUR SOIL FOR A BOUNTIFUL GARDEN
May is when it all gets planted. From the new seedlings to the packets of seeds. All in neat little rows.
June I water and water and maybe water some more as everything begins to grow and the garden gets greener and greener.
July is when it hits.
The weeds.
Thousands and thousands of weeds.
And that is when I begin to lose interest. Hey, a girl can only weed a 40 x 80-foot garden so much as the novelty begins to wear off. And for some reason, people tend to frown upon dirt as a nail polish option.
A few years ago I began mulching my garden…HEAVILY.
Hubs was appalled. He insisted that rototilling in between the rows was the way to go. Unfortunately, he doesn't have the time to till up a garden every single week or even more if we have a wet summer. Therefore I am left to my own devices. (Little does he know how much I LOVE to be left to my own devices!)
I did some heavy research and realized that mulching wasn't just for flower beds. That mulching if done correctly could work quite well in my vegetable garden. After some trial and error, I now have the perfect recipe for how to mulch my vegetables so that the weeds are fewer, I have less disease, and I no longer need to water like crazy.
Yes, just by mulching you can cut your work time in half. And that is a good thing. A very VERY good thing.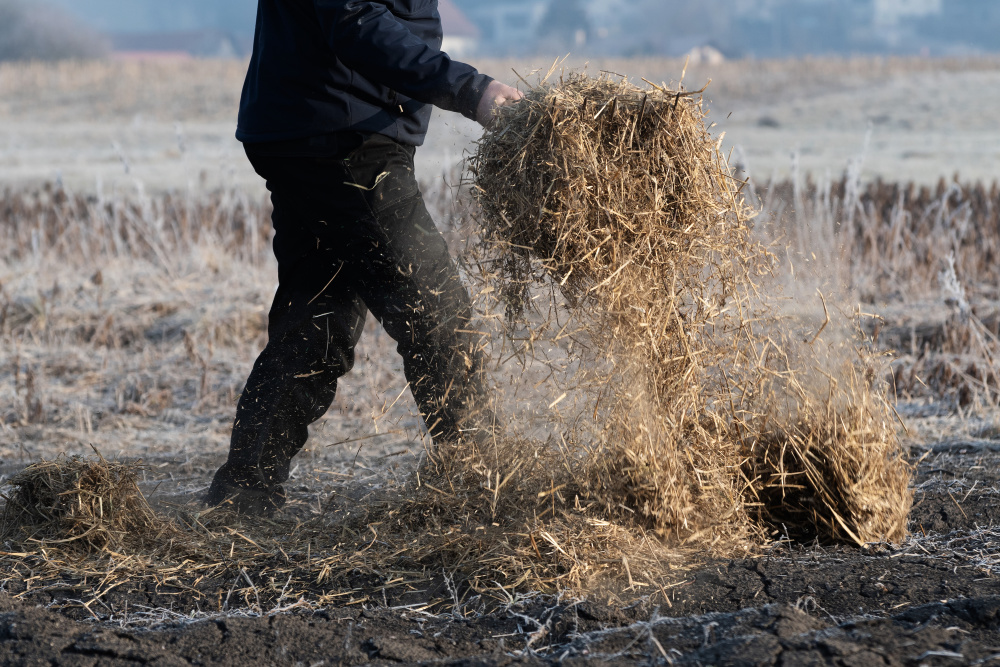 Why should you mulch your garden?
Benefit #1. The main purpose of mulching is to deter the weeds from growing and in turn taking nutrients away from your plants as they try to grow. And fewer weeds naturally means less work.
Homesteading is a lot of work and there seem to be so many chores that always need to be done. Why not do what you can to limit how often some of those chores need to be done so you can put your attention elsewhere?
Benefit #2. Mulching protects your plants from disease. Most diseases happen during watering. When we water any soil-borne pests or illnesses can splash up onto the leaves. This is bad and something you need to keep from doing if at all possible. Mulching helps prevent that by acting as a sort of splash barrier keeping the soil off of the leaves of your plants.
Benefit #3. Mulching also works well at keeping moisture in the soil. This is great if you live in a dry area. Keep that moisture in where the roots are encouraging a strong and healthy root system which is the key to a healthy producing plant.
The good news is since I have been mulching my garden, weeding is pretty much a thing of the past. No, it isn't pretty in the beginning, but as your plants grow and thrive the mulched rows will disappear.
Mulching Your Garden – A Step by Step Guide
Step #1 Plant Everything
Make sure you mark your rows well so you do not mulch over seeds.
I use mounds to plant so my rows are easy to see. Planting in mounds is also helpful if you have a very rainy season. The mounds keep the water from rotting out the roots of the plants allowing them to flourish and grow.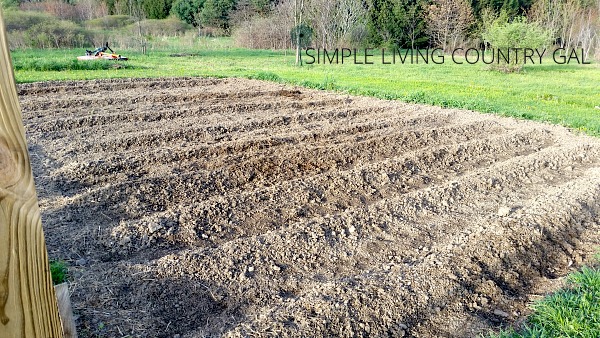 This is especially true with onions. They do so much better when planted in mounds, find out how I plant this way HERE.
Step #2 Start With Paper
Lay down a layer of newspaper or brown paper feed bags in between the rows. This will act as a barrier for the weeds making it hard for them to get through and grow.
The newspaper is perfect to use because it is thin and will compost down fairly quickly. Usually, by the end of the growing season, you will have shreds of paper instead of the whole sheets you put down in the spring.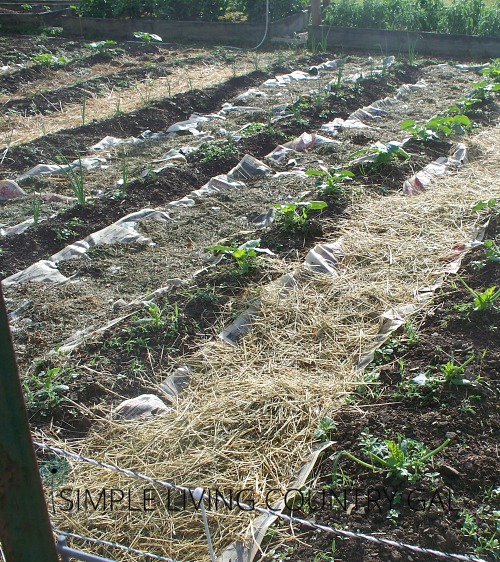 When you are closing up your garden for the fall and see just too much paper you can remove some of the larger pieces. The small ones can then just be worked into your soil.
If you are concerned about the ink and composting it directly into your garden, you can read more HERE. There is some debate as to whether or not composting with newspaper is a bad thing, so do your research and make the choice that is best for you and your garden. Today, most newspapers use a soy-based ink for printing meaning it should be fine as a compost.
MY FAVORITE GARDENING TOOLS!
Rake

– A must-have for any gardener.
Pitchfork – This is great for working in compost and spreading mulch.
Wheelbarrow – The older I get the more important this tool is!
Wagon – A great way to move plants and other objects around the homestead.
Hand tools – Don't buy cheap here or they simply will not last.
Kneel pad – I used to laugh at these, but now I LOVE them! They really save my knees.
Be sure to place your paper as close to your plants as possible without hindering your watering. You want to keep the weeds away yet not strangle your plant. A few inches of space will be just about perfect.
Step #3 Cover the Paper With Grass, Straw or Leaves
Grass clippings are a great option for this step if you have them. You can also use leaves or straw. Do not use hay when mulching between your rows since hay contains seeds.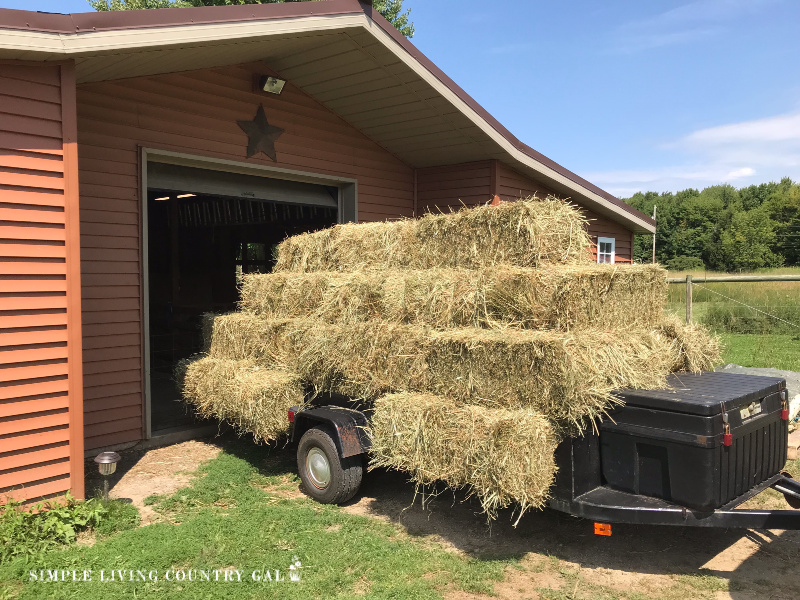 What is the difference between straw and hay for garden mulch?
A straw bale is made of up stalks which is the wasted product of wheat. This type of bale is most commonly used as bedding for livestock or used in a garden. It contains no seed heads or seeds themselves so it can be safely used in gardens as a mulch or a winter cover.
A hay bale is cut grass or alfalfa and is used to feed livestock. It contains every part of the plant including the seeds. If you use this type of bale in your garden beds you will be adding a load of seeds to your beds including weed seeds as well.
Trust me on this, I have done the legwork.
Hay in a garden is a no-no and will only cause you to have to weed more than you ever imagined.
The purpose of the mulch is two-fold.
First, you need to hold that paper down so it doesn't blow away. Remember, the paper is the weed barrier so holding it securely in place is key.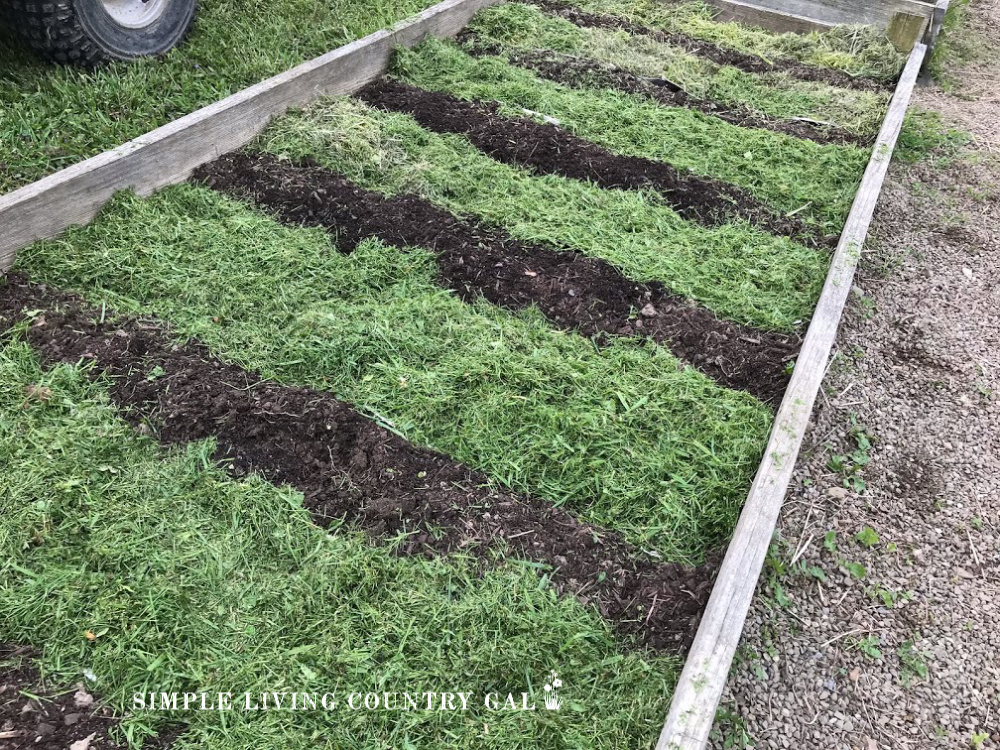 Second, is that the green matter (nitrogen-rich) and brown matter (carbon-rich) will, in turn, benefit your soil. This is the mulch you are using to hold the paper down.
If you are not sure what your soil needs, you can purchase an inexpensive soil test kit. These kits are great to have on hand. They are super easy to use and work remarkably well. You can purchase one HERE.
Step #4 Water Everything Down
This step just ensures that all your hard work doesn't blow away. The goal here is to give a good watering but not heavily soak things.
As I said, you are just anchoring down the mulch and the paper so it doesn't blow away in the wind.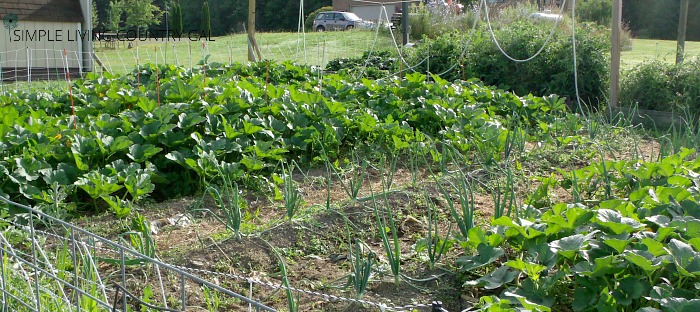 And that's it, friends!
Mulching for me takes at least a week or two to complete for my large sized garden.
What type of natural garden mulch do I prefer to use?
I prefer to use grass clippings in our garden but in spring those cut grass can be hard to come by. We now have a system set into place where Hubs dumps all grass clippings in an area right next to my garden. This way I can mulch as I go and everything I need to do the job is close by. Each day when I water I simply add more grass clippings on where I see newspaper showing through.
If you have a large garden the tip here is to do a little every day until it's done. Small steps help to make a large job less overwhelming.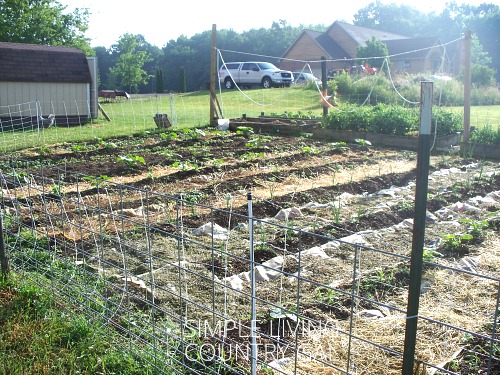 Weeding can be very time-consuming and sometimes a shock to a new gardener. Although mulching is quite a bit of work in the beginning, it is an investment that will save you a whole lot of time later on in the season.
And don't forget the added benefits of giving your plants room to flourish and grow.
Have you tried your hand at mulching your garden? If so, how did it work for you?