Best Watering Systems for a Garden
Having a successful garden from day one requires water, sunshine, and daily care. This can be a lot of work, especially if you are a first-timer. To help, we have a list of the best watering systems for a garden so you can get the most important part of your plant's care setup and ready to go.
How to start a backyard garden by streamlining the care, making it easier for you to keep up with your plants all season long.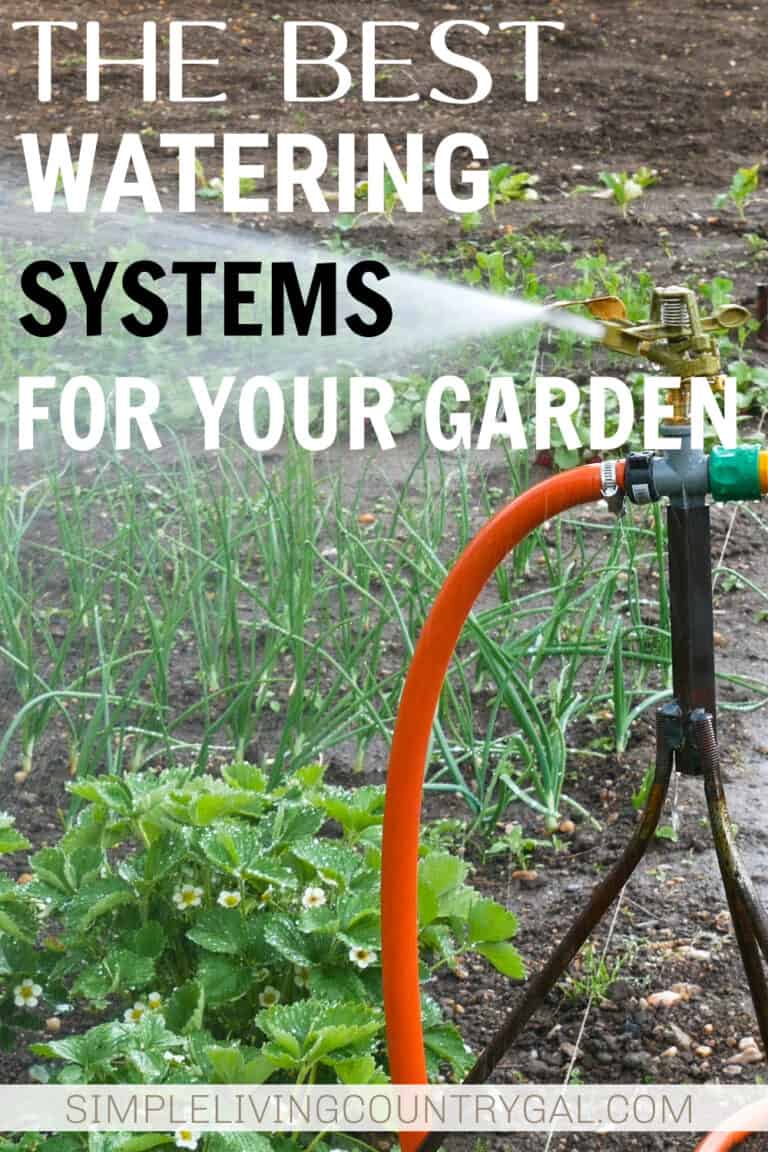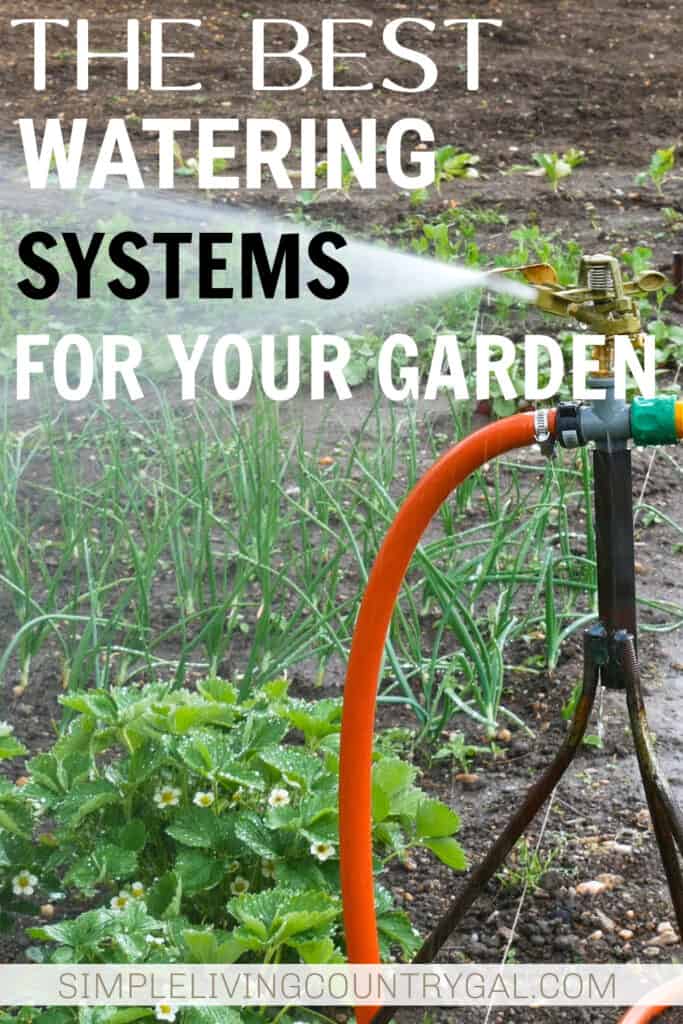 Starting a backyard garden can be the first step to getting back in control of your home and the food that you and your family eats. It is exciting, the thought of relying less on the outside stores, but it can also be ovewhelming if you are just starting out.
Vegetable gardens require time and effort every day to ensure that your plants receive the necessary water and care they need. This is why a good watering system can be so helpful. If you can get some of the most crucial care on a system or routine, you can encourage that huge healthy harvest so many of us want.
Watering sounds easy, but there are many options available, and that can make finding the right one for your setup, overwhelming. To help you make the best choice for your garden, we have compiled a list of the best watering systems available. From a simple watering can to an irrigation system, we will go over each option so you can get started.
What is the most efficient way to water a garden?
The most efficient way to water a garden is by watering at the roots or the base of the plant. This helps to ensure that the water is reaching where it is needed most, below the soil. Watering at the base also helps as it limits splashing soil up onto the leaves, which can lead to issues with diseases.
The best time of day to water is in the morning and for two reasons. First, the sun isn't as strong, so it will not dry off the water too quickly. The second reason is evening watering tends to sit on the soil without drying, and this can cause rot or fungus growth on the plant.
Bottom line: Water in the morning and keep the water close to the base of the plant when possible.
Types of Watering Systems
There are different types of watering systems for gardens including:
Drip Irrigation System
Soaker Hose
Sprinkler System
Manual Watering Can
Drip Irrigation System
A drip irrigation system is one of the most efficient ways to water your garden. It works by slowly releasing small droplets of water directly onto the soil at the roots of the plants. This allows for a consistent and targeted watering, resulting in less water waste and healthier plants.
Auto Drip Irrigation Kit with Water Timer 65.5 Feet, 1/4 Pipe Automatic Garden Watering System for Potted Plants, Vegetable Drip Irrigation, Trellis Plants, Patio Lawn, Green
Risingup Solar Irrigation System, Plant Watering Devices Solar Powered Automatic DIY 50-Inch Watering System, A Garden Watering System with 6 Timing Modes for Outdoor Gardens, Vegetables, Greenhouses
HIRALIY 98.4FT Drip Irrigation Kit, Garden Watering System, 6x4mm Blank Distribution Tubing DIY Automatic Irrigation Equipment Set for Outdoor Plants, Micro Drip Irrigation Kit for Greenhouse Flower, Bed Patio, Lawn
Drip Irrigation Kit, 100ft/30M Garden Watering Automatic System – Micro DIY Irrigation Tubing Kits, Blank Distribution Hose Atomizing Nozzles Drippers for Plants Flower Bed, Patio, Lawn
Pros:
Saves water by targeting the roots of plants
Can be set on a timer for convenience
Cons:
Initial installation can be costly and time-consuming
Requires regular maintenance to prevent clogging or leaks.
Soaker Hose
A soaker hose is a long, porous hose that allows water to seep out along its entire length. It works by laying the hose at the base of your plants and allowing it to slowly soak into the ground. This method is great for watering larger areas and can also be used in raised beds or vegetable gardens.
FUNJEE PVC Flat Soaker Hose 1/2", Drip Hoses, Saves 70% Water, For Garden/Vegetable (50FT, Green)
LAVEVE Soaker Hoses for Garden 100 FT (50 FT x 2Pack), Heavy Duty Drip Irrigation Hose Save 80% Water, Leakproof Double Layer Sprinkler Hose Black Water Hose for Watering System Garden Beds Vegetable
HOOPLE Soaker Hose 50ft, 5/8
2 Pack Soaker Hose 25 FT for Garden Bed, Soaker Hose for Foundation Watering, 1/2'' Soaker Hoses 50 FT for Garden Beds, Drip Irrigation Hose for Vegetable Beds (2 Pack 25 FT)
Pros:
Affordable and easy to use
Can be used for both garden beds and lawns
Cons:
Water may not reach deep enough into the soil for larger plants or deeper root systems
Can be prone to clogging or uneven watering if not properly maintained.
Garden Hose
The classic method of hand watering with a garden hose is still widely used today. This method gives the gardener complete control over where and how much water is being applied. However, it can be time-consuming and may lead to uneven watering if not done carefully.
GROWNEER Expandable Garden Hose 3/4 in. x 50 ft, Flexible Hose with 10 Function Hose Nozzle, Lightweight Water Hose Outdoor Garden Hose for Lawns
Metal Garden Hose 50ft, Heavy Duty Stainless Steel Water Hose with 10 Functional Nozzles, No Kink, Lightweight and Flexible, Easy to Use and Store, Strong and Durable, Suitable for Yard and Lawn
Janska by Mueller Expandable Garden Hose 50 ft. Flexible & Lightweight Garden Hose that Extends and Retracts, Kink and Tangle Resistant, with 9 Function Spray Nozzle
RESTMO Metal Watering Wand, Heavy Duty Garden Hose Wand with 180° Swivel Ratcheting Head, 16-Inch Hose Nozzle Sprayer with 7 Spray Patterns and Flow Control, Ideal to Water Hanging Baskets and Shrubs
Pros:
Gives complete control over watering
Can easily target specific plants or areas that need more water
Cons:
Can be time-consuming
Requires constant attention to avoid over or under watering.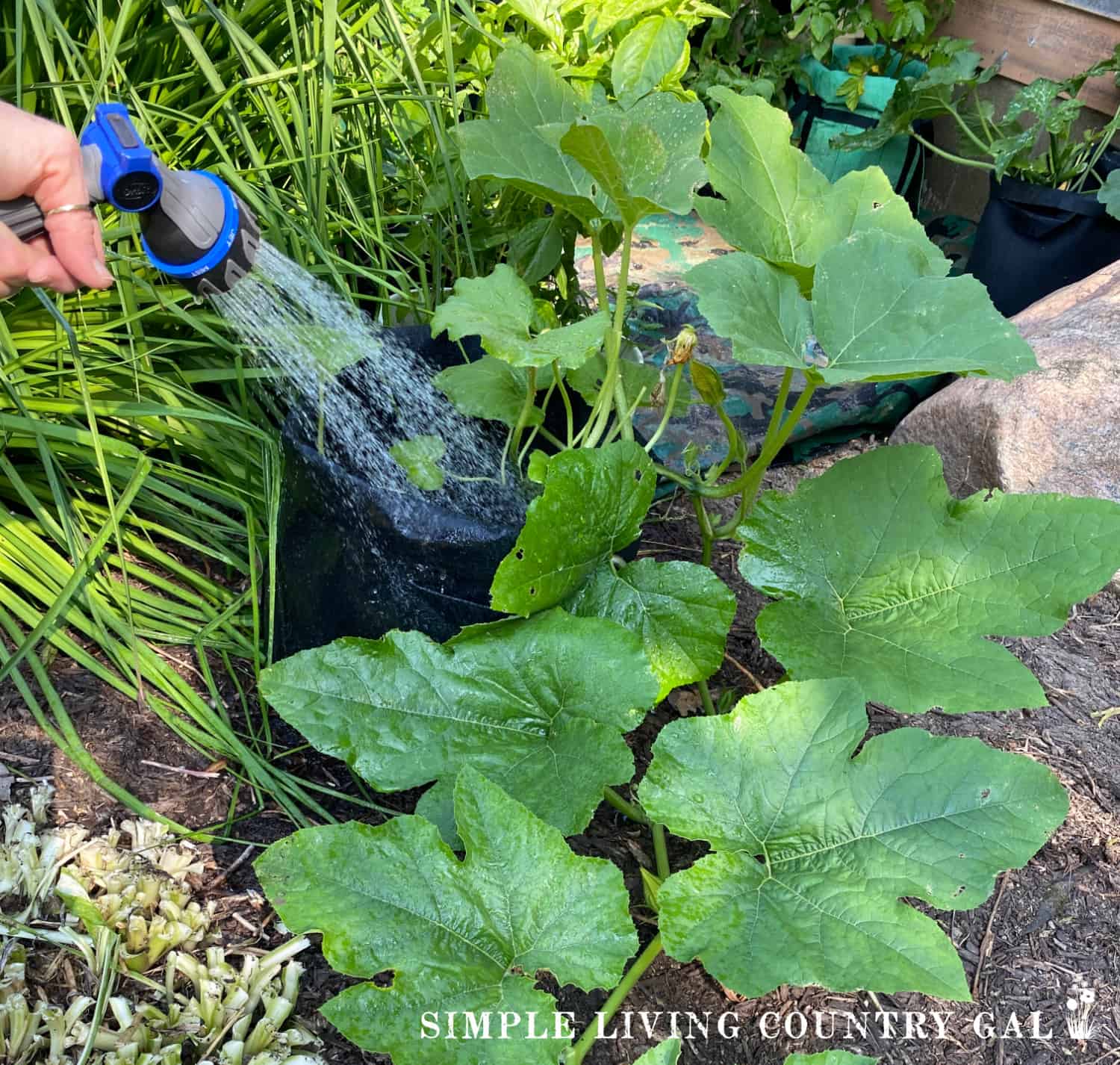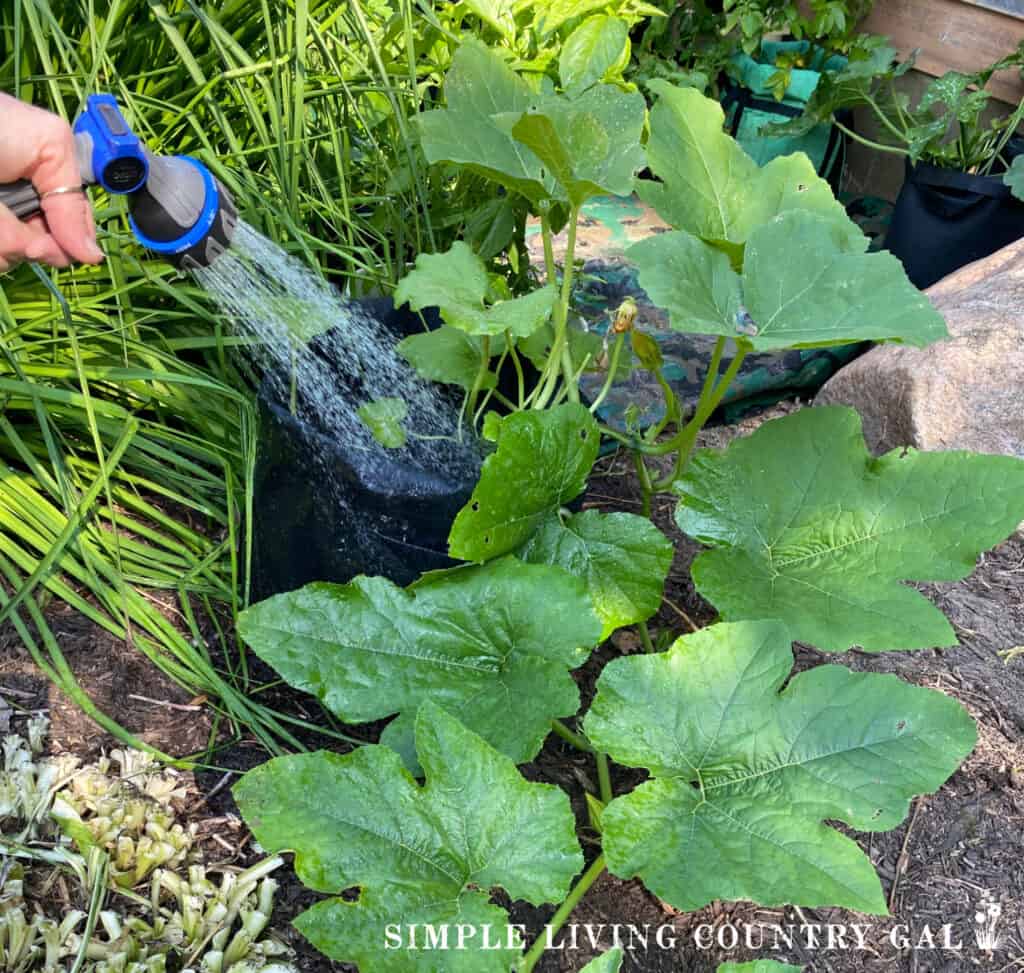 Sprinkler System
A sprinkler system is a popular choice for larger gardens or lawns. It works by spraying water over a large area in a circular motion. While this method is efficient for covering larger areas, it can also lead to water waste and uneven watering if not installed correctly or used improperly.
Lily's Home Above Ground Sprinkler System. DIY Irrigation System for Raised Garden Bed, Grass, Shrubs, Flowers, Vegetables. 6 Micro Sprinklers Set Connecting Directly to Your Garden Hose
Eden 11530 Multi-Pattern Turbo Gear Drive Metal Tripod Sprinkler Plus Misting System w/Quick Connect Starter Kit, 360 Degree Coverage
Melnor 65151AMZ Oscillating Sprinkler with 15 Precision Nozzles and QuickConnects
TANGWOD Lawn Sprinklers for Yard, Garden Pulsating Impact Sprinkler with Zinc Alloy Impulse Water Hose Sprinkler Head and Heavy Duty Metal Sprinkler Base, Adjustable Spray Angle and Distance Pattern
Pros:
Great for larger areas
Can be set on a timer for convenience
Cons:
Can result in water waste if not properly installed or maintained
May not effectively reach the roots of plants, leading to shallow root growth.
Watering Can + Rain Barrel
For smaller gardens or plants that require less water, using a watering can and rain barrel combination is a great option. This method allows you to collect rainwater in a barrel and then use the watering can to target specific plants with the collected water. It is also an environmentally-friendly option as it reduces the use of tap water.
Watering Can 1 Gallon for Garden, Indoor Plants, Outdoor Plant House Flower, Large Long Spout with Sprinkler Head (Grey)
Chapin 47998: 2-Gallon Tru-Stream Outdoor and Indoor 100% Recycled Plastic Watering Can, Removable Nozzle
Upcycle Products TC-50 50 gal Terra Cotta Rain Barrel
FCMP Outdoor RC4000 50-Gallon Heavy-Duty Outdoor Home Rain Catcher Barrel Water Container with Spigots and Mesh Screen, Brown
Pros:
Environmentally-friendly
Can be used for smaller areas or specific plants
Cons:
Requires more effort and time to water each individual plant
May not provide enough water during dry spells.
Additional Tips
Make sure to adjust your watering schedule according to the season – plants may need more water during hotter months.
Consider using a timer for your drip irrigation or sprinkler system to avoid over or under watering.
Mulch can help retain soil moisture and reduce the need for frequent watering.
Regularly check and maintain your watering equipment to ensure proper functioning.
Water deeply but less frequently to encourage deep root growth in plants.
By choosing the right watering method and following these tips, you can efficiently water your garden and help your plants thrive. Whether it's a soaker hose, sprinkler system, or manual watering can, each method has its pros and cons. Find the right choice for your setup and location and grow a garden that thrives.
More Vegetable Garden Tips: