How to Compost Indoors To Help Your Garden Grow and So Much More!
With so many people looking to create a more simple life we are starting to see more and more unique garden setups. Gardens are no longer only meant for large backyards and are now being seen in the city and even apartments. You might be surprised how much food you can grow right there on your back porch. This is great news because it is allowing many families to take back control of their food and where it comes from. There is something pretty wonderful about stepping outside, picking a ripe red tomato, and biting into it right there in the warm sunshine.
Another surprising change is how many people are learning the benefits of composting. Composting is a great way to feed your garden naturally and organically, but if you live in an urban area, you may find it difficult to create a compost area. Good news, you can compost indoors with all the same benefits and no need for extra space.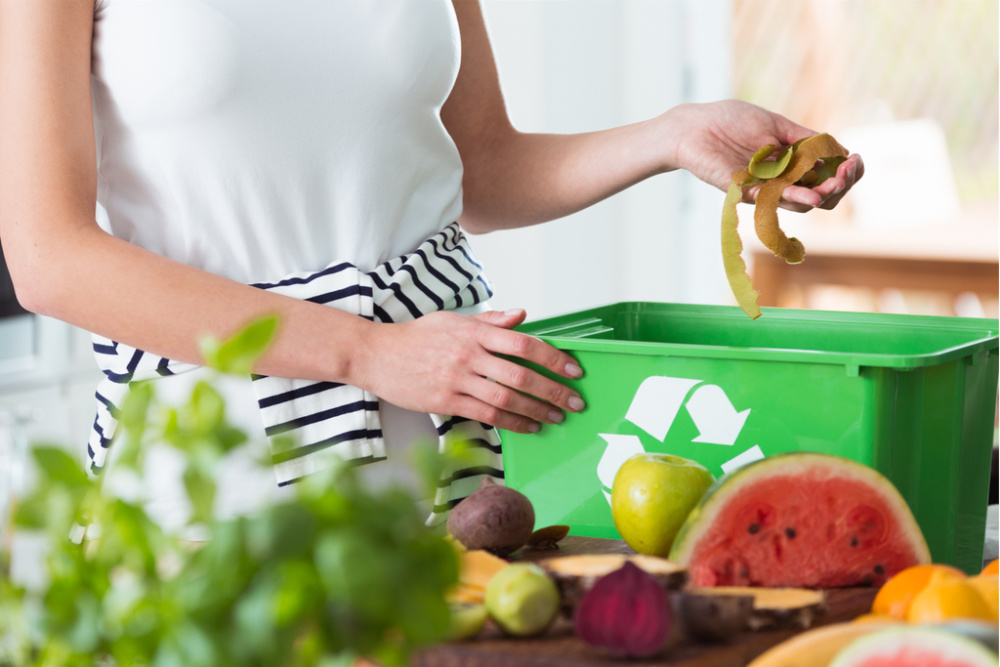 Composting also reduces waste, both in your trash can and in your local landfill. Indoor composting can thrive all year long in temperatures between 40 and 80 degrees, comfortable indoor temperatures. Outdoor compost piles need to be shielded from direct sunlight, rain, and temperatures below 40 degrees; problems you don't have with indoor composting since colder outdoor temperatures also slow the decomposition of compost.
Another advantage of composting indoors is the amount of space you need. Inside, you can keep a compost bin in any dark, dry space like a basement, closet, or even under the kitchen sink. (Finally, a use for that awkward cabinet space!) On the other hand, an outdoor compost pile requires at least a three-foot square amount of space in your yard; something city dwellers may not have.
Kitchen Composting 101
If you're new to indoor composting, it can seem a little overwhelming to sort out all there is to know. Let's look at everything you need to know in order to compost indoors so you can get started with ease.
Methods of Indoor Composting
There are two common methods of indoor composting: aerobic composting and vermicomposting. Let's take a look at them:
Aerobic Composting – this method uses microbes in garden soil to convert your kitchen waste as well as other organic matter into compost. The organic compost can be used as a homemade plant fertilizer.
Vermicomposting – this method may not be as appealing to indoor composting as it uses worms along with soil microbes. Vermicompost consists of worm casings (i.e. manure) and decayed organic material.
Both forms of compost are rich in phosphorus, nitrogen, and potassium and both are excellent sources of nutrients for garden soil. However, vermicompost tends to help the soil retain more water and it is better at preventing soil pathogens.
Bins to Compost Indoors
You're going to need a bin to collect your food waste for composting. Your best bet is some kind of lidded storage container. Large plastic storage containers and plastic, or even metal, trash cans are a good choice. You can also use a wooden crate as long as you top it with a board that's cut to fit the opening.
When choosing your bin, be sure to consider the space where you plan to place it. It's important that it fits so you don't have to find another space. It also needs to be large enough to hold at least a week's worth of food scraps. Generally speaking, for households with 1-2 people, a 5-10-gallon container should be plenty; For a family of 2-4 people, you may want something as big as 18 gallons.
We have this kitchen composter under our kitchen sink and it works perfectly. The best part is there is a charcoal filter that completely contains the smell so you are not reminded that it's in your kitchen until you go to empty it out.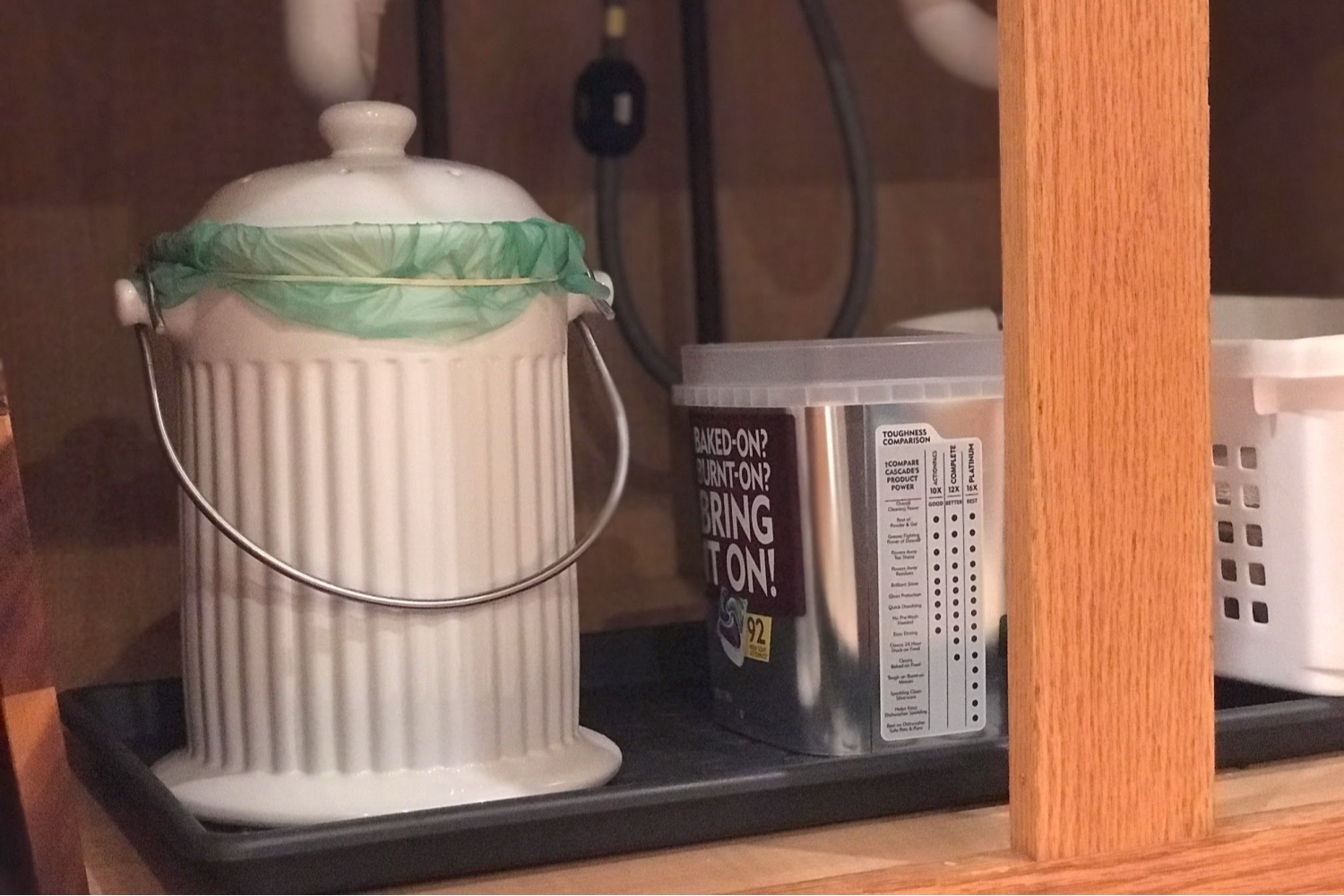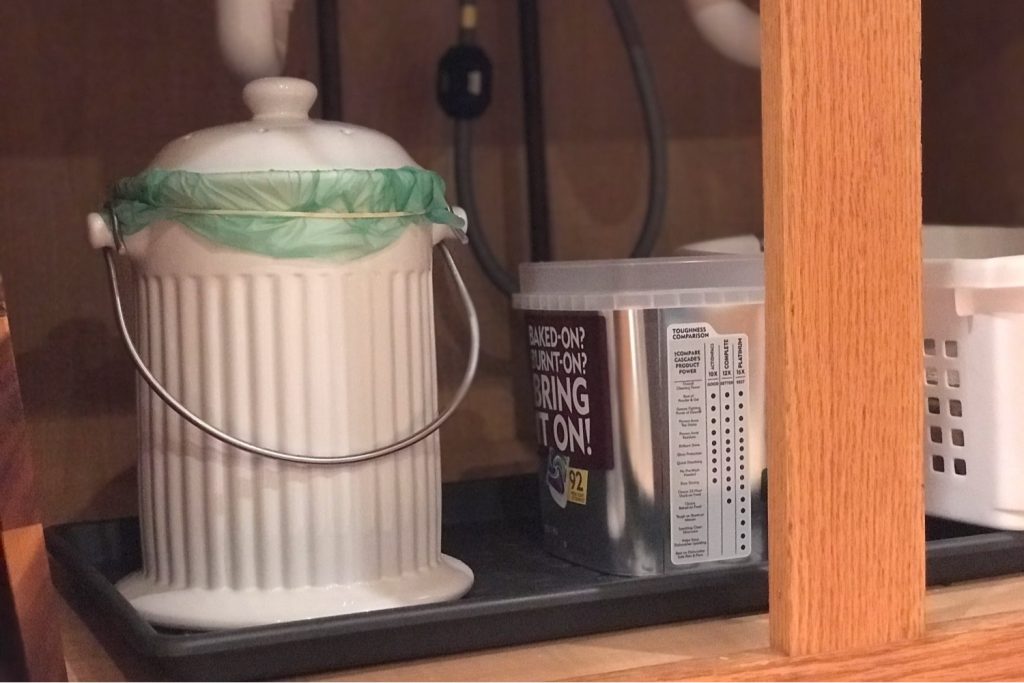 Whichever method of composting you choose, your compost pile will need oxygen to decompose and for soil microbes and worms to thrive. For this, you'll need to drill holes if your container does not have them already.
How to DIY your own Kitchen Indoor Compost Bin
If you are going to create your own kitchen composter, you may do better with plastic however you can use metal if you prefer. Using a marker, draw a grid of about 25 dots, evenly spaced, in both the lid and the base of your bin. Then draw another two rows of evenly spaced dots on each side of your bin. Use these dots to guide where you need to drill holes.
You'll also want to place a charcoal filter on the underside of the container lid which you can simply glue it on. This will not only keep bugs out it will also help to prevent odors.
Lastly, you'll need a rubber tray, bigger than the base of your compost bin, to place your bin in for any water waste. Be sure to check the tray weekly and dump out any water that has accumulated.
How to Compost Without a Bin
You may decide that you'd rather compost without a bin. Is this even possible in an urban area if you don't have a yard? Yes! This is where trench composting comes in.
What is trench composting?
Simply put, it means digging a hole or trench in the pots of your plant containers and placing compost material directly in the soil then covering it back up. Your plants will benefit directly from the compost material you place in the soil. You can place compost scraps in one plant one day and another plant on another day. In order for the compost scraps to have time to decompose and feed the plant, you'll only need to add material to the plant once every week to ten days so you can easily rotate the scraps between all of your plants.
When it comes to trench composting, there are a few things to keep in mind. You want to make sure you don't dig too close to your plant's roots. This will not only save you from accidentally cutting any of your plant's roots but it will also keep any rotting food away from the roots that can cause the roots to possibly rot.
Trench composting is best done with large round planters where it's easy to keep your compost away from the roots or in long, wide planters where you can dig a trench far enough away from the roots to place compost material next to the plants without getting too close to the roots. Once you have your trench dug you can then put in the compost and cover with a layer of soil. Then simply allow nature to take over from there.
How to Set Up and Maintain Your Compost Bin
Setting up your compost bin requires a little more than just tossing in food waste. It should contain a base of three parts brown material (think shredded newspaper, torn cardboard, and/or dead leaves) and one part green matter (food scraps and plant clippings). To get started, dampen your brown matter with water and fill your bin three-quarters full with it. You don't need to pack it down, just gently toss it. Then sprinkle a cup of garden soil over it. Now you're ready to add your food waste.
If you're using the aerobic composting method, use a trowel to bury your food scraps and plant clippings in the layer of soil and replace the lid to allow composting to begin.
If you're using the vermicomposting method, top your soil layer with a pound of red worms for every three and a half pounds of waste you generate in a week. Worms can be purchased online or at most garden centers for about $30-$40 a pound. Gather your food scraps in a separate container over the course of the week, then bury them all at once in the worm layer using a trowel.
What to Put in Your Indoor Composting Container
Not everything can be composted so it's important to know what you can place in your bin for maximum composting success.
Things that make good compost include:
Raw fruits and vegetables including the flesh and peels
Houseplant clippings and flowers
Coffee grounds and tea leaves
Coffee filters and tea bags
Nutshells
Crushed eggshells
Cardboard scraps and newspaper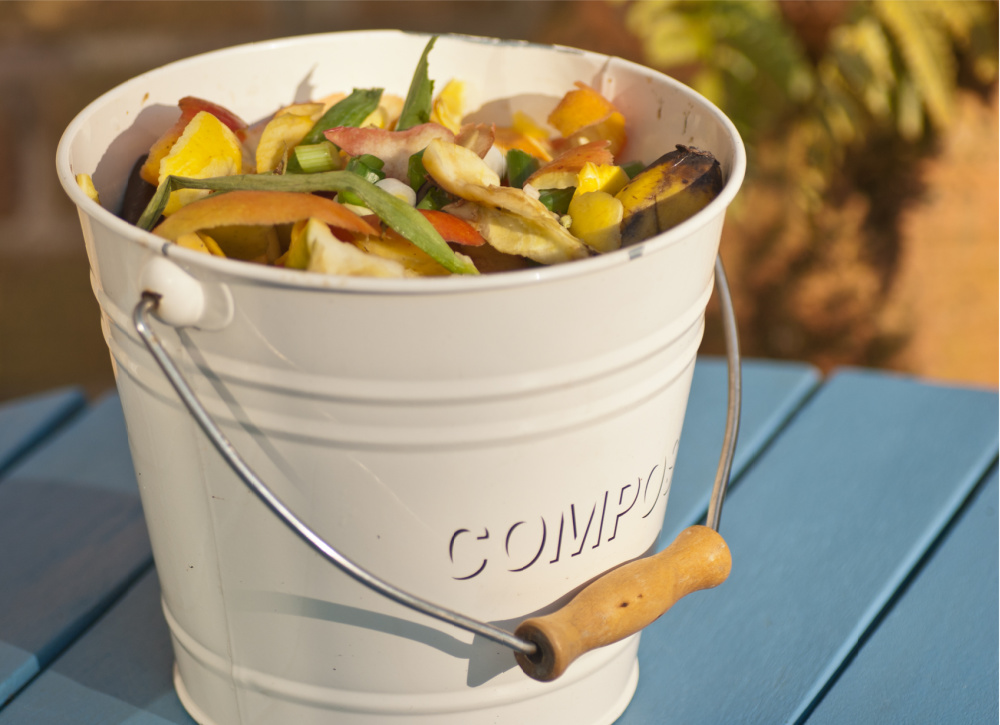 What Not to Compost
Some things won't decompose and will keep your composting bin from doing its job, they'll also cause a lot of smell.
Cooked foods
Dairy products
Meat
Fishbones
Fats and grease
Black Walnuts – these can be toxic to some plants
Wheat-based products including pasta, cake, bread
Any paper that contains ink and is not newsprint or cardboard including printer paper, magazines, catalogs, envelopes/mail
Rice
Sawdust
Pet waste
Sick or diseased plants
Coal and/or charcoal
Dryer lint
Hair
Smelly items such as onion skins
Watery items such as melons and squashes should be kept to a minimum to avoid your bin getting too soggy
How Waste is Converted to Compost
Your waste is naturally converted to healthy compost for your plants. If you're a science lover, you'll enjoy watching this process. Here's how it works:
Aerobic Composting – Microorganisms living in the soil layer of your compost bin use naturally produced nitrogen, carbon, and water (all within your bin) to break down your kitchen waste and the paper layer. They then release nitrogen, potassium, and phosphorous leaving you with nutrient-rich compost. The process also needs a regular intake of oxygen which is why you have to turn the soil and compost mixture, to aerate it. It can take anywhere from two to four months, sometimes longer, for the full contents of the bin to turn into a soil-like compost. At this point, you can remove it, add it to your plants to keep them thriving and start your composting process all over again.
Vermicomposting – Remember, this is the method that requires worms and they do all the work for you. The worms swallow the waste and bedding (they can eat half their weight each day!) which allows them to absorb the nutrients. Then, excreted worm castings (yes, worm poop!) and partially decomposed material make up the vermicompost. With vermicomposting, you don't need to turn the soil. The worms do the work of aerating the soil for you as they tunnel through it. It will take three to four months for the vermicompost process to complete. If you'd like, you can push the compost pile to one side of the bin with a shovel to make room for another compost pile. Just add new bedding and soil to the empty area. When you add more kitchen waste the worms will do the job of moving it from the fresh side to the composted side.
But Doesn't It Smell?
Other than a subtle, earthy scent, you shouldn't notice an odor. If you do, here are some things to check:
You may have too much moisture. If so, add more brown matter to absorb it and increase the dryness.
There may be a lack of oxygen. If the compost isn't getting enough air, add more holds to the bin and turn the mixture more often to help it aerate. You can also create more circulating air by placing the bin on a brick with the rubber mat under the brick. This will allow more air to circulate through the bottom.
You may have added too much food. Add only a little food at a time and don't add more until what you've put in is decomposed.
Tips for Indoor Composting Success
Keep a stash of shredded paper or dried leaves handy and add a handful every time you add food scraps or coffee grounds to keep your pile from getting too soggy. This will also provide carbon to your bin.
Smaller items break down faster. If you can, use a blender or food processor to pulverize your scraps before adding them to your bin. At the very least, chop them into small pieces. Use paper shreds that have been torn into thin strips.
Use your garden trowel to turn the contents of your bin frequently to warm up your compost and increase microbial action. This can also help you avoid dry and soggy pockets.
Don't leave waste exposed to air in the bin, it will attract fruit flies. Be sure to bury it in the soil or worm layer and brown matter.
If your compost pile is dry and the composting process has slowed down or stopped, you may not have enough moisture. Your pile should be about the dampness of a wrung-out sponge. If it's not, give it a little water and mix it up.
If you're using the vermicomposting option, pay attention to what the worms aren't eating. This food will rot instead of decomposing so you'll need to remove it and avoid adding it in the future.
Keep an eye on the number of worms in your vermicomposting pile. They will breed and you may end up with more worms than you need. Be sure to remove some if necessary.
Using Your Compost
Here are some great ways to put your fresh compost to good use:
Spread it over the soil of your container garden as mulch. It's beneficial to both indoor and outdoor plants.
Create nutrient-rich soil for new plants by combining two parts potting soil with one part compost before planting.
Don't throw out the water from your compost bin's drainage tray. Dilute it with ten parts regular water to one part compost liquid and use it to water plants or spray over plant leaves for extra nutrients.
Use it to boost your next compost pile by throwing a handful of finished compost into the soil layer of your new pile.
Now that you know how to compost indoors, and you've seen just how easy it is along with all the amazing benefits it can give both your patio garden and your yard garden, are you ready to give it a try?
Creating a compost bin allows you to make good use of your kitchen scraps and feed your garden for a better harvest. The sooner you get started with indoor composting, the sooner your plants will reap the benefits.