Keeping animals warm throughout the winter can be a bit tricky when there is snow and wind and cold day after day. Learning how to use the Deep Litter method is a great way to help to keep your animals warm in those frigid temperatures.
I'm not going to lie, in the winter it gets pretty cold in Northwestern Pennsylvania.
So cold in fact that it can be downright miserable for my animals. Because of this, I am always looking for ways to keep them warm when the temperatures get really cold. If you are just starting out, you can read my post How to Keep your Animals Comfortable in Frigid Temps. There you will find other ways to keep all of your animals a bit more comfortable.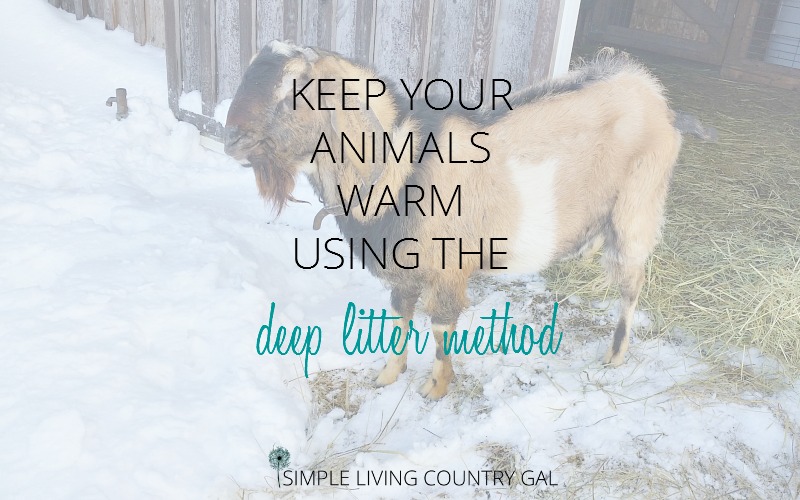 The Deep Litter Method: How to Keep Your Animals Warmer in Winter
One surprising thing I did find out over those first few winters even though the air is cold, it is the ground where the cold really gets intense. My barn is half dirt and half concrete. When the wind chills are in the negatives, there really isn't much difference in temperatures between the two.
Both grounds are rock hard and both grounds are ice cold. Let's just say, if it looks cold from inside your home…you can only imagine how cold it is outside in your barn or goat shelter.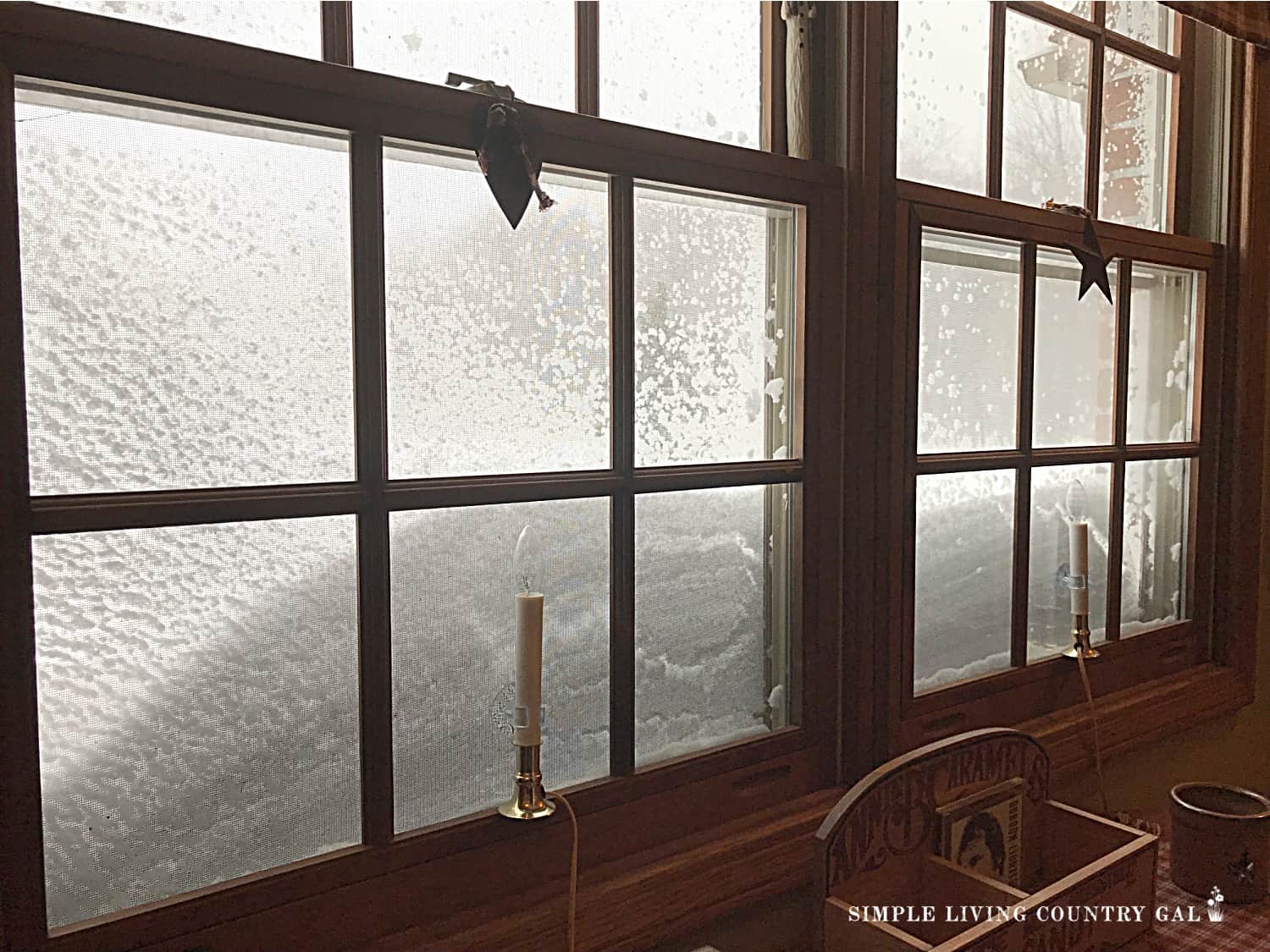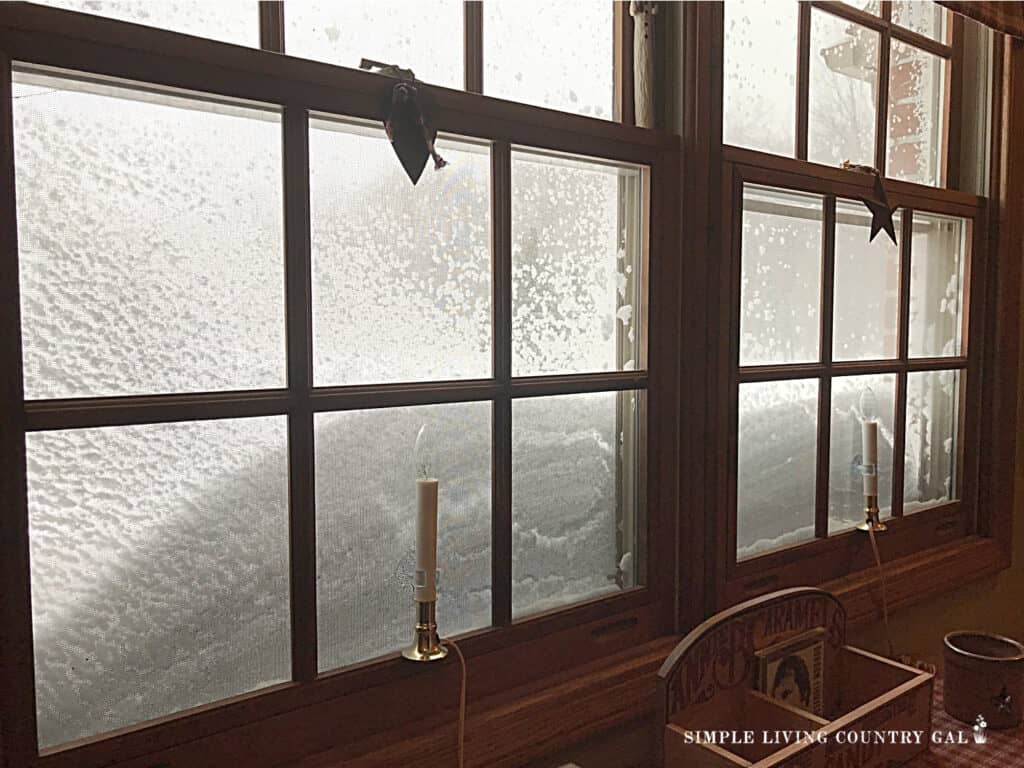 That first winter, I remember going out to feed my animals in the morning. I discovered all of my goats standing in a bunch all huddled together with their tales tucked tight. I realized the ground was so cold, they could not even lay down. And because of that, they were forced to sleep standing all night long.
Yes, it was time to come up with a new plan.
A few years ago a friend and fellow goat owner herself, told me about the deep litter method. I had never heard of it before but after talking to her I knew this was the solution I was looking for.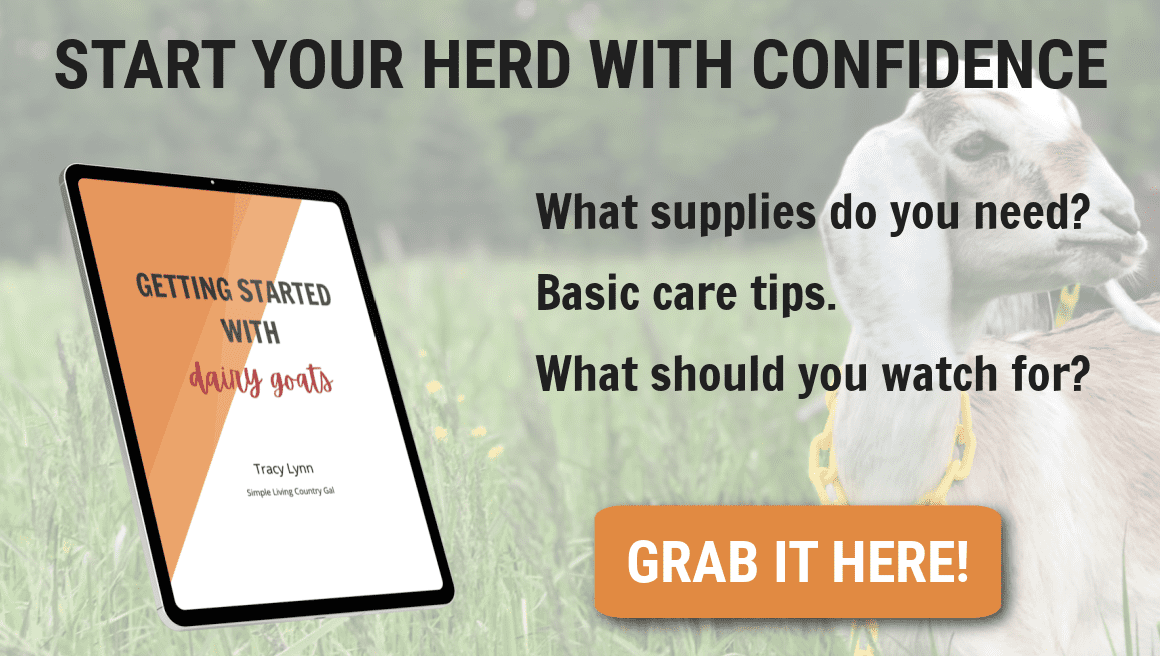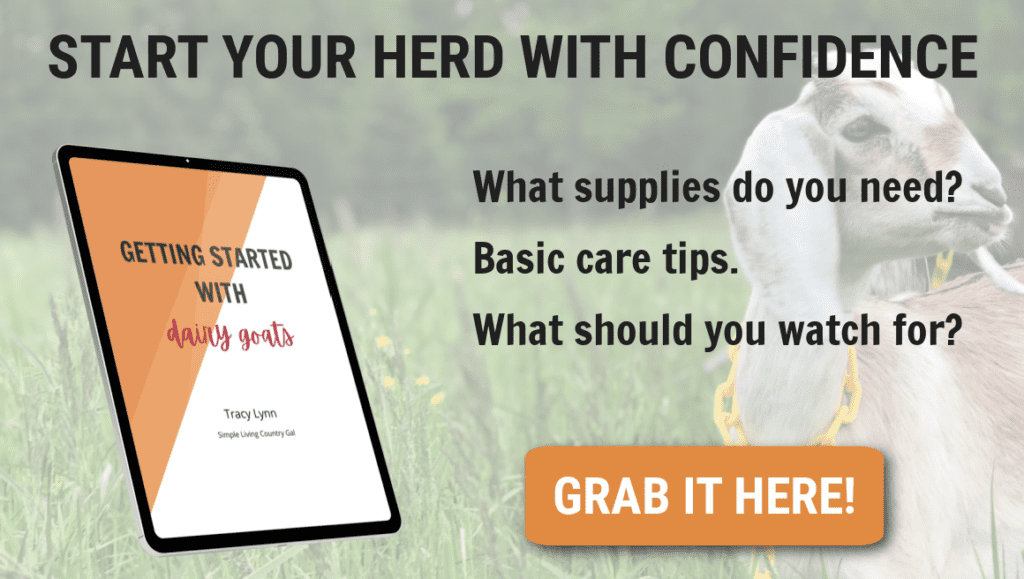 What is the deep litter method?
The deep litter method is a way of using bedding to insulate your animals from the cold ground. How it works is, you start out with a fresh layer of bedding of your choice. You can use straw, sawdust, or wood chips. As the animals soil things up, rather than clean out the bedding you will instead add a fresh layer on top every week or so.
Throughout the winter the added layers of bedding will work to create a nice barrier between your animals and the cold ground.
The deep litter method does two things. First, it saves you from doing the tedious chore of cleaning pens in miserable weather. Second, it provides a nice soft bed for your animals.
How to use the deep litter method to keep your animals warm.
Step #1 Start with a clean pen.
It is important to remove all the soiled litter before you begin. This will keep the smell down throughout the winter. A nice thorough cleanout each fall will ensure that you are starting with a fresh and clean space in your shelter.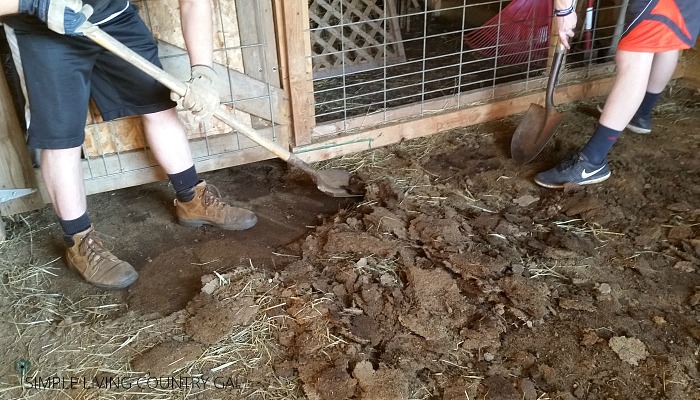 If you use a dirt floor in your shelter you will need to remove the top layer of soil. Even though it looks like soil, it is actually compacted manure and urine. Using a shovel, dig down until you hit soil to ensure you have removed all of the soiled layers.
Step #2 Put down a fresh layer of bedding.
Using your choice of bedding, put down a good layer to start. I like to use a nice layer of sawdust in the fall. This helps to dry things out quickly and smells pretty nice too.
SLCT PRO TIP: We like to sprinkle a nice layer of food-grade Diatomaceous Earth before you add the straw, woodchips, sawdust, or bedding of your choice. This will keep pests down naturally and away from your goats. Just make sure you use food grade. This can be bought at any feed store or online.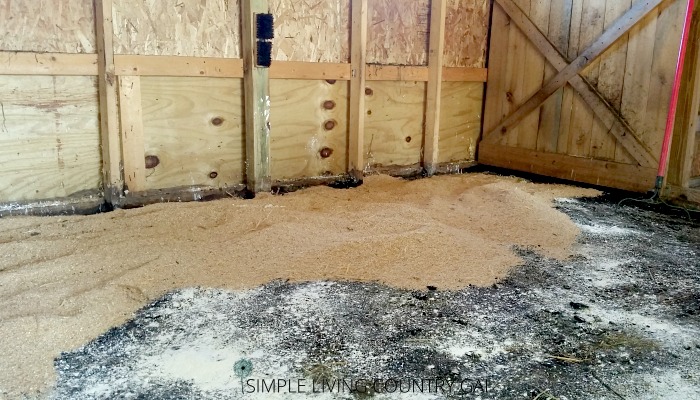 Step #3 Add more bedding as you go.
Every week or so as the weather continues to get cold, you can add more bedding to the top of the ground. This helps to keep the smell down and keep your animal's lungs free from ammonia. It is good to know that a goat's lungs are quite delicate and the ammonia created from their urine can be toxic to them. By adding more bedding over the overly wet and soiled ground, you will keep the smell down and your goats will do just fine.
SLCG PRO TIP: Goats tend to drop quite a bit of hay while they are eating. You can use this as a litter addition as well. Either leave it where it is or rake it around when you are upkeeping your shelter.
Remember whatever you add now and throughout the winter season will need to be removed later. Try to keep bedding additions to a minimum adding enough to keep the smell down and create a warm area all at the same time.
Step #4 Spot clean.
I like to spot clean-up heavily soiled areas throughout the winter. This is especially helpful if you have quite a few goats in your barn. Things can go south pretty quick and doing just a little shovel out of nasty areas will keep things smelling just fine.
Also, that goat's manure will freeze into little rocks during winter and can not only trip up you but your goats as well. Remove things as you go and keep those hazards to a minimum.
For me, spot cleaning is just a part of my morning routine. I will use a manure rake like this one and a good sturdy wheelbarrow. As my goats are eating I can easily go in and remove a load each morning in just a few minute's time. I can also take a look at where I need to add a bit of bedding to keep things dry and comfortable for the entire herd.
Step #5 Keep the gate clean.
I found out pretty early on that using the deep litter method where you enter your pen is not the best idea. Remember not removing litter means you will have a good foot of bedding by spring. There is just no way to open a gate or door against that! Keep things cleaned out by entry and you won't have any problems.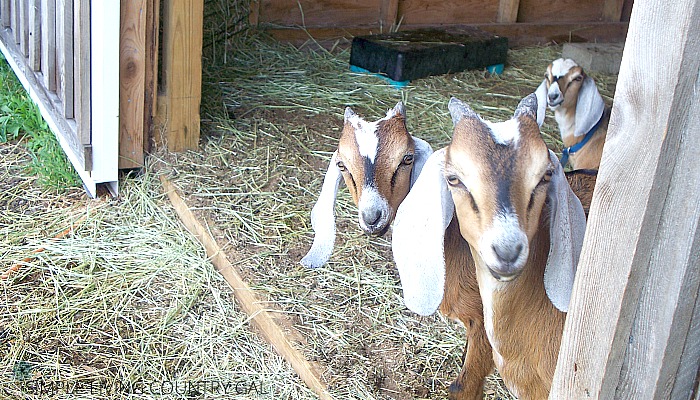 Deep Litter Method. What to Watch For
Using this method to keep animals warm is a great way to ensure a healthier herd but there are a few things to remember.
#1. Be prepared come spring for a heavy cleanout job. Yes, you will have more bedding to remove in the spring but I still feel the time saved in the winter and the help provided to my herd is worth the trade-off.
The good news is, that the removed bedding will be perfect for your garden. You will still want to add it to your compost pile first and add it to the soil in your garden when you are ready to work it into the ground.
#2. The smell is pretty intense. When cleaning things in the spring as you go deeper you will be hit with an odor that is hard to describe. I highly suggest you wear a face covering to protect your lungs.
Let me just stop here and say if you are older like I am, having a good wheelbarrow is the key to keeping back pain to a minimum. I got this wheelbarrow for Valentine's Day from my Hubby 8 years ago and it is the best thing he has ever gotten me. The two wheels make it easy to move no matter how full I fill it up. Invest in a good one and your back will thank you for it.
If you have chickens you can give them some of the manure or just let them in your compost area. They are pretty amazing and efficient workers and can break down a large pile of manure in less than an afternoon. We will put a few piles in our garden and allow our chickens to spread them out for us a bit. As they break down the solid pieces we can just go in and rake things out saving us a bit of work and time.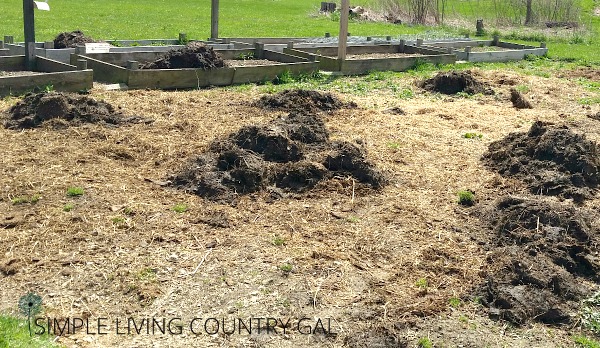 If you do not have chickens then you can simply rototill them into the ground. Once tilled I like to let it sit and rest. In another few weeks, it can be tilled in one more time and you are ready to plant. A rototiller is another homesteading tool you will want to research before purchasing. I have a lightweight option that allows me to use it without asking for help.
SLCG PRO TIP: If you are tight on the homesteading budget, you can rent a rototiller for projects as you need one. For just a small amount you can get your hands on one for the day and do all of your projects in one go.
Since I have begun adding soiled bedding from my barn to my garden area, my garden has thrived. It's pretty amazing when you think about it. Free all-natural fertilizer just waiting to be used.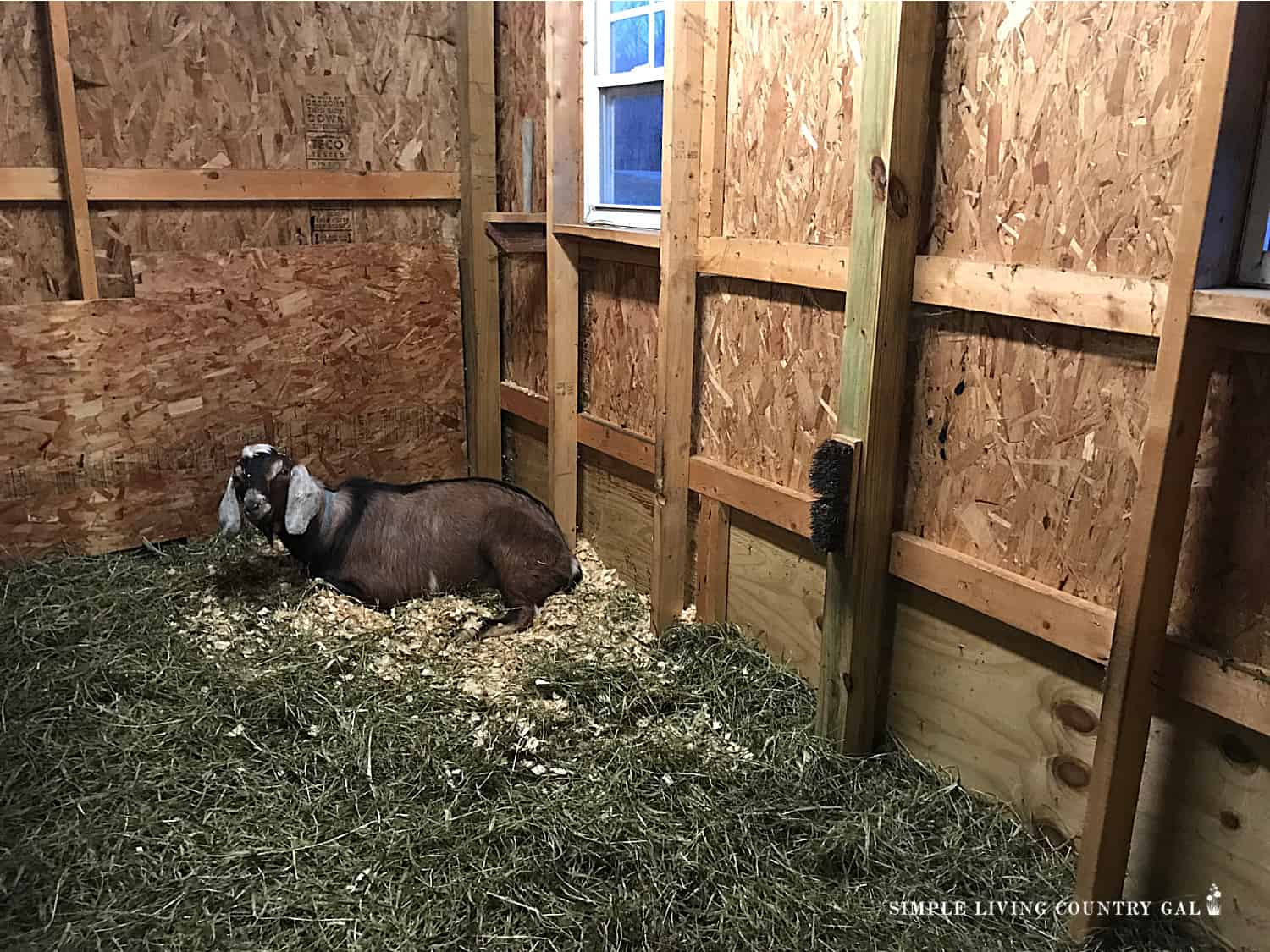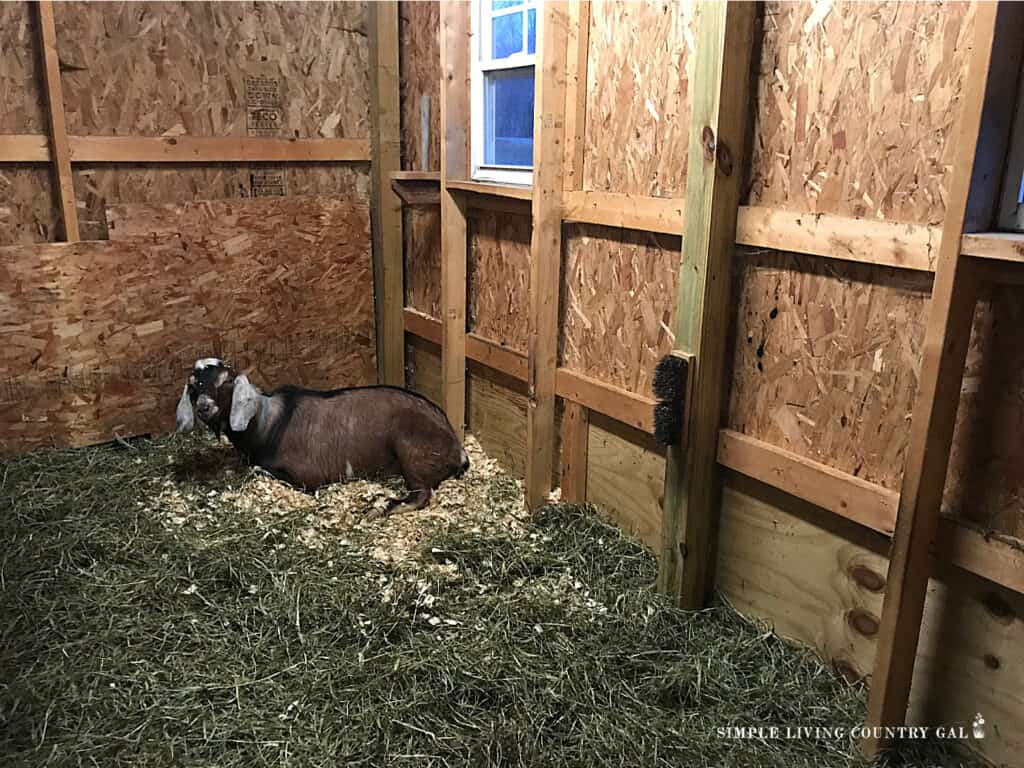 Deep litter is not just exclusive to goats, this little trick works well with chickens, sheep, horses, and other livestock as well.
My favorite part of homesteading is learning to reuse and recycle as much as I can. The deep litter method will not only keep your animals comfortable in the frigid and sometimes, dangerously cold winter temperatures, but it will ensure you have an organic start to your garden.
If you are new to goats, you can find all of my posts at Raising Goats: A Beginner's Guide for everything you need to get started.
Helping your goats keep warm in the cold winter by using the deep litter method is definitely something to give a try this season. Do what you can to promote a healthy herd rather than hurry and stress about treating sick animals later on.