Simple cooking tips for the kitchen. Create a simple kitchen to eat better, save money and time, and be healthier.
Over the years I have tried to simplify our home. To remove some of the excesses from our house and our lives to make things easier. And the more things I remove the more benefits I am seeing all around us.
Without all the stuff in our house, it is much easier to clean. If there is less on the shelves there is less to dust!
If we own less we have fewer bills to pay and that means more money in our bank account.
The more clutter we remove from our house the better it looks and feels meaning there are less stress-filled arguments.
And if you have fewer food options in your kitchen you will not only eat better, but you will most definitely live better.
By simplifying our kitchen we are able to eat healthier and still save money. As an added bonus, the food taste so much better, dinner now is a show of mouth-full moans followed by raves for the cook. And, surprisingly, it also doesn't take a lot of time to cook this way. With a few pantry staples on hand, you can have a homemade family dinner on the table in less than 30 minutes.
Simple cooking allows you to easily reduce your intake of sugars, preservatives, and chemicals for healthier eating. Think about something pretty basic that you enjoy eating, like a chocolate chip cookie. Wouldn't you rather enjoy a warm, just out of the oven, homemade cookie than a hard, store-bought cookie that was probably made months ago? Of course, you would! Who wouldn't? And the homemade cookie is even better for you.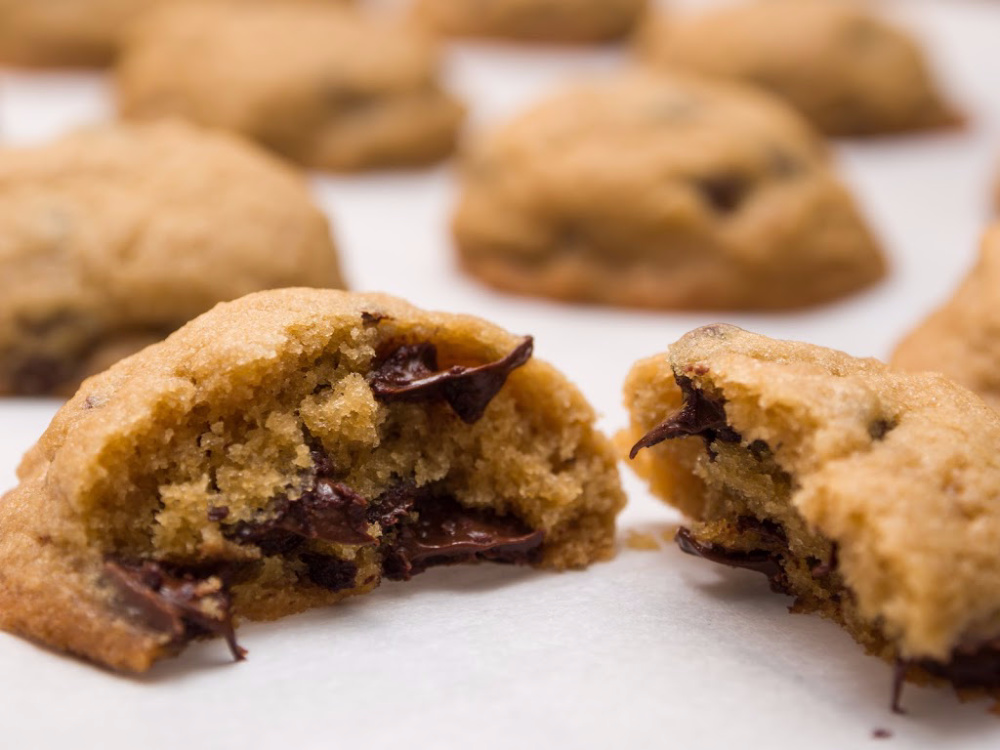 When you prepare your own meals you can reduce your sugar and preservative intake which will leave you feeling better. You'll have more energy, sleep better, enjoy better moods, and lose weight.
Here's an example you may be able to relate to . . . if you've ever tried Weight Watchers, or even if you haven't, you know they use a point system to calculate food servings. This system is based on sugar content, calories, carbs, preservatives, and other factors. In the Weight Watchers system, you can enjoy two of those homemade chocolate chip cookies for 5 points. Not bad. But two store-bought packaged cookies will cost you as much as 12 of your daily points! For most people, that's more than half of the allowable points per day. That gives you an idea of what's really in those store-bought cookies; a whole lot of ingredients you don't want in your body.
Even if you're not used to spending time in the kitchen, simple cooking means easy recipes, few ingredients, a limited number of steps involved, and almost no prior cooking experience.
There are a variety of kitchen appliances and tools that can make it even easier for you to enjoy simple cooking. If you have a pantry full of appliances like a slow cooker, indoor grill, pressure cooker, Dutch ovens, and baking sheets that you never use, now is the time. All of these wonderful tools can help you prepare simple, easy, healthy meals in a jiffy without a lot of prep.
Some foods you might enjoy making on your own are:
Baked goods including breads and desserts
Dairy products – yes, you can easily make your own cheese, yogurt, and sour cream
Dehydrated fruits, vegetables, and meats for snacks
Meats – never buy ready-made burgers again
Canning fruits and vegetables to preserve them or to make your own condiments
You can throw a few ingredients in your slow cooker or Dutch oven and let them cook all day, or quickly prepare a meal using your pressure cooker or sheet pans at the end of a long day. And you'll find these meals are both healthier and tastier than stopping for a pizza on the way home.
Let's talk baked goods for a minute. If you've never made homemade bread, you don't know what you're missing. A no-knead Dutch oven bread usually calls for 4-5 ingredients, it's left to rise overnight while you sleep, and is then baked off in the morning for about 45 minutes. What could be easier? Not only does it taste better than a store-bought artisan loaf, but it's also fresher and much less expensive. And you can have fresh bread anytime you want.
Simple cooking fits right in with the homesteading lifestyle. If you enjoy homesteading, simple cooking allows you to prepare your meals based on the fruits and vegetables of your harvest, as well as fresh eggs and milk.
Enjoy easy homestead cooking with fresh ingredients from your own garden; canning or freezing any leftover harvest for a later use.
READ; HOW TO ORGANIZE YOUR REFRIGERATOR AND SAVE (BIG) MONEY ON FOOD
The Amish are well known for their simple cooking techniques. Amish cooking benefits from the surrounding farms to prepare simple meals. They prepare all their food from scratch and often make large quantities to feed their community. Using these same principles, you can make food that freezes well for easy spur-of-the-moment meals.
Preparing your own foods instead of buying ready-made foods allows you to be more aware of what's in your food. Wouldn't you like to know what you're putting into your body? Try reading the ingredient label of a ready-made product and see how many ingredients you recognize.
If you're trying to make even healthier choices, you can choose options for organic cooking. You can grow your own fruits, vegetables, and herbs, or choose to purchase organic ones, allowing you to have more control of what you eat. Simple cooking, organic cooking, and homestead cooking go hand-in-hand.
Here are a few ways to make simple cooking easier:
Meal Plan – Planning your meals in advance allows you to not only shop easier but prepare some foods in larger quantities because you may need them later in the week. Need chopped veggies for two dinners on your meal plan? Chop them all at once and store half in the fridge for later in the week. A simple meal plan saves you time and allows you to avoid the stress of "what's for dinner?"
Make the Most of Your Weekend – After you've planned your meals and made your grocery shopping trip, you can use some of your weekend time to meal prep for the week ahead. Clean and cut veggies, and roast them in advance, make marinades and sauces for the week, and pre-measure dry ingredients for baked goods. I've found that this is an easy trick for large batch baking or to save time later on. Measure the dry ingredients for your baked good recipe into a large baggie or container. When you're ready to make the recipe, you'll have less measuring and less mess.
Stock Up on Staples – Keeping your pantry stocked with staples will make it easier to throw a meal together in a hurry, save time shopping, and allow you to change your meal plan at a moments notice if you forget to purchase a needed ingredient or your meat didn't thaw in time. Think about the items you prepare regularly and the non-perishable ingredients that go into them. These are things you can keep on hand for a quick meal.
Make Large Batches – Making a large batch of sauce can provide enough for 3 or 4 meals. You can use a portion for a meal this week and freeze the rest for later use. Tomato sauce for pasta dishes freezes well and allows you to have dinner at the ready with homemade sauce in your freezer and dry pasta in your pantry. Cookie dough also freezes well and allows you to have fresh, homemade cookies anytime you want. Pasta dishes do well in the freezer too. If you're making lasagna or baked ziti, make enough for two casseroles and freeze one for a later meal.
Now let's talk about your pantry. Stocking up on staples can make simple cooking easier. You'll save time grocery shopping and you'll be able to change your meal plan at a moment's notice.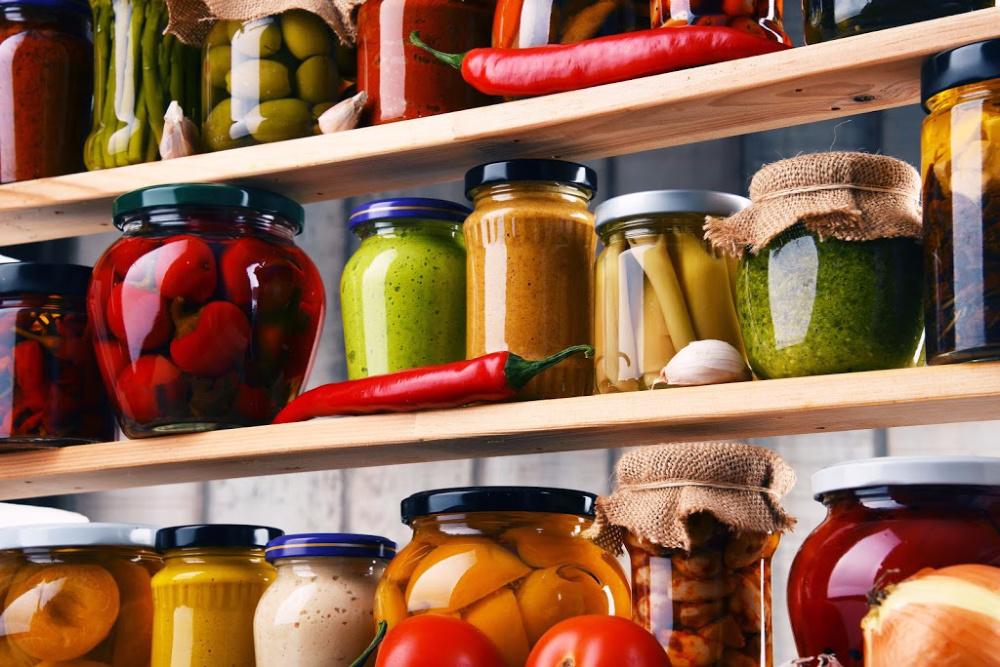 Pantry Staples in a Simple Kitchen
Be sure your pantry is organized so you are sure to use up what you have before it goes bad. Read my best tips, How to Organize your Pantry.
Rice – Brown rice is healthy and it works well as a side dish or mixed into soups and casseroles. It cooks quickly and can be used with a variety of meals.
Barley – This is a nice change to rice. It's a tasty and filling grain that gives you some variety in your meals.
Dry Pasta – Boxes of pasta are great to have on hand for both a meal and side dish. Make a quick spaghetti or baked pasta dish or serve buttered egg noodles as a side dish.
Beans – Both dry and canned beans keep well in the pantry, but canned beans don't need to be soaked before using. You can add them to meals to stretch your grocery budget and provide an excellent source of protein. You can even use them for snacks. Use chickpeas for an easy hummus spread or black beans for nachos.
Canned Vegetables and Sauces – Canned tomato sauce and canned diced tomatoes, can make homemade spaghetti sauce easy to throw together. Canned beans and corn are great additions to soups, chilis, and casseroles.
Broth – Chicken, beef, and vegetable broths are essential in a variety of sauces and soups.
Spices and Rubs – Keeping a variety of spices and rubs on hand will make it easy to grab a few other items from your pantry or fridge and have a tasty dinner ready in minutes. Rubs are a great way to turn bland meats into something divine.
Oils – Always having a variety of oils on hand will make it easy to cook, bake, and prep.
Vinegars – white and apple cider vinegar are great additions to dressings and marinades and they're a basic ingredient in pickling.
Soy Sauce – Add a warm, savory flavor to a variety of dishes.
Bread Crumbs and/or Panko – You can use these to bread meats and vegetables for frying or baking, or use them as a thickener for savory dishes.
Honey, Maple Syrup, and/or Molasses – These are great sweeteners that are an alternative to white sugar and provide more nutrients and flavor.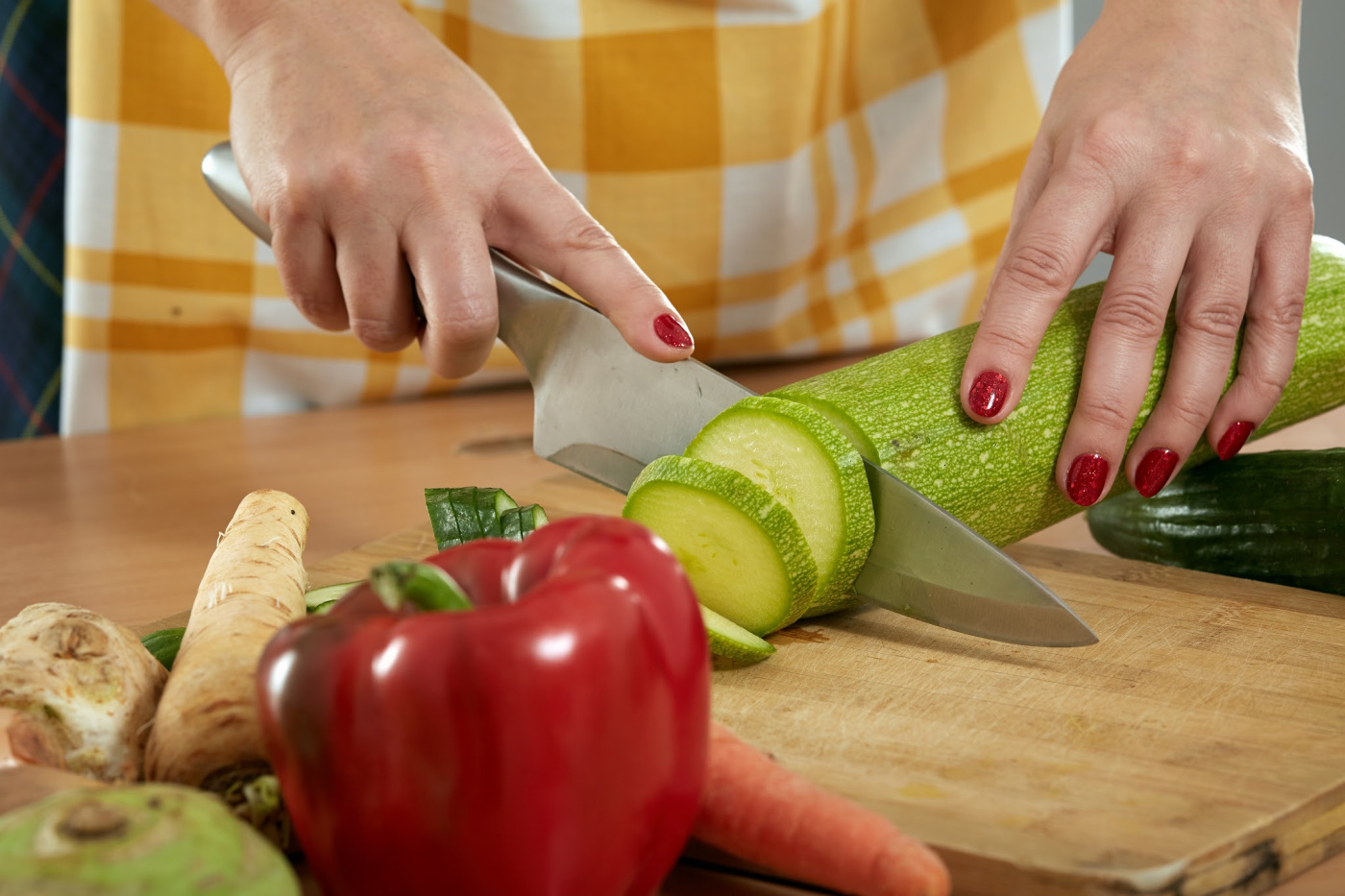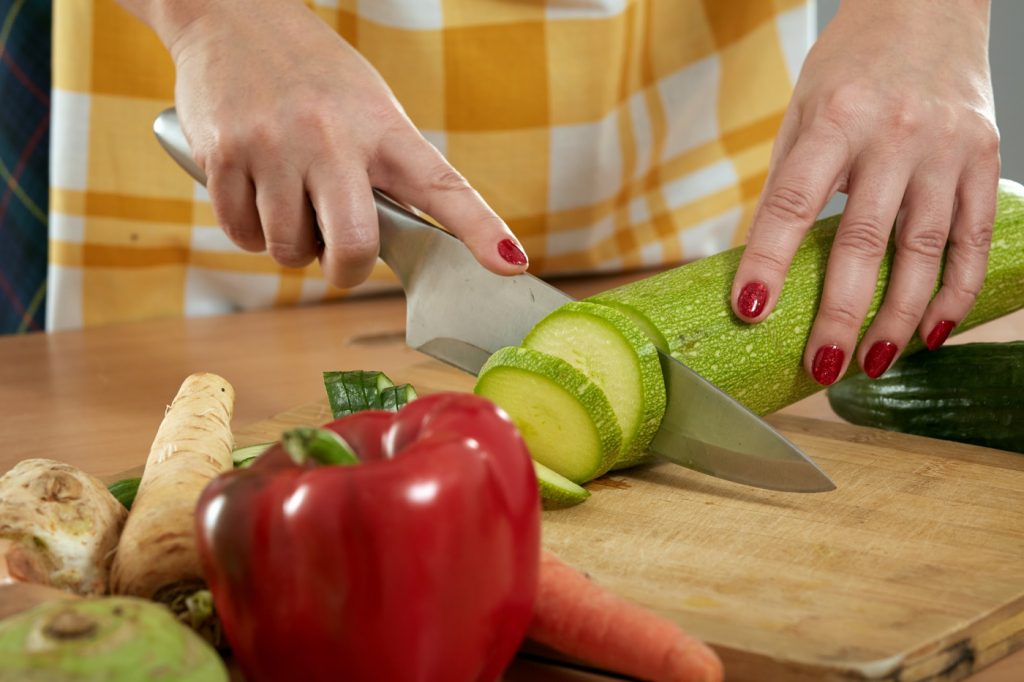 Freezer Staples in a Simple Kitchen
Frozen Vegetables – A package of frozen greens makes a quick side dish to any meal. And keeping chopped veggies in the freezer, like chopped onions and peppers, makes prepping meals quick.
Frozen Fruits – If you love a healthy smoothie in the morning to get your day going, frozen fruits make it easy to make your smoothie in a snap.
Garlic – Frozen cubes of fresh, minced garlic can make prepping and cooking so much easier. You won't have to stop cooking to peel and mince or chop, then wash up again.
Meats – The perfect time to stock up is when your grocery store is having a sale. Fill your freezer with a variety of meats including ground beef, ground turkey, and chicken breasts for quick, healthy meals.
Baking Staples in a Simple Kitchen
Flour – Depending on what you bake, you may need a variety of flours on hand. Whole wheat flour is more nutritious than white and it's great for breads. White flour is more commonly used in baking and many recipes call for self-rising flour or cake flour.
Cornmeal – This is often overlooked as a pantry staple, but cornmeal is an excellent ingredient in pizza dough, can be used for frying, and you can use it to coat a pan to keep pizza and bread from getting soggy on the bottom.
White Sugar – Used in almost every baked good recipe and in some sauces, this is always a good item to keep on hand.
Brown Sugar – This is used in a variety of desserts and sauces as well. You can make your own by combining white sugar with molasses. The difference between light and dark brown sugars is the amount of molasses.
Oats – While they're great to keep on hand for a quick breakfast, they're also used in a variety of dessert and bread recipes.
Baking Soda – This is a leavening agent for baked goods (it makes them rise).
Baking Powder – Also a leavening agent, but different from baking soda so you'll need both.
Yeast – You'll need this for any kind of bread or pizza dough. It can be stored for a long period of time in your fridge.
Cocoa Powder – If you're making chocolate cake, brownies, or hot chocolate from scratch, this is a necessity.
Applesauce – In addition to be a yummy snack, it can replace oils and eggs in baking recipes for a healthier option.
Vanilla Extract – This is used in everything from cookies, to cakes, to puddings, to whipped cream. It's pricey but necessary. You can also make your own by slicing vanilla beans open and placing them in a jar of vodka for about 3 months.
Chocolate Chips – In addition to those fabulous homemade chocolate chip cookies, they can be added to snack mixes and homemade granola bars.
Nuts – A great snack as well as a mix-in ingredient for a variety of recipes.
Simple cooking tips for the kitchen allows you to eat healthier and reduce high quantities of sugar and processed foods. Another great perk of homemade meals is that they're often less expensive than the ready-made versions. With a few simple recipes in your lineup and a meal plan to get you through the week, you can easily prepare fresh meals in a short amount of time.