Declutter Your Home One Day At A Time
When it comes to simple living, a clutter-free home is an important part of that lifestyle. These tips on how to declutter your home will get you closer to living a life of self-sufficiency and simplicity.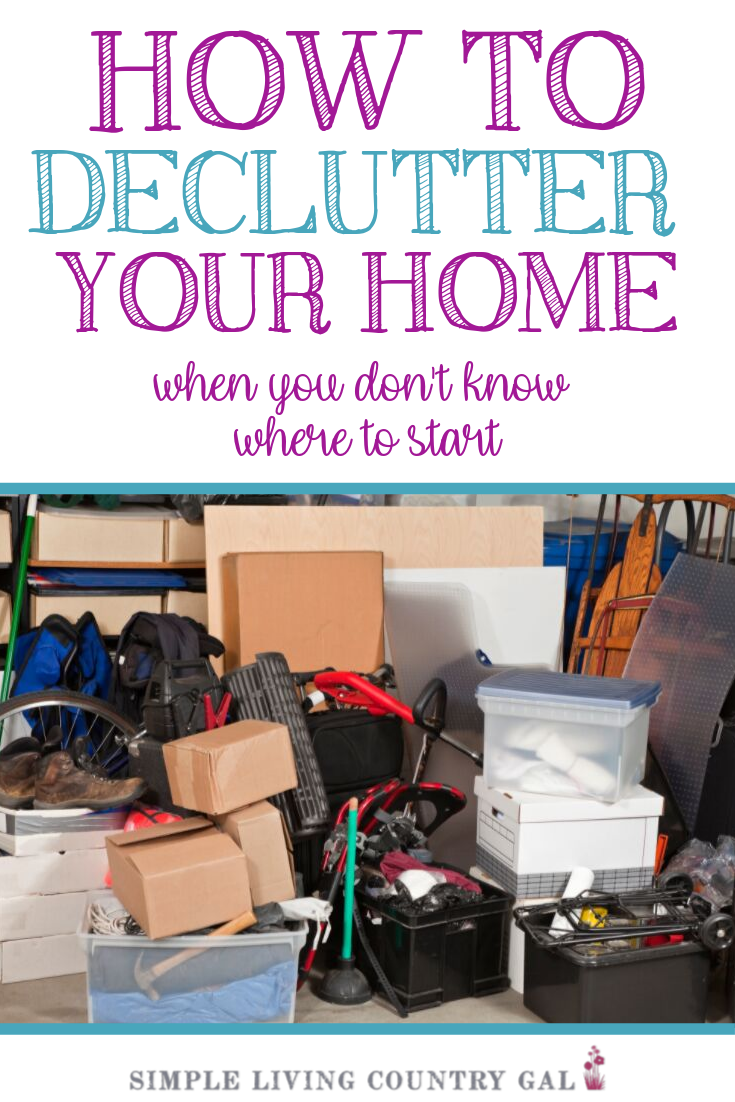 I don't care what they say; you cannot declutter your home overnight, especially if you are a garage sale shopping (ahem, reformed) packrat like myself.
I have a large home and let me tell you…it was F U L L.
I had so much stuff shoved in my attic over my garage, the ceiling actually cracked from the weight of it all. Hubs finally put his foot down and told me to get that attic cleaned out before it ended up on the garage floor!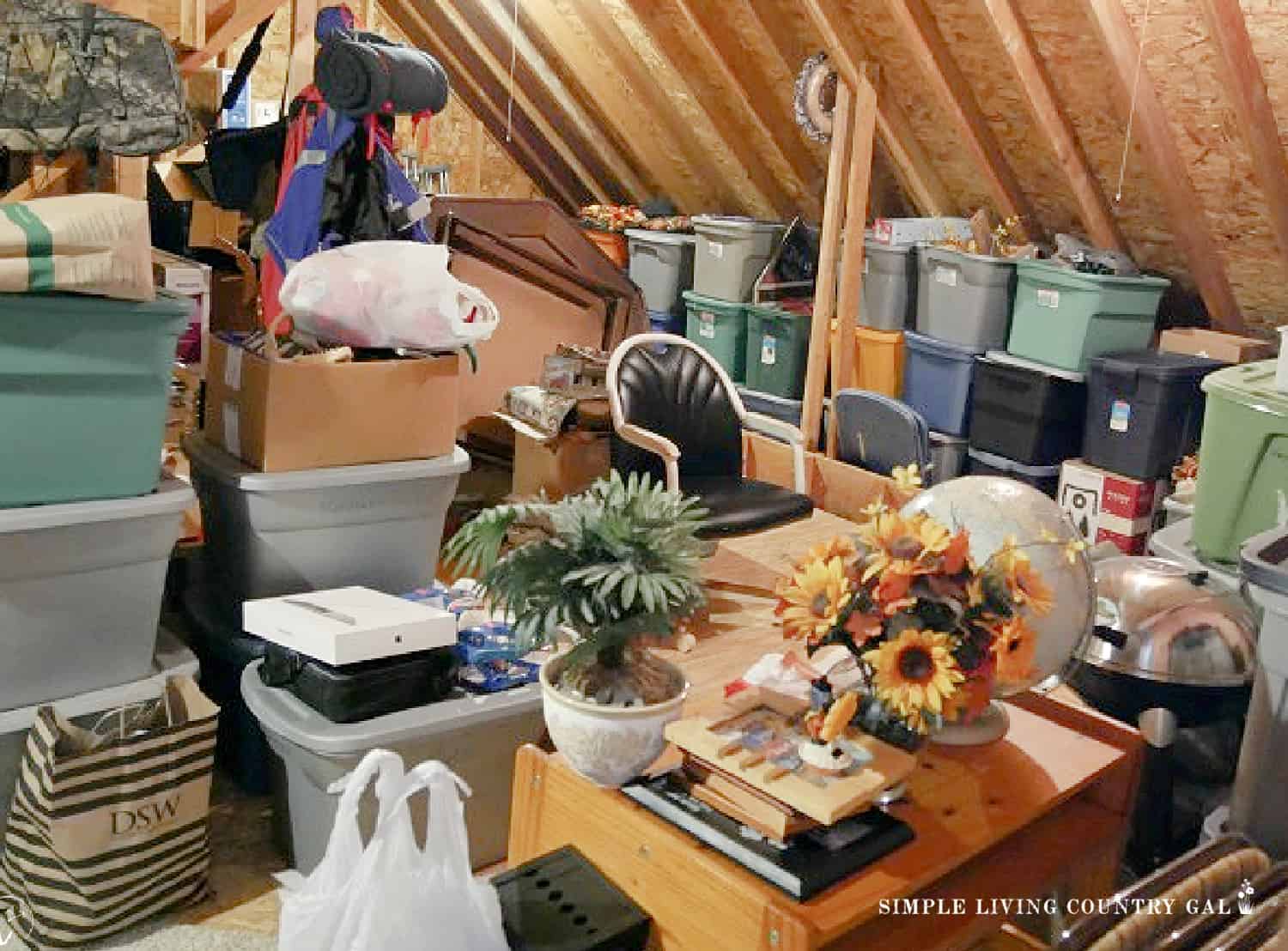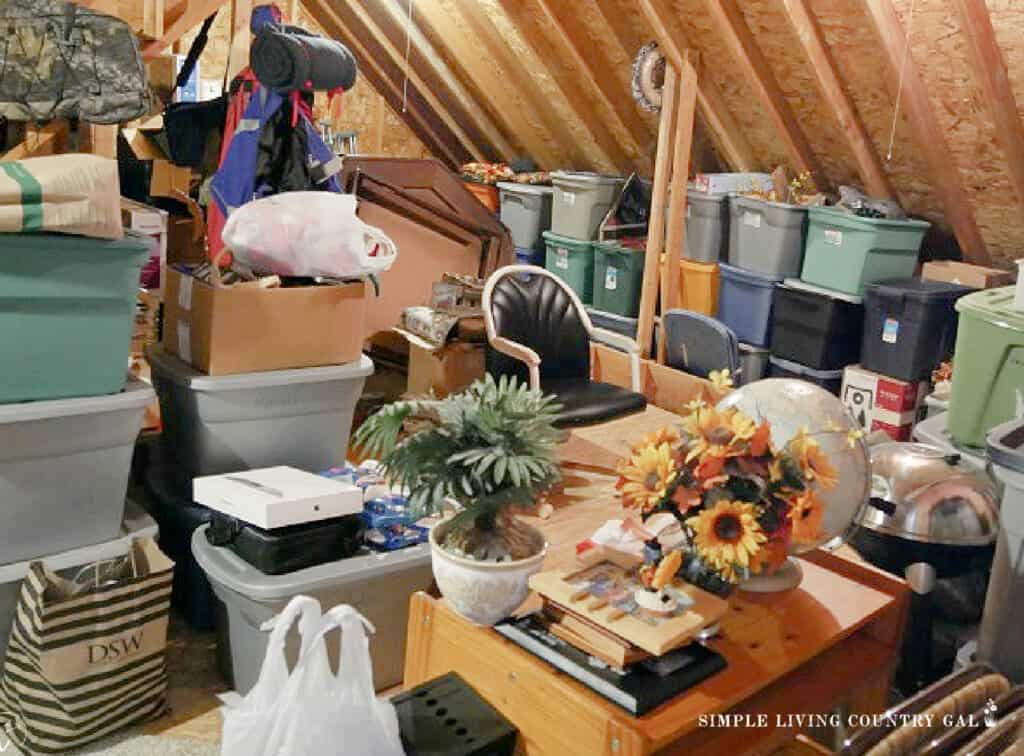 After years of saying I would do just that, I finally got the motivation I needed. It took a few weeks to get through my entire attic, but after it was done, I caught the bug and began tackling the rest of my home.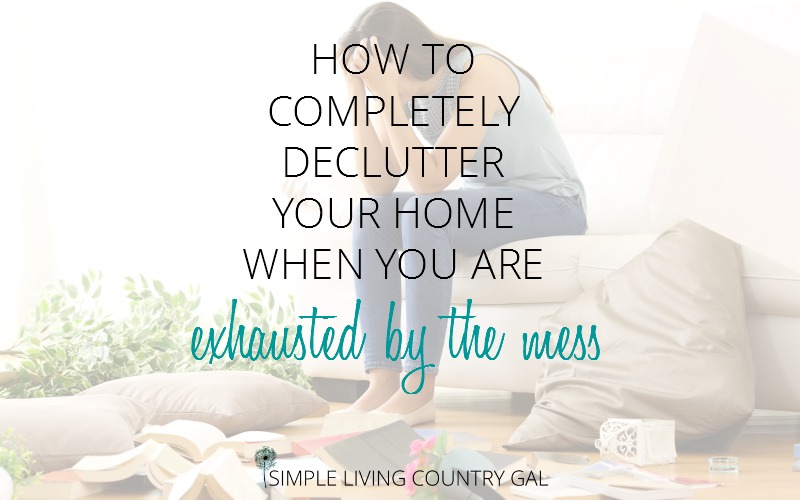 I have since added decluttering to my weekly to-do list. Why? Because simplifying is a lifestyle, not a do-and-done job.
Incorporating decluttering into your weekly or even your daily routines and schedules will develop habits that will streamline your home on autopilot.
So, what if you are just starting?
When you finally decide to declutter your home, I mean really declutter, it is a very daunting task. There are just so many rooms and closets. You may look at your home and feel overwhelmed before you even begin. I was right where you are now, stuck before I started. Head full of questions.
How long will it take?
How will I ever be able to get through it all?
Where do I start?
Better yet, HOW do I start?
READ: HOW TO UNCOVER THE CLUTTER THE EASY WAY!
How long will it take to declutter your home?
I am sure you do not have two months or even two weeks of uninterrupted time to dedicate to decluttering your home. I don't either, and because of that, I have found that the best approach is to simply do it one day at a time, one drawer at a time.
Tell yourself this is an ongoing task like doing the dishes or making the bed. Doing so will eliminate the pressure that a full-blown purge can bring.
Declutter as you go is a refined technique that can definitely save your sanity.
How will I ever be able to get through it all?
Sometimes when you only focus on the big picture, things can get so overwhelming that you are beaten before you even begin. The best way to approach any project this size is to break it all down step by step, room by room, drawer by drawer.
Here is your step-by-step guide to decluttering made simple…..because I am all about simplicity, especially when you declutter your home.
Each week pick a room.
Each day set the timer for 30 minutes.
For every 30 minutes, pick a section of that room.
When the timer starts, you need to be focused and driven. Work straight for 30 minutes, going through as much as you can as quickly as you can.
Continue working in 30-minute blocks until the room is completely and totally decluttered.
Set up the new room to be functional for what it is intended for.
By breaking things down, you no longer have a massive project staring you in the face. Now you have bite-sized chores that you can get done in just minutes but will get you amazing results.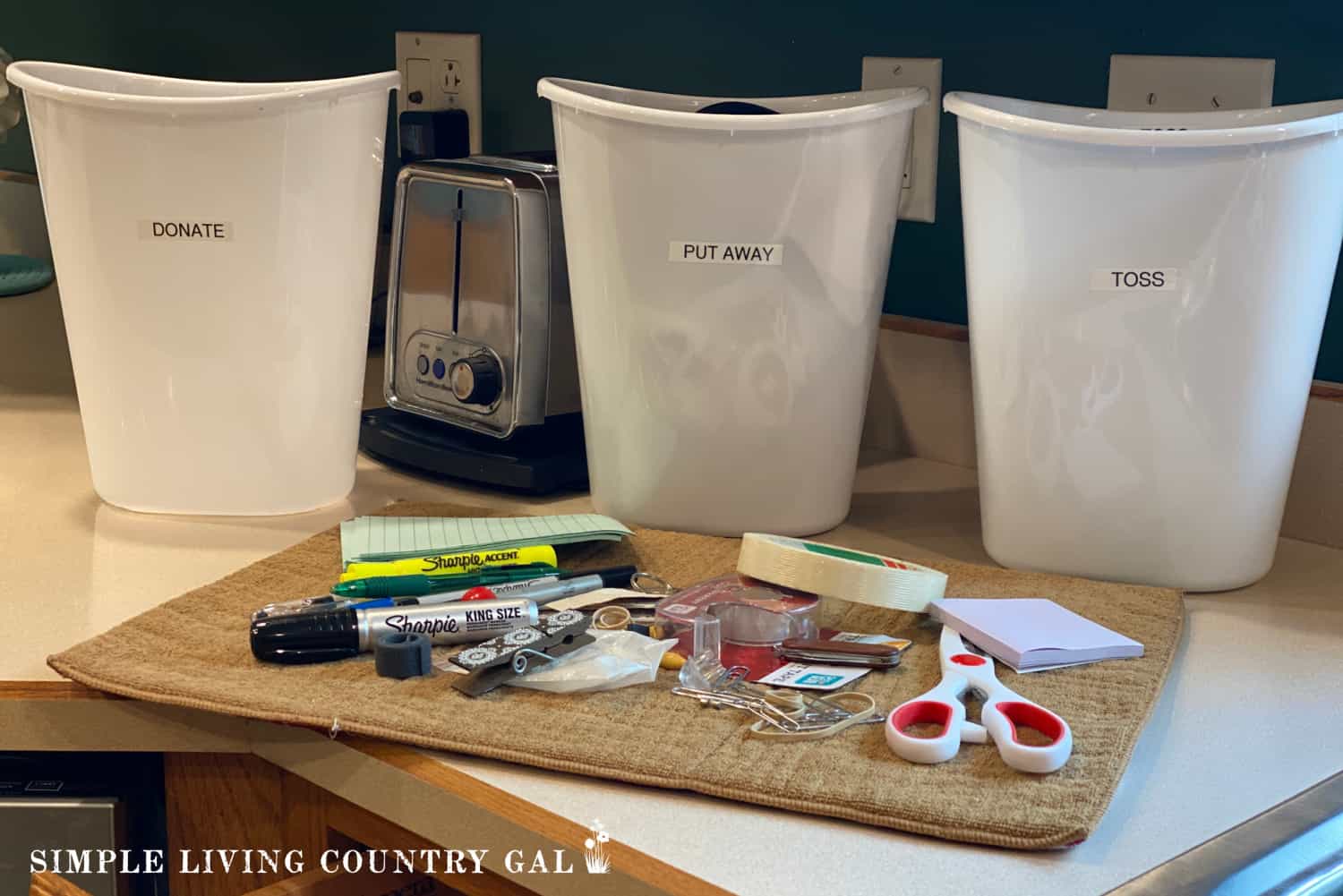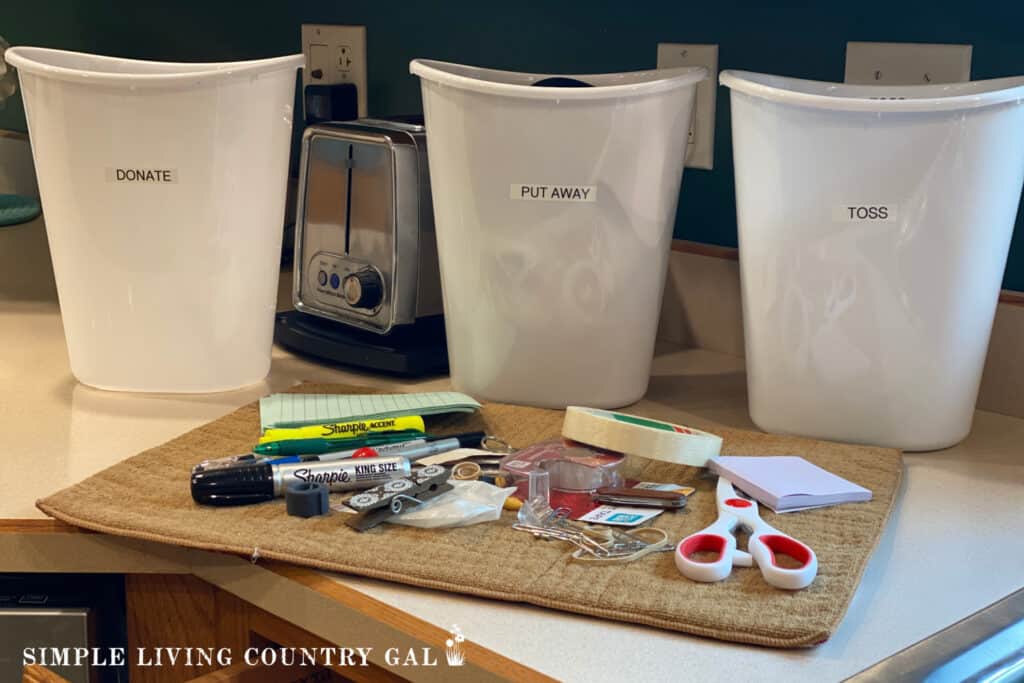 If you are a bit overwhelmed, don't worry; I have help! Jump over and read Decluttering When Feeling Overwhelmed and relax..you got this!
Or you can grab a tool to help. One that is there specifically to make this entire process just a bit easier. A decluttering and Organizing Calendar that will walk you through the easiest way to get this big job turned into simple baby steps.
Where to start?
When you decide to purge this way, you need to set up a sorting area. I suggest you choose a place that is out of the main living area but one you will see often and can use as a gentle reminder.
Your sorting area needs to contain five boxes, bags, totes, or tubs.
Donate
Give away
Maybe
Sell
Recycle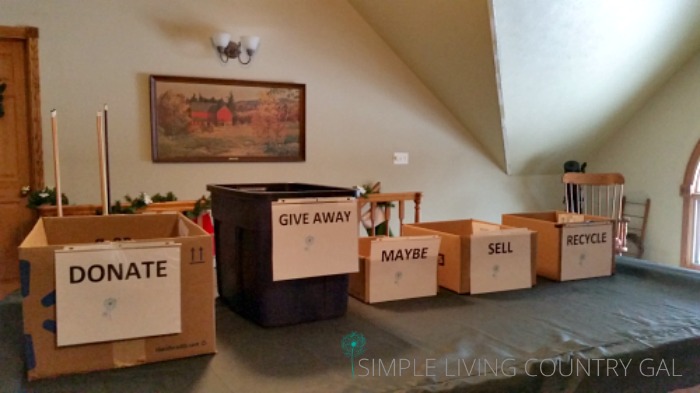 I know setting up a sorting area is nothing new. My twist on this is: ALWAYS have one set up in your home.
Yes, at all times.
This keeps simplifying at the forefront of your mind and reduces the clutter in your home at a more slow and steady pace.
Having an "in your face" sorting area like this is perfect when you are just starting out to declutter your home.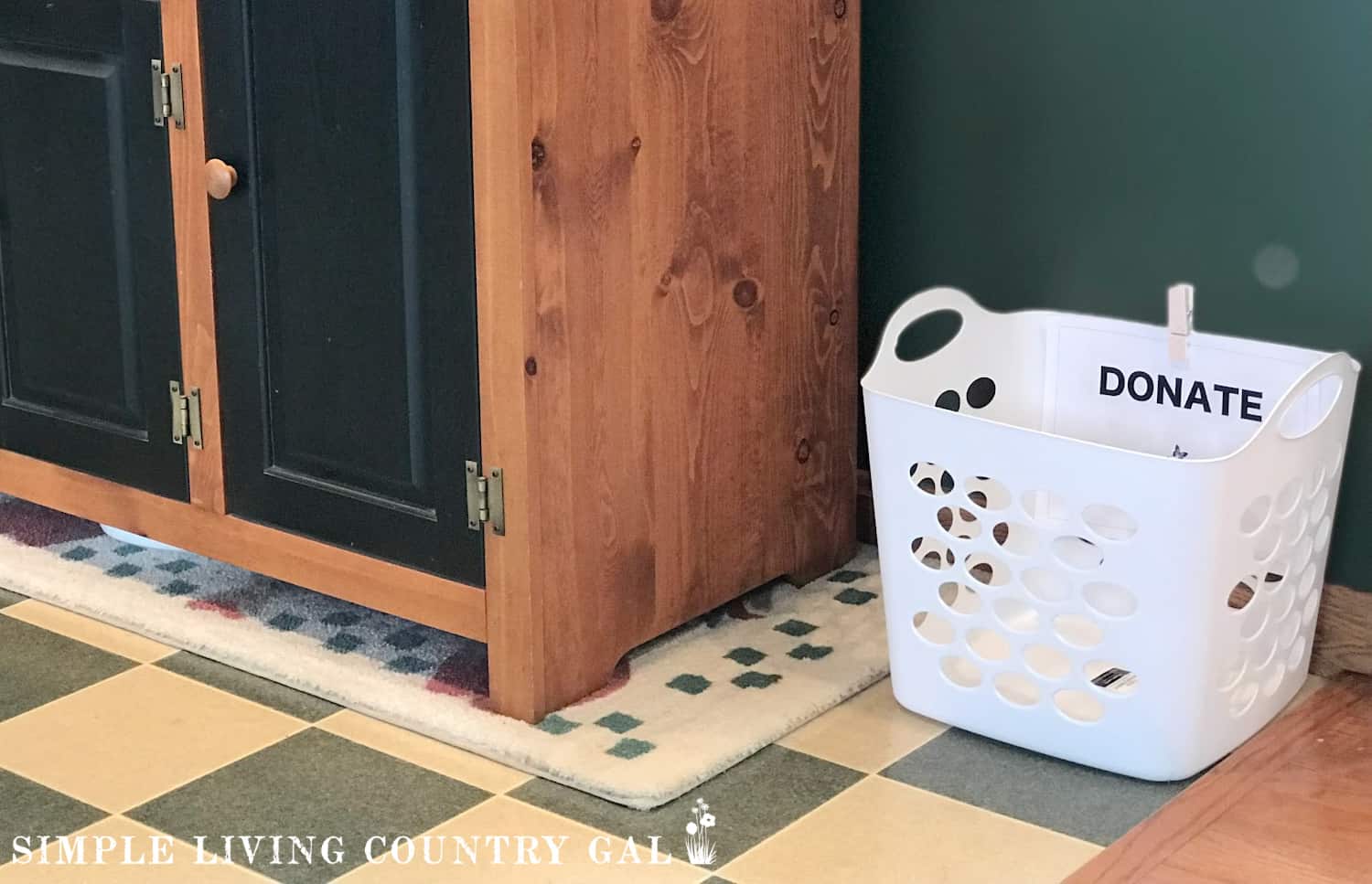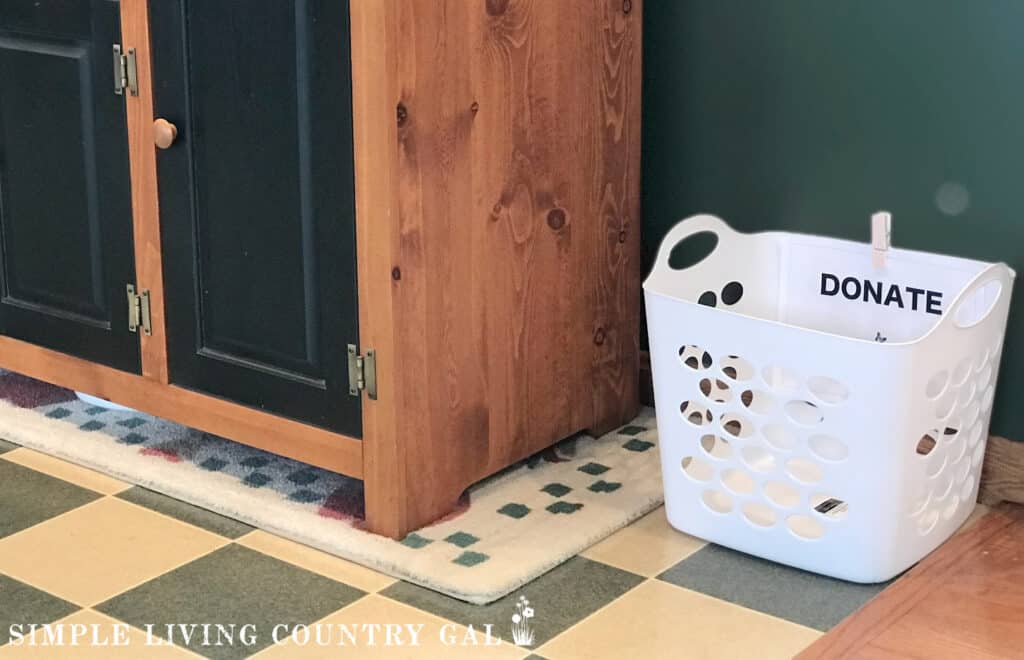 Seeing your boxes and totes as you go about your day will give you the "nudge" you need to keep going. Fill those boxes up so you can finally have the home of your dreams. One free of chaos and with plenty of room for love and family.
Not a fan of boxes sitting out? Jump below to find alternatives that will fit any decor in any home!
How to use your sorting area.
Each container has a purpose, and when you know just what belongs where sorting will soon become second nature!
Donate
The donate box should be big, really, REALLY big, This will make things so much easier on you emotionally if you know you are giving your items a new home rather than just throwing them away.
I am not a "rip the band-aide off in one shot" type of gal.
I need to touch my things, look them over, then let them go. By giving them a specific home, such as a family in need, you are no longer just tossing things out the window but rather giving your items away with intention.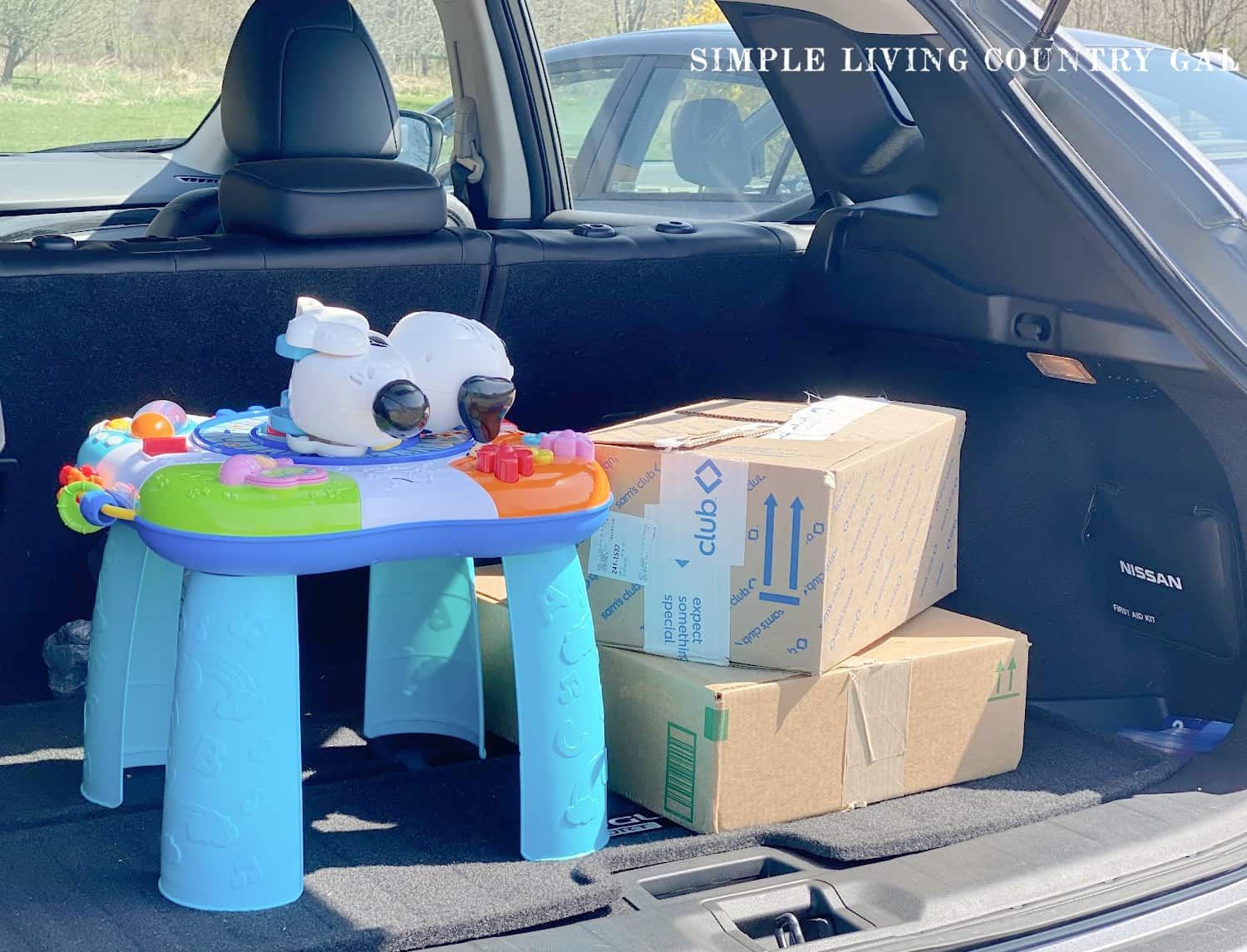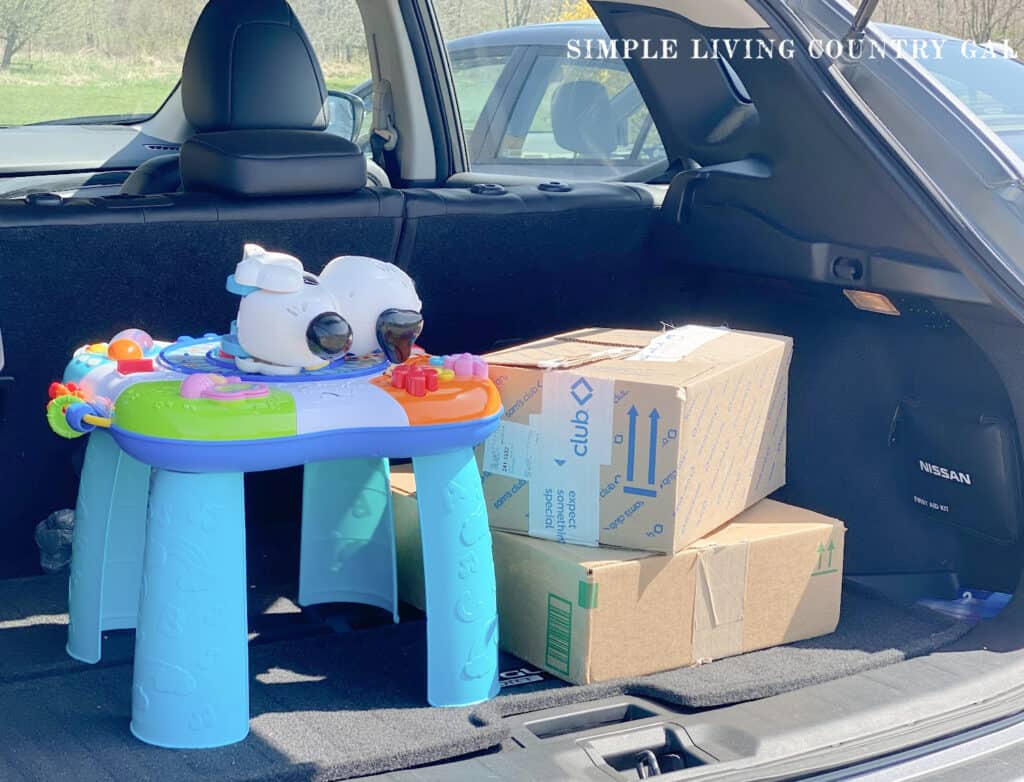 Change the way you think about your things when you declutter your home. You are not just tossing things in a box for charity…….you are helping families in need.
Young families just starting out that simply need a helping hand. Say that over and over until it sticks. If you look at your donations as gifts for others you will help to alleviate the emotion of letting go.
Give away
The giveaway box is specifically for items that your family or friends may like to use in their own homes. Like the donation box, this box helps you remove your items with intention. You are now giving your things that were buried and ignored in the clutter a chance to be used.
Keep a pad of post-its in the box along with a marker and label each item you want to give new life to in another home.
This step only takes a few seconds and is life-changing. Helping others is a pretty powerful thing, and once you get into the habit of looking at your clutter as a way to help a friend, there will be no stopping you!
Maybe
The maybe box is for those items that you are not quite sure you are ready to part with. Items that you haven't used for a while but are not sure if you will need them or not. This is especially helpful in the kitchen.
Gadgets and extras are always hard to let go of. What if we need it? I know, I was right there too! I held on to so many things because I was afraid I would need them someday.
Then I started using a maybe box.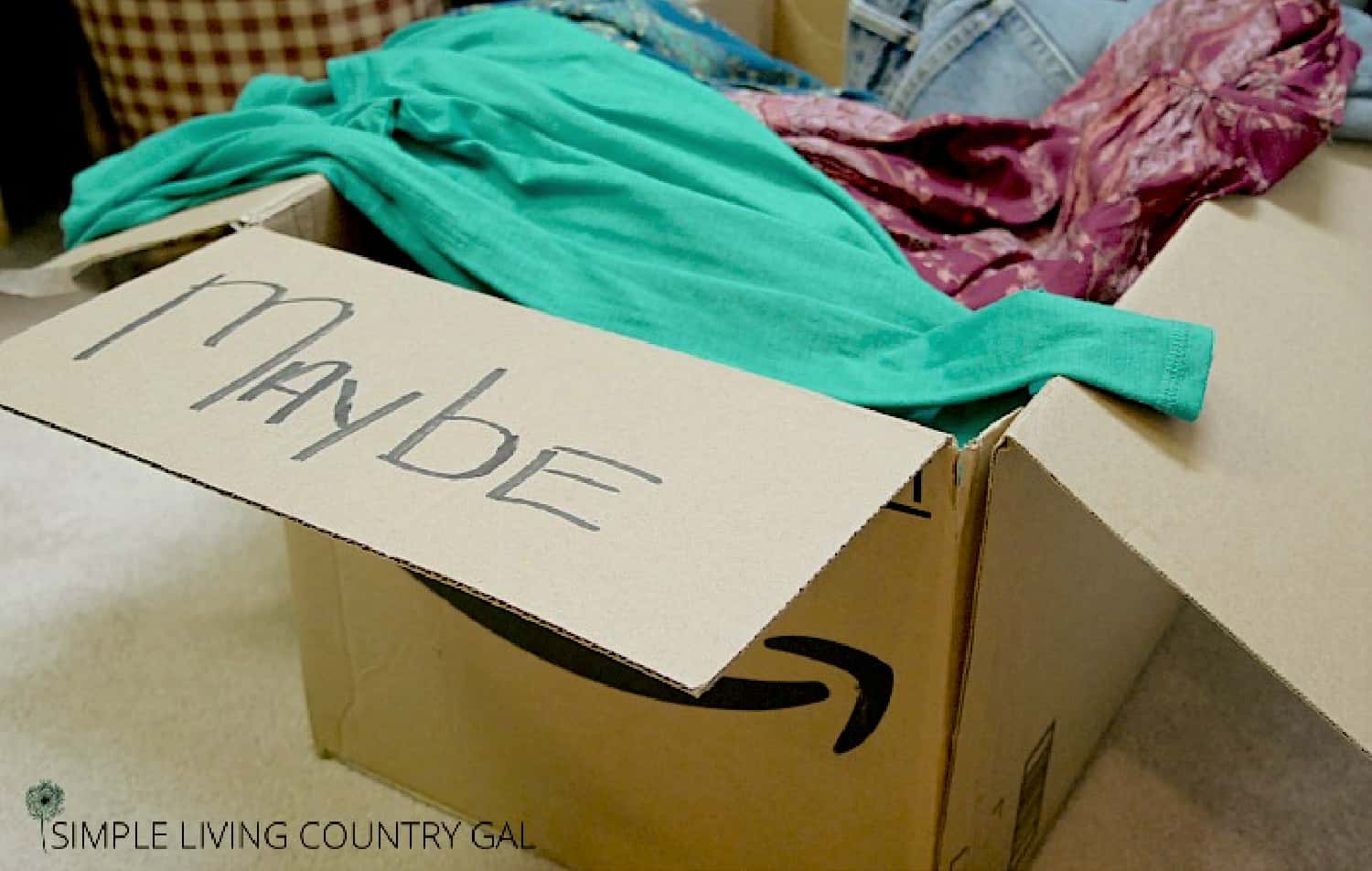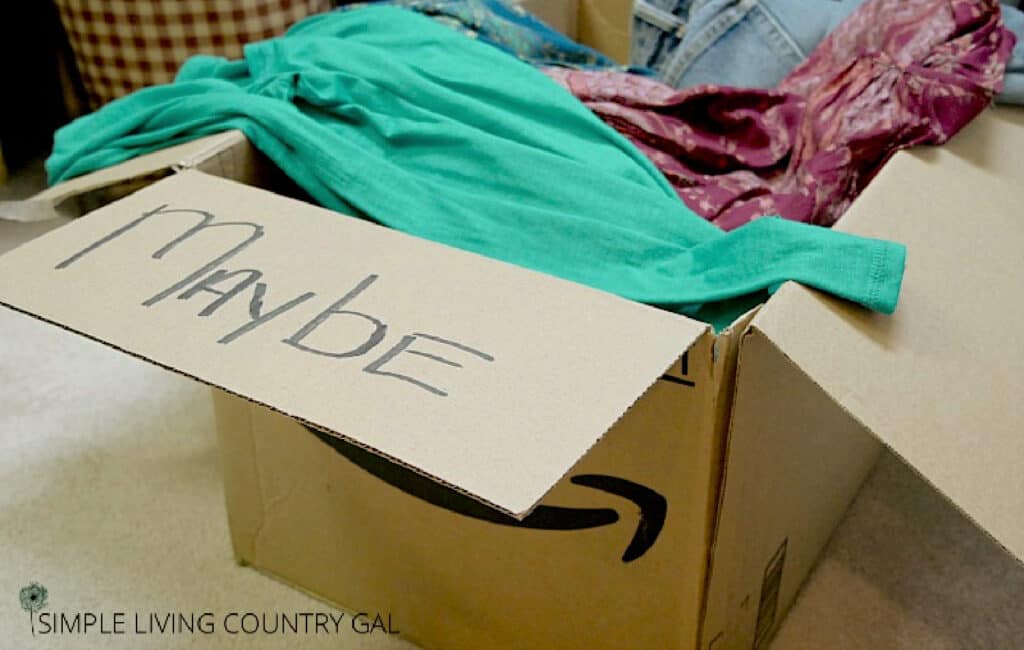 Let me just tell you that the maybe box was a game-changer for me.
By having a maybe box, I was giving myself permission to keep what I loved. At least for a little longer. Items in the maybe box can sit there for months if needed. As the box gets full and you have more to add, you will need to remove a few things.
Start at the bottom, where you have items that have been there for a bit. If you haven't used them in a month or two….then you can safely let them go.
Having a maybe box helped will remind you that this isn't an all-or-nothing declutter. This really helped me to deal with the letting go part of decluttering, and I know it will help you too.
Sell
When you declutter your home, there is nothing more therapeutic than getting cash for your clutter.
You heard the old saying, "one man's trash is another man's treasure." Those words are so true!
Start a pile of things to sell and get cash for all your hard work. Not interested in a full yard sale? Then sell your things on Craigslist, Facebook, or even the old-fashioned way…the want ads in the newspaper.
Use any money you make on something truly special. A family vacation, a room remodel for your newly decluttered home, or even an upgrade on your family car. Make this decluttering project a win-win, and find the motivation you need to keep going.
Recycle
This box is pretty self-explanatory. Before you throw it out, make sure it cannot be recycled first. Plastic, metal, paper, glass.
Not sure? You can read here the guidelines for recycling for more information.
How to start?
Sometimes the first step when you declutter your home is the hardest, but like Nike says…just do it. I like to start with the trash first.
This is an easy way to get your feet wet and completely painless. No one wants trash in their home; remove that without guilt or emotion.
I know what you are saying, "sure, that is simple, but what about the other things?"
READ: DECLUTTERING FOR BEGINNERS – HOW TO START!
Okay then, stop what you are doing. Right now, right where you are. Look around you and see if there is something you can grab right this second to purge. It can be anything, just find one thing and get rid of it.
Go ahead; I'll wait……….did you do it??
GREAT!!
You just took your first small step toward a clutter-free home. I know that sounds so silly, doesn't it? But instead of stopping there, make that one thing five things. Then, every time you enter that room for the rest of the day, I want you to grab five more things.
Remember, slow progress is still PROGRESS. And that is all we are concerned with at this point.
You now need to learn how to weave decluttering into your day.
To help declutter your home, make it a daily habit.
Start in the morning. When you are getting dressed and you are grabbing socks, take a look.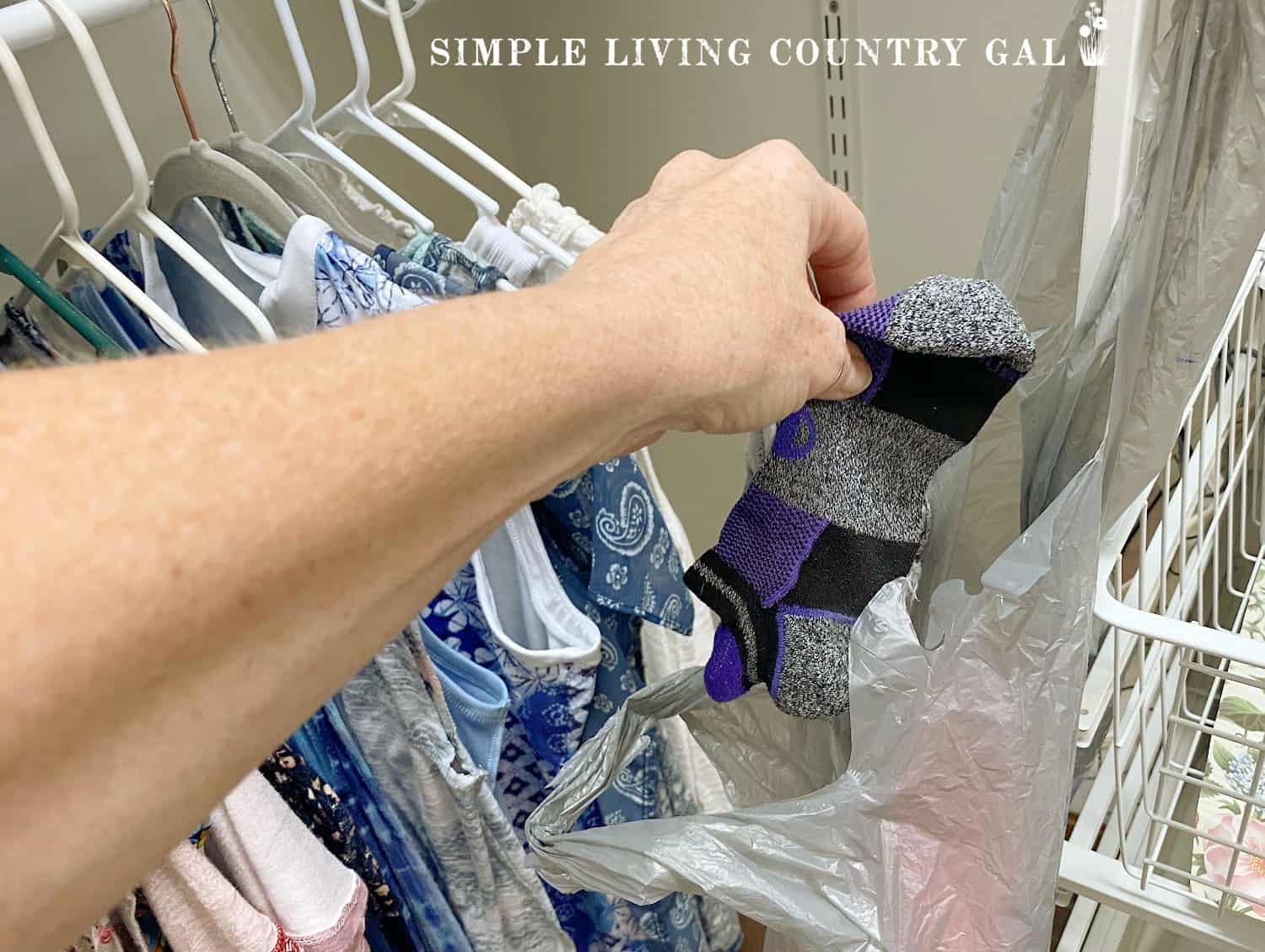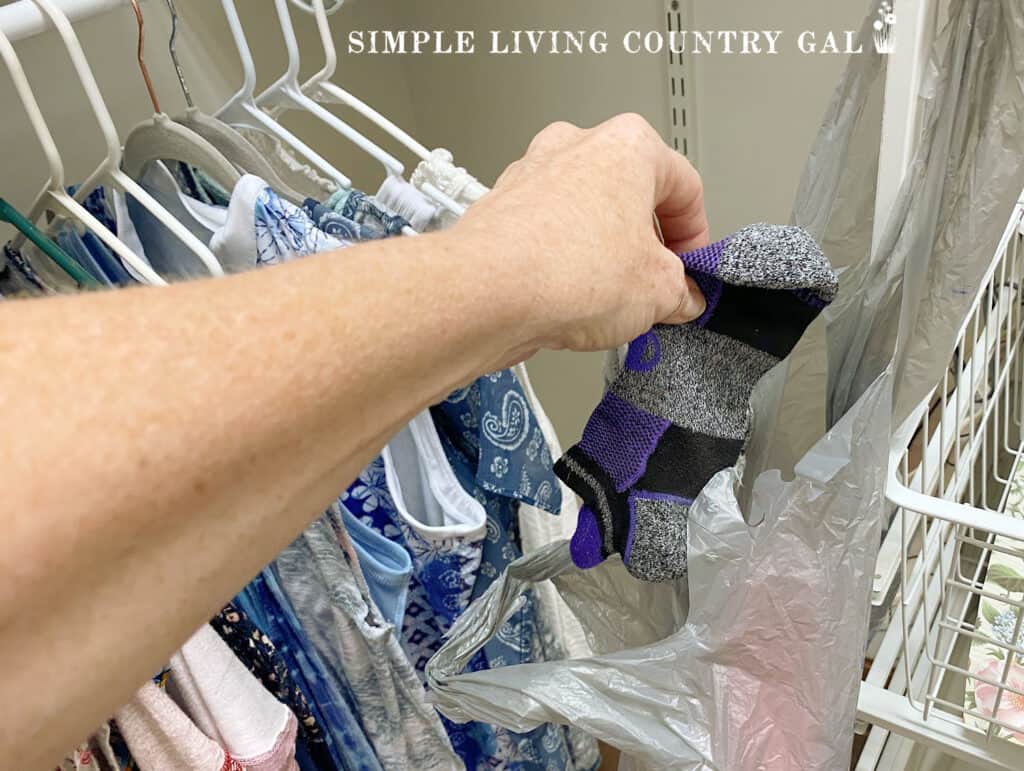 Are there any items you can easily remove right then and there? Socks with holes stretched out or simply pairs you do not like.
Gather them up and take them to your sorting area. Toss the bad and donate the no longer wanted pairs.
Later, as you are making dinner ask yourself if you really need seven spatulas? And why are you keeping the one with the handle that always falls off?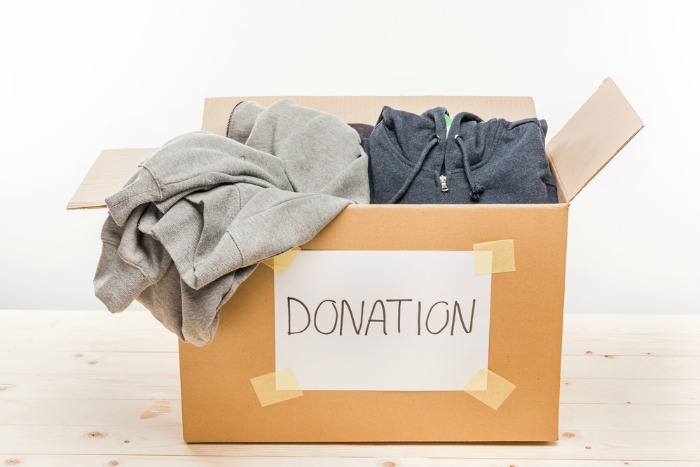 Take just a second to pull out a few things from your overcrowded drawer. Before you head off to your sorting area, why not grab a coffee mug or three? If you are like me, you have tons of coffee mugs and some that haven't seen the light of day in years!
After dinner, as your family relaxes in front of the TV, take a quick glance. Are there any pillows that are no longer needed? How about blankets that haven't been used in ages? Remove a few so you can easily see and use the rest.
READ: GRADUAL DECLUTTERING – REMOVE THE CLUTTER WITHOUT THE STRESS!
Before you know it, you will have filled all your boxes in just one day too!
Look at you go!! You are well on your way to a clutter-free home.
Using this process to declutter your home will not show results overnight; it will, however, make this large undertaking much more manageable and actually fun to do.
The best part about using this system is you can implement it in any room at any time. I have been purging for years now, and I still pull out donations throughout my day. I have several baskets like this one scattered about my home, specifically for items that need to go to my sorting area.
As you begin to thin out your things, you will soon realize that you simply do not need as much as you once thought.
Letting go becomes easier, and buying unnecessarily rarely happens. I cannot tell you how nice it is to come home to neat and tidy kitchen counters.
That, for me, at least is worth every donated item from my home. 🙂
Another plus is you do not send your donations off until you have several boxes full; by that time, you will know if an item you have placed in the box truly needs to be there.
If you do not go looking for a donated item in a month or so, you must not need it, which means you are free to let it go. This helps to declutter your home easier.
Warning, this process is very addicting. Once I started getting my rhythm of purging, I loved the results I saw.
My kitchen counters were no longer hidden beneath paperwork and clutter.
I no longer had to move several unused appliances just to prepare our dinner.
I spent less time looking for things and much less time cleaning things.
The stress of living in a cluttered home slowly and noticeably began to dissipate.
For those of you that find it hard to let go of things. This method is an easy way to get your feet wet in decluttering.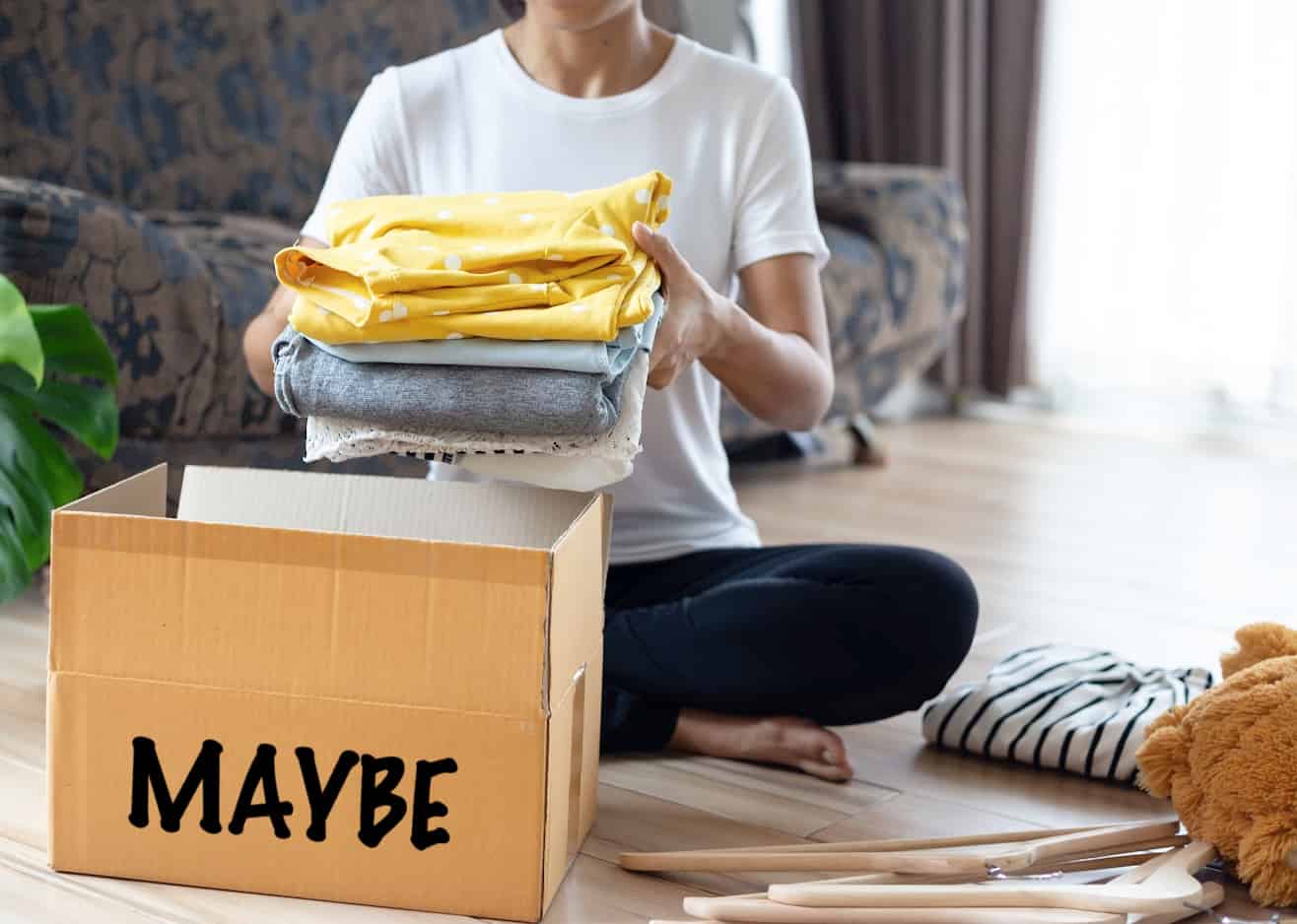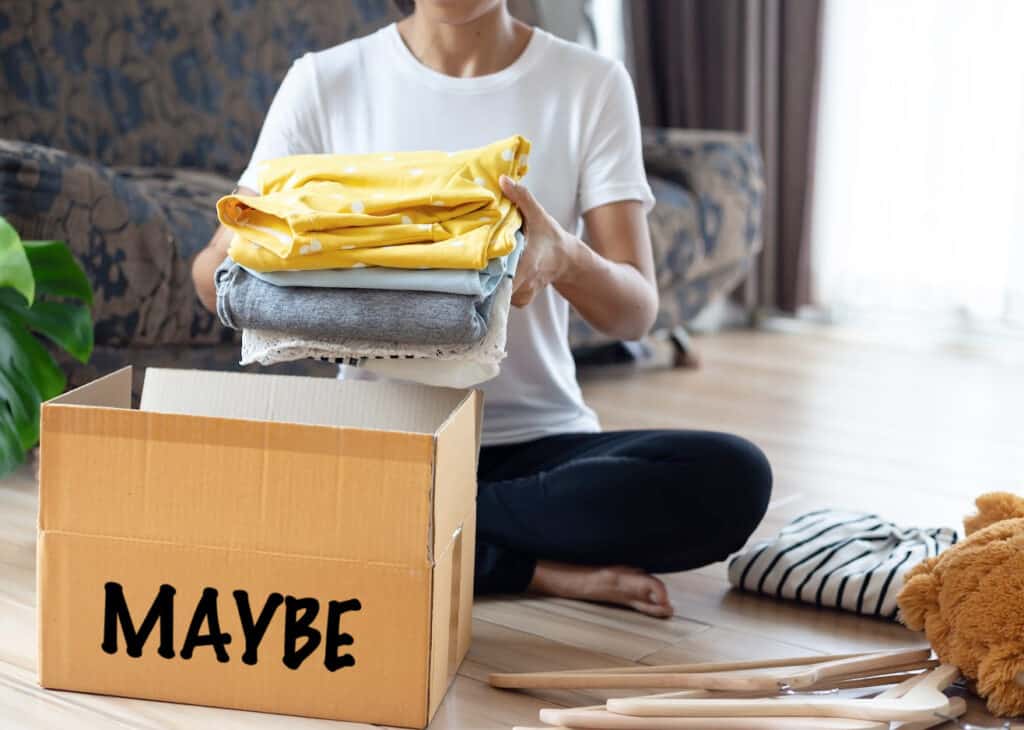 Knowing you are the one making the choice of what stays and what goes is very liberating.
Remember, your donations will not leave the house instantly; feel free to place questionable items in your sorting area, knowing you still have time before making that final commitment. Finally, doing this at your own pace makes the task as large or as small as you choose it to be.
SLCG PRO TIP: Is your donation box full, but you are still not sure you are ready to "let go"? Put that box in the trunk of your car. Let it sit there for a while. It is out of sight but not out of mind. This will give you a bit longer to adjust to those items being out of your home and off of your counters.
Friends, this is not an all-or-nothing guide to decluttering your home if you love something, I give you permission to keep it.
Yes, keep it!
Just ensure you honor those items in a way that shows their value. Do not keep them packed in boxes hidden in the attic. Find a way to display what you love so others can enjoy them too.
Celebrate your successes no matter how minor they are; before you know it, those small successes roll together to make one large life-changing victory!
My Favorite "Declutter Your Home" Helpers!
Now that you have a plan for how to declutter your home, I just know you will find it easier to remove the excess and create a home you truly enjoy being in.
More Simple Living Resources: