Garlic, in my opinion, is by far the easiest thing to grow. So simple in fact, you can learn how to grow garlic in 10 simple steps. It requires very little attention, rarely fails, and is simple to preserve for use the whole year.
Growing garlic is perfect for me because of it's "plant it and forget about it" qualities. If you are new to growing garlic then you've come to the right place. If you are new to gardening, then garlic is the perfect way to get your feet wet. If you are new to canning? I got you covered!
I am going to break things down so it's super easy and yes…fun too!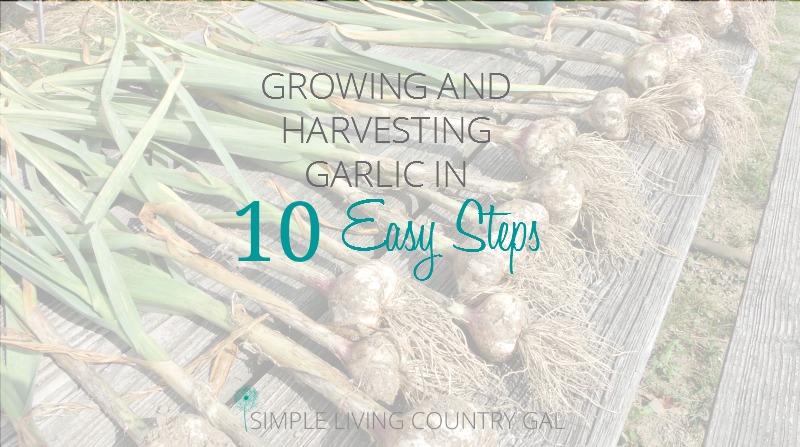 How to Grow Garlic in 10 Easy Steps
Step #1. Plant in the Fall
In colder climates like Northwestern PA where I live, the most important thing to remember about garlic is that it needs to be planted in the fall. Target planting months may vary depending on where you live but the range will be from August-November.
I know some folks say spring is fine for planting garlic as well, but I've tried spring planting and was very unsuccessful. Fall planting is definitely the way to go as it allows the heads to take root before they begin hibernating (in a sense) for the winter. For where we live, our target planting time ranges between late September through early October
I have even planted as late as November once and they still did well, although not quite as big as I would have liked. The key is to watch your frost dates and try to plant your garlic a week or so before your first frost.
For my southern friends, I do believe February/March is the best time for you to plant, but I would ask the local farmers in your area for specific times and advice.
SLCG PRO TIP: Never underestimate the knowledge your local farmers have. I love to talk with our farming friends and the information I have gotten from them has been invaluable.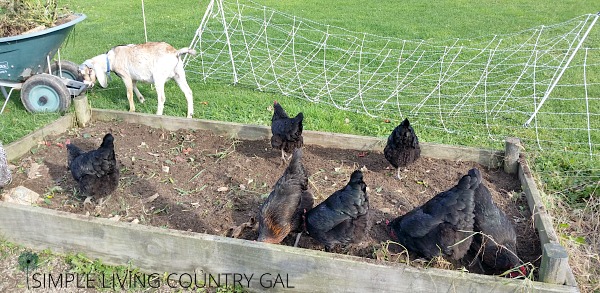 Step # 2. Decide how Much Garlic to Plant
In our home, we eat a lot of garlic. But we also give it away as gifts for the holidays (which people love!) this means I usually plant quite a bit each fall.
When planting garlic you will purchase in heads. Each head can then be broken down into cloves with each clove giving you a full head of new garlic come harvest. This is important to remember when ordering. For us, I usually plant about 6-7 heads. Each head can be broken into about 10-15 cloves and remember each clove you plant will give you a head of about 10 cloves.
My first year I planted 10 heads worth of cloves…ha, do the math! I was up to my neck in garlic!!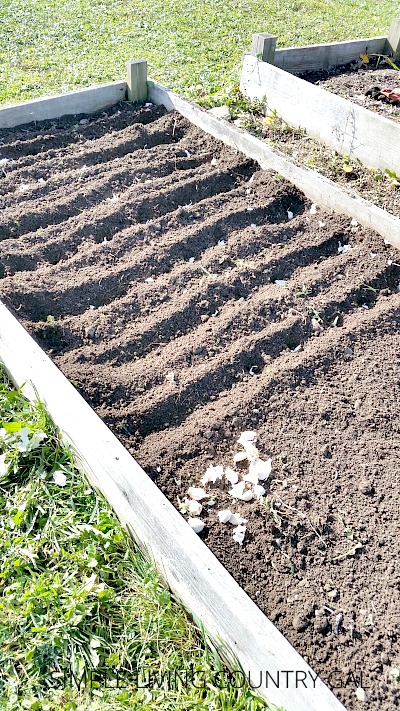 Step #3. Plant Your Garlic
I like to plant a 4 x 8-foot bed of garlic and I can fit quite a few heads in there. I prefer to plant in raised beds as this gives me much more control over keeping them safe during the winter.
Garlic doesn't need a ton of room. A good rule of thumb is to plant about 4″ apart and about 2″ deep in rows.
SLCG PRO TIP: Use markers to help you remember what variety of garlic you have planted and where. This will allow you to test out some of the amazing varieties out there so you can find just what you and your family love most.
Before you begin planting be sure you have nice good quality seed garlic. I prefer to purchase our garlic from a farmers market because this will tell me just what does well in our climate. If you are not sure, again, ask. Most of your neighbors may just have the best advice on what will grow well in your local weather.
Keep the heads intact until you are ready to plant. A few days before planting, break up the heads and allow them to sit with the papery skins on. Store them in a brown paper bag until you are ready to plant. This will better help the heads prepare for planting while giving you a better idea of how much garlic seed you have.
Using a hoe, dig trenches that are about 2 inches deep and 4-6 inches apart.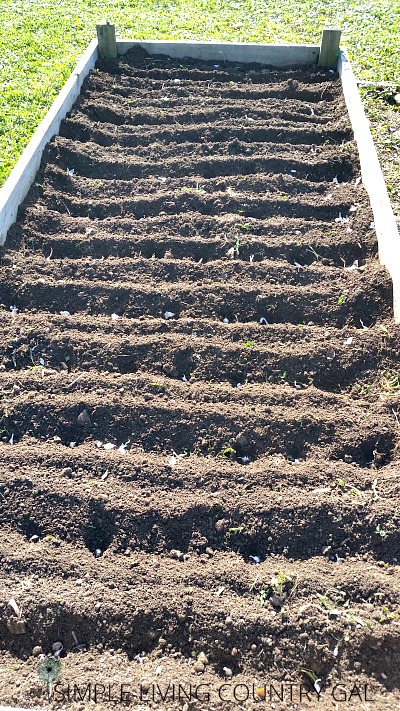 When it is time to plant, place each clove in the ground with the root end facing down, This is called the "upright" position. Once all your garlic is in the row you can then cover with soil. Be sure to use garden markers to help you better identify the rows.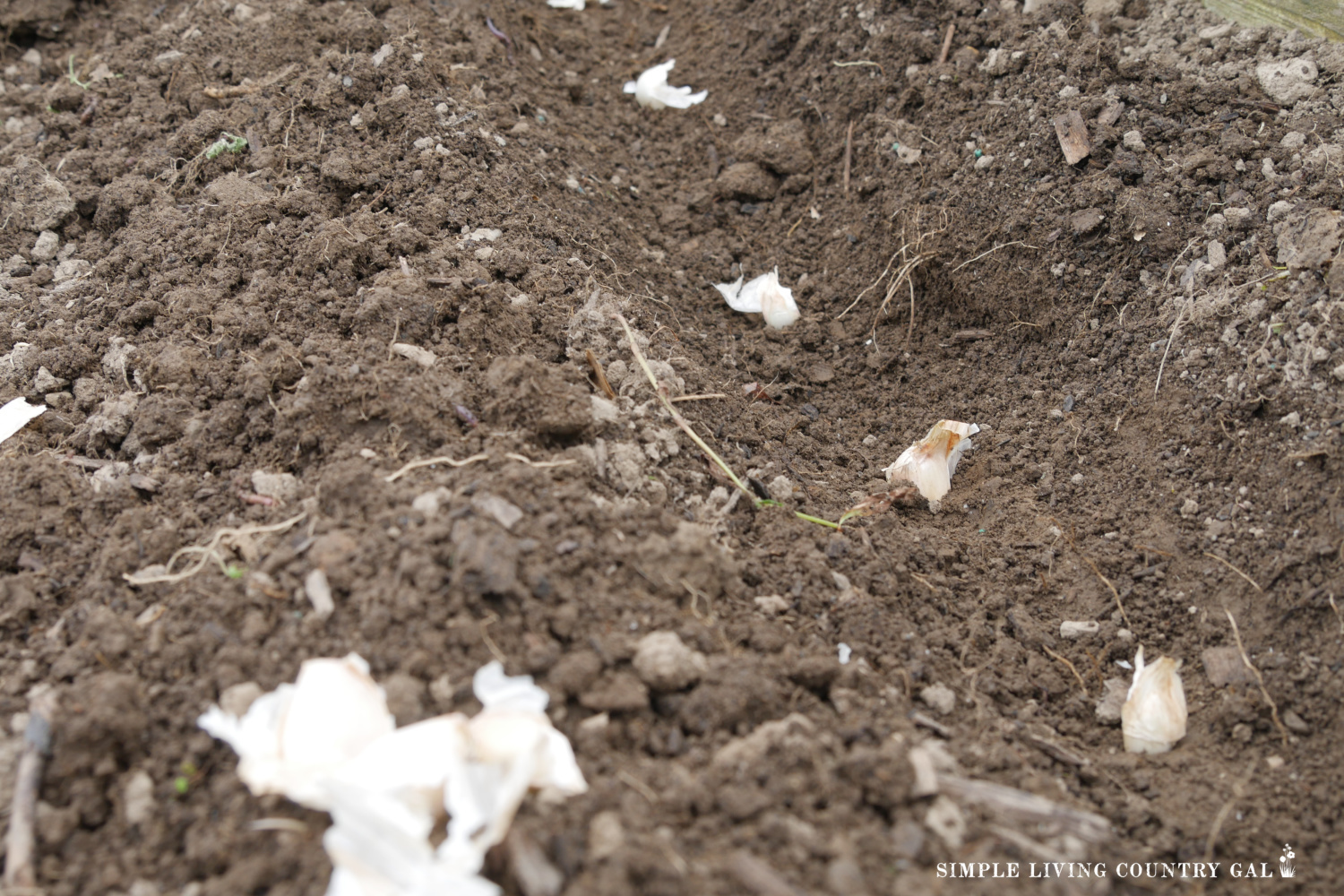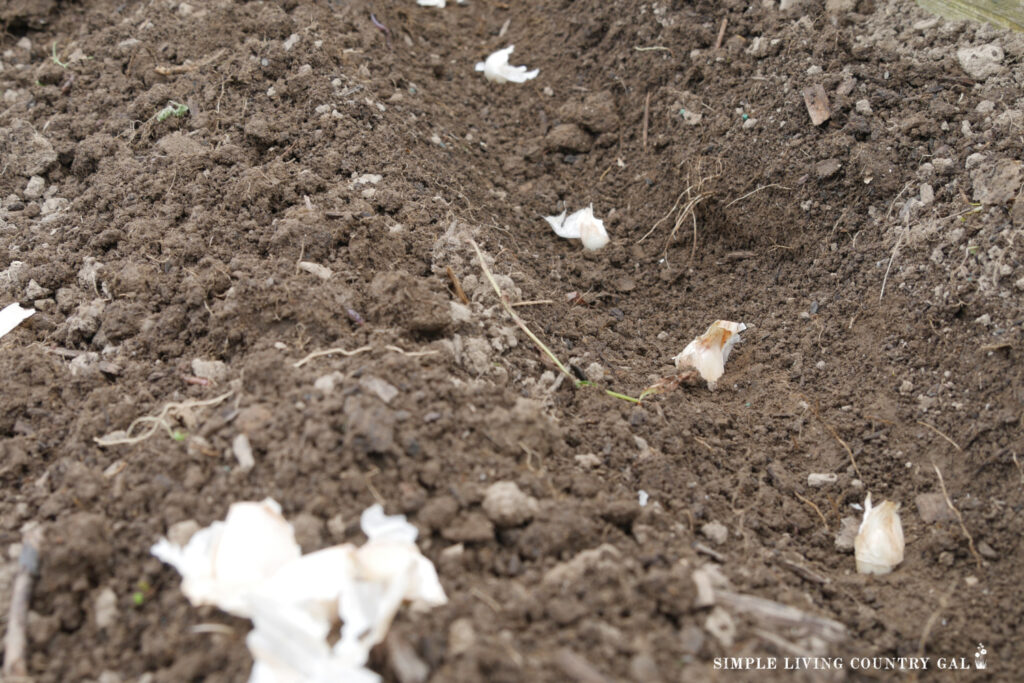 Step #4. Prepare your Garlic Bed for Hibernation
I am sure there is a more technical term for this, but I like hibernation. Simple because our garlic will be dong that very thing. Sleeping over the cold winter before emerging in the spring.
To prepare garlic once the heads are all planted, cover with a heavy layer of straw, or you can use leaves or mulch. Once your coverage is in place ou will want to anchor it down with something light yet heavy that will allow your garlic to grow "through" if you leave it longer than planned. For us, that means a spare piece of fencing and that seems to work just fine.
The fencing works in two ways. First, it keeps my chickens deterred making it more difficult for them to dig up my freshly planted cloves, and second it keeps the straw from blowing away. I will usually let that fencing sit all winter and only remove it in the spring.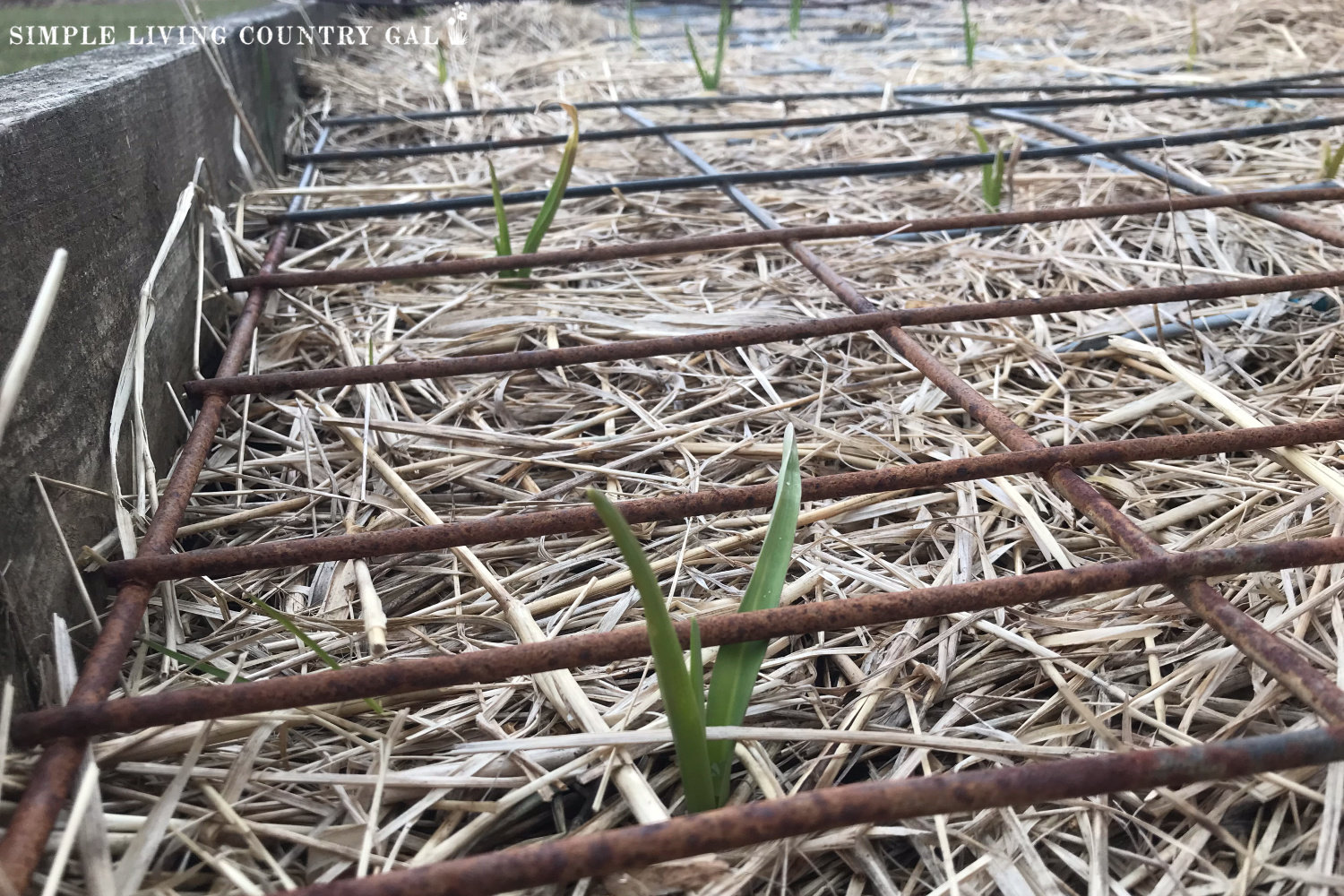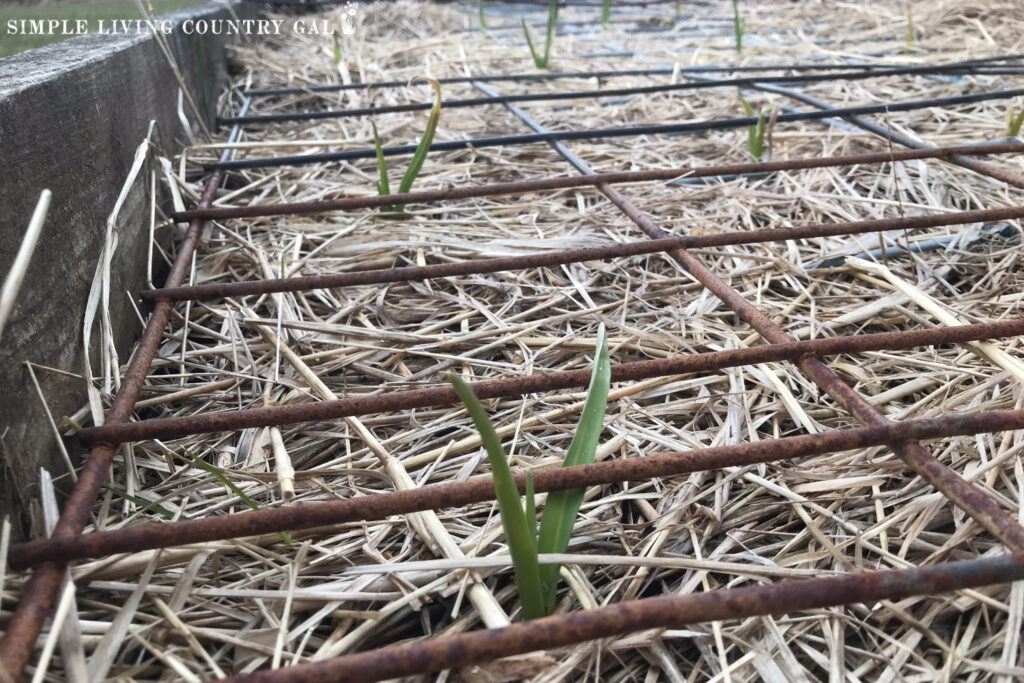 SLCG PRO TIP: Do not use hay to cover your garlic. Hay is not the same as straw for one reason, and this is a reason that is incredibly important. Hay contains seeds in the cutting. This is not only seeds from the grass but from any weeds as well. If you use hay you will be springing your fresh garlic cloves with a layer of seeds you will need to weed out in the spring and summer.
READ: WHAT IS THE DIFFERENCE BETWEEN HAY AND STRAW
Step #5. Don't Do a Thing Until Spring
This might be a bit difficult at first but leave your newly planted garlic alone until spring. Unless you are in a drought, you do not even need to water. Just let it sit.
When spring arrives, you will see green shoots emerging from the ground. That is a wonderful site for sure. At this point, you will want to remove any fencing you used to hold the mulch in place. You may also want to remove some of the mulch if you used quite a bit, but make sure your cold weather is done before you do this.
SLCG PRO TIP: Leave some of the mulch from winter in place to help deter any weeds as your garlic grows.
READ: HOW TO USE MULCH TO KEEP WEEDS FROM GROWING
I like to leave some of the mulch down to deter weeds.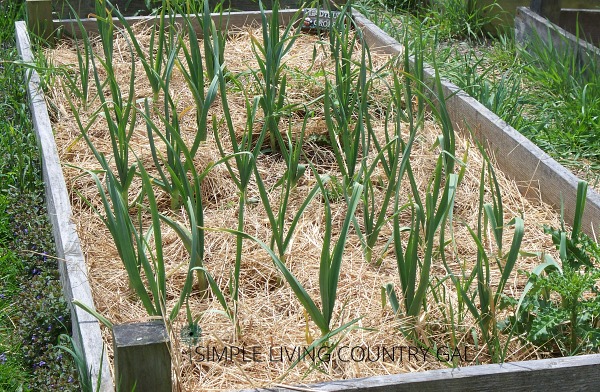 Step #6. Water as Needed
Now is when you need to pay attention. Water as needed, weed when necessary and remove the fencing when the stalks are large enough that animals will leave them alone.
Watering is good in it allows you to look at your plants more closely so you are better able to catch any pests or issues before they become a crop wide problem.
Step #7. Harvest Your Garlic
Depending on what type of garlic you plant will determine your harvest time.
Usually, I am picking my garlic around the end of July. The best way to determine if your garlic is ready to harvest is by looking at the shoots. (the part sticking out of the ground) When they start to turn brown and droop, that is your cue that its time to begin harvesting. Before you do, however, it is best to do a test dig first. I will dig one up to see if it's ready to harvest and if so the rest come up as well. If I see things not quite ready yet, I will wait a week or so and try again.
Note…garlic does not like to come up easy. That means you will not be able to just pull them out. Remember, your garlic sat and took root all winter long so they are in there….good. This means you will need to dig them up with a shovel. And yes, be prepared for a good workout!
When digging up your garlic, it is important to place your shovel well out from the head. Too close and you will slice the head and lose some of your cloves. Always go deeper than you think necessary and place your shovel out a bit farther as well and you should be fine.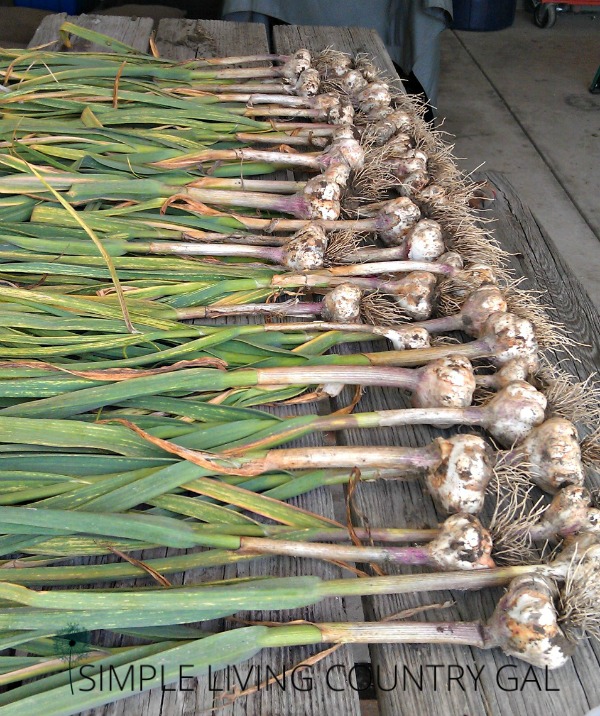 Step #8. Let the Garlic Sit So it Can Dry
I like to dry my garlic in two steps.
First, I will lay it out in a single layer in a dry place outside being sure it is not in the direct sunlight. This allows the warm later summer air to more quickly dry the excess soil on the heads. After a few days to a week, it is time to shake off the excess dirt.
Once all the excess dirt is removed, gather your garlic in clumps of 3's and 4's to hang in a place with good air circulation. I like to hang mine in the barn. Since drying garlic can be quite aromatic this keeps the smell out of the house, however, the barn smells like an Italian restaurant but the goats really don't seem to mind. 🙂
Let your bundles of garlic hang for at least a week or two. The purpose of drying is to seal up the heads so you can trim them for storing. Watch the tops as your guide to know when your heads are ready to trim.
Read my post on How To Cure Garlic for more details.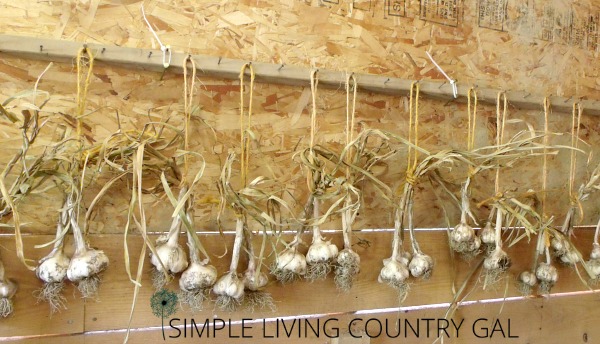 Step #9. Cut, Clean, and Store
Once the garlic is completely dried it's time to get them ready for storing.
First, cut the stalks off close to the head, remove the outer layers of husk leaving a few papers on to keep the heads and cloves protected. Next, cut the roots off completely and store them in cloth bags or any other mesh bags that you have lying around. I like to save the mesh bags from onions and citrus fruit that I keep throughout the winter just for this purpose.
This is also the time I will pull a few of my best heads out for next year's planting. Once you find a variety you and your family loves, you can just save the seed garlic for the next season's planting. This should just be in a few short weeks. Another benefit of growing garlic.
To store your seed garlic, place the heads and/or cloves in an open brown bag until you are ready to plant.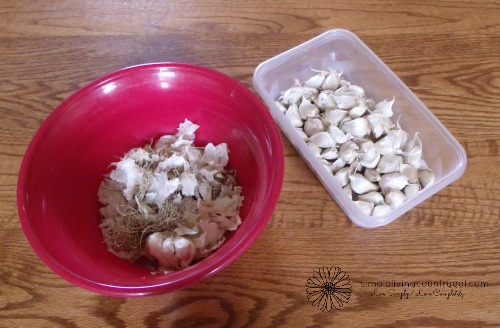 Step #10. How to Store Garlic
I will usually keep about 10 heads in my pantry for our short term use storing them in mesh bags for better air circulation. If you do not use garlic often you may want to only keep 3-5 heads on hand.
The mesh allows the garlic to breathe and it will easily last a couple of months in a dark and cool pantry when stored this way.
For the rest of the garlic, I like to can it in a boiling vinegar solution. Even though this is not a pantry shelf-stable way to preserve garlic, this method will allow me to keep the garlic stored in my refrigerator for up to one year. When ready to use, just remove the number of garlic cloves that are need and give them a quick rinse to remove the vinegar. And no, the vinegar does not soak into the garlic.
When I first tried this, I was afraid our garlic would have an odd flavor, but I am happy to report there was no vinegar taste at all. I have since fallen in love with this method of preserving garlic and it is now a part of our annual routine.
You can find my post on Preserve your own Garlic here for more detailed instructions.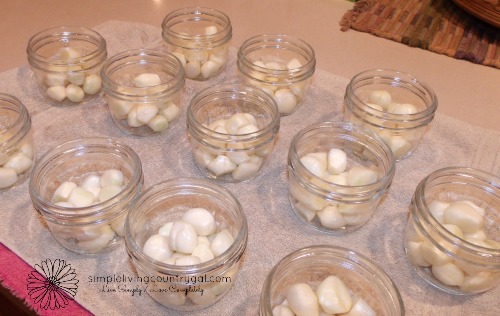 There is nothing more satisfying than eating fresh produce from your garden year round. Garlic by far is one of my favorites and now that you know just how easy it is to grow, dry, harvest, and preserve I hope it is one of your favorites as well.
Learn how to grow garlic the easiest way so you can fill your pantry with homegrown goodness all year long.