Gift Ideas for the Vegetable Gardener
With more and more people digging in the dirt and starting gardens, finding the perfect gift ideas for the vegetable gardener that they will love, may not be as easy as you think. With so many gardening tools and gadgets, knowing what they will need and love is the secret to a perfect gift.
These gift ideas for vegetable gardeners are sure to win you loads of smiles and maybe even a few cheers from anyone who receives them. Living a simple life and encouraging others to do the same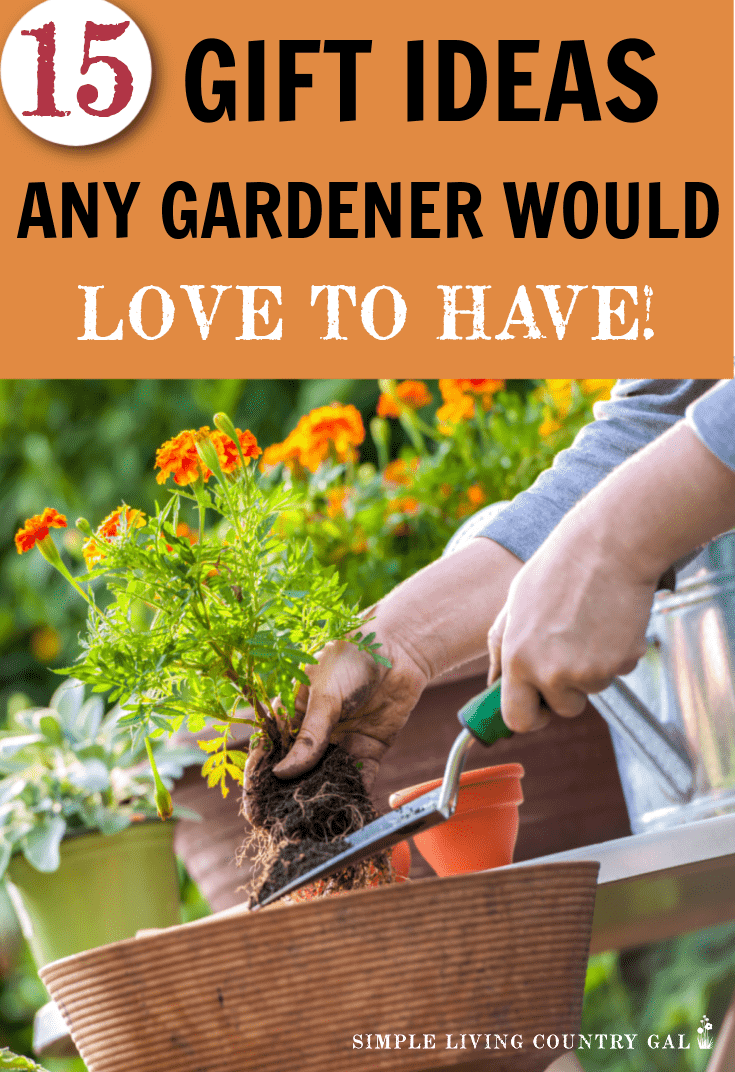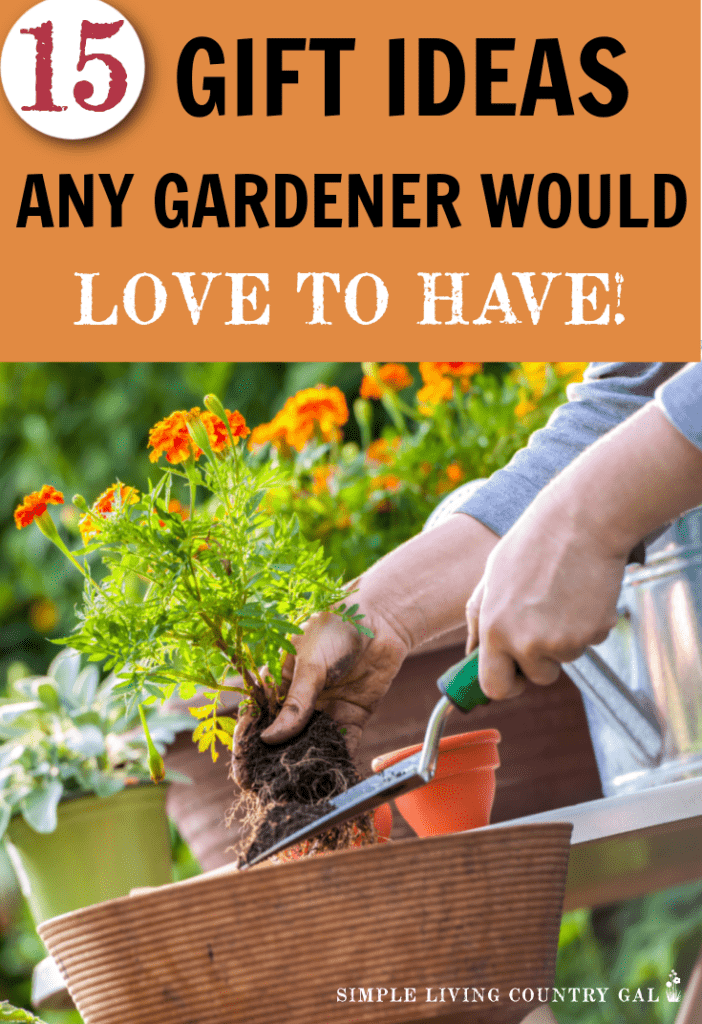 Finding ideas for people who have hobbies or activities is a great way to give them something they will love and use. That is what this list encompasses, gift ideas that are fun to receive and useful at the same time.
Gift Ideas for the Vegetable Gardner
I tried to include some fun, helpful, and even unique ideas so you can find a great gift for that gardener in your life. What started out as 15 items have since grown to more in the hopes that you have a nice selection to choose from.
Gardening Gloves
Gardening gloves may seem like a small gift, but actually, this is one that is hard to get right. I have tried so many gardening gloves over the years and some are better than others.
A lightweight glove is best because it can be used for weeding. Here are a few great options some of which I own myself.
Gardening Boots
Some people prefer crocks for gardening, but I have found that gardening boots tend to work better. More often than not, when you homestead one chore quickly leads to another and those boots really do come in handy if you are walking from your garden to the compost pile then to the chicken coop, and back again.
I also prefer boots because where we live is a high deer tick area and boots allow me to tuck my pants inside to keep more of those ticks out.
Gardening Hat
Sun is good but too much sun isn't, especially if you tend to burn as I do. Having a really good gardening hat with a nice brim is a great way to keep the sun out.
They also have options for visors if the person you are buying for is not really into hats. Just be sure to select a visor with a wide brim so it gives the protection you need from the sun.
Gardening Gifts –
Best Tools
Next up are tools, and they can range from small items that cost just a few dollars to full systems that have a pretty hefty price tag. I included a few of each to inspire you to find the perfect option.
Hand Tools
If you or your gift recipient is new to gardening, then a hand tools kit is the best way to go. Remember, you don't have to go crazy, just a sturdy bag (great for keeping things together) and a few hand tools that work well in a garden. This can include a rake, hoe, spade, weed digger, and sheers. 
Gardening Pad
I use my garden pad almost constantly when I am out in the garden. I was quite surprised to find just how much it helped keep my knees from aching. Not only does it save my knees but it keeps my jeans from getting ruined as well.
Hose Nozzle
Hose nozzles are one of those things that simply do not last. And that is why this might be one of those gift ideas that every gardener will love whether they need one (just yet) or not. There are many different types of nozzles, so if you feel generous, you can get two!
Vegetable Gardening Fun
Now for a few fun ideas that will help decorate the garden as well as the gardener!
Garden Stones
I love to have beauty in my garden, and these stones do that to a "T." You can make them unique by creating a few stones with your kids or grandkids. Sprinkle a little personality throughout the rows and make your garden all your own. These garden stone kits make a wonderful gift for any time of the year.
Garden Chimes
Garden chimes are more for visual beauty, but who says you can't have beauty in your garden? Great news, they can also help to keep away a few unwanted visitors, something any gardener would love to have.
Gardening Benches
If you have the room, you can add a bench to your garden. These benches work as double duty, don't you just love that?! A bench with storage that will hold your tools, extra soil, and more. Keep what you need close by to keep projects easier to do.
A different type of bench is a working garden bench. These benches will give you a place to fill pots, transplant, and split up larger bunches. Oh yes, and a great place to store all your tools and supplies!
Aprons
I know, aprons? But these are definitely NOT for the kitchen, this is a gardening apron. When it comes to gardening chores, there are so many things we need to carry, so much so that there may be more things than we have hands to hold them. That is where this style of apron comes in. Give your gardener something they will love to have and love even more to use.
Scooter
I just love these scooters and if mobility is something you or someone you love struggles with, a gardening scooter is a great gift to give. Show how much you care and give a gift that will mean so much more to the recipient.
Harvest Basket
One of my favorite tools is my harvest basket. Not only do I love how it looks but I love how great it works. You can even use a basket to hold more gardening gifts and really create a present that will be loved.
Garden
Tote
Rather than use the same old way of wrapping your gifts, why not put them all in a lovely gardening tote? A great way to give a gift with a gift! These totes are super helpful and can be used in many different ways.
There are so many things for gardeners when it comes to clothes, boots, and shoes. You can choose to give them a fun t-shirt or pick a shirt that will help to protect them from the harsh sun. Either way, you are sure to be a hit with garden clothing gear!
Garden Arch Heavy Duty (Holds 660lbs-250kg) | Metal Arbor Archway for Climbing Plant & Two People Seat Bench |Outdoor Lawn Backyard Decor 81 x 45.3 x 20 in – Black
Western Chief Printed Tall Waterproof Rain Boot Garden Play 9 M
FURTALK Womens Wide Brim Sun Hat with Wind Lanyard UPF Summer Straw Sun Hats for Women A-Khaki
INMINPIN Women and Men Orthopedic Clogs Arch Support Garden Shoes Sandals Slippers with Plantar Fasciitis Feet Insoles,Cute Rosy,8-9 Women/6-7 Men
100pcs Plant Labels, Garden Plant Markers, Plastic T-Type Plant Tags, Waterproof Garden Signs for Outdoor Garden Plants Garden Potted Plants (3.9" x 2.4")
Gardening Books
Gifts are fun, but what about stocking up your homesteading library? There is nothing I love more than books, and this is a great place to start if you are looking to live a more simple life or, better yet, give a valuable resource to someone who is.
Starter Vegetable Gardens, 2nd Edition: 24 No-Fail Plans for Small Organic Gardens
Mini Farming: Self-Sufficiency on 1/4 Acre
Raised-Bed Gardening for Beginners: Everything You Need to Know to Start and Sustain a Thriving Garden
The Family Garden Plan: Grow a Year's Worth of Sustainable and Healthy Food
Finding gifts for the vegetable gardener will work for any holiday, any time of the year. Create a basket of gifts that will show just how much you care about someone in your life that loves to play in the dirt.
More Gift Giving Resources: