One of the best things about living a homesteader lifestyle is learning to look at things differently and finding a hidden treasure for what you once considered trash. Nothing resembles this more than ashes from burning wood during the winter. But what to do with wood ash on the homestead?
Well, more than you might think.
In our home, our main source of heat is our wood-burning fireplace.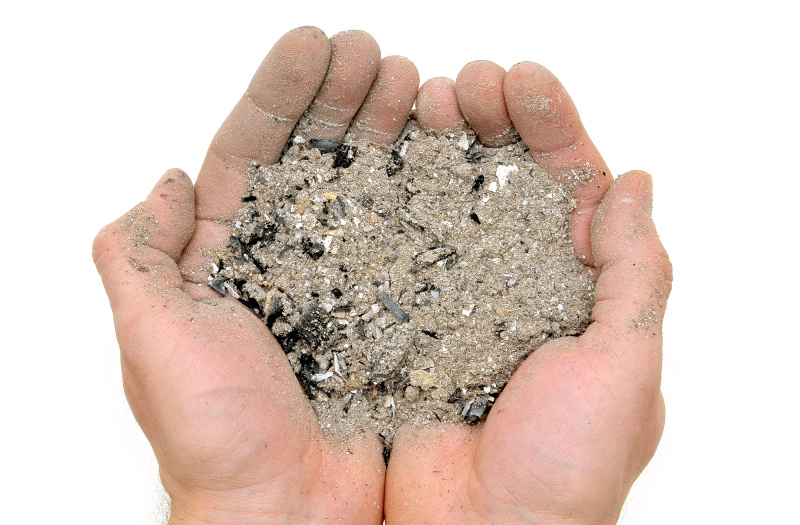 I literally start a fire in September and keep it burning until May, well at least it feels that way. 🙂
Even though it takes about 10 cords of wood to heat our home through the winter, the cost savings is still almost $1,500 a year. This amount is well worth the work of cutting and splitting the wood each summer. Especially since that job falls onto Hubby's to-do list and not mine. 🙂
READ: HOW TO MAKE MONEY ON THE HOMESTEAD
One of the downfalls of heating with wood is the large amount of wood ash that needs to be discarded throughout the winter.
For years, we would toss our cooled wood ash way back in our field. It was an awful chore actually, and walking that far in the dead of winter hauling a 10-pound bucket of wood ash through thick and deep drifts of snow was not anything we looked forward to.
Little did I know the many benefits of this overlooked treasure. Wood ash actually has many useful benefits from our plants to our livestock you can find useful ways to get a second life out of what I used to consider trash.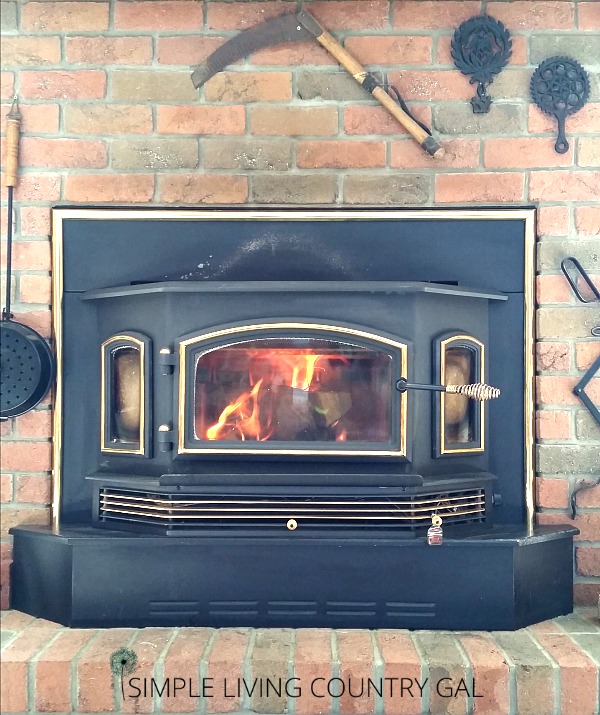 The Benefits Of Wood Ash For Homesteading
Before we dive into what to do with wood ash, let's first go over the basics.
What is wood ash?
Wood ash is basically the leftover materials that collect after burning wood. If you heat your home with wood you may find yourself with an overabundance of wood ash material and before you dump it out let's talk about why it's so beneficial and where it will be most useful.
Why do plants like wood ash?
Wood ash contains potassium, phosphorus, calcium, and magnesium. Since the ash is from a plant itself, (a tree) it is only natural that the ash would be a benefit to the new life of plants in your garden.
The fact that wood ash contains potassium, adding it to your soil will help to regulate your plant's water balance. This is useful since the plant will be better protected from drought, frost, and even some diseases and pests.
Because the nutrient content is low, you can actually use it directly on your plants without the risk of burning them. Just be sure the ash is cool and not hot before you add it.
READ: Lasagna Gardening for Beginners
What Are The Different Types Of Wood Ash?
All ash is not created equal.
You will find 5 times the nutrients in hardwood than soft. This means if you burn maple, elm, oak, or beech woods you will have a much higher nutrient rate in your wood ash than if you burn pine or fir.
SLCG PRO TIP: Do not use ash from chemically treated wood or from store-made slow-burning logs. This ash is not beneficial and should be disposed of accordingly. It is always best to have a waste dump pile in your yard for items that should not go into your gardens or compost bin. This is a great place to toss weeds, diseased plants, and other poor yard and garden waste.
How much ash will I get?
One cord of wood will produce approximately 25 pounds of wood ash. Please note that the harder the wood, the more ash you will produce. This should give you some idea of what you will have so you can better determine where best to use it.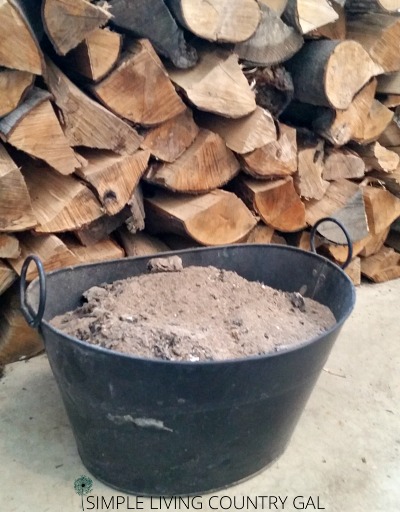 How to use wood ash in the garden.
Wood ash can be added directly to your garden soil to help improve your soil's PH.
It is always best to test your soil prior to doing this so you do not alter the PH too much. It is not recommended that you add ash directly to seedlings since the salt found in the ash can damage your young and delicate plants. What you can do is work small amounts into he soil a ways out from the base of established plants.
READ: HOW TO START A GARDEN – PREPPING YOUR SOIL
How to use wood ash in compost.
Wood ash can also be added directly to your compost pile, however, it is best to add as you go rather than all at once. We like to dump each bucket after it cools on our compost pile allowing the snow and rain to work it in to the rest of the pile.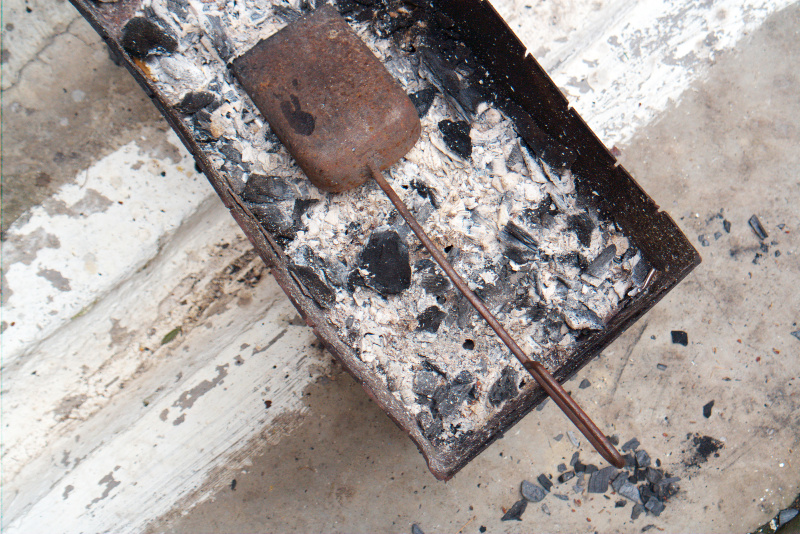 Since wood ash is alkaline you do not want to raise the ph in your compost too much too quickly. Doing so may affect the bacteria and possibly the beneficial worms in your compost bin.
SLCG PRO TIP: If you do add wood ash to your compost pile be sure you mix the ash in a bit so it spreads out more evenly. This is true with anything you add to compost. Spread it out so it works to your benefit. To do this, used a shovel to turn the pile over working some of the ash in.
READ: COMPOST – BLACK GOLD FOR YOUR GARDEN
Where To Use Wood Ash (Now For The Good Stuff)
Area # 1. Wood ash in the garden.
Use your wood ash in the garden by dumping it directly onto the ground in a sweeping motion to better help spread it out. This will do wonders to raise the PH of your soil.
Remember, slow and steady is best.
You can also add the wood ash evenly throughout the winter and let it rest right under the snow. In the spring mix in with a shovel or rototiller. After tilling up our garden, I like to let my soil rest one last time before planting. I find this really helps the soil adjust before putting any plants or seeds into the ground.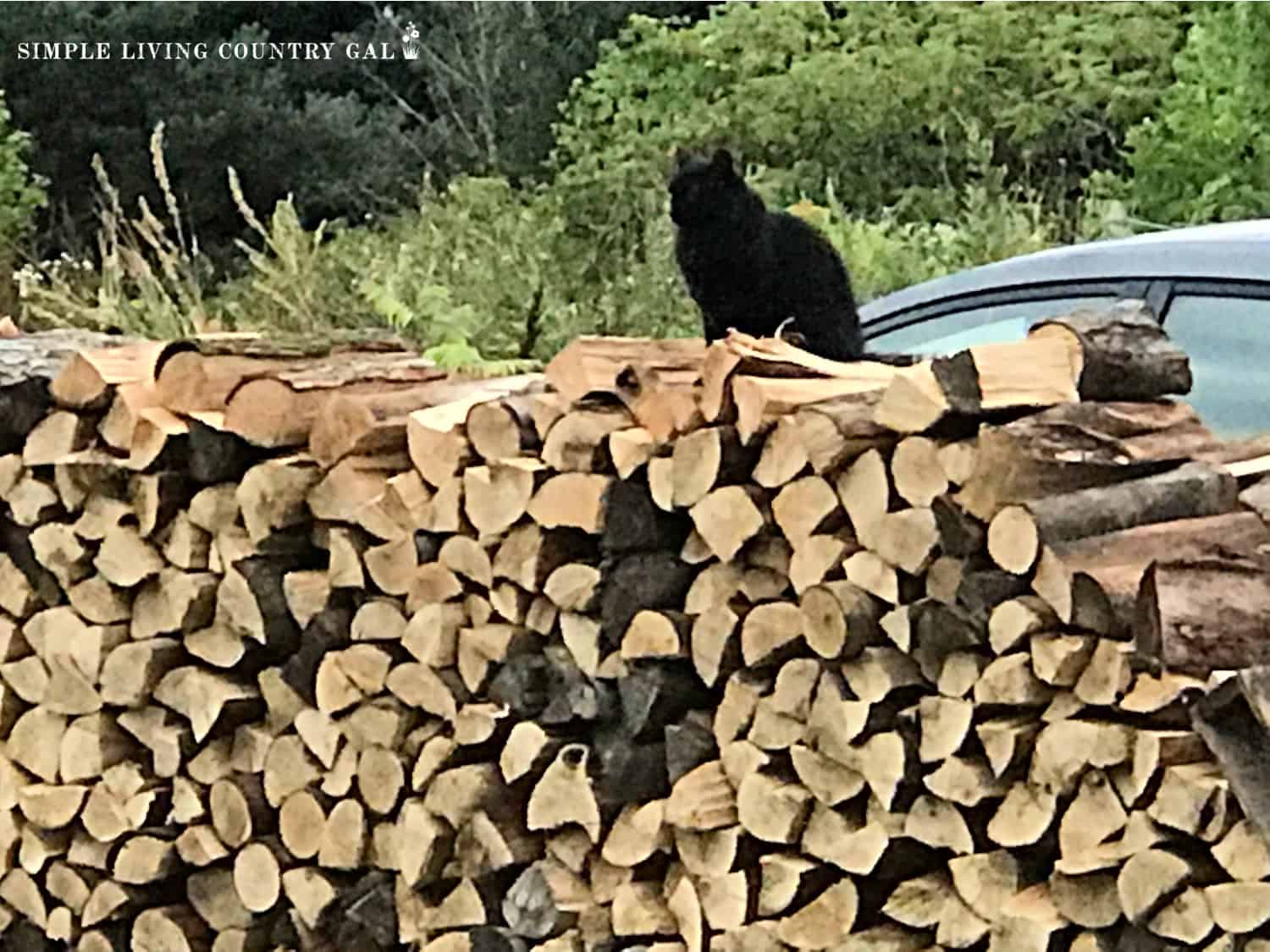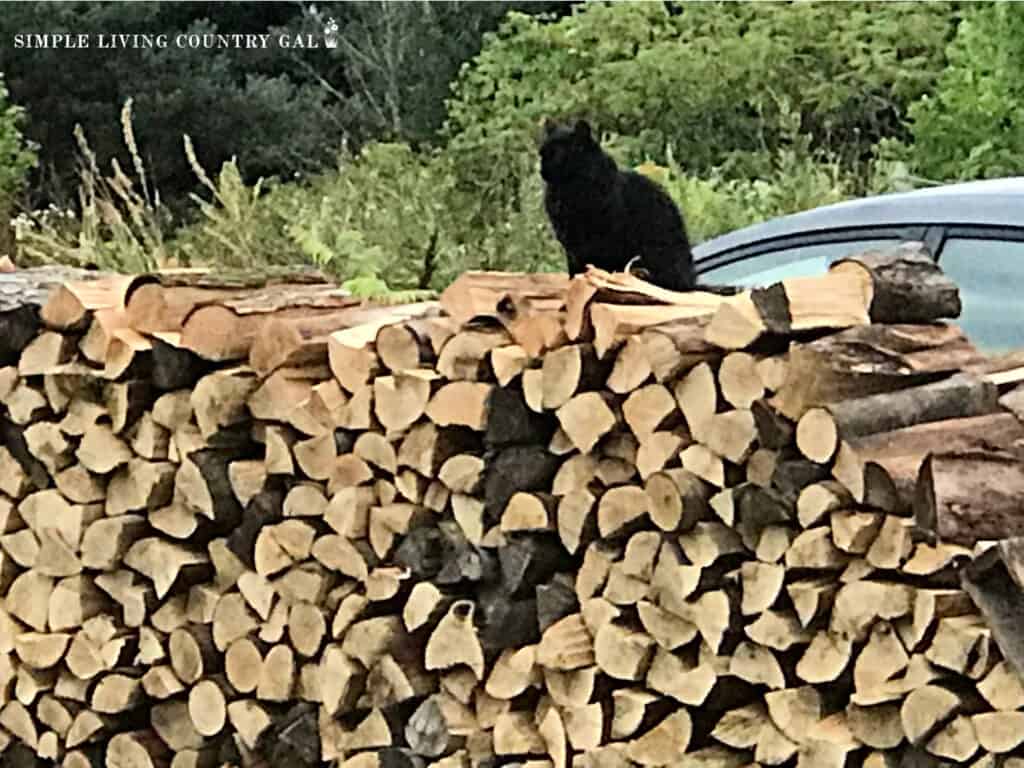 SLCG PRO TIP: Not all soil is created, equal friends! Before adding ANYTHING to your soil it is super important to test first. Too much of a good thing can quickly hurt your plants. Always test, add, then test again.
Area #2. Wood ash to deter slugs.
Use dry ash around your plants as a temporary deterrent for slugs and snails. You can store ash that is completely cooled in a metal trash can to use when the weather warms up. Please be sure to take every precaution when working with wood ash. When in doubt, wait (even) longer to ensure that ash is completely cooled.
Please know that once the ash gets wet it will no longer be effective in deterring pests but it will still benefit the soil. Just work the old into the ground before you add more.
Area #3. Wood ash in your compost bin/pile.
Dump the wood ash directly onto your compost heap or in your compost bin being sure the ash is completely cooled if using a plastic composter.
Make sure you dump in a thin layer of wood ash rather than all at once in a large pile so you do not harm the worms or affect the bacteria.
To do this, take your bucket of ash and shake it onto your pile. Take a pitchfork, rake, or shovel and work it in a bit especially if you are adding quite a bit.
SLCG PRO TIP: When dumping wood ash you will need to keep your face away from the dust so you do not breathe it in. You can wear a mask or simply hold your breath as you are dumping.
Area #4. Wood ash for roses and other flowers.
Ad a bucket of wood ash to your flower beds especially around your rose bushes.
Roses LOVE wood ash.
Using a hand shovel put a few scoops around your plants and work it into the ground with a hand rake being careful not to damage any roots of the plants.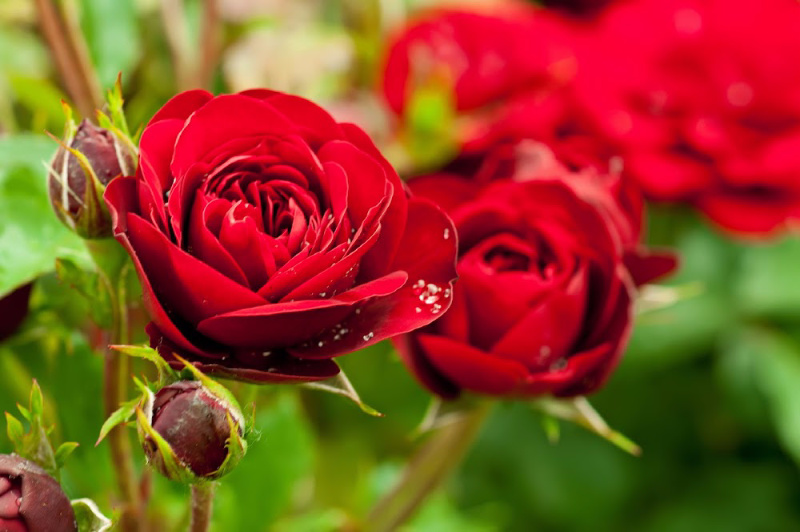 Area #5. Wood ash in the garden.
Wood ash is not only great in your garden soil, but for your vegetable plants as well. To add wood ash in your garden use your hand shovel to add a thin layer around the outside base of your plants.
Remember not to use wood ash around any young and fragile plants. Wait until they are a bit older. Just remember not to put around any young plants because of the salt.
Use your hand rake to work it into the soil a bit. If you are having a problem with slugs on your vegetable plants, keep the ash more solid on the ground to keep slugs away. You can also add a lid of beer to attract the slugs away from your plants and into the beer. Just dump out and refresh this simple trap as needed.
Area #6. Use wood ash in place of lime.
Sprinkle wood ash instead of lime.
Since wood ash contains calcium you can use it in place of lime, however, you may need twice as much since the nutrient content is a bit low.
Area #7. Wood as for chickens.
This might be my favorite place to use wood ash.
If you have chickens, then you know how beneficial a dust bath is. Wood ash is great in a chicken dust bath and I like to have a supply around that I can use throughout the summer.
Just replenish as needed in your dust bath mixture.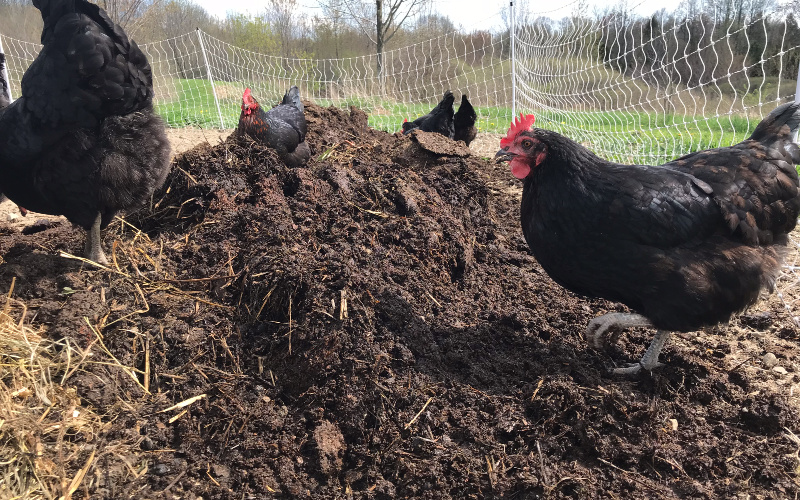 You can also sprinkle wood ash inside your chicken coop or chicken run if you do not have dust baths set up. Dig a shallow hole and break up the dirt into fine ground with your shovel. Add the wood ash and gently mix it into the dirt.
Instant chicken dust bath!
READ: HOW TO CREATE A DUST BATH FOR YOUR CHICKENS
#8. Use wood ash when you get stuck.
For my northern friends, use it in a pinch to help get traction when stuck in the snow.
I was able to try this out myself and I am happy to report back that this little tip work amazingly well!
Just a small shovel of ash in front and back of each tire gave me enough traction to get out when I was stuck in my own driveway last winter.
SLCG PRO TIP: Do not use too much or you will have a mess in your driveway come spring. If you have a concrete driveway you might want to remove it when you are done to keep the springtime mess down a bit.
#9. Wood ash for soap.
If you have ever touched and felt wood ash, then you know there is an abrasiveness there that is great for cleaning. But to actually make lye with your ash? That is something I have not tried.
You can read how it's done HERE. It is surprisingly simple.
You can also add a bit of water and use it to clean copper as well. Just add enough to make a paste and polish copper so it looks new again.
Where Not To Use Wood Ash
Before we finish up, it is important to know where NOT to use wood ash around your home and homestead.
Remember not all plants are created equal, so double check before you dump.
Do not use wood ash on Azaleas, Gardenias, peppers, Blueberries, or other acid-loving plants. Remember wood ash is used to neutralize acidic soil so keep it away from any plants that prefer acidic soil.
You should also refrain from using wood ash in your garden where you plan to plant potatoes. This may encourage potato scab and therefore is not recommended.
MY TOP TOOLS FOR WORKING WITH WOOD ASH
Final tips for wood ash.
Make sure you do not leave your wood ash out in the rain before using it. Wet wood ash is not only difficult to work with but it can cause the potassium to leach out.
Caution: Please make sure your ash is completely cooled before using it. Coals can remain hot for days. Because of this, it is best to store your ash in a metal container to ensure it is completely cooled.
Also, wear gloves and protective eye gear when handling the ash. Working with ash can be very dusty and can easily irritate your lungs and eyes.
Homesteading is all about using what you have on hand and leaving little to waste. Tap into this hidden resource of wood ash and you will not be disappointed.
Do you have any tips for what to do with wood ash? If so, please leave a comment below so I can add it to this post!