Ahhh, Rut. An amazing time in a buck's life(and a goat owner for that matter). It is an amusing, confusing, sometimes challenging and an extremely smelly time, but amazing all the same.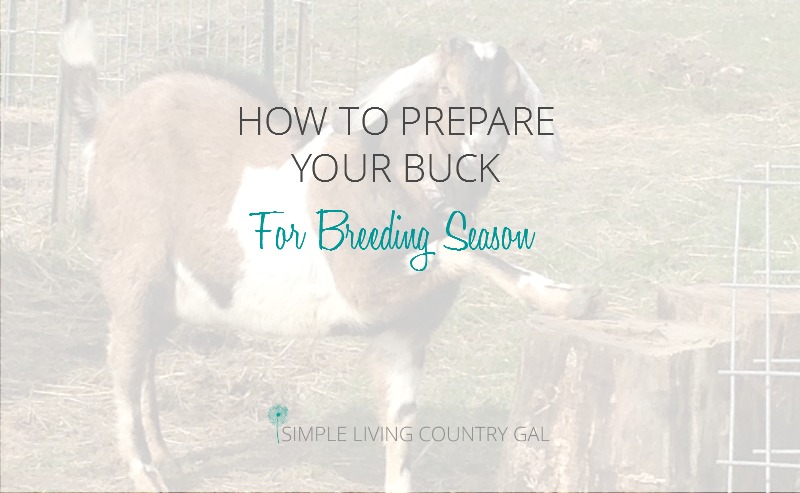 Disclaimer: In accordance with FDA guidelines, the information and products offered on this website are not intended to diagnose, treat, cure, or prevent any disease.
If you are new to goats, Rut is when a buck is in "season".
That means he is very willing and extremely determined to breed.
Here in Northwestern PA, Rut usually begins in early August and continues until late November or early December. Now that doesn't mean your goats will not get pregnant with a buck during the rest of the year. If a buck is willing and a doe is able…it's going to happen no matter what time of year it is!
Why breed?
Well, if you want milk from your dairy goats then you need to breed them to make that milk. You can either send your girls away for breeding or purchase a good quality buck and supervise to ensure the deed takes place. You can also use artificial insemination which is slowly gaining popularity even in our area.
To a buck, Rut means it's time to get ready for the ladies. He will spray his face and front legs with urine (yes, I know). It is a very pungent scent to us, but a sweet and luring scent to the does.
Warning, when your buck is in Rut do not handle him without gloves. That smell is all over him and even though you may be immune to it, your friends and neighbors are not. 🙂 That smell can sink into your skin and stay there long after you stop smelling it. So, always wear gloves!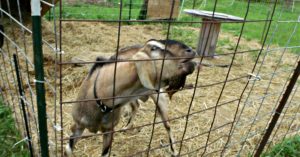 To a buck, Rut also means a time of parading and showing their stuff. They will pace back and forth in their pens, blubbering over and over and moaning or singing to the girls
Sometimes the bucks will become so involved in this show they will not eat or drink as they should. I have seen quite a few bucks lose body condition during this period, some to an even dangerous level So, I have learned to prepare my buck before Rut sets in so he is better able to handle the enduring task of breeding.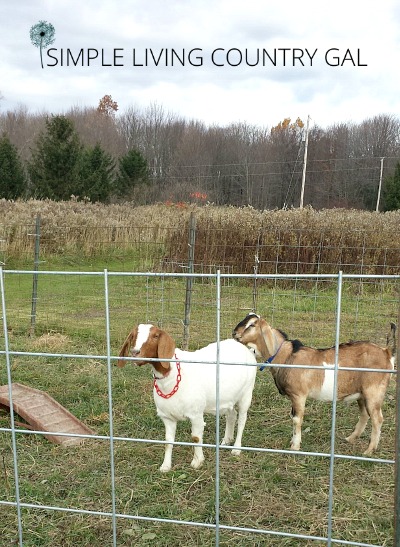 Preparing your buck for breeding season is simple. Since our bucks enter Rut in early August, I usually begin in late June, early July.
Disclaimer: I am not a vet and this is not a rule. This is just what I do in my situation with my animals. This is advice only and should be taken as such. Consult your veterinarian for specific guidelines.[spacer height="20px"]
How To Prepare Your Buck For Breeding Season
Increase Grain If you have your bucks on grain make sure it is good quality. Increasing the amount of grain you give will help build up your goats to better withstand the demands breeding will have on them. It is always important to make sure you do not overfeed.
Learn to touch your bucks often so you can feel if they are over or underweight and adjust the amount of feed accordingly Remember with goats it is very important to do this increase slowly and gradually.
Offer free choice minerals It is also important to make sure your buck is healthy. Providing a good loose mineral is the best ingredient to a healthy animal. Goats will eat what they need.
If your buck is deficient, he will devour his minerals. If this is the case, you will need to do some research on him to see what else may be wrong if anything. Or at the very least what he may be lacking nutritionally.
Increase quantity and quality of hay We feed timothy hay here but alfalfa is by far the best way to go. Since alfalfa is very hard to come by in my area I will feed my goats fermented alfalfa hay called Chaffhaye.
I now give this to all of my goats year round. During Rut, I will up the amount I give my bucks just to give them an extra boost. Chaffhaye, in my opinion, helps to put on a little extra weight (if needed) and provides them with extra nutrients. Be careful, however, not to overdo it on Chaffhaye.
A fat buck is not a healthy buck.
Vitamin B Sometimes I will give a little Vitamin B, but not always. Remember it all depends on the situation. Vitamin B is great for goats and can be given orally or by injection. Don't give it just to give it, make sure you have a need.
Probiotics Again, if your buck needs a boost in the eating category, probiotics can help. Probiotics come in a tube as a paste that you administer orally. It helps to encourage eating and also promotes a healthy rumen.
This is the Probiotic Paste I use and is made for goats.
Apple Cider Vinegar I love ACV! Before Rut I will add about a tablespoon of ACV to a gallon of water and pour it into my buck's water dish once a week. The goats love the taste and it really encourages them to drink up! Water is the number one thing that promotes good goat health in does and especially bucks.
I use an organic ACV, make sure whichever you use that it contains the "Mother" like this one does.
Make sure your buck's housing is secure If a buck is in Rut and a doe is in heat, your buck will go to great lengths to get to her. It is extremely important to house your buck in a secure and safe pen.
Cattle panels with extra stakes and plenty of room to move around is how we house all of our bucks during Rut.
Once breeding season begins on our farm we will move the bucks in with the does where they will stay until everyone is bred. This usually takes just a month or two at most.
I have a few friends that let their bucks run with their herd year round. They use goat aprons to prevent unwanted and untimely breedings. I have not used these aprons before so do your research before investing in one. You can see how the buck aprons work in this video I found on YouTube.
Keep the boys cool in the heat! Rut is stressful enough with the added discomfort of hot summer weather. Do all that you can to keep your boys cool so they stay healthy for the job ahead.
You can read How to Keep your Animals Cool in the Heat for tips.
A goat's gestation (or pregnancy) is 148-152 days. If you want to know just when your does will have their babies you can use our Goat Gestation Calendar below.
Remember it is so important to be proactive in your goat's health. Supply them with the nutrient and health support they need, keep a watchful eye for any changes and provide a safe and loving environment. Just these few steps will encourage your goats to be friendly, healthy and happy.
Since writing this post I was able to interview Kristy from Land Of Havilah Farms. She has some great tips for preparing your does for breeding most of which you can apply to your bucks. You can read all about it here.