SLCG Goat Gestation Calendar
Knowing when your goats will have their kids can help you to prepare for the season. Use our goat gestation calculator to make a plan so you can get ready to grow your herd.
Goat breeding and goat kidding all center around timing; use our tool to make a calendar for growing your dairy goat herd. See the goat gestation calculator at the end of this article.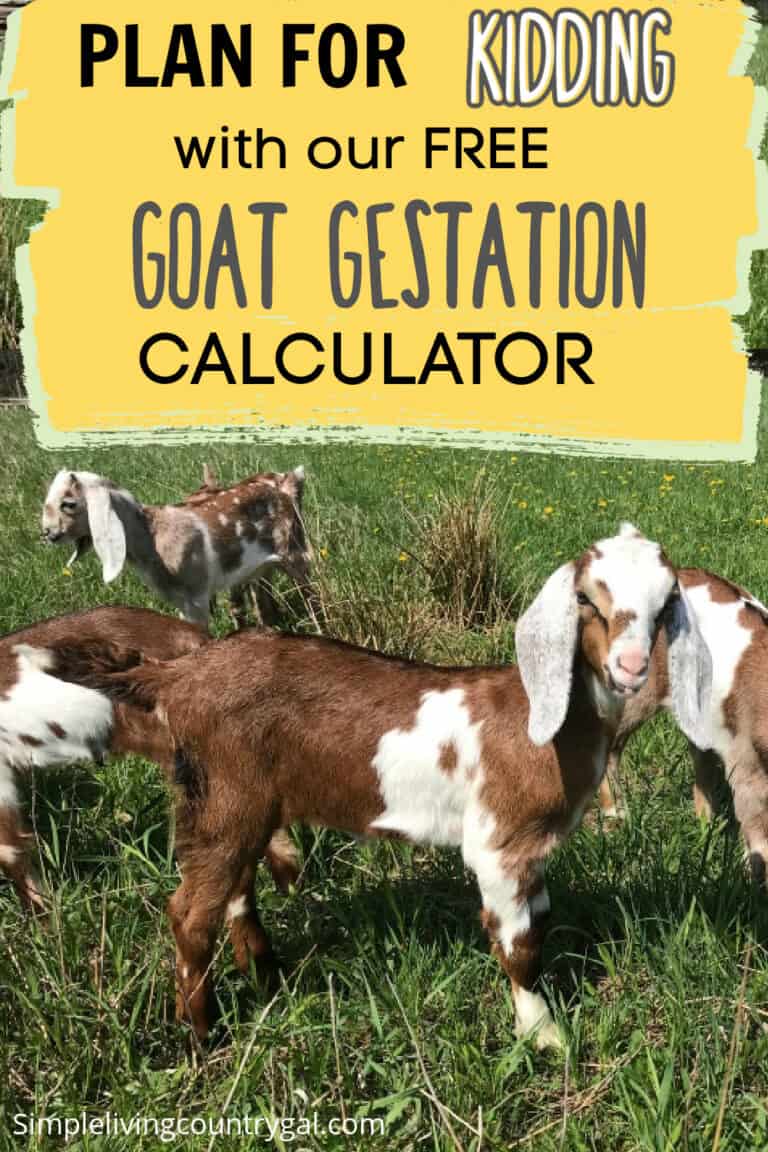 If you have dairy goats, then breeding and kidding are most likely part of your seasonal routine. Having a plan for when to breed so kids arrive at the best time will help ensure that both mother and babies receive proper care throughout the process of goat gestation. We'll discuss exactly what goat gestation means, how long it lasts, why understanding your doe's breeding cycle is important for knowing when her kids will be born, what timeframe makes for ideal kid delivery times on the homestead, and some tips for planning a responsible breeding season.
What does gestation mean?
In the goat world, gestation refers to the amount of time a baby goat remains in its mother's womb. The average gestation period for goats is about 150 days. It does vary with breed and other factors, but this is a good guideline for planning your herd's kidding schedule.
Knowing when your doe was bred can give you an idea of when her kids will be born. Goats typically breed in the fall and winter, so kids should arrive sometime in spring or early summer. When you have a due date timed out, it will allow you to prepare for kidding just in case you do need to assist with delivery.
Goat Kidding Prep Resources: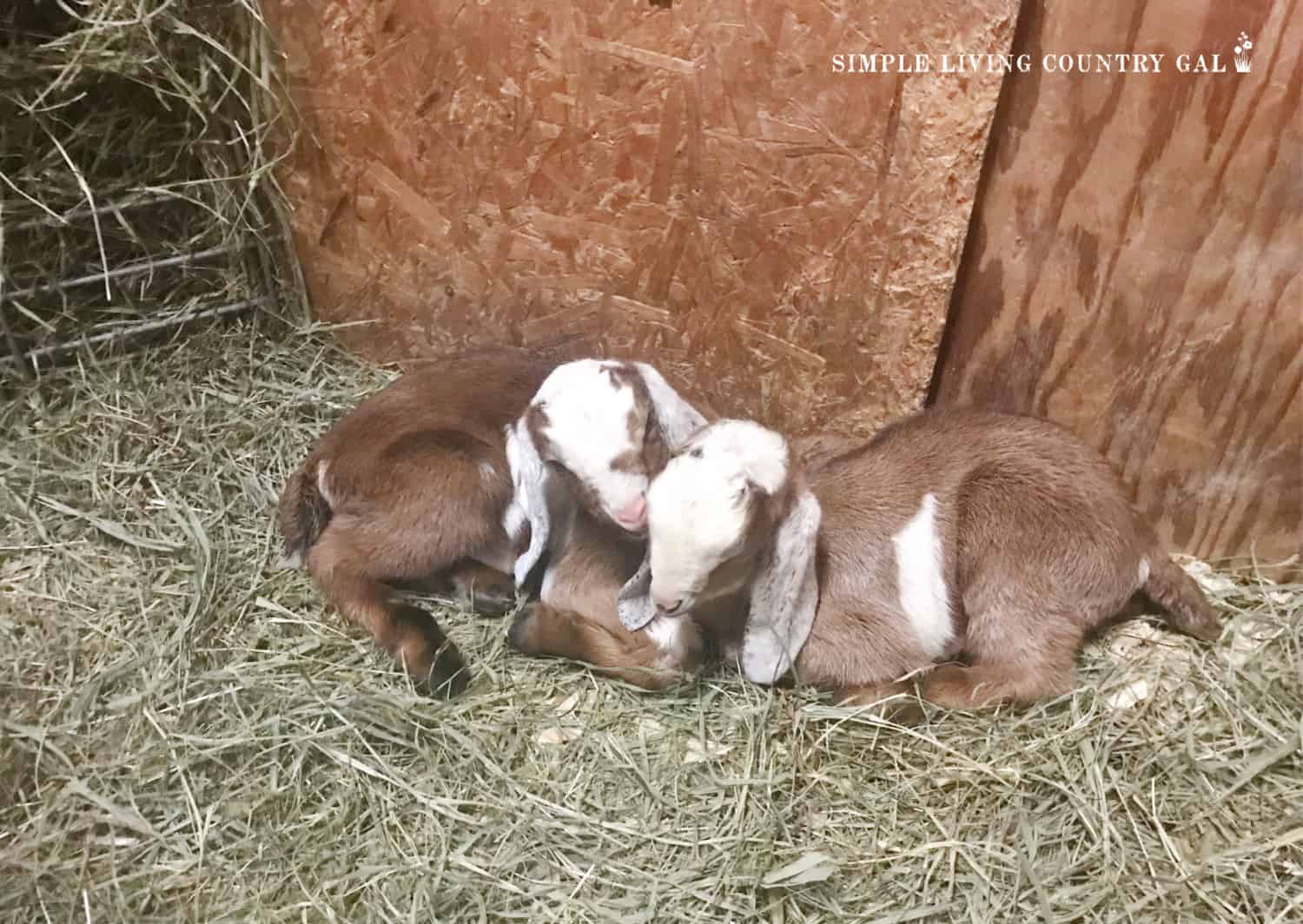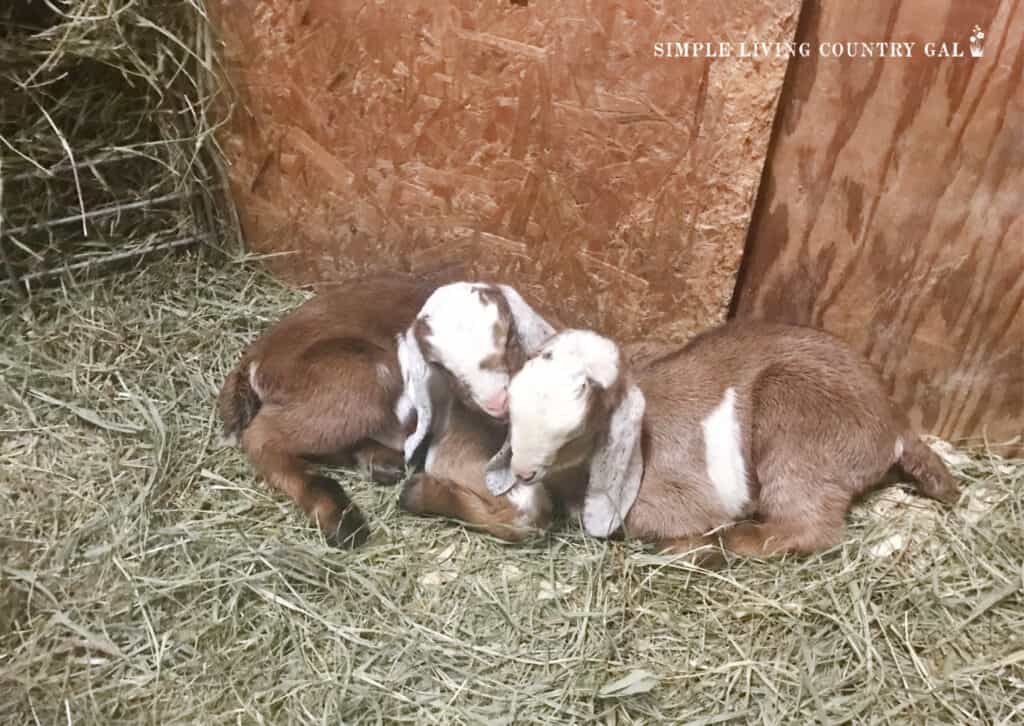 Why is It Important to Know When Your Doe Is Bred?
Knowing when your doe was bred can help you in two ways: it helps you anticipate when her kids will be born, and it can help you plan ahead to make sure she gets the care she needs throughout as well as monitoring her health. Knowing when your doe is due can help you prepare for her delivery by ensuring you have enough supplies, such as clean bedding, food, water, and kid-care items.
Yardwe Goat Supplies 5 Sets 400ml Lamb Feeding Bottle Kid Livestock Drink Bottle Jug Baby Goat Calf Milk Water Bottle for Farm Accessories Bottle Nipples
Manna Pro Colostrum Supplement for Newborn Goat Kids | Fortified with Vitamins and Minerals | Helps Promote Healthy Development | 8oz
GINDOOR Calf Sling for Weighing Animals – Calf Scale Hanging Weight Scale Sling with Adjustable Straps for Weighing Calves Lambs Goats Baby Alpacas Newborn Livestock Dogs
Storey's Guide to Raising Dairy Goats, 4th Edition: Breeds, Care, Dairying, Marketing
During gestation, be sure to check your does regularly so you can more easily identify if there is an issue. If you notice any changes in her behavior or health, you should contact a vet as soon as possible to ensure she and her babies receive the necessary care.
Why is a goat gestation calculator good to use?
A calculator will help you decide when to start breeding your does. So, for example, if you live in an area where the winters are brutally cold, then you may want to plan to have kids when things start to warm up. You can select a target kidding month of March, giving you a breeding month of October.
Be sure to use the goat gestation calculator below to map out your own best breeding month for your herd.
What Supplies Do I Need to Have Ready When My Doe Is Due?
When your doe is due, you should make sure that you have all the necessary supplies on hand to ensure a safe and healthy delivery for both you and your goats. You will need plenty of clean bedding, kid-care items such as bottles, a heat source to keep the kids warm, and plenty of feed for both mom and her kids.
You should also have an emergency plan in case something goes wrong during the kidding process. This could include having a trusted vet on call who can come to help in case of an emergency, as well as researching what steps you need to take if something goes wrong.
More Goat Kidding Resources:
Overall, it's important to be prepared and have all the necessary supplies on hand when your doe is due in order to ensure a safe and healthy delivery. By doing so, you can be sure that both mom and her kids will get off to a good start!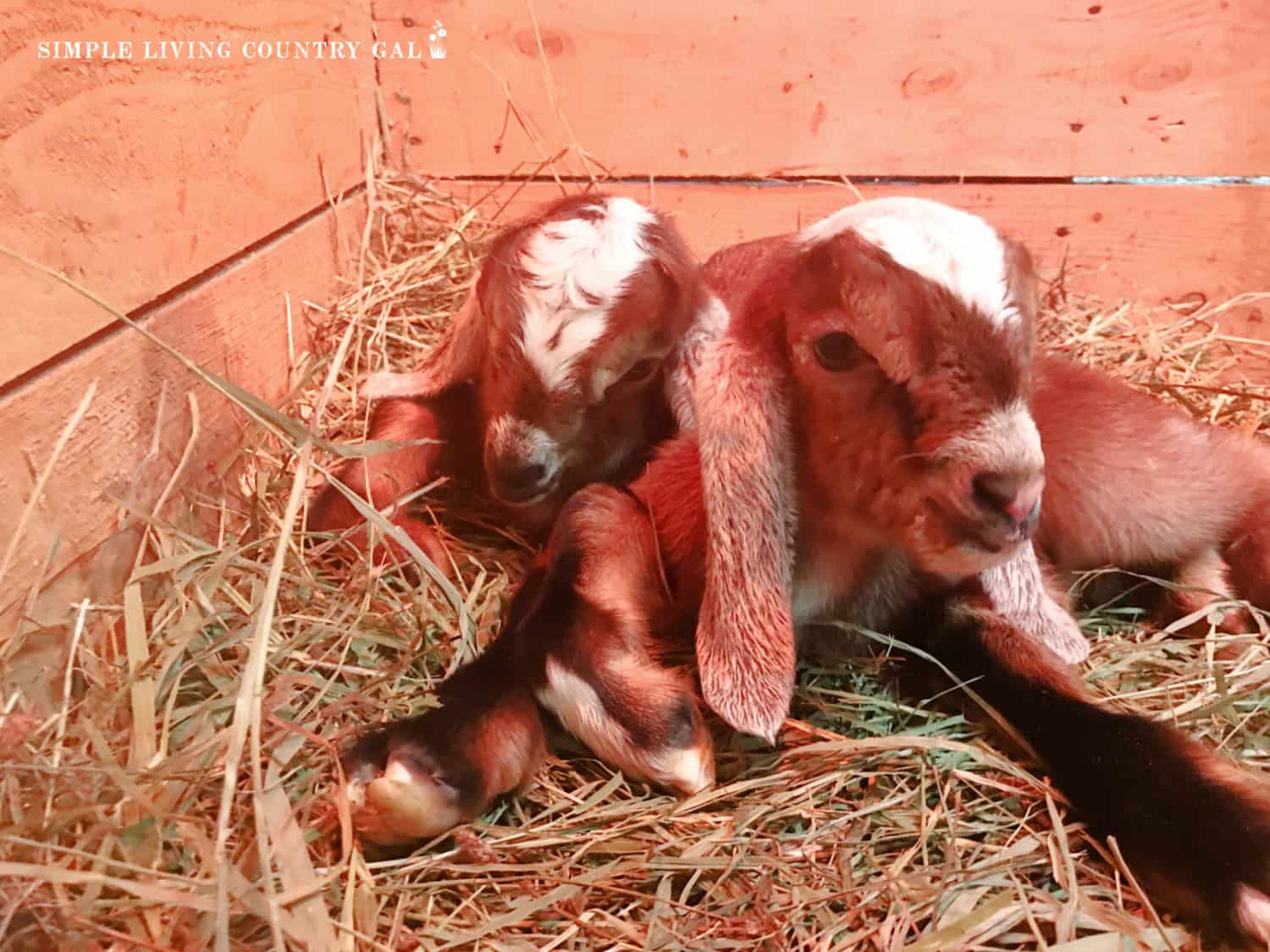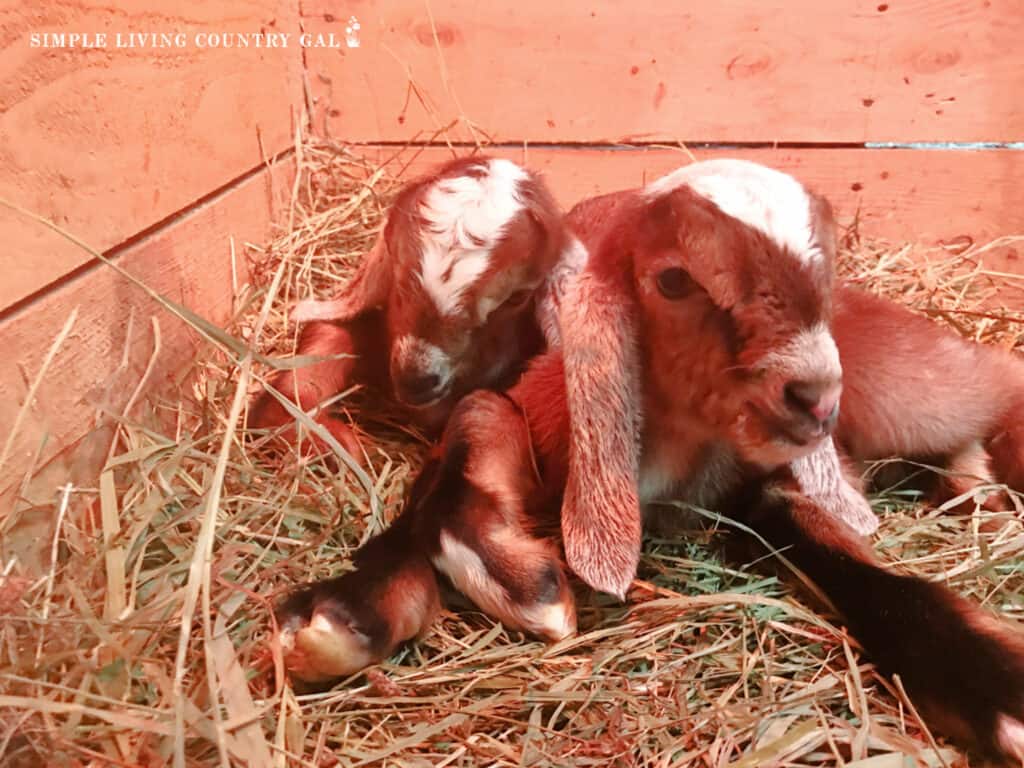 Kidding Process Overview
When your doe is close to her due date, you should begin monitoring her closely for signs of labor. These signs can include milk coming in, restlessness, and changes in body temperature. When these signs appear, you should be ready to take action and prepare for the kid's arrival.
During the delivery process, it's important to make sure that both you and your goat remain calm and stress-free. You should also be prepared to provide assistance if necessary, as some goats may need help delivering the kids.
Things to Do When Kids Are Born:
Clean any mucus from the kid's face and mouth.
If it is winter cold, you can help with some of the cleaning by wiping the kid down with a towel. It is important to leave the rest of the cleaning to the mother as this is when she will bond with her kid.
Within 20-40 minutes of birth, the kid should have gotten to its feet and nursed at least once. This is incredibly important as the first milk is full of colostrum and antibodies crucial to the baby goats' immune system and health.
Tie off the umbilical cord and dip it into a solution of 7% iodine solution.
Leave the kid(s) and mom alone to bond and rest.
Next steps:
Clean up the birthing area and replace it with fresh clean, and dry bedding.
Be sure mom has plenty of water and fresh hay.
If she is run down, you can add some molasses to her water for a bit of a boost.
Watch everyone for signs of distress or illness in either mom or her kids to provide them with the proper care.
By keeping these tips in mind, you can be sure that both mom and her kids will remain safe and healthy during the kidding process.
Goat Gestation Calculator:
Use the calculator below to research breeding dates for your herd. Here's how it works:
Enter in a breeding date. You can do this by typing it in or using the calendar icon at the right of the entry bar.
The due date will show up below the status bar.
Adjust the breeding date until you have the due date you want.
Make a note in your goat breeding calendar/binder.
Start prepping your herd nutritionally for the rigors of breeding and kidding.
More Goat Breeding and Kidding Resources: