Raising goats is quickly gaining popularity and it's no wonder. If you want beautifully organic milk and do not have the room for a dairy cow, then having a dairy goat is the next best (or even better) thing. This post will help you get starting with Goat breeding 101.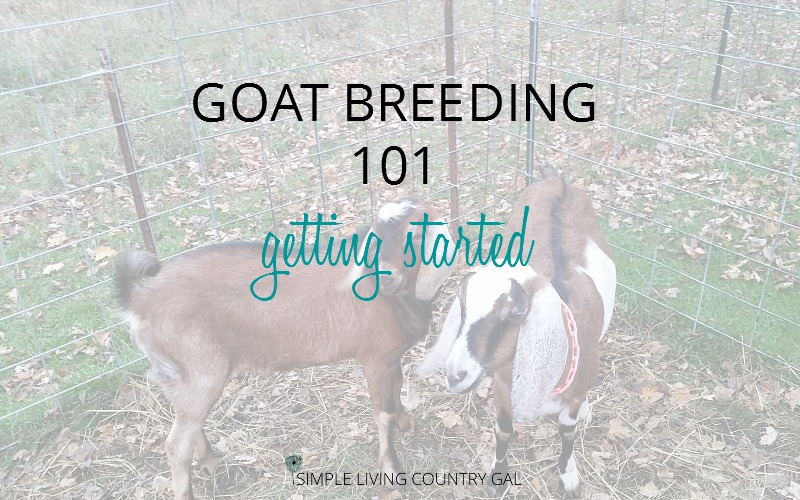 Disclaimer: In accordance with FDA guidelines, the information and products offered on this website are not intended to diagnose, treat, cure, or prevent any disease. I am not a medical professional. Before administering any medications to your animals please contact a veterinarian first.
Why do you need to breed?
If you have goats because you love the milk then heads up my friend, breeding is now officially on your to-do list.
Yes, you must breed to keep the milk flowing.
Now, don't panic…you can do this! I am, after all, a "Goat Newbie Expert". (And yes I did just make that up.) But I feel like I have been learning how to raise goats twice as long as I have actually been raising them. So, if you are new and you have questions…you have come to the right place.
Goat Breeding: A few facts.
Before we dive in, let's quickly go over a few terms.
Buck-A full grown male goat.
Buckling-A baby male goat.
Doe-A full grown female goat.
Doeling-A baby female goat.
Rut-A period when your buck is ready to breed.
Kidding-The act of giving birth.
Fact #1
Most breeds are seasonal breeds. What that means is they are in heat seasonally every fall from August to about January. There are a few breeds that can be bred year round.
Nigerian
Boer
Pigmy
Nubians (sometimes)
Fact #2
Bucks can breed a goat starting at 7 weeks so it is important to watch the little ones closely. If you do not have a separate area to house bucklings that may be in rut you can purchase a buck apron. I have never used these but my friend does all the time and says they work amazingly well.
Fact #3
You should wait to breed a doeling until she is at least 8 months old or 80 pounds. This is just a good rule of thumb to follow. An uncomplicated pregnancy is always our goal so the best advice to follow is to wait to breed your gals until they are physically ready to handle it.
On our homestead, we like to wait until our does are a year old before we begin goat breeding.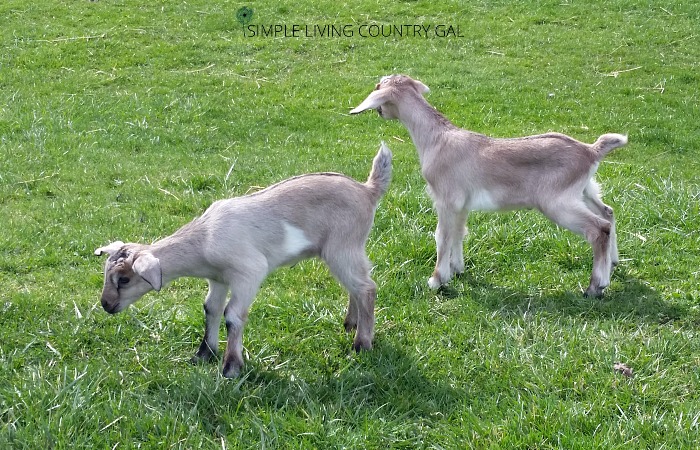 Fact #4
The actual act of goat breeding only takes just a few seconds and if you blink you may miss it. The first year I tried my hand at breeding I was convinced that none of my 4 does were bred. I never saw my buck "do the deed" so I believed he had failed.
One afternoon I was outside with Hubs working on the barn. I noticed one of my does standing in the corner with her head pressed against the wall. I ran over to her knowing that this is a sign of a goat in labor.
Sure enough, just a few short minutes later she gave birth to a healthy set of twins. And you know what? Like clockwork, the next several days brought, even more, goat kids as the rest of my little herd kidded.
That year I learned that breeding is quick and if you blink you definitely will miss it!
Fact #5
You do not need to own a buck for goat breeding. You can actually rent a buck and set up "dates" either at your home or at the bucks. This is a great option for the brand new goat owner or someone with a small set up.
To find a buck for rent simply contact your local feed mill or check out the want ads and even Facebook or Craiglist for options. The cost to rent a buck will vary depending on location.
Here in Northwestern Pennsylvania, a rental can start anywhere from $30-$75 for the first doe and an addition $10-$15 for every doe thereafter. As with anything you pay for quality. If you want a rockstar buck plan to spend a much higher price.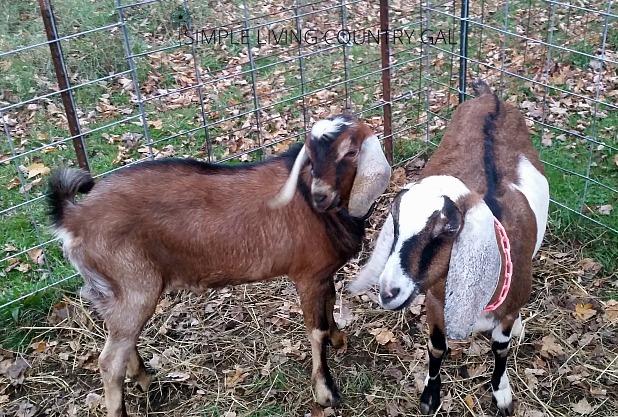 Fact #6
A doe goes into heat every 21 days and the actual cycle lasts 1-3 days. I highly advise you know the cycle of each of your does. When you only have a window of 3 days to breed, knowing the 21-day mark will make things so much easier for everyone.
Tip: Using a calendar like this one is an easy and inexpensive way to keep track of heats quickly. I like to keep track of all my goat care in this calendar so I can very easily reference things. The easier it is the more likely I am to use it. At the end of the month, I will transfer notes to individual files for each goat.
If you want to know just when your goat will be due to kid, you can enter the breeding date here and get your target due date!!
Fact #7
A buck in rut is a determined buck. If you have bucks on your homestead please make sure they are housed in a secure structure. If a buck is in heat and he wants a doe, only a sturdy fence will keep him in. Take the time to check your fence every few days to make sure nothing is getting loose. An unplanned pregnancy can quickly derail any breeding plan so take the time before rut to make sure things are secure.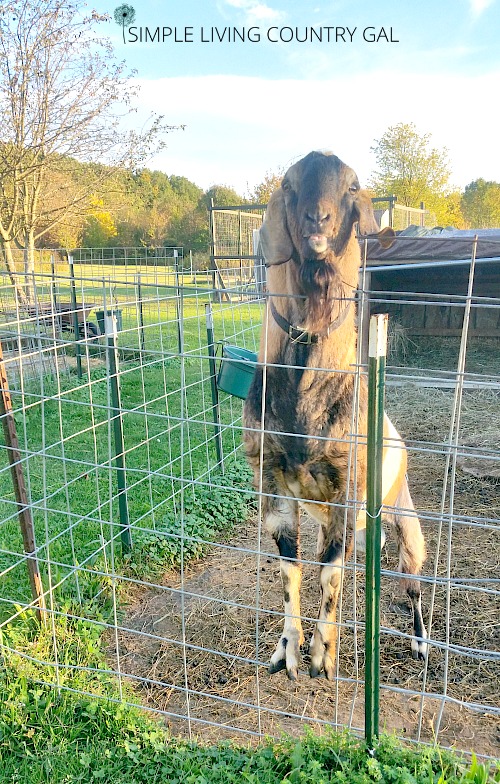 Fact #8
Bucks in rut stink my friends. There is simply no better way to say it. They smell pretty intense so keep your bucks away from your milk stand. If it smells your milk will absorb it. Trust me on this. Also, never ever touch a buck in rut without gloves on. That smell can get into your skin and even if you can't smell it…every other person in the world can. Wear gloves, use soap and you will be fine. 🙂
Goat breeding is the most enjoyable, exhausting, rewarding and amazing time on the homestead. With a little preparation on your part and safe and secure place for your goats to breed, you will be rewarded in a few short months with a barn full of adorable goat kids.