If you breed more than one goat, things can get a bit chaotic when goat kidding season arrives. Being prepared is key to keeping things calm for both you and your does. On our homestead, we have found that having a private area for our goats to kid not only calms them down but keeps things safe and healthier for the kids when they arrive.
It is also good to have in case of a birthing situation that requires our help. There is nothing more distracting than trying to deliver a stuck kid while another goat is nibbling your hair! Setting up a birthing pen for goat kidding is not only easy but an important part of any breeding system.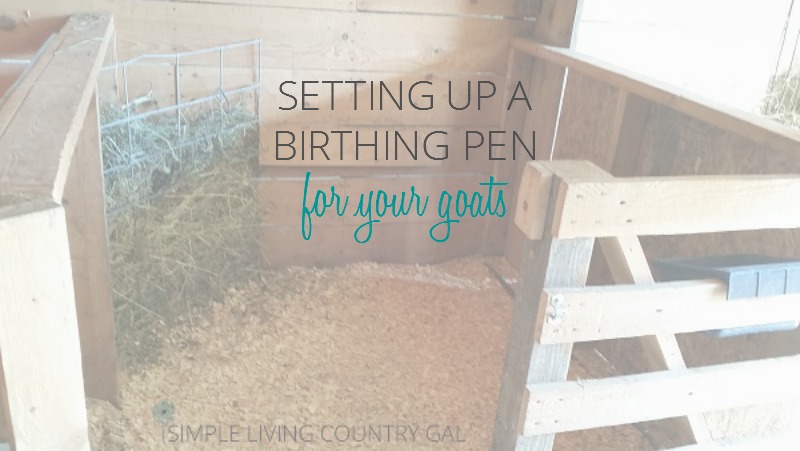 Disclaimer: In accordance with FDA guidelines, the information and products offered on this website are not intended to diagnose, treat, cure, or prevent any disease. Before administering any medication to your animals I encourage you to consult a veterinarian.
Our barn is set up specifically for the raising of goats. We have an open pen on the left side of our barn to house our junior does that we breed in the spring.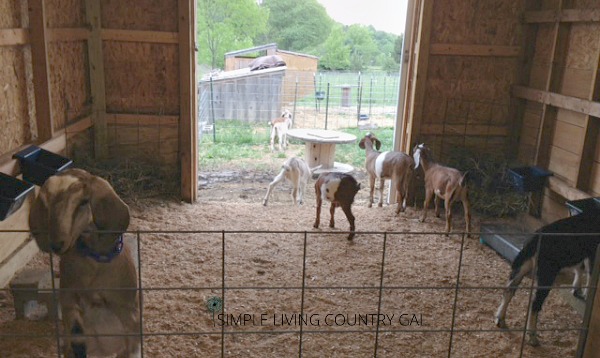 On the right side of the barn we have another open pen for our older does that are bred in the fall.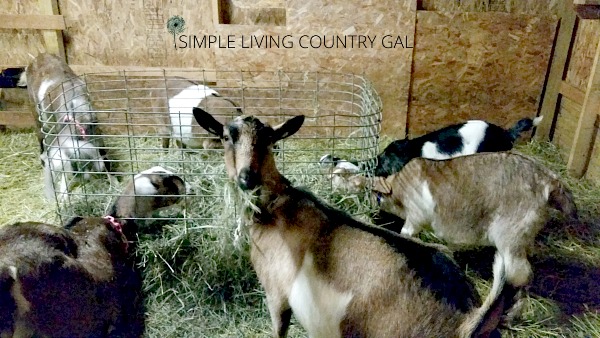 The center of our barn consists of 4 stalls that we use for quarantine, milking, and kidding. These stalls have been a life saver, especially at kidding time.
The stalls have slatted walls and are just big enough for a goat and her kids to move around in. These stalls have been very useful and I am so happy we decided to put them in especially when breeding season rolls around. We also like to keep the birthing stalls private by attaching sheets of plywood.
Sometimes a goat will be very stubborn and just will not push until she is alone. The privacy of the boards really helps her to feel secure and confident.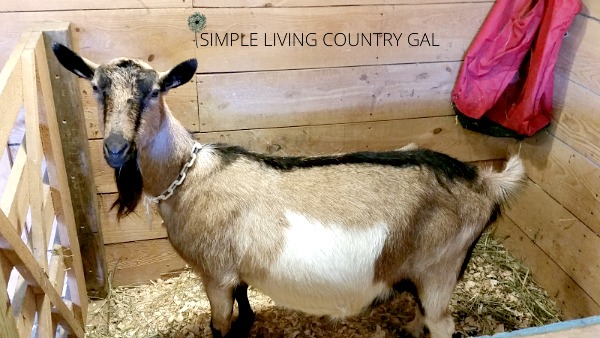 If you do not have stalls or pens already set up, you can make a freestanding goat birthing pen for your goats with pig or cattle panels and some zip ties.
FYI, zip ties are my Macgyver go-to tool. I always have them and in assorted colors, because…. you know, a girl has to have options. 🙂
When our does are about 1 week from kidding I will set up our birthing stalls. Fresh bedding, a clean ready to go water bucket and feeder, along with fresh hay are all set up and put into place.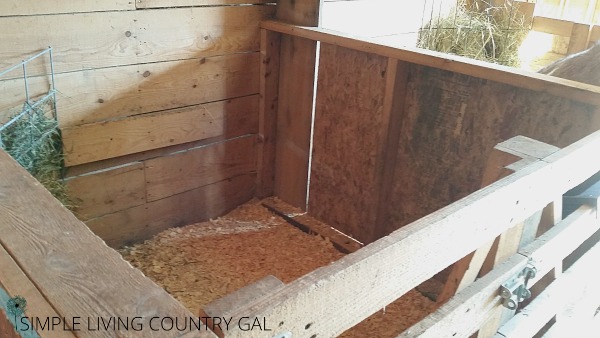 As you can see you do not need a lot of space for a birthing pen. Actually, I have found smaller is better in the beginning. As long as mom has room to move around without the risk of trampling the kids you should be just fine.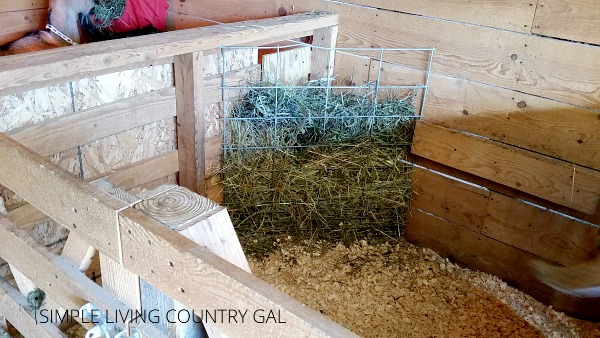 Once we have a pen or two set up for goat kidding we then begin watching closely for signs. Loose ligaments, full or filling udders and clear discharge are the last minute things to watch for.
More often than not our does seem to delivery pretty much on schedule. If you want to know when your goats are due, you can jump over to our breeding page and take a peek at our goat gestation calculator.
Read: Goat Breeding 101
Once one or all of those last few signs are checked off my list I will then move my doe to a birthing stall. Tip: Goats do not like to be forced into anything and even less so when they are about to kid. If your goats are not trained, gently walk your doe over to the stall talking gently to reassure her all is well. You can also use a handful of fresh hay, a treat, or a feed bowl of grain to make the job a bit easier.
Read my post on How to Easily Train Your Goats to be better prepared for kidding.
Once your doe is in the birthing stall keep an eye on her. I will do a few other tasks in the barn to give her time to check out her new home. If she is unable to see the other goats this may cause her to panic a bit. If you notice this, try removing a board or two so she can see in the main pen.
This is usually enough to calm a skittish gal down. If this doesn't work, you may need to stay with her for giving some hay to keep her distracted as she becomes acclimated to her new home.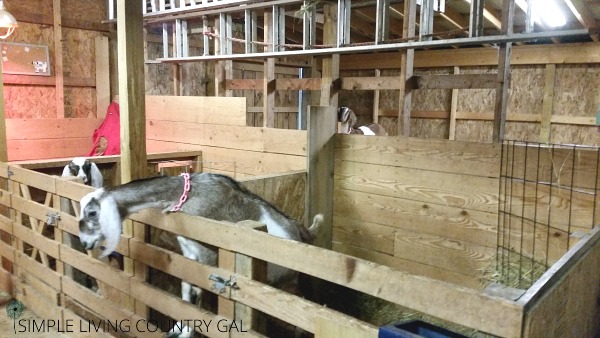 Whenever you are dealing with goats I have learned that slow and steady is the best approach. Her comfort is the main goal so if the birthing pen is not the best way to go you will need to come up with a plan B.
Sectioning off a small area of your main pen for goat kidding is another option. I do know others that have allowed their goats to kid where ever they are most comfortable. Living in the north does not allow us that option. The cold and frigid temps can kill a baby goat is minutes so having them in a secure and supervised area not only keeps them warm but allows us to assist if needed.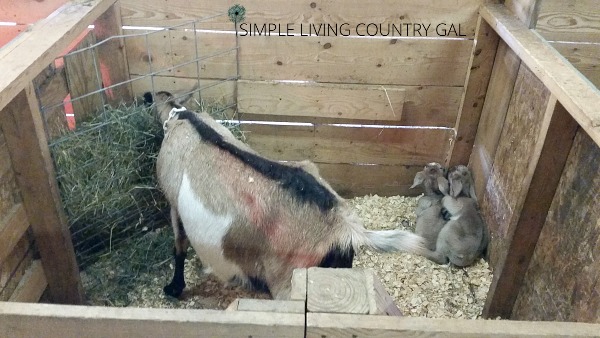 Birthing Stall Checklist for Goat Kidding
Pick the right spot. If you do not have a stall that you can use for goat kidding, choose an area that is away from the herd and secluded enough that the doe will feel safe and secure. You do not want other goats coming in to investigate a kid leaving mama to defend while giving birth to a second baby.
Put in fresh clean bedding. I like to use wood chips and a layer of hay. I have tried sawdust but it just doesn't keep things clean as the wood chips do. Hay helps to keep the babies warm until they are cleaned off and able to nurse.
Have a secure bucket of clean water. I change my goat's water 3-4 times a day. New moms need lots of water the first few days and I like to monitor that they are getting enough. If they are not, I will add blackstrap molasses. My goats love molasses and this always encourages them to drink. Make sure the water is up and out of reach of the babies. They do not need water the first few days and there is no sense running the risk of them drowning. Yes, it does happen.
Have a bowl for feed. I also keep this up and away from the kids. Mom can get pretty testy if anyone touches her feed, even her little ones who are just exploring. Keep it up and out of reach.
Mineral feeder. It is important to support your doe's health by offering loose minerals or organic kelp often. A nice thing about goats is, if they need it they will eat it. So if you notice your goats chowing down on minerals or kelp, they are lacking in something and further investigation is needed.
Hay feeder. This is tricky. I use several different hay feeders. I prefer pig panels over everything else, but you need to be careful. Those little babies can get anywhere, make sure the smallest openings are by the ground to deter the kids from climbing in the feeders and possibly getting hurt. Read my post on Hay Feeders for Goats to see different options.
When I first started out raising goats, I learned the hard way the consequences of not being prepared. I now make sure I have a system in place that not only gives comfort and safety to the mother but to her kids as well. I understand that each situation is different so use these tips as suggestions only and not the cardinal rule.
Make a game plan, set up a timeline, stock your supplies and set up a birthing pen for your goats and you should have healthy and happy kids in no time!