Being a livestock owner can bring out some unique skills. Investigator being at the top. I was totally unaware of how much Sherlocking (spell check refuses to admit that is a word) I would have to do. To help we are going to talk today on warning signs of a sick chicken.
As with most birds, chickens tend to mask their symptoms until it is too late. And that is why it is so important to know the signs so you can catch things early on.
Luckily chickens do have several warning signs to tell us when they are sick. In the beginning, those signs are subtle, but if you know what to look for you can save yourself and your chicken from loads of heartache.
6 Warning Signs of a Sick Chicken
Sign #1 Dull feathers with or without bald patches.
This is an easy one to spot and can mean many different things.
Henpecking, external parasites, seasonal molting, or illness should be first on your radar if you see dull or lackluster feathers. A healthy and happy hen should have shiny thick feathers and be free of bald patches.
If you have a rooster in your flock, missing feathers especially on the back and/or neck can be from mating. Sometimes a rooster can be a bit rough when mounting the hens and missing feathers with no other symptoms may be from this. To help you can purchase a chicken apron or chicken saddle to better protect your chicken flock.
What to check first:
Watch the interactions of your chickens at feeding time. If you see lots of fighting, pushing, or squawking then bullying might be the cause of this symptom. To help,. try putting out more than one feed source to discourage henpecking.
You can also include a few obstacles in your chicken coop and chicken run to help bullied chickens get away from any aggressive hens.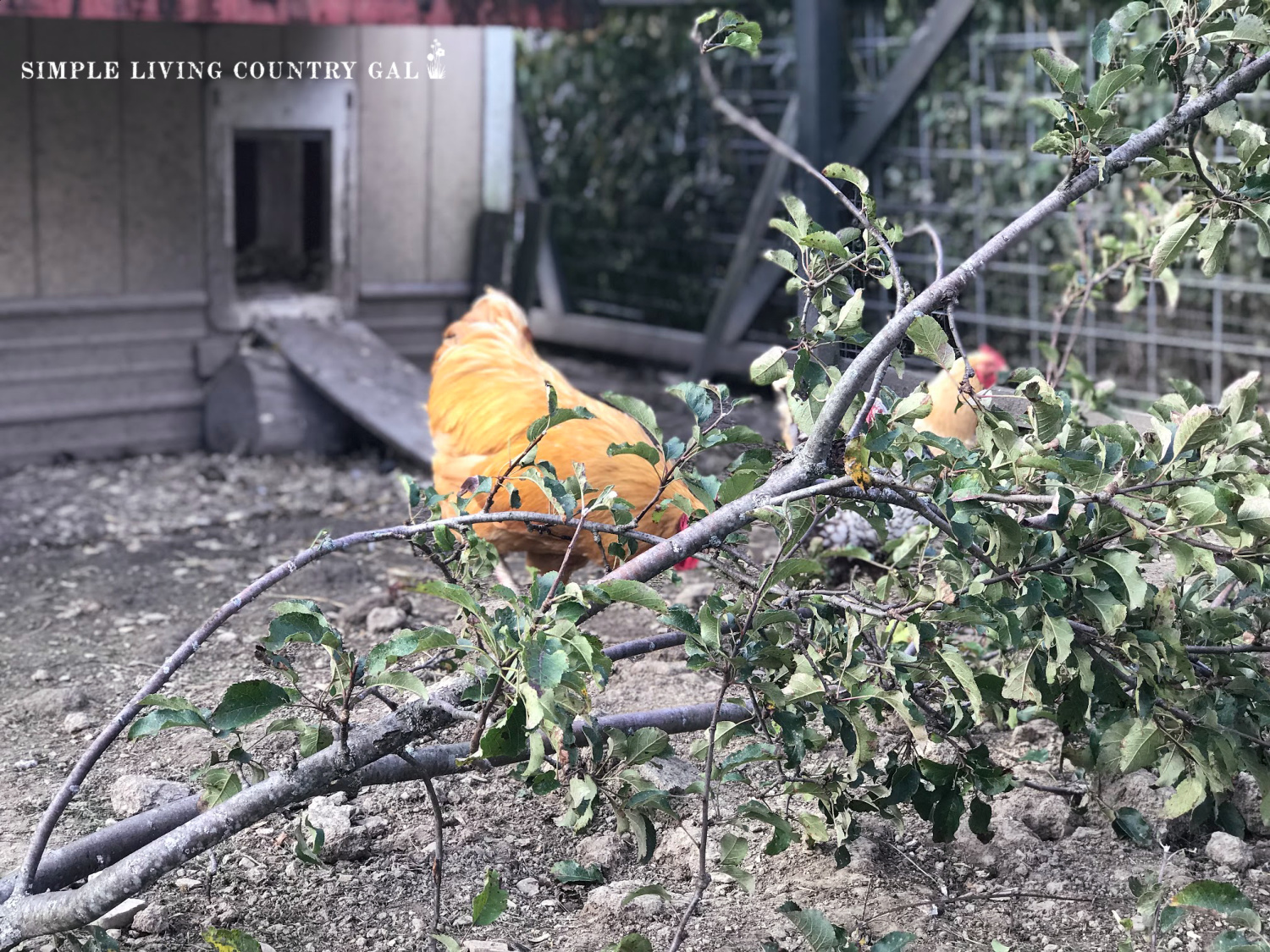 What is molting in a chicken?
Molting is when a chicken sheds her feathers and grows new ones and can last approximately 6-8 weeks. It usually occurs as the seasons get cooler and the days get shorter. Most chickens do not lay eggs during this time to help preserve energy needed to regrow feathers.
What if your chicken has parasites?
If you suspect parasites you will most likely be dealing with lice or mites. These lice are more commonly found on the hen where mites are found in the coop. To deal with both situations you will need to use the poultry dust that you can purchase at your local feed mill.
READ: HOW TO CLEAN OUT YOUR CHICKEN COOP
A dull comb and/or wattle.
A healthy chicken will have a beautiful bright pink or red comb and wattle. On older hens, the color may be a lighter pink but this will still indicate a healthy bird.
The comb and wattle are the extra skin above and below the head. Its purpose is to help with blood flow and allow the chicken to better deal with the heat of summer. If you happen to have a breed of hen that is hardy in the hot months then you may see a larger comb.
If you notice the color is dull or grey and the comb or wattle looks dried out, then it is time to look further.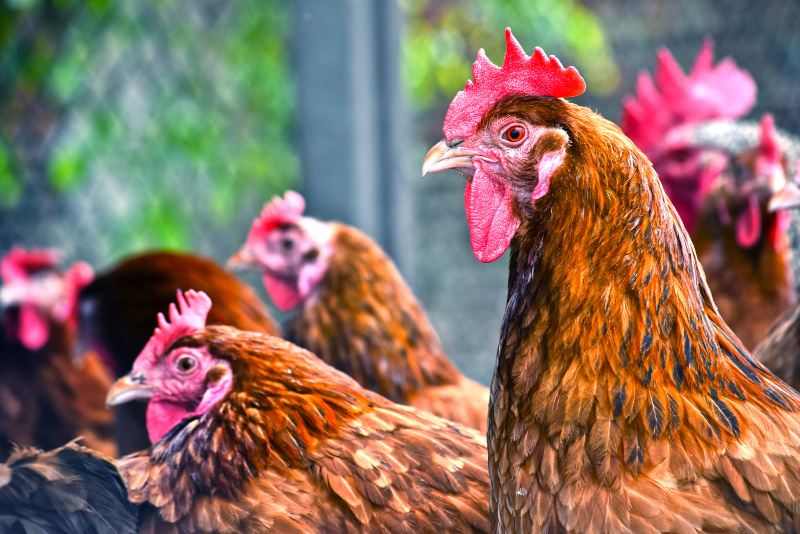 Illness, poor diet, or overcrowded conditions can all lead to this result so you will need to dig a little deeper to find the root cause so you can more quickly correct it.
What to check first:
Watch how your hens interact when you close your coop up at night. If you see fighting for spots on your roosts, then overcrowding might just be the issue. Be sure you have plenty of room on your roost to comfortably hold all of your chickens.
READ: HOW TO BUILD A BETTER CHICKEN ROOST
If you notice dull to grey or even black combs and wattles in the winter, then your coop may not be adequately protecting your flock from the cold weather. Luckily there are a few things you can do to fix this. Apply vaseline to the comb to protect against frostbite and update your coop to keep out the wind and protect your flock more adequately when inside.
READ: HOW TO KEEP YOUR CHICKENS WARM IN THE WINTER WITHOUT ELECTRICITY
If none of the above reasons have solved this problem then diet is your next place to look. Be sure you are feeding a poultry high-quality chicken feed that contains nutrients specifically for chickens.
Disinterest at feeding time.
For me, one of the top warning signals with any of my animals is a loss of appetite. If an animal is not eating or drinking for that matter, something is seriously wrong.
What to check first:
Check the feed and water in your chicken coop. Is it free from debris and pests? Is it fresh and clean? Does it smell okay? If all answers are good then move on and check your chicken.
If it is warm out, check immediately for heat stress. Remember, some chickens handle the heat better than others. If you see you have panting hens then you will want to offer them more water. By adding a few extra sources of water throughout your coop and run you can quickly correct this issue in your flock.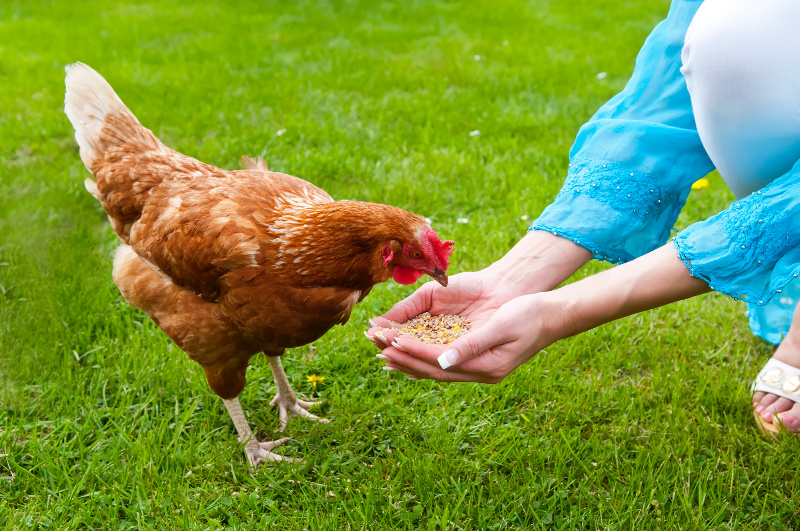 I would also suggest feeling your hens and checking their body condition. If you feel your hen is underweight then you can be sure this symptom has been going on for some time. Check her comb, feathers, and skin for any other clues as to what may be wrong.
Finally, check her poo to be sure it is healthy and not too watery. You can send in a sample to your vet if you suspect worms. This will help you better determine what is causing the no eating symptom.
Coughing or raspy breathing.
Although this is a late-term warning sign, the good news is that it is not always a death sentence.
I have had coughing hens before that recovered completely to return to the flock.
The trick is to act fast to first save your hen and second keep any possible contagious illnesses from the rest of your flock.
What to check first:
Look at the condition of your chicken coop. Is there adequate airflow? Is the walls covered in dust? When was the last time you added fresh bedding? Sometimes a couch can be simply a reaction to a dirty coop, if there are no other symptoms do a cleaning first and see.
Check the bedding in your coop as well. Is it wet or moist? Both of these conditions can cause your chickens to cough from the ammonia smell that is given off from wet bedding. Remove the wet and replace it with a fresh layer to see if this helps.
Next, you want to separate your sick chicken until you can find out just what is making her cough. This will keep any illness from spreading throughout your entire flock.
READ: WHAT TO DO IF YOU HAVE A SICK CHICKEN
If you see your chicken's cough is wet and/or raspy and may be accompanied by a running nose then there is a good chance your chicken has pneumonia or CRD, Chronic Respiratory Disease. Both of these conditions can be life-threatening and spread throughout your flock. It is important to contact a vet so you can get antibiotics to treat these conditions.
Dirty back end.
This one is easier to see on some birds than others.
A few years ago, I had all Black Star Hens, which are a solid black chicken, and unless the mess on their back end was light-colored I could very easily miss it.
For that reason, I needed to check my coop and run at every feeding checking out droppings.
By inspecting my chicken's poo routinely I am able to catch any parasite problems before they become widespread. Runny is normal for some hens from time to time, but if it is different than normal, it is extremely watery or has an overly foul odor take note.
What to check first:
If you see a change in the color, texture, or odor of your hen's droppings then check their diet first. Did you give spoiled or rotten produce? What about something completely new to their diet like a feed change? Is their water cleaned and freshened every single day? Are there rodent droppings in their feed that they may be ingesting?
If you can eliminate these causes and still have an issue with runny or watery feces, you will then want to do a fecal test for worms to determine your next step.
The same is true if you see blood. This is another indication of a medical problem and would need to be discussed with a vet.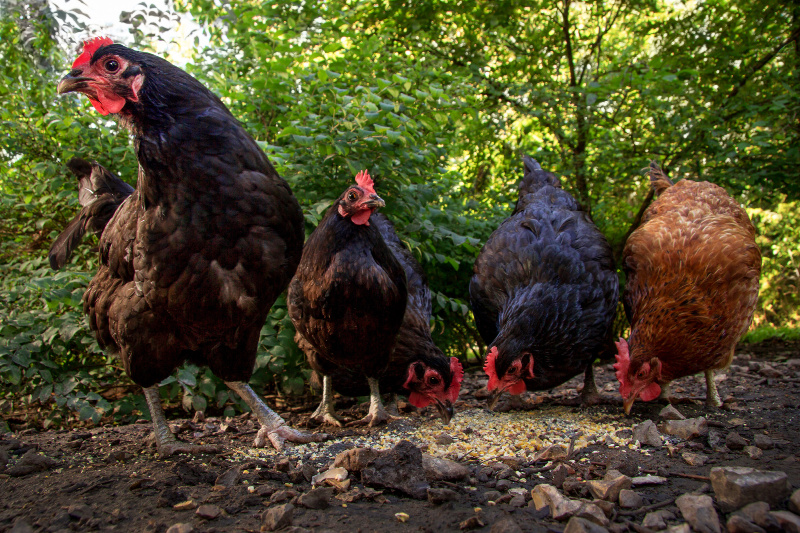 Hunched up Hen.
If you notice one of your gals is hunched up, something is wrong.
She is either in pain, sick, or is bound up with an egg. Egg bound means your hen has an egg stuck in her oviduct and a call to your vet is warranted.
Usually, my hunched up hens are moving pretty slowly or not at all so they are a bit easier to spot in the flock.
What to check first:
Pick up your hen and check for injuries, if you find one remove her and treat. Check her vent. Make sure she is not clogged or injured there. You want to be sure there is not an egg stuck which can kill a bird quickly.
If you find no injury or vent issue, remove the hen for a few days and monitor her.
What if your chicken has more than one symptom?
More often than not when I pick up a hen with one or more of these symptoms I will see right away that she is thin and weak. Chickens, like most animals, will hide when they are sick and unless you are watching daily you will miss the early warning signs.
So, what do you do if you have a hen with one or more of the symptoms on this list?
I always err on the side of caution.
I have found that isolating the hen in question is the best and most effective way to keep my flock healthy.
Anything will do to house your sick gal, but if you need ideas you can read my post What to Do If You Have a Sick Chicken to get tips.
Once you have your hen away from the flock you will be able to inspect her more closely and decide on a plan of attack. Choosing between home care and calling on a vet all depends on the situation.
Watch your animals daily so you will notice any changes as soon as they happen. Catching things early can be the difference between life and death in livestock so keep your eyes open. Knowing the signs of a sick chicken will keep you on top of things so you can stop a serious issue before it starts.
Looking for more?
You can find all my posts on Raising Chickens here!