How helpful would it be if our hens came with a sick chicken checklist?
This morning when I went out to do chores I noticed something wasn't right. As my chickens were jumping all over me in hopes of some food, one of my gals was off in the corner not even looking my way.
This is always the very first sign that someone is sick. Whether it be our kids or out animals, if they are not eating or acting right we know there is something going on.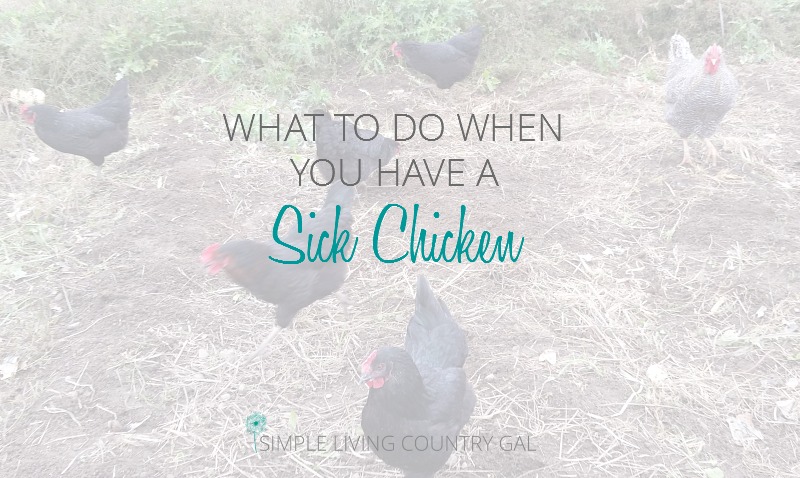 It always breaks my heart to find a sick animal and when it comes to chickens there is a protocol that you should do straight away. Chickens are like most birds, meaning they will mask their symptoms until it is pretty much too late. For that reason, it is important to act fast if you have a sick chicken in your flock.
First and foremost you need to remove the sick or injured bird. Hens can be unintentionally cruel. I have seen my gals henpeck a sick chicken in order to keep her away from the flock. As a homesteader, it is our job to keep all our animals safe not only from predators but from each other as well.
For this reason, it is always a good idea to have a small pen or crate of some sort where you can put a sick or injured animal until you can access the situation a bit more thoroughly.
We have 2 crates, dog crates actually, that we use for most of our animals on our homestead. I found these at a garage sale and even though they were in bad shape at the time, we have used them many times over the years for various projects. Hauling chickens to the vet or even housing small baby goats.
They work perfectly and can be cleaned out by using a hose and set up in just a few minutes.
If you do not have a dog or pet crate you can use, you can make one quite easily with a box and some chicken wire.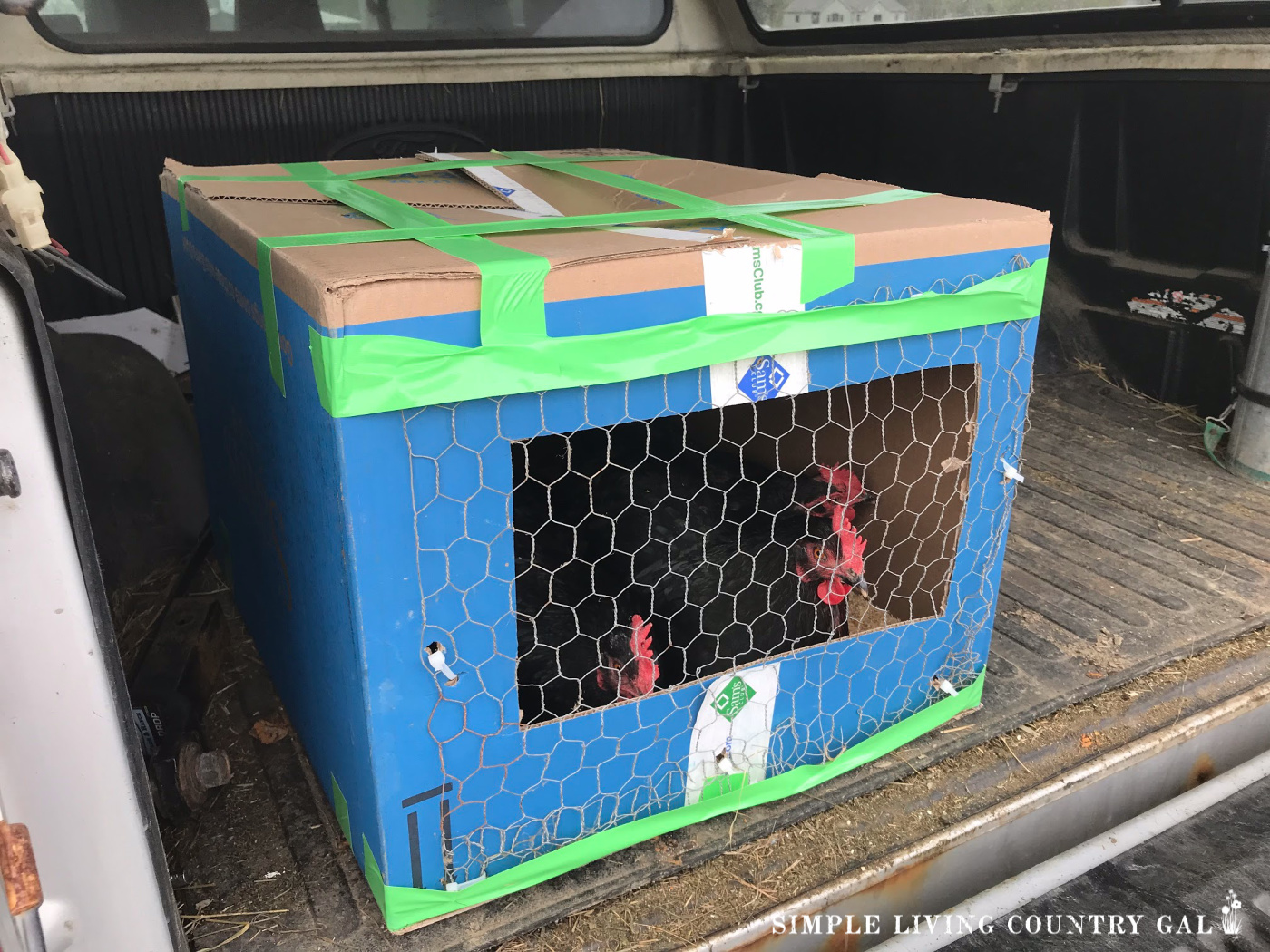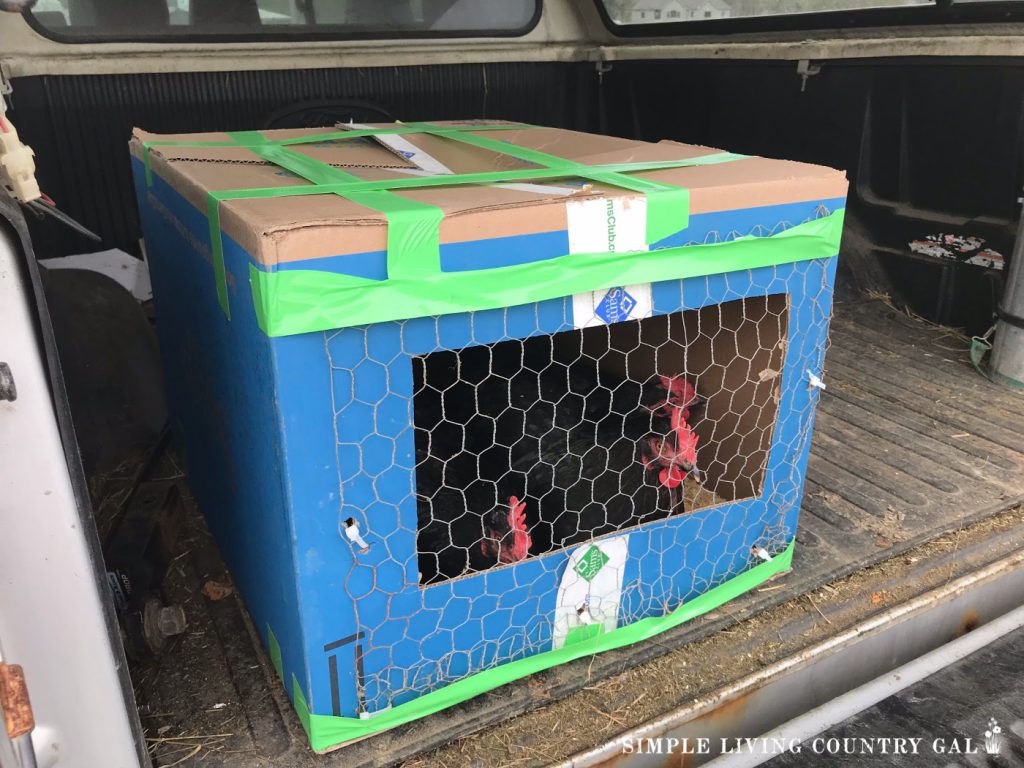 When you have chickens it is important to know your hens so you can see when one if acting off right away. One sick chicken that is unattended can quickly result in a flock of ill birds. Watch for clues to alert you that something is up.
Signs of a Sick Chicken – Do you Need a Sick Chicken Crate?
Are all your Chickens Eating?
When you are out feeding your chickens, watch how your chicken eats. Are you hens all eating like normal? A chicken that is off their feed is always the very first sign there is something wrong. For this reason, I like to watch all of our animals as they are eating. I watch their behavior around the feeder and how they are eating. If anyone is not enthusiastic then I will watch them further.
Usually, it takes a bit for everyone to dive into their food, as long as they do you should be okay.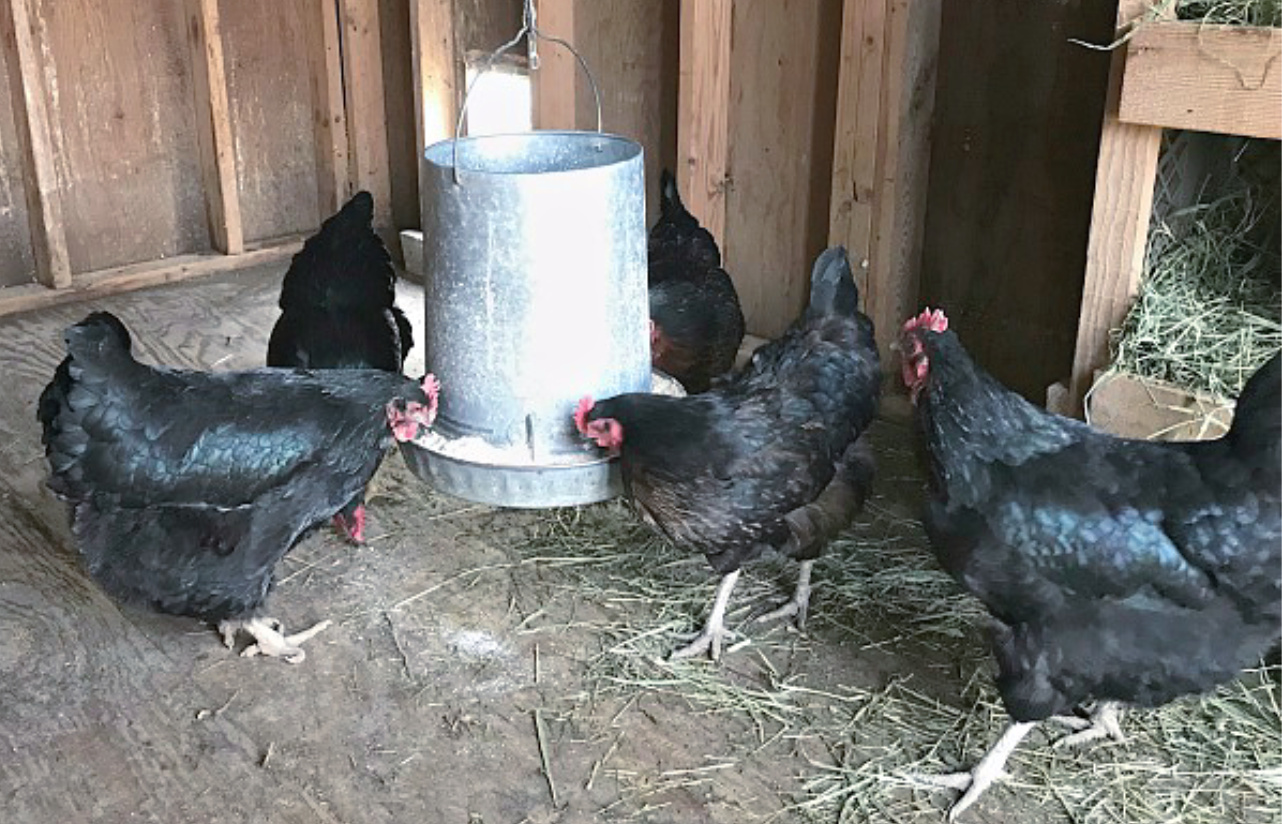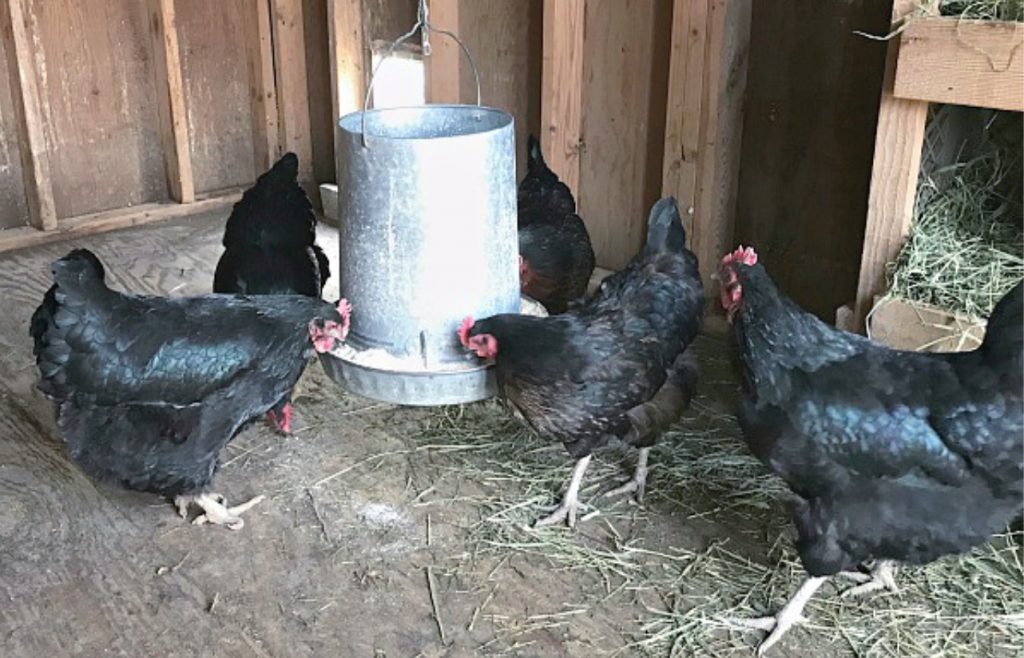 Are all your Chickens Drinking?
If you find the water is just as full at the end of the day as it was, in the beginning, you may want to investigate further. This does not necessarily mean you have an issue with an illness but it may mean you have an issue with your water. By fixing the water you will keep any illnesses from occurring in the first place.
A good rule of thumb is to have enough water so your flock can find it when they are thirsty. That means if you have a large run you will want a dish or two outside as well.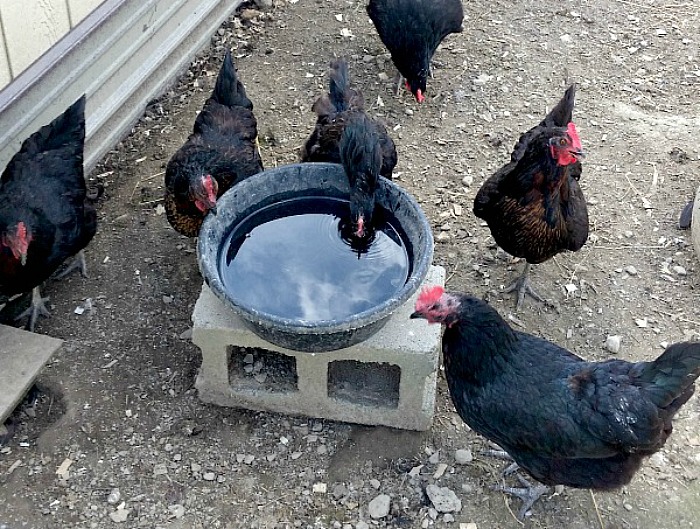 Are your Chickens Acting Normal?
This may be the biggest clue, yet the most difficult to spot. This is why I encourage homesteaders to KNOW their animals. As you go about your daily chores and animal care, watch your animals. Pay attention to how they walk, act, behave in the flock. Listen to their chatter their sound. Know what is normal so you can more easily catch things when they are off.
Usually, the only clue you may have is their behavior, so pay attention to any differences no matter how subtle they are.
Does your chicken feel normal?
From the day you bring your baby chicks home, it is important that you handle them and often. This is so they get used to you holding them and picking them up. Get into the habit of holding a few of your hens each day. Feel them. Are they a good healthy weight? Are their feathers thick and healthy? Is the color of their comb and wattle a bright pink or is it dull and limp? All of these are signs you will want to watch out for.
Is your Chicken's Poo Normal?
A huge warning sign with any animal is the sight of runny or the smell of foul-smelling poo. Every day get into the habit of walking your coop and chicken run. Check the ground and if you see any of your birds defecate take a quick look. This simple habit can really help you stop a simple illness before it becomes a serious disease.
What Should you do if you Have a Sick Chicken?
First, remove the ill animal immediately.
Having a safe place to put your chicken will help you to evaluate her more effectively. Also, the solitude and quiet of a recovery crate can be just what the doctor ordered. Rest and calm can help speed up the healing process of your bird.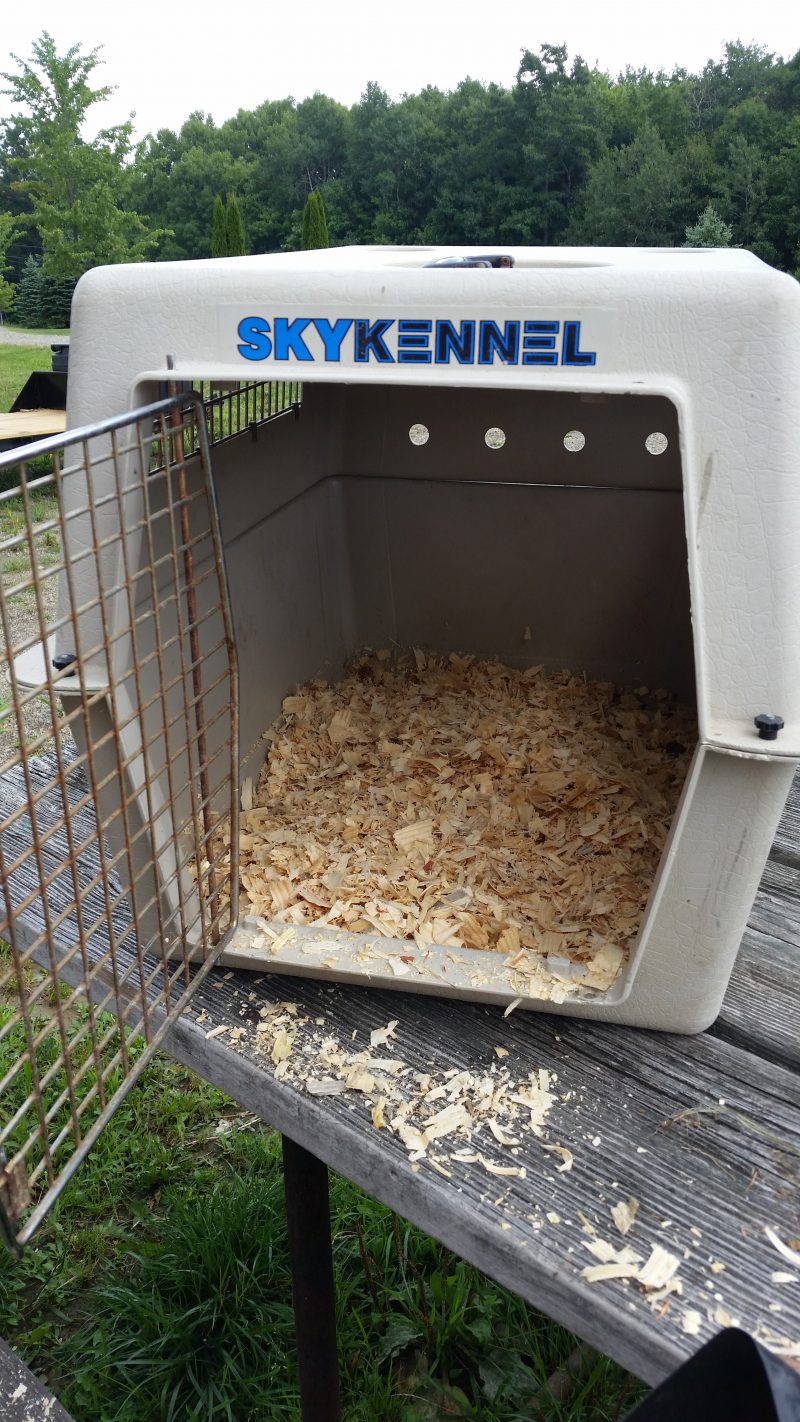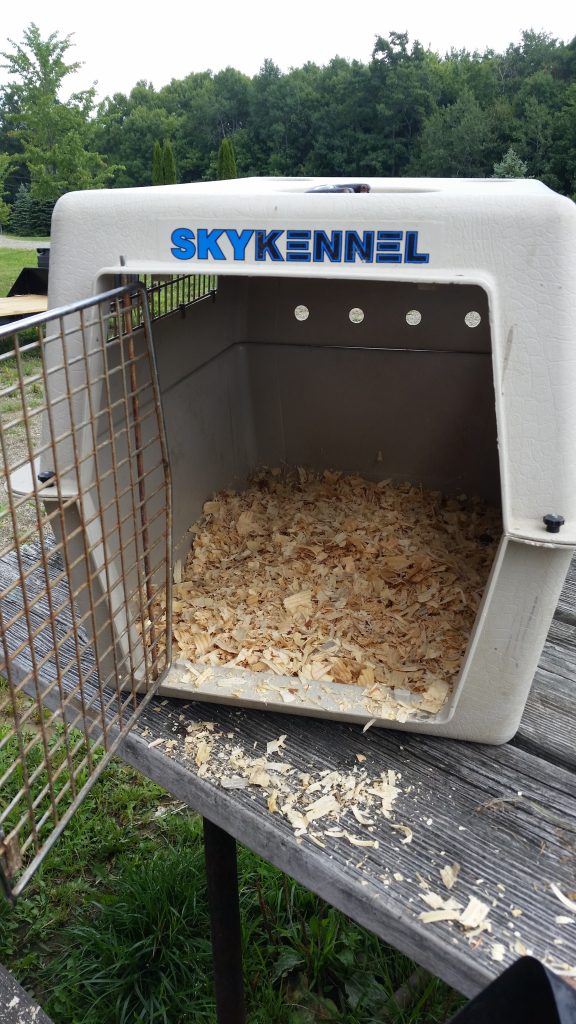 For a simple recovery pen, I use a small pet crate. I see these at yard sales quite often. If you are out and see one I suggest you grab it. It is better to have one of these crates on hand so it is ready when you need it. Line the crate with hay, straw, or wood-shavings.
Be sure to have water and feed inside as well. You can find ones that attach to the wire to keep it off of the ground where it can remain clean longer.
How to Grab A Chicken
If your chickens are not used to being handled, then grabbing them may be a bit tricky. The best way to do this is to sprinkle a few treats on the ground to distract them. Once you do, the easiest way to do this is simply to walk up and pick them up from behind. Use your hands to cover the wings so they are not able to flap them once caught. Once you have them secured, turn them upside down and do a quick inspection. Look at their feet, legs, and body for any injury.
While you are holding them, give a body condition assessment.
Are they thin?
Do they feel strong in your hands?
Are they fighting you vigorously or just laying limp in your hands?
All of these questions will help you evaluate how seriously they are sick or injured. It is also helpful information to know if you need to call a vet.
Do veterinarians treat poultry?
In most cases, sadly, the answer is no but that doesn't mean you can't call for advice. I regularly call my vet to ask questions and get advice on how to help all of my livestock. Their tips could be the difference between life and death so reach out and ask.
If you do not have a vet to ask, then find a trusted farmer or chicken loving friend to ask. These relationships are so important to homesteaders and having a list of numbers to call will really help keep your flock healthy.
Once you have your chicken and have given a good first assessment, gently place them inside the chicken sick crate.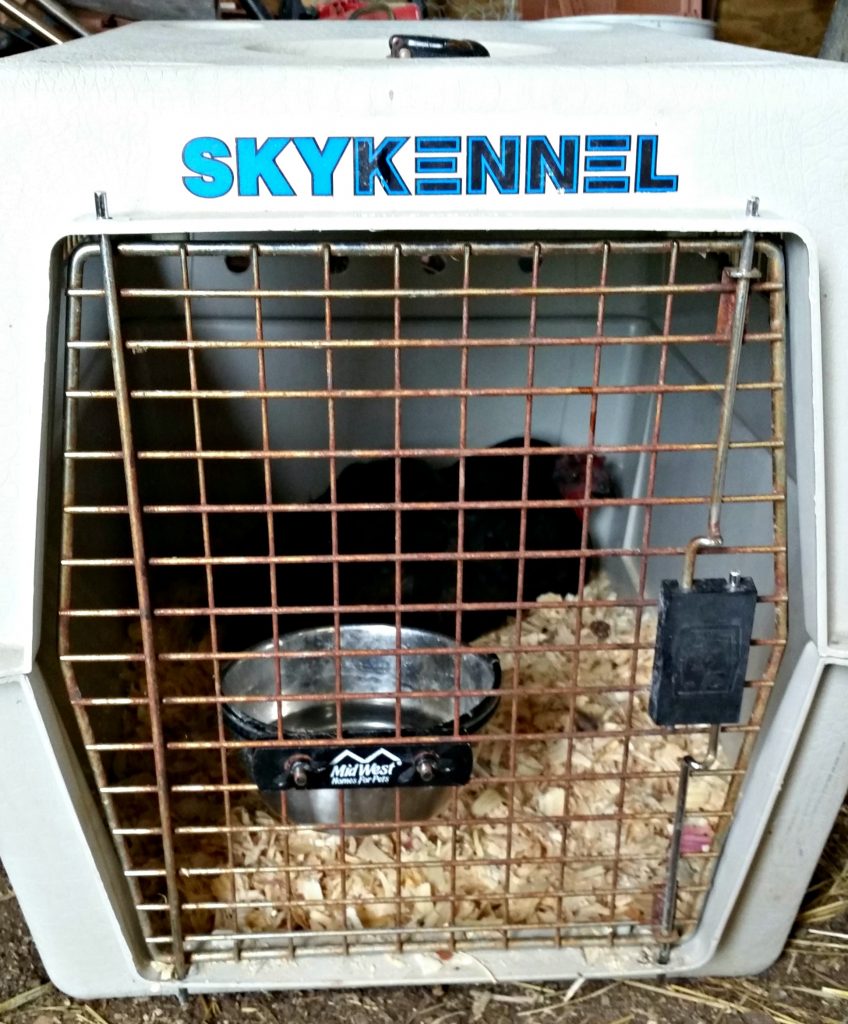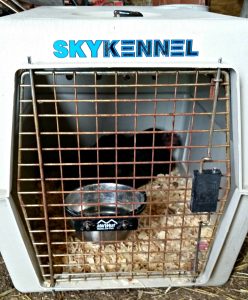 If an animal is not eating, that animal is in trouble. Watch your animals closely to see if they are eating and/or drinking normally. Keep her in the crate until you are confident she is healed.
Continue to watch things until you know you can safely add them back to the flock. Not all instances are death sentences. Sometimes all a hen needs are a few days to recoup and they are fine. As long as they are eating, drinking, have a healthy poo and you see no obvious injuries you are good to go.
SLCG PRO TIP: If you do need to separate a hen and you are not sure if you will be able to find that particular bird once she is back in the flock, tie a piece of yarn around one of her legs to make finding her easier. This is especially helpful in large flocks.
Returning a Hen to the Flock.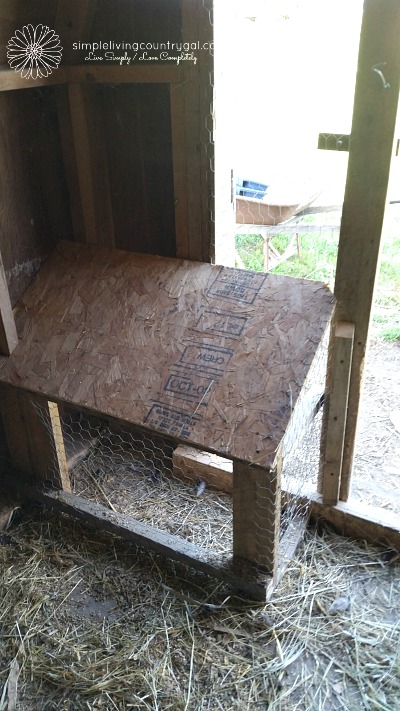 Sometimes if a hen is kept out of the flock for a long period of time, henpecking may occur when she reenters the flock. Just be aware of this and watch her for a few days for any signs.
If you have a holding pen inside your coop, you can use that as well. These pens can work surprisingly well when incorporating not only a hen but a rooster as well.
You can also add the hen back in at night. Birds have a short memory and may not even notice someone new has shown up come morning. Simply take your hen into the coop after dark and place her on the roost. By morning the entire flock will just assume she was there all along and go about their business as usual.
Remember it is important to be proactive in your animal's overall health. Catch sicknesses early to keep your flock as healthy as they can be.