Unique Gifts Ideas for Folks that Have Everything
If you have folks on your gift-giving list this year that are seriously impossible to buy for, then today you are in luck. I have quite a few people like that myself, and I have had to come up with some pretty unique gift ideas that turned out to be the perfect solution.
Check them out and adopt as many ideas as you need to complete your gift-giving list this year!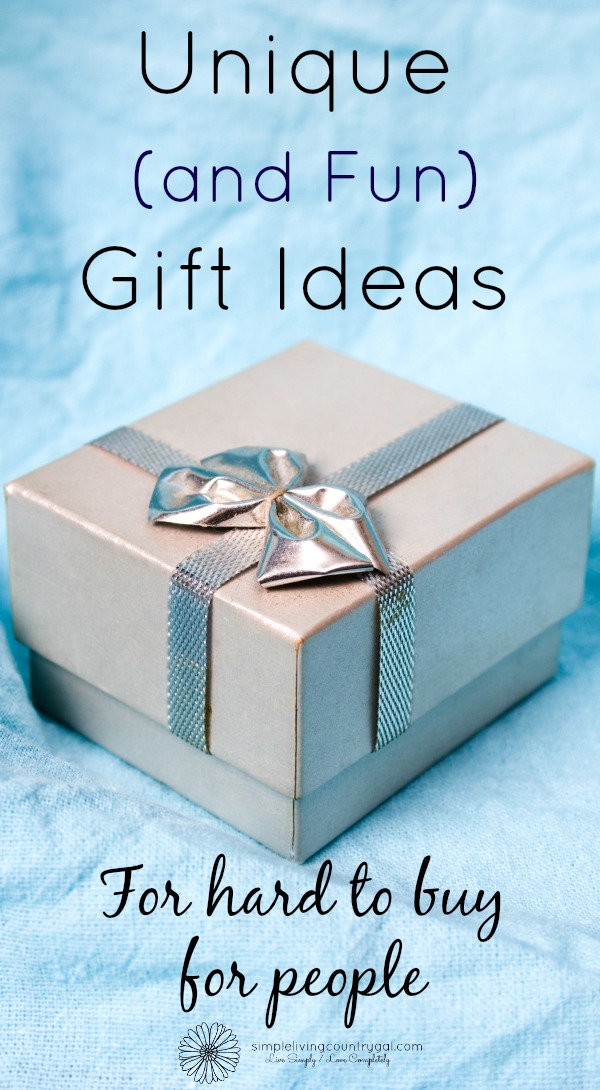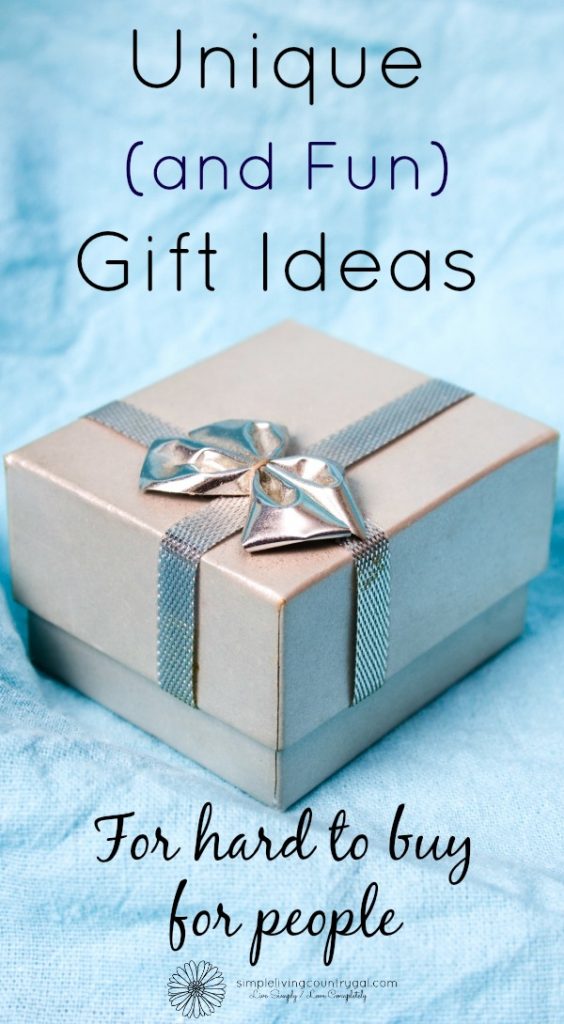 I just love coming up with unique gifts for people each holiday season. Some really great ideas for those impossible to buy for people in our lives. The challenge of finding the perfect gift for hard to buy for people is one I (sort of) look forward to every year.
I am sure you have at least one of these people in your life. They have everything and if there is something they want, rather than wait until after the holidays they buy it before.
Oh, and let's not forget those that insist they want nothing…nothing at all. Seriously, do they mean that, or are they just egging us on? Laying forth a challenge that simply must be met?
Okay, before I sound a bit like a medieval knight ready to do battle, let's dive into the gift-giving ideas.
If you find yourself in a gift-giving conundrum, you have come to the right place. I have put together some out-of-the-box ideas that are good for even the pickiest of gift recipients.
Before we get to the list, here are a few tips when faced with a gift-giving roadblock.
Tips for coming up with

unique gift ideas.

These tips are just questions you can ask yourself or the person you have in mind. More often than not just a little guess work can help you to come up with a great gift idea!
Tip #1

Do they have any hobbies?

Ask yourself what this person likes to do in their downtime.

Hobbies are a great inspiration for gifts. If you can find out the hobbies of your picky recipients, then you are all set.

But what if they have a difficult hobby to buy for?

Like kayaking, for example?

Then try to think outside of the box. Give a book on the best rivers in the country or a map with a case of push pins to keep track of all the rivers they have visited.

By doing just a little research, you might just be surprised at the gems you can find.
Unique Gift Box Ideas:
Tip #2 What did they love as a child?
I ADORE giving retro gifts.
A memory from the past is always a winner in my book. Not only does the recipient love it, but it inspires so many wonderful conversations as well.
One year while talking to my Mother-in-Law, she mentioned how she loved the card game called "Authors." Imagine her surprise when she opened an original game from the '40s that I happened to find on eBay.
The look on her face was priceless. (p.s. the card game was only $8, so it was a total score!)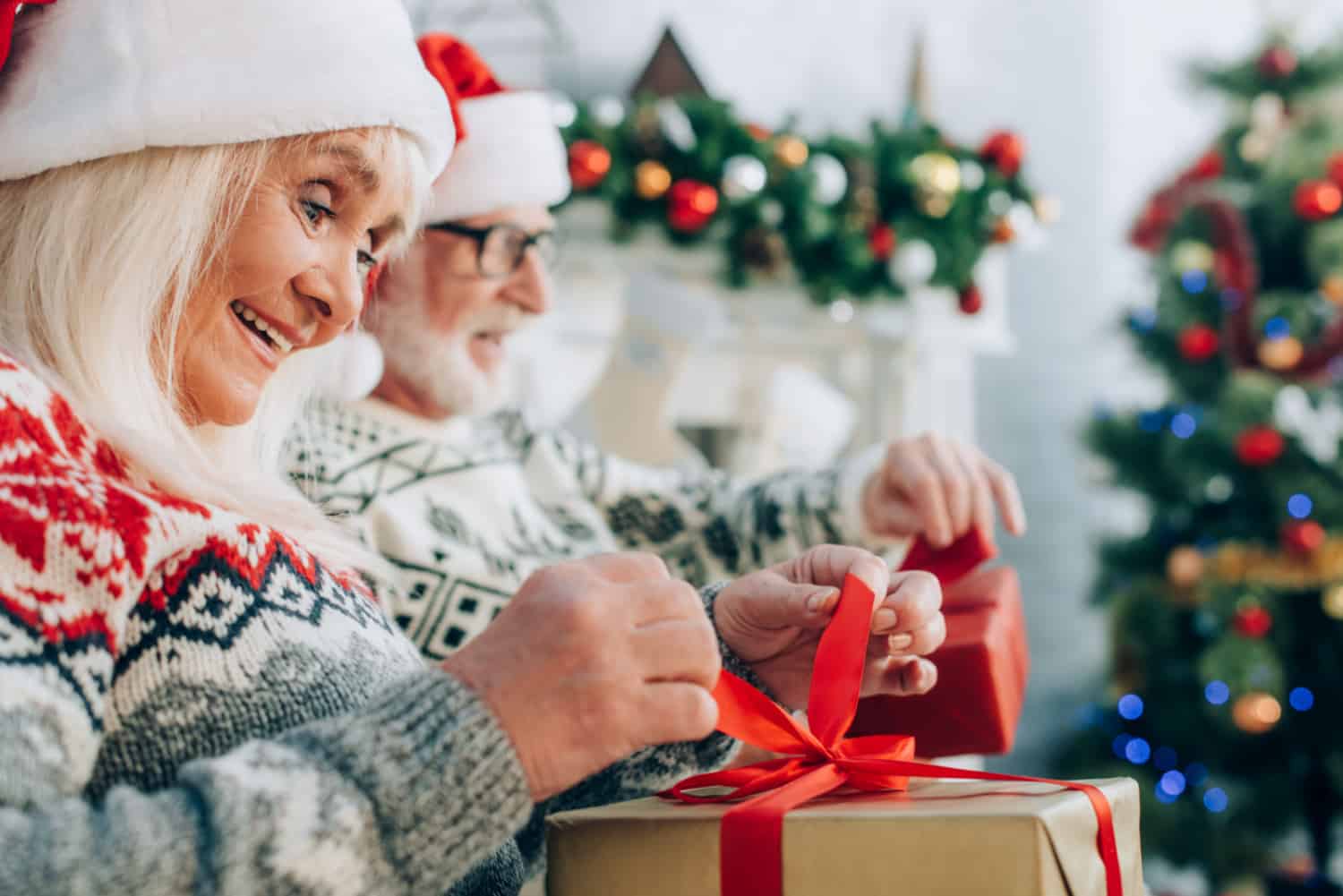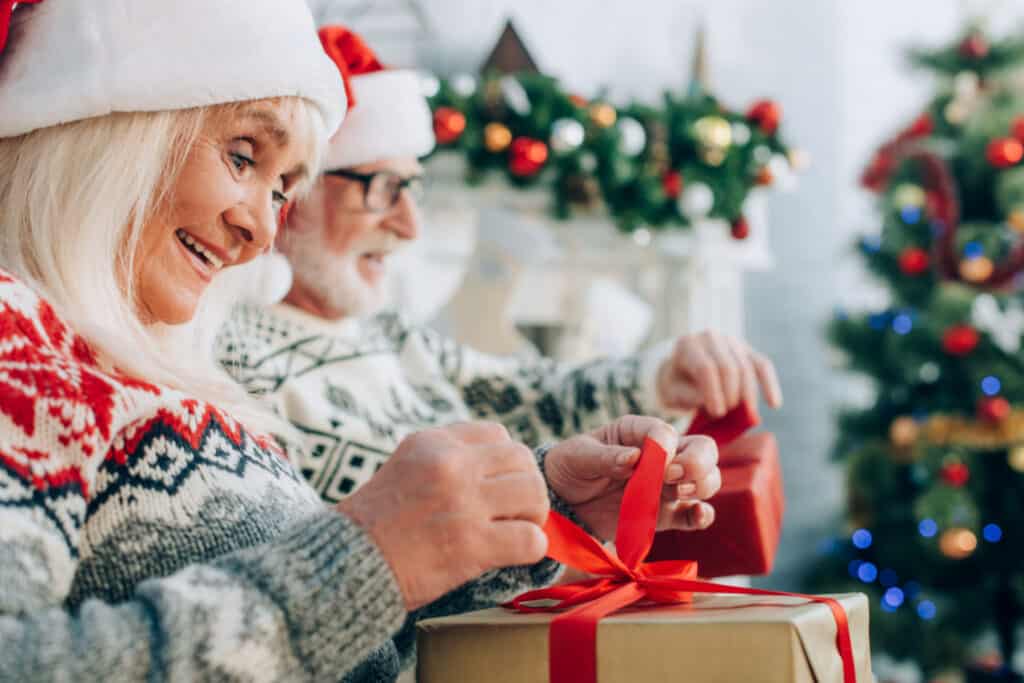 Tip #3 Dig deep.
If the person is a family member, do you know any funny or embarrassing stories from childhood? If so, now is the time to remind your good-natured gift recipient of days gone by…totally at their expense. (tip…make sure they have a good sense of humor before doing this!)
How about a calendar with grade school photos for each month? Oh yes, I just loved the beautiful 70's hair do's that I was styling in my 7th-grade school photo!
More Gift Ideas:
Now that you have a few tips on how to come up with ideas on your own, let me share with you a few examples of gifts I have given over the years.
Unique Gift Ideas to Give This Holiday Season
I have given everything on this list, and they have all been a big hit. Try them out!
idea #1 – Stationary and stamps
I gave this gift a few years ago to my Mother-in-Law, and it was a big hit. She is not a computer person and just loves to write thank you letters and send notes to friends.
I purchase a box with a matching lid and filled it with notecards and handmade cards for all special occasions. I included Birthday cards, Anniversary cards, thank you cards, and seasonal holidays.
I even purchased themed stamps from USPS for each occasion.
Here are a few ideas:
Birthday – Celebrate stamps
Anniversary – Love stamps
Spring – Flower stamps
Summer – Flag stamps
Fall – Barn stamps
Winter – Snowflake stamps
You can even coincide the stamps with the stationary and attach small notes making little packets.
Tie the box with a ribbon and place it in a pretty basket or gift box, and you are all set!
Not finding the best selection of stamps at your local post office?  Usps.com has a beautiful selection, and at $1.25 for shipping (for domestic), it is a great deal as well!
idea #2 – Personalize a calendar
This next idea is at the top of my fun gifts list and is perfect for a hard to buy for a family member.
You can find many calendar options online that you can customize with photos of your own. Include a few captions and graphics to spice it up, and just like that, you have an incredibly unique gift.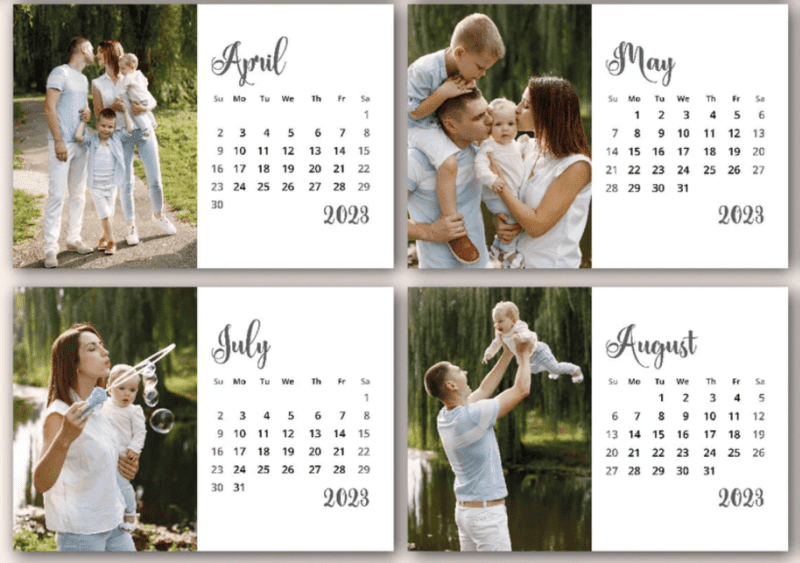 I made an "Ode to Uncle Scott" calendar from my goats. (he makes fun of his goat-loving sister every chance he can get).
So, for fun, I thought I would have a bit of fun and make a calendar that is covered in pictures of my goats.
It was a big hit!
Don't have any goats?? Dig out those pictures from the past!
The best ones are the awful hair day school pictures from junior high (haha), you know, the ones with the velour shirts, hair for days, and corduroy bell bottoms???
Oh wait, was that just me??
Go crazy, including yourself, and have some fun with this unique gift. I promise it will at least get people talking!
Idea #3 – A Card Shower
This is a wonderful gift, but it does take some planning.
Several years ago, for my Mother's birthday, I borrowed my parent's address book and sent a note to every friend and family member.
In the note, I requested a card or letter be written for my mom, but I asked them to send it to MY home address instead of hers. To make things easier, I included an addressed and stamped envelope, so there was no reason for them NOT to do it.
While I waited for the letters, I purchased a beautiful photo album so I could put everything safely inside.
As the cards and letters arrived, I organized them inside the album. I then wrapped it up and gave it to my mom on her birthday.
I cannot tell you how much she truly enjoyed that gift.
Some people even sent photos from childhood, bringing back beautiful memories and tears to my mom's eyes. It was so much fun watching her read all those loving notes and tell us stories of how she met everyone and tales from the past.
Idea #4 – Ice Cream Sundae Box
My friend just loves sundaes….but then again…who doesn't?
To celebrate his love of ice cream, I made a box full of cream sundae supplies. Well, minus the ice cream, of course.
You can purchase them pre-made like this one, or you can save quite a bit of money and make your own. The Dollar store had most of the supplies I needed making this an inexpensive gift.
First was a fun and colorful basket, one that he could use for something else later on.
Inside the basket I put:
Let me say, not only was it fun to put that basket together for him it was just as fun to watch his face when he opened it.

Idea #5 – Candy from our childhood.
This gift is always a hit for any age.
Remember the great penny candies from when we were kids? Well, good news, they're still out there!
You can purchase retro candy gift boxes on Amazon and enjoy a trip down memory lane. You can also find some great candies from the past at Cracker Barrel. This fun restaurant has a wonderful gift shop with some fantastic treasures hidden inside.
These cookie jars are a great way to present your retro candy jar gift, and the jars can be used again and again.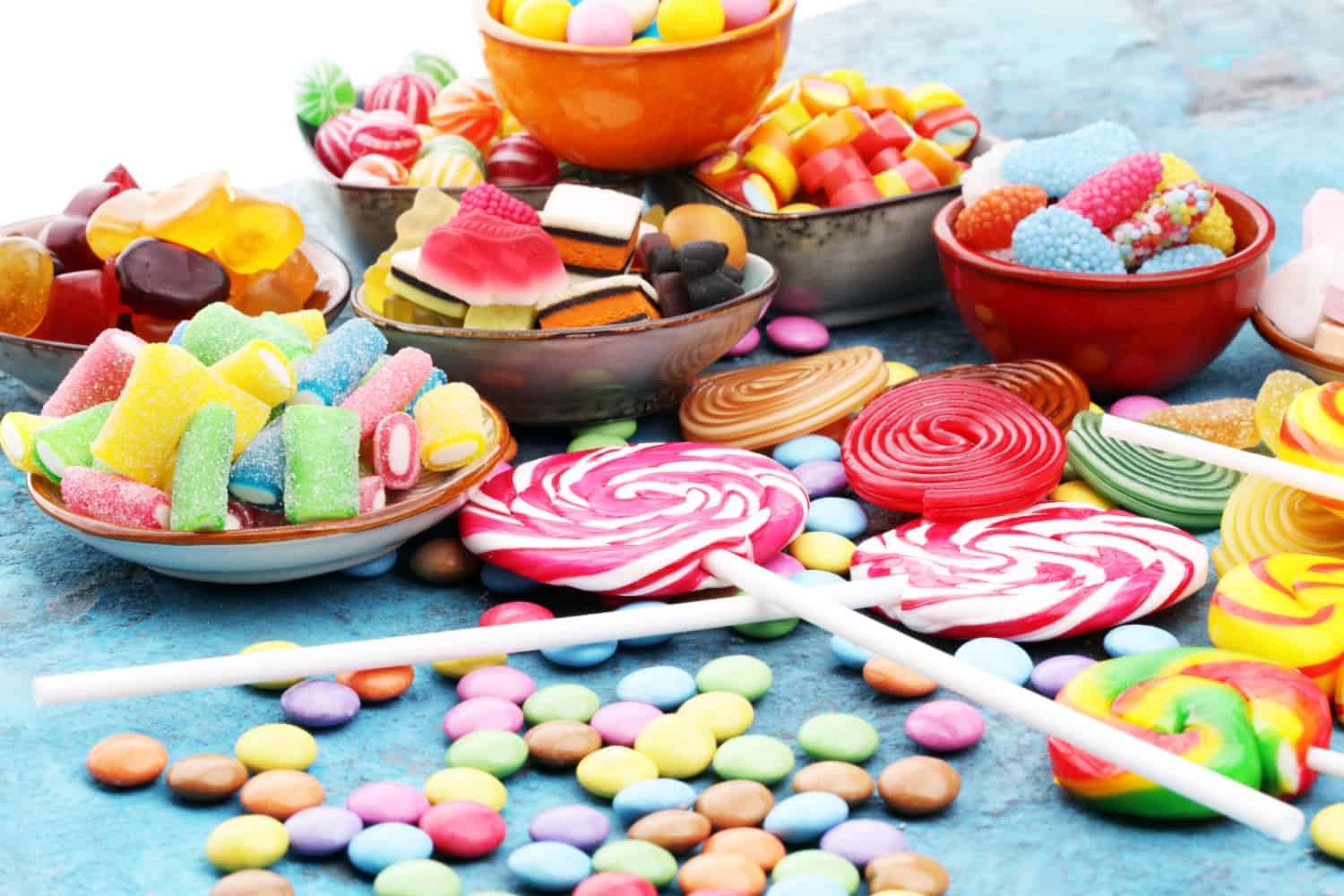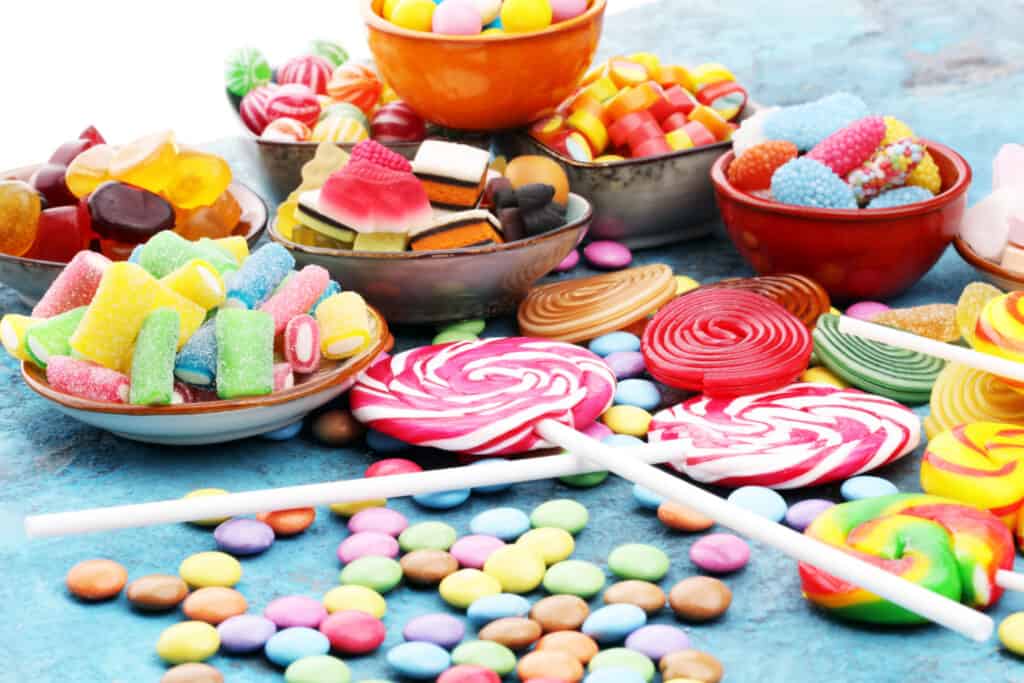 Idea #6 – A Memory Jar.
We made this gift for my mother about eight years ago.
My two brothers, our spouses, all of our children, and I wrote memories and things we loved about my mom on tiny slips of paper. I made sure there were 365 in total, giving one special note for each day of the year.
Since we were all spread out across the United States, this gift needed to be done early to allow for mailing times.
Each memory was then folded up, and all put into a pretty jar tied with a bow.
Every morning for a year, my mother began her day with a loving sentiment from her children and grandchildren.
I do believe she still has that jar on her shelf today, all these years later. Sometimes the very best gifts are free.
Idea #7 – Make a movie!
This is my favorite gift by far but one that requires quite a bit of work to create.
For my in-law's 30th Wedding Anniversary, we made a short video of their life together. My four boys each played a role in their reenactment.
At first, I thought they would refuse to put on a dress to play my Mother in Law, but actually, they fought over which one of them would play her part.
Gotta love my boys.
They acted out when my in-laws met, their wedding, and a few other key moments in their marriage. We had so much fun recreating their lives together that we still talk about it today!
We wrapped up the gift and gave it to them over dinner at our home.
We all watched it together, and there was so much laughter and giggles that it is something we remember even today. I will never forget the look on my Father-in-Law's face seeing my son in a wig playing the role of his wife!
It was silly, inexpensive to do, and it touched my in-law's hearts in such a magical way.
They ended up showing that 20-minute movie to everyone that came to their home that year. It was a fun gift to create and a fun gift to give.
I hope these fun gifts inspire you to come up with some gift treasures for your hard to buy for family and friends.
Do you have any unique gift ideas for men or women in your lives? Please share! I would love to grow this list with even more great gifts!
More Gift Giving Resources: