We, homesteaders, love our chickens, don't we? How about some gift ideas for chicken lovers in your life?
Yet year after year I find nothing under the tree that expresses my love of chickens. So, what did I do? I made a go-to list that every single chicken lover out there is sure to love.
Share this post with your friends so the neglected chicken lovers in your life can have a bit of fun. 🙂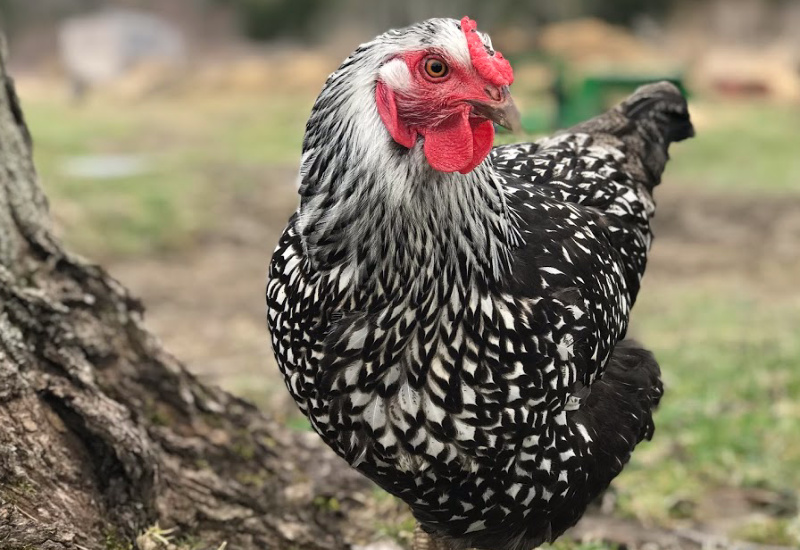 This post may contain affiliate links. If you click on one of my affiliate links and make a purchase, I may receive a commission for referring you. This in no way affects your price. Please know that I only recommend resources and items I believe in and highly recommend.
11 Gifts for Anyone that Loves Chickens
I had so much fun scouring the internet for the best gifts for the chicken lovers out there. Hey, we can't help it. We love our chickens and we will not be judged for it!
Chicken Leg Socks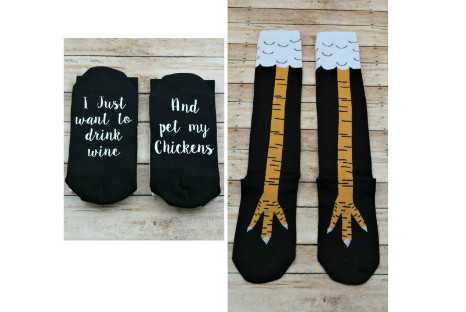 Nothing says I love you more than chicken socks! Oh my gosh, I love these babies! They are fun and practical all at the same time. These are knee-high socks with chicken legs on the top and writing on the bottom. Fun times whether you are coming or going! You can find these awesome sauce socks over at Thimble Works along with some other great chicken treasures.
2. Chicken Decal Stickers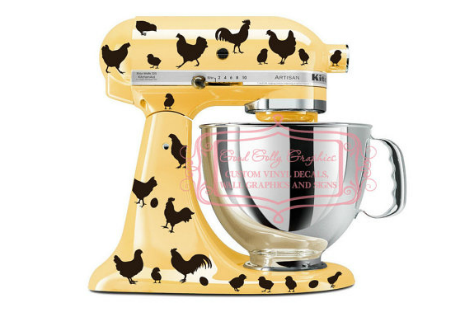 Oh my goodness, if you do not fall in love with these chicken decals then you simply do not love chickens! What a fun way to liven up your mixer.
If you do not like black, there are other colors to choose from. You simply must stop over and check out all the fun vinyl decals they have to offer over at GoodGollyGraphics.
READ: SIMPLE LIVING GIFT IDEAS ANYONE WILL LOVE
READ: UNIQUE GIFT IDEAS FOR HARD TO BUY FOR PEOPLE
3. Chicken Sweater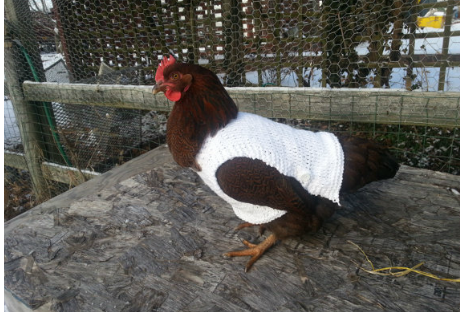 Sometimes a picture is worth a thousand words and this one is simply priceless.
Don't just love the chicken owner but the chicken too! Keep the ladies warm and in style this season. All the fashionable chicks are wearing them! Stop on over at TheSparklyhead and see all the treasures there.
4. Handmade Chicken Art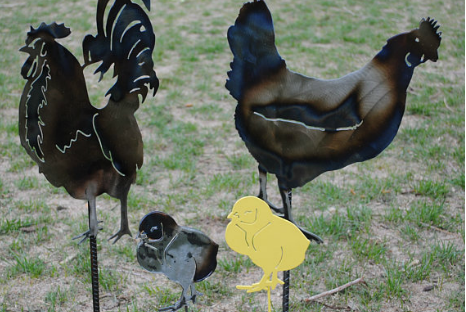 CassteenIronworks really has some great items for sale but these are my favorites. Liven up any chicken run with this fun and durable handmade chicken art.
Now is your chance to finally get a rooster without all the noise! (haha, just kidding I love my rooster 😉 )
5. Chicken Necklace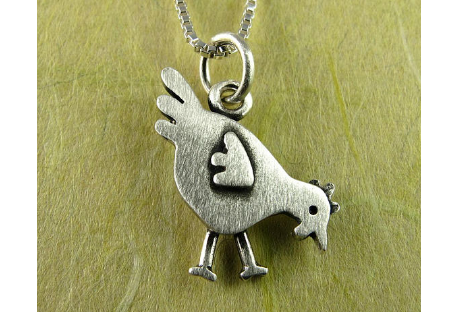 The minute I saw this little hen I knew she must be a part of this list. I just love the detail and her cute little legs. Who says chicken jewelry isn't cool? Not me!
You can find this cutie over at StickManJewelry
6. Crazy Chicken Lady Shirt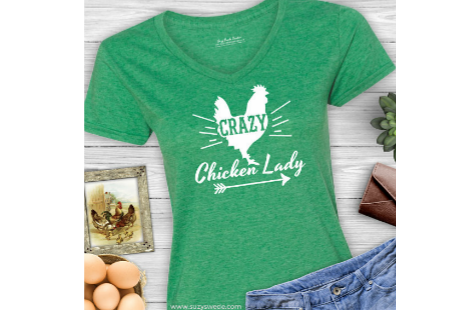 How much fun is this crazy awesome t-shirt?
And there are even more to choose from at SuzySwedeTees. Even if you do not have a crazy chicken lady in your family I am sure you can find one that will be a perfect gift. Long sleeve, short sleeve, even tank tops and in every color too. 🙂
Go check them out!
7. Egg Carton Stamps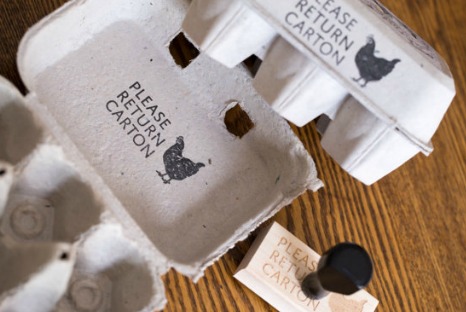 Now for a more practical gift for your chicken loving recipient.
The stamps over at AuthenticHeirloomsCo are pretty awesome and there are so many to choose from! Make sure you get your cartons back with this fun and adorable stamp. The best part? This stamp is handmade peeps!
Available in different breeds all hand drawn. I just love that. 🙂
8. Chicken House Sign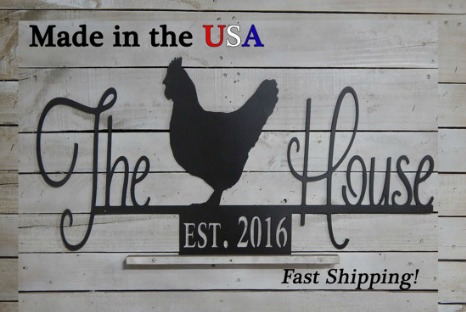 I love, love, love this sign! The hen house is perfect for your home or even your coop.
Who says you can't dress up the hen house? This is a perfect way. Another high-quality handmade item that you can see over at EvyAnnDesigns.
9. Fresh Eggs Stamp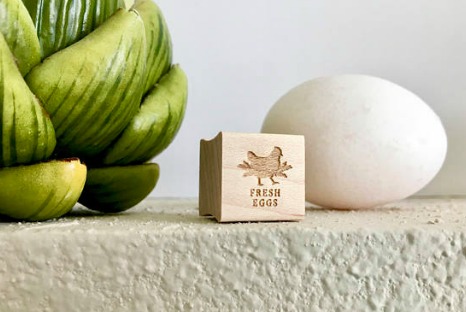 This little stamp is on my gift list this year for sure. I would love to stamp one of the eggs in each carton for my customers. What a fun and delightful surprise they will receive!
This stamp is handmade and the perfect size for farm fresh eggs! You can check this treasure out over at FallForDesign.
10. Chicken Car Decal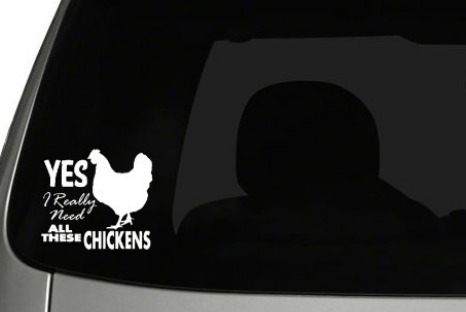 Every time I see this decal I can't help but smile. And this is pretty much true for every single chicken lover out there!
Why yes I really do need all these chickens! It's fun…..it's adorable…..it's perfect!
You can find this decal and other goodies at Littlecnynfarmhouse
11. Chicken Tea Towel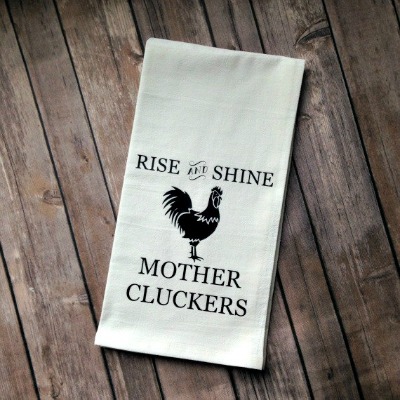 Who says you can't be spunky in the kitchen?
Show your fun side with this crazy cool kitchen towel. Makes me giggle every time I see it. I just love this vintage-inspired funny flour sack towel. You can find this towel and more over at Ross Creative Studio
Please show your support for the creative designers over at Etsy.
They work hard and I love them for that. What better way to show your love for someone than by giving a gift that is handmade with care.
May this year shower you with chicken treasures!