Hay Feeder Options For Goats
Know the options for feeding hay to your goats so you can choose the best setup for you and your herd. Goat hay feeder options that will give the pros and cons of each along with some DIY and free options.
How to raise dairy goats by creating a setup that you can use that works for everyone.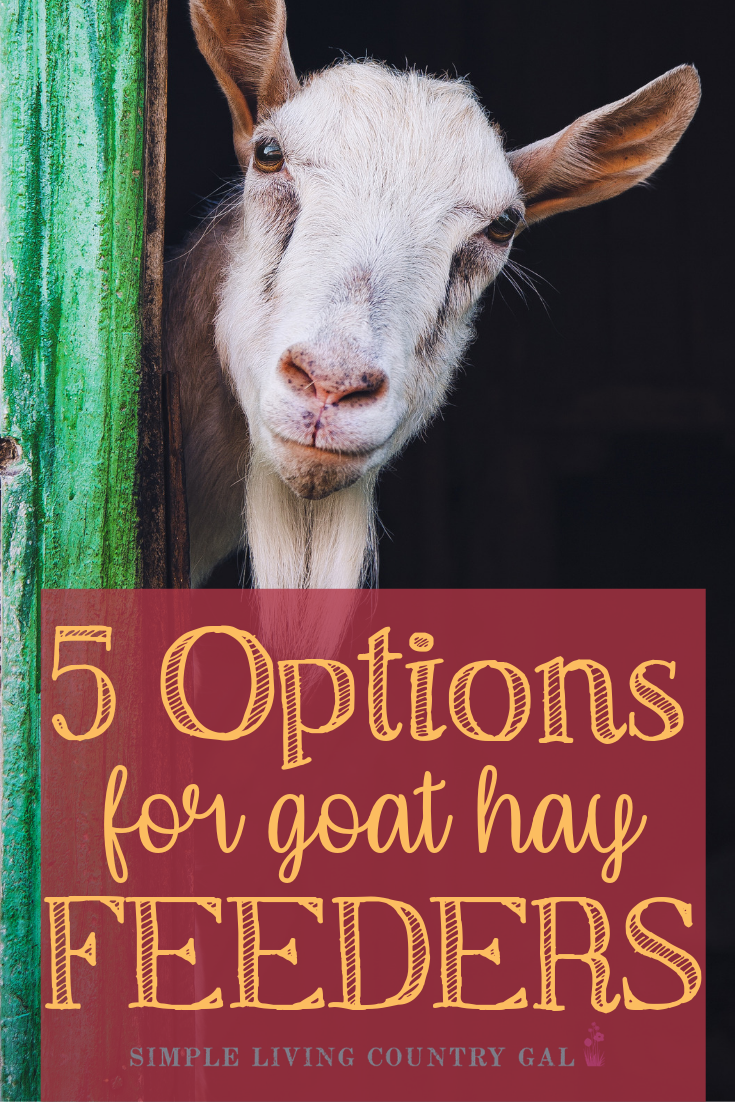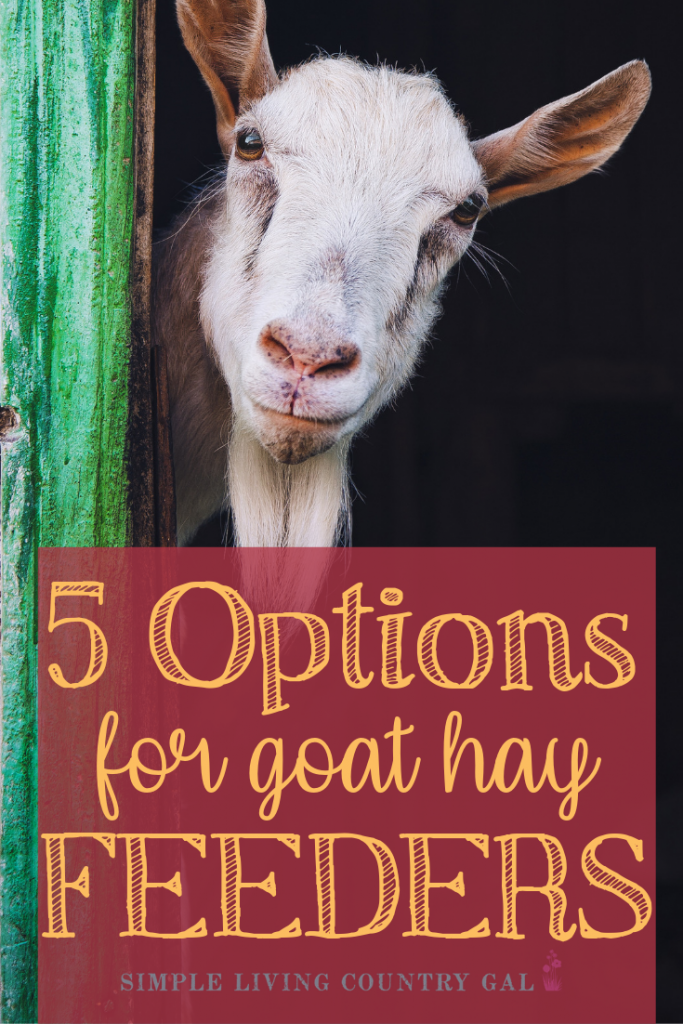 Even though I have only been raising goats for 10 years, I do think I have tried just about every goat hay feeder on the market. I have my favorites and my not-so favorites. And just like every other goat farmer, what works for me might not be the best option for you.
To help you decide on the best hay feeding option for your goat herd, I have done this review post on different goat hay feeders available. From DIY to the best to purchase and why. These are all options I have tried out on our own farm so know they have been tested by a homesteader and a herd of rambunctious goats.
I do hope this will make it easier for you so you do not have to do the legwork.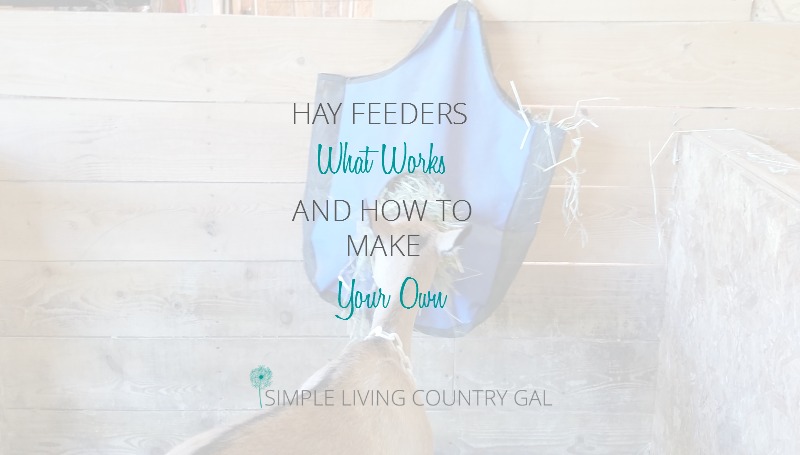 Goat hay feeders are an important part of raising goats. Not all goat owners feed their animals grain, it all depends on the situation and nutritional needs of the individual animal.
All goats do, however, need to have access to good quality hay. Whether that be at all times or just a few times a day. Goats love hay and will consume quite a bit every single day.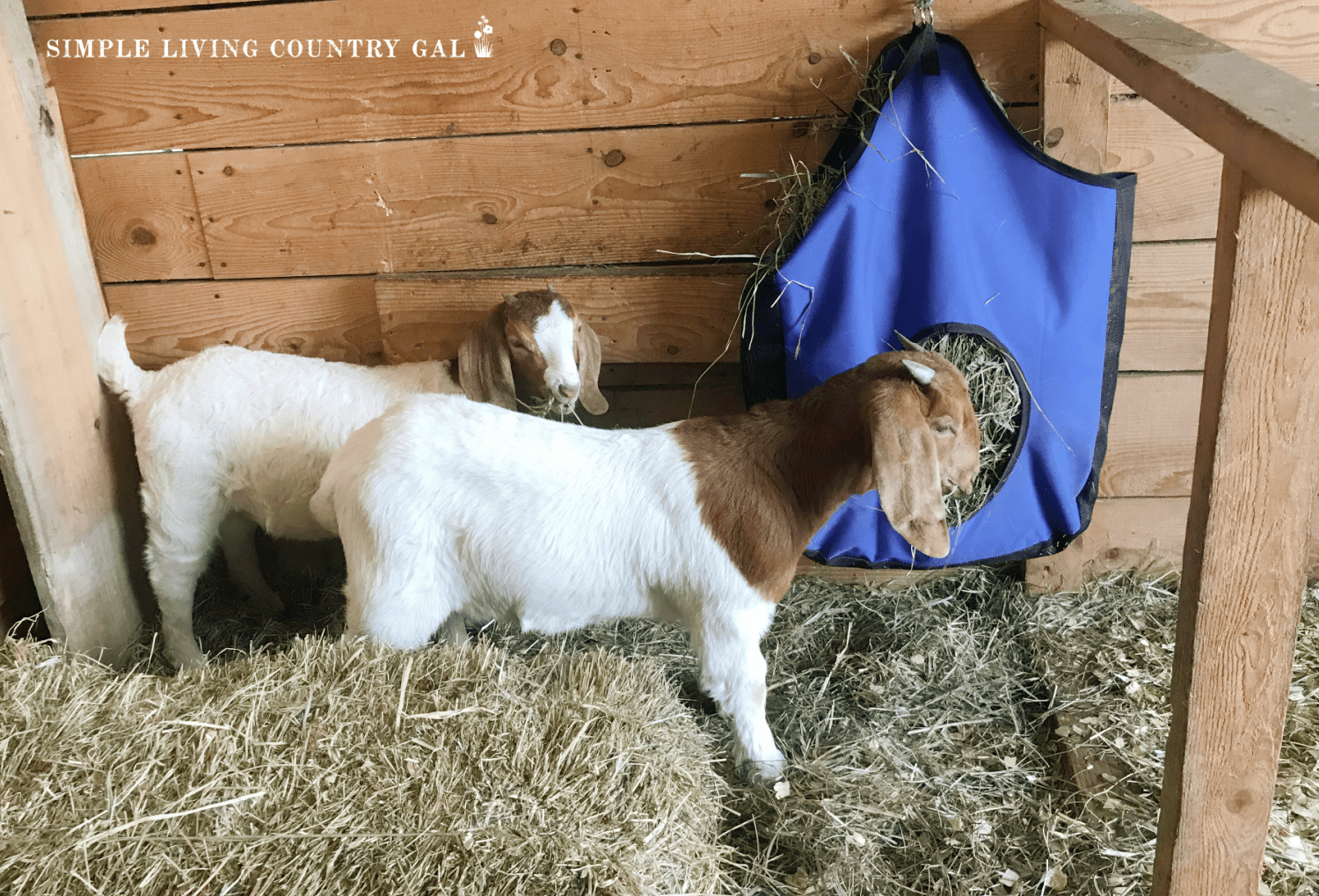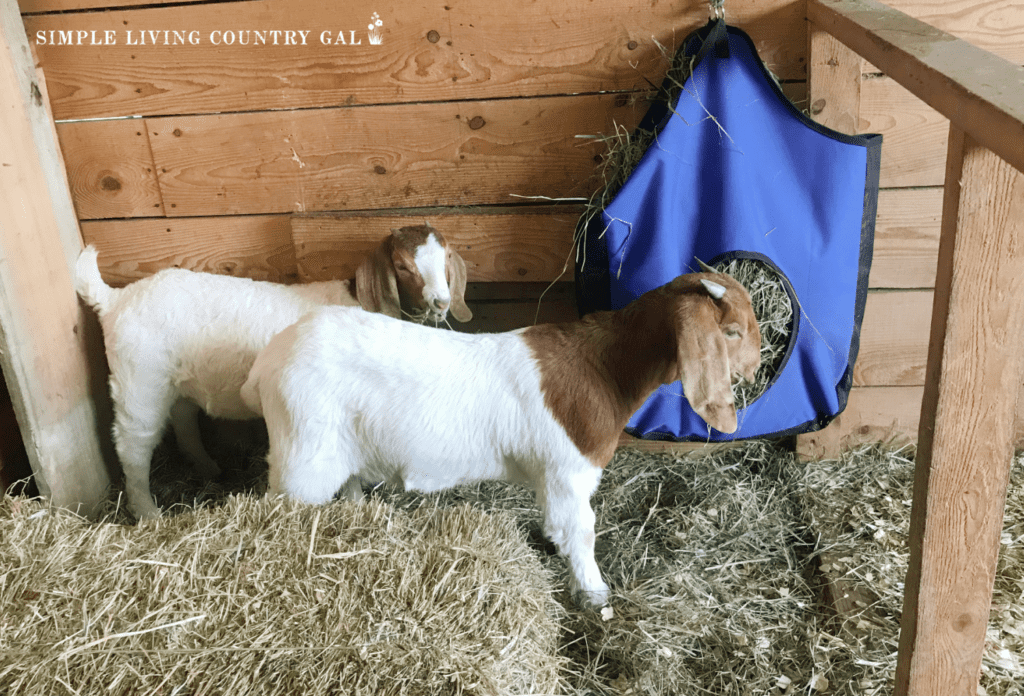 Goats, contrary to what people believe, are pretty picky eaters and will chew up the hay they like while letting the hay they don't, like fall from their mouths in a practiced dance. Because of this, you may just find piles of wasted hay scattered throughout your barn.
Since hay is not cheap, it is important to find a hay feeder that will cut down on that waste. Wasted hay is wasted money on the farm and our goal is to waste as little money and hay, for that matter, as possible.
There are many options for goat hay feeders from DIY you can make yourself to expensive contraptions available to purchase in store or online. I have tried a handful of feeders and I have had my flops and my favorites.
Even though there are many more options out there, this is my list of feeders that I have used and tried over the last 10 years of goat raising.
Goat Hay Feeders – My Top Hay Feeder Options for Goats
Hanging Metal Goat Hay Feeder
I purchased a version of this metal hay feeder to use in our buck's outside summer pens. This is by far the best option I have found for my rowdy group of bucks. It is sturdy enough to stand up to their strength and will stay put even with their roughhousing.
This feeder will also work with more than one animal in a pen but 2 goats per feeder I think would be the limit. I purchased these feeders almost three years ago and they look just as nice as they did on day one.
Younger goats can squeeze in and you do not have to worry about them getting stuck.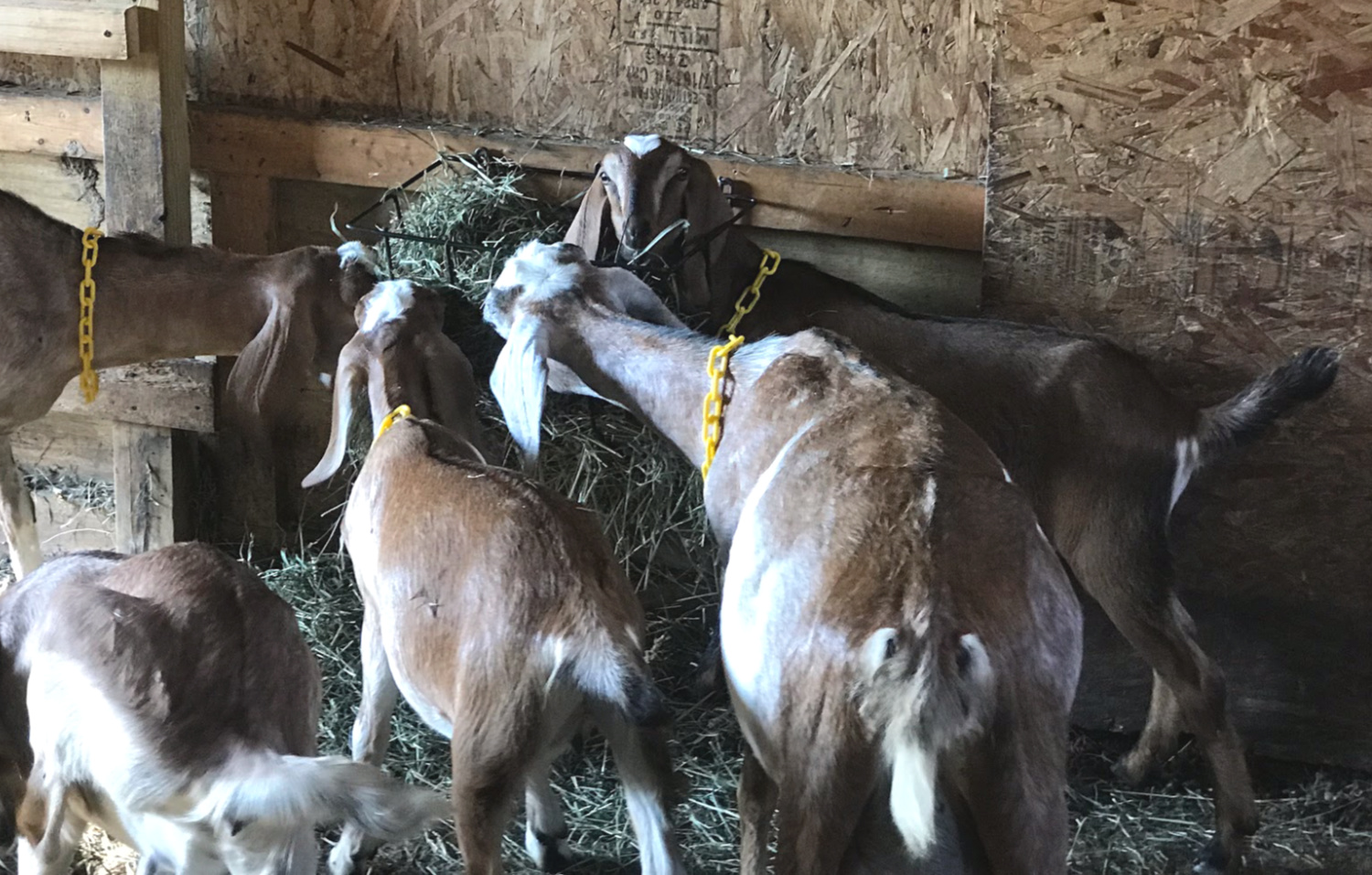 They do allow some waste but surprisingly not too much. I bought mine at our local feed store and found most of the locals do carry them. Unfortunately, I have not found one of similar quality to the ones I own online as of yet.
You can find a version of these metal feeders here.
If your goats have horns, this hay feeder is a great option. The narrow slats allow for easy access to the hay without goats feeling the need to put their entire head inside.
Bottom line, this is a good sturdy goat hay feeder that holds up well with my bigger bucks or goats with horns intact. It also does very well in the weather.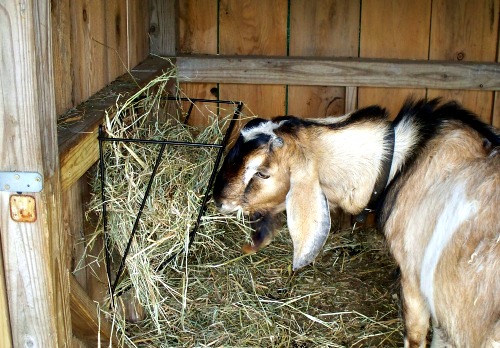 Hanging canvas feed bag
I just love this hay bag. It is very sturdy and durable and perfect for the milking stall and in our goat birthing pen.
It doesn't take up a lot of room and holds a good amount of hay as well. This goat hay feeder bag is made of heavy-duty canvas so the durability is superb which I found quite surprising. Remember though you get what you pay for. Look at the reviews and only purchase good-quality bags.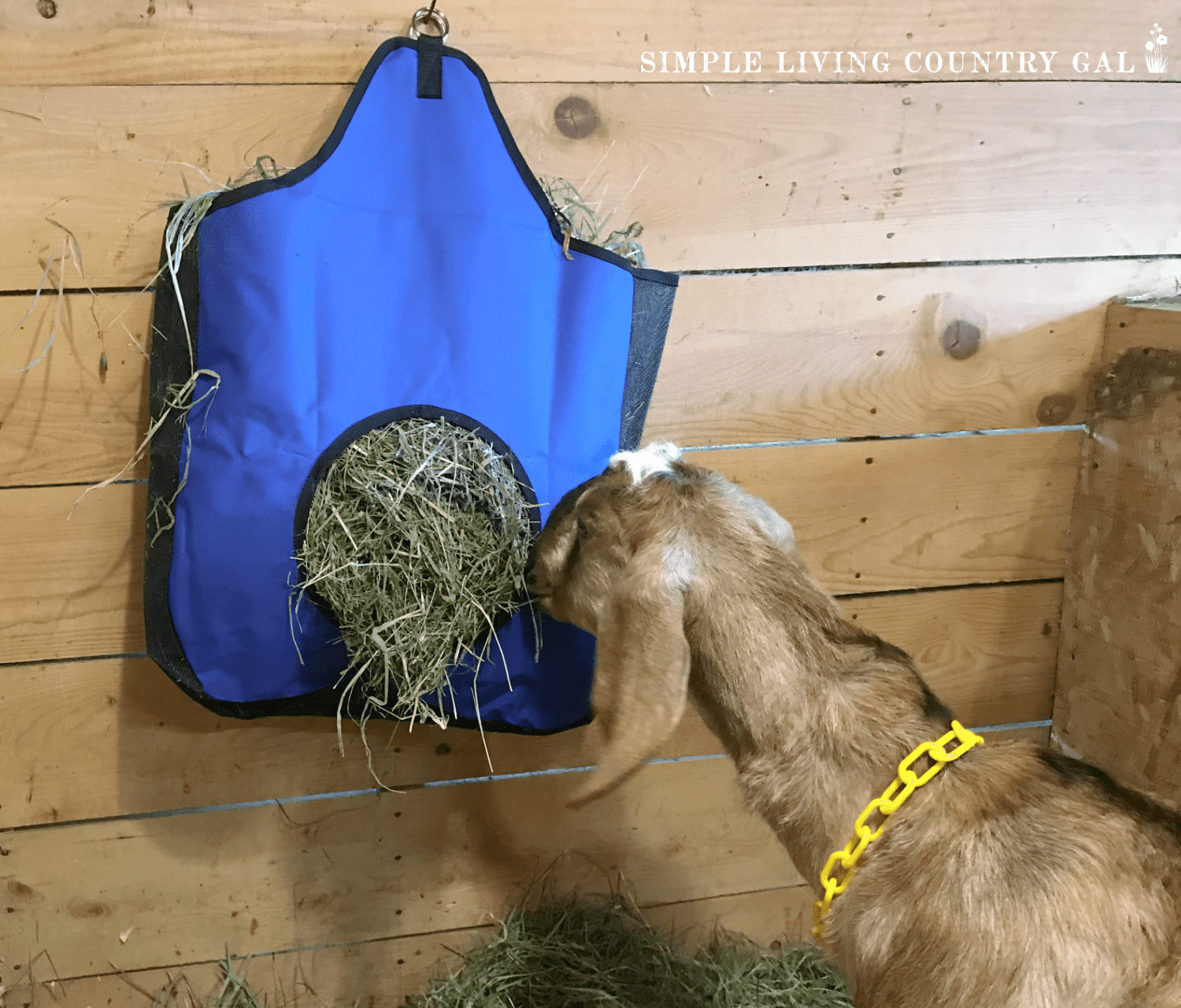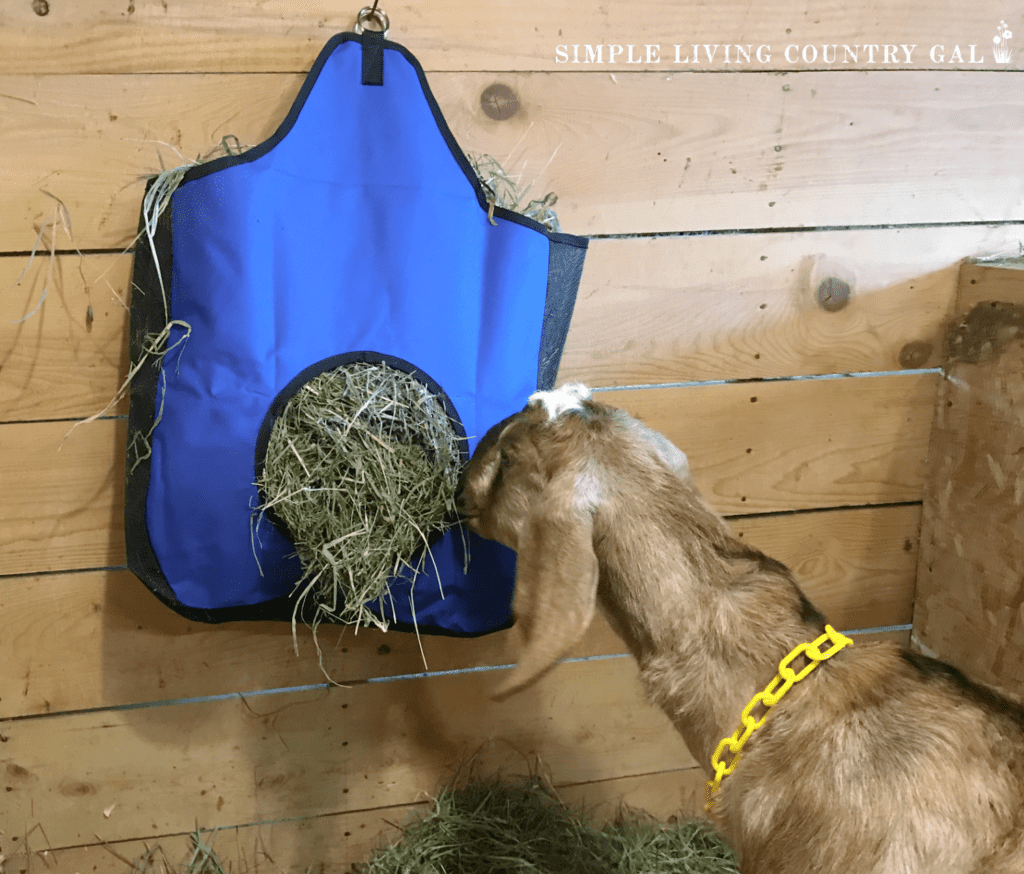 This particular goat hay feeder is meant for one animal and will not work with multiples. This is why it works well in a milking stall, sick pen, or birthing pen.
There is some waste, but not much if your animal is a calm eater.
I do have a doe that pulls out large amounts of hay and drops half of it when she is eating. The rest of my does eat with their heads completely inside the bag thus eliminating most of the waste.
I purchased mine on Hoeggerfarmyard.com , but their shipping has not been good as of late. I did find this one on Amazon and it looks very close to the one I purchased on Hoegger. As I said above, be sure to read the reviews so you purchase a bag that is durable to stand up to a rough goat.
Bottom line: If you have a small area this is the perfect goat hay feeder for you. Very durable and takes up little space.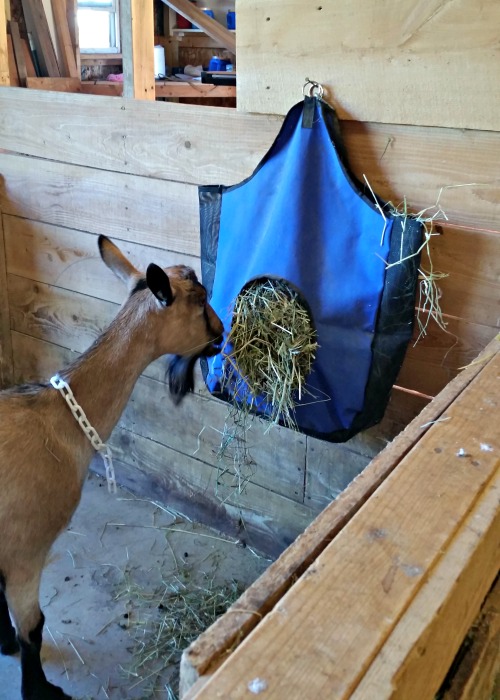 DIY hog panel feeder
>>Please note: If your goats HAVE horns do NOT use this method. Goats with horns can easily get caught in the fencing causing possible injury. Please refer to options 1 and 2 if you have goats with horns.
This is a do it yourself option that is quick to make, easy to install, and simple to move. I use this in the corners of my main junior pen to offer multiple hay feed areas. This is good for medium-sized groups and deters bullying.
Simply cut a piece of hog panel and attach it with fencing nails. I put the panels up with the small openings at the bottom and the larger openings at the top.  Since most of the waste falls to the bottom of the feeder, the goats will eat from the top-down, therefore you want the larger opening at the top.
SLCG PRO TIP: use the hay waste at the bottom of these feeders for bedding in your goat stalls or chicken nesting boxes. The small pieces of hay work great as bedding!
Using fence panels is a really good and sturdy option and is my go-to for most of my multiple pens. I will use this if necessary in my small pens as well, but they do take up some room so be aware of that. Hog panel feeders can be cut to specific sizes depending on the amount of room you have to work with using a fencing cutting tool.
Bottom line: A great and inexpensive way to feed multiple goats at once. Easy to install and move with fencing nails and a hammer. Fence nails can be used over and over as well so the cost is minimal.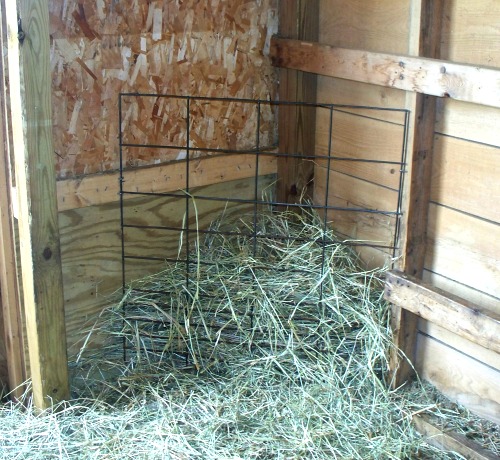 DIY Hog Panel Stand-Alone Goat Hay Feeder
I LOVE this feeder!
Hubby came up with this option and it is by far the best way to feed a large number of goats with little to no waste. It is easy to make and simple to move.
NOTE: This is not a good option for goats with horns that are intact. Please refer to one of the other options if any of your goats have horns.
Any hay that the goats discard stays inside of the feeder and falls to the bottom. When I notice a build-up of discarded hay, I will then take the clean hay out and use it in my nesting boxes inside of our chicken coop. No more wasted hay.
I have 6 goats in my large pen and they are all able to eat comfortably from this goat hay feeder without incident.
To make take a hog panel and lay it flat on the ground. Stand on the panel and lift up the end creating the bend in the fencing. You need to be careful doing this so as not to have the panel spring back, two people are best when bending the panel.
Keep working along with the panel until you have made a rectangle the size you need to accommodate your herd. Attach the end with several heavy-duty zip ties to secure. Place in your pen with the small openings at the bottom.
SLCG PRO TIP: If you have a particularly rowdy bunch you may want to secure your goat hay feeder with a few garden stakes.
Bottom line: This is a great goat hay feeder for a large herd of animals and can be used inside or out. Cost is the price of a panel and a few zip ties. Very durable and sturdy. Works best in larger areas since it does take up some room.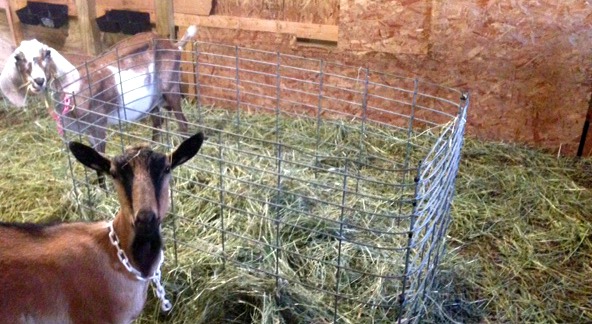 DIY Hanging Goat Hay Feeder
This was one of my first attempts at a hanging feeder.
I used a wire basket from a chest freezer I found for $2.00 at a garage sale. It was very low cost and did work for a bit. Unfortunately, the material was not durable and it didn't last nearly as long as I would have liked.
I do think it would be more successful with smaller goats, but my big girls are a bit rough and this feeder was just no match for them. There is some waste with this feeder as well. Use fencing nails to hang this feeder at a height that works with your goats.
Bottom line: A great feeder for smaller breeds of goats. Inexpensive and easy to install. Works well in small areas since it takes up little room.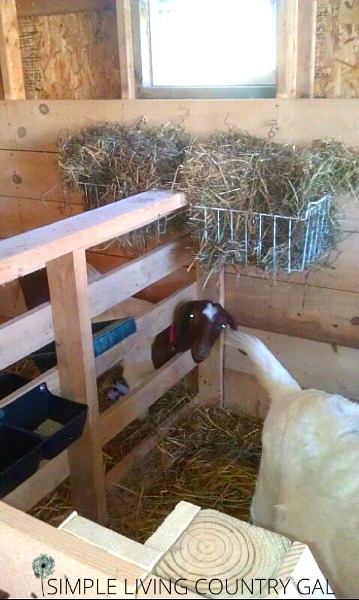 Using Buckets and Bins for Hay
Right now I am using a few buckets to feed hay to my goats that are in the outside breeding pen for the summer. This allows me to have several low-cost options for the goats and keeps fighting to a minimum during breeding.
This is an option to use in a pinch and not one I recommend using routinely. Why? Because hay can get wet that can turn into moldy hay that can cause illness in goats. Also, when hay is down low this way goats may unintentionally poo in the bin turning good hay into soiled hay and, in turn, risking your goats getting sick.
If you choose to go this route be sure to have holes (and plenty of them) in the bottom. This will allow the rainwater to flow through and not settle in risking rot of the hay. Remember, goats hate wet especially wet hay.
Bottom Line: If at all possible keep hay under shelter if the weather threatens rain and remember to always ensure your goat's hay is clean and dry at all times.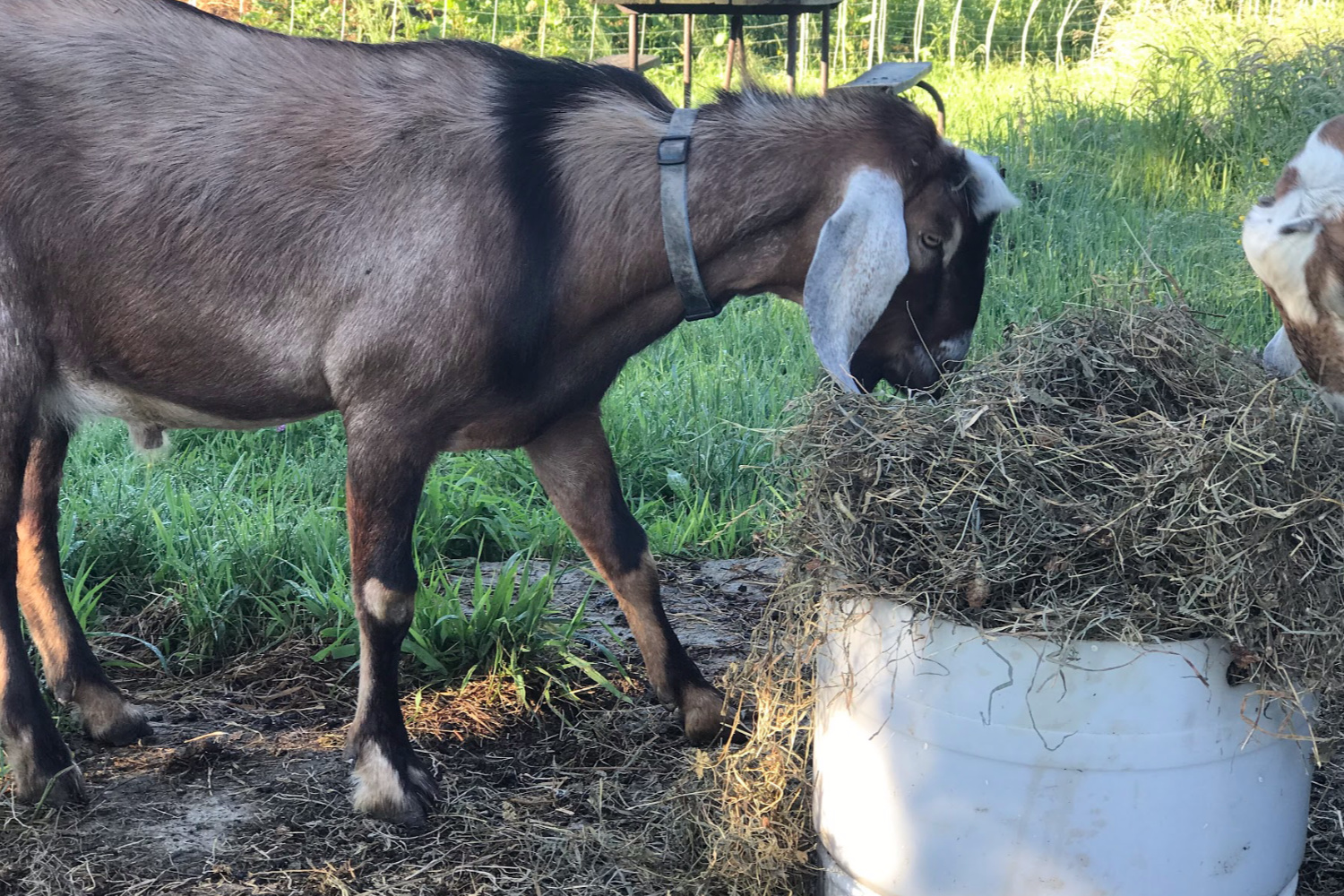 As time goes on I like to experiment with different feeders to see what works and what doesn't. This is the current list of hay feeding options for my goats that have worked the best for us. I hope you are inspired to make your own DIY goat hay feeders since this is always the best way to save money on a homestead.
However, if you decide to purchase your feeders I know either of the above options will work great for you.
If you have tried a few goat hay feeders or made your own, please share them below. I would love to see what you have tried and hear about what worked and what didn't.
If you want more great posts on Dairy Goats then check out my Goat Raising 101 page.
More Goat Care Resources: