If you are raising dairy goats, or any goats for that matter, finding a way to feed them efficiently will make chore time easier. We will explain what a goat fence line feeder is and how it can help you with your dairy goat care routine.
Add this tip to your goat fence ideas list so you have a feeding setup that works for the fencing option you are using.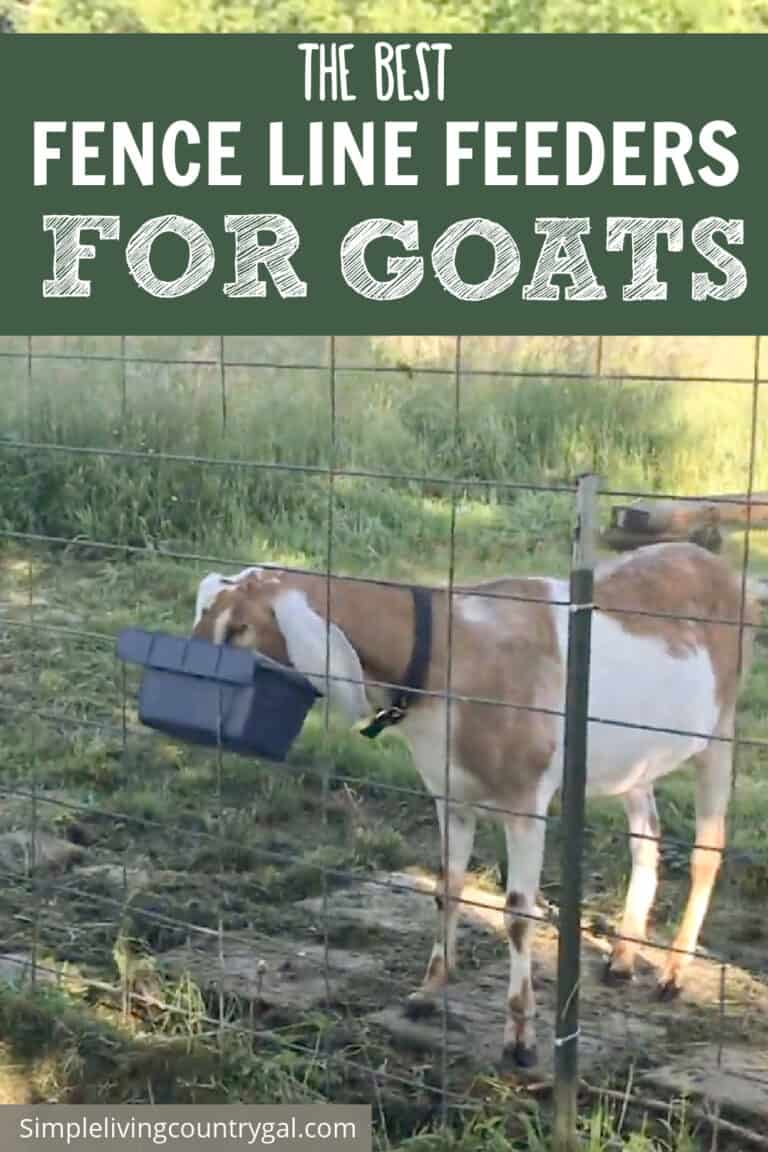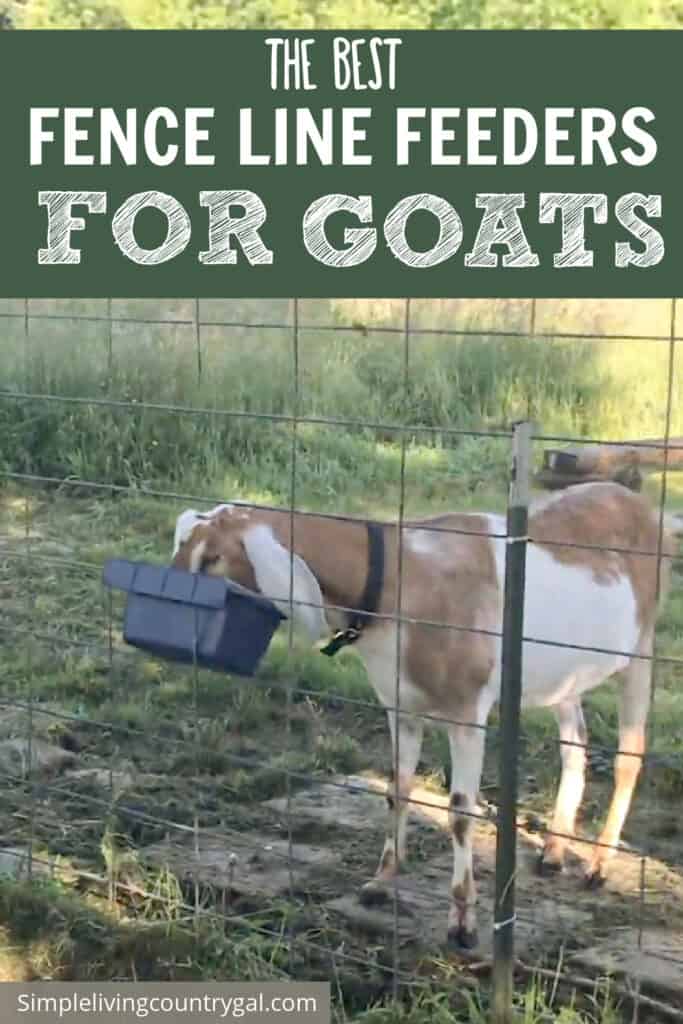 When it comes to raising dairy goats, efficiency can be so helpful with this mischievous animal. As with any livestock, care is needed routinely to ensure that everyone is healthy and thriving, and finding ways to streamline daily chores can be helpful. One area where this is especially true is in feeding, and that is where fence line feeders come in. These are simple yet effective solutions for providing food to your animals.
We will take a look at feeding goats with this helpful solution. The pros and cons, and the different options of fence line feeders available both to purchase or to DIY. If you are looking for more feeding tips, check out these helpful articles:
How to raise dairy goats by creating systems that help you to do your daily and weekly chores more efficiently.
What is a goat fence line feeder?
A goat fence line feeder is a feeding system that is set up along the perimeter of a pasture or pen. It typically consists of a long trough or manger that runs parallel to the fence, allowing multiple goats to access food at the same time. This setup not only saves space but also makes it easier for goats to eat without competing with each other and risking injury.
You have probably seen this type of feeder being used with cows in large open barns. These feeders span the full side of the barn giving room for everyone to eat in comfort.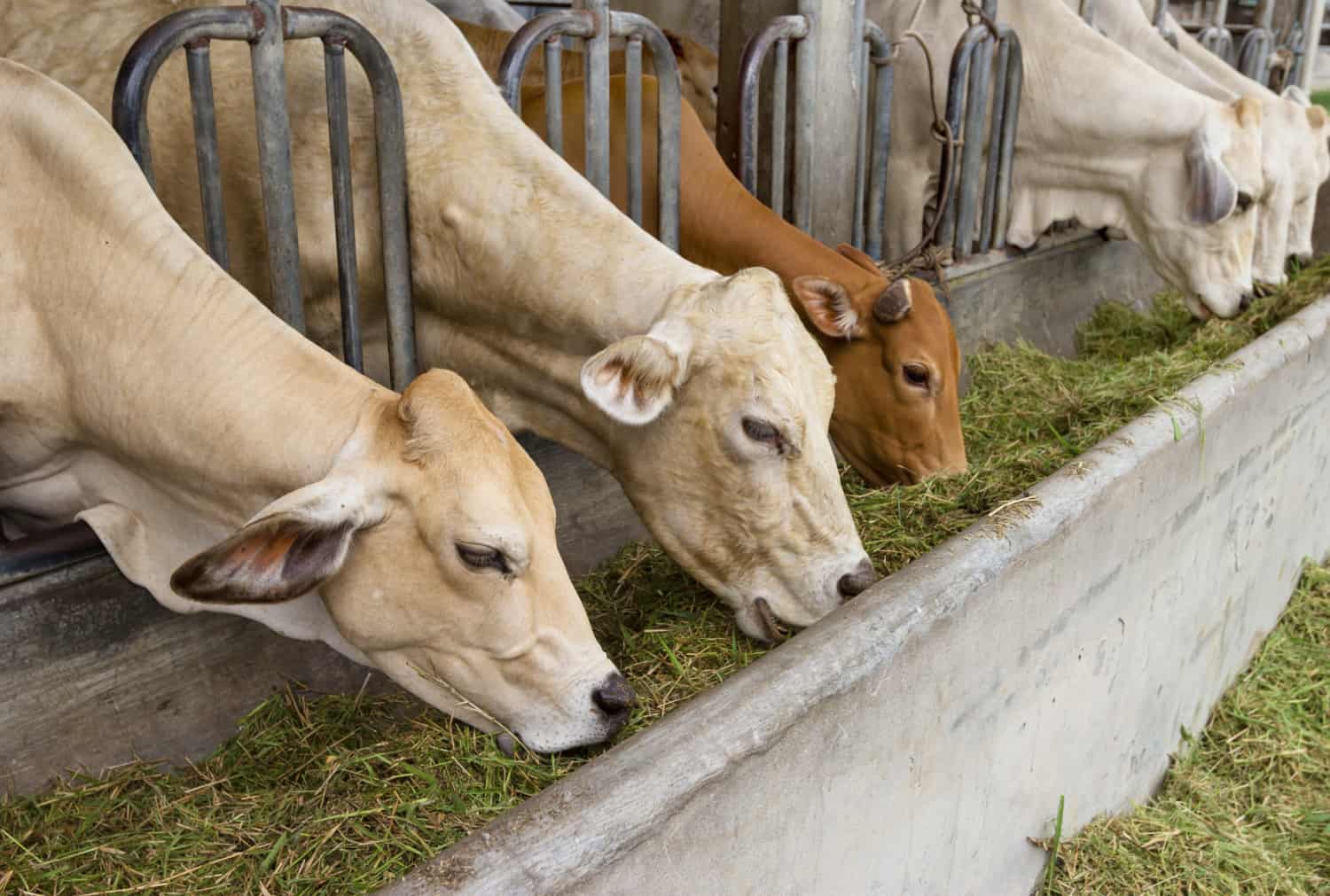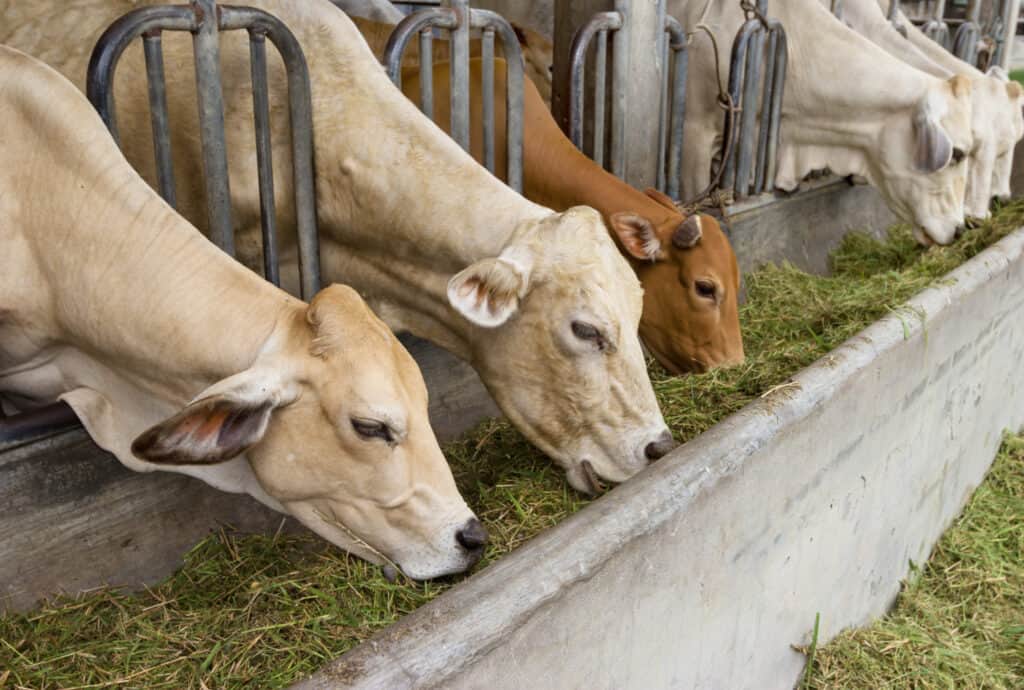 Why are fence line feeders helpful?
Many homesteaders like to use this style of feeder because it allows them to safely feed their livestock without entering the pasture or housing area. This can be helpful if you have a large herd, have aggressive goats, or it is breeding season. It is also helpful if you have young children that want to help. These feeders allow them to take part without the risk of injury.
Why is it sometimes unsafe to go into a pasture to feed livestock?
There are several reasons why it might not be safe to enter a pasture to feed your goats. For one, larger herds can become crowded and competitive during feeding time, which could lead to injuries. Additionally, aggressive or territorial goats may become protective of their food and pose a risk to anyone entering the area. Another concern is when female goats are pregnant or have recently given birth; it is important to minimize handling and stress to prevent complications.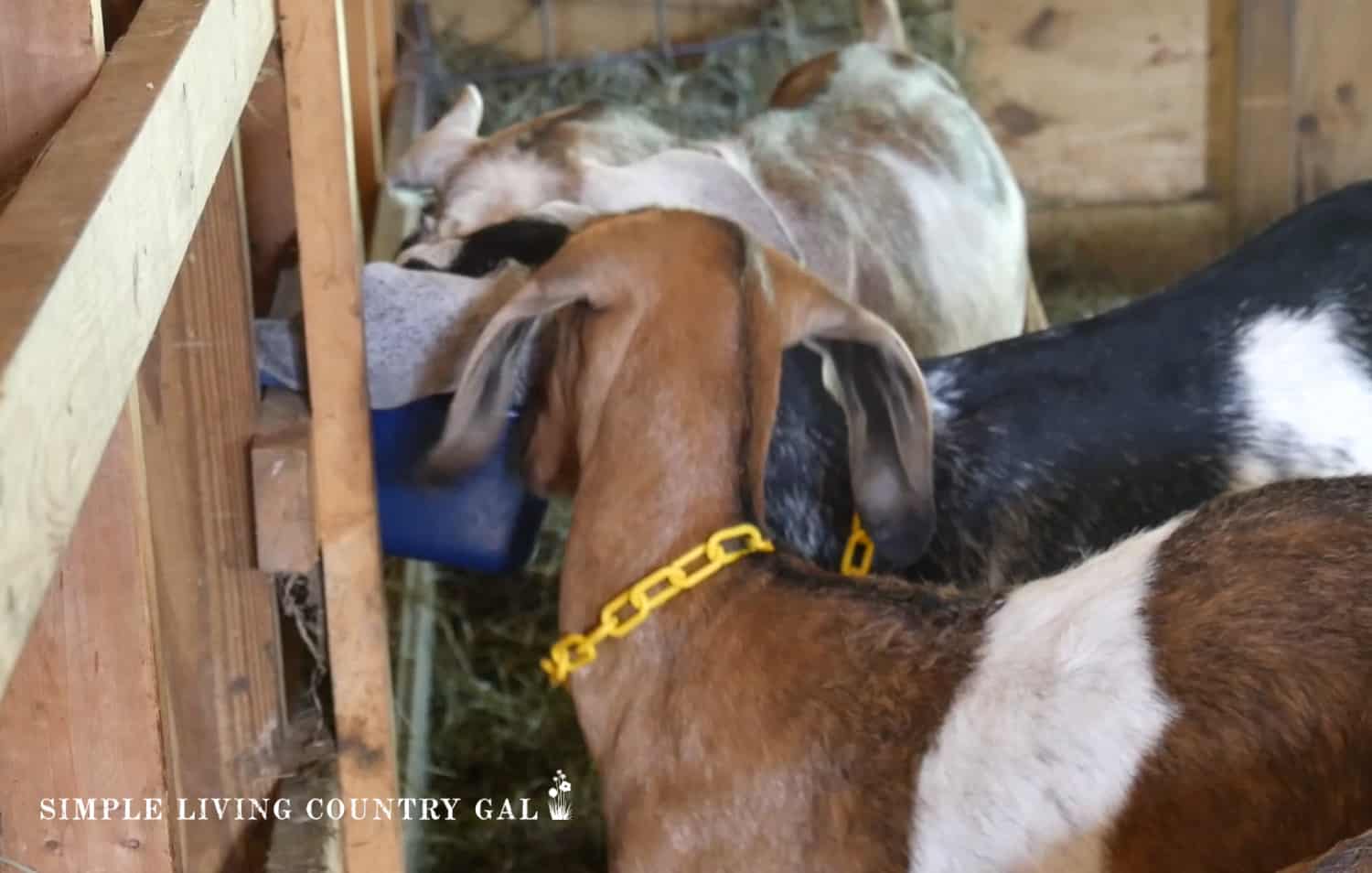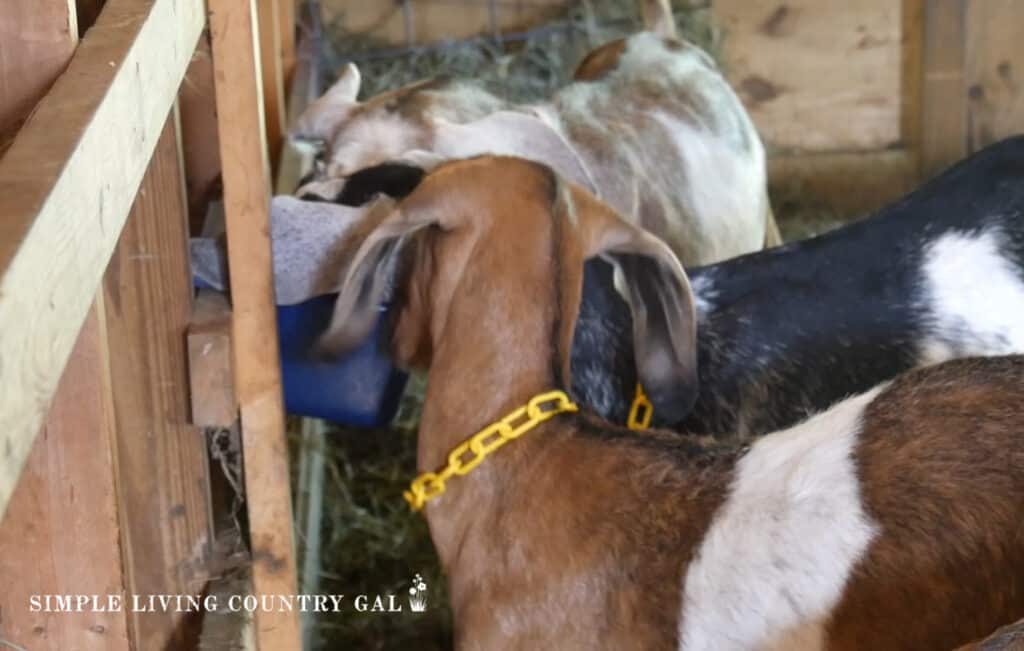 Different Types of Fence Line Feeders
There are several different types of fence line feeders available on the market, each with its own unique features and benefits. Some common types include:
Trough Feeders: These are the most basic type of fence line feeder, consisting of a simple trough attached to a fence or wall. They come in various sizes and can be made of metal, plastic, or wood. Trough feeders are best for feeding hay or other large, bulky feeds.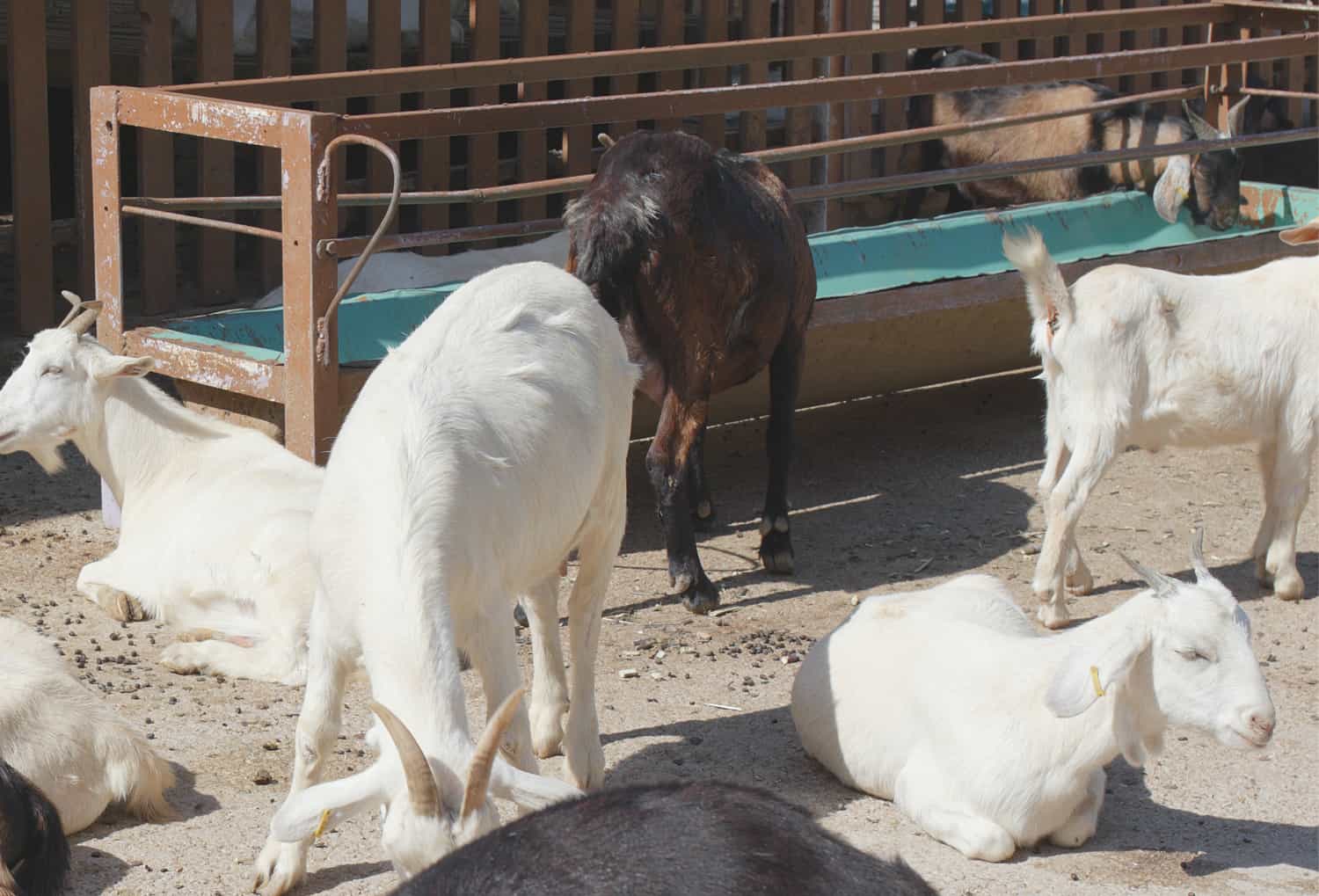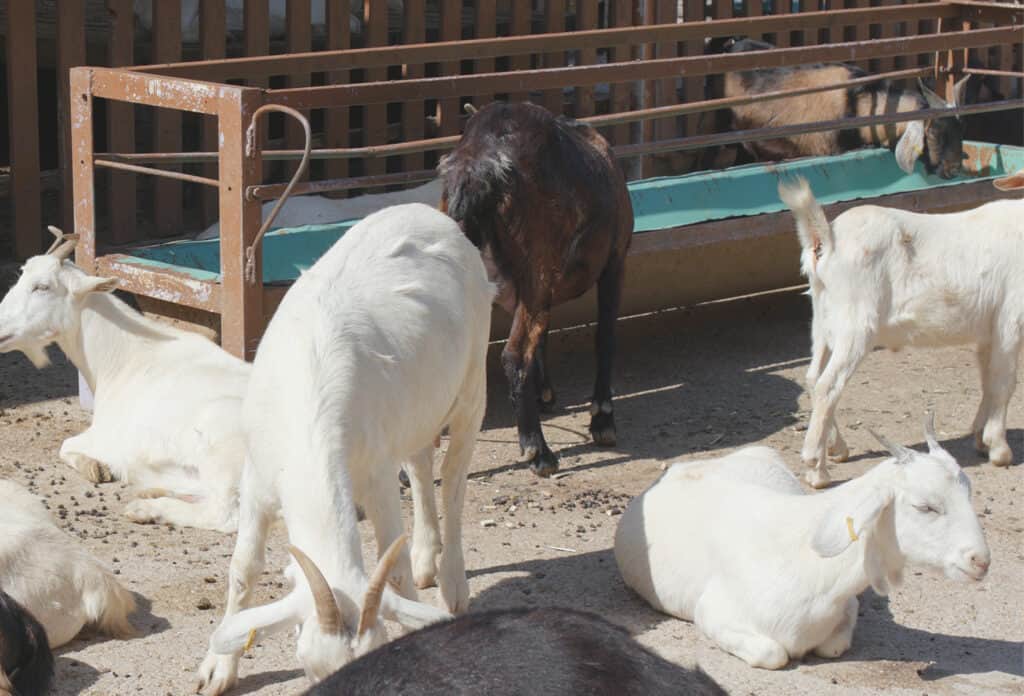 Bucket Feeders: These feeders consist of a bucket or pail attached to the fence with hooks or straps. They are ideal for feeding smaller amounts of grain, pellets, or supplements. We set up an easy way to feed bucks by bending a sheet of steel fencing in a backward "V." This allows me to feed our rowdy bucks without having to go into their enclosure.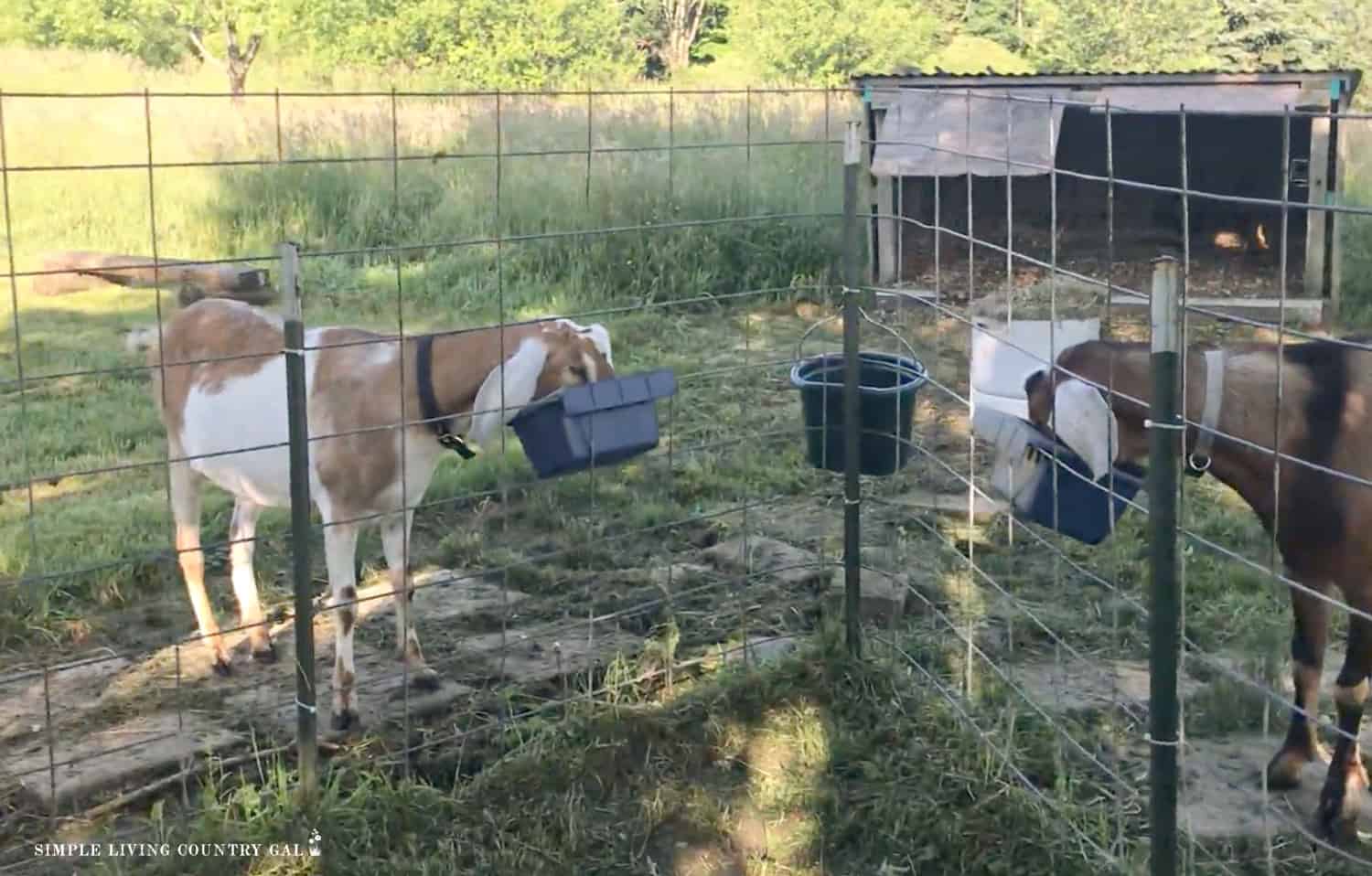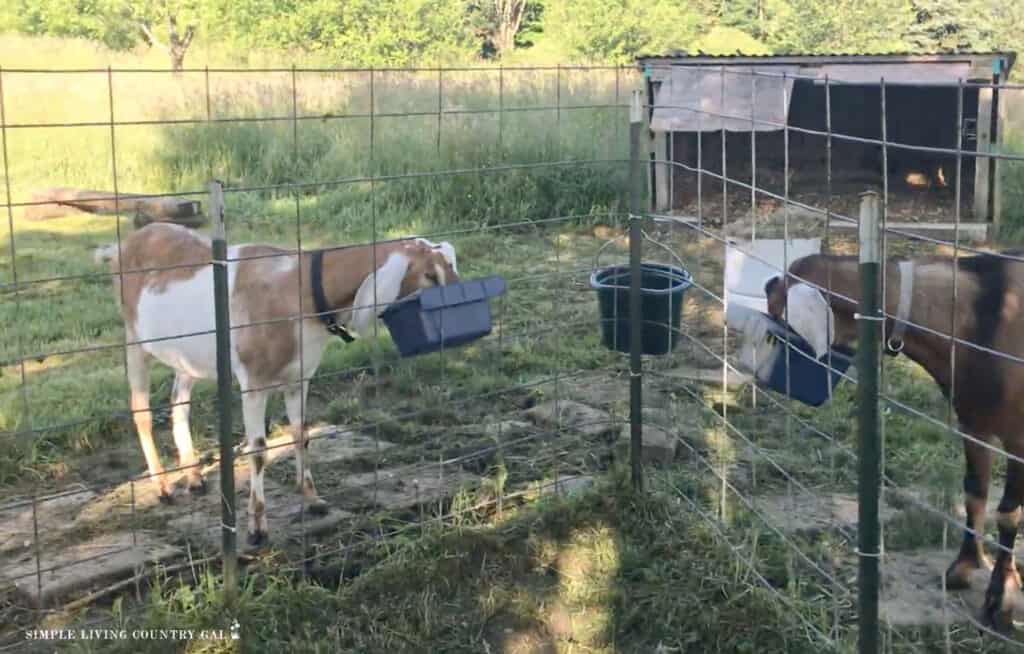 Creep Feeders: These feeders have an elevated platform that allows young or smaller goats to access feed while keeping larger goats out. They are especially useful for feeding lambs or kids without letting adult goats consume all the feed. You can also put separate feeders into an enclosed area that only young kids get access to. This will ensure the kids are getting the feed they need to grow and thrive.
How to Set Up a Pen for Goat Kids
Hay Cradle: This is an elevated V-shaped feeder that keeps the hay up off the ground where it is clean and dry.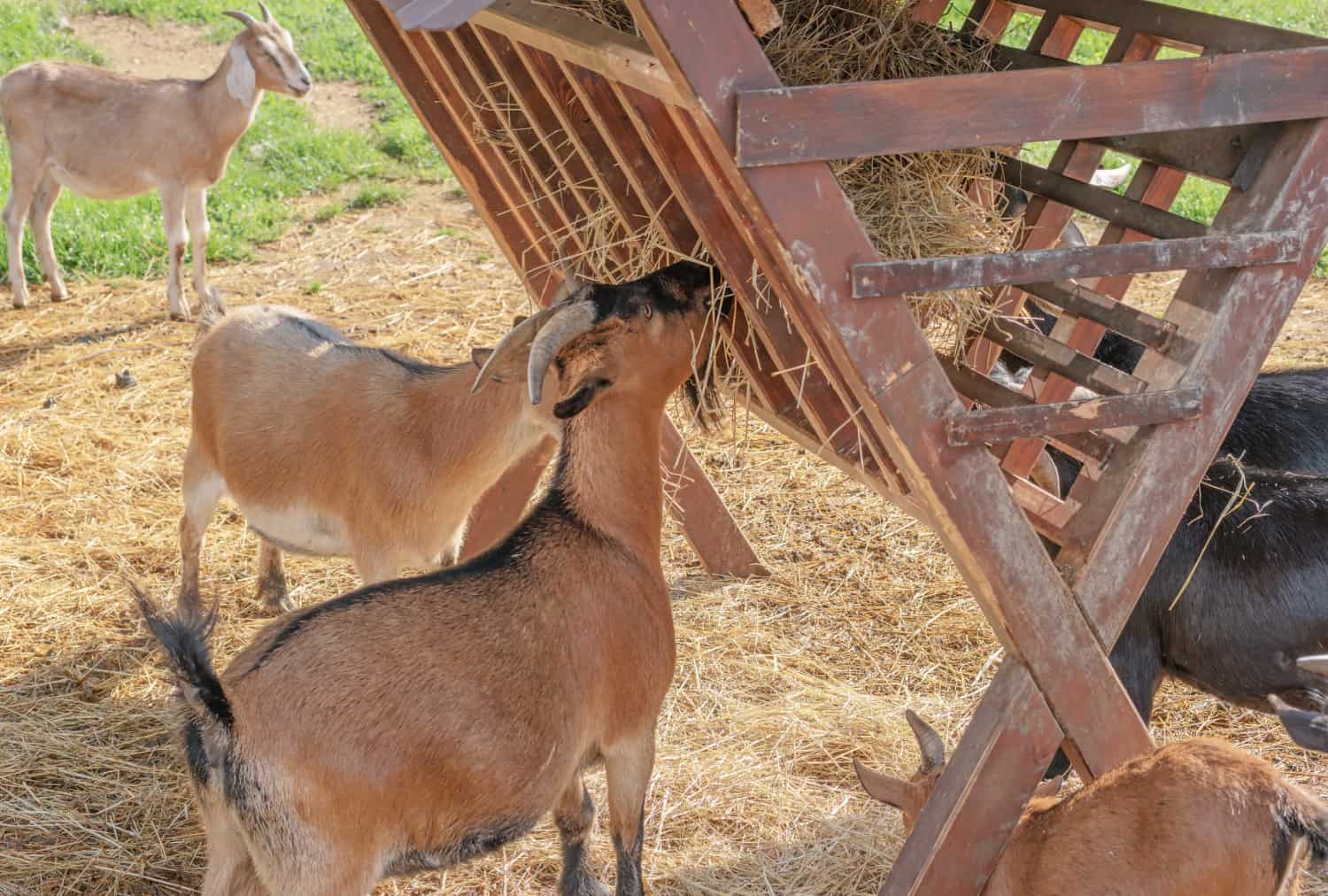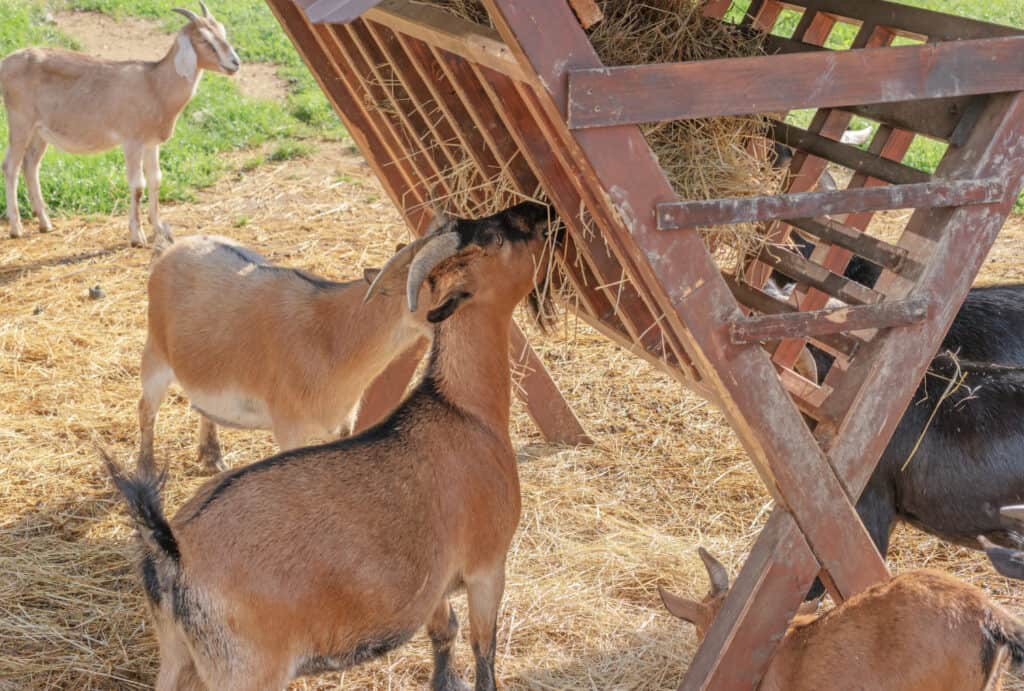 Slant Bar Feeders: These feeders have slanted bars that allow goats to reach in and eat but prevent them from wasting or trampling on the feed. They work well for both hay and grain feeding.
Bale Feeders: These are large, heavy-duty feeders that hold a whole bale of hay. They can be either stationary or portable and are designed to prevent waste and keep the hay off the ground.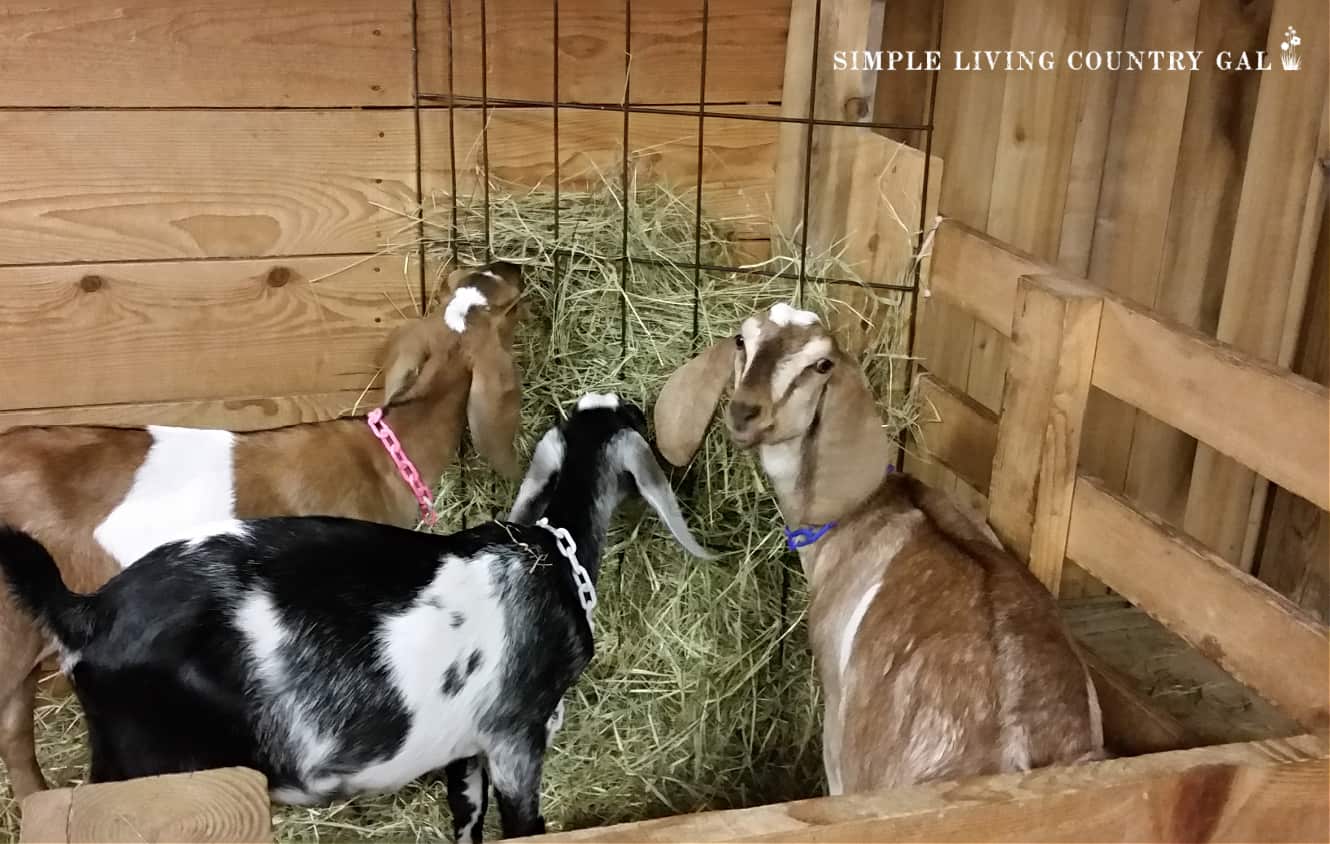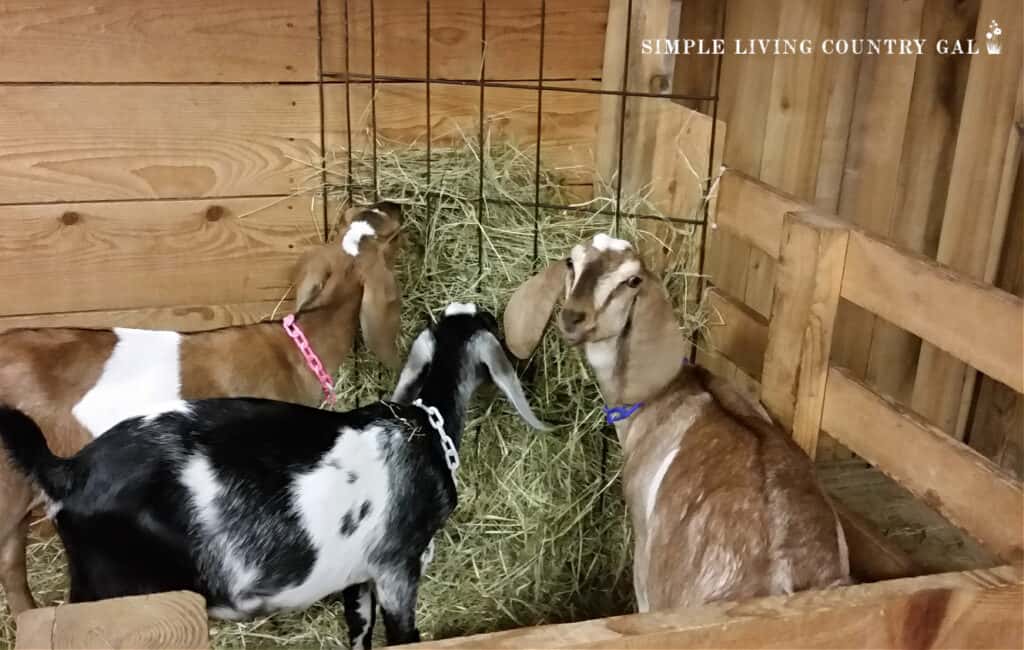 Benefits of using fence line feeders for goats
There are some great reasons for considering this type of feeding, let's look at a few.
Increased safety: Fence line feeders eliminate the need for entering a pasture or pen to feed your goats, reducing the risk of injuries from overcrowding or defensive behaviors.
Time-saving: With a fence line feeder setup, you can easily fill the trough with food from outside the fence, saving you time and energy.
Better herd management: Fence line feeders allow for easier monitoring of your herd's eating habits and overall health. It also makes it easier to identify any goats that may not be getting enough food or have dietary issues.
Improved pasture health: By keeping goats off the pasture during feeding times, you can minimize damage to grass and vegetation from overgrazing. This also helps prevent the spread of parasites and diseases through fecal contamination.
Fence Line Feeders:
TMEE Hay Feeder Goat 2 in 1 Horse Sheep Hay Rack with Grain Detachable Grain Tray Wall Mount or Hanging Feeder Heavy Duty Galvanized Steel Hay Basket for Cattle Cows Livestock in Farm
Rugged Ranch Products 4 Foot Long Outdoor Heavy Duty Mini Galvanized Steel Pasture Hay Feeder for Goats, Sheep, and Miniature Horses, Silver
2 Pack Feed Trough and Waterer Bucket with Clips, for Goat Chicken Duck Sheeple Dog Piglets Deer Goose, Turkeys, Goat Feeder Supplies, 4.5 Quart (Appearance Patent Product)
Solution4Patio Galvanized Steel Livestock Feeder W/Wheels, 2 in 1 Hay & Grain/Salt Feeder, Heavy-Duty Large Capacity Sheep Feeding Cart, Easy to Clean for Goats, Sheep, Horse, Ponies #B808A01-US2
GZHDIAN Hay Rack, Galvanized Metal 2 in 1 Hay and Grain Feeder, Pasture Feeder, Livestock Feeder with Moveable, Hay Feeder for Goats, Cow, Horse, Sizes (59.1
Read About Rotational Grazing Here!
Overall, using fence line feeders for your goats can give you a safe and effective way to feed your herd. Be sure to choose a feeder that fits your setup and the age and breed of goats in your herd.
More Goat Care Resources: