Raising animals that are healthy with strong immune systems is the goal of any homesteader. And the best way to do this is by rotational raising goats.
Use this guide to help you raise dairy goats that are healthy and strong to fight off worms and other parasites.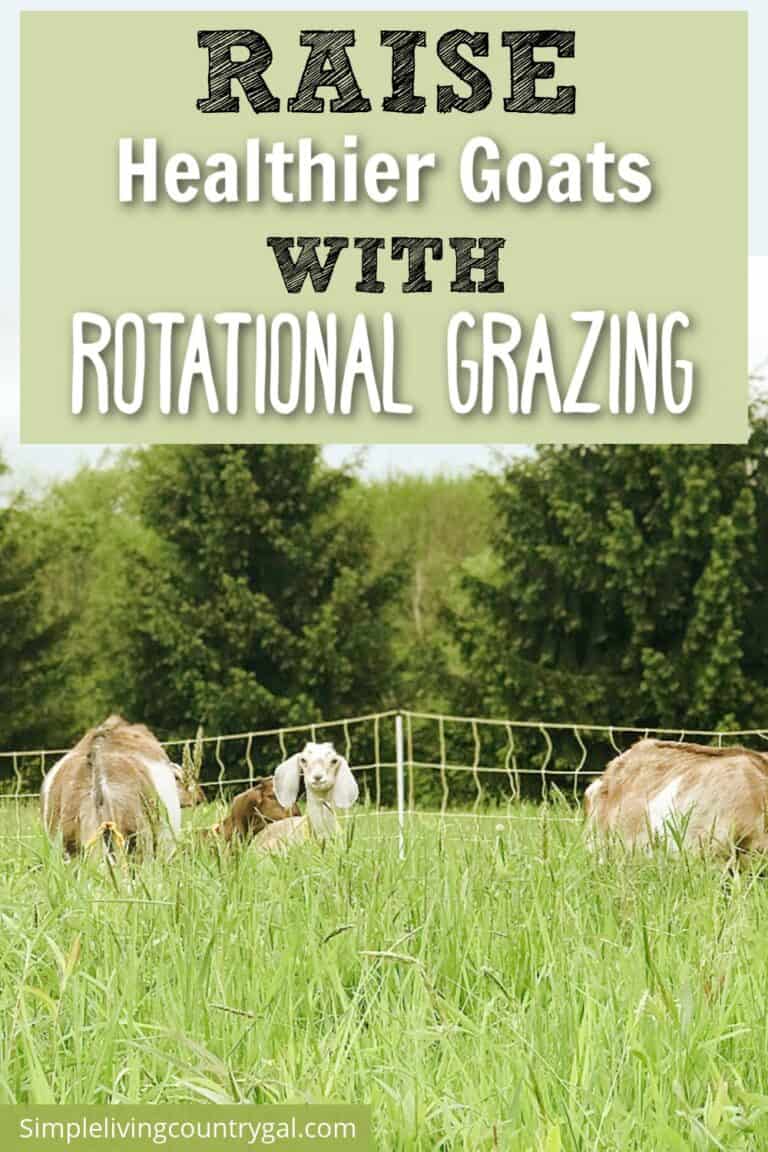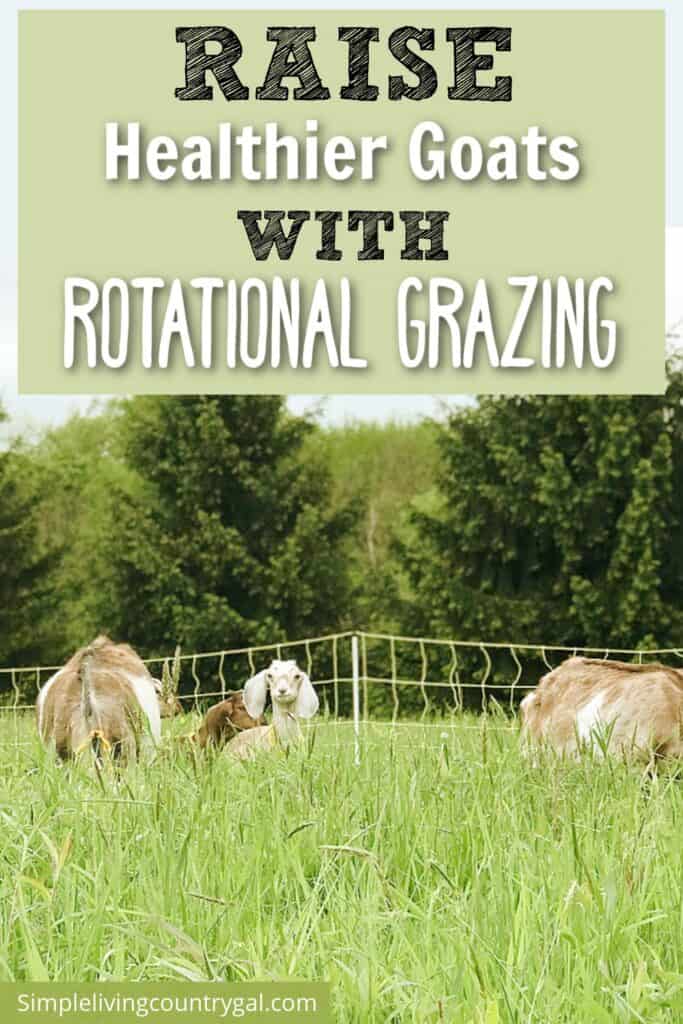 Livestock owners are always looking for ways to ensure their animals remain healthy, and one of the most effective methods is rotational grazing. This practice not only gives your goats access to fresh pastures regularly; it can also help prevent worm overloads by promoting a routine fresh area for them to graze in. Let's walk through what there is to know about rotational grazing dairy goats, from how much pasture is necessary per goat, a routine that you can implement, as well as goat fence ideas that are ideal for rotationally grazing.
What is rotational grazing?
Rotational grazing is giving a herd of goats access to only part of the pasture at a time while the rest of the areas are rested. This allows for even usage of the pasture and prevents overgrazing as well as parasite overloads. Instead of allowing your goats to graze continuously on one area of the pasture, you rotate them between different pastures or paddocks using fences to close off access.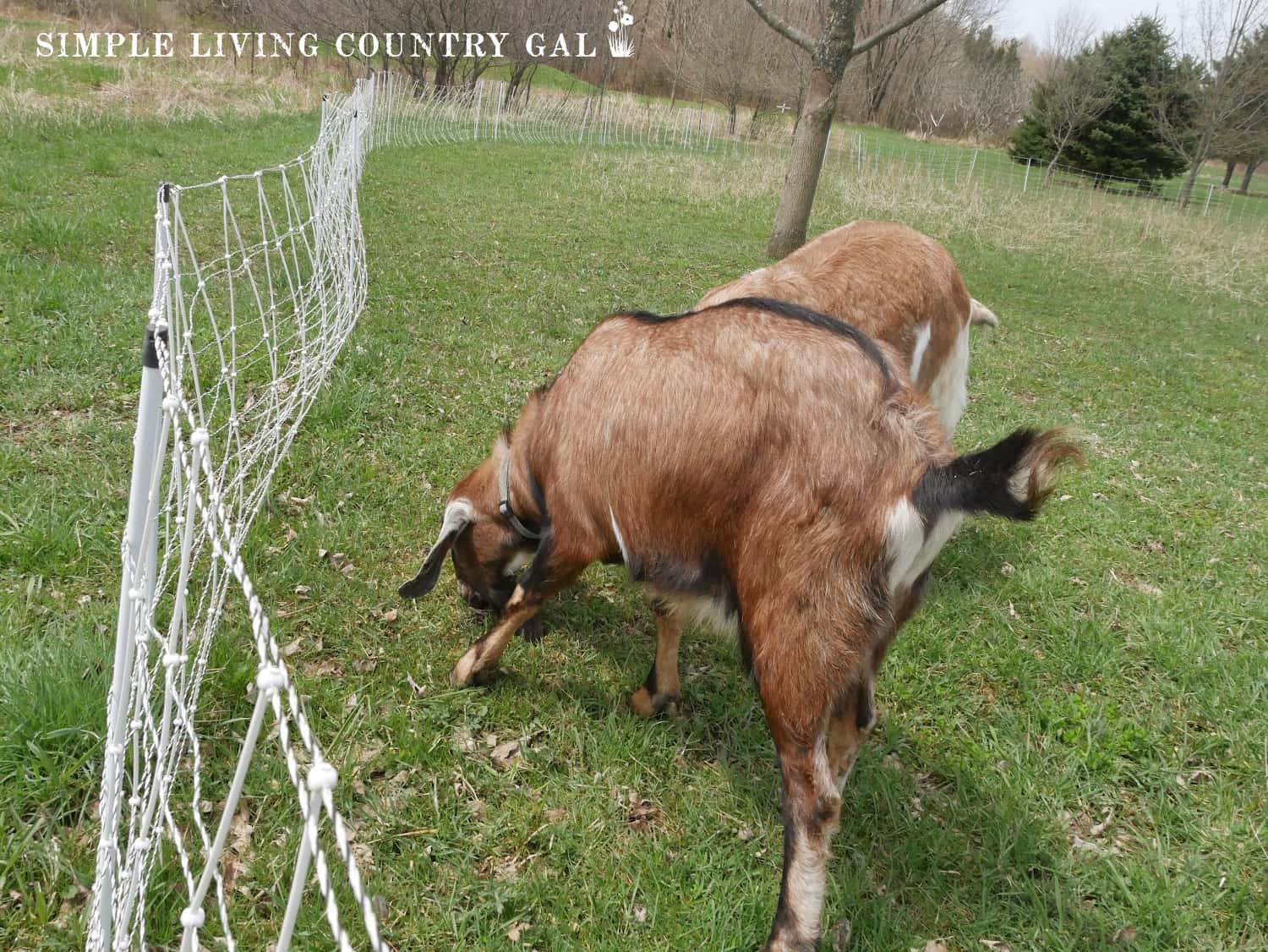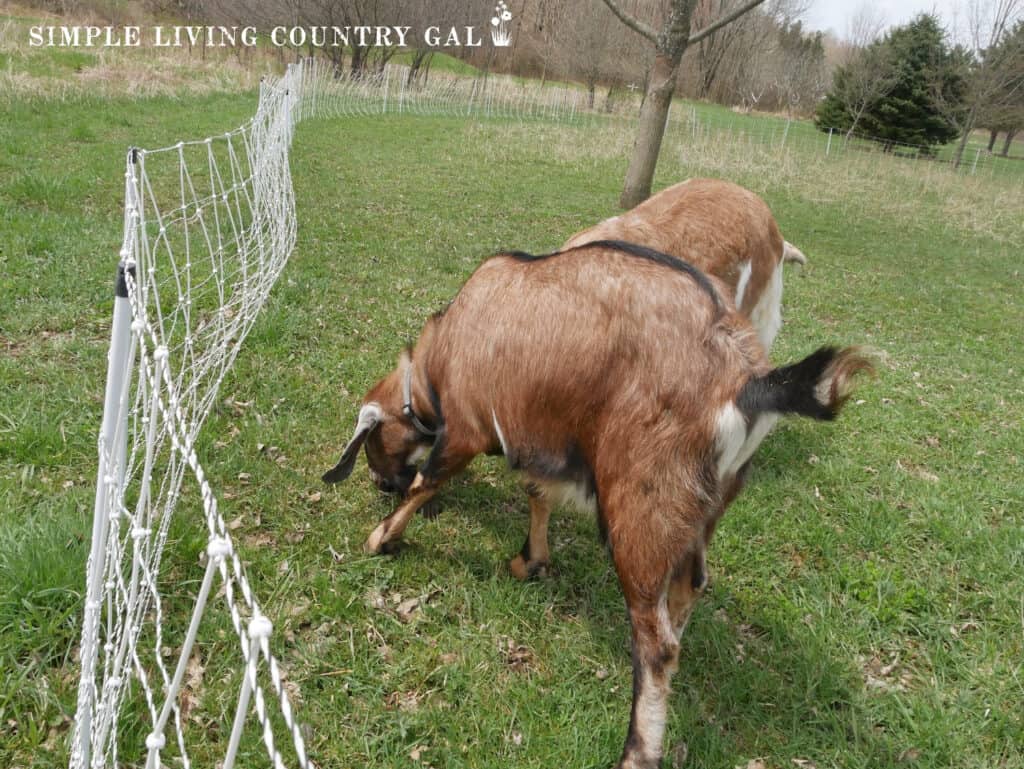 How much pasture does a goat need?
Your dairy goats should have about 1,000 square feet of pasture per head. This means that if you have 5 goats, you will want to have about 5,000 square feet of designated grazing area. If your pasture is too small to provide each goat with this amount of space, then rotational grazing becomes more important as it will help you maximize the pasture usage and keep your goats healthy.
Setting up a routine for rotational grazing
Creating a rotational grazing schedule is an important part of sustaining healthy pastures for your dairy goats. Generally, it's best to move your animals to another paddock every 7-10 days, but this may vary depending on the size of your herd and the condition of your pastures.
Example routine/schedule:
Day 1: Move the herd to a new paddock.
Days 2-7: Allow the goats to graze in this area.
Days 8-10: Close off access to this area and move the herd to another paddock.
Repeat in a clockwise order.
Temporary fencing options
When rotational grazing goats, it's best to use temporary fencing that can easily be moved. There are a variety of fencing options available, such as electric netting or moveable panels, which make it easy to section off areas and keep goats from straying. Portable fencing is also ideal for rotational grazing because you don't have to permanently fence in the pasture – you can check on the animals regularly and move them when needed.
Goats are Browsers
Goats are browsers, meaning they like to eat a variety of plants, wild grasses, and even weeds, shrubs, and small trees. Legumes such as clover or alfalfa should also be incorporated into the grazing areas to provide additional nutrition for your animals. It's best to rotate the goats through different types of pasture to ensure that they're getting a diverse, healthy diet.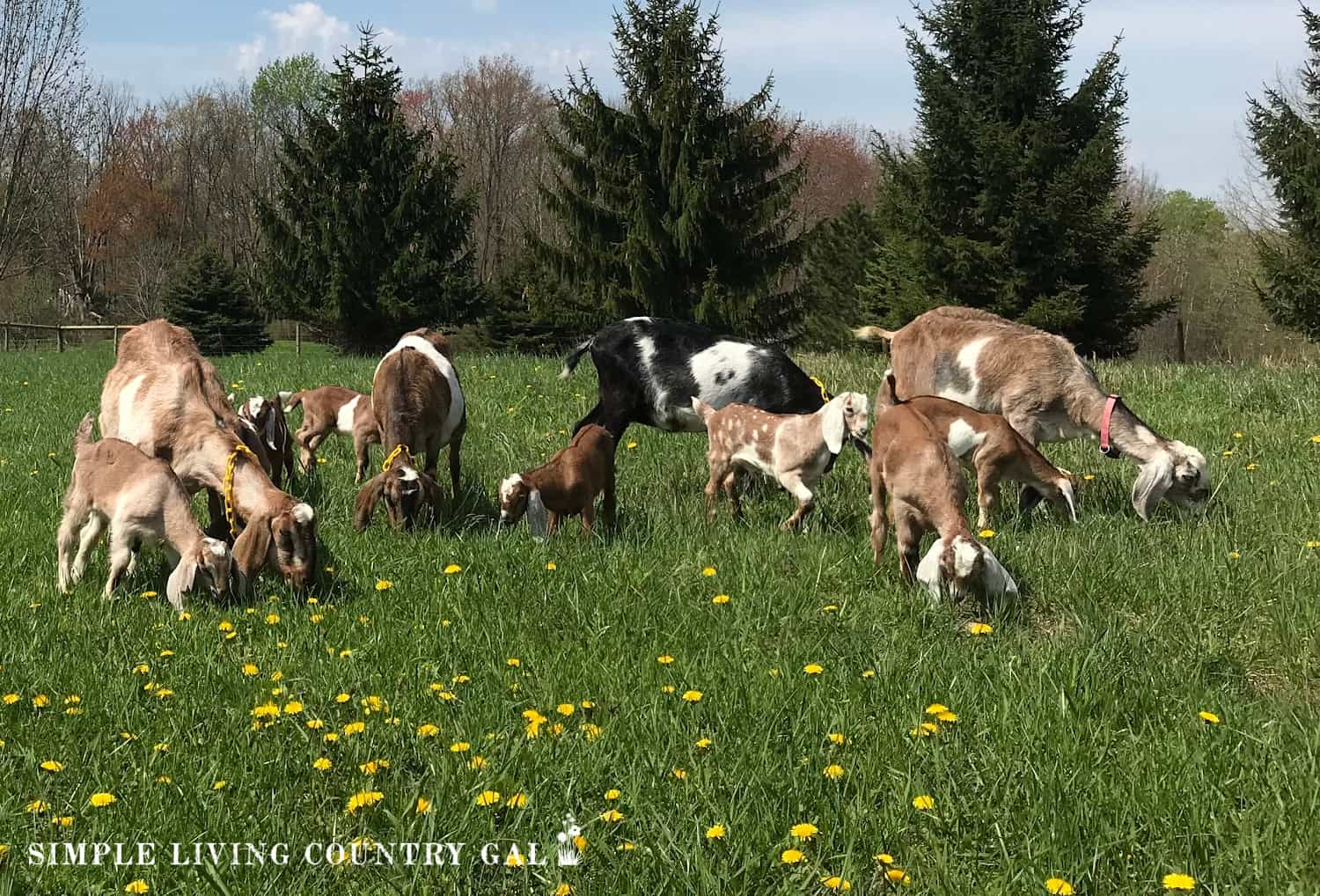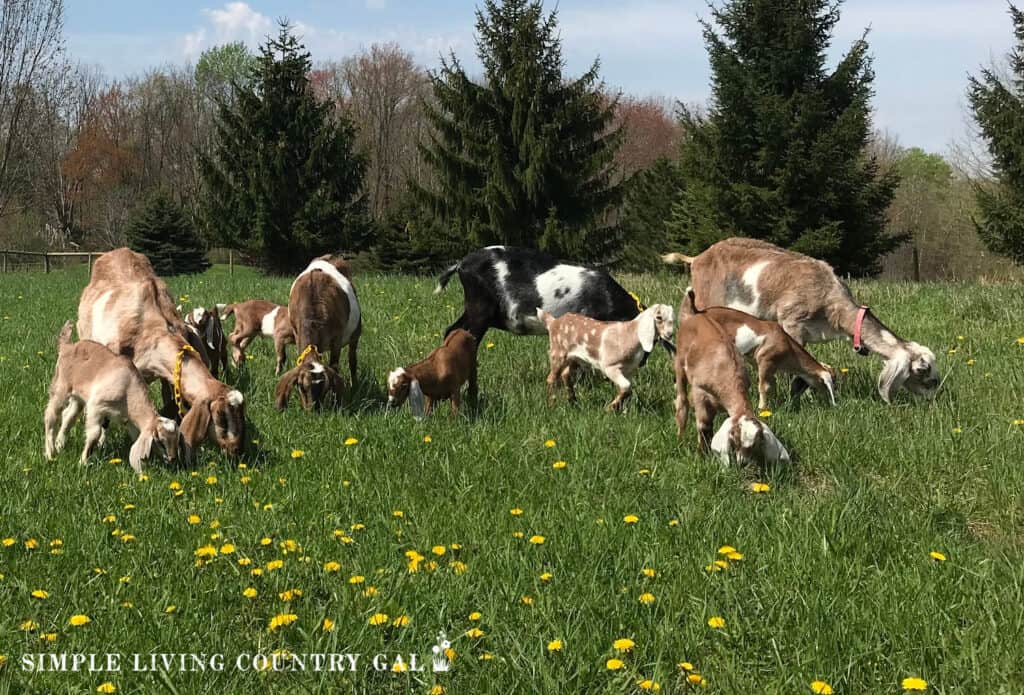 Rotational Grazing Reduces Worm Outbreaks
Goats can get worms in a pasture through contact with other goats or wildlife, such as deer or raccoons, that are already infected. How it works is worms and worm eggs from feces land in a pasture, where they mature into larvae that can infect a goat if ingested. This cycle takes about 6 days to occur.
By moving to a new area every 5 days you can stay ahead of the worm cycle, greatly reducing outbreaks.
Rotational grazing also helps to prevent overgrazing of areas, as goats will not be able to return to the same pasture until it has had time to do a bit of regrowth.
Starkline 35
2 Pack Feed Trough and Waterer Bucket with Clips, for Goat Chicken Duck Sheeple Dog Piglets Deer Goose, Turkeys, Goat Feeder Supplies, 4.5 Quart (Appearance Patent Product)
ShelterLogic 8′ x 10′ x 5′ Small Round Livestock and Agricultural Storage and Shade Shelter Kit Green
Manna Pro Goat Mineral Supplement – Made with Vitamins & Minerals to Support Growth & Development – Contains Ammonium Chloride – Microbial Blend for Digestion – 8 lbs
Other tips for rotational grazing
Let's look at a few additional tips to consider when rotating your goat's grazing areas.
Make sure the paddocks are large enough that the animals can get adequate nutrition from them before they're moved again.
Monitor your goats and pastures closely – look for signs of overgrazing or nutrient-poor soil.
Provide plenty of water for your goats – make sure they have easy access to clean drinking water while out grazing on pasture.
Make sure you have adequate shade available for your goats – they need to be able to escape the hot sun during the summer months.
If needed, consider providing goat minerals and salt blocks in each paddock so that your animals are getting all of the nutrients they need.
Utilize goat-proof fencing around areas with higher risk of predator activity, such as wooded areas.
Rotational grazing is a great way to manage pastures for your dairy goats. It not only helps keep the pasture healthy, but it also allows you to maximize the amount of space your herd has available. With the right fencing setup and a regular routine, rotational grazing can help ensure that your goats have access to fresh grass and other vegetation throughout the year. With a bit of preparation and careful planning, you can keep your goats healthy and your pastures in great shape.
Rotational grazing also helps prevent overgrazing, ensuring that the pasture has plenty of time to recover between grazings. It's important to be mindful of how long you keep your herd in one area before moving them
More Goat Fencing Resources: