As a homesteader, giving and receiving gifts can be tricky. You want to give something useful but still keep it fun. This list is going to help with ideas you can give as gifts for homesteaders.
A Homesteading Tips list that puts a bit of fun into a hard-working lifestyle.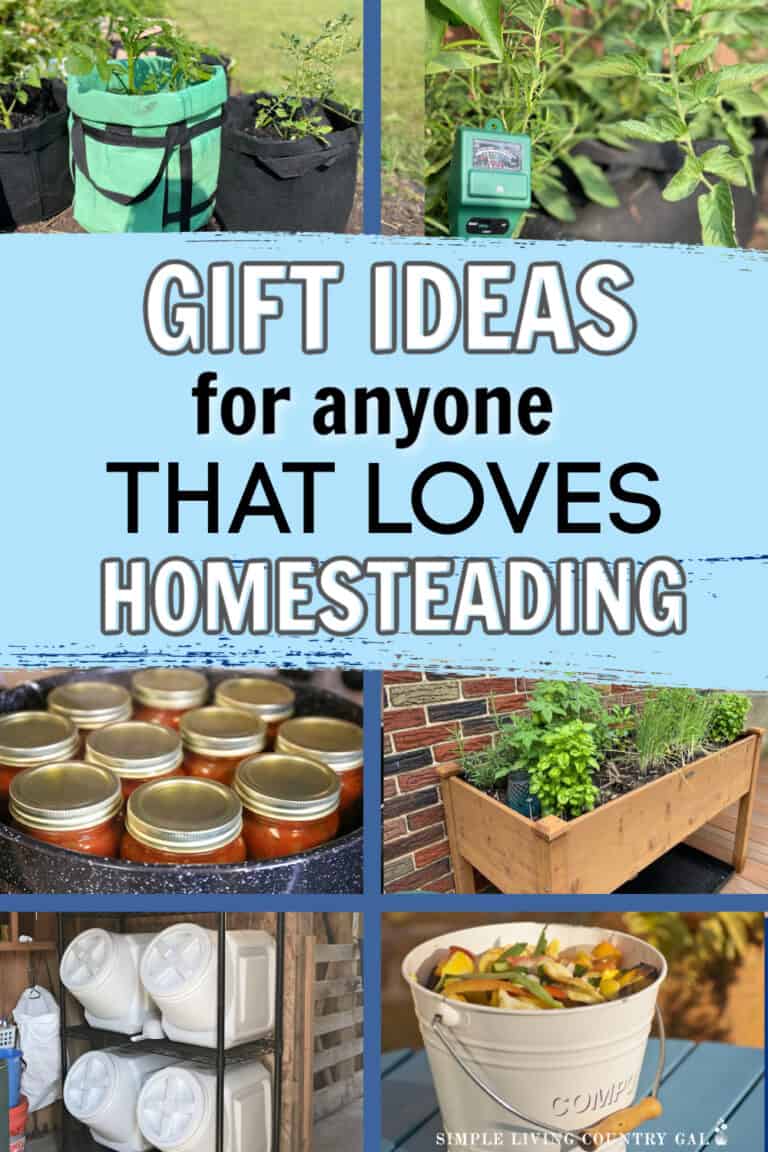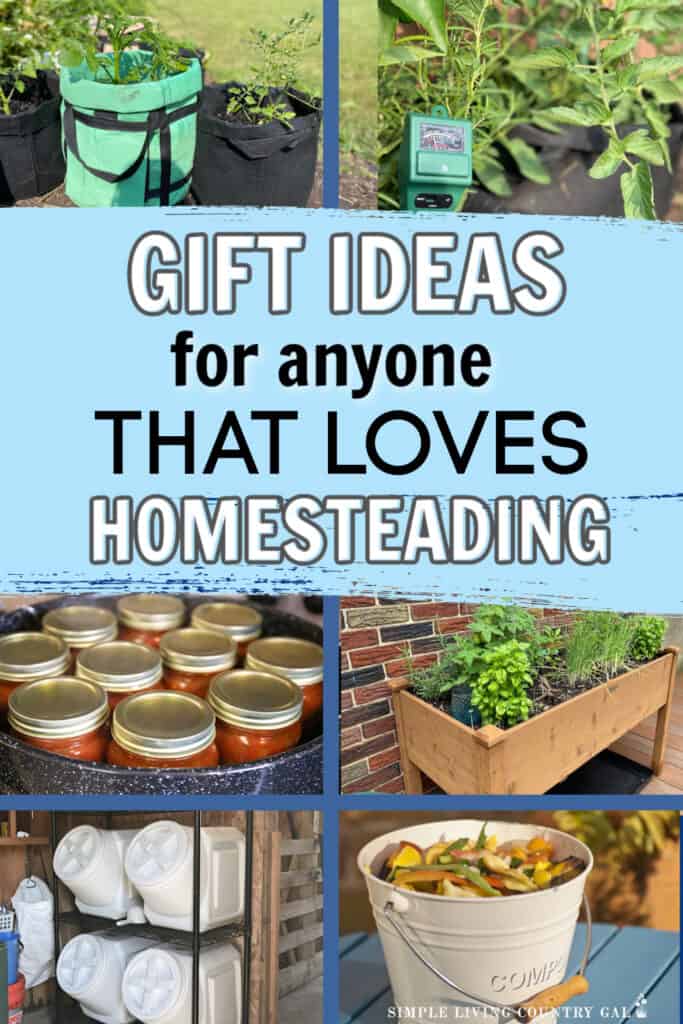 Homesteaders live a unique lifestyle that requires a specific set of tools and equipment. As a homesteader myself, I know that finding the right tools and supplies can make all the difference in the world. Whether you're looking for a gift for a seasoned homesteader or someone just starting out, this list of gift ideas will make their homesteading journey easier and more enjoyable. From practical tools to fun items, this list has something for every homesteader.
Gifts for homesteaders
Giving a gift that is useful and fun is a great way to show the recipient that you understand their lifestyle. To help, I have broken down my favorites into different areas so you can more easily get inspired without getting too overwhelmed.
Tools for Homesteading
Homesteaders need a variety of tools to maintain their land and animals. Tools like shovels, rakes, and hoes may seem like basic items, but they are crucial for everyday tasks like planting and cultivating crops.
Great Tools to Give as Gifts:
BEI & HONG Mini Chainsaw Cordless 6-Inch with 2 Battery, Mini Power Chain Saw with Security Lock, Handheld Small Chainsaw for Tree Trimming Wood Cutting
YARDMAX YS0650 6.5 Ton Electric Log Splitter
Foserove Kindling Splitter for Wood Firewood Splitter Wood Splitting Wedge Manual Log Splitter Wedge Small & Portable Kindling Wood for Home & Campsite
Carhartt Men's System 5 Work Glove with Safety Cuff, Brown, 2X-Large (Pack of 1)
GASPRO 8FT Firewood Rack Outdoor with Cover, Adds Sturdy Middle Upright, Heavy Duty Steel Log Rack Wood Holder, Easy to Assemble
JupiterForce Galvanized Ash Bucket with Lid and Shovel, 5.15 Gallon Large Metal Hot Coal Wood Ash Bucket Pail for Fireplace, Fire Pits, Wood Burning Stoves, Grill, Outdoor Camping, Black
Kitchen Tools for Homesteading
Another essential factor of homesteading is food preservation and that means having the right tools in the kitchen is essential.
Great Kitchen tools:
KITCHENARM 29-in-1 SMART Bread Machine with Gluten Free Setting 2LB 1.5LB 1LB Bread Maker Machine with Homemade Cycle – Stainless Steel Breadmaker with Recipes Whole Wheat Bread Making Machine
Barton Pressure Canner 22-Quart Capacity Pressure Cooker Built-in Pressure Gauge with (1) Rack, Aluminum Polished
Ball WIDE MOUTH Quart (32 oz.) Glass Food Preserving Pickling Canning Mason Jar with Lid and Band, Clear, 12-Count (Packaging May Vary) (Smooth Clear)
Ball Complete Book of Home Preserving
LALASTAR Countertop Compost Bin with Lid, Made of Sustainable Bamboo Fiber, Odorless Kitchen Compost Bucket, 1 Gallon, Cream
SCANDINORDICA Hanging Window Planter – 3 Tiered Wood Floating Window Herb Garden Shelf with Holes and Rope, Vertical Wall Indoor Herb Planter for Kitchen | Red Mahogany
Garden Tools
Homesteaders spend a lot of time tending to their plants, and the right garden tools can save time and make maintaining a fruitful garden much easier.
See our best Homesteading Deals here!
Great Garden Tools:
Folding Wagon, Collapsible Wagon Garden Cart Heavy Duty with Side Pocket and Terrain Wheels, Large Capacity Foldable Grocery Beach Wagon for Garden Sports Camping Shopping(1 Year Warranty)
Abco Tech Garden Stool & Kneeler – Kneeler & Stool for Gardening, Foldable Garden Seat for Storage, Garden Kneelers for Seniors, Great Gardening Gifts for Women, Bench Comes with Tool Pouch & Gloves
PINKBlUE Personalized Customization Original Garden Hod, Harvest Basket/Garden Basket – 19 x 11 x 11 Inches, Holds 15 Quarts (Wood Color)
100pcs Plant Labels, Garden Plant Markers, Plastic T-Type Plant Tags, Waterproof Garden Signs for Outdoor Garden Plants Garden Potted Plants (3.9" x 2.4")
Outsunny 49
Purlyu Walk-in Greenhouse for Outdoors, Thickened PVC Cover & Heavy Duty Powder-Coated Steel, 10 Sturdy Shelves, 20 Pcs T-Type Plant Tags 4.7×4.7×6.4 FT, (PLHGHW002OWP)
Barn Supplies
Homesteaders typically have animals that need care, and barn supplies are essential for taking care of livestock.
Barn Supplies:
2 Pack Chicken Feeder Trough for Livestock Goat Feeder, Sheep, Duck, Pig Feeder, Deer Feeder, Poultry Feeder, Hanging Chicken Feeder Bucket Feeding Container for Livestock, 4.5 Quart
Happybuy Livestock Stand 51×23 inches, Trimming Stand with Straight Head Piece, Goat Trimming Stand Metal Frame Sheep Shearing Stand Livestock Trimming Stands
RentACoop Electric Poultry Netting All-in-One Set with AC Energizer – 42
Blisstime Beekeeping Supplies, Bee Keeping Starter Kit 26 Pieces Beekeeping Tools Bee Keeping Supplies-All Kit Bee Hive Tools for Beginners and Professional Beekeepers
LURIVA DIY Small Animal Pet Playpen, Guinea Pig Cages, Rabbit Playpen, Dog/ Puppy Playpen, Indoor Portable Metal Wire Yard Fence, 15 X 12 Inch, 12 Panels, Black
Tortoise House Habitat Wooden Small Animal Hutch Enclosure Indoor/Outdoor (49 * 36 * 14(L*W*H), Grey + White Trim)
Books, Music, Clothes, and Food
Homesteaders also need time for relaxation, and there are many great items that offer a break from their daily routine.
Other Gift Ideas:
NORTY Women's Hurricane Wellie Rain Boots – High-Calf Length – Glossy Matte Waterproof Rubber Shoes – Horse/Black Glossy Size 8
Arbortec Breatheflex Pro 1 UL Rated Chainsaw Pants Black Medium
The Homesteading Handbook: The Essential Beginner's Homestead Planning Guide for a Self-Sufficient Lifestyle
The Backyard Homestead Guide to Raising Farm Animals: Choose the Best Breeds for Small-Space Farming, Produce Your Own Grass-Fed Meat, Gather Fresh … Rabbits, Goats, Sheep, Pigs, Cattle, & Bees
O'Keeffe's Working Hands Hand Cream Value Size, 6.8 oz., Jar (Pack of 1)
FINGER TEN Horse Riding Gloves Kids Boys Girls Equestrian Ride Youth 1 Pair, Color Grey Summer Comfortable Grip for Kid Small (Kids-Gray, Small)
Homesteaders have a unique lifestyle and will have unique needs when it comes to gifts. Whether you're shopping for someone who's been homesteading for years or someone just starting out, this list of gift ideas for homesteaders offers something for everyone. From essential tools and supplies to fun and relaxing options, these gift ideas will undoubtedly make their lives easier and more enjoyable.
More Gift Idea Resources: