How To Easily Train Your Goats
Having goats that are trained is not only possible it just might be easier than you think. Learn how to train your goats to come when called so you can help them stay safe and out of trouble more easily. A great tool to have when learning how to raise dairy goats that listen and stay safe.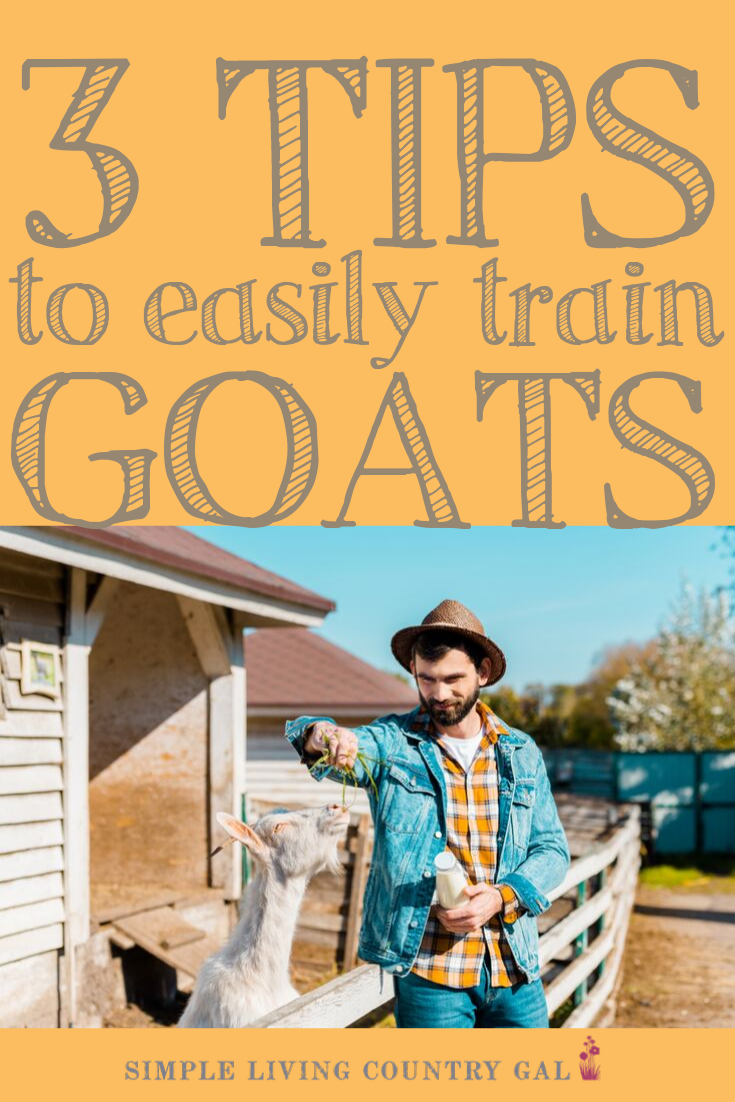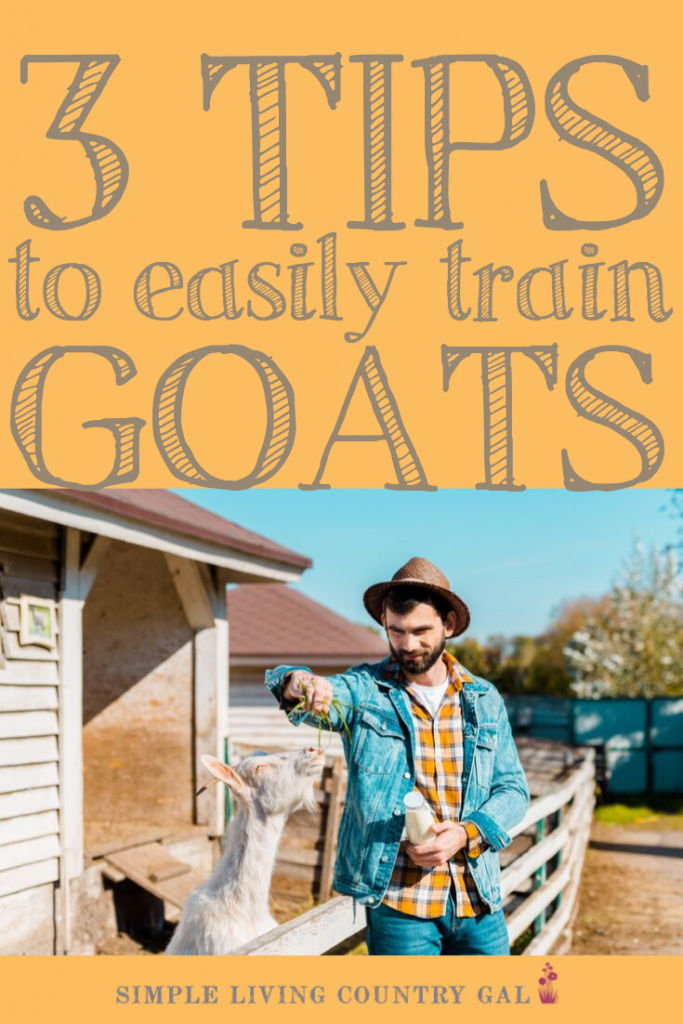 I learned very early on that goats are comical, smart, loving, determined, and very stubborn.
When my first two goats joined our little homestead, I was as green as could be. I had absolutely no clue where to start, what they needed, and how to keep them safe and healthy. As usual, winging it was my first course of action and I pretty much stumbled along learning as I did.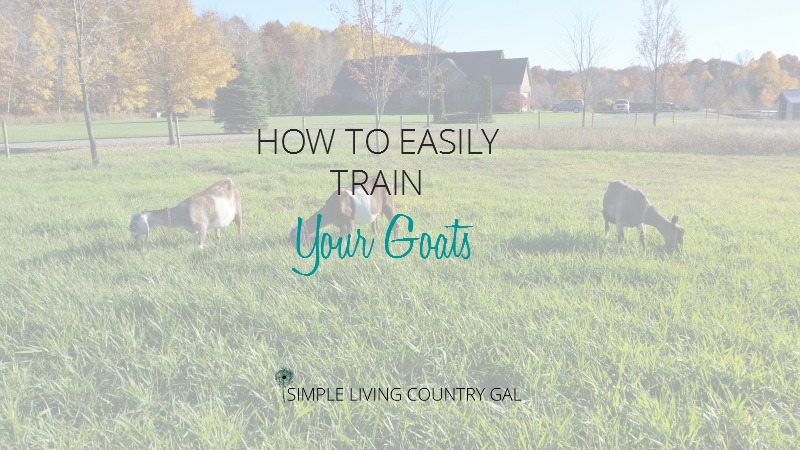 I also realized I need to teach my goats to listen to me. To understand that I was the boss and I was in charge. Let me just say that in theory this made perfect sense but when putting it into action I learned a valuable thing. Some goat breeds are easy to train and others…well not so much.
I remember that first day I was going to milk my goat, Oleo. Hubby made me a beautiful milk stand and I must have watched a zillion YouTube videos on how to milk goats and sheep. I even went to a farm and had a sweet Amish farmhand give me a milking lesson.
I was fully confident and ready to fill my shiny new pail with some tasty milk.
I confidently headed out that first morning with my milking supplies in hand and a spring in my step. Once in the barn, I set everything up and went to get my doe. I took her by the collar and lead her to the milk stand. She came willingly enough but once there she took one look at that stand and took off the other way!
READ: 8 STEPS TO DELICIOUS TASTING GOAT MILK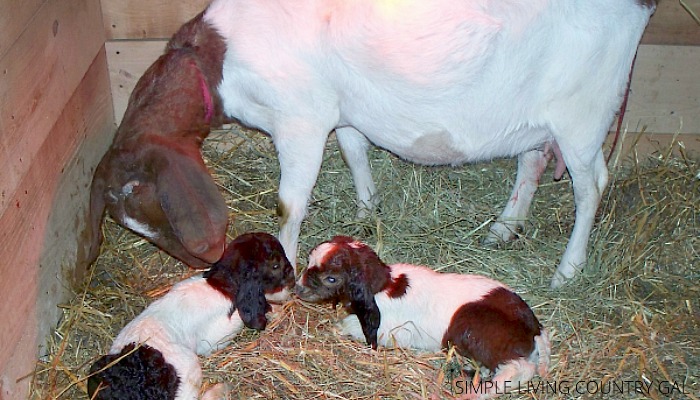 After chasing her down, I tried it again only to have the same result.
What the hay! (yes, this is what I say now) This wasn't what I expected at all. I led her over for a third time, thoroughly sweating by now, and was forced to pick her up and put her on the stand.
Yes, I picked up a 120-pound goat!
Once I had her on the stand and locked in, the fun didn't stop there. She then proceeded to do a very impressive Irish tap dance all over the place spilling milk and making a rather large mess in the process.
I now know where the saying "Don't cry over spilled milk" came from.
I left that morning dejected with only a cup of milk to show for all my efforts. And now that I think of it, I believe I WAS crying.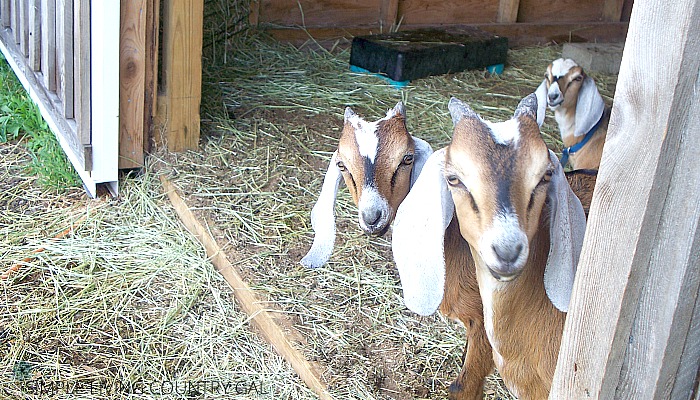 I learned a very important lesson that day. Animals have no idea what you want them to do and if it is new they are very wary and many times too scared to listen without caution. To make things easier of everyone, I needed to figure out how to train my goats to listen and work with me…not against me.
How to Train Your Goats
Goat Training Disclaimer: If you have an aggressive goat, a wild goat (meaning not people-friendly), or just an all-around mean goat, this system may not work for you and your situation. Sometimes hard decisions need to be made. If you have tried everything and you find your goat is still uncontrollable you may need to make some hard decisions and look for a new home. I have had to do this myself and even though it is hard I know we are both better off.
Owning goats especially a family goat for a homestead or backyard farm should be pleasant and rewarding. Remember, not all animals fit all families. Know when it's time to locate a new home for your animal and try again until you find a good fit.
Step #1. Find What They Love
If you want to get a goat to do what you want, you need to train your goats with a heavy dose of patience, and (this is VERY important) F O O D. Goats are very food motivated, meaning they will do just about anything if food is involved. Especially their favorite foods.
If you are not sure what your goats like, let's go over a few things my goats love to nibble on and what I have used to help to train them to come and behave.
Some goat treats:
Banana peels – YES! Goats love bananas, especially the peals. Keep a few in a Ziploc baggie to use whenever you are doing a training session.
Apples – Be sure to only give them in small bites so your goats do not choke.
Carrots – Again, use small bites until they are used to them.
Garlic – Not only a great treat but a natural wormer!
2nd cut hay – A great motivator to keep goats still in a milk stand
Animal crackers – More of a junk food but will work in a pinch.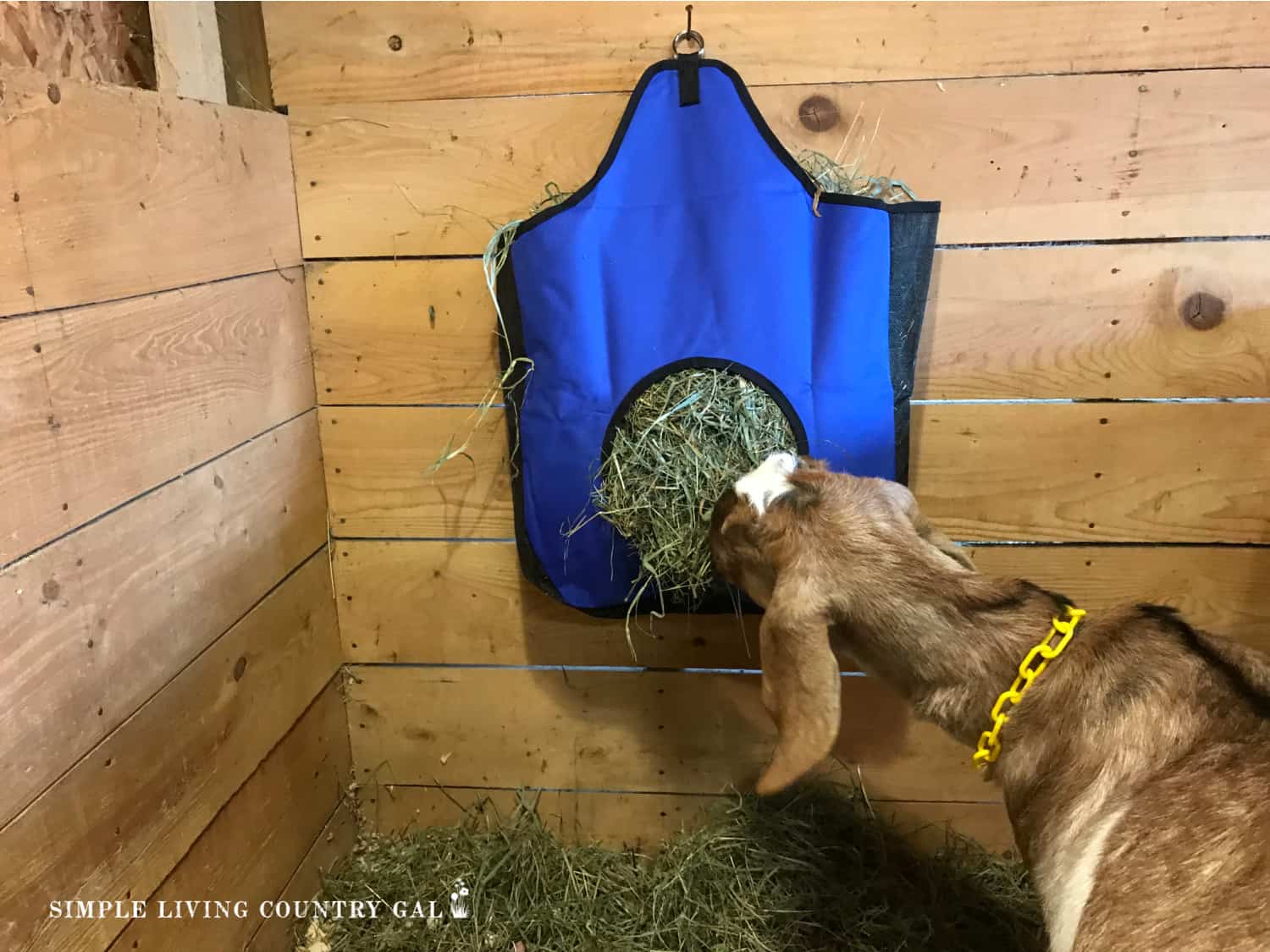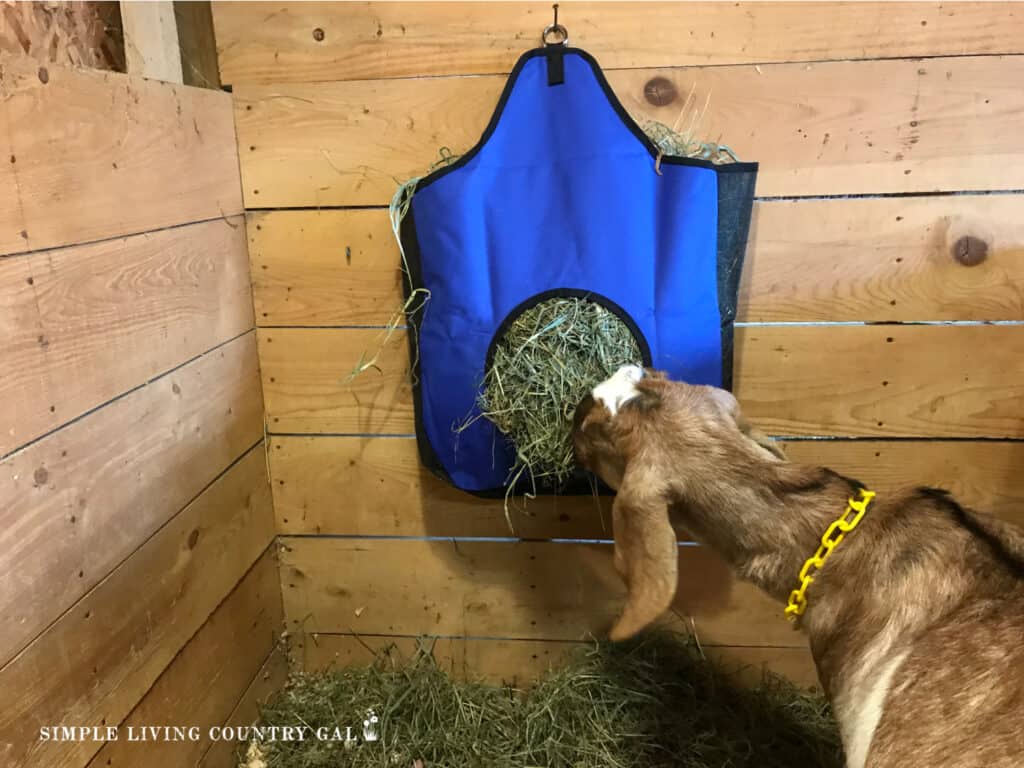 Step#2. Repetition
When it comes to training your goats, or any animal for that matter, repetition is key. Lead your goats where you want them to go and reward them with their feed ration of grain or with a couple of treats. You literally only need to do this a few times and they will quickly learn where to go even without being led!
SLCG PRO TIP: Always lead a goat, do NOT pull. A goat will quickly put on the brakes if forced to go anywhere. If leading does not work, you can try gently pushing from behind instead. You will get much better results with a push rather than a pull.
I have come a long way since that first milking fiasco. Now, before I begin milking a new goat I will do test runs a week or two in advance to acclimate her and myself to our new routine. If you have a trust/bond already established, this will not take very long at all. Just remember it is important to be patient and flexible.
If something doesn't work or "flow", as well as you would like, you may need to try a different approach or a different setup altogether. Goats are easily spooked and anything out of the ordinary will cause them to stand back. That is why routine is so important. The more they do something daily the more they will become comfortable and more willing to go where you want them to.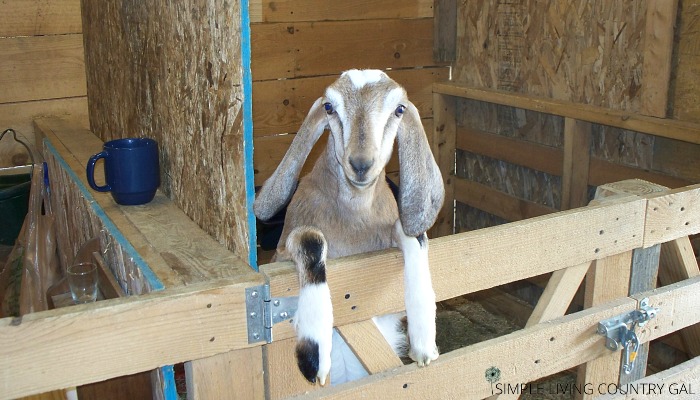 Training Tip #1. When you are training never force your goats to do anything. If you force them you will possibly damage the trust bond you are trying hard to establish. You will also most likely not get the results you are hoping for.
If you give your goat guidance and patience she will usually do what you want.
Training Tip #2. NEVER EVER lose patience with a goat you are training or a goat you are trying to get on the milk stand. If you have a goat that is simply misbehaving. Stop. Take a deep breath and try again. If you are still having problems, remove the goat from the stand and try again later when you have both calmed down.
Training Tip #3. It goes without saying, you should never hit your goats. I know farmers that insist you need to whack a goat to get them to listen but I know this is not the case. The more patient and calm I am the more my animals will mirror that image.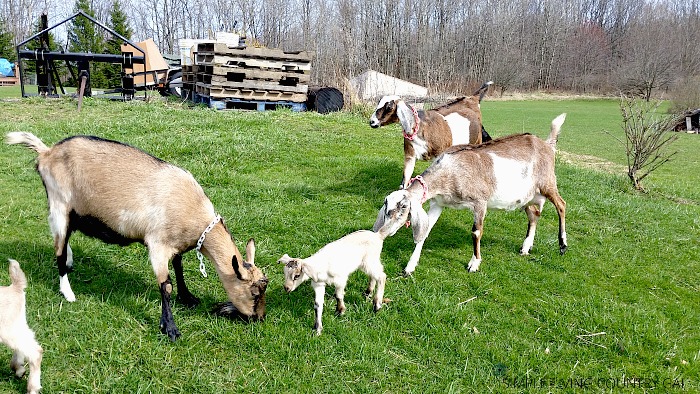 Step #3 How to Train Your Goat to Use a Milk Stand
If you want to succeed when you train your goats you need to have plenty of patience.
Fast-forward to two years later into my goat-raising journey. In my now established herd, I had a doe that was terrified of anything new. She was due to deliver for the first time in a month and I was planning on milking her at the 2-week mark after kidding. I knew that with her skittish tendencies I was not going to attempt to train her to jump onto the milk stand pregnant as this might risk injury to her or her unborn kids. I instead chose to wait until after she kidded.
Most of my goats can be trained in a few days, Wren, I knew, would take much longer. Knowing this going in helped to keep me calm and gentle while we worked on her training.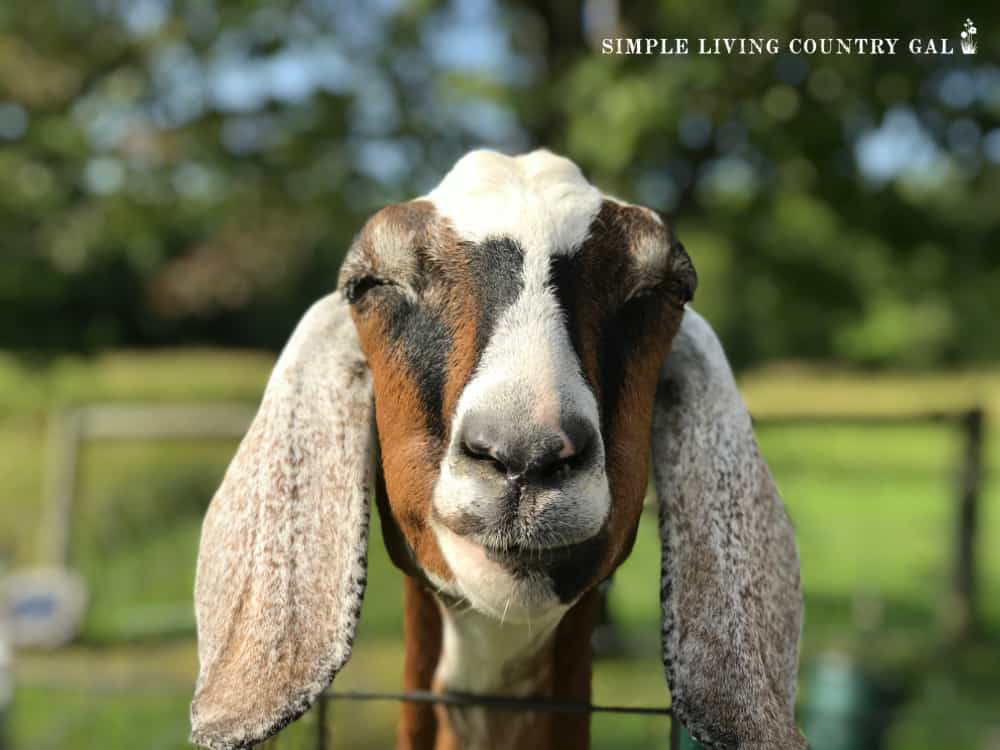 Prior to her kidding, every time I went to the barn I would touch her udder. Wren HATES to have her udder touched, but I needed her to get used to me touching it so I could milk her. At first, she would kick and run, but eventually, she stayed still and let me touch and actually massage her udder.
After she kidded a beautiful doeling I gave her a few days to be with her kid before training began. This gave her time to adjust to motherhood and bond with her baby.
The first step was to get her used to the stand, I took her over a few times a day and let her see it. I put her feed bowl on the stand so she would begin to associate the stand with food. After just a couple of days, I was able to get her to jump up on the stand and lock her in. I continued to feed her there every feeding for several days. Since I was not yet milking her I would instead use this time for much-needed maintenance on her coat and hooves.
Hubby made this milk stand for me and I absolutely love it. You can see just how to build one here for free or you can purchase a stand like this metal one.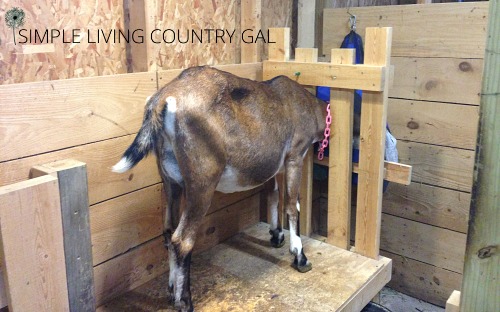 Even after all of this, Wren would still kick every so often, so I finally began using goat hobbles like these , and I must say they work amazingly well.
If you are new to goat hobbles they are basically a canvas strap that loops around the doe's legs ABOVE the knee and are held together with velcro. This strap safely holds the goat's legs together so she cannot easily kick or buck, although she may still be able to jump. I have used hobbles successfully for years and they do not harm the goat but instead keep us both safe and free from injury.
READ: HOW TO MILK A DIFFICULT GOAT USING USE HOBBLES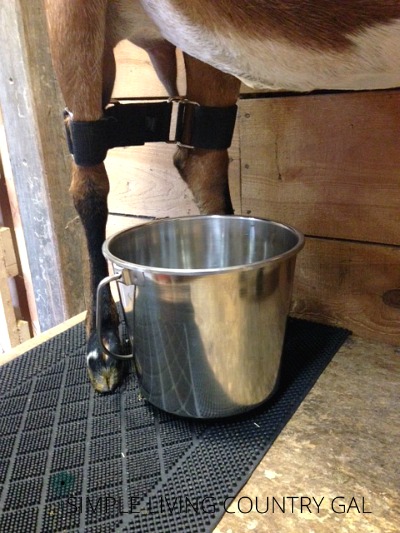 I have been milking Wren for 3 seasons now and I am happy to report that she has become my milking rock star. She is a lady in the stand, lets me do all I need to do without having to rush and will stand patiently for any additional work.
Here is a video of what you can do when you train your goats. It is a little chaotic but you get the picture. You can literally teach your goats to do anything, even a feeding regimen that is more like a do-si-do at a square dance!
Step #4. How to Train Your Goats to Come When Called
This might just be the one trick you would like your goats to learn. To come whenever you call them. This can be incredibly helpful if you have a large pasture and you need to get them into the barn quickly.
To train your goats you first need to choose a "call". A word and voice that is unique to what it is you want them to do.
Next, you will want to begin using this call every single time you feed them. Whether they are in the barn with you or not.
Each time you give them hay or grain simply say the word in the voice you chose. This will teach them that whenever they hear that word/sound food is on its way!
Remember, goats are very food-oriented and will quickly learn what they need to do in order to eat.
Step #5. Train Your Goats to Eat Tethered
I am a huge proponent of supporting my animal's health with the correct food, herbs, and supplements. This means that each of my animals may have a different diet than the other. Since this is the case with our goats I decided to train them to eat while tethered to a post in our barn. This allows me to custom tailor feed for each goat and ensures they are getting all the support they need to be healthy.
Training my goats to eat this way took some time, but the framework was still the same.
How I did it was to focus on one goat at a time. I would put out the feed next to that goat's station, then call the goat by name allowing only that one goat to come out to the feeding area in our barn. Usually, they went right to the food, and once there I was able to attach their tether. I would then put out the next bowl and call in the next goat. I continued doing this in the same order for a few days and was surprised to see how quickly they took to it.
If tethered feeding is something that you want to try on your farm, you can read how I did it HERE.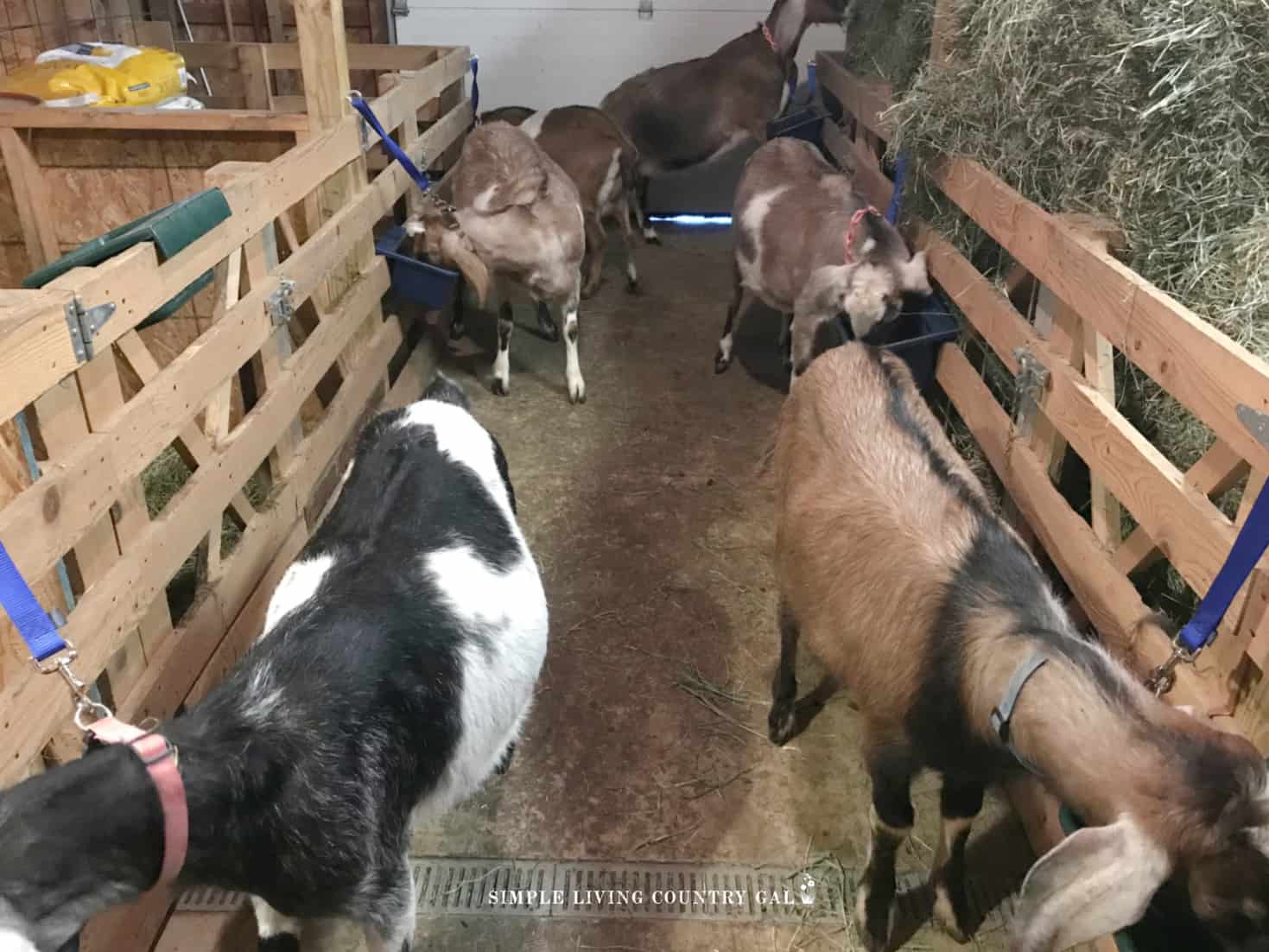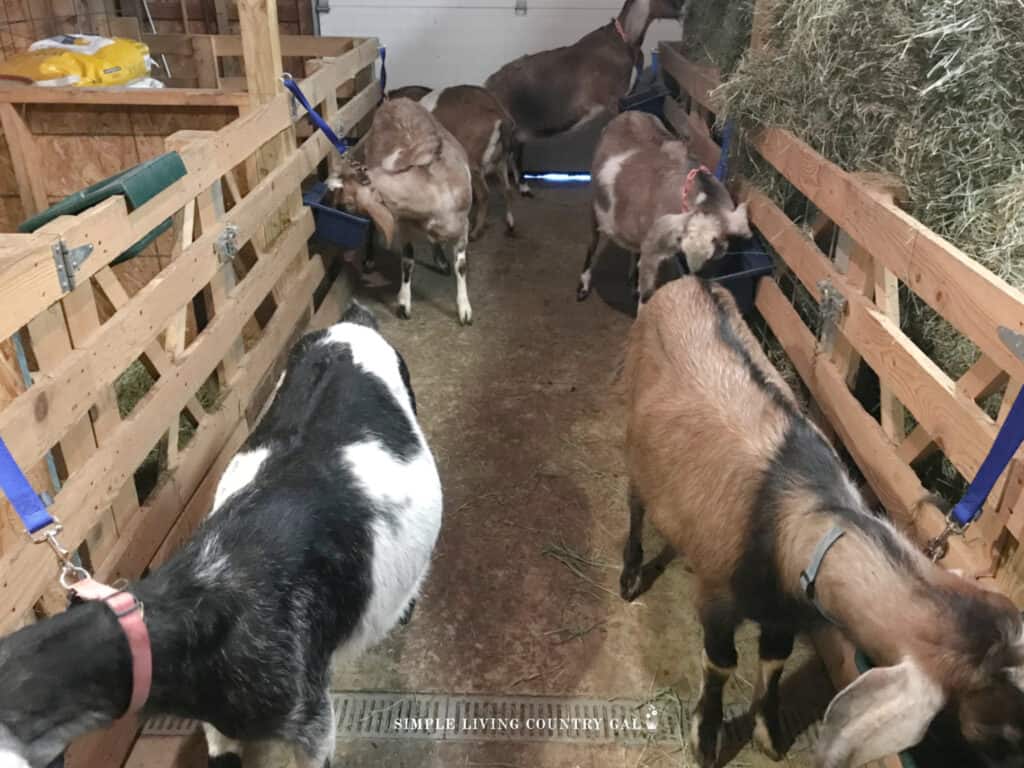 To safely raise animals it is good to have them trained to do what you want when you want it. Does it work all the time? No. But it does work enough that investing time in training your own goats is time well spent.
It is so important to remember with goats that patience (and food) is the key to a trusting and loving relationship. Follow these tips and you too can easily train your goats.