Winter Duck Care – How to Raise Healthy Ducks in the Winter
If you are looking for tips on winter duck care, this article will help. Get tips on caring for your ducks even in the cold of winter so they thrive all season long. One of the benefits of backyard chickens and ducks are those amazing eggs so let's make sure you are getting the most you can!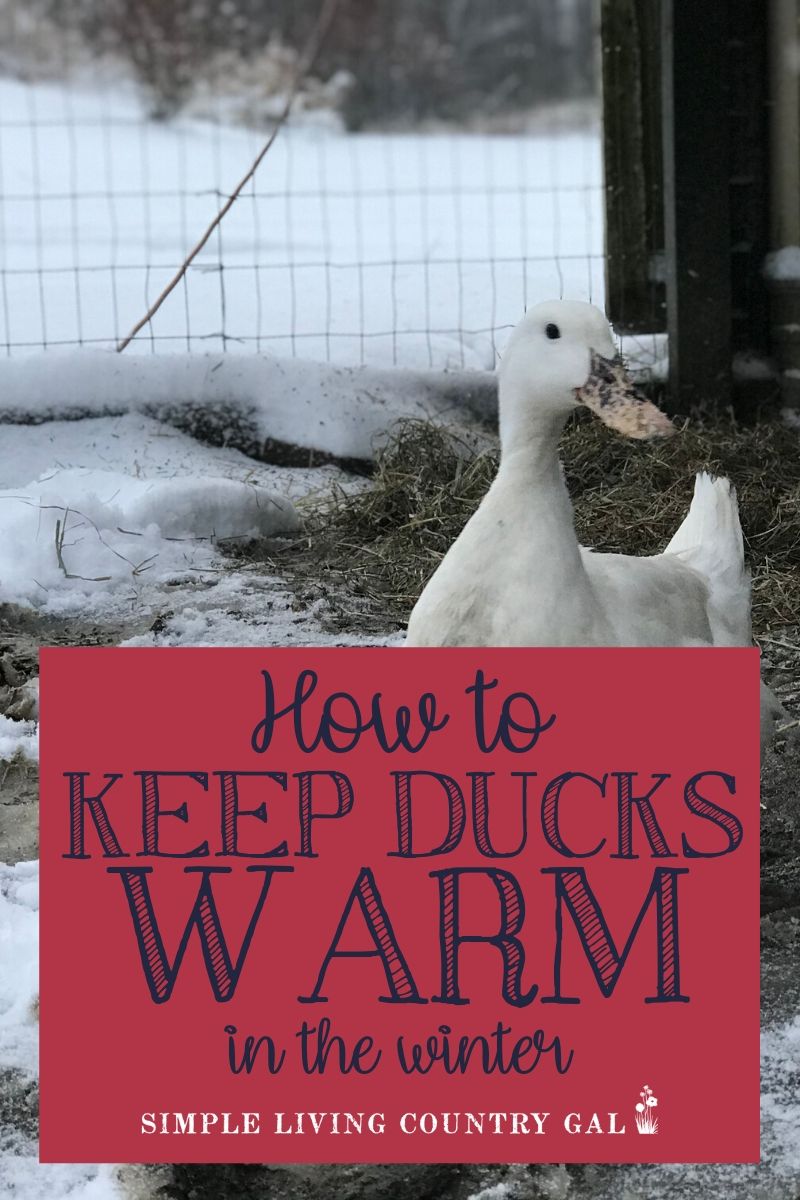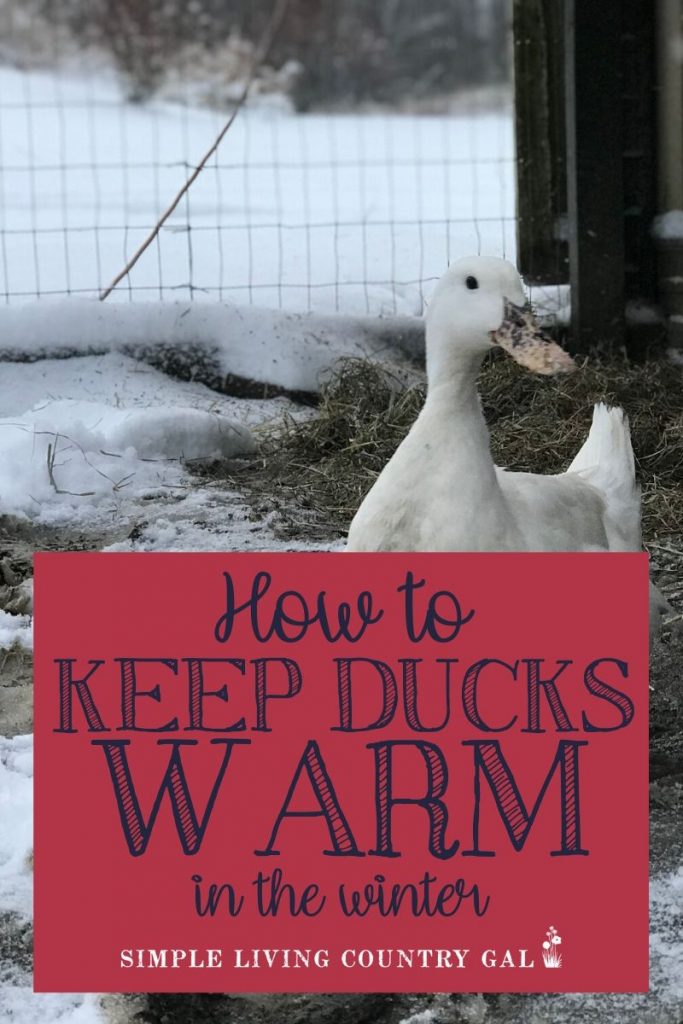 Ducks can be challenging to care for in the winter. When I allowed mine to free-range, I could never get them to go inside of the chicken coop for warmth, shelter, and security. And even though they much preferred to be outside no matter hold cold the temperatures were, they did really well.
This time around, however, we're doing something a little different. Because compared to chickens, winter duck care is a little bit of a different ball game.
If you can free-range your ducks during the warmer months, I would suggest it. Doing so really cuts down on food costs so much as they are able to scurry around the property foraging for food, eating weeds, pests, and bugs.
We actually saw fewer bugs and pests in our vegetable garden last year because we had a few free-range ducks on the property!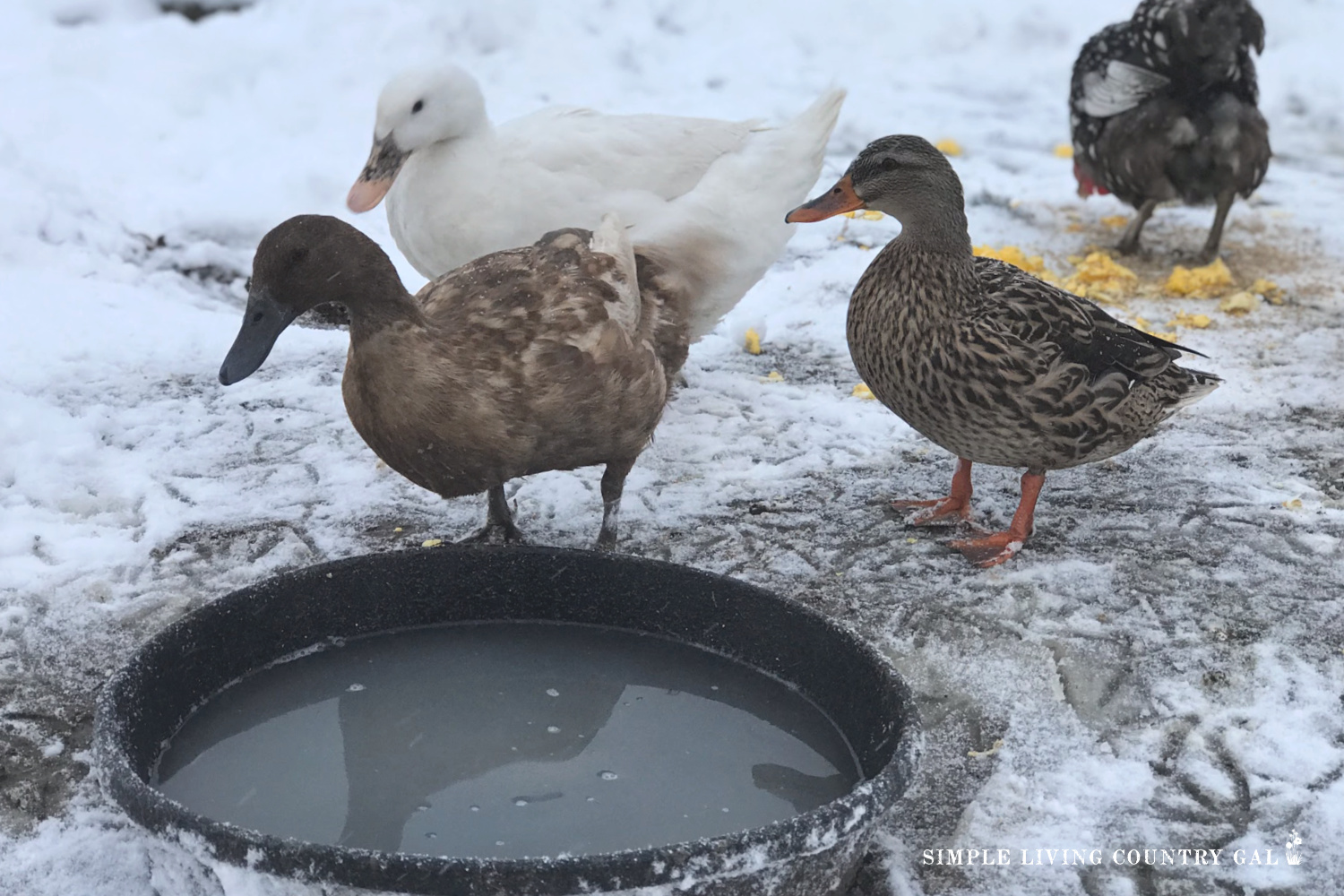 This guest post is by Shawna a fellow homesteader and duck expert! Find out more about Shawna below.
A Winter Duck Care Checklist: How to Keep Your Ducks Healthy in the Winter
Some people are surprised that our ducks stayed on the property when we free-ranged them. Any time we got a new duck, they were confined to a small run for about a week until they knew it was their home. As long as they know that your land is "home", they won't leave.
In the winter, however, you may need different accommodations for them. We actually clipped our ducks' wings when we moved them into their winter pen, just so they wouldn't fly over the 4 foot high walls.
Here are some other considerations for winter duck care.
Winter Duck Care: Duck Housing
Your winter duck house should have at least 2 square feet of room per duck. If you keep the house a bit on the small size (but not less than the recommended 2 square feet), the ducks will be able to warm it with their body heat.
Ventilation
Ideally, your winter duck house should have four sides and a roof, with a small doorway for them to go in and out of. It doesn't need windows, but some kind of ventilation is very important for ducks.
Ventilation should be small holes or slats in the duck house, up near the top. This not only prevents drafts but also allows for the air to circulate and prevent condensation. Ducks emit lots of moisture from just breathing, and if there is not enough ventilation, this can lead to frostbite.
It is also helpful for cleaning purposes to be able to lift the roof up or remove a wall. For a small house, you could put a couple of hinges on the roof or on a wall, and not have those stationary.
This is good for gathering those yummy eggs, too!
Another option for a winter duck house is an old shed or goat shelter. If possible, I would suggest temporarily blocking off part of the large entrance (like a door) and putting a small opening at the bottom for them to go in and out. The concept is like a house door with a doggie door at the bottom.
Our new winter duck house is an old three-sided shelter that we have used as a goat shelter, a calf shelter, and lastly, a pig shelter. We will be enclosing more of the fourth side very soon. It has lots of bedding on the sandy dirt floor, and has a pretty large run area enclosed with pallets.
Insulation and Artificial Heat
Winter duck houses typically don't need to be insulated, unless you frequently experience below-zero temperatures. You can stack bales of straw along the outside walls of the duck house to help hold in the heat.
Ducks can keep themselves pretty warm, with their waterproof feathers and insulating down underneath. But you still want them to be able to get out of the elements and use their own body heat to warm the area.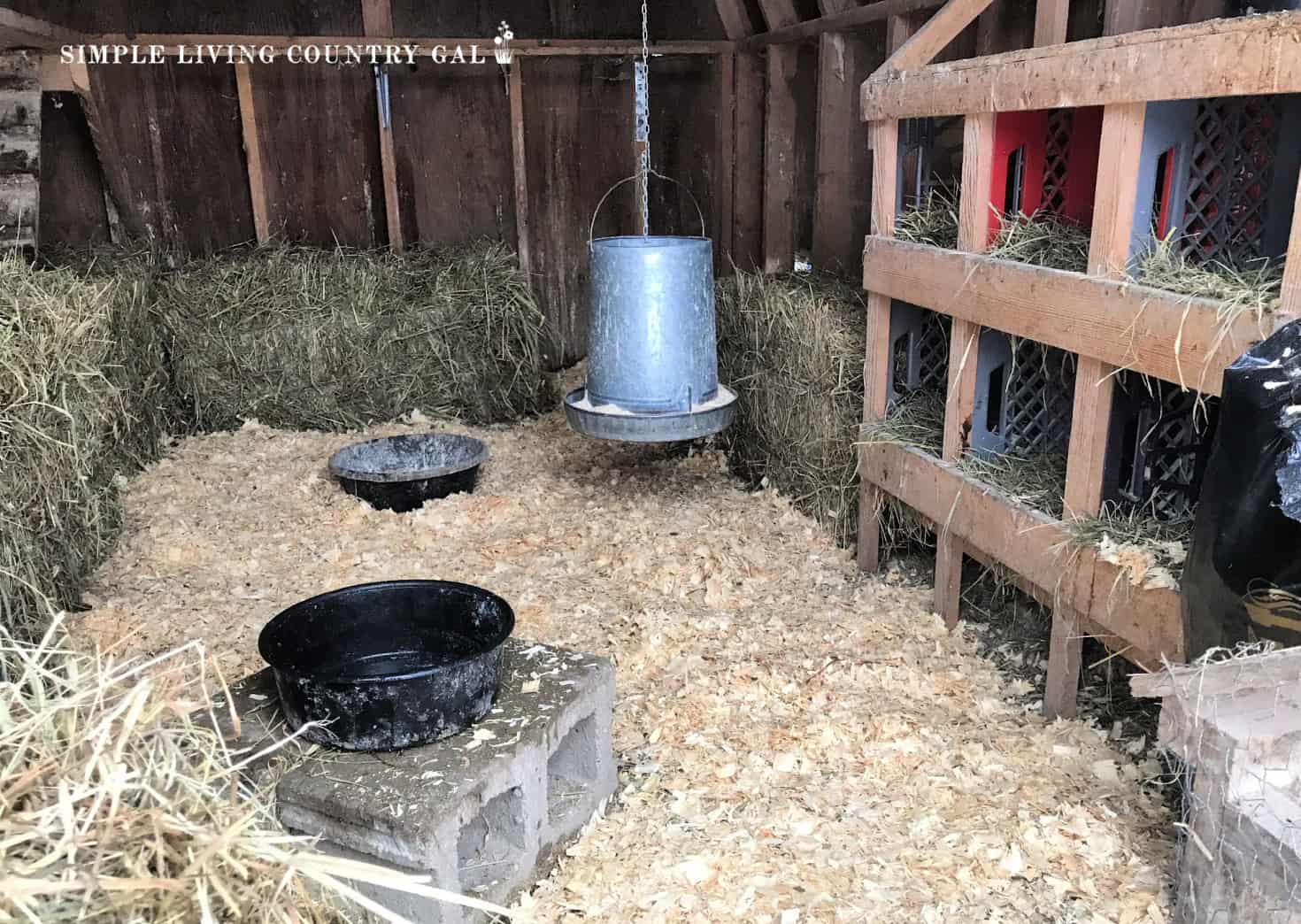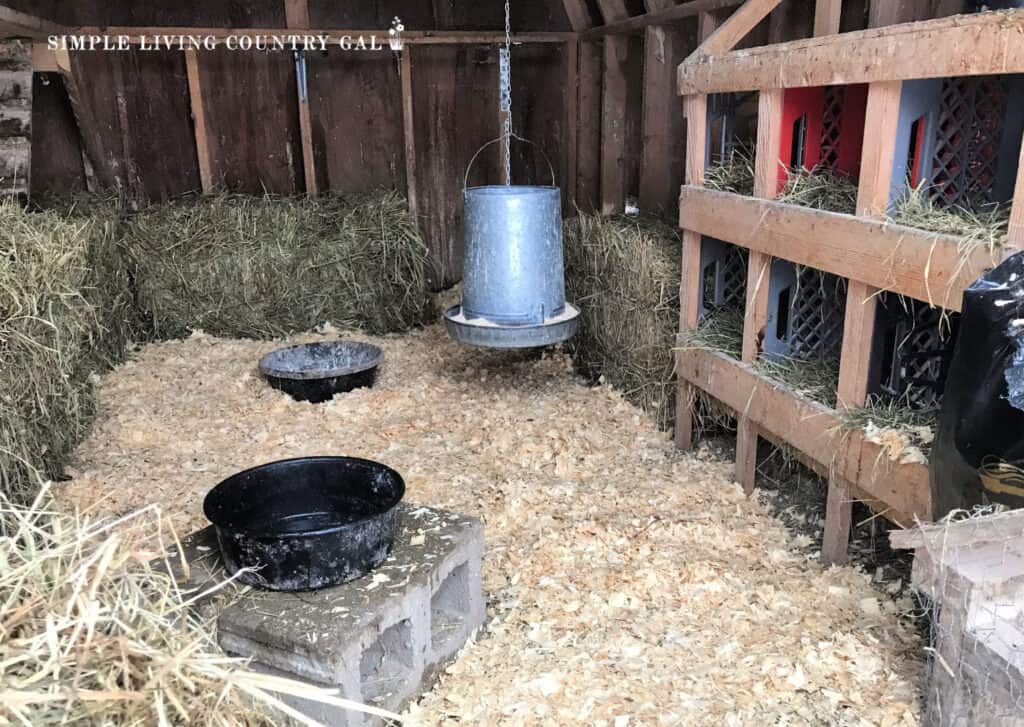 Heat lamps are not necessary, and really shouldn't be used at all. Heat lamps can start fires. The artificial heat also causes the ducks to be dependent on it. If there is a power outage, the sudden change in temperatures could actually cause your ducks to freeze to death.
For your ducks' outside enclosure, or run, it is a good idea to provide windbreaks for winter duck care. You might want to consider putting up plywood or plastic on the side facing the most wind. While ducks don't mind being wet, the wind can cause them to get chilled.
Winter Duck Bedding
Ducks are heavy-bodied and don't roost like chickens. They always sleep on the ground. As you can imagine, sleeping on the ground can get very cold! In the winter, you should provide thick bedding (think deep litter) for them to snuggle in.
I suggest using straw in the winter duck house. If you are putting the bedding over concrete or rocks, you can also use the bigger flake-style wood shavings as a softer base under the straw. If it's just dirt or wood, you're okay to just use straw. Straw is good for duck bedding, as it is hollow and traps air inside it. It also composts pretty easily, so in the spring you can clean it out and throw it in the compost pile.
I like to add more bedding at least once a month. Our new winter duck house is pretty big, so I'll be adding a full bale of straw each time I refresh the coop. The straw will get compacted and a little messy, so I plan on doing like I do with my chickens in the winter. At least once a month (sometimes more often), I use a pitchfork or shovel to turn over the existing bedding and add more on top.
Winter Duck Care: Winter Feeding for Ducks
I usually don't change my duck's diet in the winter. They just get regular chicken layer feed. Some people find that their ducks need more niacin than what's in layer feed, although I haven't had a problem with it. If they do seem to have some nutritional deficiencies, you can add brewer's yeast to the layer feed.
If you find your ducks seem cold, it can be very beneficial to add more fatty and nutrient-rich foods to their diet. Cracked corn is good to feed them when it's cold, as it takes longer to digest so it can help them warm up. Millet, milo, peanuts, and black oil sunflower seeds are also good choices.
Some people go so far as to give their ducks warm, cooked oatmeal when it's cold. So spoiled! Ducks seem to really appreciate that, but it doesn't do much other than give them some immediate warmth. Oats are more of a filler and don't have a lot of nutritional value for them.
Watering Your Ducks in the Winter
Keeping a clean, unfrozen water supply for your ducks is arguably one of the biggest challenges of winter duck care. Ducks are notorious for messing up any water you put out for them. Since they are waterfowl, water is extremely important for ducks.
Ducks need plenty of water, especially when they are eating. Water is a very important part of their digestion process. A duck will usually fill up his beak with food, then use water to help wash it down. Ducks can actually choke to death on their feed if they don't have water close by while they are eating.
In order to properly digest their food and keep their nostrils free of feed dust, they need to be able to dunk their head in their water. This poses a problem with most chicken-style waterers.
Ducks don't need water at night, as long as they don't have food available. You also don't want to put their waterers in the duck house. They will just play in it and get all of their bedding wet. Keep the waterers outside to prevent excessive moisture in their house.
Waterer Options
I find one of the cheapest, easiest watering options for winter duck care (and most other times, as well) is a small black rubber feed bucket. The black rubber helps hold in some of the sun's heat, and when the water freezes, it's easy to just flex the bucket slightly and dump the ice out. This may not be the best option in extreme cold, though.
Make sure the bucket isn't very big, so it will deter the ducks from trying to swim in it. I find that when ducks swim in the winter, it can cause them to chill very quickly. So I try to deter them from swimming.
Another great option for your duck water for winter duck care, if you have power available, is a heated dog bowl. These will keep the water unfrozen, and even slightly warm. Your ducks will appreciate that!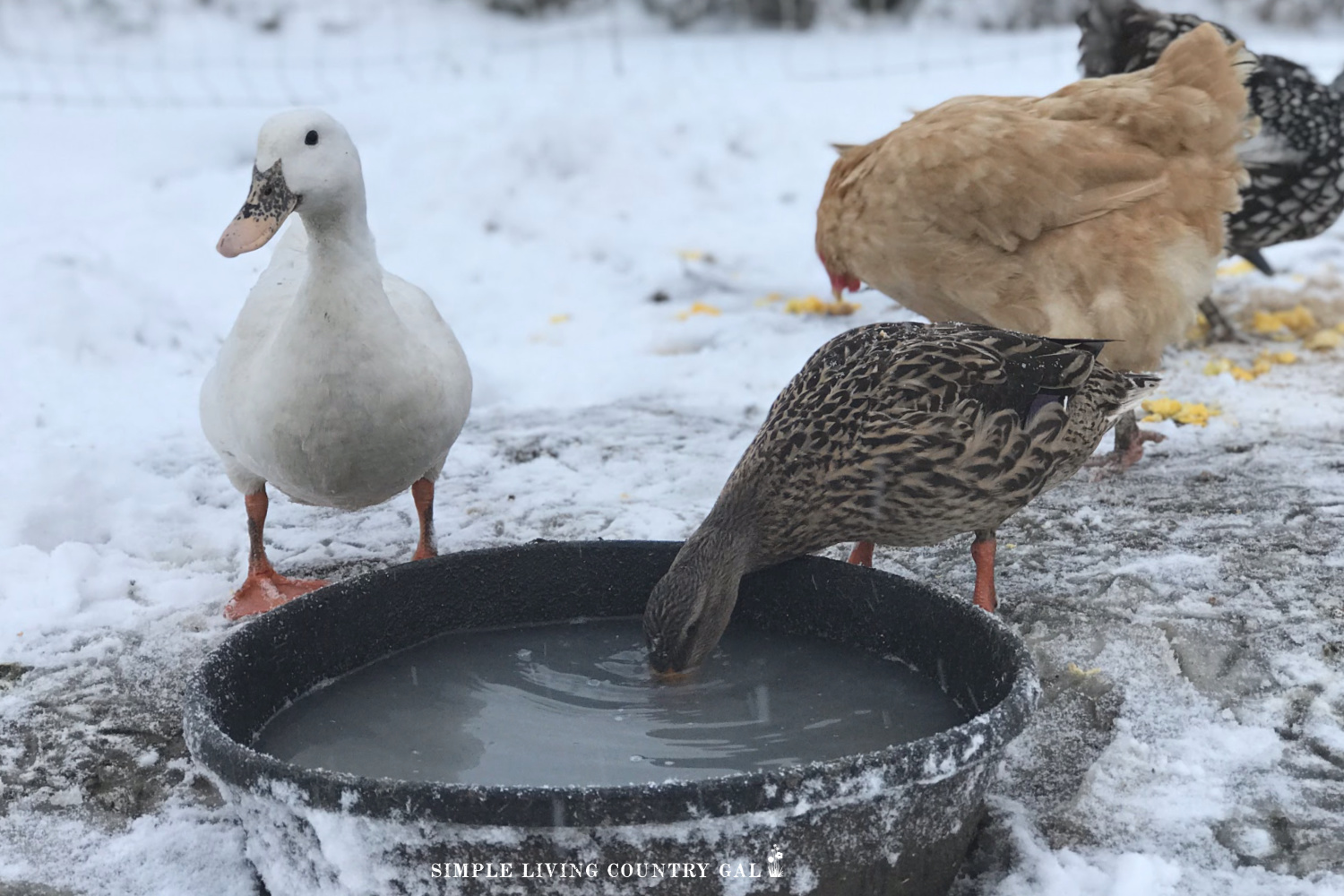 Do ducks need a pond in winter?
Ducks certainly appreciate a pond all year, but it's not absolutely necessary. I have kept my ducks quite happy with a small kiddie pool filled with water during the warmer months. In the wintertime, however, this can cause more harm than good.
Although ducks are very hardy, they can suffer from frostbite, or even freeze to death. If they are in the water a lot when it's bitter cold, it can be too much for their bodies to warm up.
Some people like to provide their ducks with a shallow bucket or something similar with warm water for their ducks to play in during the winter. And while the ducks probably love this, I don't believe this is a good idea for the most part.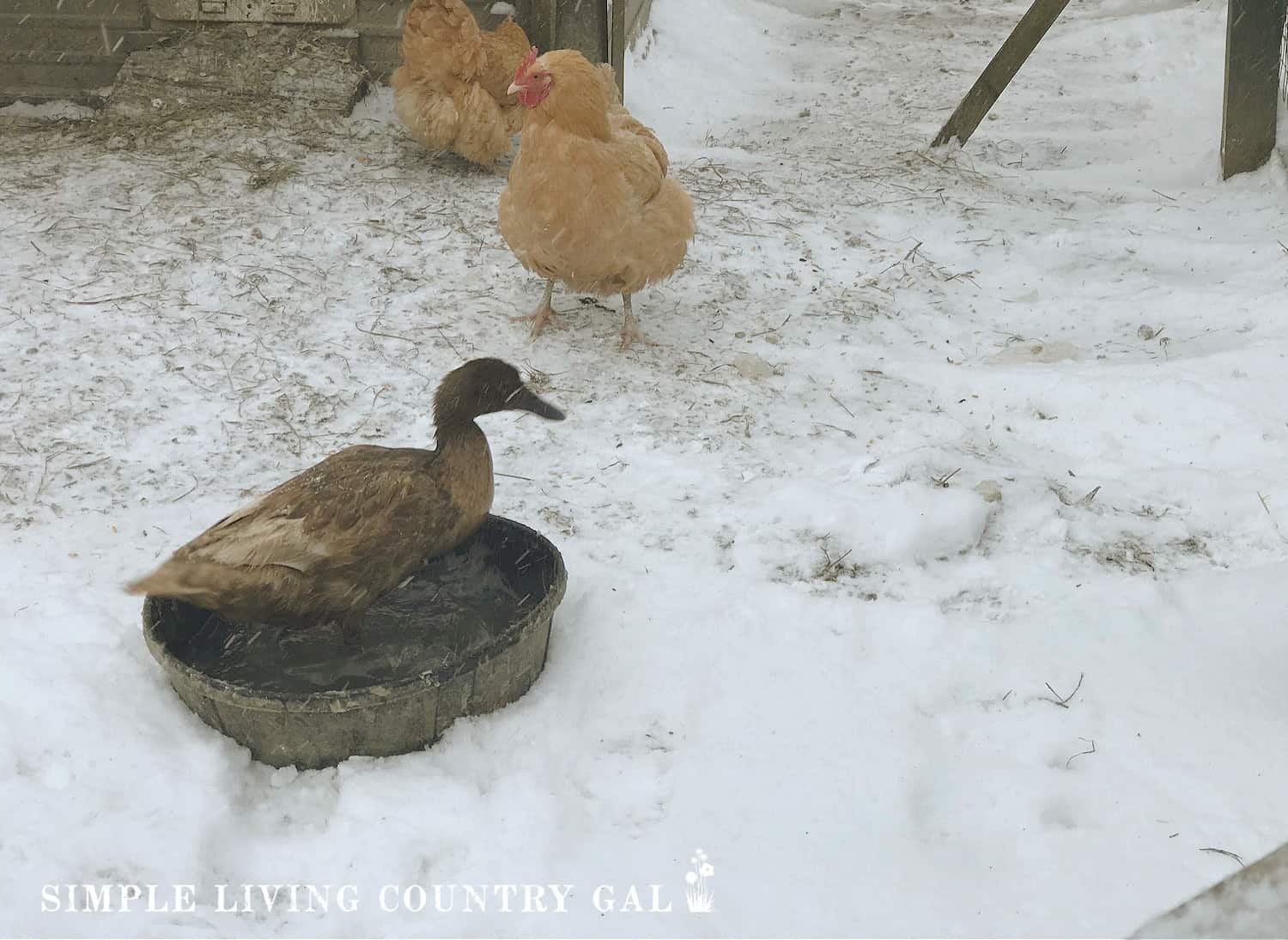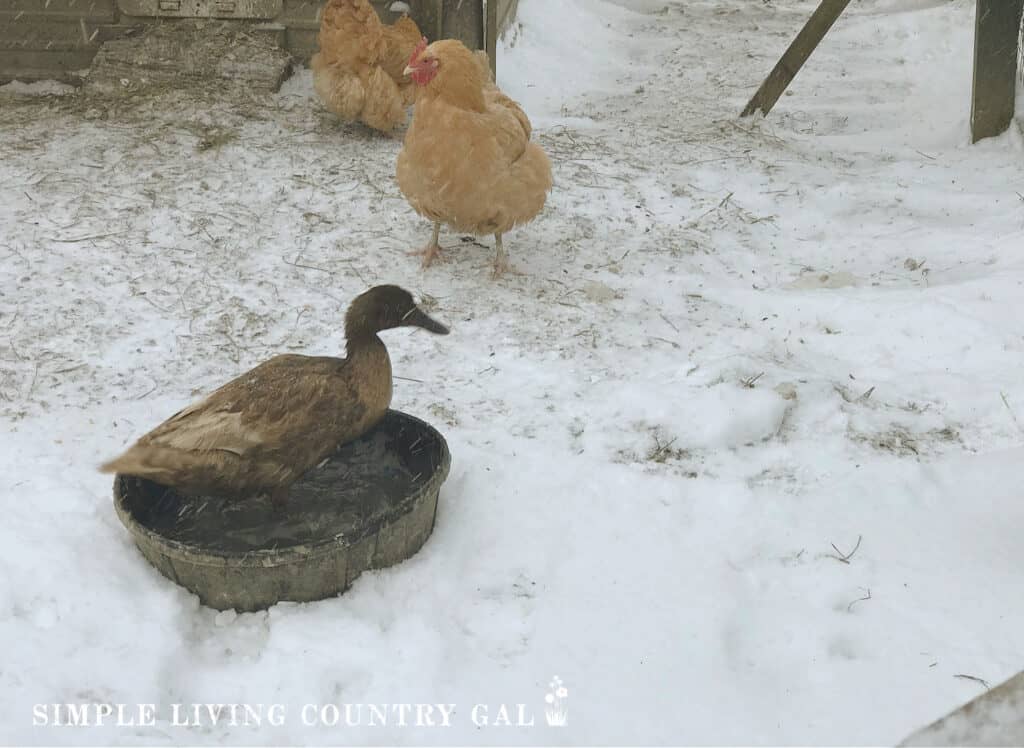 While ducks' feathers are pretty water-resistant, they can get too saturated if they are allowed to swim. In the winter, when it's bitter cold, that can cause them to get chilled and not be able to warm themselves up properly. We have even lost a few ducklings during cool spring evenings from them getting too wet and not being able to get warm.
If you do choose to let your ducks bathe occasionally (which they will surely appreciate!), do so on a warmer, sunny day so they can dry off better before getting chilled.
Preventing Frostbite in Ducks
Because ducks love to swim and play in water, sometimes they can be susceptible to frostbite in the winter. Most animals, if kept in cold water for extended amounts of time, would freeze to death. Ducks, however, are pretty cold-hardy animals.
Ducks have a thick covering of down, under their feathers. And they don't have a lot of exposed skin, such as wattles or combs, like chickens do. The only real vulnerable spot for frostbite is on the ducks' feet.
Frostbite in ducks is pretty uncommon. A duck's blood flows through its body in what is called a "countercurrent". Since ducks are well adapted to thrive in cold conditions, their veins and arteries are set very closely together. The veins, which bring the colder blood from the outer extremities toward the heart, are warmed by the warmer blood in the arteries being pumped from the heart.
To lessen the risk of frostbite in your ducks, you should try to limit their swimming to warmer, sunny days. Make sure they have lots of bedding to get them up off the cold, frozen ground. A lot of people put a layer of vaseline or bag balm on their ducks' feet to help prevent frostbite. I haven't done this, but I've heard it can be pretty effective, especially when it's extremely cold.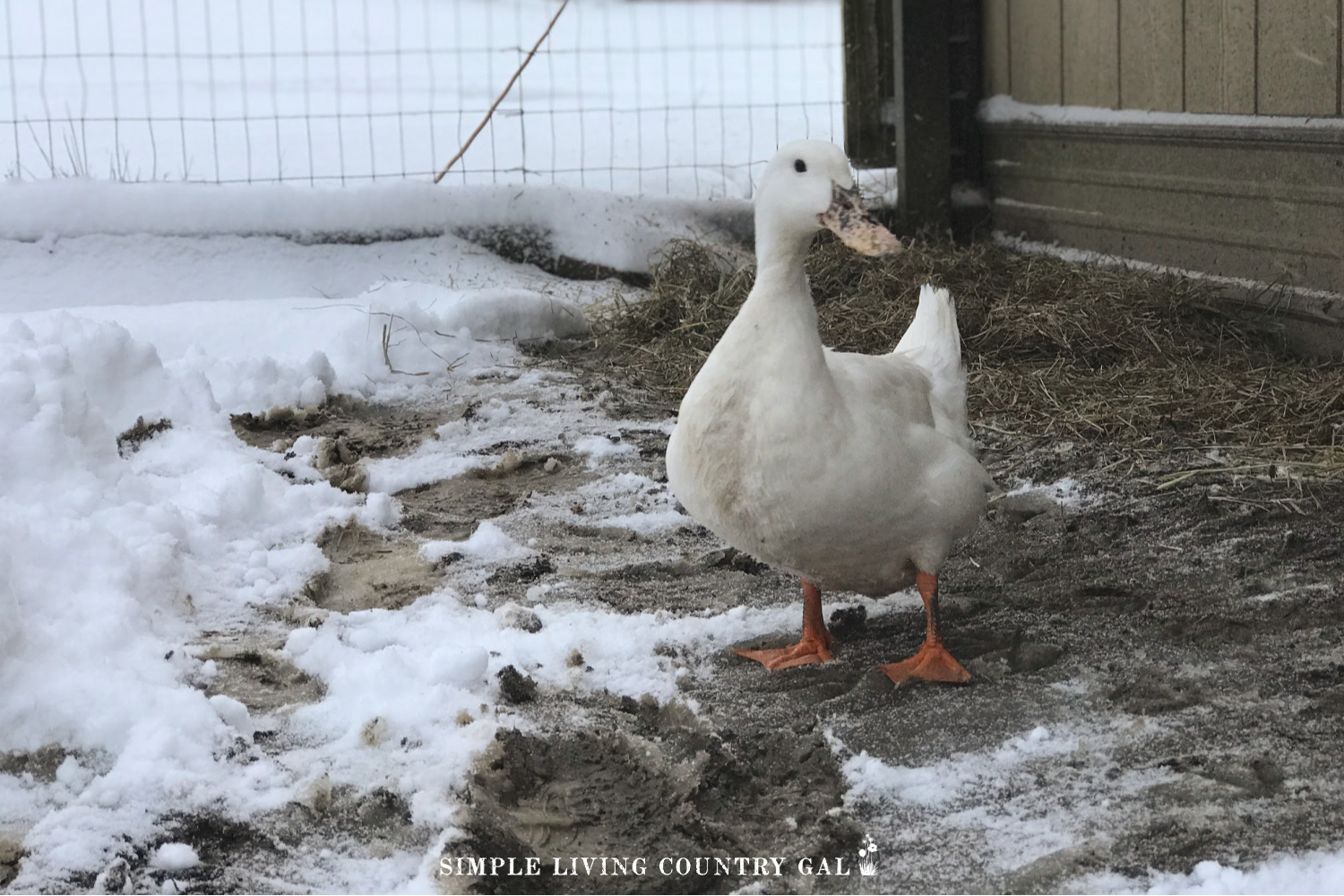 Treating Frostbite in Ducks
If a duck does get frostbite, its feet will appear red and will feel very warm to the touch. It won't be able to use its feet properly and may be limping around or not even walking. You should bring the duck inside and get it warmed up slowly. It's also a good idea to put him in a lukewarm bath.
After you get your duck warmed up, you should keep him inside for a while, out of the elements. Putting him right back outside can do more harm than good. Aloe vera gel should be applied liberally to the area. This will help heal the skin. After the skin is on its way to healing, you can also put antibacterial salve on it to avoid infection.
Ducks are very adaptable creatures and are arguably the best poultry to keep if you live in a very cold climate. Winter duck care just takes a little bit of preparation to do so successfully. Let us know in the comments – do you have any other tips for winter duck care?
Have you had successes or failures on caring for ducks in the winter? We'd love to hear about it!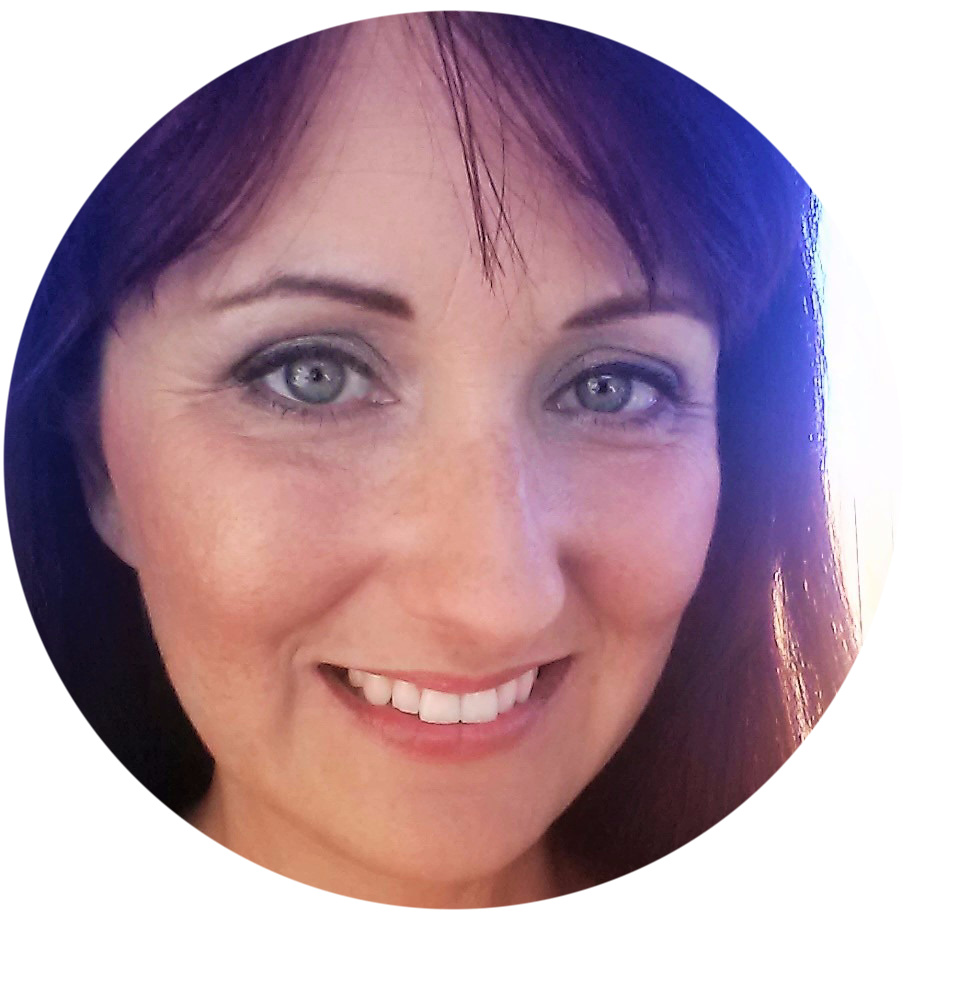 Hi! I'm Shawna! I write over at Homegrown Self Reliance where I share my journey to my own self-reliance. I am not an expert. I'm just a normal everyday lady who wants to be prepared for whatever life throws at me. My husband and I and our beautiful family are currently renting a 3.8-acre farm, complete with lots of dogs, chickens, calves, and goats. I was raised a bit of a city girl, by a mom who was raised during the Great Depression. The hubby was raised on a farm and knows everything (or at least he thinks he does!). I have always been country at heart and am loving the peace that the farm brings me. Please follow along and join me (along with my 20,000 Pinterest followers!) in my quest for self-sufficiency!
More Coop Resources: