Christmas can be a little tricky when you are surrounded by men like I am. Especially when it comes to stocking stuffer gift ideas but luckily this post will give you plenty of gift ideas for men.
Since I have first done this list, it has grown…big time. Some (quite a few actually) of these gifts will not fit in a stocking. So under the tree some of these babies may have to go!
I have 4 grown sons, 2 brothers, 3 brothers in law, 4 nephews, and Hubs to buy for every year. So I think I have just a little experience shopping for the guys. I know how hard it can be to come up with gift ideas especially small ones for in the stockings.
Make sure you download your FREE gift list printable to help you keep track of all your holiday gifts this year! You can find your free printable at the end of this awesome sauce list!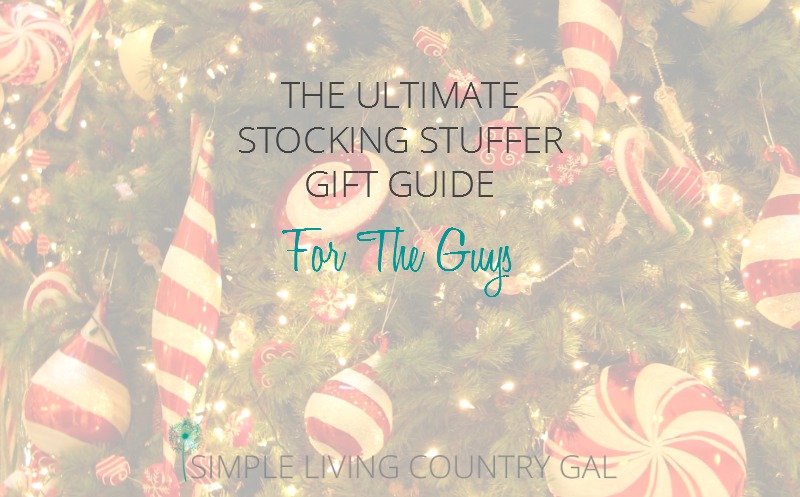 This list is pretty large so I tried to make it easier to read by sorting into categories. These are all things I have purchased at one time or another for my crew and I hope this will get those creative gift-giving juices flowing!
The trick to stocking stuffers is to find things that are just for the recipient.
No matter how mundane the gift, if it is something they use they will be grateful to find it in their stocking.
My grown boys still love the fact that I wrap their favorite hair wax and they panic if they do not find fingernails clippers tucked into the toe. I am not sure why this is such a hot commodity in our home, but it is none the less.
The Ultimate Gift Ideas For Men
Personal Items:
Nail clippers (haha, told you!)
Hair products (this is the wax my boys swear by!)
Teeth whitener
Face cream (acne or just regular)
Hand cream

Anti-Monkey Butt

(it's a guy thing I guess!)
Foot care products (for some reason my guys love this stuff)
Gift Card for pedicure or manicure (if your guys are into that sort of thing)
Lip care
Teeth whitener
Glasses cleaning kit
Glasses case
Razors
Shaving Cream
Nose hair trimmers (never knew this was a "thing" but apparently is)
For the traveler:
Electric adapter
Phone charger


Fun:
Mini liquor bottles (legal age recipients only please!)
Lottery tickets

Retro toys from my past

(always a hit with my boys)
Hacky sack
Color changing light bulb with a remote (doesn't everyone have one of these??!)
Pajama pants (funny ones of course!)
Magnetic hourglass (actually this was a gift I received last year, but I so love it!)
Office/School:
Whiteout rollers
Binder clips
Paper tabs
Post-its
Picture frame
Rechargeable batteries
Drawer organizer
Highlighters
Gamer:
Headphones
Batteries
Gaming Magazine subscription
Xbox, PlayStation, Nintendo games
Online gaming subscription
Password keeper
Surge protector
Mousepad
Electronic cleaner
Automotive
Air freshener
Key-chain
Lanyard
Fun license plate frame (okay, so I never actually bought this..but I so want one!)
Sports decal
Sports plate (if you live in a state that only requires rear plates like PA)
Cup holder coaster
Interior lights (these are not the same ones we purchased so I am not sure of the quality)
Car care wipes
Gift Card to a gas station
Gift Card to a car wash
Umbrella
Car catch pockets (these things are so cool, and my boys all love them!)
Car freshener
AAA subscription
Flashlight/help light
Emergency kit
Hobbies (in my case, golf/kayaking/fishing/football/camping)
Golf:
Gift Card to a local golf course
Golf bag beer cooler (yes, they do make these..and yes I have bought one for a gift!)
Golf gloves
Kayaking:
Map showing all rivers and lakes to kayak on
Suntan lotion
Kayaking Magazine (yes there is one and my oldest son just loved it!)
Cell phone waterproof bag
Bug spray (DEET free)
Bandana
Fishing:
Pocket Knife
Fishing magazine
License case
Football:
Team T-shirt
Team baseball hat
Vanity plate team
Sports Illustrated subscription
Camping:
First aid kit
Pocket knife (do not purchase for children)
Subscription to Camping magazine
Bungee cords
Zip ties
Clothing:
Socks
Shoe-strings
Winter gloves, hat, scarf
Sunglasses
Baseball hat
Leather cuff bracelet
Wallet
Working out:
Protein bars
Protein shakes
Jump rope
Subscription to a weightlifting magazine
For the Skier or Snowboarder:
Winter hat
Insulated socks
Insulated bandana
Gloves
Glove liners
Helmet Stickers
Ski/Snowboarding pass
Wax
Goggles
Misc Sports (as a player)
Sports bag (or what I like to call a man purse!)
Water bottle
Sweat towel
Sneaker deodorizers
128.Sports socks
129.Wristbands
Household care:
Dusting wipes for furniture
Dusting wipes for electronics
Clorox wipes for everything else
Tide stick

Dish scrubber

(I just love this one!)
Air freshener
A flame-less candle that actually smells! How cool is that?
Laundromat supplies:
Rolls of quarters
Mini detergent and fabric softener
Cell Phone:
Phone charger
Earbuds
Screen cleaner
Itunes gift card
Just for fun:
Bubble drop timer
Retro Star Wars night light
Hacky Sack
Yo-yo
Juggling balls
Magic cards
Food items
Cereal marshmallows (my kids expect this gift every single year, a bit hit!)
Gum
Mints
Beef Jerky
Chips
Coffee Mug filled with flavored creamers
In the Kitchen
Flavored oils (let me just say I LOVE garlic oil!!)
Scrub wand
Misc utensils
Measuring cups
Cheese grater
Cutting board
Unique food seasonings
Hot Hot sauce
Cooking conversion Magnet
Bacon skillet (this is a gift for this year…shhhh, don't tell anyone!)
Pepper grinder
Salt grinder
Good knife and sharpener
Miscellanious
Change dish
Lint remover
Clip on watch
Shower curtain with clips
Drink koozies
Picture hanging kit
Tape measure
Fun colored duct tape
Funny t-shirts
I hope these gift ideas for men ultimate list helps you to remove just some of the stress of gift buying this holiday season.