The Ultimate Gift List for Young Men and Teens
Get ready for the ultimate gift ideas for young Men—a list of gifts my own men would love to get this holiday. Finding the perfect gift can be tricky, so I hope this list helps you do just that.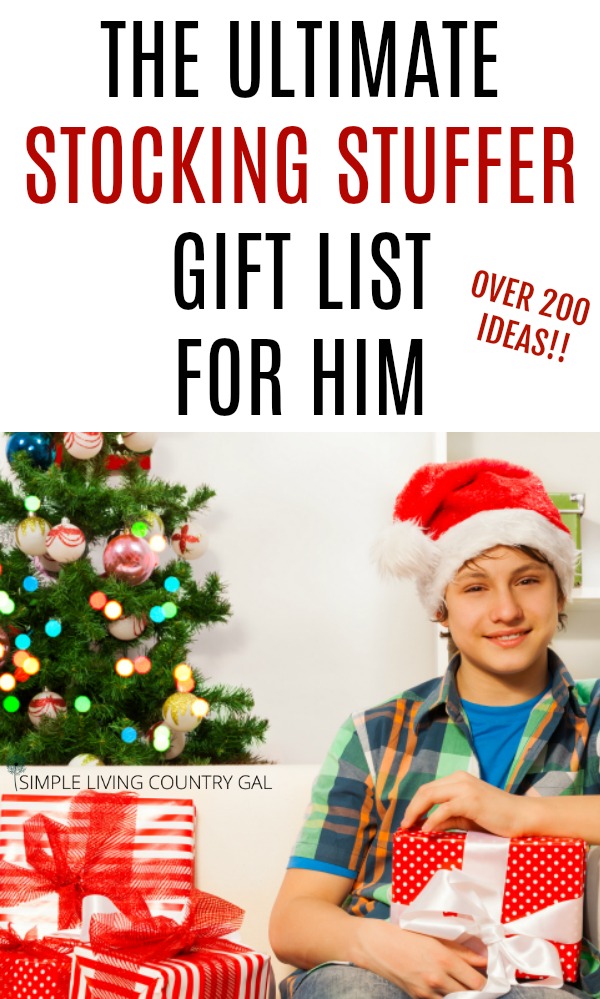 Christmas can be a little tricky when you are surrounded by men like I am. Especially when it comes to stocking stuffer gift ideas, luckily, this post will give you plenty of gift ideas for men.
Since I first made this list, it has grown…big time. Some (quite a few, actually) of these gifts will not fit in a stocking. So, under the tree, some of these babies may have to go!
I have four grown sons, two brothers, three brothers-in-law, four nephews, two Grand Nuggets, and a picky husband to buy for every year. So I think I have just a little experience shopping for guys. I know how hard it can be to come up with gift ideas, especially small ones, for in the stockings.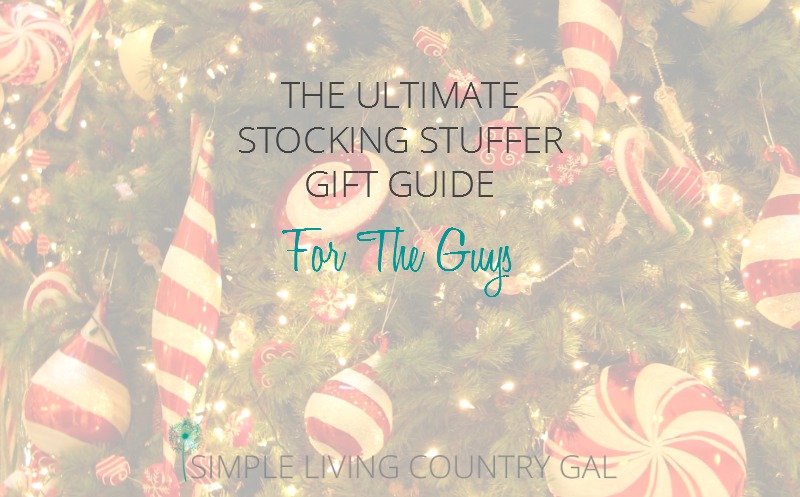 This list is pretty large, so I tried to make it easier to read by sorting it into categories. These are all things I have purchased at one time or another for my crew, and I hope this will get those creative gift-giving juices flowing!
The trick to stocking stuffers is to find things that are just for the recipient. No matter how mundane the gift, if it is something they use, they will be grateful to find it in their stocking.
The Ultimate Gift Ideas For Men
My grown boys still love that I wrap their favorite hair wax, and they panic if they do not find fingernail clippers tucked into the toe. I am not sure why this is such a hot commodity in our home, but it is, nonetheless.
Personal Items:
Personal items are easier to give to a family member, especially if you know what they like. When in doubt, giving basic items in this area is a safer way to go. Try asking what items they like to use in the spring or summer and keep that list tucked away for the next holiday season.
Nail clippers
Hair products
Teeth whitener
Face cream
Hand cream
Anti Monkey Butt (it's a guy thing, I guess!)
Foot care products (for some reason, my guys love this stuff)
Gift Card for pedicure or manicure (if your guys are into that sort of thing)
Lip care
Glasses cleaning kit
Glasses case
For the traveler:
Having items that help to make traveling more comfortable is a great gift idea and with so many new gadgets there are always fun things to find.
Passport folder (I bought this for one of my sons last year, and it was a huge hit!)
Fun:
I like to tuck a silly gift or two in the toe of the stocking to give them something to laugh at once they have gone through everything else inside.
Office/School:
Office supplies are one of those types of gifts that everyone needs and most actually enjoy receiving as gifts.
Whiteout rollers
Binder clips
Post-its
Picture frame
Rechargeable batteries
Highlighters
Gamer:
If you have a gamer to buy for, there are all kinds of great gift ideas to consider. You can think outside of the box and look for things to give comfort when sitting and gaming. Things for their chair, the floor, their wrists, and even lighting.
Headphones
Batteries
Gaming Magazine subscription
Xbox, PlayStation, and Nintendo games
Online gaming subscription
Surge protector
Mousepad
Electronic cleaner
Automotive:
Gifts for travel and car cleaning, organizing, and upkeep are all great ideas to consider as gifts.
Sports decal
Sports plate (if you live in a state that only requires rear plates like PA)
Interior lights (these are not the same ones we purchased, so I am not sure of the quality)
Car care wipes
Gift Card to a gas station
Gift Card to a car wash
Car catch pockets (these things are so cool, and my boys all love them!)
Car freshener
AAA subscription
Flashlight/help light
Hobbies and Pastimes:
This section has loads of ideas for sports, hobbies, and other things guys enjoy doing in their free time.
Golf:
Everyone in our family loves to golf, and that means we have a large list for anyone who loves it, too.
Gift Card to a local golf course
Kayaking:
These gifts will work for kayaking, canoeing, and other water sports.
Map showing all rivers and lakes to kayak on
Suntan lotion
Kayaking Magazine (yes, there is one, and my oldest son just loved it!)
Fishing:
There are so many options to give as gifts for the fisherman and they will be so touched to see a gift given to them for a sport they enjoy doing.
Pocket Knife
Fishing magazine
Football:
Whether you give a gifts for watching sports or playing, this list of ideas is sure to have a few options that work.
Sports Illustrated subscription
Camping:
We love to camp and there are so many ideas to give as gifts. This includes tent camping, cabins, RV's, and campers.
First aid kit
Pocket knife (do not purchase for children)
Subscription to Camping magazine
Clothing:
I find giving clothes a tricky topic, and I tend to stick to more neutral ideas here. This way I am not forcing my style onto the recipient.
Working out:
I just love how many new items are coming out for folks that enjoy working out. From weights, to yoga, calisthenics, running, biking, and more
Protein bars
Protein shakes
Subscription to a weightlifting magazine
For the Skier or Snowboarder:
Winter is the perfect time to give gifts for winter sports. When in doubt, a gift card for food to their local resort is always a great option.
Gloves
Ski/Snowboarding pass
Misc Sports (as a player)
Sports equipment is another great area for gift ideas. Again, this might be hard to purchase just what your recipient likes but there are a few generic ideas on here that may be a great fit.
Household care:
I love to give these items as gifts because, let's face it, they can be so expensive and the last thing my boys want to spend money on. I also like to look for unique things that will help them to keep their homes neat and organized.
Dusting wipes for furniture
The Pink Stuff – The Miracle Cleaning Paste
Dusting wipes for electronics
Laundromat and laundry supplies:
Even if they have their own washer and dryer where they live or if they live at home, this section may still have a few ideas you want to give.
Rolls of quarters
Mini detergent and fabric softener
Cell Phone:
Yes, this list is short, but I still wanted to include a few of these gift ideas for men.
Just for fun:
Oh yes, fun…my favorite list so far! I love to give gifts that make people laugh and smile so I spent a bit more time in this area.
Food items
Always a hit in our home if food. Especially if I can find fun and unique ideas to give, another hit with my boys the older they get is homemade sweets.
Cereal marshmallows (my kids expect this gift every year, a big hit!)
Homemade cookies, granola bars, fudge, or candy
Chips
Coffee Mug filled with flavored creamers
In the Kitchen
The older my boys get, the more they love getting kitchen items in their stockings and as gifts. Oh, and they are so much fun to buy too!
Bacon skillet (this is a gift for this year…shhh, don't tell anyone!)
Pepper grinder
Salt grinder
Miscellaneous
Rounding out this list are random items that really do not belong anywhere else so they now have a list all their own.
Shower curtain with clips
Picture hanging kit
Fun colored duct tape
Funny t-shirts
Finding the perfect gift for the men in our lives can be a stressful task, but it doesn't have to be. I hope this list of gift ideas for men helps to remove just some of the stress of gift-buying this holiday season.
MORE HOLIDAY RESOURCES: