how to grow cherry tomatoes in pots
I love tomatoes, and nothing says summer more than fresh tomatoes growing in a backyard garden. But not everyone has room for one, and that is probably why you are here. We are going to talk about how to grow cherry tomatoes in pots so you can enjoy them all summer long, no matter where you live.
Gardening 101 tips that you can use in the country, suburbs, or even the city. Growing the vegetables you love in containers right on your back porch.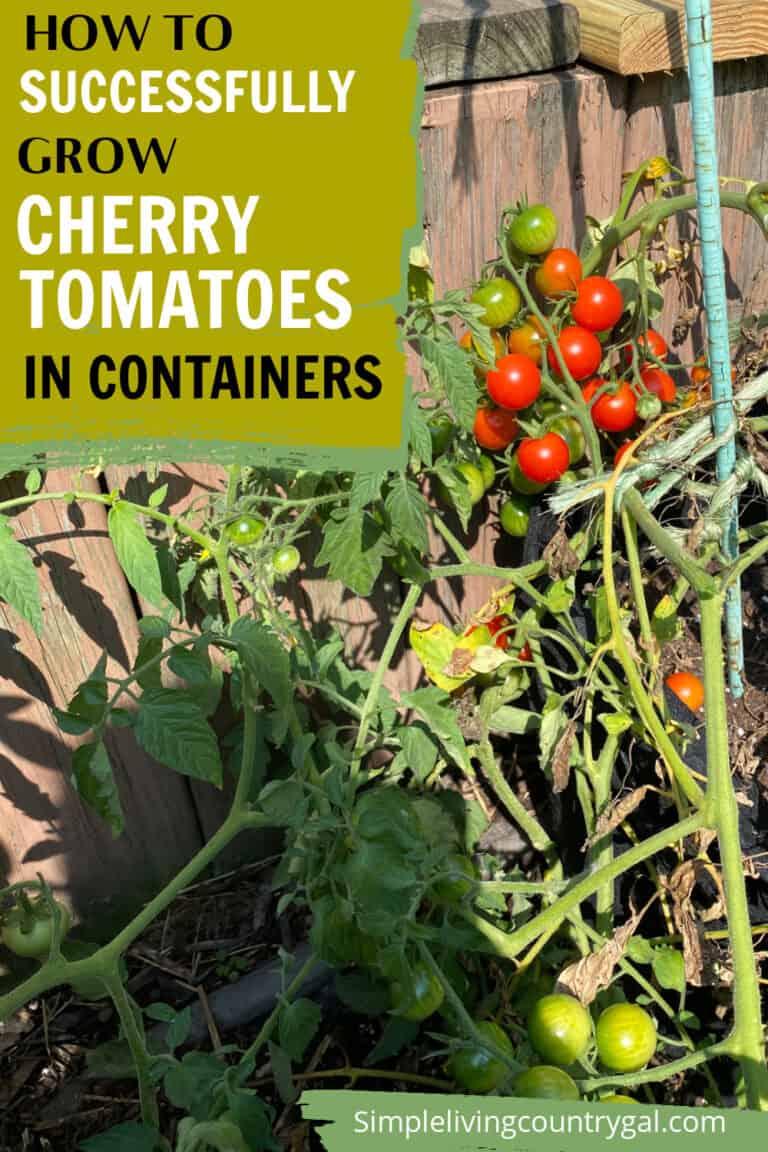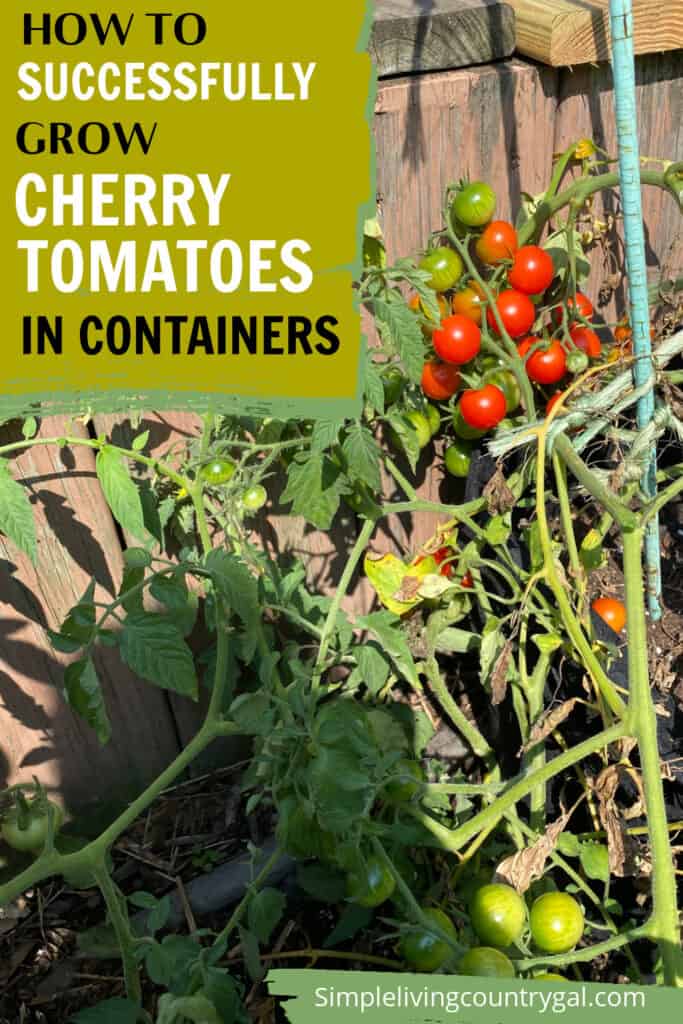 Growing your own cherry tomatoes in pots is a great way to enjoy fresh, homegrown produce no matter where you live. Whether you have a large backyard or just a small patio, container gardening allows you to grow delicious cherry tomatoes right outside your kitchen door. We will break down the basics of growing cherry tomatoes in pots and share some helpful tips for creating a successful container garden.
Benefits of Growing in Containers
One of the biggest benefits of using containers for gardening is the ability to grow without having to till up the soil. Another huge benefit is the ability to grow at a level that can be beneficial to folks with physical limitations such as a bad back or knees. Containers allow you to grow on tables or benches so you can garden in a standing position.
Do cherry tomatoes grow well in pots?
The short answer is yes, cherry tomatoes can grow very well in pots. In fact, they are one of the easiest vegetables to grow in containers. Cherry tomatoes have a shallow root system and do not require a lot of space, making them perfect for growing in small spaces like balconies, patios, or even windowsills. Additionally, growing cherry tomatoes in pots allows for better control over soil quality, water, and fertilization. As long as you have an area that gets at least 6 hours of sun a day, you can grow cherry tomatoes with success.
Choosing the Right Container
The first step in growing cherry tomatoes in pots is choosing the right container. You want a pot that is at least 12-18 inches deep and has drainage holes at the bottom. This will ensure that your plants have enough room to grow and that excess water can drain out. You can use any type of container, a few examples are:
Plastic buckets
Traditional growing pots
Recycled plastic pots from a nursery
Grow bags
JES&MEDIS 12-Pack 5 Gallon Plant Grow Bags Thick Aeration Non Woven Fabric Flower Vegetable Pots with Handles Garden Container Black (5 Gallon_12 Pack)
LotFancy 10 Gallon Grow Bags, 5-Pack, Thickened Nonwoven Aeration Fabric Pots with Reinforced Handles, Heavy Duty Gardening Planter Containers for Vegetables Flowers Fruits, Black
Calipots 10-Pack 5 Gallon Premium Black Plastic Nursery Plant Container Garden Planter Pots (5 Gallon)
LiGuVCY Plant Pots Flower Pot 10-Pack 7 Gallon Planter Nursery Pot Garden Seedling Planters Containers Plastic Injection Molded Pots with Drainage Holes for Outdoor Indoor Plants Vegetables, Black
How to Prepare the Container for Growing
Once you have chosen your container, it is important to properly prepare it for planting.
Clean the Container
Start by cleaning the container out using a very small amount of soap and water. Be sure to rinse thoroughly and let it dry in the warm sunshine. The sun is a natural disinfectant, and drying your container this way will ensure you have a fresh and clean space to grow.
Add Drainage
If you have a container without drainage, you will want to add some now. Using a hand drill or a hammer and nail, put a few holes in the bottom of the container. The reason you need drainage is to allow any excess water to drip out and keep the roots moist but not soggy. Constant or overly wet soil can cause root rot in your plants.
Fill with Soil
Next, you will want to fill your container with high-quality potting soil. This will provide the necessary nutrients for your plants to thrive and help with drainage. Be sure to leave about an inch of space at the top for watering.
Planting Cherry Tomatoes in Pots
Now that your container is ready, it's time to plant your cherry tomatoes.
Choose the Right Varieties
When selecting cherry tomato varieties, look for ones specifically bred for container gardening. Some great options include:
Sweet 100 – 10 gallon container
Tiny Tim – 3-5 gallon container
Tumbling Tom – 3-5 gallon container
Baxter's Bush Cherry – 5 gallon container
Cherry Falls – 5 gallon container
Planting Depth and Spacing
Plant your seedlings about 2-3 inches deep in your container and cover two-thirds of the tomato stem with soil. This will help to encourage root growth, giving you a healthier plant. Using your hands, gently pack the soil around the roots and water thoroughly after planting.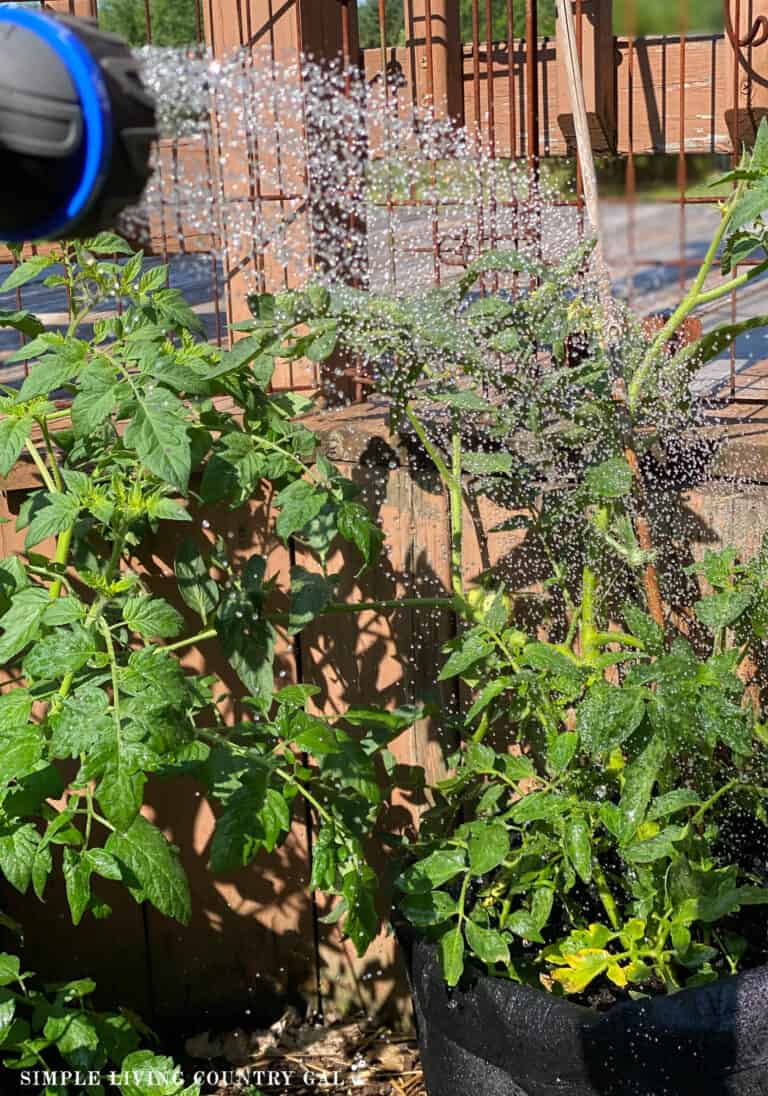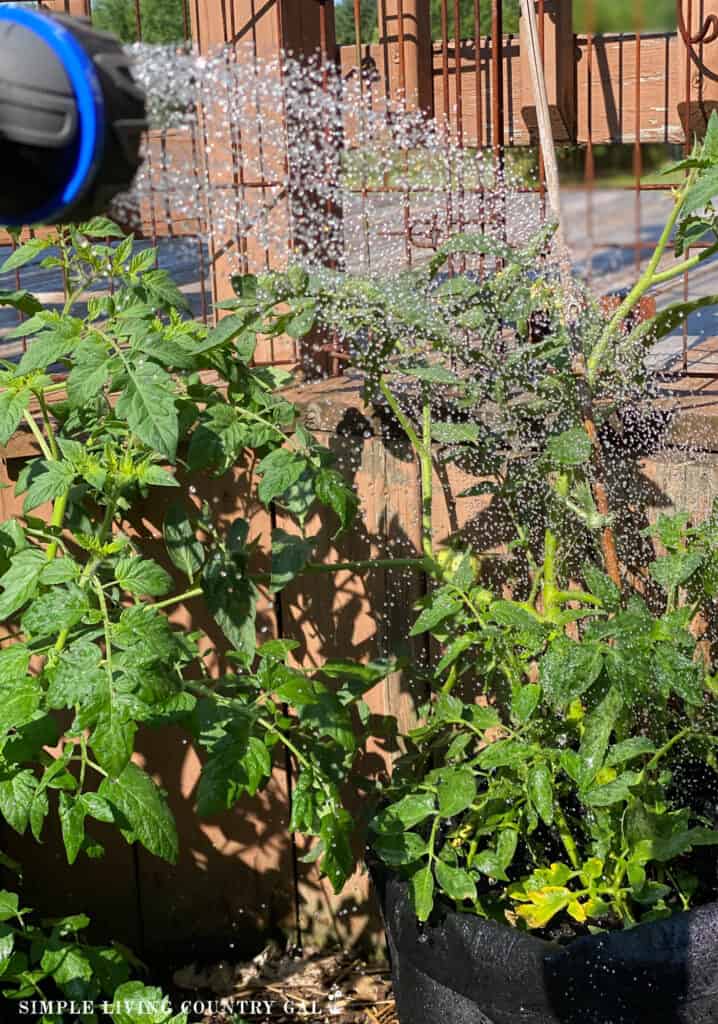 Care and Maintenance
Cherry tomatoes in pots require regular watering and nutrient replenishment. Water when the top inch of soil is dry and fertilize every two weeks with a balanced liquid fertilizer. Keep an eye out for any pests or diseases and address them promptly. Prune off any yellow or diseased leaves to keep your plant healthy.
Support
Tomato plants need support for their vines to grow and produce fruit. You can use a tomato cage or trellis for support, making sure it's sturdy enough to hold the weight of the plant as it grows. It's best to set up your support structure at the time of planting to avoid damaging the roots later on.
Cherry Tomato Support for Containers
We find this setup the best option for supporting plants throughout the growing season. Remember to install the support when you plant your seedlings so they can "grow into" the setup without risk of damage if you choose to do it later on.
Step #1. Put in 3 stakes at the outer edge of the container.
Step #2. Using a flexible mesh fence, make a cylinder shape that is on the outside of the stakes.
Step #3. Use string or zip ties to hold the shape in place, as well as attach it to the three stakes.
Now that you have ample support in place, your tomatoes can grow without risk to the stems or base of the plant.
How much sun do cherry tomatoes need to grow?
Cherry tomatoes are sun-loving plants and require at least 6-8 hours of full sun per day to thrive. In hotter climates, they may benefit from some afternoon shade to prevent damage from intense sunlight. Make sure your container is placed in a spot that receives ample sunlight throughout the day for best results. If you notice your plant leaning towards one direction, you can rotate the container to ensure even sun exposure.
You can use roller carts under the containers so you can more them more easily for more sun exposure or for safety if a severe storm is forecasted.
Harvesting Cherry Tomatoes
Cherry tomatoes are usually ready for harvest around 60-70 days after planting, depending on the variety. They can be harvested when they are fully ripe, with a rich red color and slightly soft to the touch. Gently twist the tomatoes off the vine or use scissors to avoid damaging the plant. It's important to regularly harvest ripe tomatoes as leaving them on the plant for too long can cause them to split or rot.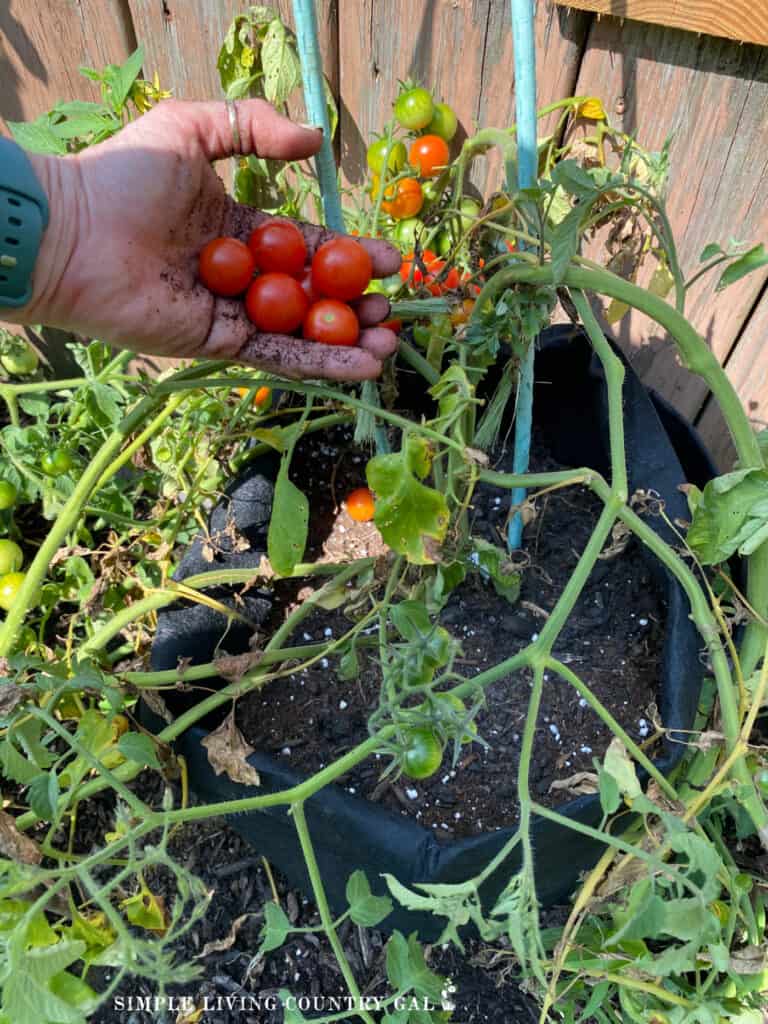 End of Year Clean Up
As the growing season comes to an end, it's important to clean up your containers and prepare them for next year. Remove all remaining plant material from the container and discard in a compost bin or trash. You can also remove any stakes or supports used during the growing season. Clean the container with a mixture of water and mild soap, then rinse thoroughly and let dry before storing it away. This will prevent pests and diseases from overwintering in the container and ensure a fresh start for next year's crop.
Additional Tips for Growing Cherry Tomatoes
Keep the soil consistently moist but not waterlogged. Water deeply every 2-3 days, depending on weather conditions and container drainage.
Fertilize your cherry tomatoes regularly with a balanced fertilizer according to package instructions. Too much nitrogen can result in lush foliage but fewer fruits.
Prune off any suckers (small shoots that grow from the base of leaves) to encourage larger, healthier fruits.
Mulch around the base of the plant to retain moisture and prevent weeds from growing.
Keep an eye out for common pests such as aphids, whiteflies, and tomato hornworms. Handpick them or use organic pest control methods to keep your plants healthy.
If growing cherry tomatoes in a cold climate, consider using a container with a built-in trellis or adding stakes for support as the plant grows. This will prevent the plant from toppling over due to high winds or heavy fruit.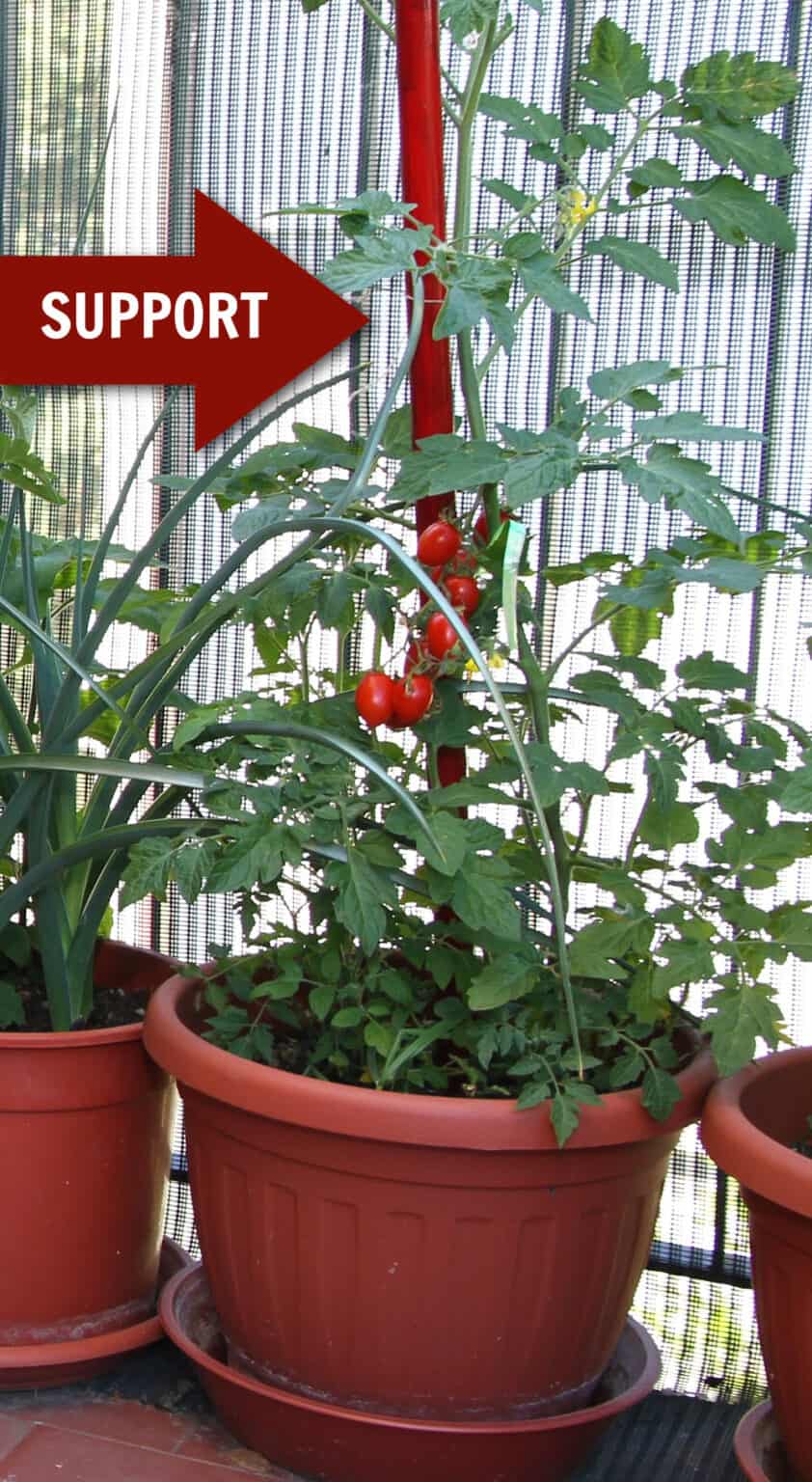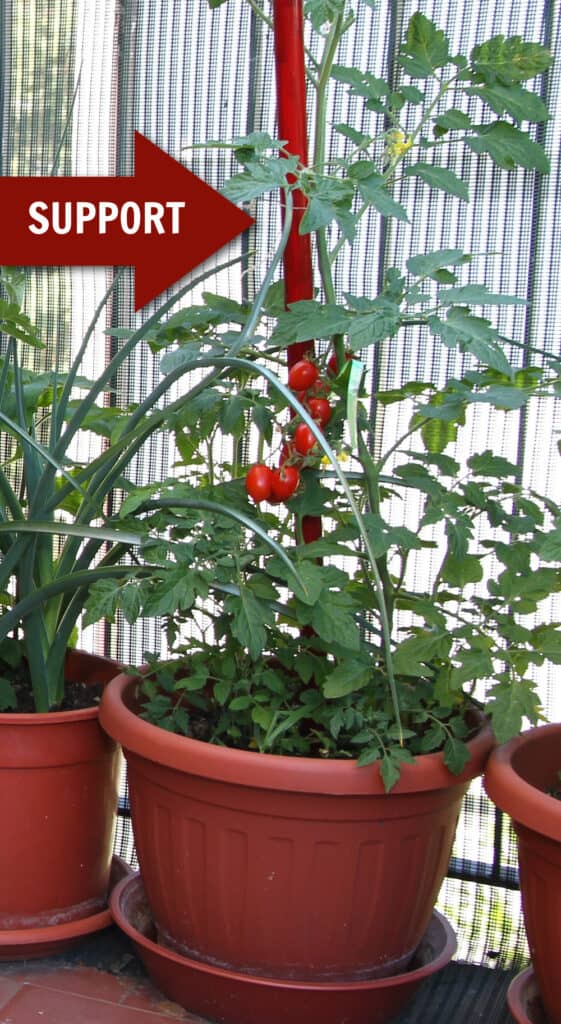 Growing cherry tomatoes in containers is a fun and rewarding experience. With the right preparation, proper care, and attention to pests and diseases, you can enjoy a bountiful harvest of delicious cherry tomatoes all season long.
More Gardening 101 Resources: