If you have ever dealt with a wet chicken run, then you know what a headache it can be. This post will help you deal with a wet chicken run and the mud that comes with it.
If you have chickens, then you already know what a fun and quirky animal they are. There is nothing I love more than watching my flock chatter and cluck as they make their way around the yard.
Chickens love to scratch and are pretty efficient at it. The problem is they can turn a lush plot of grass into a dirt pile in just days. And that dirt pile, in turn, can become a plot of mud with just one rainfall.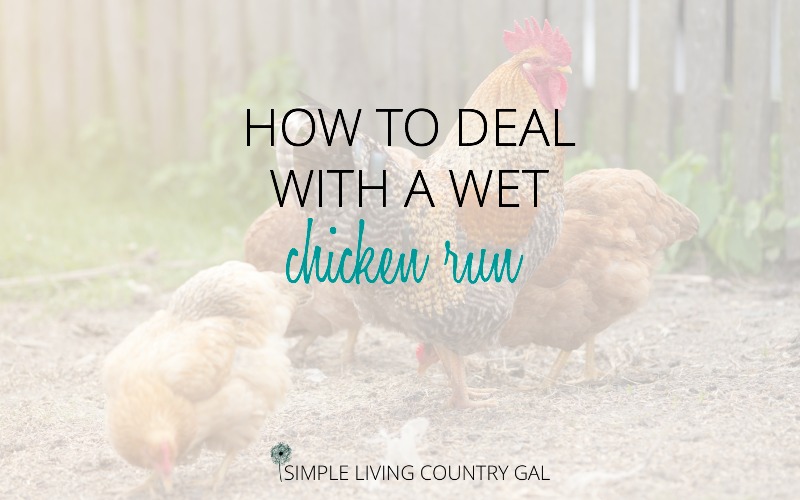 One of the worst places on our farm in spring is our chicken run.
There is just no way around it. When the snow melts it just sits there in the run in stagnant puddles. We desperately need drainage, but that is buried somewhere at the bottom of Hubby's list so I don't expect it will get done anytime soon.
So, as usual, I am looking for a plan B to hold me over (and the chickens) until the problem can be fixed.
Ninja Tip: Please note that I live in Northwestern Pennsylvania so my tip may not work if you live in a much wetter climate. Also, this is only a temporary fix and if your area is prone to heavy rains, you will want to find a more solid solution such as the drainage I mentioned above.
How to deal with a wet chicken run.
Cue my goats.
My goats are very picky eaters especially when it comes to their hay. Well, that is if the hay is green and lush.
They are notorious for picking out the best grass and letting the rest fall to the ground where it sits and piles up. That is where I come in.
Once a week or so I remove this hay and toss it into the chicken coop. The hay provides a dry surface for the hens in the run and keeps them and the inside coop much cleaner.
The hens love the hay as well and spend most of their days scratching it into the mud which in turn quickly composts it down for me. By the time, I am ready to plant my garden I have a great supply of rich dark wonderful compost.
READ: COMPOST – BLACK GOLD FOR YOUR GARDEN
Around April I just wait for a warm and sunny day. (Make sure it's sunny so you can dry out the run quicker)
I head to my coop armed with a wheelbarrow, pitchfork and hopefully a willing child of mine to help. It is pretty thick at this point (about 4-8 inches) and it's not an easy task but the payoff is a good one so I don't mind too much.
Once I take all I need for my garden I will keep the hens out of the run for about an hour or two.
The warm sun dries up the new ground pretty quickly and we are ready for summer!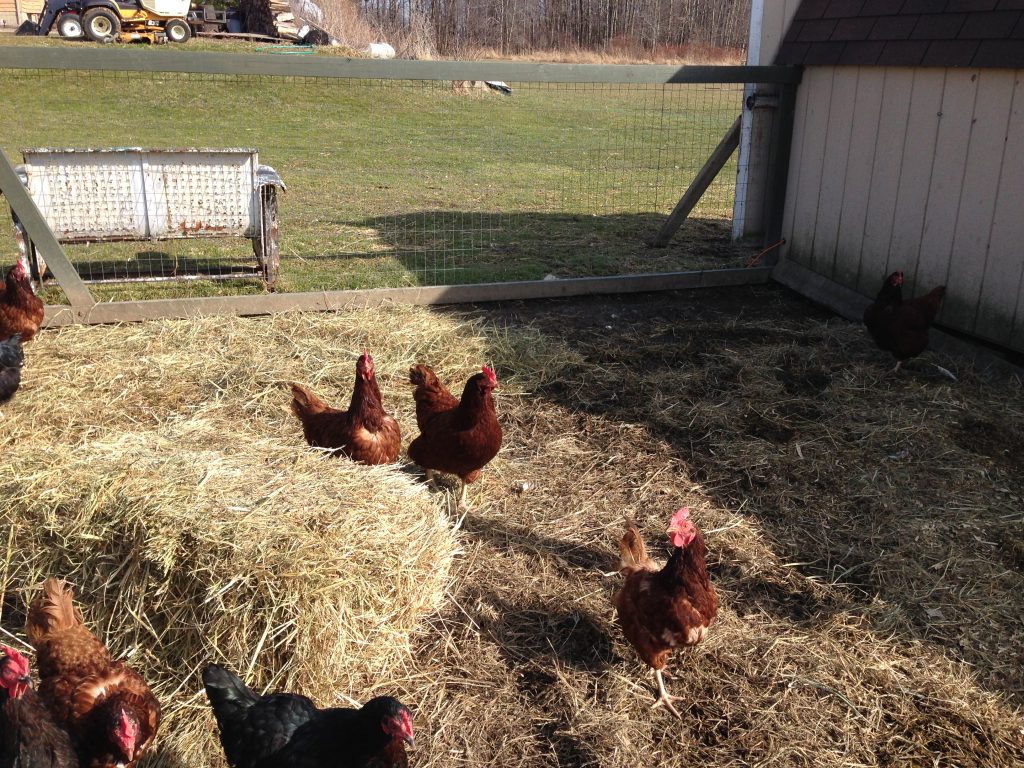 Now, what if you do not have excess discarded hay to use in your run?
Fresh H

ay

There is nowhere that says the hay needs to be soiled, fresh hay or straw for that matter will work just as well. You can sprinkle a little scratch on the hay to give your girls a fun game of hide and seek.
Grass Clippings
If it's summer, grass clippings are perfect for a wet run and provide the same benefits as the hay does. My chickens LOVE grass clippings, so I love to dump them into their run!
Leaves
If it's fall dry leaves will work just as well and are another favorite of my chickens. There can be quite a few bugs in those leaves and chickens love their bugs.
Spare Wood Scraps
If you find yourself without any brown matter to use in the run, wooden pallets or discarded wood can be a good temporary fix until things dry up. We burn wood in the winter for our heat so we have quite a bit of bark and wood chips to dump in our run if needed.
Make a Move
On particularly wet seasons I will move my gals to dry land with a portable fence. I have several mesh electric nettings that are great for this. They love the change of scenery and their run gets a well-deserved rest.
Full Hay Bales
I often will put a hay bale in my coop. The girls love to climb on it and within a few months they will even have the bale torn apart and worked into the ground. Our hay in PA is pretty cheap, just $3-$5 a bale so it's an inexpensive alternative.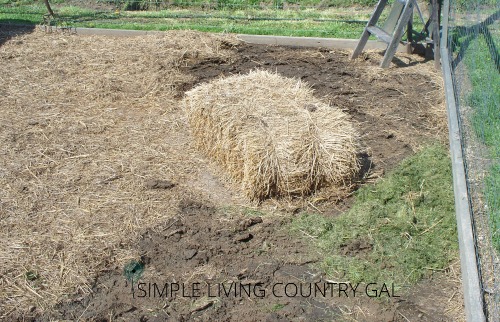 Remember to watch your runs. If you are having a particularly wet season, the matter you put in may rot before it is able to compost down. It is important to remove it at this point so your chickens do not get a respiratory illness.
Get them up off the ground
I like to put items in my run that will get my ladies out of the mud. A few tires, an old step ladder, and even cinder blocks work great. Find what you have around your home that you can use to get your gals up off of the ground and out of the mud.
Build a buffer from the rain.
If things are really wet you may want to help dry a patch out with a tarp. This can be just enough to shelter a small area just to give your hens a break. Remember to angle the roof so the water runs off and away from the run.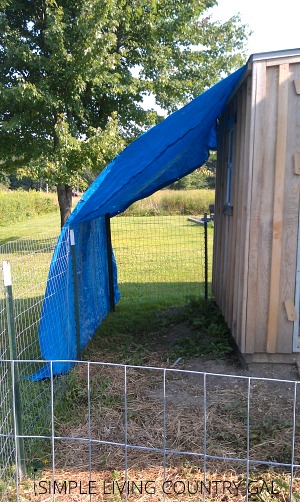 When homesteading it is important to think outside of the box. When dealing with a situation such as a wet chicken run, look at the tools and supplies you have all around you and think creatively how to resolve a problem. I love the challenge of making something out of nothing!
Discarded hay?? Nope, that's just dry matter for my soggy and wet chicken run.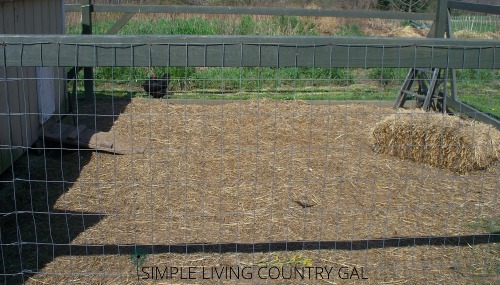 One goat's trash is a chicken owners treasure and a great way to fix a wet chicken run!