If you have dairy goats, then getting the best milk is your goal. In order to ensure that milk is the best, you need to ensure your goats are at their best first. Learn what goat udder problems to watch out for so you can stop things before they get out of hand.
How to raise dairy goats that are healthy and hardy enough to fight off issues on their own. Know what can happen so you are better prepared to intervene and offer support when needed.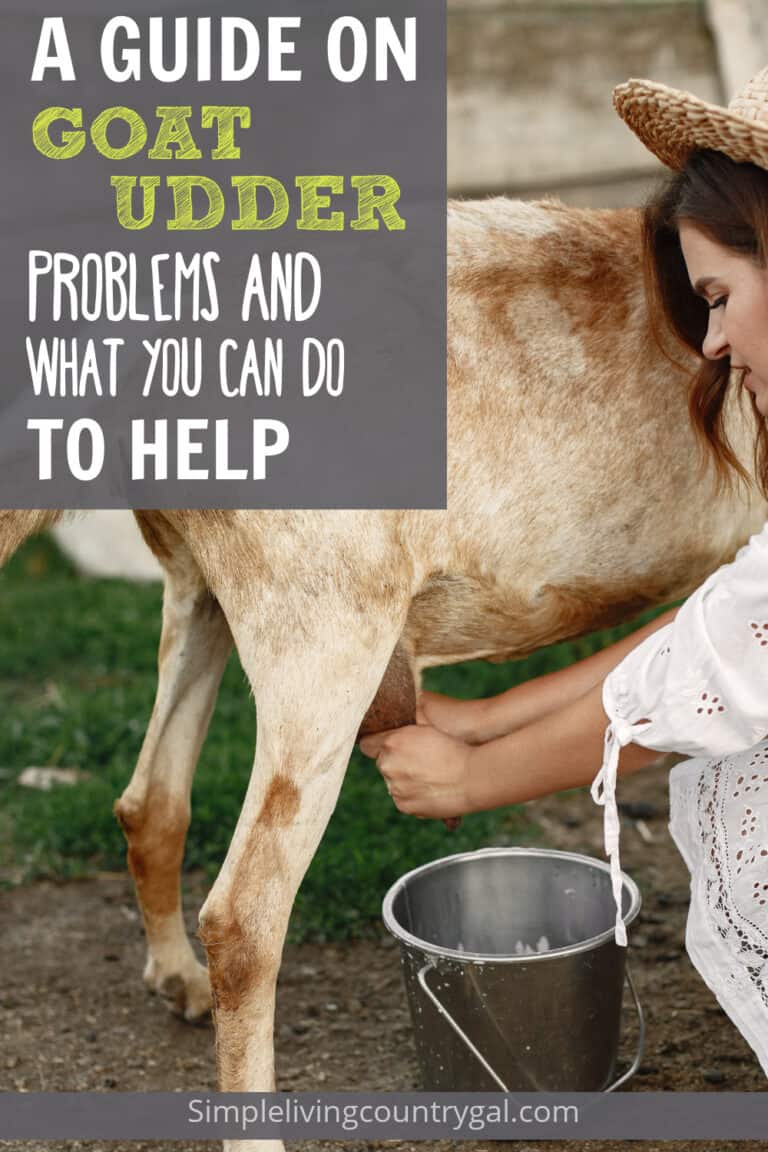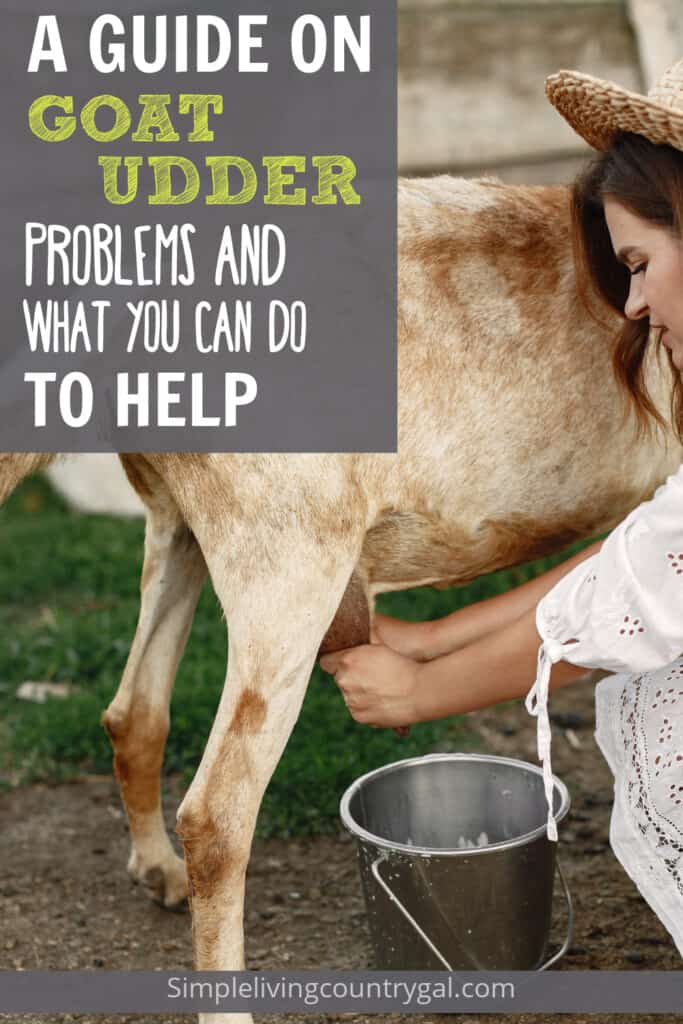 Disclaimer: In accordance with FDA guidelines, the information and products offered on this website are not intended to diagnose, treat, cure, or prevent any disease. I am not a medical professional. Before administering any medications to your animals please contact a veterinarian first.
When it comes to dairy goat farming, the health of a goat's udder is important to ensure a consistent milk supply. However, even in the best setups, there can be udder problems. The first time we had an issue with one of our dairy goats, I was completely unprepared to help. Luckily we had a good vet who walked me through how to treat our doe and get her back into the milk stand quickly. Now, I know what to watch for so I can catch issues more quickly allowing me to give the care needed.
Goat Udder Problems
There are three main issues that can happen to your goat that will affect her udder and milk supply. Each has its own set of symptoms to watch out for.
Mastitis
Mastitis in goats is an infection of the udder that leads to inflammation and can significantly affect milk production. It's typically caused by bacteria that enter through the teat, which can happen when a goat lies down on soiled bedding or hygiene is not practiced during milking. Mastitis can happen in one teat or both, along with the full udder.
Mastitis can be in different levels, from light to acute. Acute mastitis is the most severe and can cause fever, loss of appetite, and a noticeable decrease in milk production. If left untreated, mastitis can lead to serious complications for your goat. Knowing what to watch for will help give you a timely detection so you can contact your veterinarian and begin treatment more quickly.
SLCG Pro Tip: If you are drinking the milk of a goat you suspect has mastitis, you will want to stop until the condition has cleared up. Also, do not give infected milk to your livestock or allow any kids to nurse on a teat with mastitis, as they run the risk of getting sick.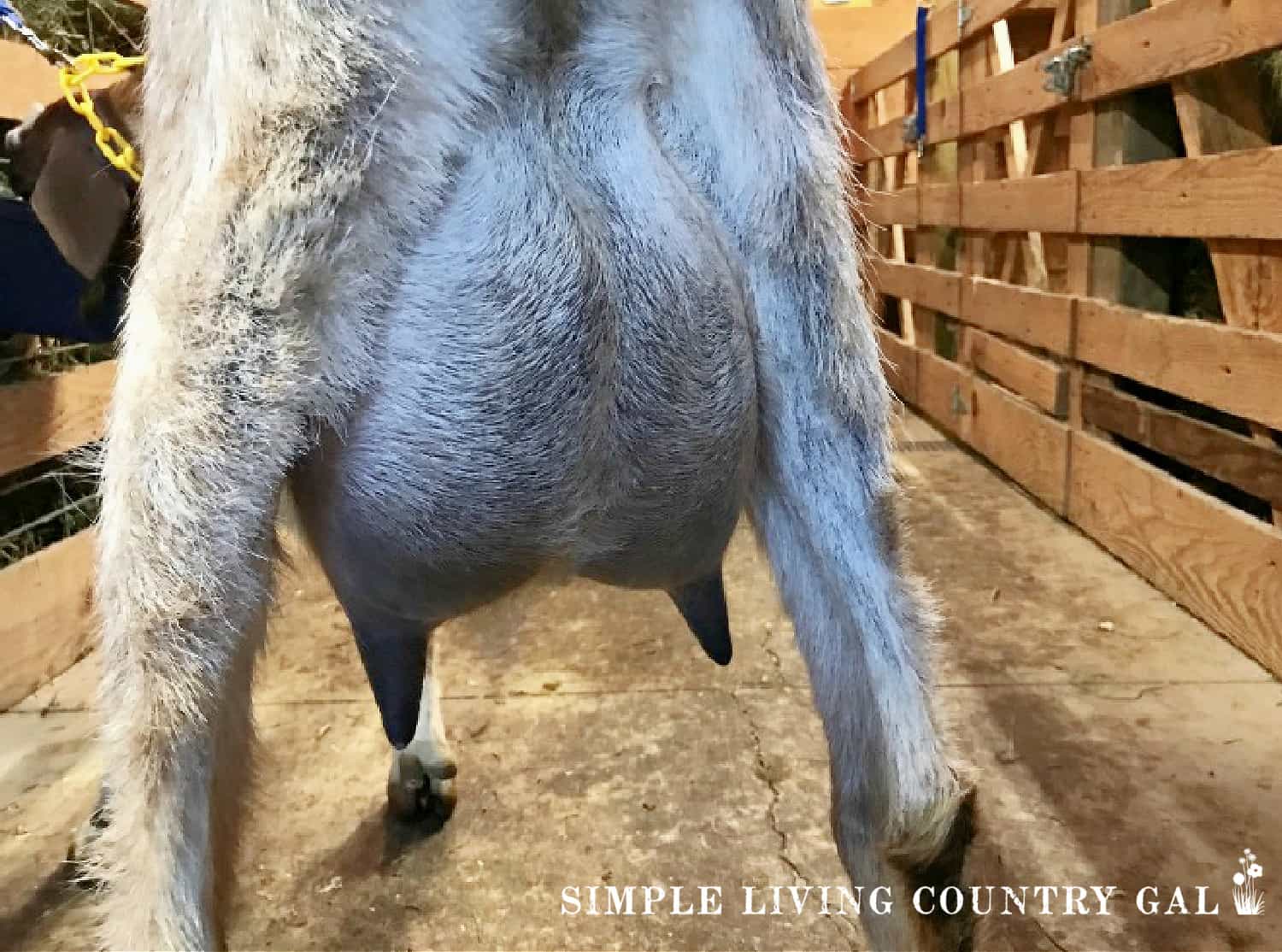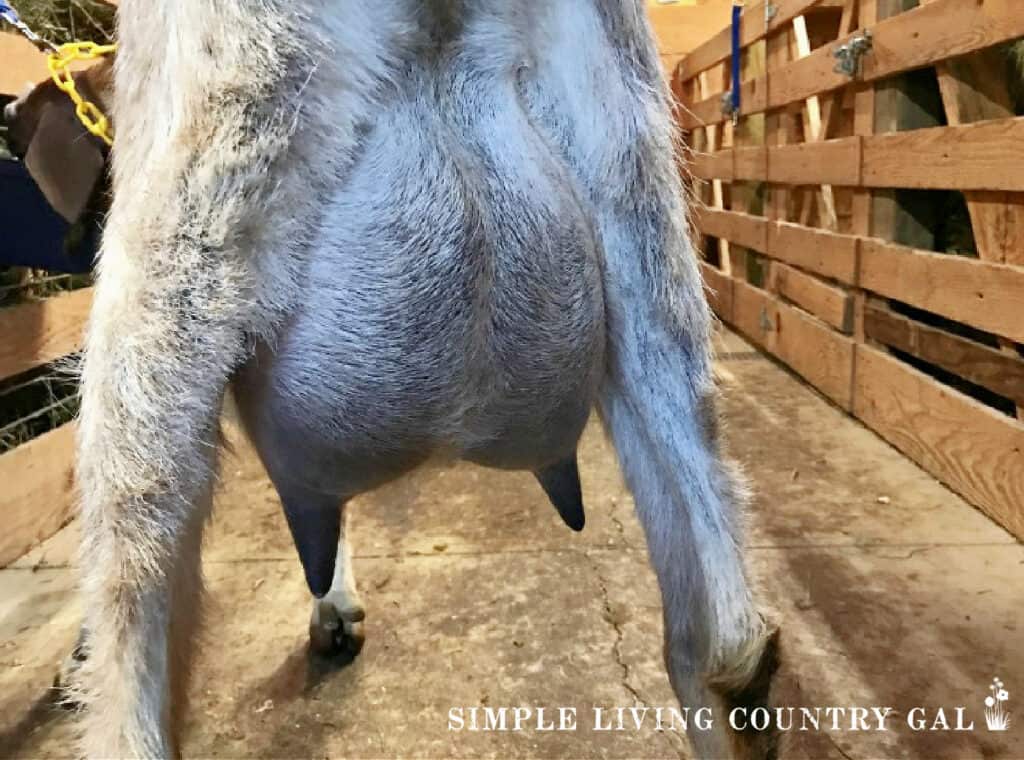 Symptoms to Watch For
When dealing with mastitis in goats, there are several symptoms to watch for. These symptoms range from subtle to pretty obvious. Know that mastitis may only be in one teat, and for that reason, you want to watch for signs closely.
#1. Changes in the milk
Mastitis milk may have a watery appearance and may also contain clumps, flakes, or even pus. It may also have a sour or off odor when you smell it.
#2. Difficulty milking
You may find one or both teats hard to express milk from almost as if the opening is clogged.
#3. Physical changes in the udder
The udder may swell, grow hard, feel hot to the touch, or be painful for the goat. There may also be visible sores or redness on the udder skin.
#4. Behavioral changes
The goat may show signs of discomfort such as unusual restlessness, kicking in the milk stand, reduced appetite, lethargy, or lack of interest in usual activities.
Estink Manual Goat Milking Kit, 3L Plastic Portable Household Goat Milking Machine Manual Operation Sheep Cow Milker Kit Hand Pump Milker Machine for Farm Household Cow Goat Milking (for Sheep)
Winco Stainless Steel Utility Pail, 13-Quart
Non Gauze Disk Milk Filter
Stainless Steel Kitchen Funnel, 4.3-Inch Food Grade Metal Funnel with Strainer for Filling Bottles, Transferring Liquid, Oil, Juice, Milk
eleganttime 64 oz Mason Jar Wide Mouth 3 Pack,Large Half Gallon Mason Jar with Airtight Lid,Big 1/2 Gallon Big Mason Jars for Canning,Pickling, Fermentation and Preservation
WIDE Mouth Mason Jar Lids [16 Pack] for Ball, Kerr and More – White Plastic Storage Caps for Mason/Canning Jars – Leak-Proof
Dynamint Udder Cream – Bottle, 500ml
Treatment Methods for Mastitis in Goats
The treatment of mastitis in goats primarily involves the use of antibiotics to fight the infection, anti-inflammatory drugs to reduce swelling and pain, and supportive care to maintain the general health of the animal.
Antibiotic Treatment
The veterinarian will likely prescribe an antibiotic to kill the bacteria causing the infection. It's important to only use antibiotics that are recommended or prescribed by your veterinarian.
Anti-Inflammatory Drugs
Non-steroidal anti-inflammatory drugs (NSAIDs) are often used to minimize inflammation and manage pain. This can make the goat more comfortable and promote healing.
Supportive Care
Be sure your goat is hydrated and is being offered a well-balanced diet that will support their overall health during the recovery period. Ensuring the goat's bedding is clean and dry can prevent the condition from worsening or recurring. Finally, you can also apply warm compresses to the udder to give some quick relief to the pain.
Regular Milk Stripping
Milk should be stripped out of the infected udder regularly to help clear the infection as well as prevent the buildup of bacteria, pus, or milk. We usually strip infected goats 10-12 times a day. I know this sounds like a lot, but just a few squirts out of each teat is all you need to help provide some much-needed relief.
Keep in mind that all treatments should be conducted or supervised by a licensed veterinarian. You should not attempt to treat the condition without professional guidance. Always consult with your vet for the best course of action. It is also crucial to isolate the affected goat to prevent the infection from spreading to other animals.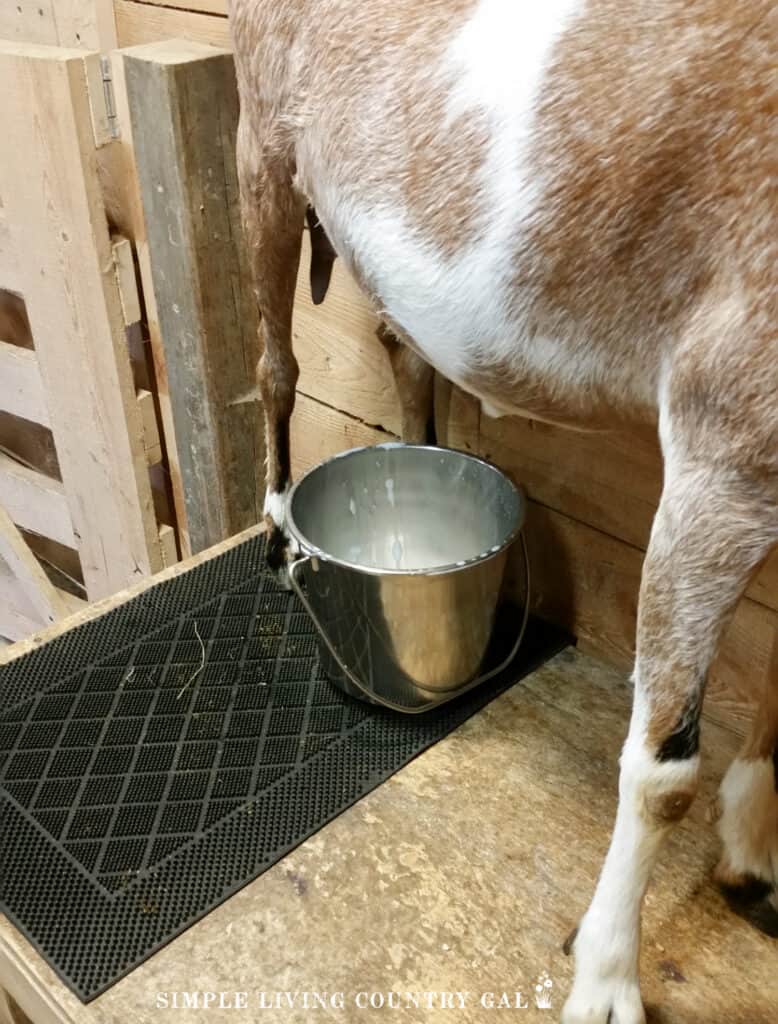 Abscesses
Abscesses in a dairy goat's udder are collections of pus caused by bacterial infection. These pus-filled pockets can be felt as hard lumps in the udder tissue, and they may cause your goat discomfort or pain. She may exhibit symptoms such as reluctance to move, changes in milk supply and changes in her behavior. Abscesses should not be ignored, as they can potentially lead to more serious health complications. You will want to contact a vet for treatments options such as draining the abscess and administering a course of antibiotics. It is important to note that the milk from an udder with an abscess should not be consumed until the infection has fully cleared and the antibiotics course is finished.
Symptoms to Watch For
Recognizing the symptoms of abscesses in a goat's udder will help you to catch them more quickly. Here are some common signs to watch out for:
Swelling or hardness in the udder
Pain or discomfort when touched or during milking
Visible lumps in the udder
Changes in milk production, often decreased
Changes in the goat's behavior, such as reduced activity or appetite
Fever and general signs of illness
Changes in the milk's appearance or consistency
Remember, these symptoms may vary based on the severity of the infection and individual characteristics of the goat. Always consult with a veterinarian if you suspect an abscess.
What is the normal temperature of a goat?
A normal temp for a goat is 102 F to 103 degrees F. Whenever you are diagnosing a goat. you will always want to start with a temp.
How to take a goats temp
We like to use a digital thermometer because it is easier to read and takes a temp more quickly.
Lift the tail of the goat, exposing the rectum.
Insert the thermometer into the rectum, which is directly below the tail.
SHARPTEMP-V. Fast, Accurate Temperatures in 8 to10 Seconds. Beeps When Ready. 5-Inch Stainless-Steel Probe with Rounded Tip. Safe for All Farm Animals & Pets.
Digital Pet Thermometer for Accurate Fever Detection, Suitable for Cats/Dogs/Horse/Veterinarian, Waterproof Pet Thermometer, Fast and Accurate Measurements in 20 Seconds (Orange)
GLA M900 Veterinary Cattle Rectal Thermometer Smaller, Lighter. Fast, Accurate Temps in 8-15 Secs. Big, Back-Lit LCD. Rechargeable. Built for Dairies & Feedlots.
Treatment Methods for Abscesses in a Goat's Udder
When treating abscesses in a goat's udder, a multiple-step approach is often required under the careful supervision of a veterinarian.
Drainage: The first step is usually draining the abscess, which should be done by a trained professional to prevent further infection.
Antibiotics: Once the abscess is drained, your vet will prescribe a course of a course of antibiotics to treat the underlying bacterial infection. The type and duration of the antibiotic treatment can vary depending on the severity of the infection.
Pain Management: Pain relief medications can be given to ease the goat's discomfort.
Quarantine: The infected goat should be separated from the rest of the herd to prevent the spread of the infection.
Cleaning and Disinfection: Regular cleaning and disinfection of the abscess area as well as the overall living area of the goat is important to prevent re-infection.
Remember, while these steps serve as a general guide, the treatment plan should be individually tailored to each goat and situation. Always follow the advice of a qualified veterinarian.
Udder Congestion
Udder congestion in goats is a condition where the udder becomes swollen, hard, and painful due to increased blood flow and fluid build-up. It is often a symptom of mastitis, but it can also occur when you abruptly wean a kid or stop milking. A congested udder can cause discomfort and may affect the goat's milk production.
Symptoms to Watch For
The symptoms of udder congestion in goats can vary, but typically include:
Swelling and Hardness: The most visible signs of udder congestion are a noticeably larger udder that is hard to touch. The swelling could be uneven, affecting one side more than the other.
Pain and Discomfort: The goat may show signs of discomfort, such as kicking at its belly, lying down more than usual, or changes in normal behavior.
Changes in Milk Production: There may be a reduction in milk production, or the milk may appear watery or have clots or streaks of blood.
Increased Body Temperature: Some goats may also have a fever, indicating that the body is fighting an infection.
Appetite Changes: The goat may eat less than usual.
It's important to monitor your goat closely and consult a veterinarian immediately if any of these symptoms are noticed.
Treatment Methods for a Congested Udder
Effective treatment of udder congestion in goats often involves a multi-pronged approach:
Antibiotics: If the congestion is due to an infection such as mastitis, your veterinarian may prescribe antibiotics to combat it. It's critical to use these medications exactly as instructed and complete the full course of treatment, even if symptoms appear to improve.
Pain Relief: Non-steroidal anti-inflammatory drugs (NSAIDs) can be used to alleviate pain and reduce inflammation. This will help the goat feel more comfortable and may encourage it to eat and drink normally.
Proper Milking Practices: Frequent and gentle milking can help alleviate udder congestion. It may be necessary to milk the goat more frequently than usual, even if only a small amount of milk is obtained each time. This helps to relieve pressure in the udder and can also stimulate the body's natural healing processes.
Warm Compresses: Applying a warm compress to the udder can help increase blood flow and reduce swelling. This should be done gently to avoid causing further discomfort or injury.
Diet Modification: Ensuring the goat is on a balanced diet rich in essential nutrients can boost its immune system and help speed up recovery.
Always consult a veterinarian for personalized advice and treatment recommendations. It's also crucial to monitor the goat closely during recovery and seek immediate veterinary attention if symptoms worsen or do not improve within a few days of treatment.
Teat or Udder Injury
A teat or udder injury in goats refers to any form of damage or trauma to the teat or udder. These injuries can occur due to a variety of factors, such as rough handling during milking, attacks by predators, accidents, an aggressive kid, or even severe mastitis.
In our herd, teat injury from aggressive kids was the most common udder issue we dealt with. If you have kids that are punching the udder violently for milk, they may be biting as well. Take the time to check the teats in your mom's to catch injuries before they get out of hand.
Symptoms to Watch For
Signs of a teat or udder injury in goats can manifest in several ways:
Visible Wounds or Damage: Look for cuts, scrapes, bruises, or puncture wounds on the udder or teat.
Swelling or Redness: An injured udder or teat may appear swollen or red, both signs of inflammation.
Changes in Milk Production or Quality: Noticeable decrease in milk production or changes in the milk's appearance (e.g., blood in the milk, watery milk, or presence of clots) could indicate udder issues.
Behavioral Changes: The goat may show signs of pain or discomfort when the udder or teat is touched or during milking. Symptoms may include restlessness, reduced feed intake, or isolation from the herd.
Abnormal Posture: An affected animal might stand with its back arched or tail tucked, indicative of pain or discomfort.
Each case is unique, and the severity of symptoms can vary. Immediate veterinary attention is required to prevent complications and ensure appropriate treatment.
Treatment Methods for an injured teat or udder
Treating an injured teat or udder involves a few approaches done together:
Immediate Cleaning: Initially, clean the affected area with warm water and a mild disinfectant. This helps to prevent infection and further complications.
Topical Application: Apply a topical antiseptic or antibiotic ointment to the injury. This aids in fighting off bacteria that may cause infection.
Pain Relief: Administer pain relief medications as prescribed by the veterinarian. This can help alleviate discomfort and promote the well-being of the goat.
Antibiotics: If an infection is present or if there's a high risk of one developing, the goat may need a course of antibiotics. Follow the veterinarian's instructions carefully regarding dosage and duration.
Rest: The injured animal should be separated from the herd and given ample time to rest and recover. This also prevents further injury from aggressive herd mates or the rigors of normal daily activities.
Monitor Milk Production: It's important to keep an eye on the milk quality and quantity during recovery. Any abnormalities should be reported to the veterinarian promptly.
Kids: If the injury is from aggressive kids, bottle feed them until your does injuries have had time to heal.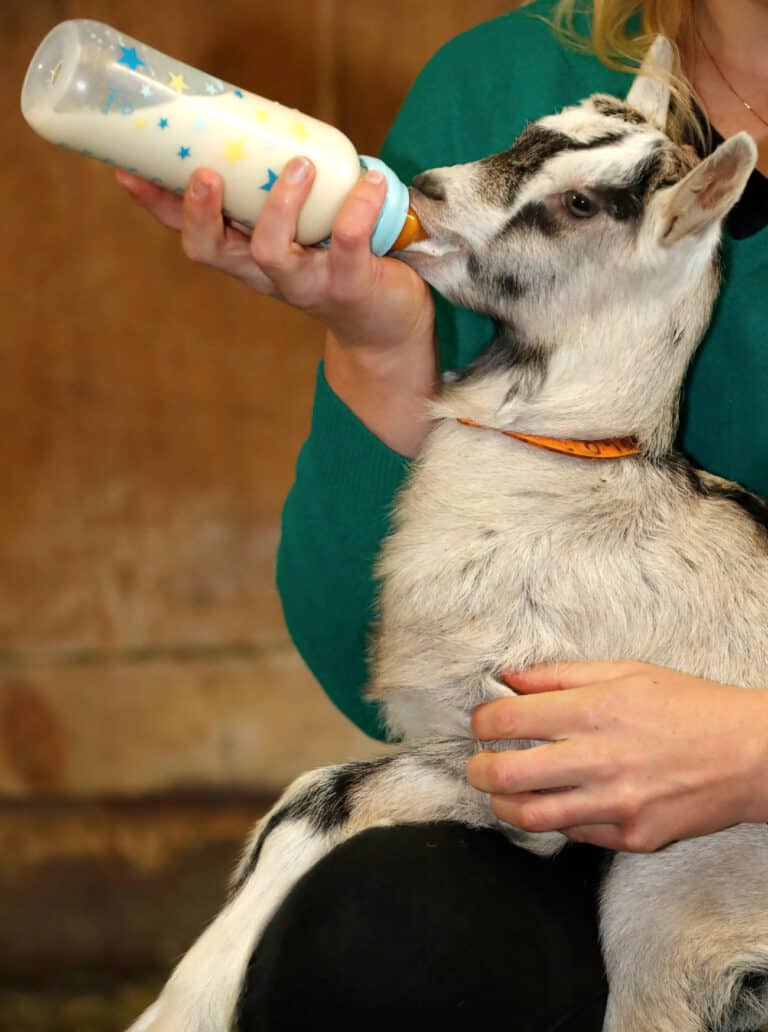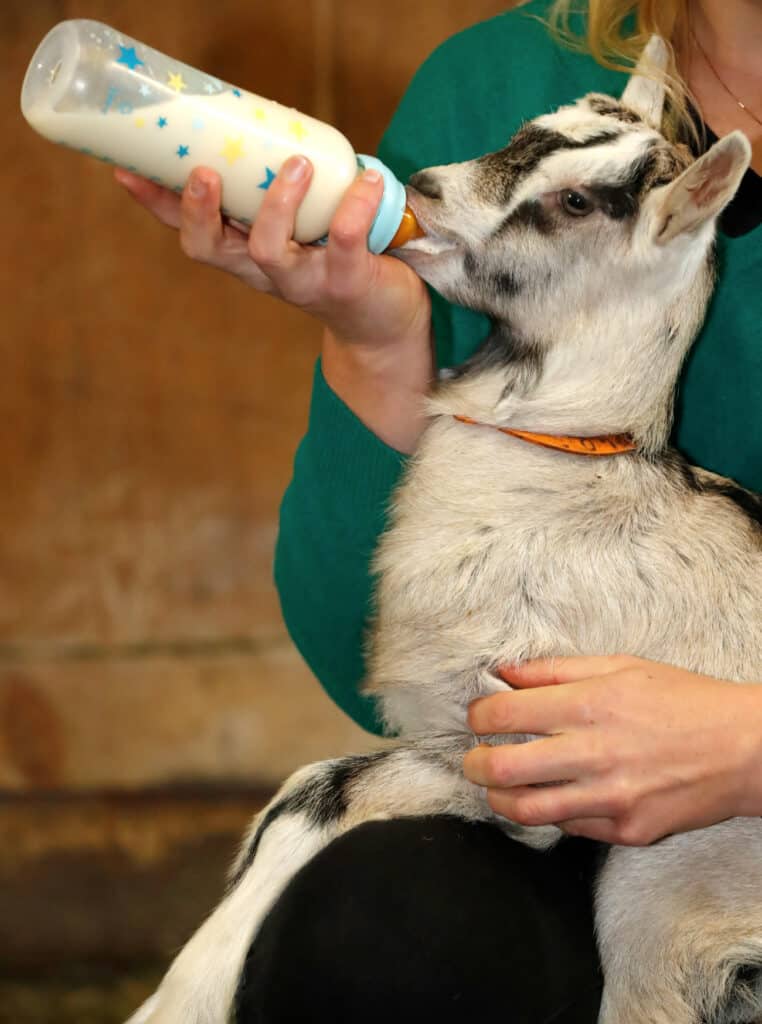 Always consult a veterinarian for a proper diagnosis and treatment plan. You can usually get advice over the phone along with treatment options, allowing you to administer care in mild cases.
Ways to Promote Better Udder Health
Promoting better udder health in goats requires a comprehensive and proactive approach:
Proper Nutrition: Ensuring that your goats have an appropriate diet is crucial. Balanced nutrition helps in maintaining overall health, including the health of the udder.
Regular Exercise: Regular physical activity keeps goats in good shape, which in turn supports udder health.
Hygiene: Maintaining cleanliness in the barn, especially around the milking area, helps prevent bacteria build-up which can lead to infections.
Regular Health Checks: Regularly check the condition of your goat's udder and teats. This can help detect any potential issues early, allowing for timely treatment.
Proper Milking Techniques: Use of gentle and proper milking techniques can help prevent injury and irritation to the udder.
Erratic Milking: Try to milk at the same time each day as well as at the same frequency. A milking routine is essential for healthy udders of all your goats.
Remember, prevention is better than cure. By taking these steps, you can significantly reduce the risk of udder problems in your goats.
Maintaining the udder health of your goats is an important part of owning a dairy herd. Proper nutrition, exercise, hygiene, and regular health checks play an important role in keeping goats healthy and productive. Remember, a healthy goat is a happy goat. By taking proactive steps towards care and prevention, you're not only ensuring the welfare of your goats but also investing in the quality and quantity of their milk.
More Goat Milk Guides: