One of my favorite things about homesteading is making what I need rather than buying it from the store. I love being self-sufficient and the challenge of living off of what we have. If I run out of something I just head to my kitchen or feed room to make what I need.
It's crazy awesome actually.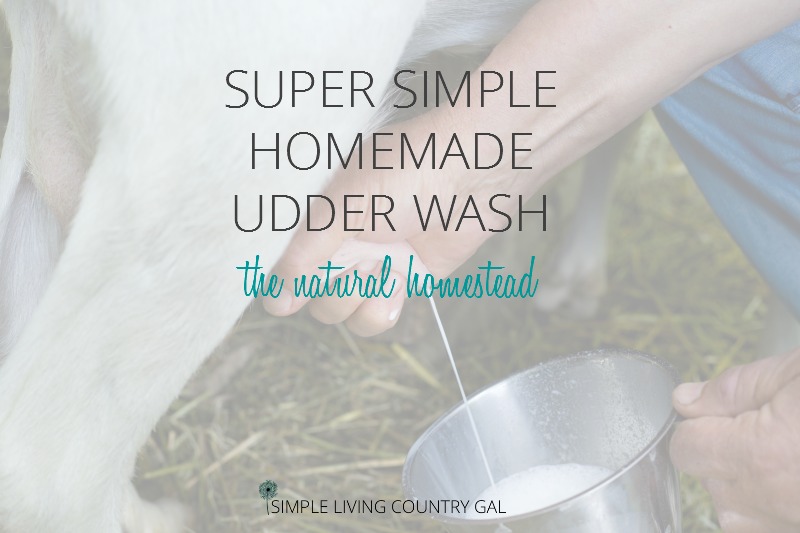 Not only that, but imagine how much money you could save if you made what you needed rather than bought it?
And let's top it all off with the health benefits of homemade. Whether it be food, cleaning supplies or personal products. Making things yourself is just, well, better.
When I first began milking my goats, there were so many things to learn regarding the "how" that I never even considered making my own udder wash. In the beginning, if I needed it I simply bought it. I soon realized that this udder wash contained very harsh chemicals and it didn't take long for my girl's
A big gallon jug of pink udder wash. I blindly used that jug that the first year never stopping to read the ingredients.
That first winter my goat's udder became cracked and very very sore. Milking was painful for her and beyond stressful for me. I soon realized that this udder wash contained very harsh chemicals and it didn't take long for my girl's
I took a long look at that udder wash and I was beyond shocked at the abrasive chemicals it contained. And for months I had been putting that on one of the most sensitive parts of my goats!
Looking back I cringe to think of what I was doing. I was blindly trusting manufacturers to make decisions regarding the care and well-being of my goats FOR me.
The beauty of being self-sufficient is you make your own decisions. All the way down to the ingredients. The choice was mine now to make.
I began researching homemade washes but all the recipes I found contained, of all things, bleach. And no matter how small the amount was, I just wasn't comfortable using bleach. So back to the drawing board I went.
I then discovered that wonderful world of essential oils.
I know, I know, everyone is preaching essential oils. I was a skeptic once too. Then a crazy thing happened.
check out: Essential Oils. My Skeptical Journey. 
I tried them for myself.
Long story short. I am a skeptic no more.
I adore oils and the ability to create natural remedies for my animals and my family.
I cannot tell you how amazing it is to need a product and in just a few minutes I can make it without running to the store and raining a myriad of chemicals down on my home.
[thrive_leads id='6437′]
My friends, let me now introduce you to my uber easy peasy udder wash.
The Lazy Country Gal's Homemade Udder Wash
3-4 drops On Guard Foaming Hand Wash
2 cups warm water
Mix directly into a container. Add 1 or 2 reusable cloths. Put on your lid and you are all set!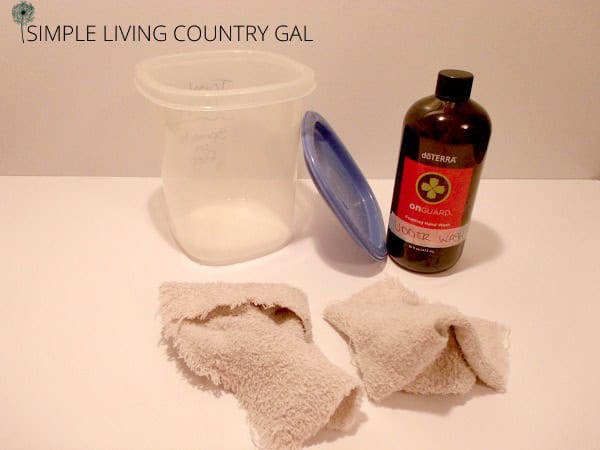 Easy peasy.
Crazy simple.
Super effective.
Oh, and my gals love it too! I swear I can see them relax when I wash their udder. The warm sudsy water not only calms them but helps release their milk too.
Now, if you are not in to essential oils, you can get also make udder wash with warm water and a little Dawn dish soap. Dawn is super gentle yet will clean the udder without harsh chemicals as well.
No more am I dependent on those harsh abrasive chemicals. My goats are happy. My milk tastes amazing. And I am one step closer to being self-sufficient.
Happy milking peeps!