I love my goats and this goat lovers gift guide is proof!!
No, really I do!
And if you are a goat owner, you get it. You know how much we simply love to hang with our goats and love 'em up.
For this holiday season why not celebrate our love of all things goat and give our family and friends some lovely ideas to put under our tree this year!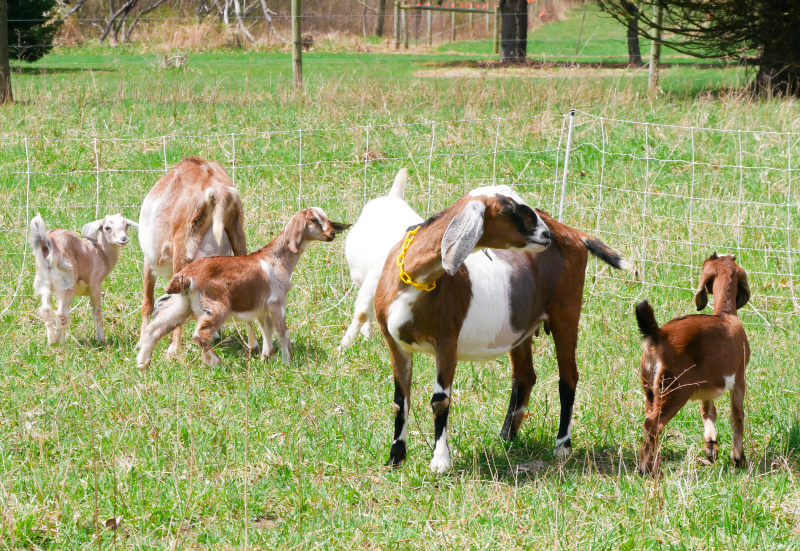 Goat Lovers Gift Guide
This post may contain affiliate links. If you click on one of my affiliate links and make a purchase, I may receive a commission for referring you. This in no way affects your price. Please know that I only recommend resources and items I believe in and highly recommend.
Now if you know me you all know how much I live for my coffee. I also adore my coffee mugs. The funny thing is I am quite picky about my mugs. The size, the shape, the "feel" these things all matter. Oh yes, and the look. This mug has all these things and more. Now us coffee lovers can enjoy our brew in this fun coffee mug. Let other's know just how you feel :)…..yes we do love our goats!
You can find this mug and others over at Willow Creek Goattees.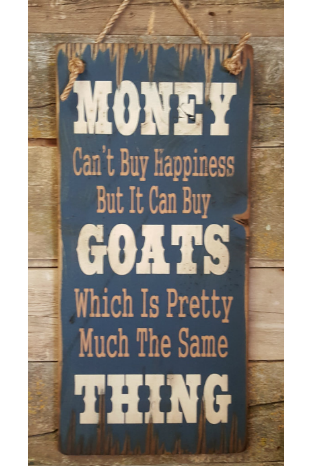 How much do you just love this sign? Dress up any goat barn and let everyone know how much you love your herd. Handmade on pine wood, I just love all the signs over at CowboyBrandFurniture.
You simply must check them out and see all the amazing things they have to offer!!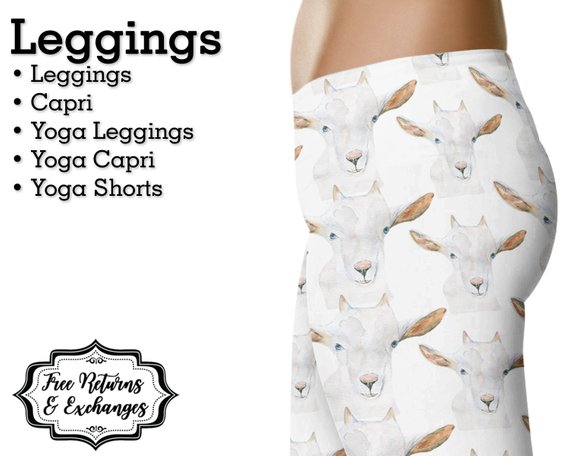 How can you not LOVE these leggings?! Spice up your days with a little goat love with these handmade in the USA darling pants! Head on over to Anarchy307 and see the all the super fun things they have. And the best part? If you don't see something you love, they will custom make them for you!
But get your order in early so you can have your goat yoga pants in time for the holidays! Goat leggings are definitely on my gift list this year!!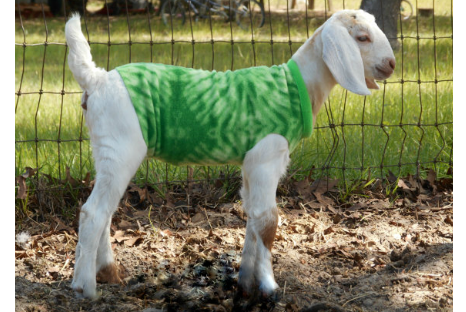 The minute I stumbled across this little goodie I knew I had to have it on this year's list. Show your love by keeping your goat's kids toasty warm this winter. Handmade double thick fleece that is (get this) REVERSIBLE! How great is that! Obviously, this is made by a goat owner that "gets" it!
Check out all she has to offer at ChickenScrapsShop.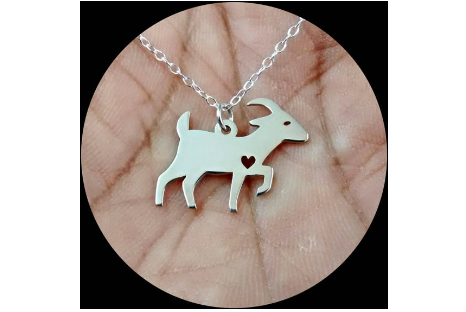 I simply love this cutie pie goat pendant. Show your love of goats with this adorable necklace. Another amazing handcrafted item. This goat is .75″ and made of sterling silver and with a punched out heart you can't help but love it!
Stop over at ChristyTreasureBox and see all she has to offer.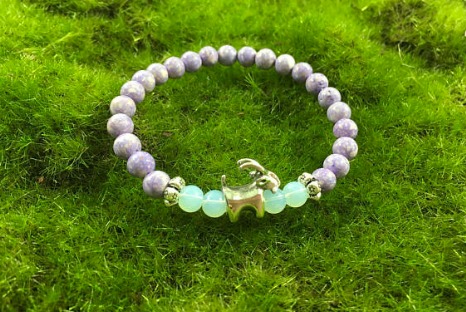 I am simply in love with this bracelet! This handmade fossil stone stretch bracelet is perfect for any goat loving gal. I have 2 of these bracelets and I just love them. They look great and are so durable so I wear mine all the time! And get this, $5 from each sale goes to Goats of Anarchy for their sanctuary.
LOVE that! You can see all the bracelets and the amazing colors over at TheEnchantedGoat.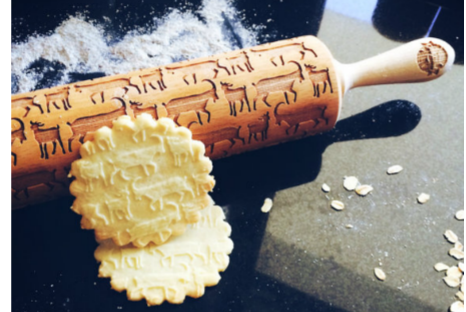 I was super excited to find this baby….I didn't even know they made such a thing! How great to make cookies and pie crusts this holiday season covered in goats. LOVE IT! Another amazing handmade treasure.
She has different animals and different sizes that you can see over at Goody Woody and do a little shopping!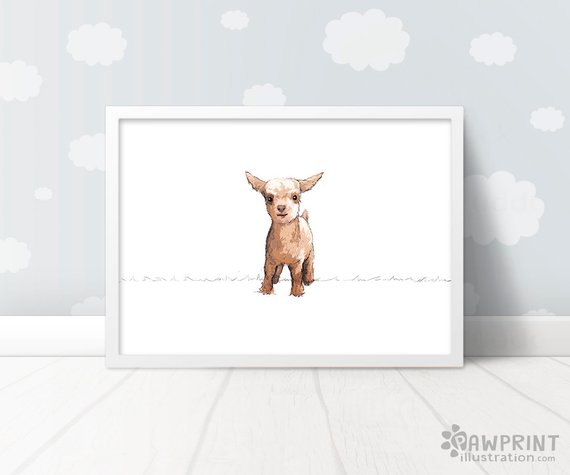 I was on Etsy the other day and stumbled on to this super cute print that I am just in love with! This is just a sample of all the adorable prints she has to offer and I know you will love them just as much as I do! Nothing says happy like a baby goat framed print, right?!
Stop on over at Paw Print Illustration and see all they have to offer!!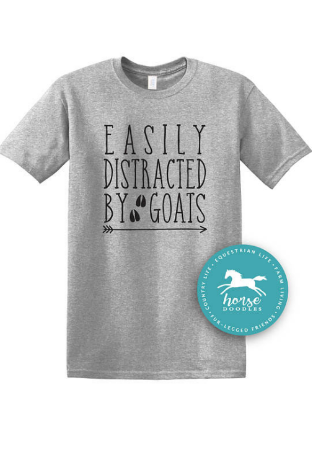 This shirt really does sum it all up, doesn't it? Hubs gets so frustrated with me in the barn. I tend to start a project only to wander off with my herd enjoy some goat love. 🙂 We do love our goats and now you can show it with this fun and quirky shirt. Stop over at HorseDoodles you have to see all the great shirts she has over there!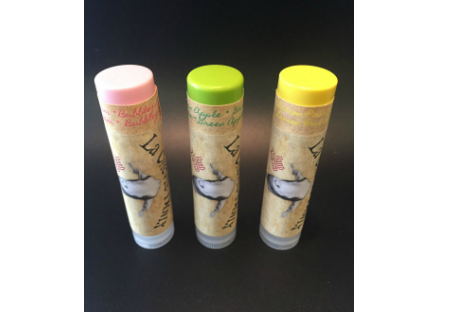 Looking for something to tuck into a stocking? This is perfect! These handmade long-lasting lip balms are loaded with ingredients we all know and can pronounce. And the best part??? They are made from farm fresh goat milk. LOVE IT! Another awesome sauce product from LeChevreDoux.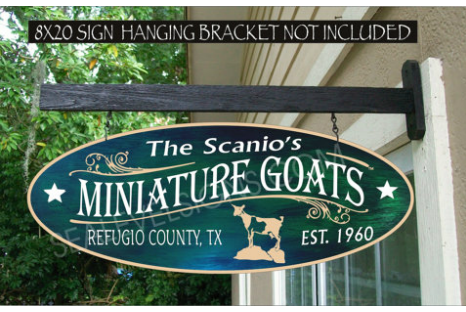 Finally, this handmade amazing goat sign is perfect for any goat owner. Let other's know you have goats and encourage visits from those that want to learn. I love to teach others all about the joys of raising goats and this sign is just what I need to let locals know what I do and love. This is a handmade custom painted aluminum sign.
You can see all their signs at SeaLevelSigns and ask any questions you may have.
Now, it's your turn.
What are some favorite gifts that you have given or received that revolves around your love of goats? Leave a comment below, I would love to hear from you.