With spring just around the corner, everyone and everything is just itching to get outside into the fresh air. And as the snow begins to melt we start to see all the damage the winter months did to our homestead. Our to-do lists begin to take shape and turn into something out of a horror movie. For us, cleaning out the chicken coop is usually at the top of our homesteading list. Our hens do not do well in a closed up coop so just as soon as the weather allows I like to get it completely cleaned out and washed down.
A stuffy coop does not promote good egg layers so keep things clean and dust free if you want a healthy flock and a good supply of eggs.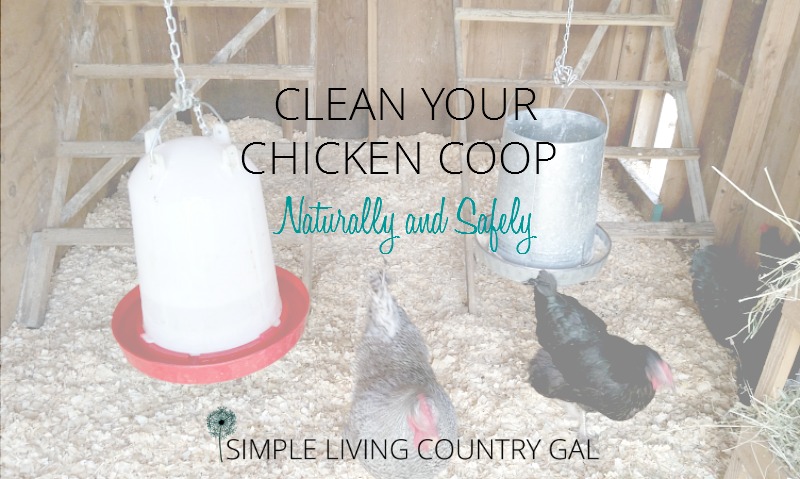 Since we live in a harsh winter state we found that the deep litter method is the perfect way to house our hens when the temps are well below zero.
Unfortunately, this also gives us a pretty big clean-up chore come spring.
No worries though, in spring also comes Mother's Day and I learned a long ago that asking for hard labor as my gift is better than any bouquet of flowers. 🙂 Now, cleaning out the chicken coop is no longer a hassle but rather a cherished time with my boys. Even if it does smell awful and they would rather entertain me than do the actual work.
Now, if you have read my post on the Deep Litter Method, you know that it has many advantages. By leaving all the bedding in the coop it helps to insulate and keep the hens pretty warm. It also saves me from having to haul soiled bedding in 3 feet of snow.
The downfall is spring, however, when all the litter needs to come out. After our long winter, this usually means a foot or more of bedding. So, if you adopt this method, know you will have a hefty chore come spring and it is best to enlist some sort of help.
Another reason why it is so important to clean your coop is to remove any pest or bugs that can cause problems for your hens. Remove the dust and debris and scrub it down naturally for a fresh start.
You will be amazed at how healthy your flock will be. And happy too. 🙂
Cleaning out the Chicken Coop Naturally and Safely
Step #1 Clear out the gals
I usually do my cleaning in the afternoon, if not I will be searching for eggs all over our farm. Waiting a bit later keeps random egg laying down to a minimum. I also will put fresh feed, water, and a snack about 10 feet from the coop. That way (hopefully) everyone will stay outside and away from shovels and rakes.
I don't want anyone getting hurt and you will be amazed at just how curious those hens will be.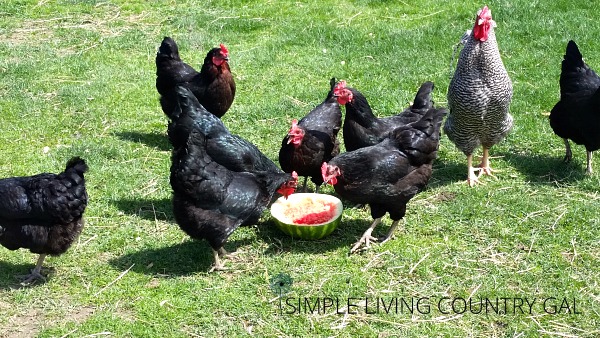 Step #2 Remove what you can
Hubs built these amazing nesting boxes a few years ago. They are very lightweight and easy to disassemble for cleaning. He was able to build this set up with scrap wood we had lying around our home.
When cleaning out the chicken coop I simply pick the entire thing up and carry it outside.
READ: Make your own Nesting Boxes for Next to Nothing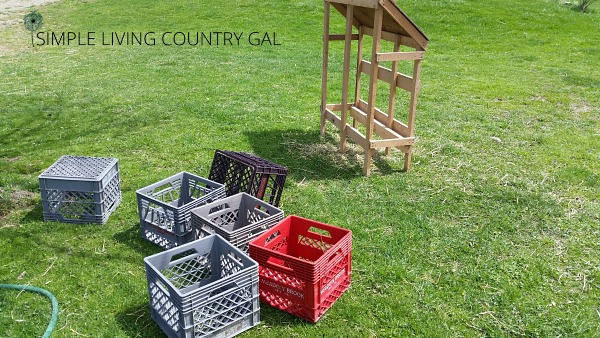 Step #3 Shovel out all the bedding
If your bedding is wet and composted it can go directly into your garden to be worked into the ground with a shovel or rototiller.
Our bedding never seems to be quite ready so I put ours into our compost pile to sit a bit in the hot sun. Usually it is ready to use in a few weeks if the conditions are right.
READ: Backyard Garden Composting Black Gold for your Garden
Ninja tip: Never add chicken manure directly to your plants or you will run the risk of burning your plants.
Step #4 Sweep it out
You will be amazed at the amount of dust a chicken coop can hide in the corners. I find nothing works better than a good broom. Get in there and sweep it all down. The walls, the corners, the floor, even the ceiling. Chickens create a ton of dust so take the time to be thorough and get it all out of there.
Ninja tip: Be sure to tie a bandana or other facemask over your nose and mouth while you are sweeping.
Step #5 Hose it all out
Once you have all the dust and dirt out of the coop you will want to hose everything down. A broom can only get so much so by using a good hose you will make sure all the dust and dirt is truly out of your coop.
Make sure to spray your ceiling, the corners, the vents, the floor, and the roost.
Go one step further and use a brush and some elbow grease to make sure as much debris is gone as you can get. A scraper will come in handy as well for any petrified hen droppings that tend to turn into concrete the longer it sits.
Step #6 Let it dry as long as possible
I'm sure at this point you might need a break from cleaning out the chicken coop so take some time to put your feet up and catch your breath. Since our coop is a converted shed, Hubs drilled a few drainage holes to help with the water that tends to pool up. This really speeds up the drying process.
It is about this time your chickens will decide to come in and help out a bit.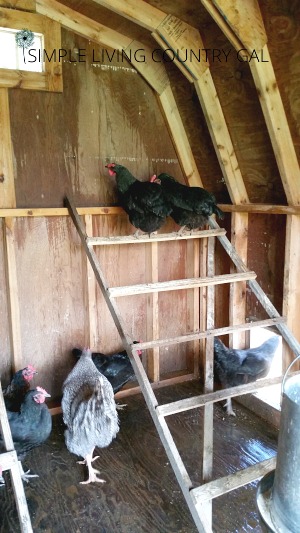 Step #7 Scrub and disinfect what you removed
While things are drying on the inside you can get everything else washed. Nesting boxes, roosts, feeders, and waterers all need scrubbed and cleaned.
I like to use good old soap, water, and a strong brush. Once everything is cleaned and rinsed I will spray some of this simple cleaning spray that will naturally and safely disinfect.
Step #8 Let it dry
Once everything is scrubbed, rinsed, and disinfected I like to let it all dry in the hot sun. Not only will this save you time, but the sun is a natural disinfectant.
Take advantage of mother nature and plan your cleaning on a sunny day.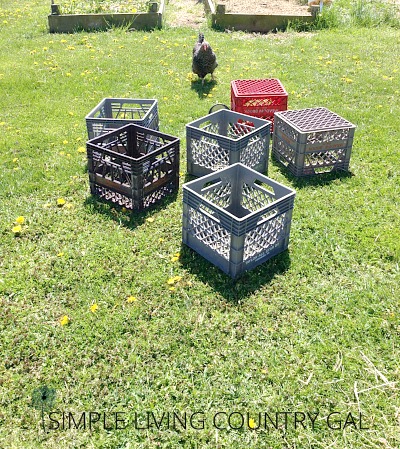 Step #9 Fill with fresh bedding
I prefer to use pine shavings which is larger than sawdust. I have tried sawdust and even sand and I have found both to be very difficult to keep clean and harder to clean the coop out at the end of the season as well.
The shavings are a bit larger so they do not make as much dust as the sawdust but still absorb the liquid waste to keep things relatively dry.
We are able to purchase wood shavings from our local feed mill at $7.25 for a 3.25 cubic foot compressed bag. Yes, a little pricey but one or two bags will usually get me through the entire summer season.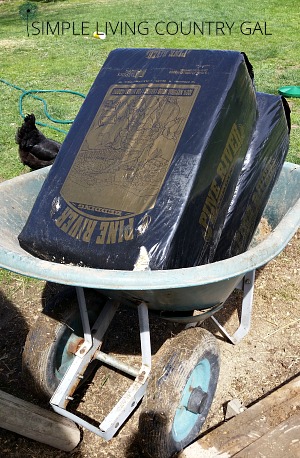 Step #10 Put it all back
A small tip here, if you decide to move things around be prepared for a bit of chaos at first. Chickens are a creature of habit so when I rearranged things a bit this year, it took them a few days to figure out where to lay their eggs. I found them scattered about the coop until a handful of days later they realized where the nesting boxes had gone to.
Also, it took a little longer for them to find their water. If it is hot, you will need to watch them with this.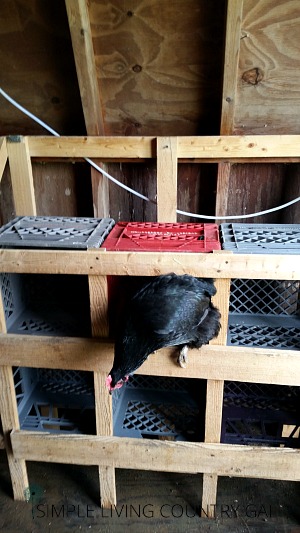 Step 11 Clean out your run
When cleaning out the chicken coop don't forget the outside. We have an outside run so that tends to be a large job in itself. This is where my boys come in and they do a great job and are much quicker than I ever could.
First, they rake it all out getting the loose hay and debris left over from the winter. Next, they will go in with a shovel and pitchfork to get the outer compacted layer.
This is important because usually things are so compacted down that drainage is nearly impossible and a good rain can cause a huge mess in minutes. By removing that top layer you are exposing the ground below and all the yummy worms and bugs the chickens love to dig for.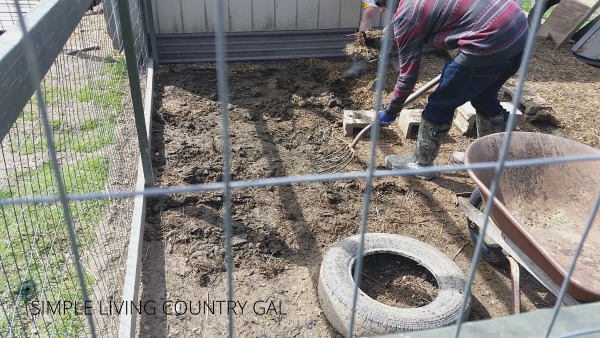 Once that is done they will go in and use a rototiller to loosen things up a bit. This step also helps give the chickens a soft top layer to scratch on.
Ninja tip: If you find that you are removing more soil than you are comfortable with you may want to add some fresh topsoil. We like to do this every third year. The fresh soil helps to keep the coop in good condition and provide a healthy environment for the chickens.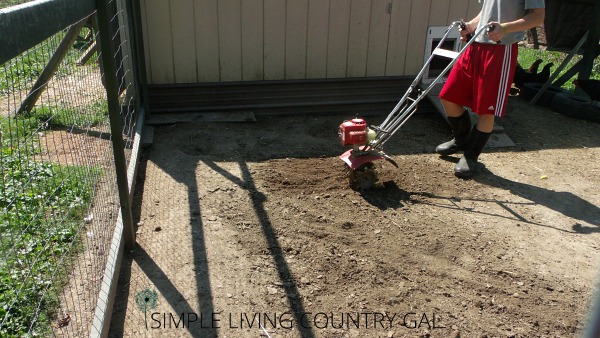 The best part of cleaning the coop is all the wonderful compost that ends up in my garden. If it is still early in the season I will add the bedding to my garden in large piles and let my chickens take over from there.
I cannot tell you how wonderful my harvest has been since I started adding compost to my soil. Remember to never add fresh chicken manure directly to your plants.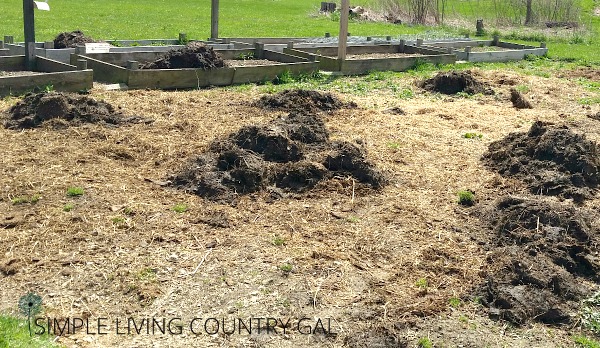 Step #12 Clean and replace the dustbins
Chickens love a good bath and yes they do it in loose dirt, sand, or simply dust.
When cleaning out the chicken coop, make sure to move and replace the loose material inside with a fresh mixture. If you live in a wet area you will want covers for your dust baths so things stay clean and dry.
Step #13 Inspection time
The fun part is letting the gals all back in. They just love to explore and chatter up about how clean and tidy everything is.
It is really quite comical. Nothing like a reward for all your hard work.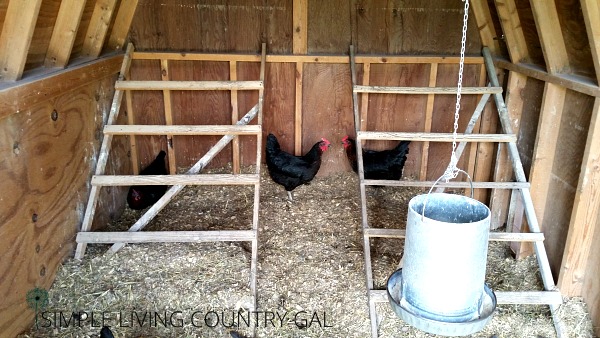 Being proactive in your livestock's health is so much easier than waiting for sickness to hit then treating it.
Nothing promotes health more than a clean environment for living, eating, and laying. Fresh housing means healthy chickens. Healthy chickens mean large and plentiful eggs.
Follow these tips for cleaning out the chicken coop for a healthy and happy flock!