If you love goat milk, then your goal in raising goats is to keep the milk flowing. This means breeding dairy goats on your homestead will be an annual project and one you will want to be prepared for.
How to raise dairy goats so you always have fresh amazing milk year round.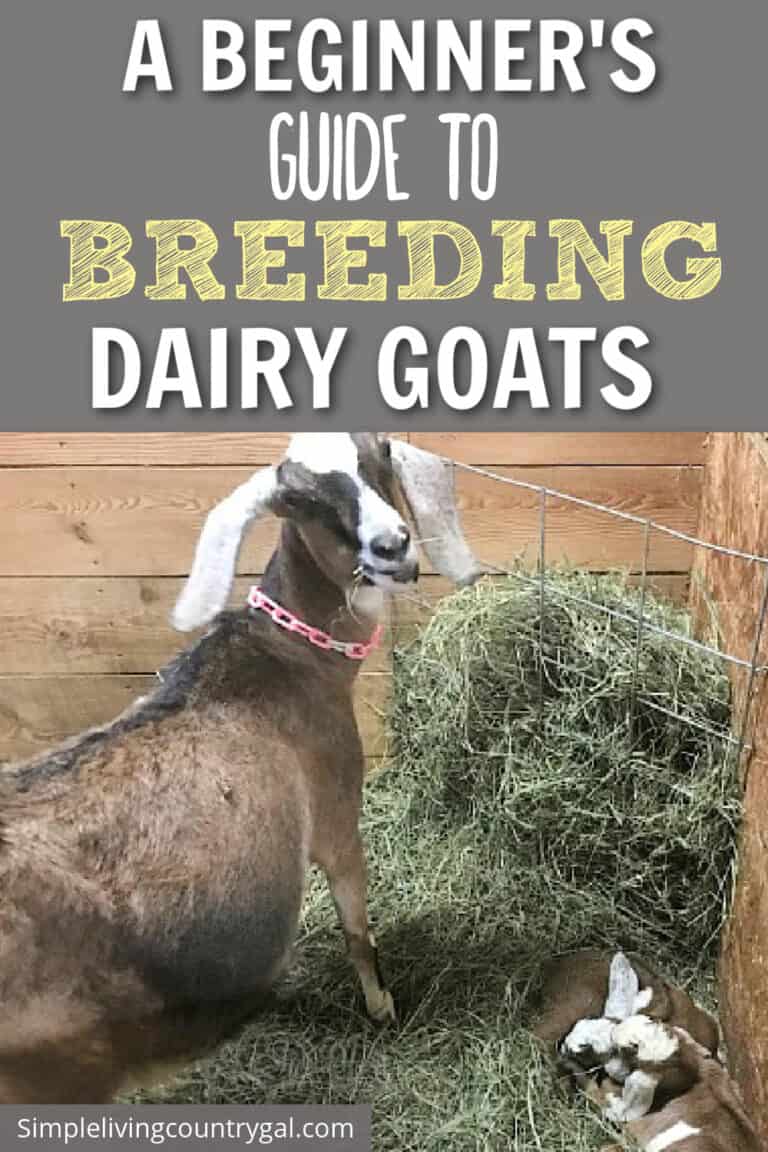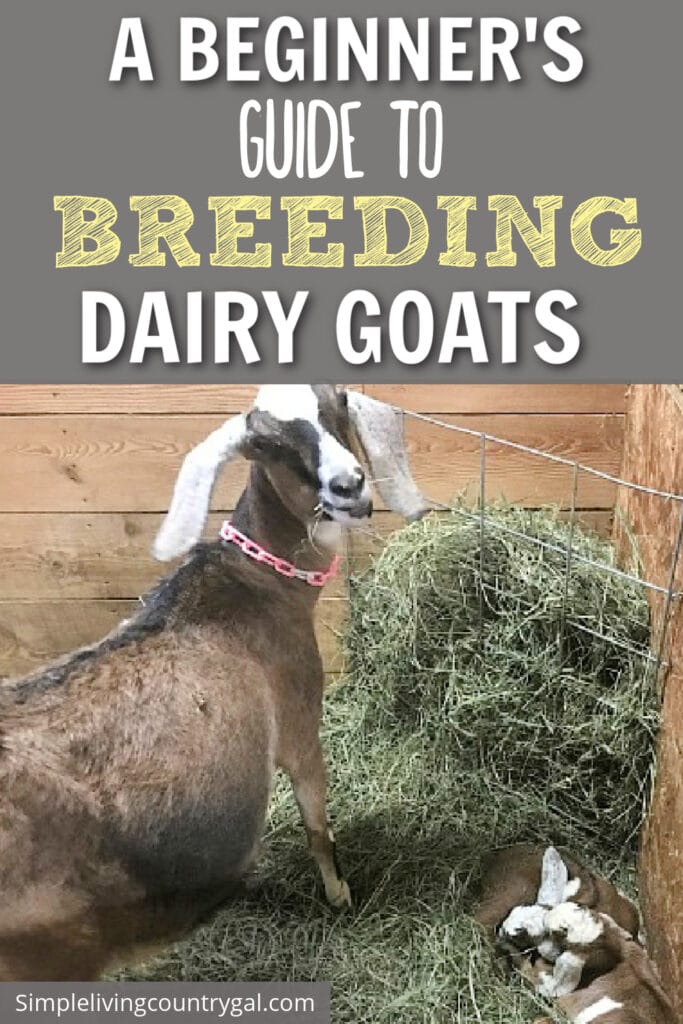 Breeding any animal can be scary and intimidating, especially for a beginner. However, if you have dairy goats and you want to keep that amazing milk flowing year round, then you must breed your does. Just like with people, a goat will only start to make milk when her kids are born. Yes, you can keep the milk flowing after the kids are weaned, but getting it started requires breeding.
Goat Breeding and Goat Kidding will give you all the info you need to get started and be successful.
My goal is to walk you through the basics of breeding so you can feel more confident taking the next steps.
Why breed dairy goats?
Not only do dairy goats provide milk, which is delicious and nutritious, but they are also known for their friendly and affectionate nature. Unlike cows, the goats are small, compact, and easily manageable. Moreover, they do not need much space, so they are suitable for any homesteader with limited land. By breeding dairy goats, you can rest assured that you will have a steady supply of fresh milk that you can drink, use to make cheese and yogurt, craft soaps and locations, and take your baking to the next level. A bonus is that a few goats can greatly cut down on your reliance on shopping at the store. A main goal of most homesteaders.
Breeding Dairy Goats
Let's go over the most common areas of breeding so you can better understand how things work.
Breeding Season
Goats are (mostly) seasonal breeders, meaning they can only mate during a specific season. This season usually begins in late summer and lasts until winter. Notice I said "mostly" and this is something you will want to remember. Just because a goats season is in the fall does not mean she won't get pregnant in the spring. If you have a buck that is willing and a doe that is able, chances are you will have a successful breeding.
Gestation of Goats
The pregnancy of a goat lasts about 150 days, give or take a few days. Therefore, it is vital to consider the timing of breeding so your goats kid when you want them to.,
A few reasons to plan kidding:
So kids are not born in frigid temperatures. For us, we find that spring kiddings are easier.
4H prospects. If you want to sell kids to 4H members, you will need them to be born at a specific time so they are of the right age.
Constant milk flow. You can stagger kidding to ensure you have a steady supply of milk.
Use our Goat Gestation Calculator to plan kiddings on your homestead.
Prepare Goats for Breeding
Before breeding, it is crucial to have the goats in good physical shape. Not all breedings happen the first time, and that means your buck and doe may be physical for weeks to months before it takes. The more you can prep your herd prior to breeding the better they will improve their stamina and also cut down on accidents that can sometimes happen.
How to Prepare Your Does and Bucks for Breeding:
Start giving additional supplements if needed.
Give a balanced diet being sure not to overfeed.
Give have access to quality hay either on pasture or in cuttings.
Provide them with a clean and comfortable environment. We like to do a full barn clean out prior to breeding season.
Make sure everyone is dewormed, vaccinated, and tested for diseases that are communicable when being bred.
The role of the buck
The buck, or male goat, is responsible for mating with the doe. Since the doe is only receptive for a short period of time, the buck may try to bolt and charge out of season, a phenomenon known as the rut. During this period, the buck may exhibit unintentional aggressive behavior. Bucks in rut have a one-track mind. To breed any doe that is close to or in heat. Because of this, it is best to keep bucks separated from the does except during the mating season to ensure the safety of both genders.
Breeding age of does
It is recommended to wait until the doe is 12 to 15 months old before breeding for the first time. Waiting until they reach full maturity ensures that they will have fewer complications during childbirth and whelp larger litters. It is also advisable to let the doe rest for at least six months before breeding again.
SLCG Pro Tip: Bucks can breed a female goat starting as early as 7 weeks old, so it is important to watch your young goat kids closely. We separate our bucklings out as soon as they are weaned. They are put into our boy pen where they will stay until we sell them or castrate them.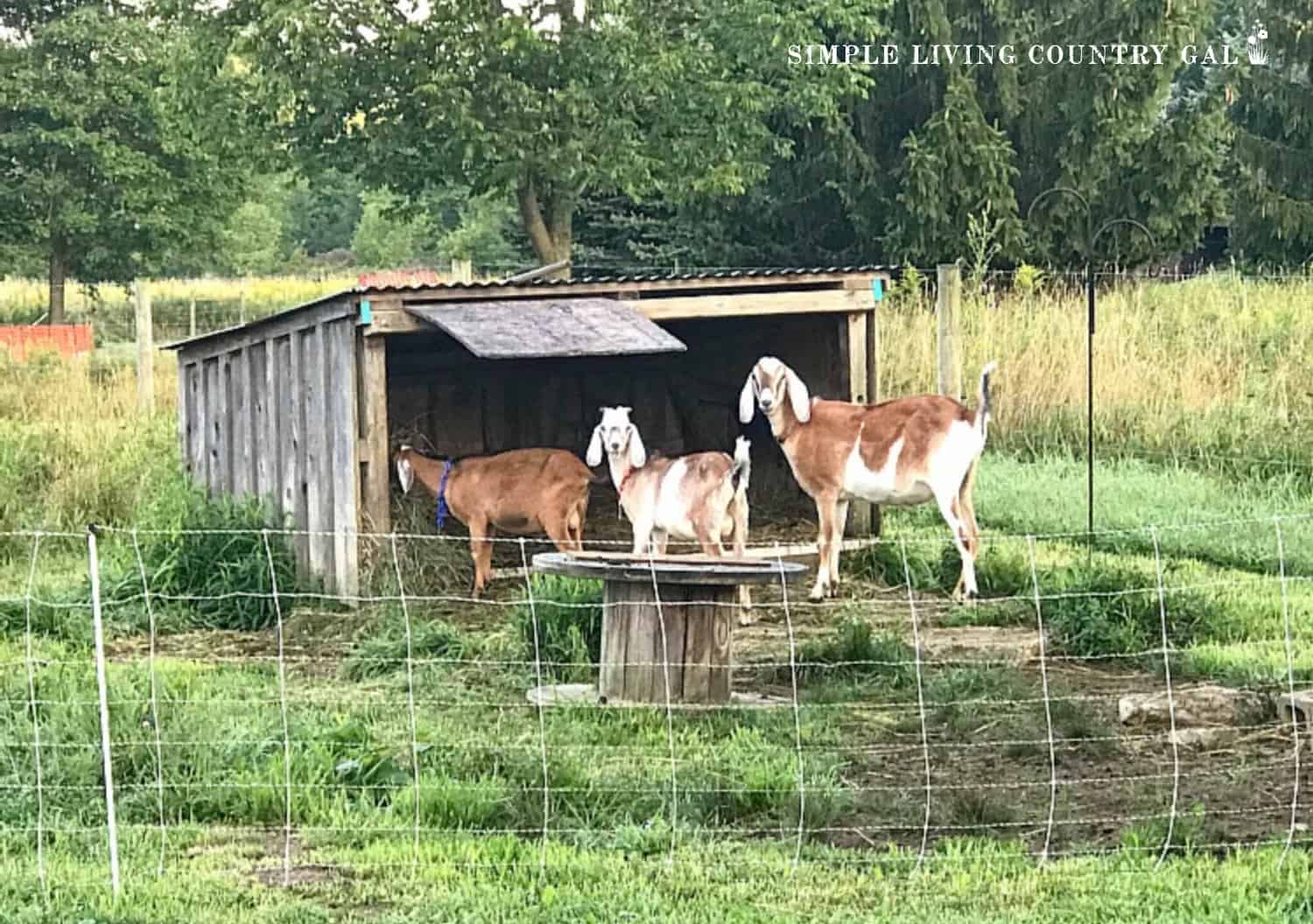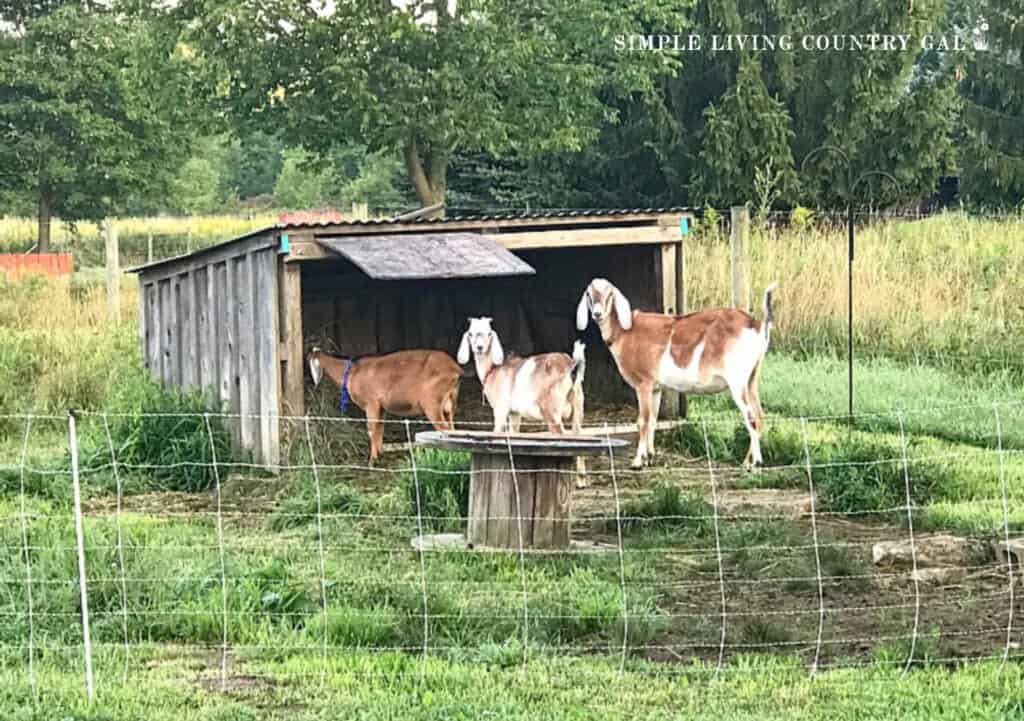 What is an anti-breeding apron for goats?
An anti-breeding apron is an apron-like device that is tied to the middle area of a buck that keep penetration from occurring. Although not fool proof, ti can help reduce accidental breedings.
Cardinal 3 Ring Binders, Round Rings, Holds 350 Sheets, ClearVue Presentation View, Non-Stick, Assorted Colors (79550), 1.5 Inch (Pack of 4)
ThinkTex 26 Pockets Expanding File Folder, Upright & Open Top, A-Z Colorful Tabs, Larger Capacity Accordian Folder, Letter/A4 Size for School, Home and Office
IRIS USA Portable Letter/Legal File Tote Box, BPA-Free Plastic Storage Bin with Organizer-Lid, Durable, Secure Lid and Handle, Black
Comix Magazine File Holder, Sturdy Plastic Desk Organizers and Storage File Folder for Office Organization, Binder Organizer with 4 Compartments Storage Organiser Box
Kajaia 2 Pieces Anti Breeding Apron, Anti Mating Skirt with Chest Strap and Collar Breeding Control Goat Skirt Adjustable Orange and Black Anti Mating for Goats Sheep M Size
YUYUSO Anti Breeding Buck Apron Anti Mating Skirt with Chest Strap for Goats Sheep Size S
Kajaia Breeding Control Buck Goat Apron Goat Anti Mating Adjustable Orange Anti Mating Skirt Anti Breeding Sheep Goat Skirt with Adjustable Strap for Goats and Sheep (M)
The act of breeding
The actual act of goat breeding only takes just a few seconds which means if you look away you may miss it. Here is what breeding looks like. First, a buck will approach a doe stuttering and sniffing her for signs of heat. If she is in heat, he will mount her from behind and extend his penis for mating. He will enter her and give a hard thrust arching his back and grunting. Once done, he will back away and either stop or try again.
If mating is successful, your buck will not approach the doe again for mating. Another sign of success is if a milky substance drips out of the does backend. If you see either, make a note in your goat care journal so you can have a record of the mating.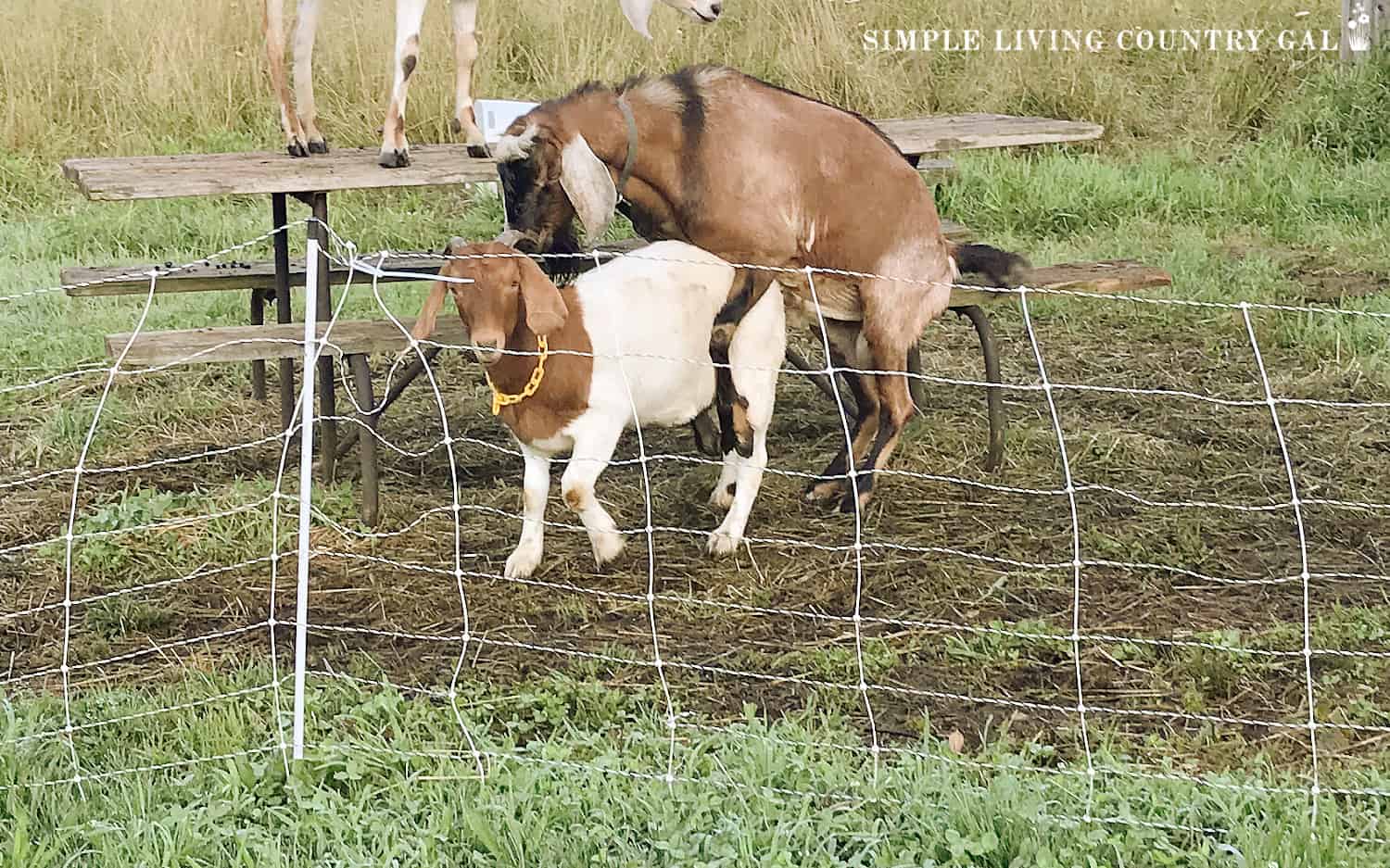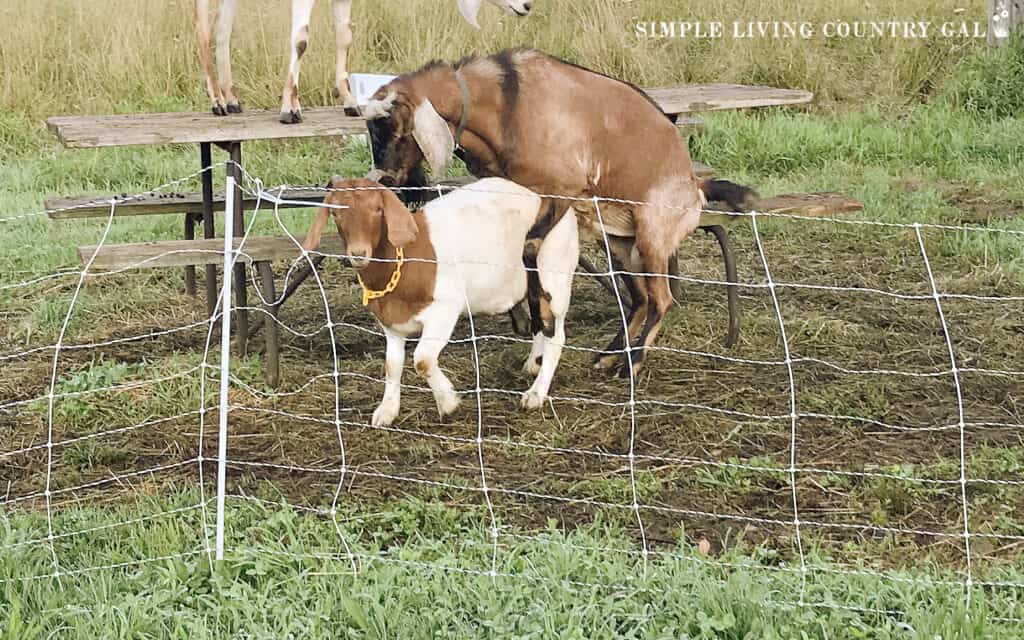 Breeding dairy goats requires patience, preparation, and a quick eye. Before you begin, do research to help prepare you for what's ahead. By keeping the goats healthy, well-fed, and well-cared for, you will have excellent chances of producing not only healthy offspring but milk and cheese products that will surely delight you and your family for years to come.
More Goat Breeding Resources: