Having an option for relocating your goats to fresh pasture is a great way to raise a healthy herd. Today I will share with you my tips on movable goat fence that will work great.
I love these goat fence ideas because using movable options allows us to raise goats that are healthier by rotating the pasture they are on routinely.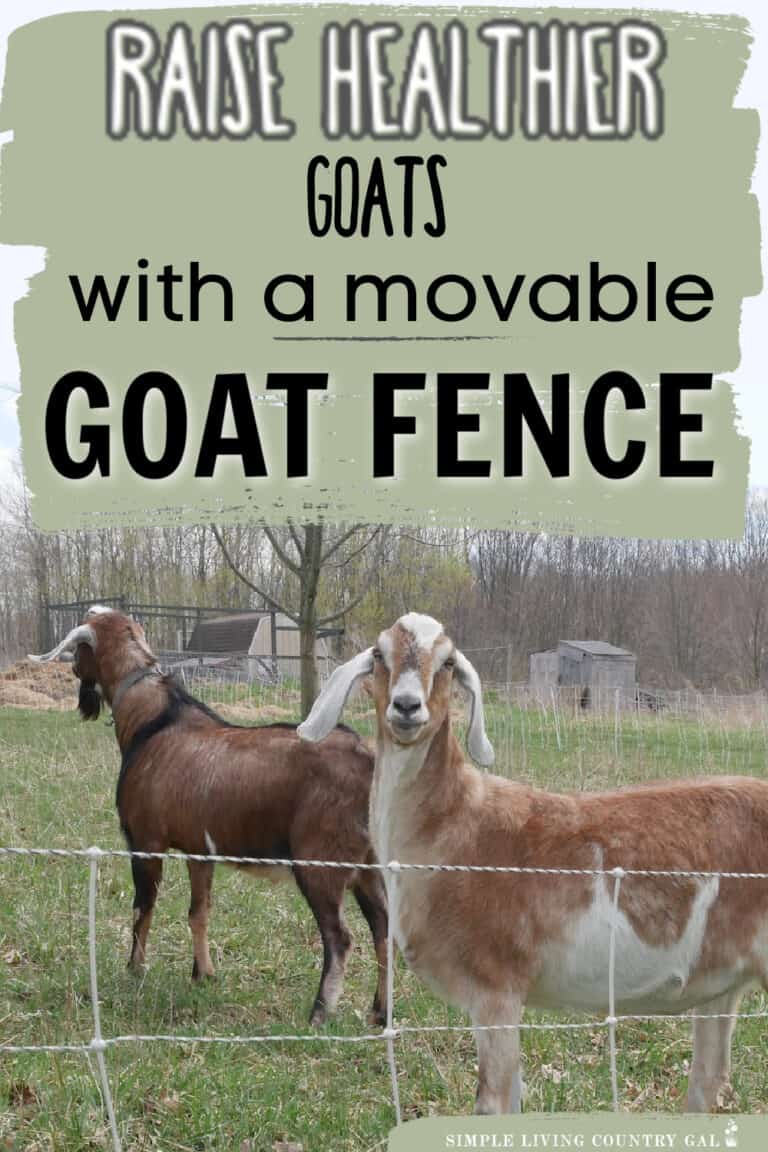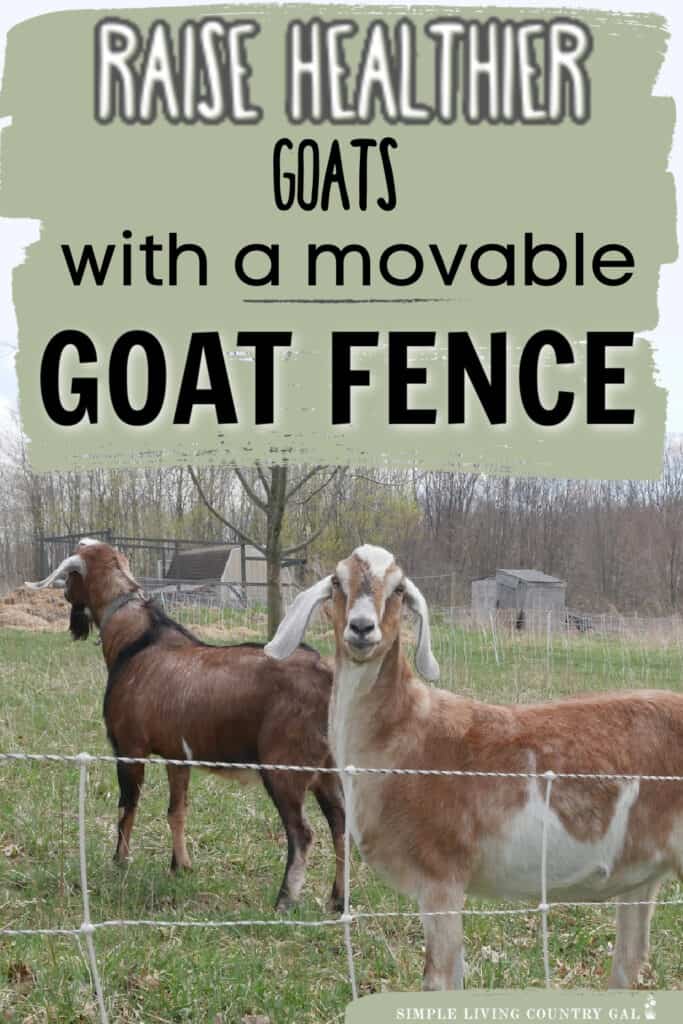 Goats are notorious escape artists, so the importance of having a strong and secure fence to contain them cannot be understated. Goats also have a habit of roaming, which is why many goat herders opt for moveable fencing for rotational grazing.
This type of fencing allows for flexibility when it comes to keeping your goats contained while still providing them with plenty of grazing land. Knowing the different types of fencing that can be moved and why it's important to have good moveable fences for your goats is essential to herd management.
Luckily there are a few options for movable fencing, so you can find one that will fit your herd size and pasture setup.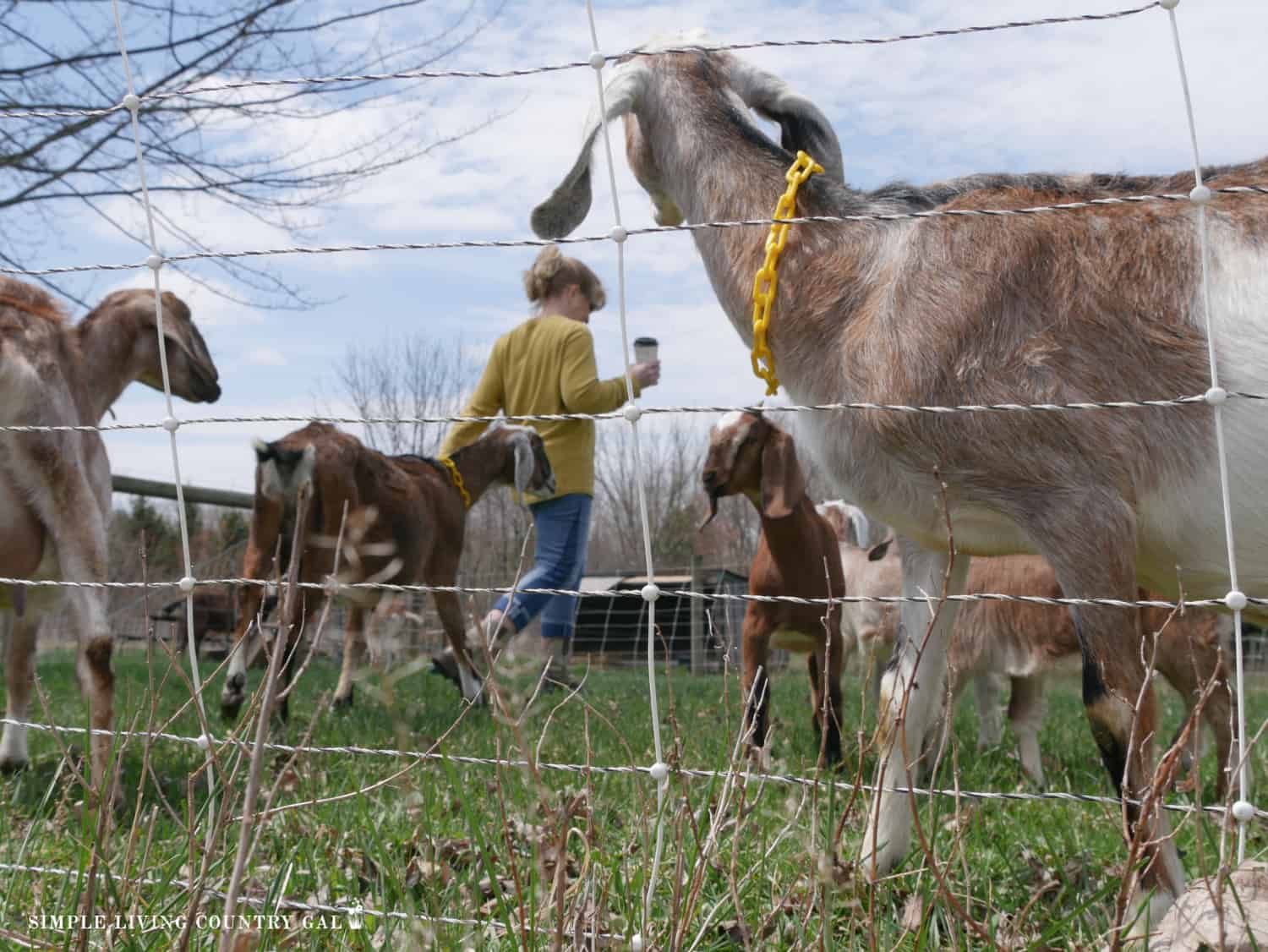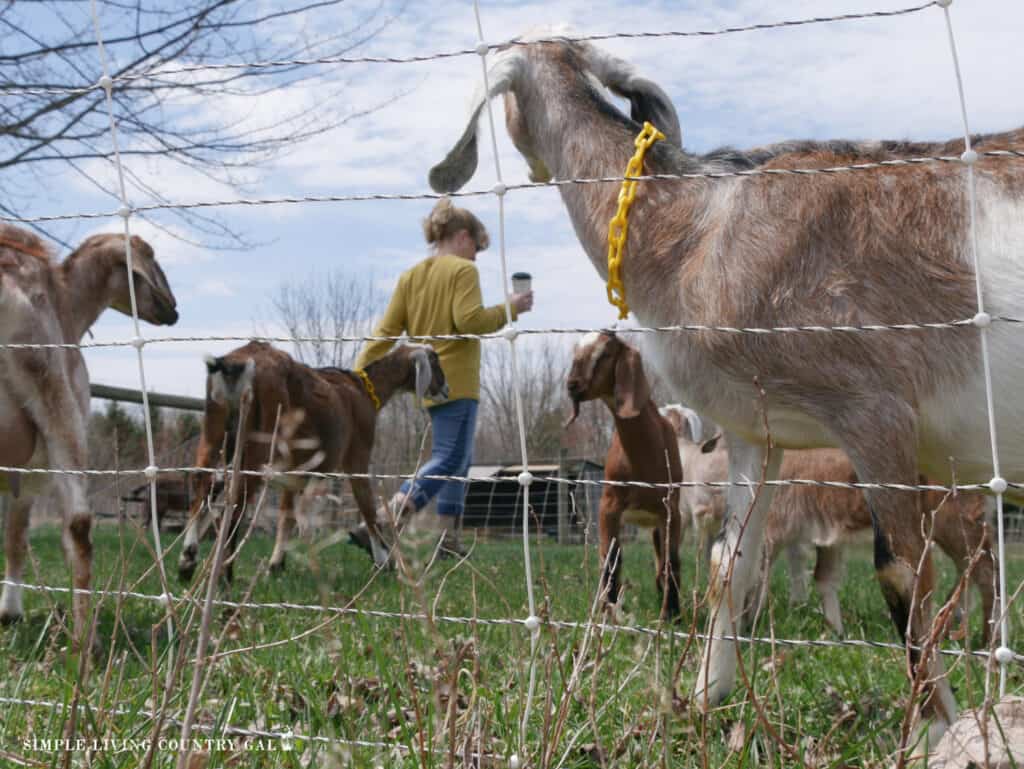 How many goats can you have on 1 acre?
A small herd of 6-8 goats will do quite well on an acre of land. If you plan to grow your herd you will want to keep this in mind as you are planning out your grazing pasture. Also, be sure to incorporate some sort of rotational grazing plan to ensure your herd is on healthy ground whenever possible.
What is rotational grazing?
Rotational grazing is a method of managing pasture for your livestock so they are always grazing in healthy areas. It works by moving your animals from one section of land to another to avoid overgrazing.
Moveable goat fencing is essential for this practice since it allows herders to adapt their fence setup quickly as they rotate the goats through different pastures.
Moving a herd and the fence can be a bit overwhelming at first, but once you create a process, it will be easy to incorporate this practice into your monthly herd upkeep.
Benefits of moveable fencing for goats
Moveable fencing has several benefits for goat owners. First, it allows you to easily adjust the size and shape of your pasture as needed so that you can rotate through more land with fewer fences.
Additionally, it's easier to maintain since there are fewer posts and wires to work around. Moveable fencing also eliminates the need for a permanent fence line, which helps reduce costs and labor.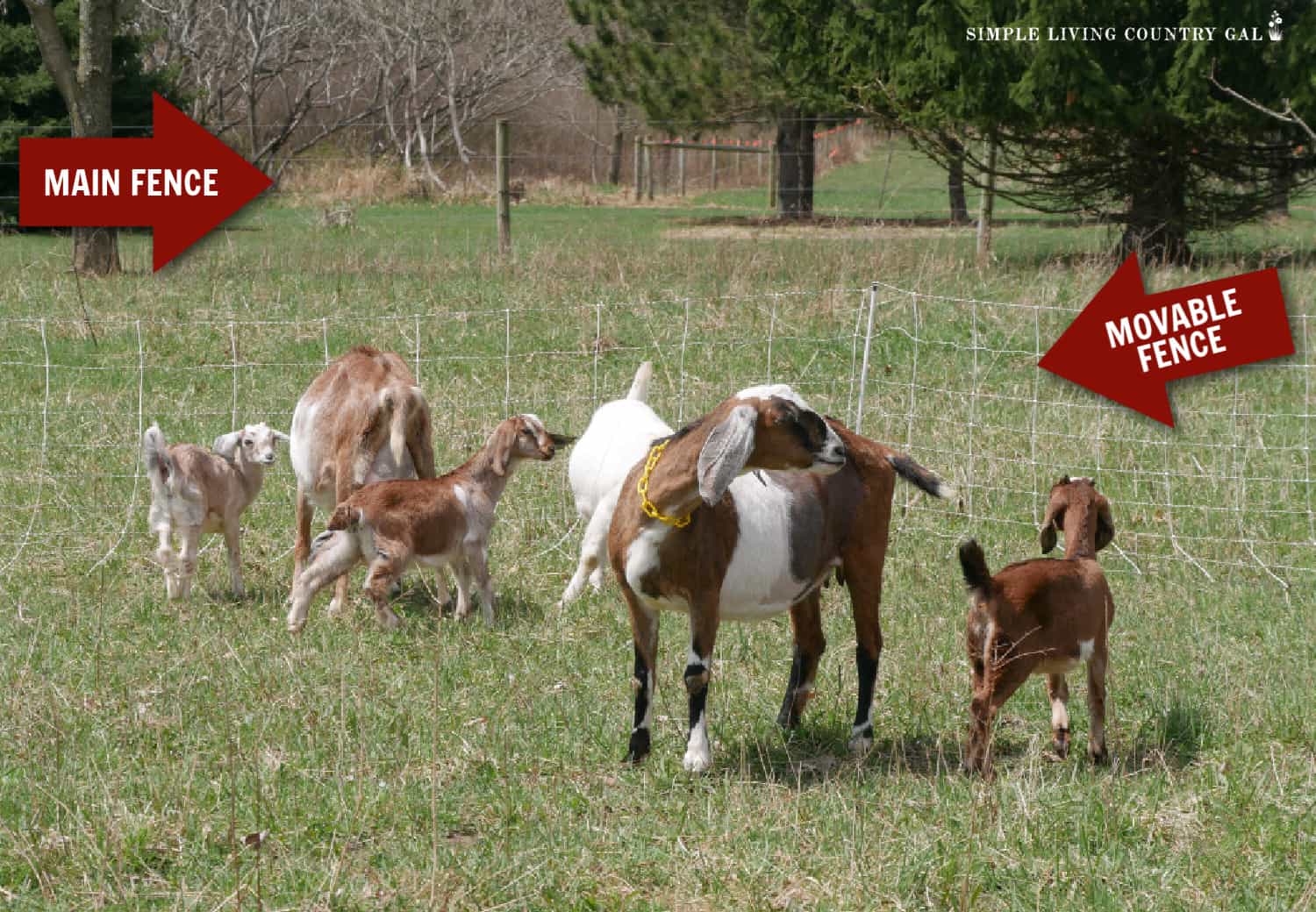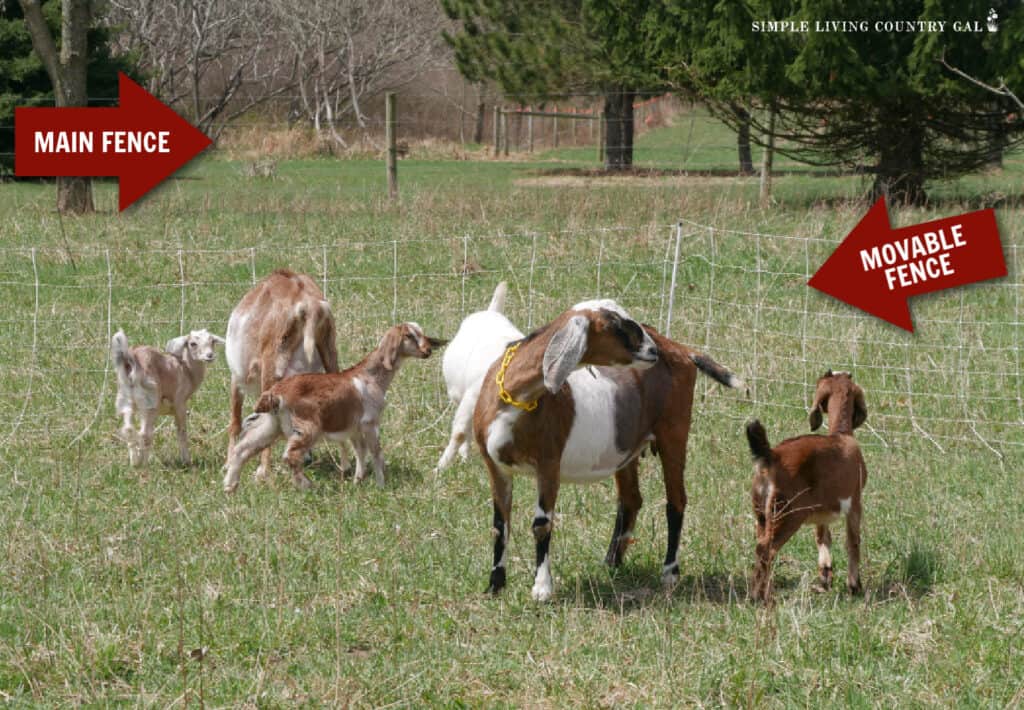 Easy-to-move fencing options
Electric fencing is one of the most popular types of moveable goat fencing because it's easy to set up and take down quickly. This type of fence is lightweight and can be moved easily by one or two people. This is always a top requirement for my setup as most of the tasks that I do need to be easily accomplished solo.
I love electric fences because they offer extra security that helps to keep your goats enclosed and other animals out. This includes any deer that can cause issues in goat herd health.
Types of Moveable Fencing for Goats
There are several types of fences that can be used for rotational grazing with goats. These include:
Let's take a look at each type in more detail.
Electric Fence Netting
Electric fence netting is the most popular moveable goat fencing option due to its ease of setup and portability. It is lightweight, durable, and cost-effective. Electric Netting comes in rolls that can be unrolled and set up using the stakes that are incorporated with the fencing.
They are easy to adjust and easy to store in the winter seasons. They can also be set up alone and work great to keep your goats contained and other animals out.
You can also attach several rolls of netting, allowing you to offer a larger grazing area to your herd.
Steel Fence Panels
Panels are the most expensive option but are also the easiest to move around your pasture or paddock. They come in different sizes and styles for added flexibility and provide more security than electric or netting fences.
Panels are also very sturdy and can withstand the elements year-round, making them a good choice for long-term use.
Panels can be put up alone, but I find it is easier with help. They come in different heights and lengths, so you can make smaller paddocks for your herd.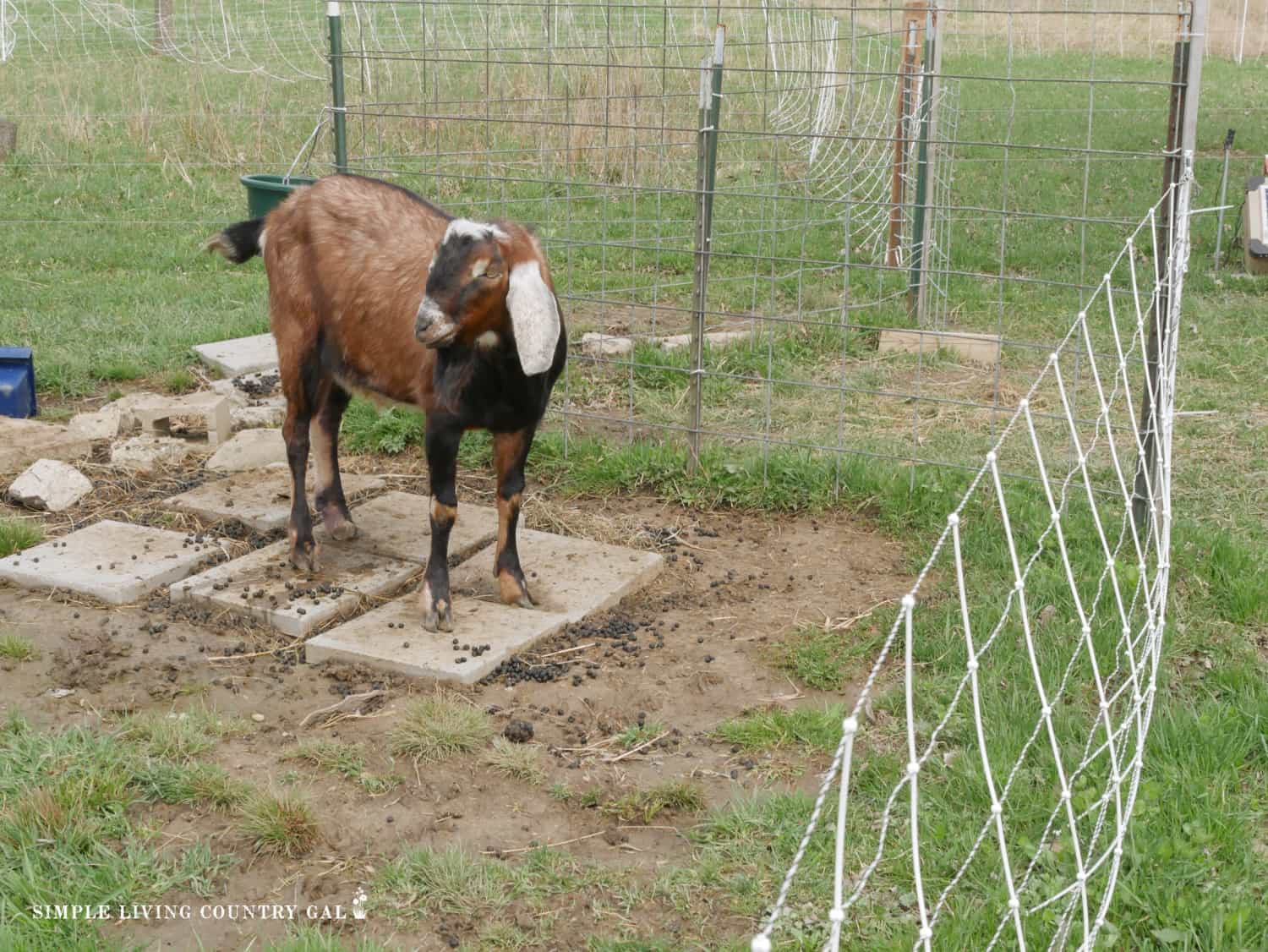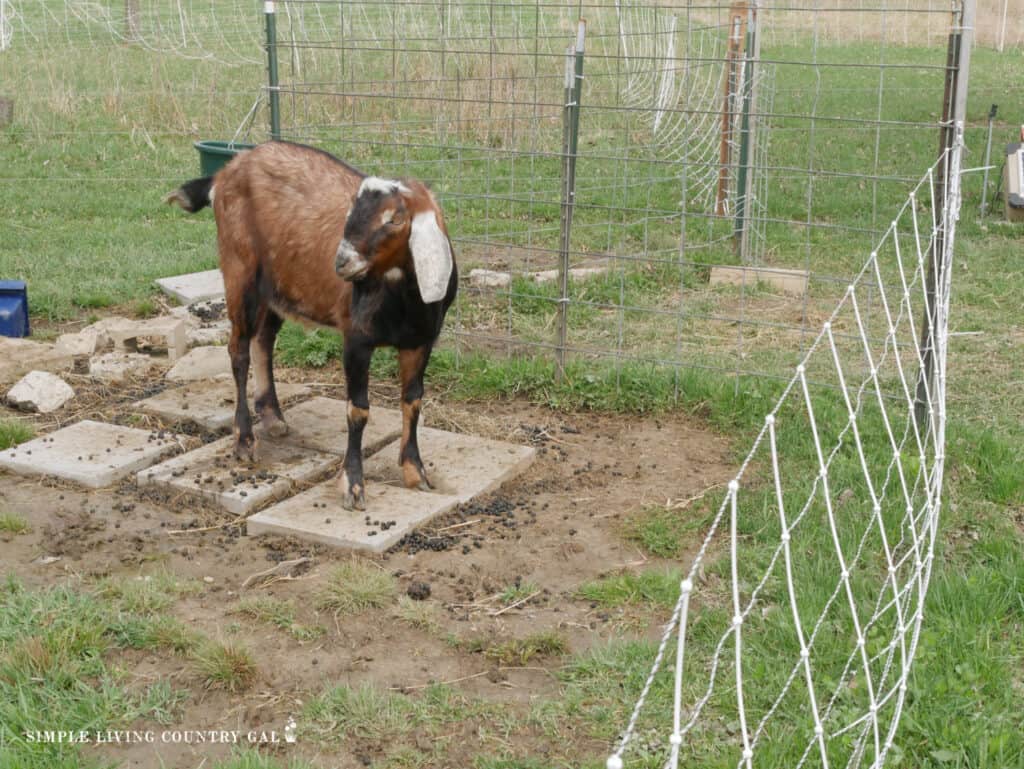 Rolled Polywire
Polywire fencing is another option for movable goat fencing. Not my favorite type of fencing because I find it more labor intensive, but it is one you may want to consider if none of the other options mentioned above will work for your herd.
Polywire comes in rolls that you can use to enclose your goats. You will need at least 2 strands, with many cases calling for three.
No matter which type of moveable goat fencing you choose, make sure it is sturdy enough to withstand the elements. It should also be easy to install and remove so that you can quickly adjust your paddocks and pastures as needed.
Rolled welded fence
I like rolled welded fence as it allows me to really separate different sections of a pasture without having to electrify things. It is important to know if you choose this option, you will need to train your goats to stay put where it is safe.
Can you keep goats without a fence?
Yes, it is possible to keep goats without a fence in certain circumstances. For example, if they are being kept in an enclosed barn or pen with a roof and walls, then no additional fencing would be needed.
However, if the goats are outside and not confined by any structure, then some sort of fencing will be necessary to protect them from predators and prevent them from getting into trouble.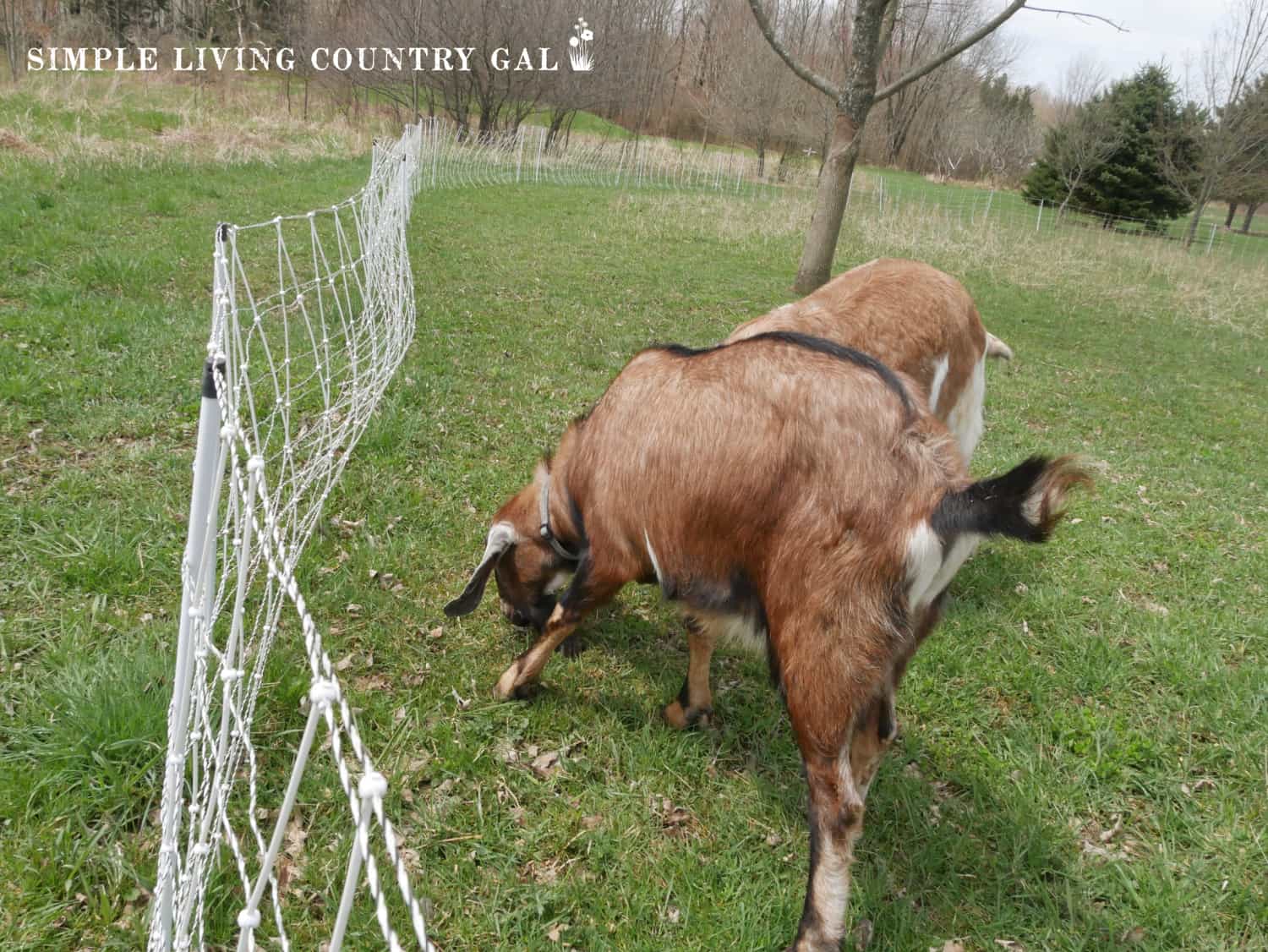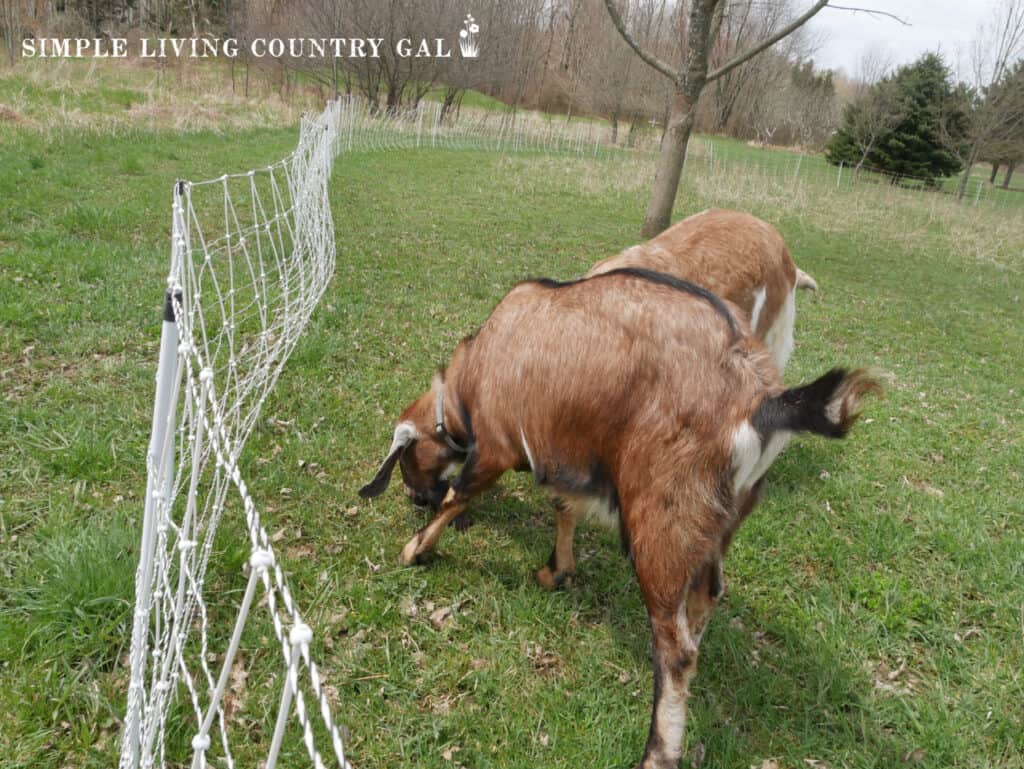 Moveable fencing is a great way to keep your goat herd safe and secure while also giving you the flexibility to move it around as needed. Various fencing options are available, from easy-to-install polywire to more durable portable panels or electric fences.
No matter which type of fencing you choose for your goat herd, make sure it is secure and suitable for the size and needs of your goats. With these options, you can incorporate a movable goat fence with your own herd.
More Goat Fencing Resources: