How to keep goats warm in the winter
If you live in an area where the weather gets cold, you may worry about the well-being of your animals. Luckily, there are tips on how to keep goats warm in the winter so you can relax knowing your herd is safe.
When learning about how to raise dairy goats in a natural way, seeing what others are doing can be enlightening, and many times the tips are the same ones being used year after year.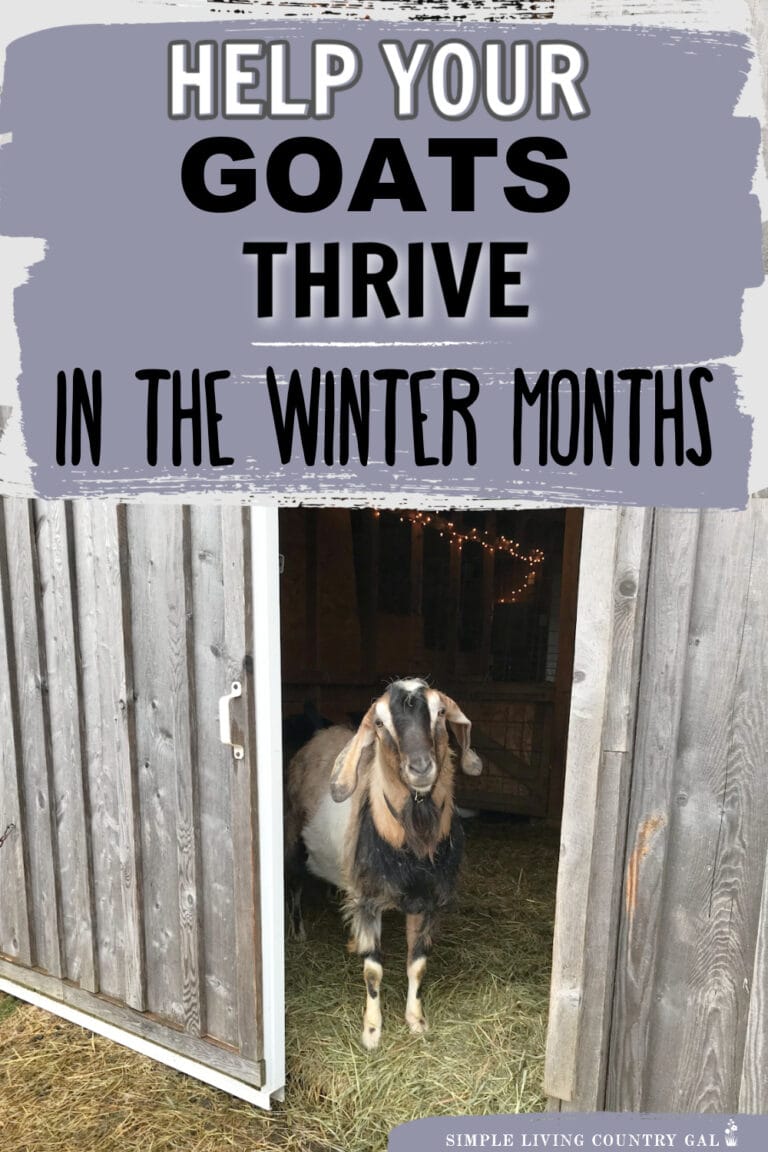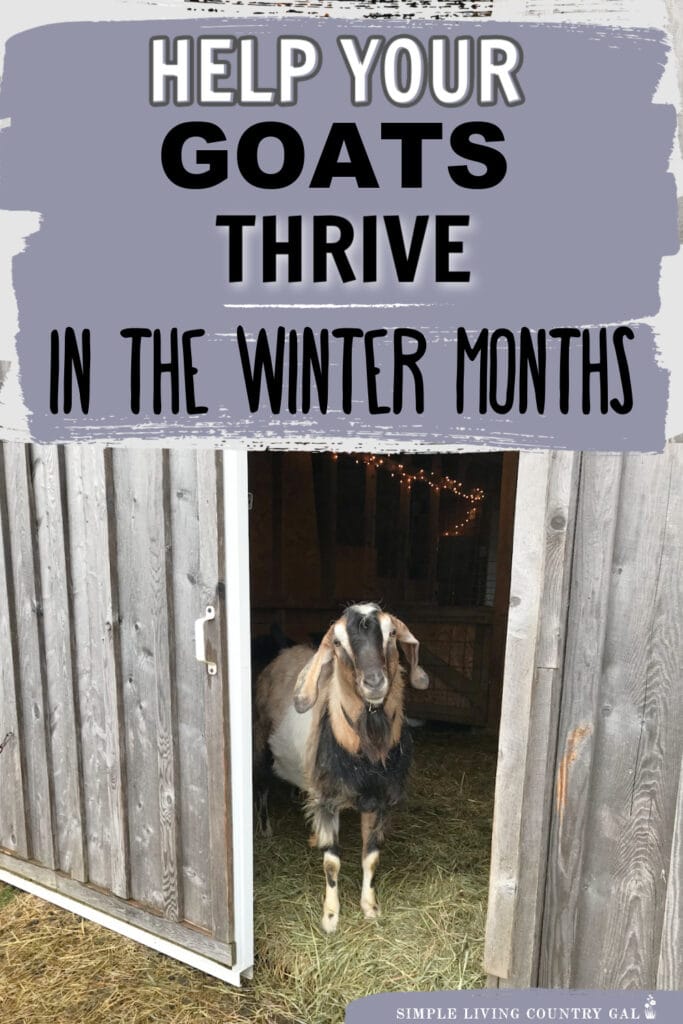 Winter can be a challenging time for both people and animals, especially for those living in colder areas as we do. For goat owners, it is important to pay special attention to each member of the herd throughout the winter so you can give help to anyone who needs it right away.
As natural grazers, goats are built to withstand cold temperatures, but they still need extra care and protection to stay healthy and happy. In this guide, we'll list out some of the most effective ways on how to keep goats warm in the winter so you can ensure your herd stays strong and thriving year-round. Whether you are new to raising goats or have been doing it for years, these tips will come in handy when preparing your herd for the cold months ahead.
How cold is too cold for goats?
A healthy goat with a thick natural coat of fur can withstand pretty cold temperatures, even ones that are below zero. It is not so much the temperatures that are a factor but the entire weather at once. Wind and moisture, such as rain, sleet, or snow, play a significant role in causing hypothermia or frostbite in goats. So, while checking the temperature is important, it's equally essential to keep an eye on weather conditions such as wind chill and precipitation levels.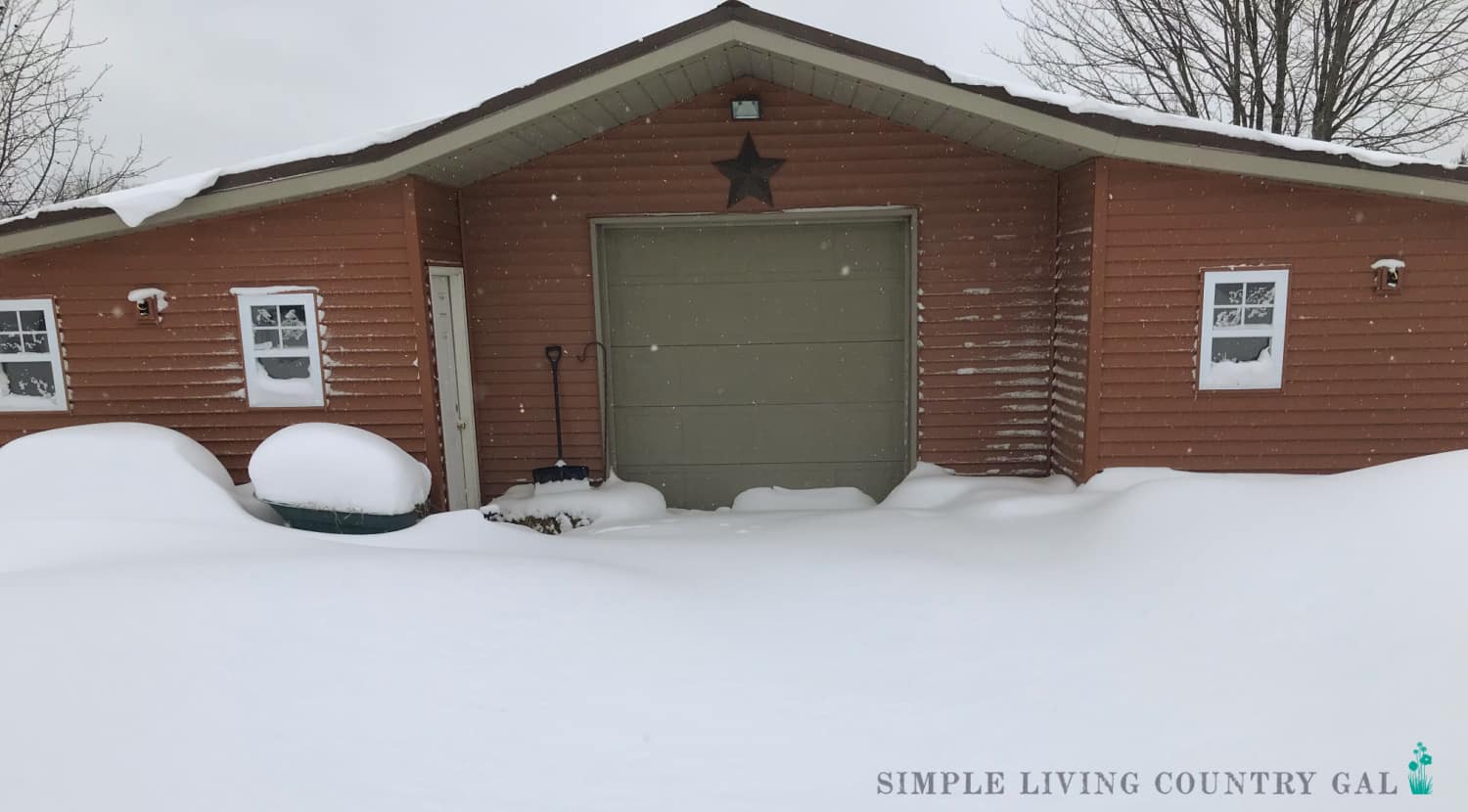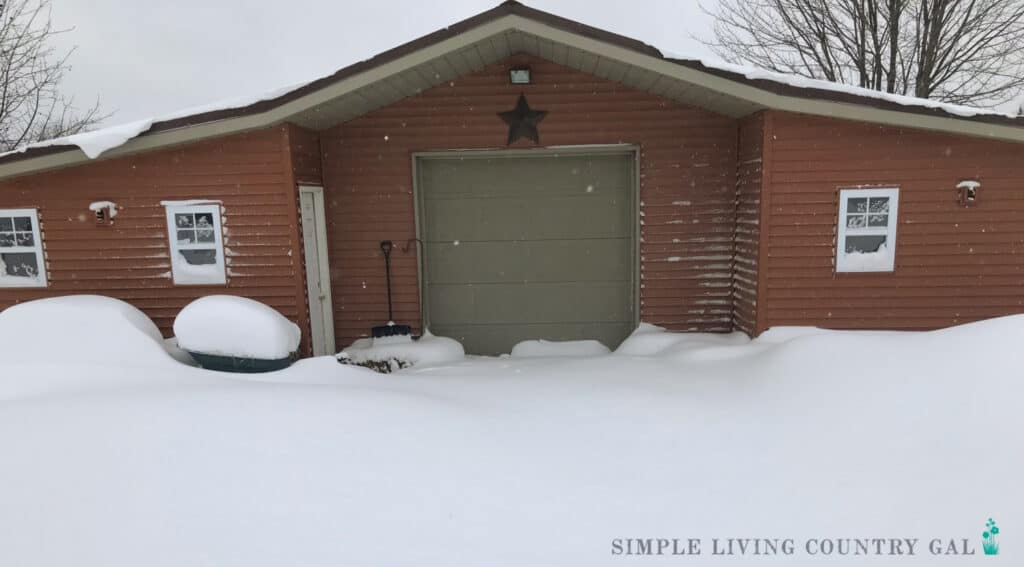 When severe weather sets in, it's best to bring your goats into a sheltered area like a barn or shed where they can stay dry and warm. This is not only true in the winter but in the other seasons as well. Most goats are not fans of getting wet, so always having a spot nearby where they can get out of the weather is a helpful way to encourage a healthier herd.
If you have goats shivering in winter, do not panic. Shivering in your goats is not always a cause for alarm. If your goat is eating, drinking, and in body condition, then shivering is a natural behavior and what a body does to help keep warm. If you have a goat that is shivering, do a further inspection to see if it is normal or a clue that you need to intervene.
How to keep goats warm in the winter
In the winter, there are a few things you can do to help your goats stay warmer even when the weather outside is horribly cold.
#1. Have Good Shelter
Having a good shelter is crucial for keeping goats warm during the winter. A barn or shed with good insulation can protect your goats from harsh winds, heavy rain, and snow. Make sure there are no drafts coming in from windows or doors and that the roof is sturdy enough to withstand heavy snowfall.
To keep your herd relaxed while inside, be sure you have enough room. For each goat in the herd, look to have about 20 square feet of space in the barn or shelter. If you have room, include a few platforms for them to rest on or climb on to help them move around and stay warmer.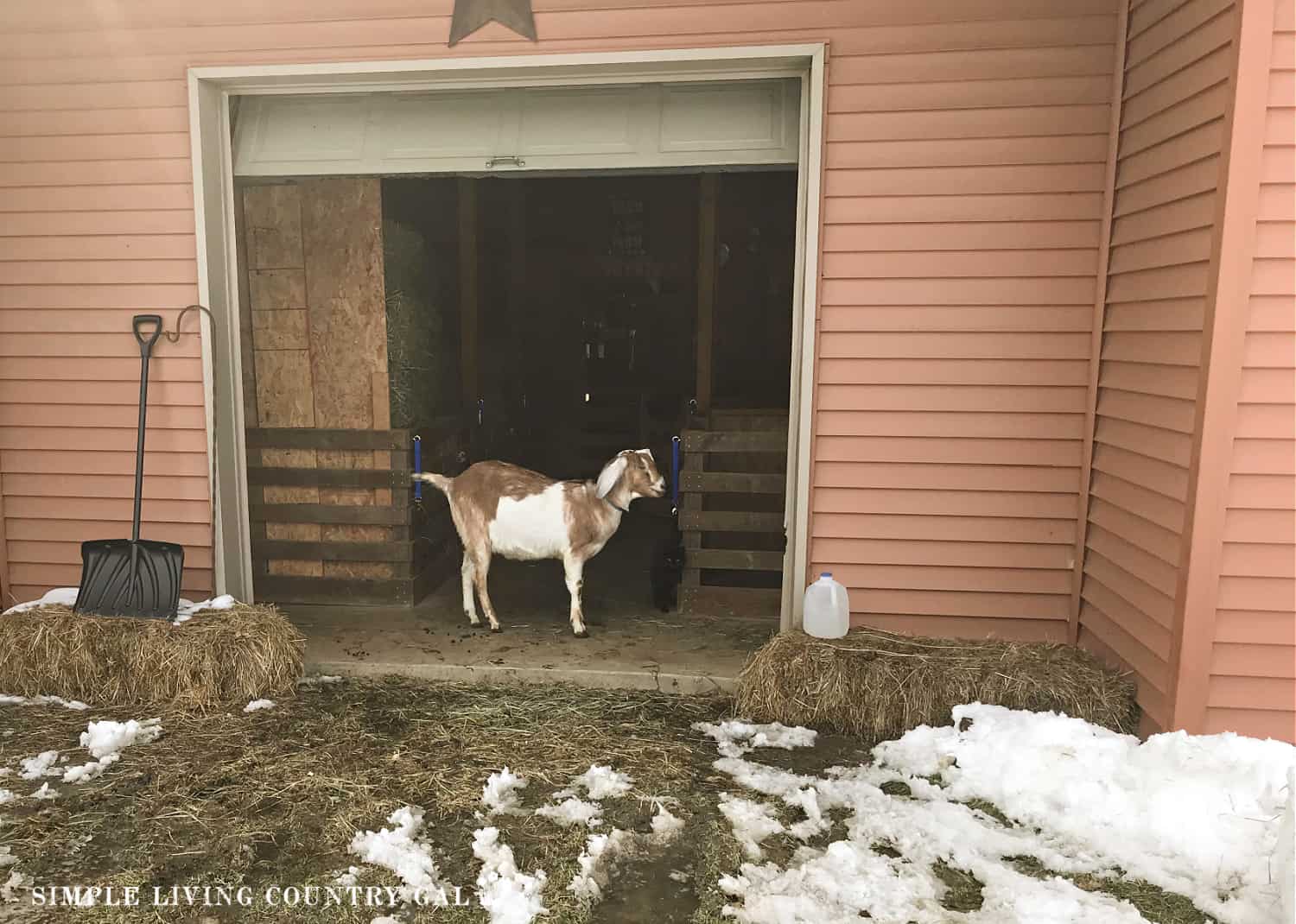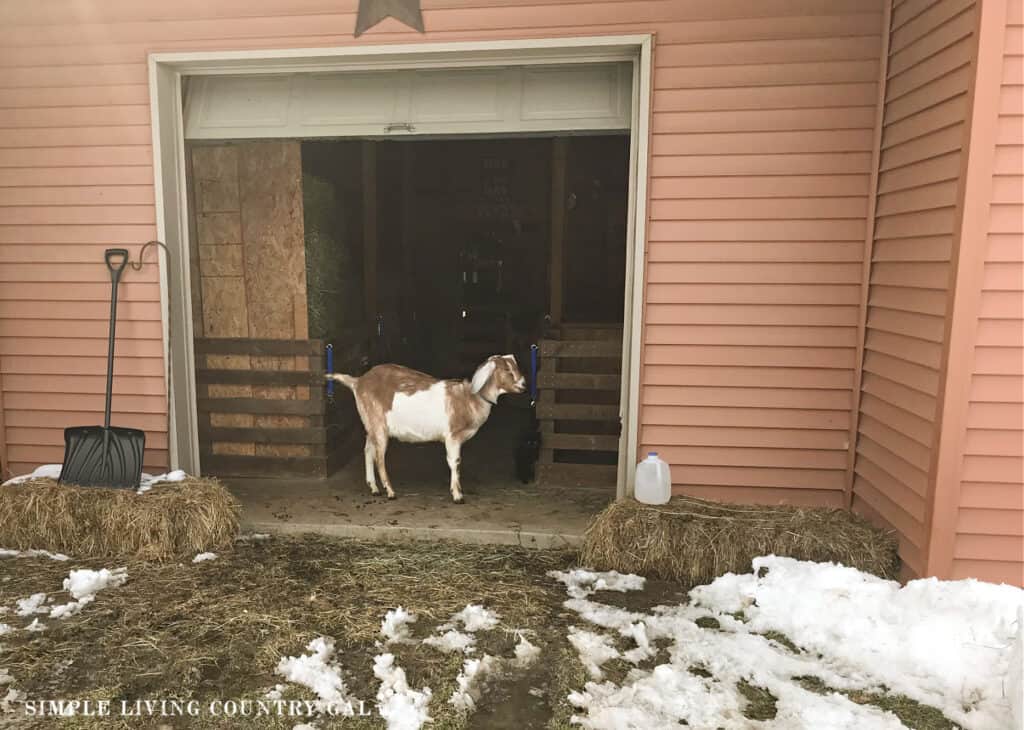 #2. Have Enough Bedding
A thick layer of clean, dry bedding will help insulate your goat's body heat and keep them warm during the colder months. Using straw, sawdust, or wood shavings makes for excellent bedding materials as they absorb moisture well and provide warmth and comfort to your herd. Giving extra goat bedding in winter can make things a bit more cozy inside the barn even if the weather is awful outside.
You can use the deep litter method for extra insulation on the ground. This means leaving the bedding in and adding fresh on throughout the winter months. As the bedding packs down, it will act as a barrier between the cold and your goats, giving them a warmer environment.
#3. Provide Adequate Nutrition
During the winter season, goats require more food to maintain their body temperature as they burn more energy trying to stay warm. Increase the amount of hay you provide, and consider adding grains like oats or corn to their diet, as these are great sources of energy and help generate body heat.
We like to give the best quality hay in our area to ensure our goats continue to heat. There is an amazing tip about goats: when they eat hay, their rumen acts as a furnace warming them up from the inside out. The better the hay the more likely they will be to eat it. Look to see if there is any second or even third cut hay available to purchase in your area.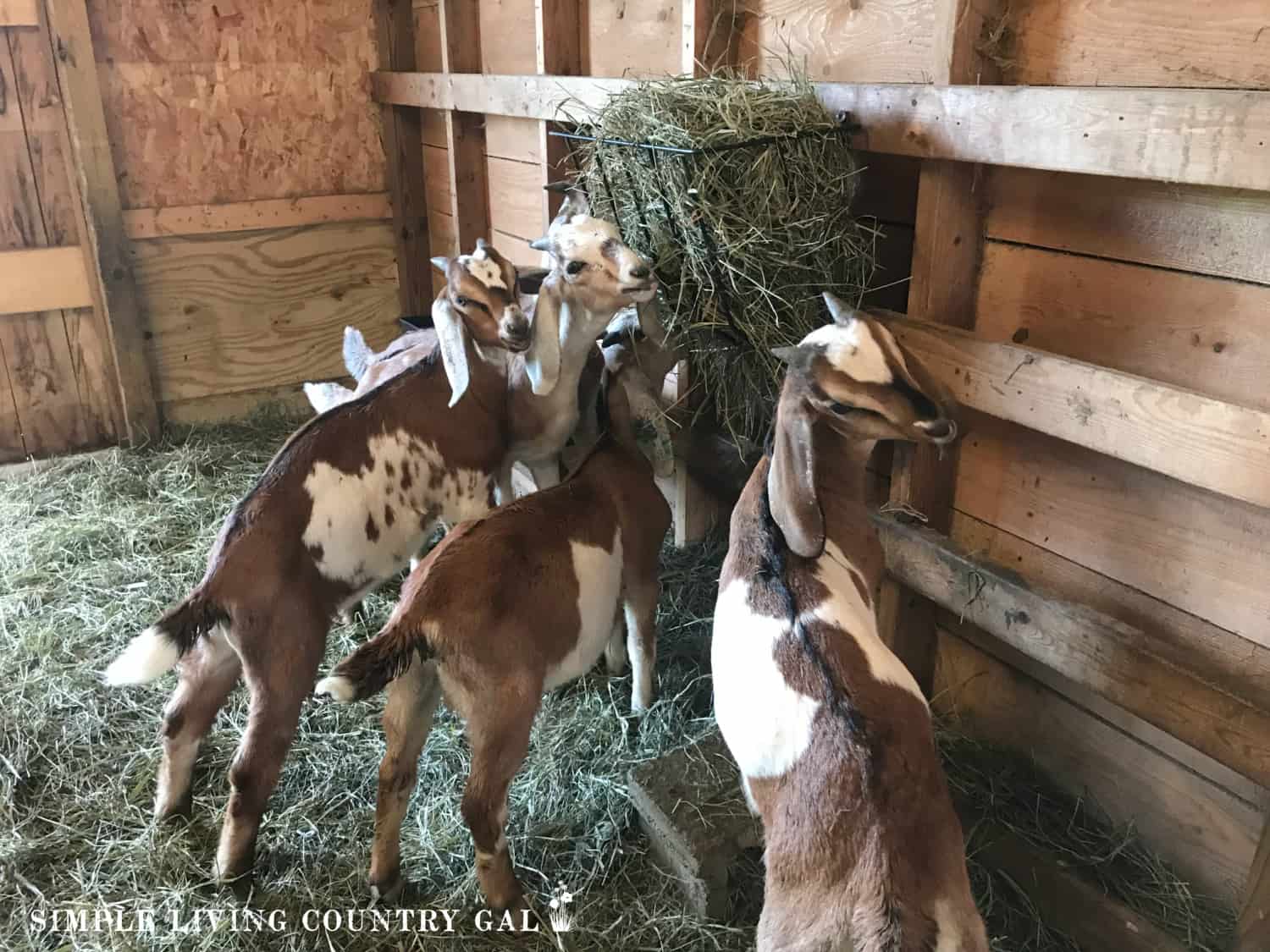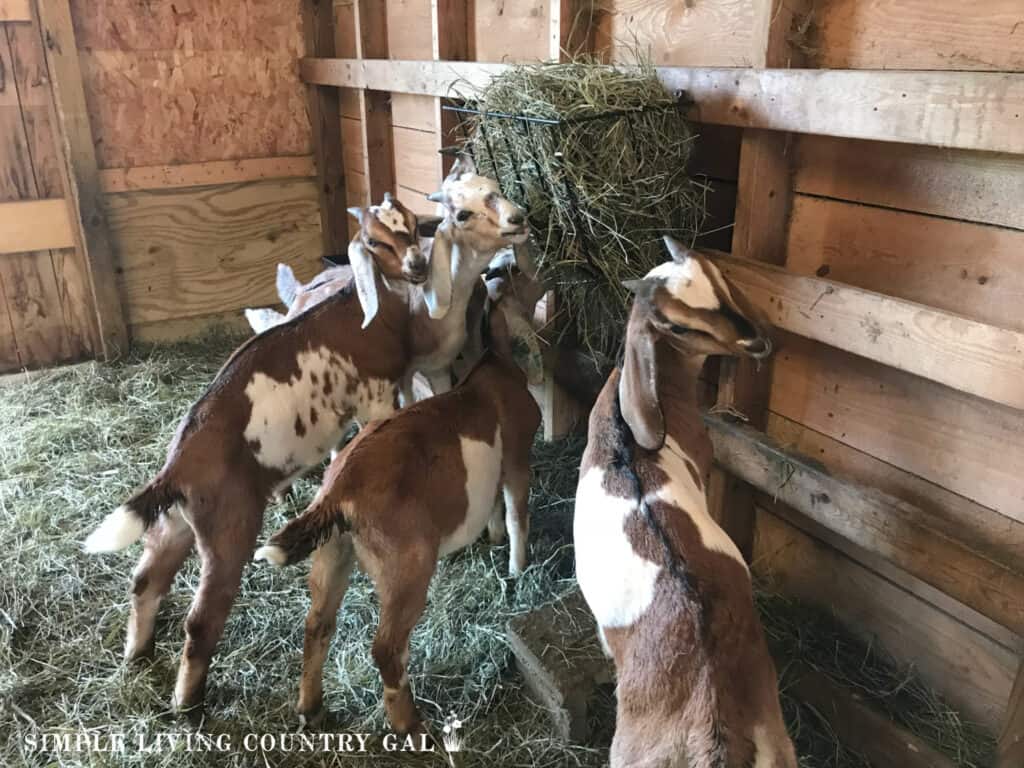 #4. Protect Against Frostbite
Goats are particularly susceptible to frostbite on their ears, tails, udders, and feet. To prevent this from happening, make sure your goats have a dry place to rest and avoid prolonged exposure to moisture. Additionally, rubbing petroleum jelly or other protective ointments on these vulnerable areas can also help protect against frostbite. This can be especially helpful for breeds with pendulum ears, such as Nubians.
#5. Keep an Eye on Their Water Source
Be sure you are providing fresh water for your goats daily. If the weather is particularly cold, water can freeze up quickly. Because of this, you will want to check on their water a few times a day to ensure it is not frozen. You can also consider investing in heated water buckets if you have electricity available inside of your goat's shelter.
#6. Regular Health Checks
Cold weather can make goats more susceptible to illnesses such as pneumonia, so it's crucial to keep a close eye on their health during the winter months. Check for signs of respiratory distress, such as coughing, difficulty breathing, or nasal discharge, and consult with a veterinarian if you notice any concerning symptoms. It's also a good idea to keep an eye on their body condition and make adjustments to their diet if needed. Don't just look at your goats, you will want to touch them. Fur can mask body issues such as weight loss, for this reason, you will want to pet your goats and feel for signs there is something wrong.
#7. Consider Herbal Supplements
Some herbal supplements, such as garlic and ginger, have been shown to boost the immune system and help prevent illness in goats during cold weather. Consult with a veterinarian or experienced goat owner before adding any supplements to your goat's diet to ensure it is safe and appropriate for their specific needs.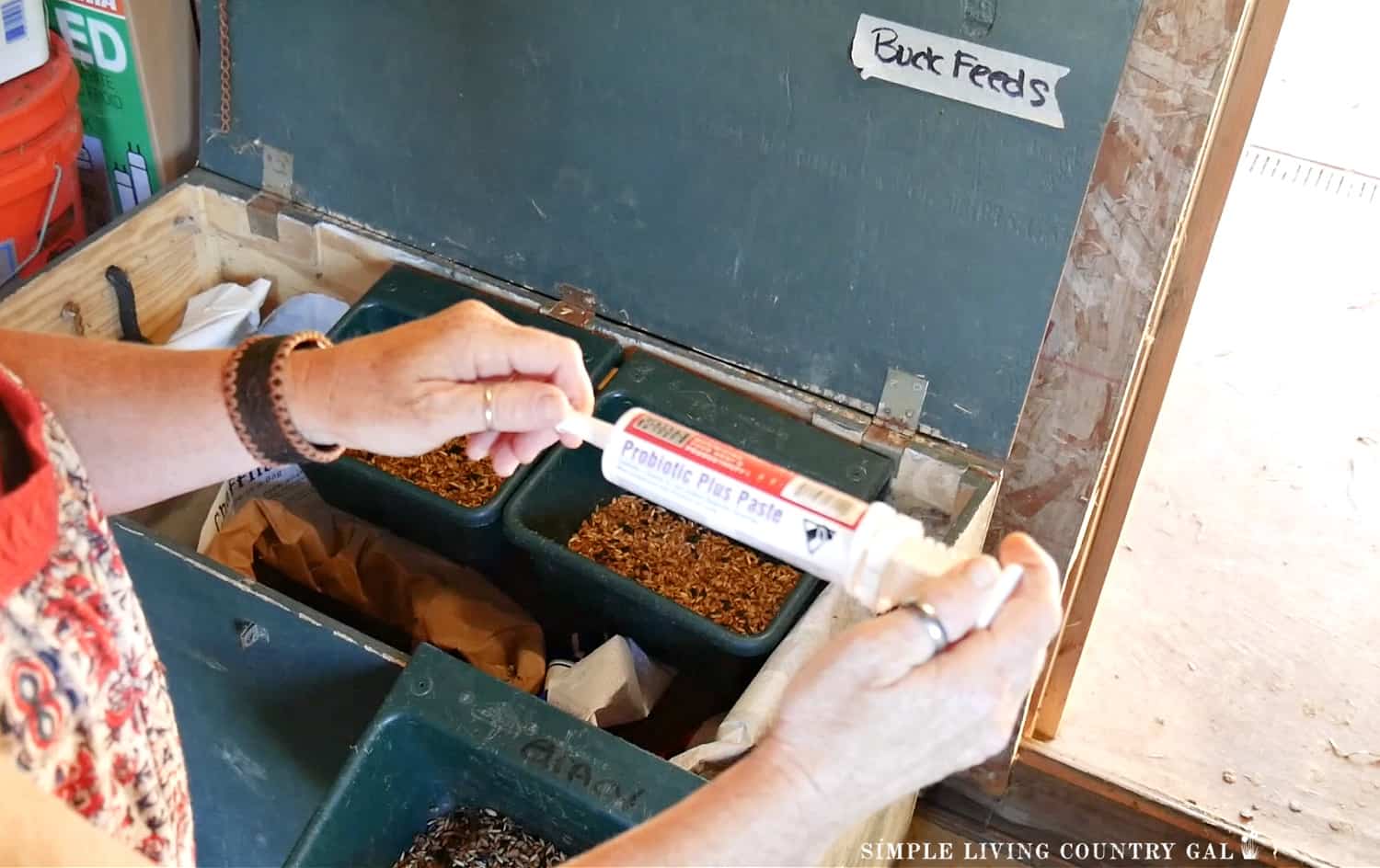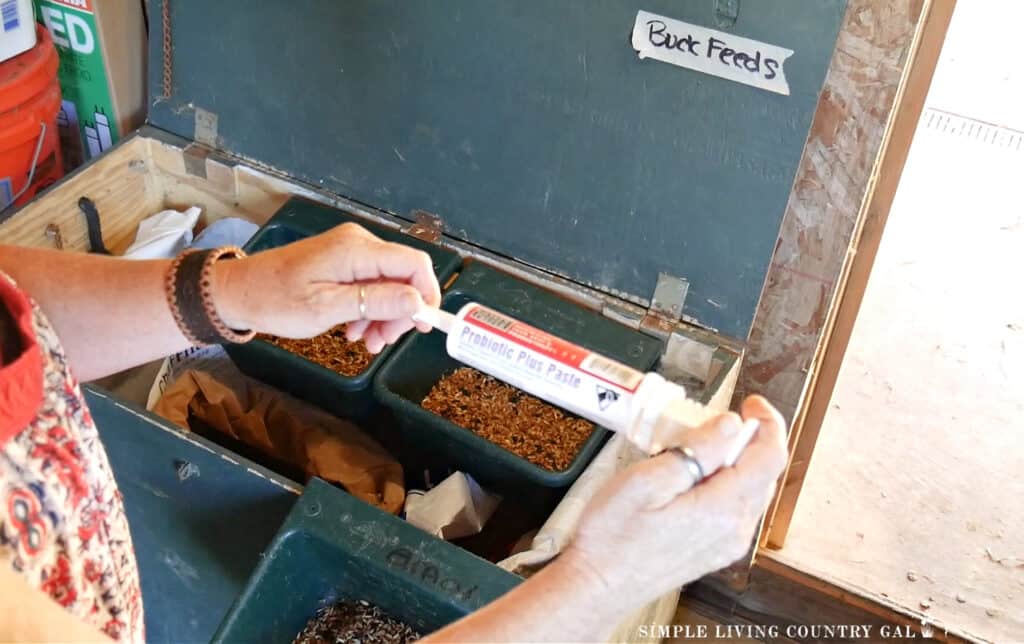 #8. Allow for Exercise
Goats are naturally active creatures and need regular exercise to stay healthy and warm during the winter months. Make sure they have enough space in their shelter to move around or, if you have room consider adding a few elements they can climb on.
#9. Be Prepared for Emergencies
Despite your best efforts, emergencies can still occur during the winter months. It's essential to have a plan in place for dealing with any potential issues, such as power outages or extreme weather. Make sure you have extra supplies on hand, including food and water, and know how to keep your goats warm if necessary.
Goat Keeping Resources:
Storey's Guide to Raising Dairy Goats, 4th Edition: Breeds, Care, Dairying, Marketing
Manna Pro Goat Mineral Supplement – Made with Vitamins & Minerals to Support Growth & Development – Contains Ammonium Chloride – Microbial Blend for Digestion – 8 lbs
GP Probiotic Plus Paste 80cc
Horseware Goat Coat – NavyRed,XLarge
Automatic Heated Horse Waterer Bowl, 4L Large Capacity Farm Heated Water Bowl Constant Temperature Dispenser with Float Control for Pet Dog Goat Chicken and Other Animals,Outdoor Thermal-Bowl
#10. Inspect Your Shelter
We like to walk our barn every week to look for any issues that can sometimes pop up out of nowhere. The earlier we can find something wrong the quicker we can correct it. A few things to watch out for are:
Mice or rats
Drafty areas
Moisture getting in or leaks in the roof
Electrical issues
Additional Tips for Winterizing Your Goat Herd
Consider investing in insulated jackets or blankets for your goats if temperatures drop significantly. Be sure to only use coats in severe cases as the coats can do more harm than good if used daily. Allow your goats to grow in a thick undercoat of fur so they can keep warm on their own.
Keep an eye on older or weaker goats that may struggle more in colder weather and provide them with extra care if needed.
Regularly inspect and maintain their shelter to prevent the buildup of moisture or drafts.
Provide plenty of fresh, clean water for your goats to stay hydrated.
Monitor their body condition and adjust feeding accordingly to ensure they are getting enough nutrients during the winter months.
Consider placing straw or hay on the floor of their shelter to provide extra warmth and insulation.
By following these tips and being proactive in your winter preparations, you can help ensure that your goats keep warm in the winter months. Remember, every goat is different, so always pay attention to their individual needs and consult with a veterinarian if necessary. With proper care, your goats can thrive even in the coldest of temperatures.
More Goat Care Resources: