household tricks to make life easier
There is nothing like a shortcut to help us get through a task, and this list of household tricks to make life easier fits the bill! Easy tricks to help you simplify the things you need to do every day are a great list to have!
Make sure to check out our other living a simple life tips for even more ways to simplify your daily life!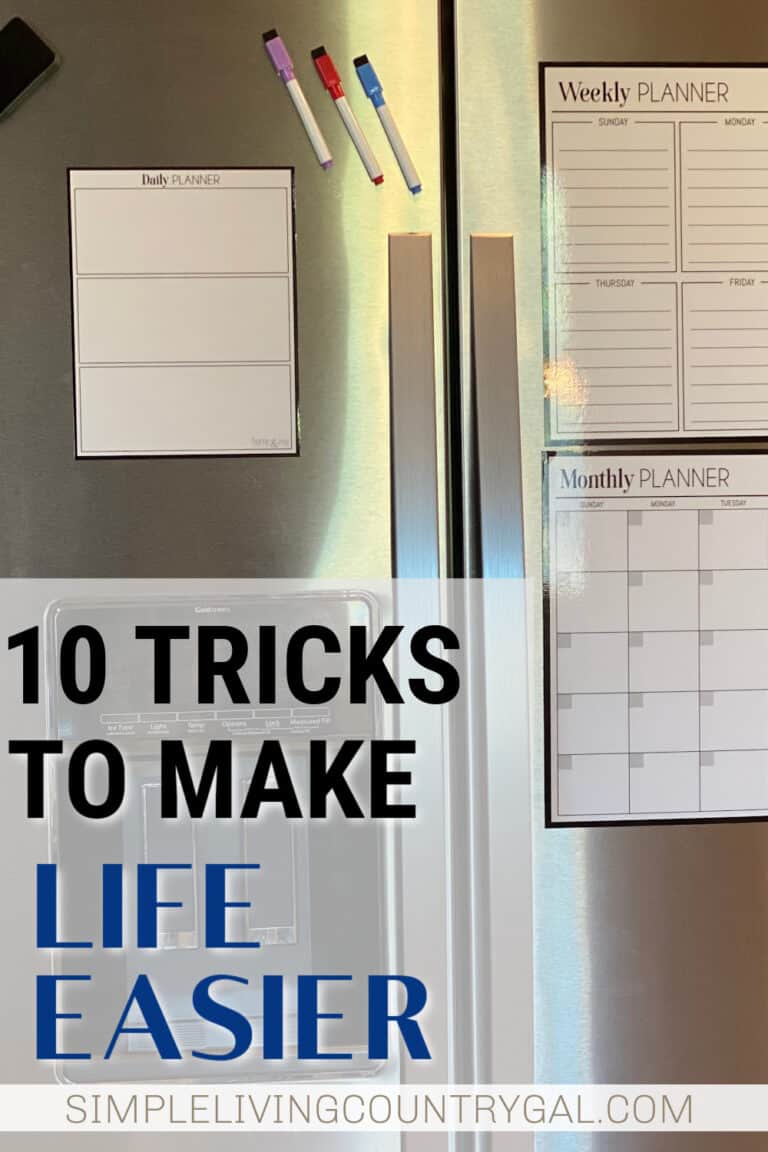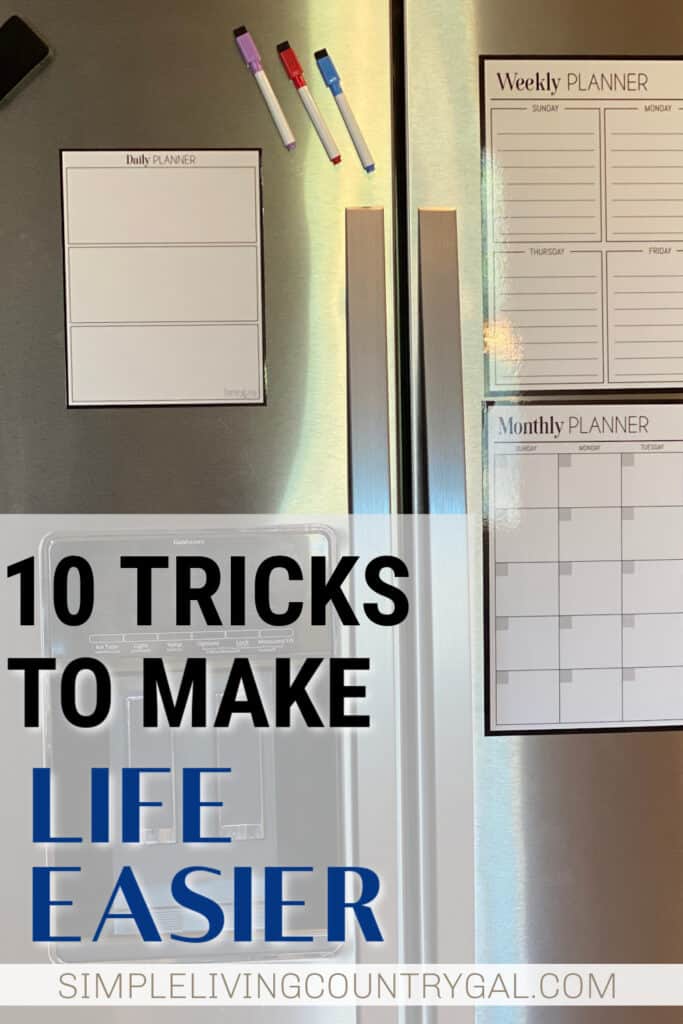 Living a busy life can often leave us feeling overwhelmed and exhausted, especially when it comes to maintaining our household tasks. From cooking and cleaning to managing schedules and caring for loved ones, it can feel like there's never enough time in the day. This list of household tricks will help you set up a daily routine that is efficient, giving you more time to relax and enjoy the things you love.
household tricks to make life easier
Keeping up with daily tasks is hard, and if you start to fall behind, it can make it even harder. These tips will help you remove the stress of that never-ending to-do list and give you a few shortcuts that are particle and a few that are downright genius.
#1. Make a Schedule
One of the best household tricks is to create a cleaning schedule. Instead of trying to tackle all the cleaning in one day, break it up into smaller tasks throughout the week. This will not only make it more manageable but also ensure that your house stays clean and organized on a regular basis. Another tip is to clean one room each day of the week, ensuring you touch them all in a 7-day span. I have been doing this approach for years, and it has completely changed how I clean my home and saved me so much time!
Here is an example:
Monday – Bedrooms
Tuesday – Bathrooms
Wednesday – Kitchen
Thursday – Errands
Friday – Family room
Saturday – Outside
Sunday – Planning day
This one tip alone will completely transform the time you spend cleaning, freeing up loads of extra time.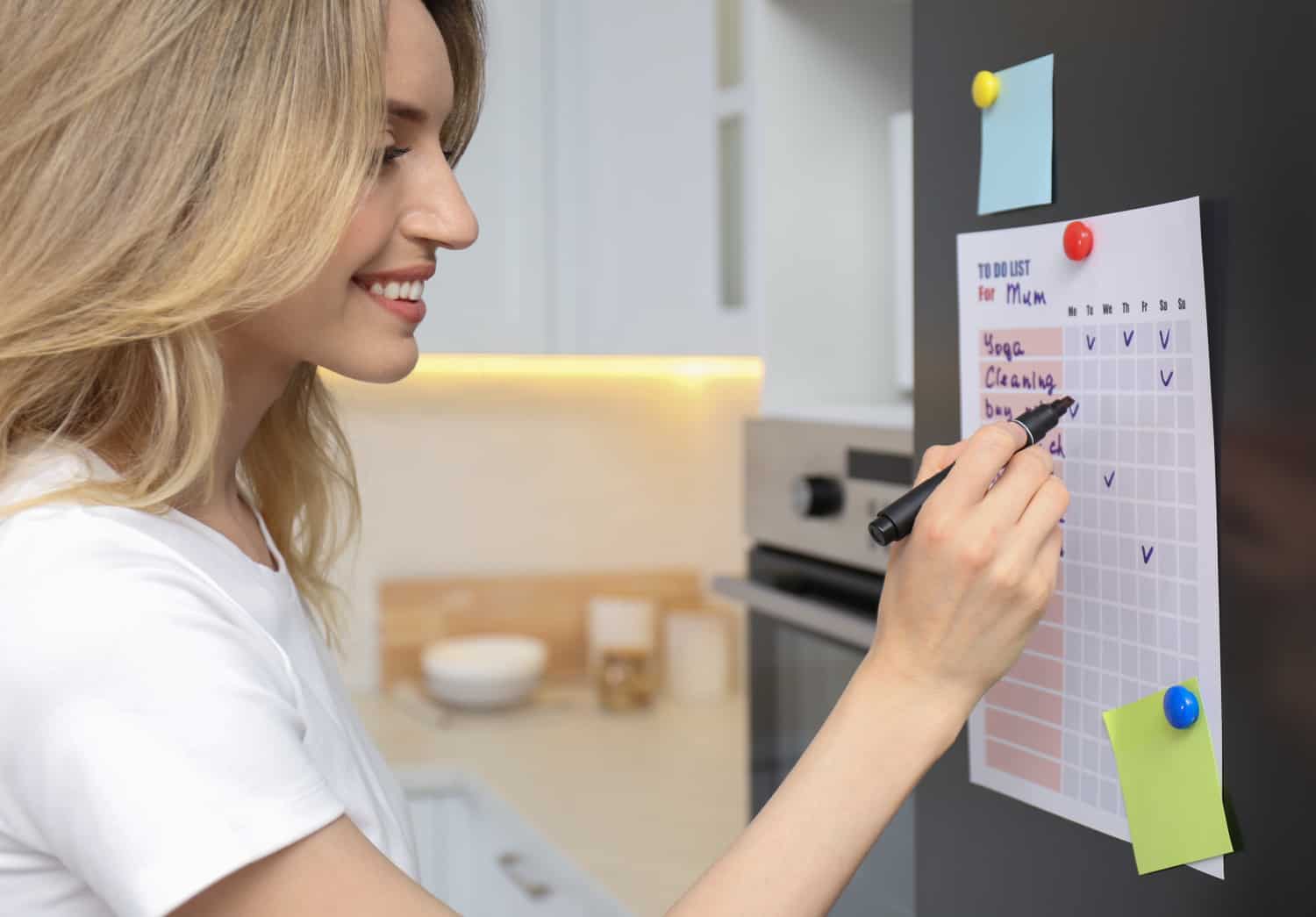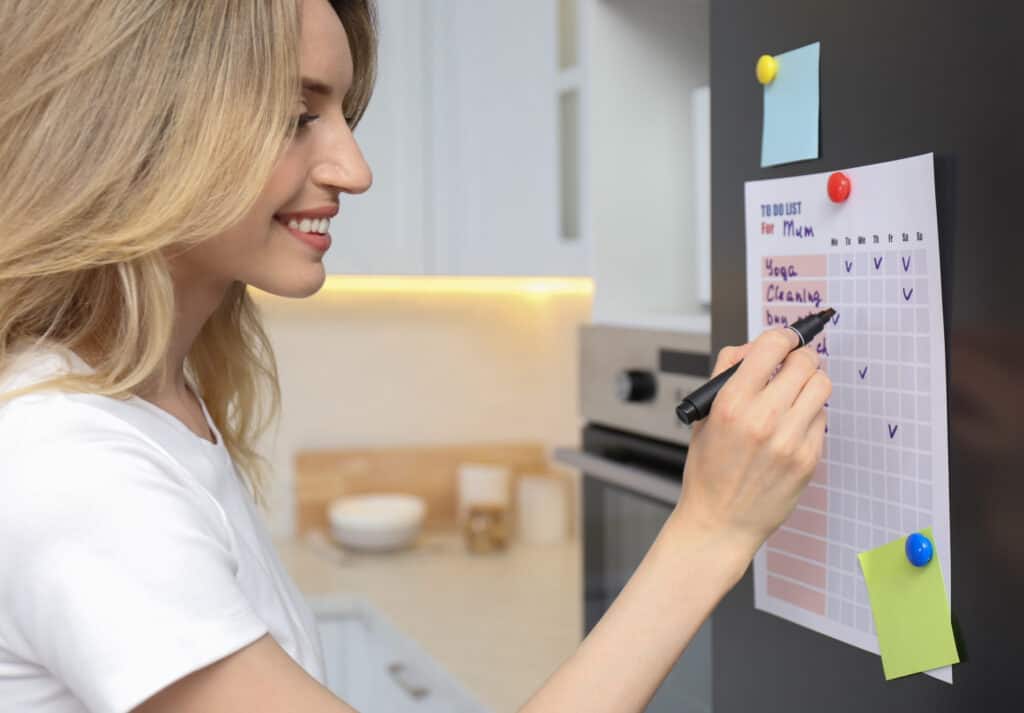 #2. Meal Prep
Meal prepping can save you a ton of time and energy during the week. Instead of spending hours each night cooking, you can dedicate one day to preparing meals for the entire week. This will not only save you time but also ensure that you are eating healthy, home-cooked meals instead of resorting to take-out or fast food options.
More meal prep tips:
Freeze meals for extra busy weeks so you always have a backup plan.
Meal prep snacks and breakfast options to save even more time throughout the day.
Assign a theme to each day to make planning easier, such as chicken Mondays or pizza Fridays.
Label leftover containers in the fridge with the date so family will use them up before they go bad.
Meal prepping is a great way to stay organized and on top of your nutrition without adding extra stress to your busy schedule.
#3. Laundry Routine
Laundry can easily pile up and become overwhelming if not managed properly. Establishing a laundry routine will help you stay on top of this task, preventing it from becoming a daunting chore. Try designating specific days for certain types of laundry, such as whites on Mondays, colors on Tuesdays, and sheets/towels on Wednesdays.
More laundry routine tips:
Invest in a laundry hamper with multiple compartments to easily sort clothes.
Do one load of laundry every day rather than waiting for it all to pile up.
Teach children how to do their own laundry and assign them tasks to lighten the load.
Pre-treat stains as soon as possible to prevent them from setting in and becoming harder to remove.
By establishing a laundry routine, you can keep your wardrobe organized and always have clean clothes readily available.
SUOERNUO Laundry Sorter Basket 3 Bag Laundry Hamper Cart with Rolling Lockable Wheels and Removable Bags Organizer Cart for Clothes Storage, Black
Modern Home Narrow Sliding Storage Organizer Rack – Laundry/Bathroom/Kitchen Portable Storage Shelves
Tajsoon 4 Bag Laundry Sorter Cart, Laundry Hamper Sorter Basket with Heavy Duty Lockable Rolling Wheels for Clothes Storage, 4 Colors
ROMOON Laundry Sorter with Hanging Bar, 4 Section Laundry Hamper with Heavy Duty Wheels, Laundry Basket Organizer with Hanging Clothing Rack, Grey
Loomie Over The Washer and Dryer Storage Shelf, Laundry Room Organization Shelves, 5 Tiers Adjustable Height Shelving,Bathroom Space Saving Drying Organizers Rack with Wire Basket,Haning Hook & 2 Rods
#4. Gardening
Gardening is a large component of simple living as it allows you to be more in control of the food you and your family routinely eat. These tricks will help gardening not become overwhelming, keeping it a joy in your life. You can set up a daily gardening routine that you do each morning when the weather is cooler. By spending just a few minutes each day on watering, weeding, and plant care, you can build a backyard vegetable garden that is a valuable part of your home. Just 15 minutes in the morning can be enough to keep your garden thriving.
More gardening routine tips:
Set aside a specific day each week to check plants for any signs of pests or diseases so you can handle them before they get out of control.
Create a schedule for fertilizing, pruning, and mulching to ensure your garden is thriving.
Invest in tools and equipment that will make gardening easier, such as an irrigation system or a mini tiller to clean out weeds in between rows.
Include your family in gardening tasks to make it a fun and bonding activity that you look forward to each Saturday morning.
By establishing a consistent gardening routine, you can enjoy a flourishing garden without feeling overwhelmed or stressed.
Great Gardening Resources:
#5. Decluttering
Clutter can quickly accumulate in our homes, causing stress and making it difficult to find things when we need them. By creating a decluttering routine, you can keep your home organized and clutter-free, simplifying each room as you do. A simple life means less to maintain and dust and take care of, and that is a great reason to pare down on the things you have in your home.
More decluttering routine tips:
Incorporate gradual decluttering for an easier way to remove the excess. This unique way of sorting out the stuff allows you to put this project on autopilot.
If you have a big project you want to work on, set aside a small block of time each day to work in that space. You might be surprised at how much progress you can make in just 15 minutes a day!
Consider implementing a "one in, one out" rule where for every new item you bring into your home, you get rid of one old item.
Make decluttering a family activity by involving everyone and making it a game or challenge.
Donate or sell items that are still in good condition but no longer serve a purpose for you. Use the money you earn for a family outing.
Incorporate the hanger trick in your closet.
By consistently decluttering, you can create a more peaceful and organized living space for yourself and your family.
#6. Errands
Running errands can often feel like a never-ending task, but by creating an efficient and consistent routine, you can save time and money as well. Dedicate one day a week to run all of your errands. Yes, it will eat up your day, but it will save time and gas by eliminating repeat trips during the week. The trick here is to have a running errand list that is out where you can always see it. Whenever you want to add an item for shopping, you can do so without the risk of forgetting.
More errand routine tips:
Set up a Home Hub or Command Center area in your home to streamline the things you need to purchase or accomplish on errand day.
Consider grouping similar tasks together, such as grocery shopping and picking up refills at the pharmacy.
Take advantage of online shopping, grocery pickup, and delivery services for items that can be easily purchased online.
Schedule a specific day or time each week for errands to avoid constant interruptions throughout the week.
Have an errand basket where you can put coupons or any items that need to be returned. When you run errands, take this basket with you so you have everything you need for an efficient day.
By planning out errands in advance, you will minimize backtracking or making multiple trips, freeing up more time for other activities and reducing the stress of constantly being out at a store.
#7. Finances and Budgeting
Managing finances for a home and homestead can be overwhelming, but establishing a routine can help you stay on top of your budget and financial goals. Set a day each week for going over your household budget and paying any bills that are due. By doing this every 7 days rather than sporadically, you can ensure that you are always on time and on track with your finances. Also, this 7-day plan will make your budget day just a few minutes long because you will now be more aware of your numbers.
More finance and budgeting tips:
Set aside time each week to review your expenses and create a budget for the upcoming week or month.
Consider automating bill payments to avoid late fees and keep track of due dates.
Take advantage of online banking tools to easily track your spending and saving habits.
Consider setting aside a portion of your income for savings or investments each month.
Keep cash handy for errands day so you are not creating debt when you are out.
Routinely managing your finances, you can have better control over your money and work towards financial stability. This is a huge stress reliever and one that you will love having in your life.
#8. Home Upkeep
Maintaining a home and keeping up with repairs can be overwhelming. An easy tip to start incorporating today is to keep a notebook of things you need to do. You can have a page for each room, and as you see something that needs to be done, such as new bulbs in the hall light or dusting the fans in the family room, you will be putting it on your household schedule, ensuring it gets done. Set aside time each week or every other to tackle the most important on your list.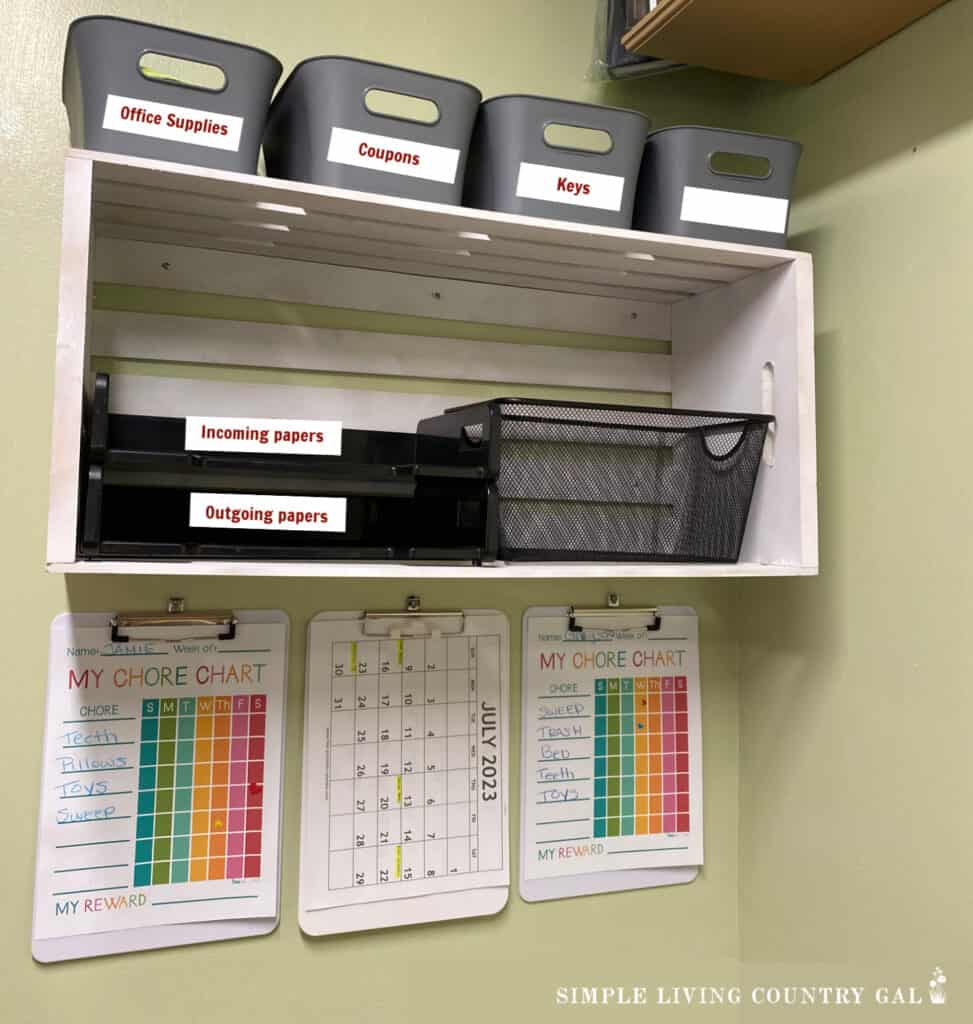 More home upkeep tips:
Consider delegating certain tasks to family members or hiring outside help for larger projects.
Set up a Home Hub to help keep the running of your home more efficient.
Set aside a day each month to work on large projects. Start a savings account for upgrades so you can do them without upsetting your household budget.
By incorporating home upkeep into your routine, you can maintain a comfortable living environment without feeling overwhelmed by constant cleaning and organizing.
#9. Daily Tasks
Creating and sticking to a schedule can help you stay on track with your daily tasks. Having a routine you follow each morning and evening will help you to start and end the day on the right foot.
Morning Routine Tips:
Make your bed
Do any dinner prep
Clean the kitchen counters
Reset the family room
Do a load of laundry
Evening Routine Tips:
Go through the daily papers from kids and the mail
Go over the family calendar
Check the menu for the next day
By having a list of things you do routine at the start and end of each day, you will be able to relax knowing the basics are covered and put your energy are more important things you have set for the day ahead.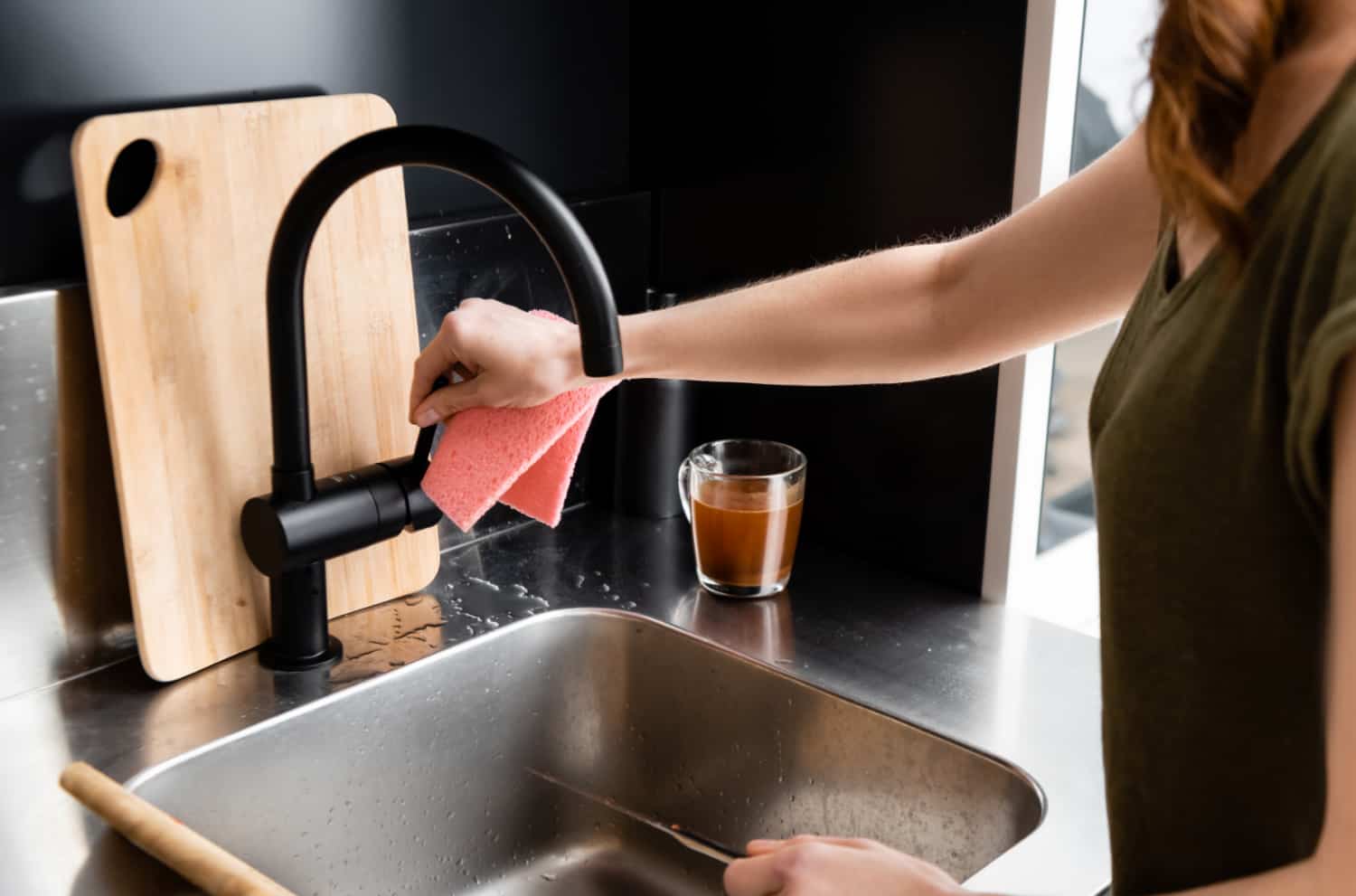 #10. Family Schedule
With busy family schedules, it can be challenging to keep track of everyone's activities and appointments. Creating a shared family calendar is an effective way to organize everyone's schedule in one place. This will help avoid double bookings or missed events. Keep a large calendar in your Home Hub where each person can see it daily. Encourage them to check the calendar before heading out for the day and confirm any rides, permission slips, or sports equipment they may need to have.
Tips for creating a family schedule:
Use a large wall calendar that fits the size of your family
Color code each person's activities
Include important dates, such as birthdays and anniversaries
Leave room for notes or reminders
Make it easily accessible and visible to all family members
By having a shared family schedule, you can also find opportunities for quality time together. Plan regular game nights or movie nights with the whole family. This will not only help strengthen your relationships but also give everyone something to look forward to.
Implementing these household tricks and routines can help make your daily life easier and more manageable. By staying organized and having a set schedule, you can spend less time worrying about the small things and more time enjoying quality moments with your family.
More Simple Living Resources: