Tips on how to keep chickens cool in the extreme heat of summer.
The older I get the more I look forward to summer. I adore the sun and the heat and the birds and oh yes, the sun. Even though I love the heat of summer, my poor chickens do not. If you are new to chickens it can really tug at your heartstrings seeing them suffer in the heat.
The poor things look just miserable. Beaks hanging open and panting desperately looking for shade and relief from the sun. My poor hens are all Black Stars which doesn't help when it's 95 degrees in July.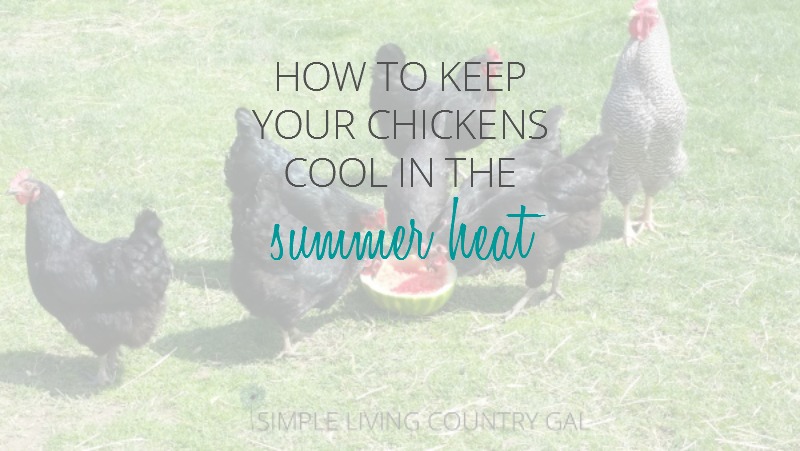 How To Keep Your Chickens Cool In The Summer Heat
Water, water, water!
Make sure your chickens have fresh water and plenty of it. Think about it, if you are hot and miserable out in the sun, water is the best remedy right? The same is true for your chickens. Just because you put fresh water out in the morning doesn't mean it will stay cool all day long. Make a point to change it a few times a day to make sure it is cool and clean.
Provide more than one source of water.
I will add a second and even third water dish for my hens when it's hot out. This just makes sure they always have it handy when they need it.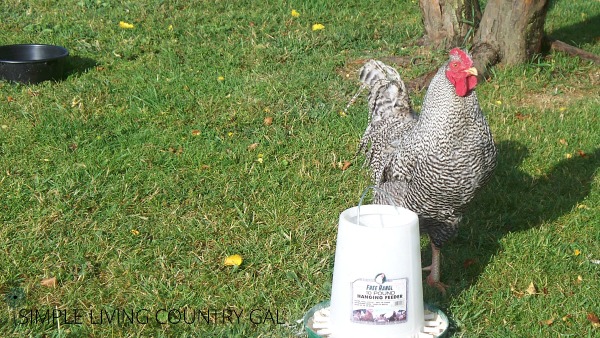 Add a little mint.
Adding mint leaves to the water will help keep your hens cool. Another plus is the mint will help prevent parasites. Just crush a couple of leaves and toss in the water dish.
Ice it up!
I will add ice to the water on really hot days as well. They love to play with the ice and peck at it ensuring they drink more water. It's a win win!
Offer frozen treats.
I like to give my gals frozen veggies or fruits. I will freeze leftovers all winter long for those hot summer months. They really enjoy the treats and see me coming a mile away following me down to the coop squawking like little kids. 🙂
Hose things down.
The ground can get pretty hot in the sun and walking on it all day in bare feet can be quite miserable. Do a quick spray with the hose to cool the ground and help your gals. You can even go one step further and hose the coop roof down as well.
Watermelon!
Nothing cools me off more when it's hot out than a nice cold piece of watermelon. Chickens are the same way and my girls love any kind of melon. I grow as much as I can in my garden so I have treats during the hottest summer months of August and September. If you have never given your chickens a melon before, wait until you see the crazy things they can do! In minutes a half watermelon can be reduced to a paper thin shell.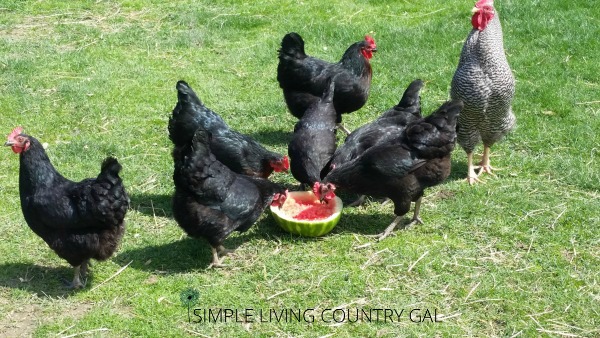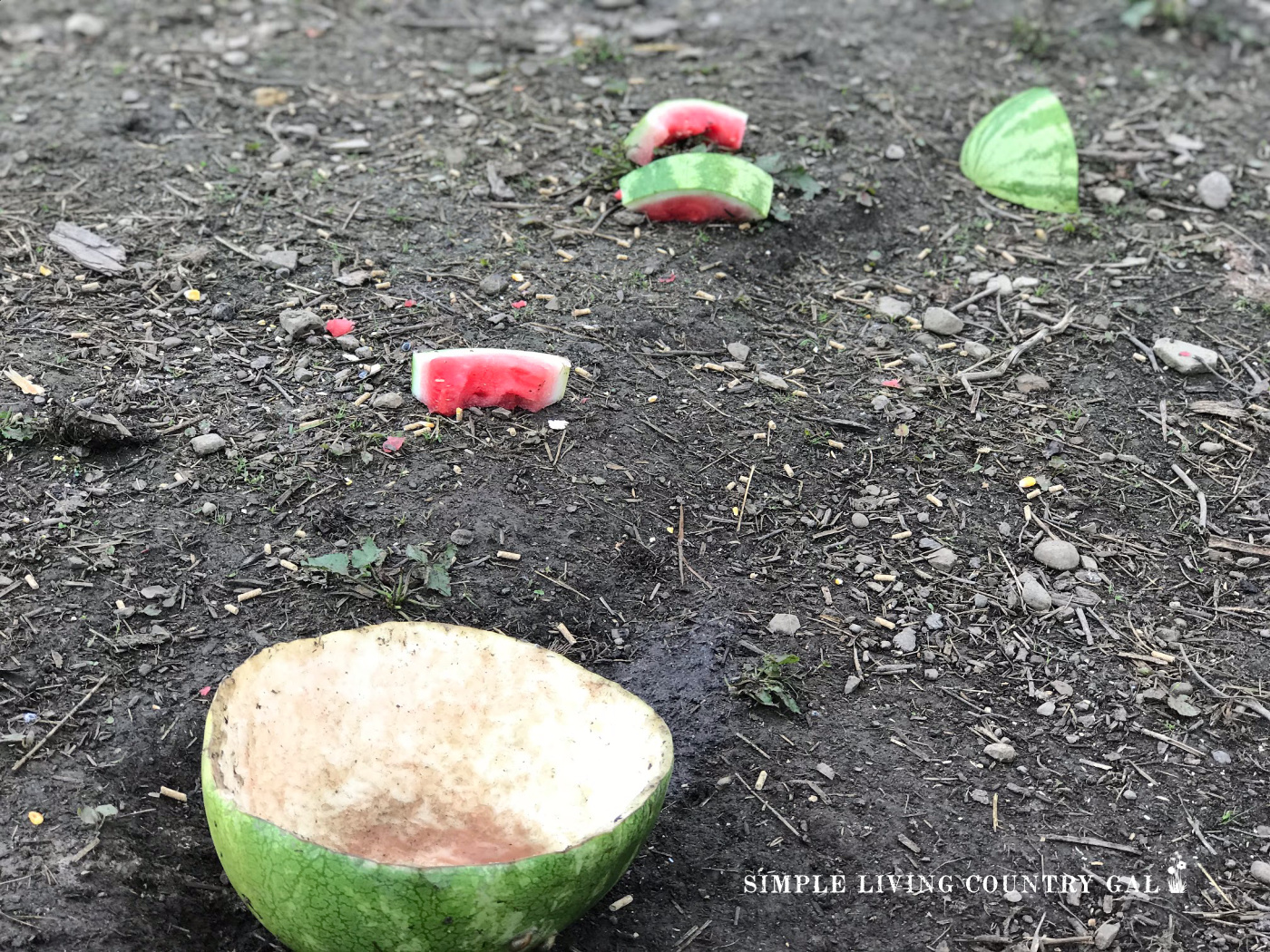 Anyone like a swim?
Some chickens enjoy the water, mine do not. But I still like to offer a little pool just in case. I have an old kitty litter box that I fill with water in case they feel the need to take the plunge. But you can find kitty pools at Dollar General to fill. I would keep the water at about an inch deep and change it every day or so depending on how dirty it is.
Make sure you have shade.
If you are like me and your coop is in the sun, then you need to make sure your hens have shade. We free-range in the afternoon so they do have a few trees to rest under if needed.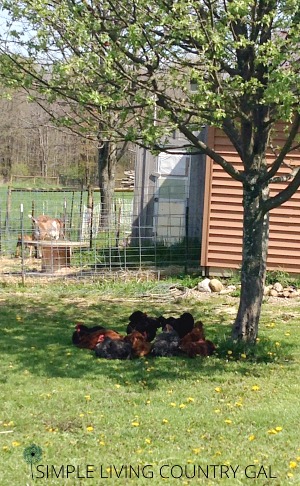 But, there is no shade in their coop. To fix it, I built a quick and inexpensive shady spot in the coop until Handy Man can build a more permanent solution. Hey, it doesn't have to be fancy kids, it just has to work. At least that is what I tell my hubs!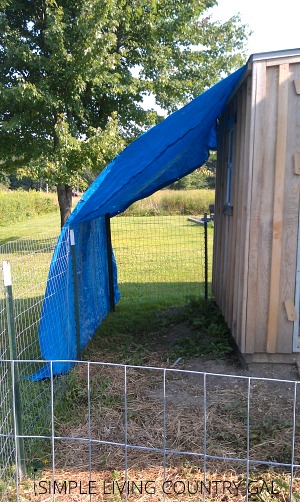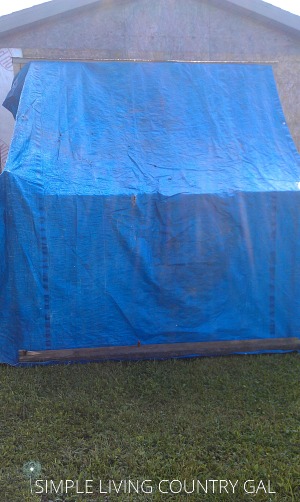 If you can, use a fan.
If you have electricity in your coop a box fan can do wonders. You can either use it to pull in the cooler air or suck out the hot. I do not use them in my coop but I do use them in my home and they work so well, we have never needed to install central air! You can read how we do it here to see how easy it is.
Frozen bottles.
This is a new tip for me and one I plan on using this summer. Fill milk jugs or 2-liter pop bottles with water and freeze. Place the frozen bottles in the coop and run. The hens will stand on or lay next to the bottles to cool off. When finished just rinse the bottles off and refreeze.
Make sure to keep the bottles away from your food so you do not risk contamination. Remember chickens poo EVERYWHERE.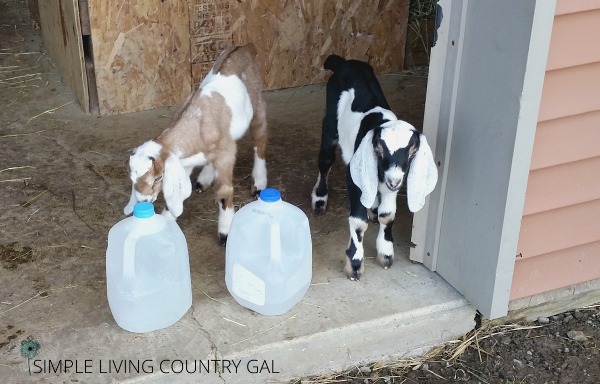 Get misty.
Set your hose nozzle to mist and cool your gals down. Hens really don't enjoy heavy water so I have found setting the nozzle to mist works wonders.
Think outside of the box…or can.
I just love this tip and I can't wait to give it a try this summer. Take a steel trash can and put it on its side. Take a frozen milk jug and place it inside. Put the can and jug in your chicken coop or run. Instant cool room. I love it!
Please remember that our animals depend on us for survival. It is our responsibility to make sure they are safe, healthy and comfortable all year. Hot hens lay fewer eggs, are susceptible to pests and illness. Take steps to keep your chickens cool in the summer heat. As a good rule of thumb, if you are hot and miserable your animals are too. Take a few minutes to keep them cool and comfy. 🙂
Stay cool peeps!