This article is all about keeping things cool without central air! Ok kids, I am going to let you in on a little secret…we do NOT have central air. Most folks where we live are shocked by this. You see even up north quite a few people have air conditioning in their homes. We, however, do not.
I know what you are thinking…what? No central air? At our age? I have been told, for some reason…when you age you get hot? Who knew?
Disclaimer: This info is based on my experience in Northern Pennsylvania, if you live in the southern states this may not be an option for you. However, I have added some new tips to help a little with your electric bill.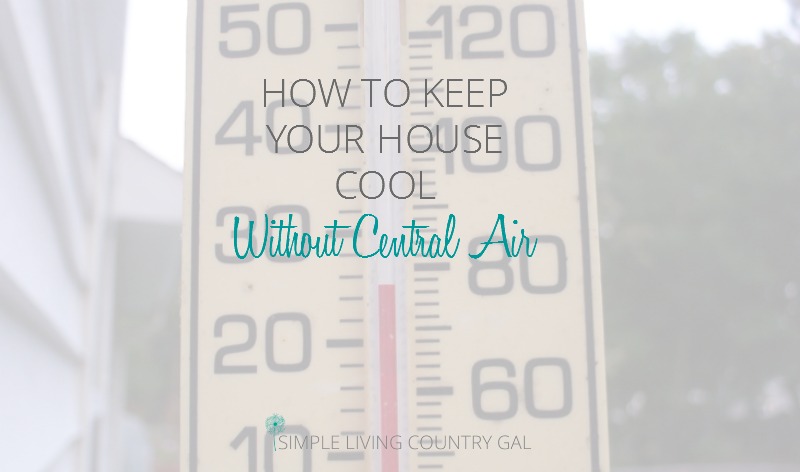 Even though we live up north the summers still get hot, really hot. And humid…extremely humid. However, if you have ever been in our home during those really hot and humid days, it feels like we have central air. I have actually had people argue with us over whether or not we have central air.
I know, crazy right?
So, what's my secret? Redneck air conditioning my friends!
Here's how I do it…….
My main supplies are 2 box fans and my secret is timing.
Yes, it's all in the timing.
Before I go to bed each night, I open all the windows in the house. Every single one.
I put one box fan in a window in the main living area and the other in a window in our bedroom. We use those fans to "suck" the cooler evening air from outside into our home. I let these fans run all night long. When I get up the next morning I leave things as they are and start watching the temperature.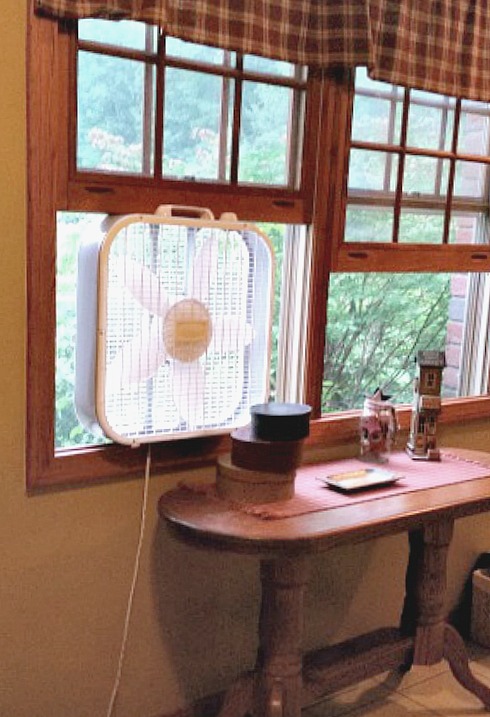 As soon as it starts to climb even one degree, I shut everything up.
All of the windows and even the doors to the bedrooms.
My goal is to keep as much of the cooler air in our home as I possibly can.
I then take my box fans and move them to the main living area. I strategically place those fans in a way to keep the cooler air circulating into my heavy traffic rooms.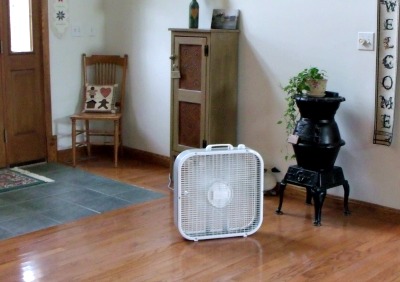 Believe it or not, just this one trick will keep my house at its early morning temperature throughout the entire day.
Now, if it's really hot I have a couple of extra tricks.
Most homes up north have basements. This can come in pretty handy in the summer.
The air in our basement is wonderfully cool and luckily dry. On our furnace, we have a fan that will blow air from our basement throughout the entire house. By turning this fan on I am able to add some cooler air and have it circulate throughout the house.
But what if it's really REALLY hot??
Then there are those days in August….what I like to call our Atlanta Georgia hot days.
Those are the days I need to bring in reinforcements. A small window AC unit that my brother gave us about 10 years ago. We usually don't touch it until August when it gets so hot and so humid my fan trick just doesn't cut it.
We put the window unit in our son's room since it is closest to our main living area. I can run that unit and use my box fans again to pull that cool air down the hall.
I put one at the end of the hallway and the other at his door to help move that cool air around the turn.
It is pretty amazing how much cold air I can suck with those two fans right out into our family room and kitchen area.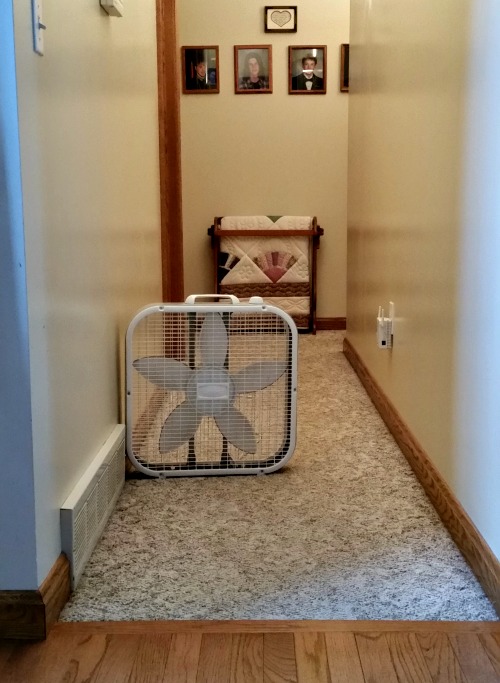 I only use the window AC unit if it is really hot, I'm talking upper 90's hot. The trick isn't the AC, it's getting the house cooled off during the evening hours and bringing in as much cool air as you can.
Trust me this really works!
It is not unusual to find my house a good 10 degrees cooler or even more from the outside temperature, even with the air conditioning off.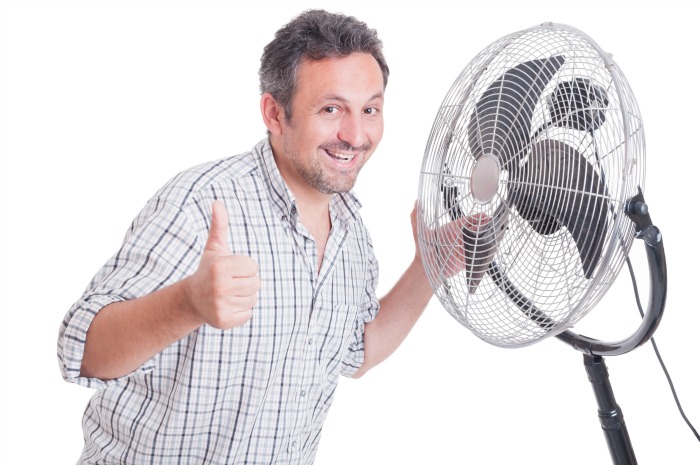 If you live in a hot southern area, I realize that this may not be an option. You can, however, use a few of my tips to alleviate how often you use your central air. Even if you adjust your thermostat 5-10 degrees you will save money each month on your bill.
No, it's not a lot, but remember all those small savings can add up to a nice chunk of change.
How to keep your home cool in the hot heat of summer without central air conditioning.
Tip #1 Use fans to pull cool air in at night
Get those windows open and cool things down before the sun comes up and brings with it the hot heat of summer. To make sure I remember I go one step further and set the alarm on my phone. This handy little reminder is set to go off at 10 am. That is about the time when the heat begins to hit us here.
Please know your time will be different depending on where you live.
Tip #2 Use fans to suck the hot air OUT
You can also put your fans in the window to push the hot air out of the house.
Once the air starts to heat up, turn your window fan around so it is blowing out rather than in. This will move the warmer air outside where it belongs. This little trick works surprisingly well, especially on those really hot days.
Tip #3 Close off vents in rooms you do not use frequently
This works best if you use a central fan system located on your furnace (see above). There is no use keeping a room cool all day long that you only sleep in at night. Shut the vent during the day to push more of the cooler air to the main living areas.
If you use central air conditioning it is recommended that you NOT close vents in unused rooms that this can cause damage to your system. Please contact your manufacturer for suggestions.
Tip #3 Close the curtains and keep out the sun
I know this may not be a popular option for some, but blocking out some of the sweltering sun on your really hot days can go a long way to cooling off your home. You can even go one step further and use energy efficient curtains that will block even more of the summer heat like these surprisingly attractive heat blocking curtains. I was pleasantly surprised at how well these curtains worked!
Ninja tip: You really only need these curtains in rooms where the heat is bothering you. If your bedroom receives most of the hot afternoon sun but you are not in your bedroom until night time then there really is no reason to invest in these curtains for that room. However, if that same hot afternoon heat is in the family room you might want to get a pair for that room instead.
Tip #4 Close bedroom, bathroom, and office doors
This will also help push more of your cooler air into your main living space. The office, a spare bedroom, even your master bedroom. If the room is not used during the day, close it down and keep that cool air you are making where you need it.
The trick is to get the cool air where you need it.
Tip #5 Save the baking for a cooler day
Nothing can heat a house up quicker than turning on that oven. Keep it off and save it for a cool rainy day. On those days double up your baking efforts and freeze the extras. Now on those hot days when the kids really are begging for home-baked cookies, you have a nice little stash in the freezer!
Tip #6 Who says crockpots are only for the winter?
It just amazes me how many folks refuse to break those crock pots out in the summer. You would be amazed at all the awesome meals you can make in a crockpot! No more slaving over a hot stove, use your crockpot and keep you and your kitchen cooler.
You can find some of my favorite crockpot recipes on my Pinterest page.
And the best part is crockpots are so inexpensive now. I have three myself and use them constantly. This crockpot is a great buy and would work perfectly in any kitchen. It is smaller so if you have a large family you will want a 6 quart instead.
Ninja tip: No money to spare? I get it! You would be amazed at how many crockpots you can find at yard sales for a dollar. A dollar people!!
I know these are small efforts in the big picture, but sometimes doing the small things are enough to make a big change.
It is all in your thinking kids, working smarter not harder not only applies to us but to every aspect of our lives.
Do you have some keep cool tips? I would love to hear them! Leave a comment below so we can all learn to keep cool without burning cash!