These tips on how to keep cool without central air are my best money-saving tips. Ones that will help you to keep a bit cooler even if you are not lucky enough to have central air in your home.
When looking for ways to live a simple life, saving money is at the top of that list.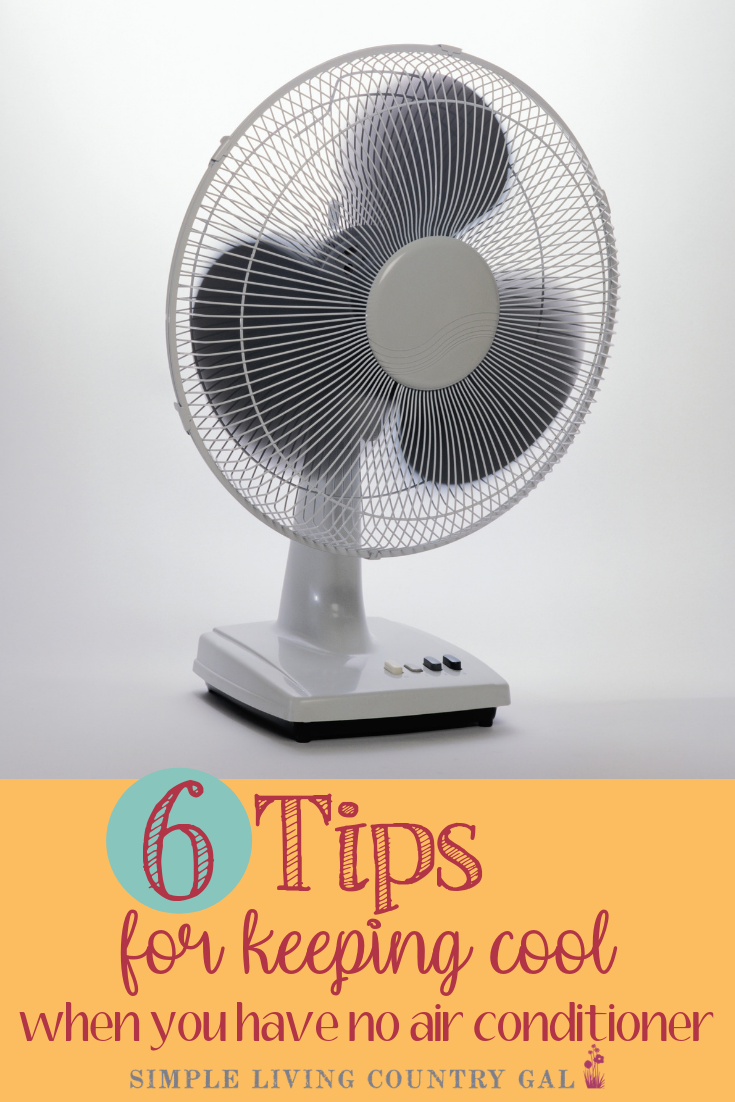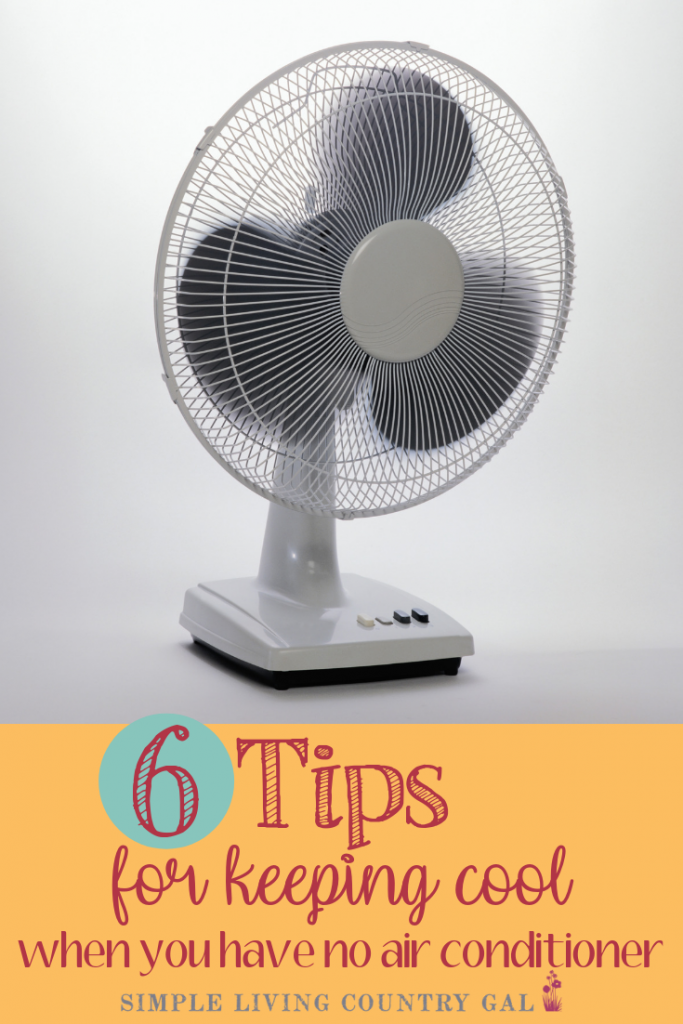 Tired of paying high electric bills? Use these simple tips to keep cool without central air. Simple living tips that will keep your home a bit more comfortable and cooler while saving you money on utilities.
I am going to let you in on a little secret, we do NOT have central air.
Most folks where we live are shocked by this, especially on a hot summer 98-degree day. Even though many folks in our area do have air conditioning of some sort, we are in the minority that do not.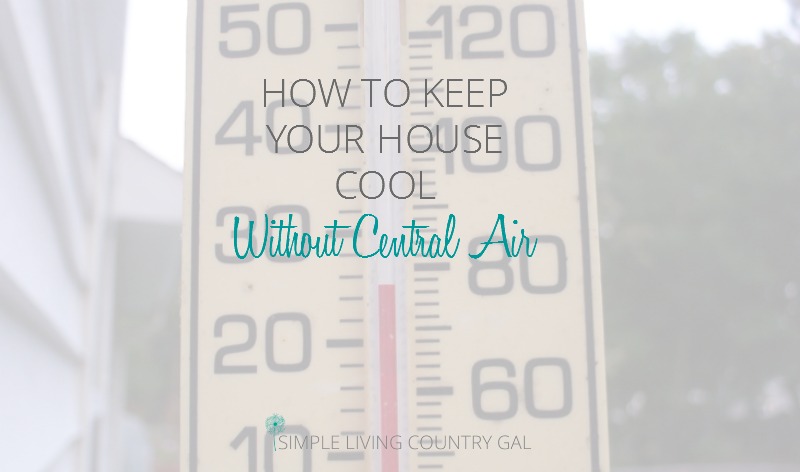 Over the last 22 years, we have raised four kids summer after summer without air conditioning and though we did get close, we never broke down and installed it. In those early years, we never had the extra money in our budget to invest in central air.
And because we had no other options, I had to learn a few "keep cool" hacks so we weren't, well, miserable.
Disclaimer: This info is based on my experience in Northern Pennsylvania; if you live in the southern states this may not be an option for you. However, I have added some new tips to help with your electric bill no matter where you live. Please remember, above all, if the weather is DANGEROUSLY hot….run your central air or air conditioning unit. Health and safety should ALWAYS come before saving money.
As I said earlier, even though we live up north, the summers still get hot, really hot, especially in August.
It also gets humid. That wet sticky hot kind of humid that makes the weather feel ten times worse.
However, if you have ever been inside our home during those really hot and humid days, it feels like we have central air. I have had people argue with us over whether or not we have central air.
I know, crazy right?
So, what's my secret?
I have a routine that has been working for us for over 20 years. I use fans to pull in the much cooler outside evening air and lock it into our home during the day. This routine has allowed us to keep our home 10-15 degrees cooler than the outside.
My main supplies are box fans, and my secret is timing.
We have seven box fans because they are the best as they fill our entire window. They also pull in ample air that works great for keeping our 3,000-square-foot home cool.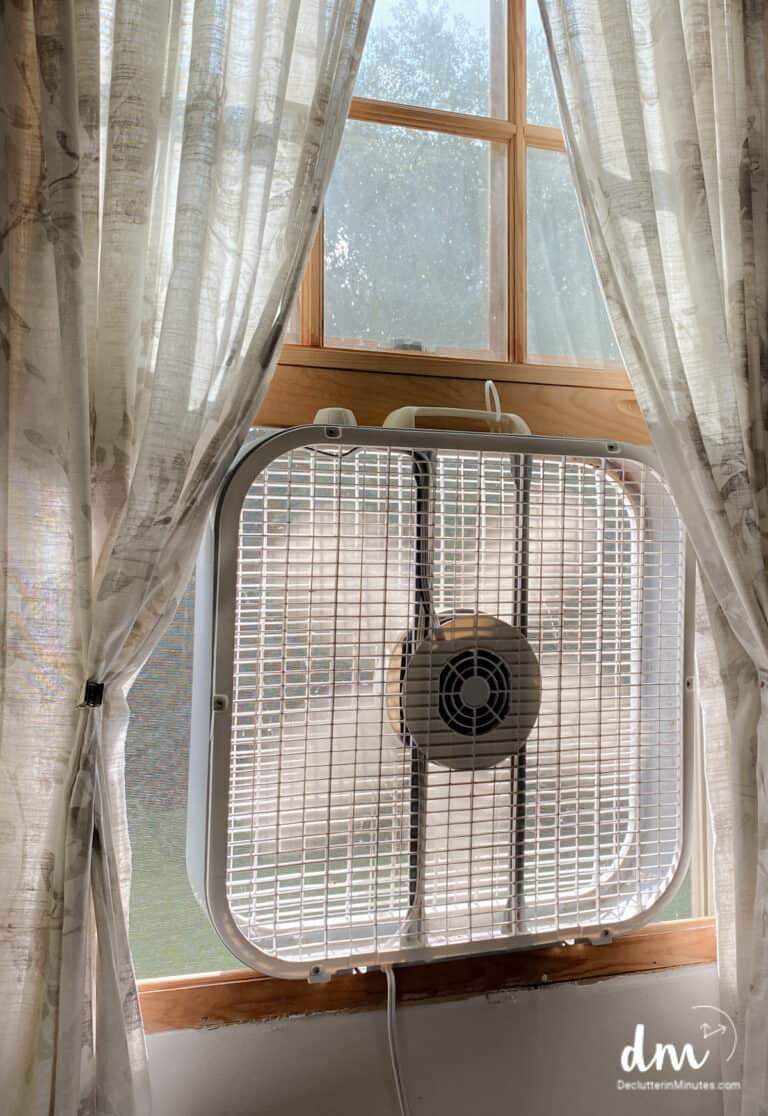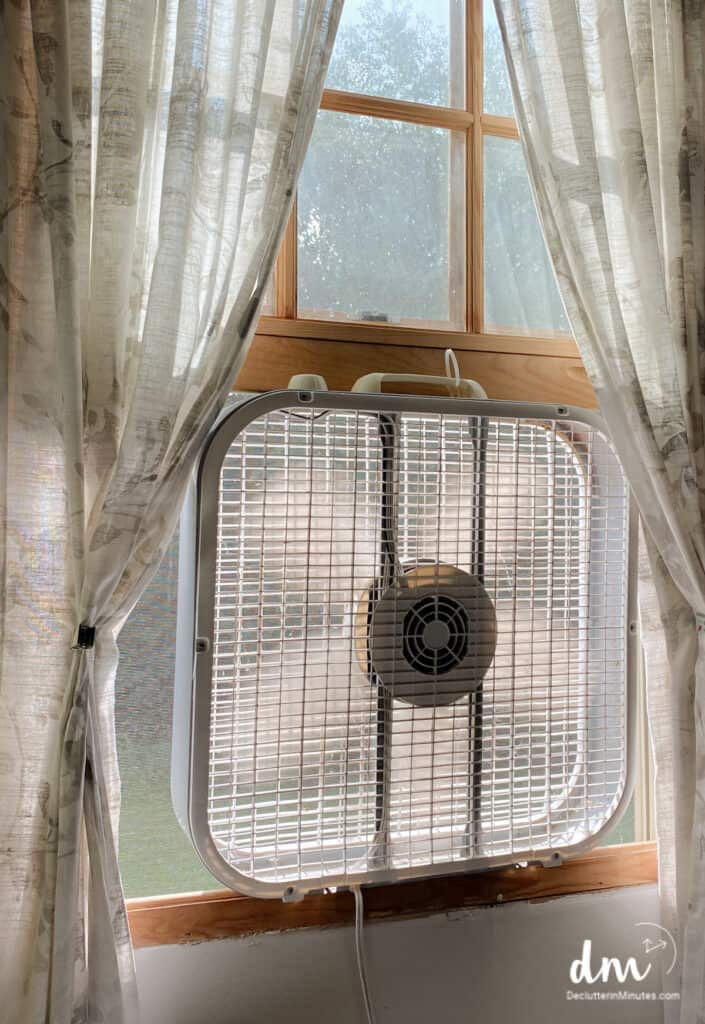 SLCG PRO TIP: Please note that the fan I linked to there is ridiculously expensive! But I did want you to see it so you knew what to look for at a discount store where you can get one for less than $25.
How to Keep Cool Without Central Air
The trick to keeping your home cooler than the outside temperatures is to bring in the cooler air whenever it is available.
This is easier to do than you might realize. Since the coolest air is usually at night, most of your home's cool-down will happen while you sleep.
Step 1. Suck in the cool air when you can
Before going to bed each night, I walk around and open all the windows in the house. I make sure I get them all, from the big windows in our family room to the small windows in our bathroom.
My goal is to bring in as much of the evening cooler air as I possibly can.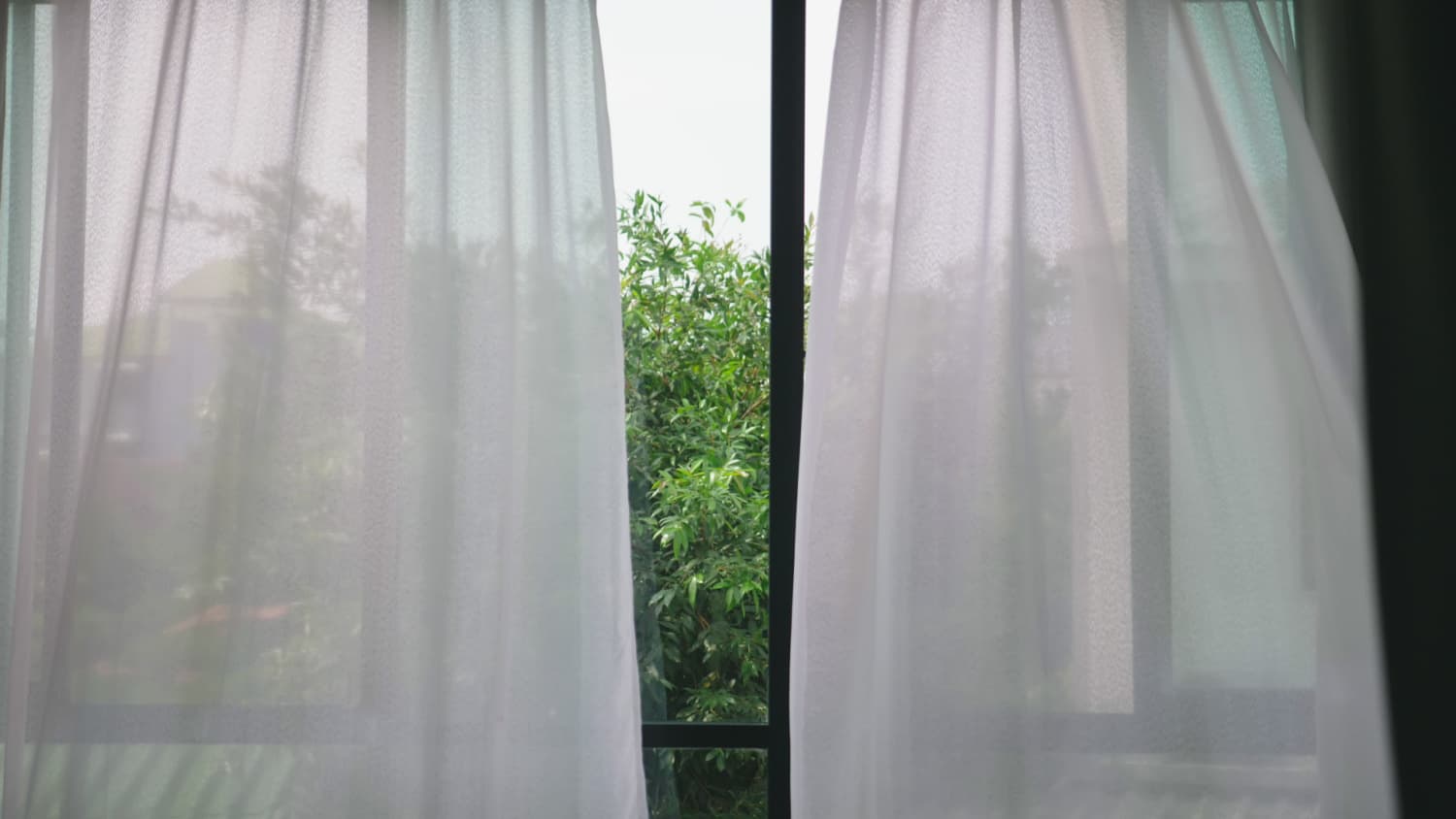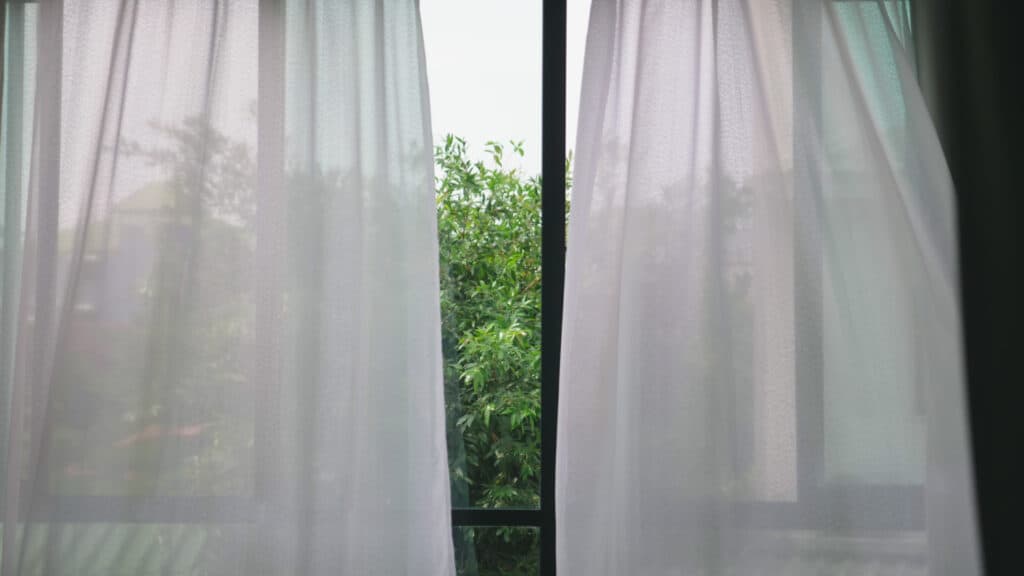 Step 2. Use fans to bring in the cool air
Next, I place a box fan in each main window positioning it, so it pulls in the cooler air. Our home has the main windows in the kitchen, mudroom, and all the bedrooms. We have a rather large home, so that means we have six-eight box fans that we use to pull in and push out air.
By having a fan at one end of the main living area of our home and another one at the other end, I can cool things down relatively quickly by circulating the cooler air throughout.
We use these fans to bring in a more comfortable temperature of air that works quickly to cool down our entire home.
Once the fans are in place, I let them run all night. I know this seems like a strain on the electric bill, but it's not. Compared to A/C, it is quite economical.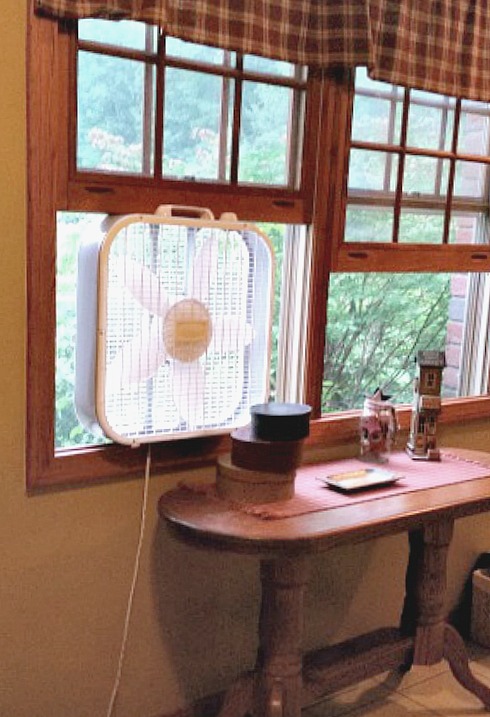 Step 3. Make the switch when it warms up
When I get up the next morning, I leave things as they are, running the fans as I did throughout the night. I do, however, keep an eye on the temperatures outside, referring to our weather station in the family room.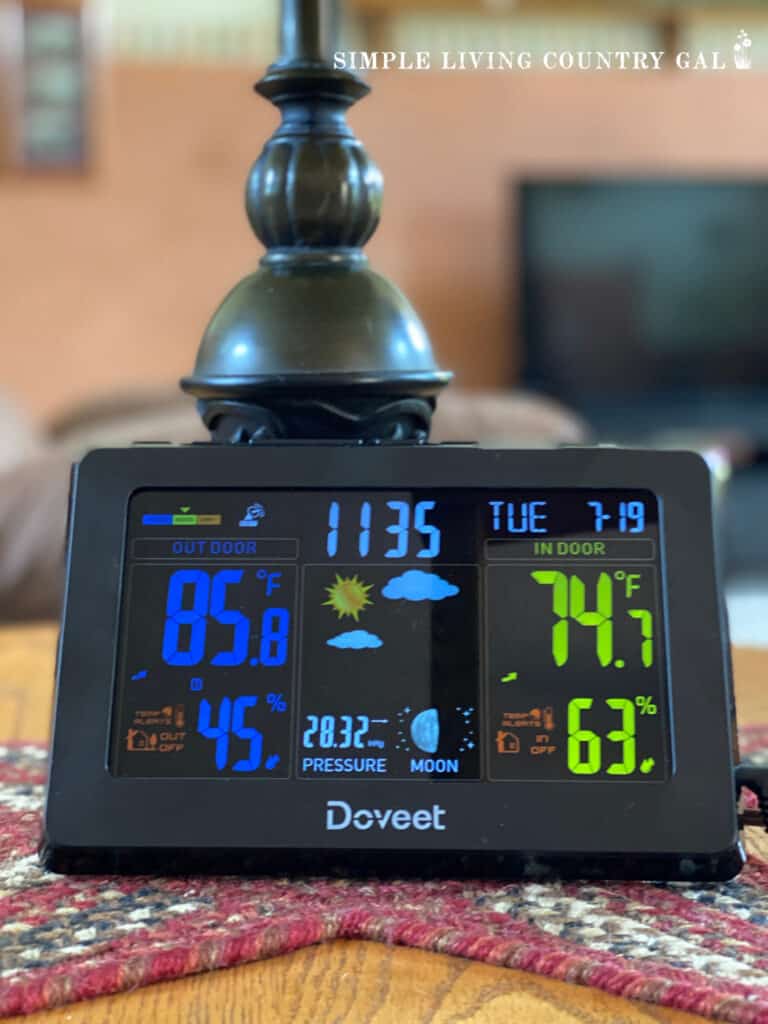 As the day warms up, I will start watching the temperature inside my home. If you do not have a thermometer inside your home, you may want to invest in one.
I prefer to have the temperature and the humidity displayed on my weather station. Knowing both helps me to better pinpoint when the windows need to be closed down for the day.
As soon as the temperature inside of our home starts to climb even one degree inside, I shut everything up.
I then walk around and close up all of the windows, along with the doors to the bedrooms. Closing up the rooms helps to keep the main part of our home cooler. Since that is part of the house we use daily, that is where I want that cool air to stay for as long as possible.
Step #4. Reposition the fans
Once the windows are closed up, the fans are then moved to the main living area to help keep the air circulating throughout. This works surprisingly well to keep our home comfortable and cool for the majority of the day. By placing the box fans strategically in the main part of our home, the cooler air that has been trapped inside the exterior rooms can then be circulated throughout.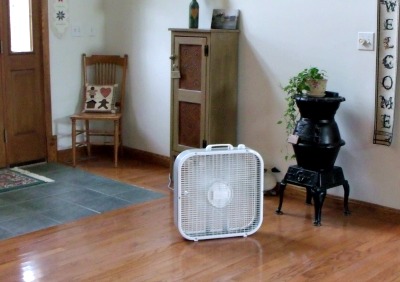 Believe it or not, this one trick will keep my house at that early morning temperature throughout most of the day.
Now, if it's really hot, I have a couple of extra tricks.
Most homes up north have basements. This can come in pretty handy in the summer.
The air in our basement is wonderfully cool and, luckily, dry. On our furnace, we have an internal fan that will blow air from our basement throughout the house. By turning this fan on, I am able to add some additional cooler air and have it circulate with very little effect on our electric bill. I only do this in the late morning as the temperatures get warmer in the home.
To keep as much of that air in the main living space, I find it is best to close the vents in the rooms we are not using. This will push more of that cool basement air into the rooms where we need it the most.
But what if it's really REALLY hot??
Then there are those days in August….what I like to call our "Atlanta Georgia" hot days.
Those are the days I need to bring in reinforcements because, as I mentioned above, safety always comes before saving money.
We do have a small window AC unit that we will use if the temperatures are just too hot to handle safely. We do not use this yearly, but it is nice to have it just in case. This one window unit is enough to keep all our kid's bedrooms a bit cooler. I put the window unit into one of our kid's bedroom windows and use box fans to spread that cold air to the rest of our boy's rooms.
Box fans are amazingly helpful in redirecting air throughout our entire home. By doing this, we are able to reduce the temperature in our kid's rooms by a few degrees, which can make a huge difference.
SLCG PRO TIP: By only running this one small window A/C unit as needed, meaning mostly at night on really hot and muggy days, our electric bill is still considerably lower than it would normally be.
A window unit can also cool down an entire home using the fan tip above. Place a box fan in the room door with the window unit inside and another in the hallway. This will pull that cool air through to the main area of our home, which can be enough to take the edge off.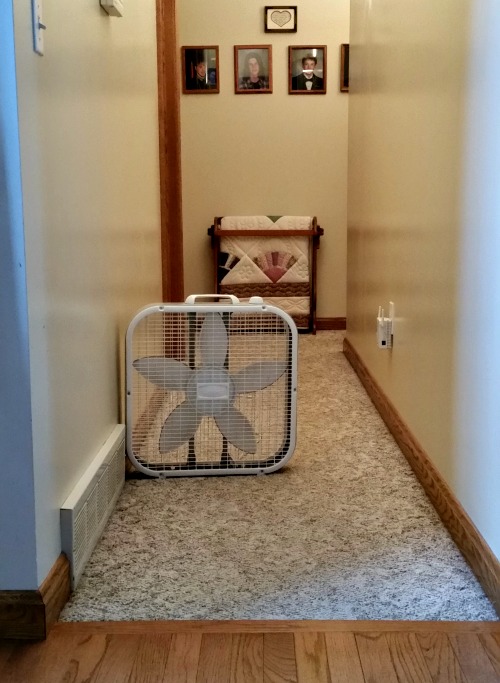 Use your fans to move the cool air into the main living parts of your home.
Since we live in a ranch-style home, the ideal spot for the window unit is one of the boy's bedrooms. Even though all the cold air is in one room, a box fan can easily move that cooler air to the other rooms and along to the main parts of the home. It is amazing how much cold air I can move with those two fans into our family room and kitchen area.
I only use the window AC unit if it is really hot; I'm talking upper 90s hot.
The trick isn't the AC; it's getting the house cooled off during the evening hours and keeping that air cool and circulating as the day heats up.
Trust me, this really works!
It is not unusual to find my house a good 10 degrees cooler or more from the outside temperature, even with the air conditioning off.
I realize this may not be an option if you live in a hot southern area. You can, however, use a few of my tips to alleviate how often you use your central air.
Even if you adjust your thermostat 5-10 degrees, you will save money monthly on your bill.
No, it's not a lot, but remember, all those small savings can turn into a pretty impressive savings.
How to keep cool without central air conditioning
Tip #1 Use fans to pull cool air in at night
As I mentioned above, before heading off to bed, walk your home and open up all the windows.
Place a few box or window fans to pull the cool air in even more. To make sure you remember, go one step further and set the alarm on your phone. This handy little reminder will help you to instill this money-saving habit until it is second nature.
Tip #2 Use fans to suck the hot air OUT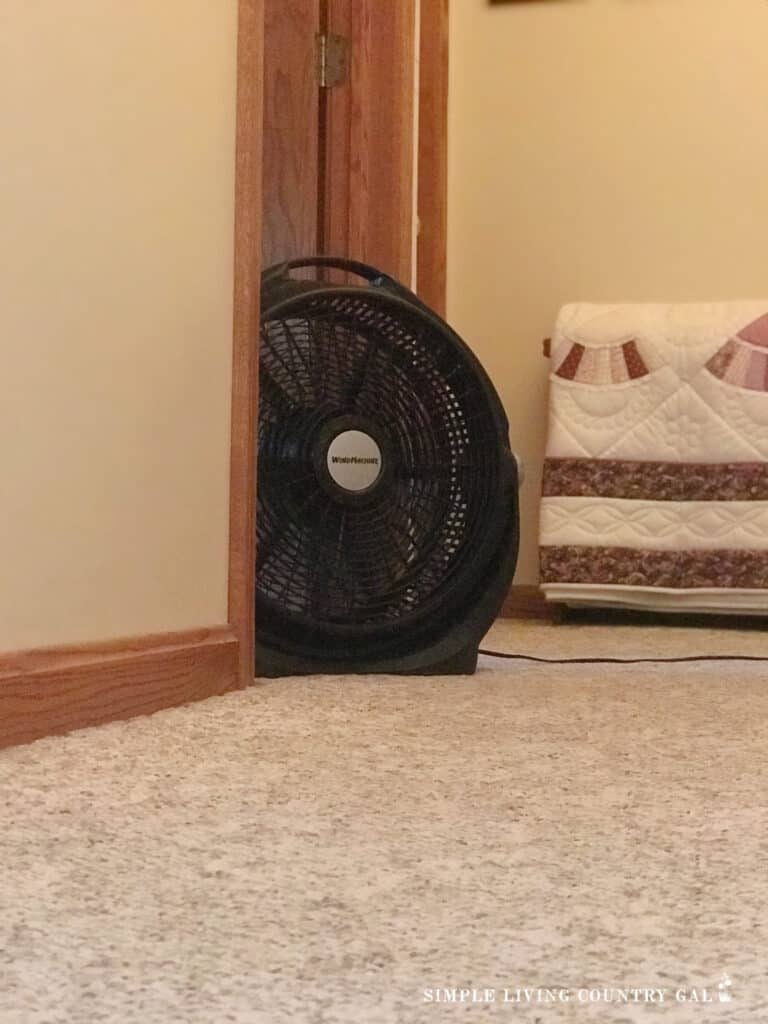 Did you know you can also put your fans in the window to push the hot air out of the house?
When you open your windows up in the cooler evenings, you may find the air inside your home warmer than outside. This is a great time to push that warm air out to make room for the beautiful cooler air.
Place your box fans in the window so the fan is blowing OUT rather than in. This will move the warmer air outside where it belongs.
This little trick works surprisingly well, especially after a really hot day.
Tip #3 Close off vents in rooms you do not use frequently.
This works best with a central fan system on your furnace (see above). There is no use keeping a room cool all day long that you only sleep in at night.
Shut the vent during the day to push the cooler air to the main living areas. I do not recommend doing this tip if you do have central air.
NOTE: If you use central air conditioning, it is recommended that you NOT close vents in unused rooms since this can cause damage to your system. Please contact your manufacturer for suggestions.
Tip #3 Close the curtains and keep out the sun
I know this may not be a popular option for some, but blocking out some of the sweltering sun on really hot days can go a long way to cooling off your home.
You can even go one step further and use energy-efficient curtains that will block even more of the summer heat like these surprisingly attractive heat-blocking curtains. I was pleasantly surprised at how well these curtains worked!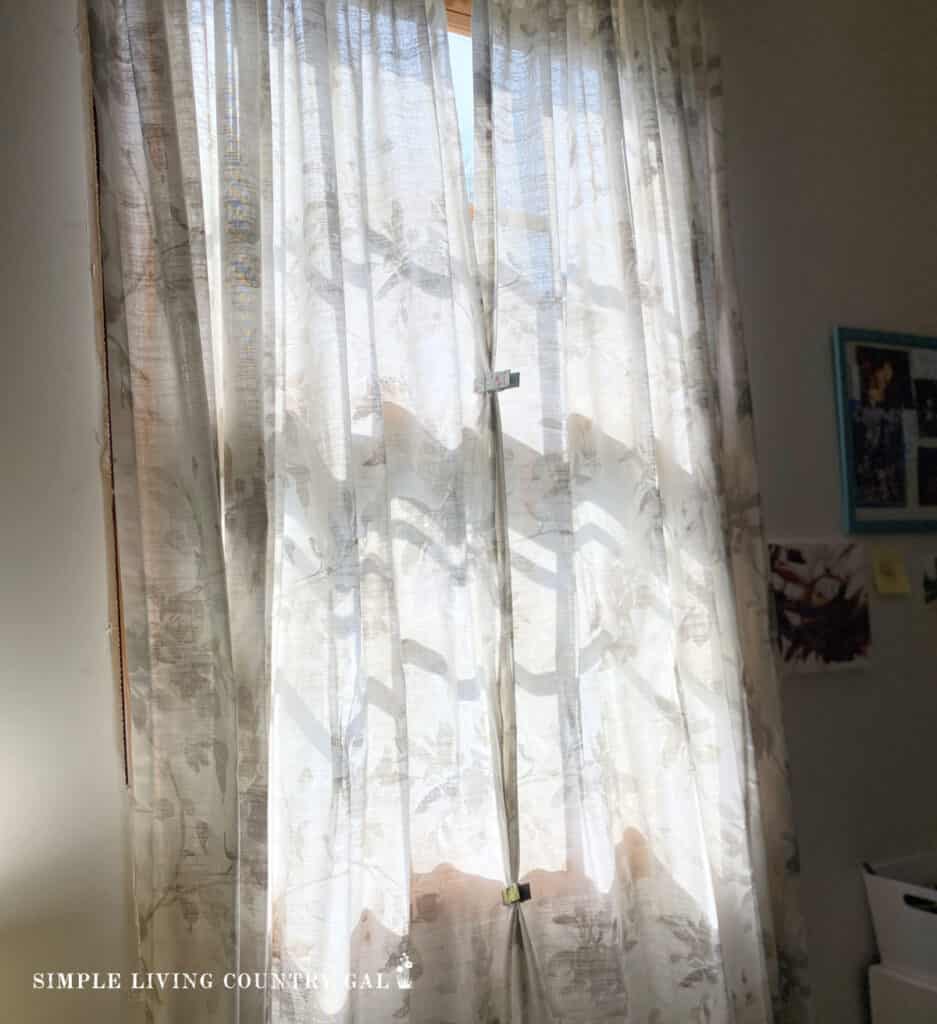 SLCG PRO TIP: You only need these curtains in rooms where the heat bothers you. If your bedroom receives most of the hot afternoon sun, but you are not in your bedroom until night time, then there really is no reason to invest in these curtains for that room.
However, if that same hot afternoon heat is in the family room, you might want to get a pair for that room instead.
Tip #4 Close any bedroom, bathroom, and office doors
This will also help push cooler air into your main living space. The office, a spare bedroom, and even your master bedroom. If the room is unused during the day, close it down and keep all the wonderful cool air you are making where you need it.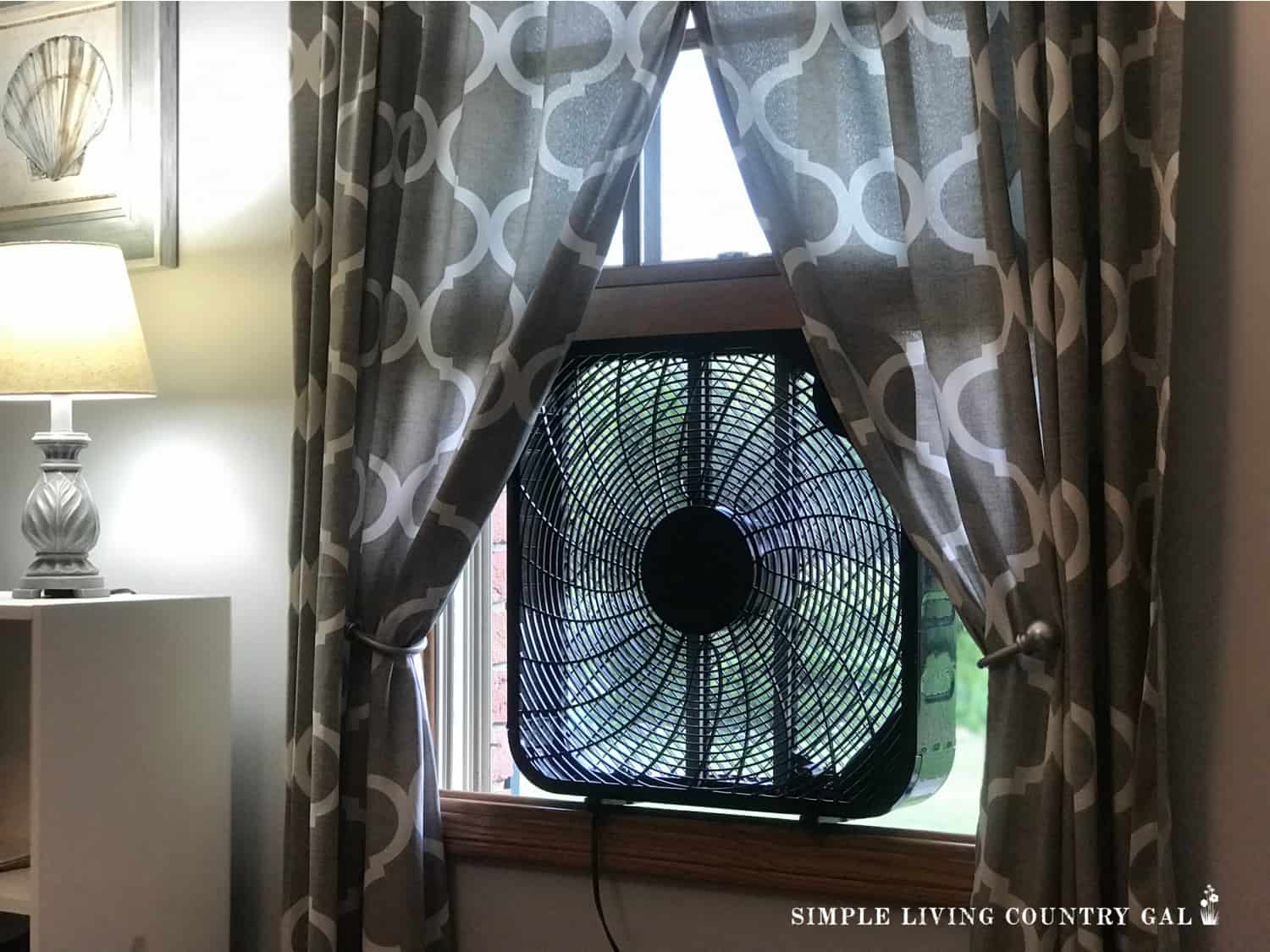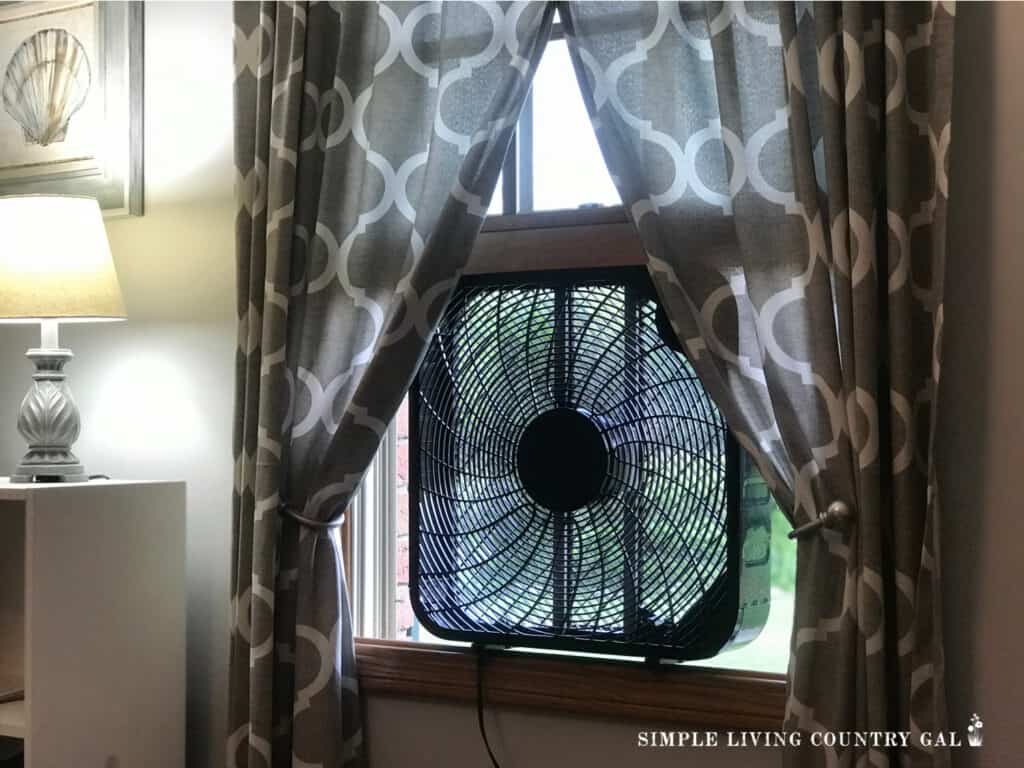 Tip #5 Save the baking for a cooler day
Nothing can heat a house up quicker than turning on that oven. Keep it off and save it for a cooler rainy day. Instead, use your crock pot or instant pot.
On cooler days, you can take some time to do batch baking and freeze the extras. Now, on those hot days when the kids are begging for home-baked cookies, you have a nice little stash in the freezer.
You can do the same with all of your cooking. When making a dish, double it up and freeze the extra meal. Now you can reheat amazing home-cooked meals on hot days and keep the unwanted heat from your stove or oven out of your home.
Learn how to Make Dinner Time Easier Without a Meal Plan
Tip #6 Who says crockpots are only for the winter?
How many folks refuse to break out their crockpots in the summer amazes me. You would be amazed at all the awesome meals you can make in a crockpot. No more slaving over a hot stove that can inadvertently heat your home. Use your crockpot and keep you and your kitchen cooler.
You can find some of my favorite crockpot recipes on my Pinterest page.
And the best part is crockpots are so inexpensive now. I have three myself in various sizes and use them constantly.
SLCG PRO TIP: No money to spare? I get it. You would be amazed at how many crockpots you can find at yard sales for a dollar. Why so cheap? Because most folks think crockpots are only for the wintertime, but we know better…don't we?
I know these are small efforts in the big picture, but sometimes doing the small things is enough to make a big change.
It is all in your thinking; working smarter, not harder, not only applies to us but to every aspect of our lives.
Do you have some keep cool without central air tips? I would love to hear them! Leave a comment below so we can all learn to keep cool without burning cash!
MORE MONEY-SAVING RESOURCES: