Having a list of daily chicken chores is an easy way to stay on track with the care of your flock. From food to water, care, and coop upkeep, there are things you can do each day. Not only will this create a healthier environment for your backyard chickens it will also give you a monthly chore list easier to do.
Raising chickens that are healthy and happy is easy to do with a list of tasks that you can do each day.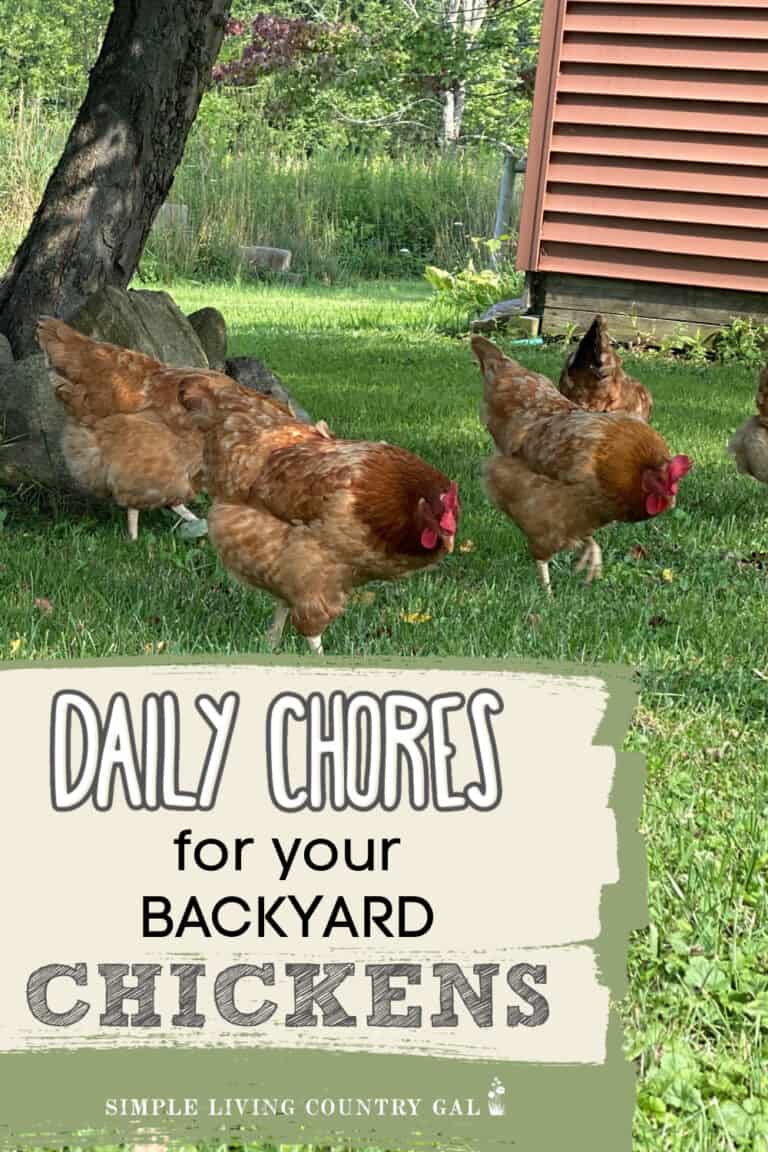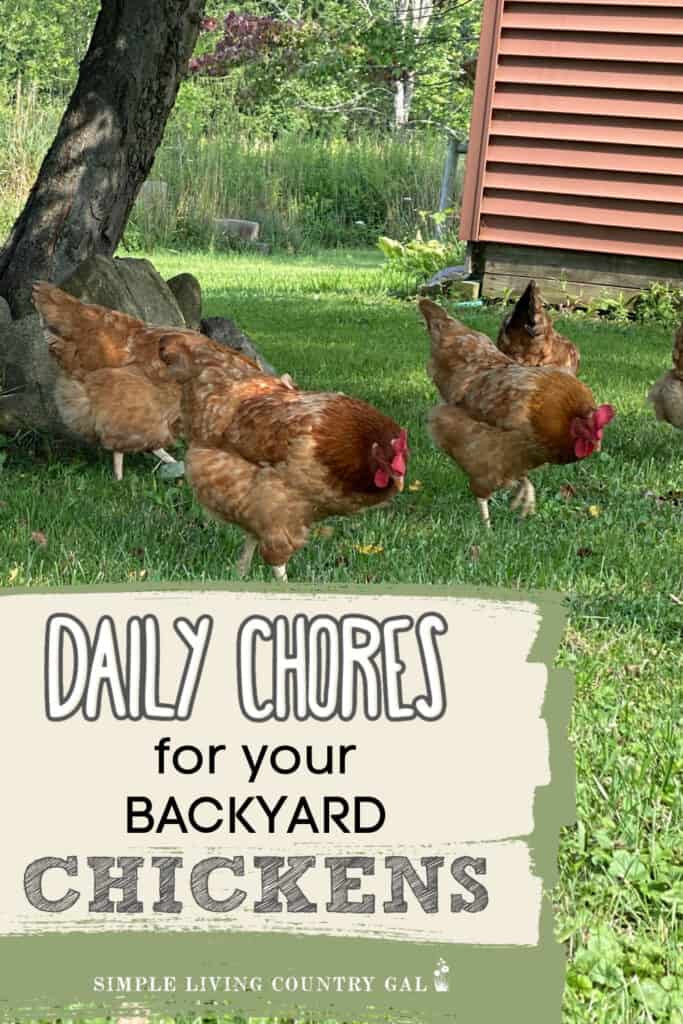 Taking care of chickens requires more than giving feed each day. To ensure your flock stays healthy and safe, it's important to stick to a regular schedule of daily chicken chores – from making sure they always have the right food and water, collecting their eggs regularly, cleaning up after them, and a bit more. We have an easy daily list of chicken coop chores that you can do for your backyard flock.
Daily Chicken Chores
What all should you do for your chickens every day to ensure they are healthy and laying eggs consistently?
Fill feeder and check water supply
Collect eggs and replenish nesting in nesting boxes if needed
Spot clean out the coop
Health Check your flock
Check for pests or predators
Provide treats and fresh greens (optional)
Feeding and Watering
The first daily chicken chore is feeding and watering your flock. Chickens need access to clean, fresh water at all times. Each day, dump out any water from the day before and fill it with fresh. They also require a good quality feed to keep them healthy and productive. You can use pellets, crumbles, or a fine-textured feed.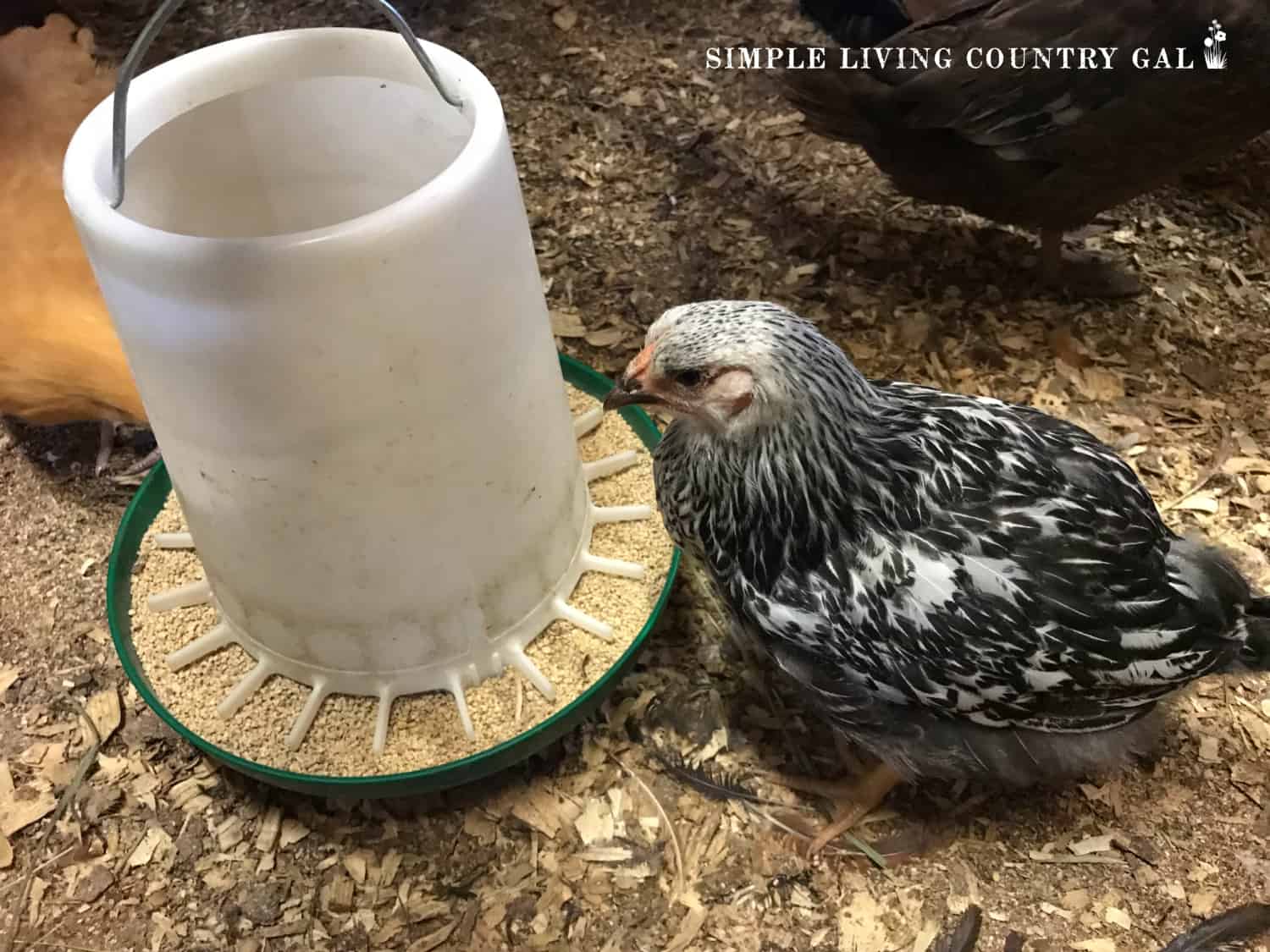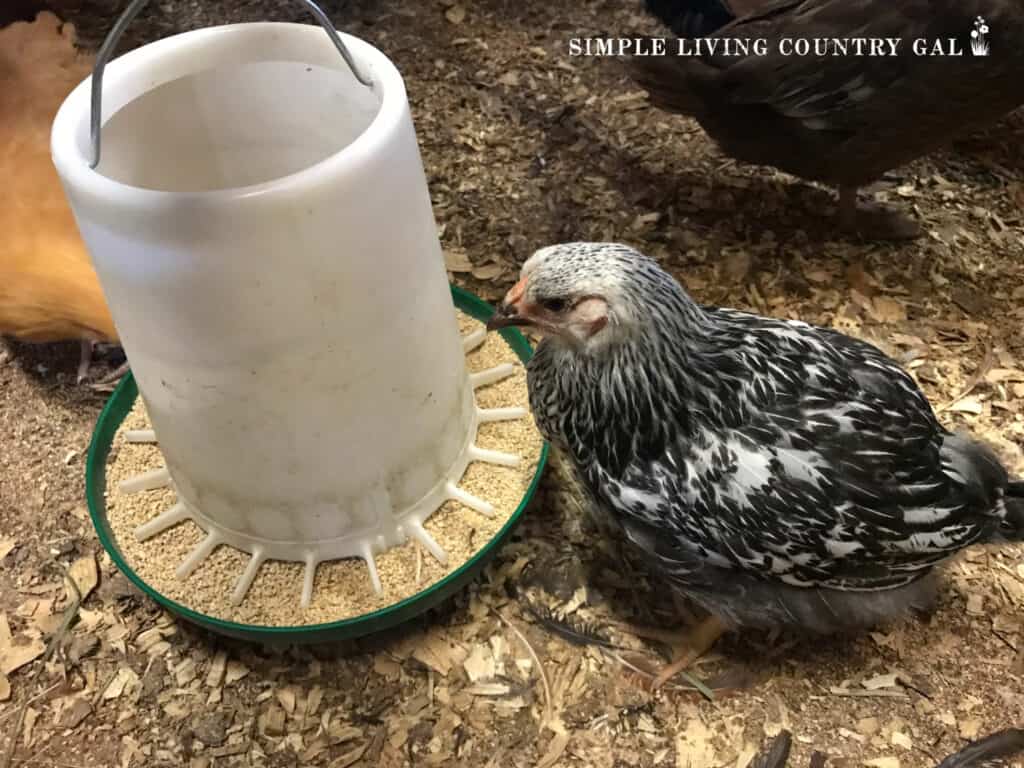 SLCG Pro Tip: Make sure you have waterers and feeders that are appropriate for the number of chickens in your flock. You will want to have one feeder for every 6-8 chickens and one water source that holds a gallon of water for every 8 chickens.
Egg Collection/Nesting Boxes
Collecting eggs should be done at least once a day, more frequently if possible. This ensures that the eggs stay fresh and also prevents broody behavior in your hens. Once collected, store them in a cool and dry place until ready to use.
Replenish any bedding in the nesting boxes as needed. This bedding helps to protect the eggs and keep them from cracking.
SLCG Pro Tip: In the winter, you will want extra straw in your nesting boxes to insulate the eggs until you can collect them. This will keep them from freezing.
READ: DIY Chicken Nesting Boxes
Coop Maintenance
Keeping a clean coop is crucial for the health and well-being of your chickens. To make this easier, you can have drop boards under their roost to catch droppings during the night. Each day, you can clean these boards, giving a better smell inside the coop. You can also use a scraper to clean off the roost.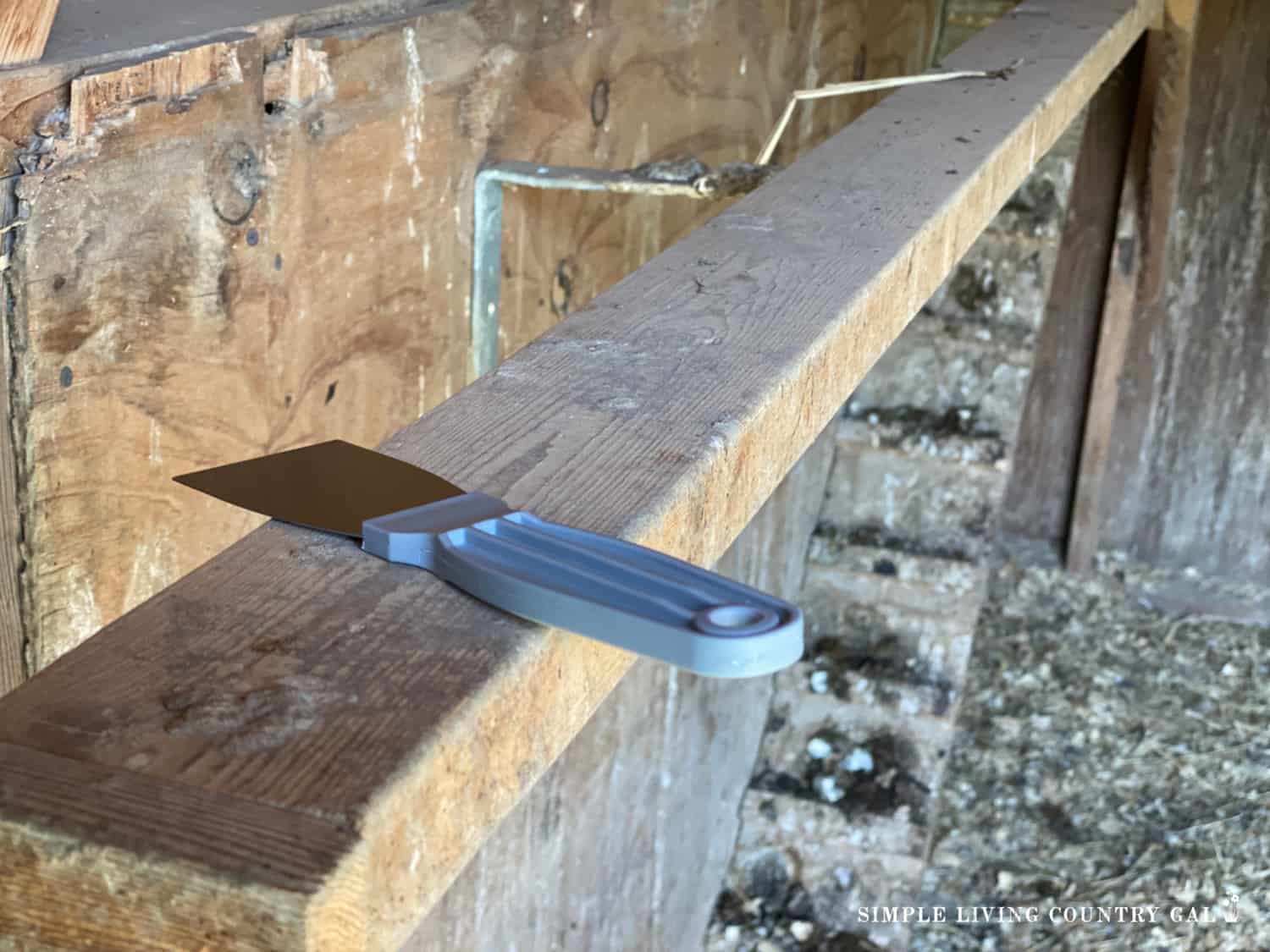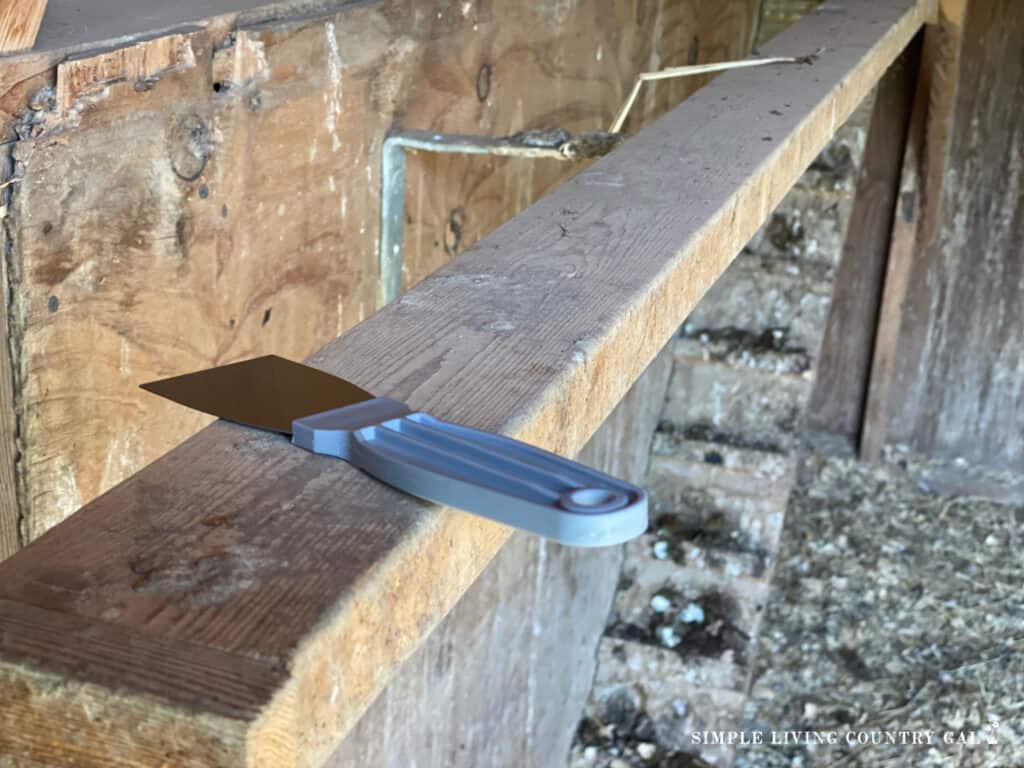 SLCG Pro Tip: Keep a bucket near or inside of your coop to fill with dirty bedding or droppings. Then, you can carry the bucket to your compost bin and dump the contents there. This tip will make cleaning the coop easier on your back and legs.
Health Check
Aside from daily chores, it's important to do a quick health check on your chickens. Take a few minutes to observe them and make sure they are all behaving normally. Any signs of sick chicken or injury should be addressed immediately.
SLCG Pro Tip: Hold your chickens routinely as you do your daily chores. This will help you to feel their condition, which can be hidden by their feathers. It will also acclimate your chickens to your touch, allowing you to administer care more easily if needed.
Pest and Predator Checks
The safety of your flock is a top priority, so it's important to regularly check for signs of pests or predators in the coop and surrounding area. Look for broken eggs, nests made in corners, or droppings, not from your chickens. If you see any signs of unwanted guests, inspect your coop. Ensure all openings are secure and any potential hiding spots for predators are removed.
READ: How to Keep Predators Out of Your Coop
Chicken Supplies:
Harris Farms 1000293 Galvanized Hanging Poultry Feeder, 15 lbs, Metal
Plastic Poultry Drinker (3 Gallon) – Little Giant – Heavy Duty Plastic Gravity Fed Water Container Jar (Red) (Item No. 7906)
The Chicken Health Handbook, 2nd Edition: A Complete Guide to Maximizing Flock Health and Dealing with Disease
WORMSKING 5LB Dried Black Soldier Fly Larvae, High Calcium for Chickens
2 Pieces Chicken Mirror Toys Hanging Swing Mirror Toys with Bell Wooden Pecking Toy and 4 Pieces Beak Grinding Molar Stones for Hens Birds Parrots
Treats and Greens (optional)
While not necessary, providing treats such as mealworms or fresh fruits and vegetables can be a fun addition to your daily chicken chores. Just make sure the treats are appropriate for chickens and given in moderation. Fresh greens, such as grass clippings or kitchen scraps, can also be a healthy snack for your flock.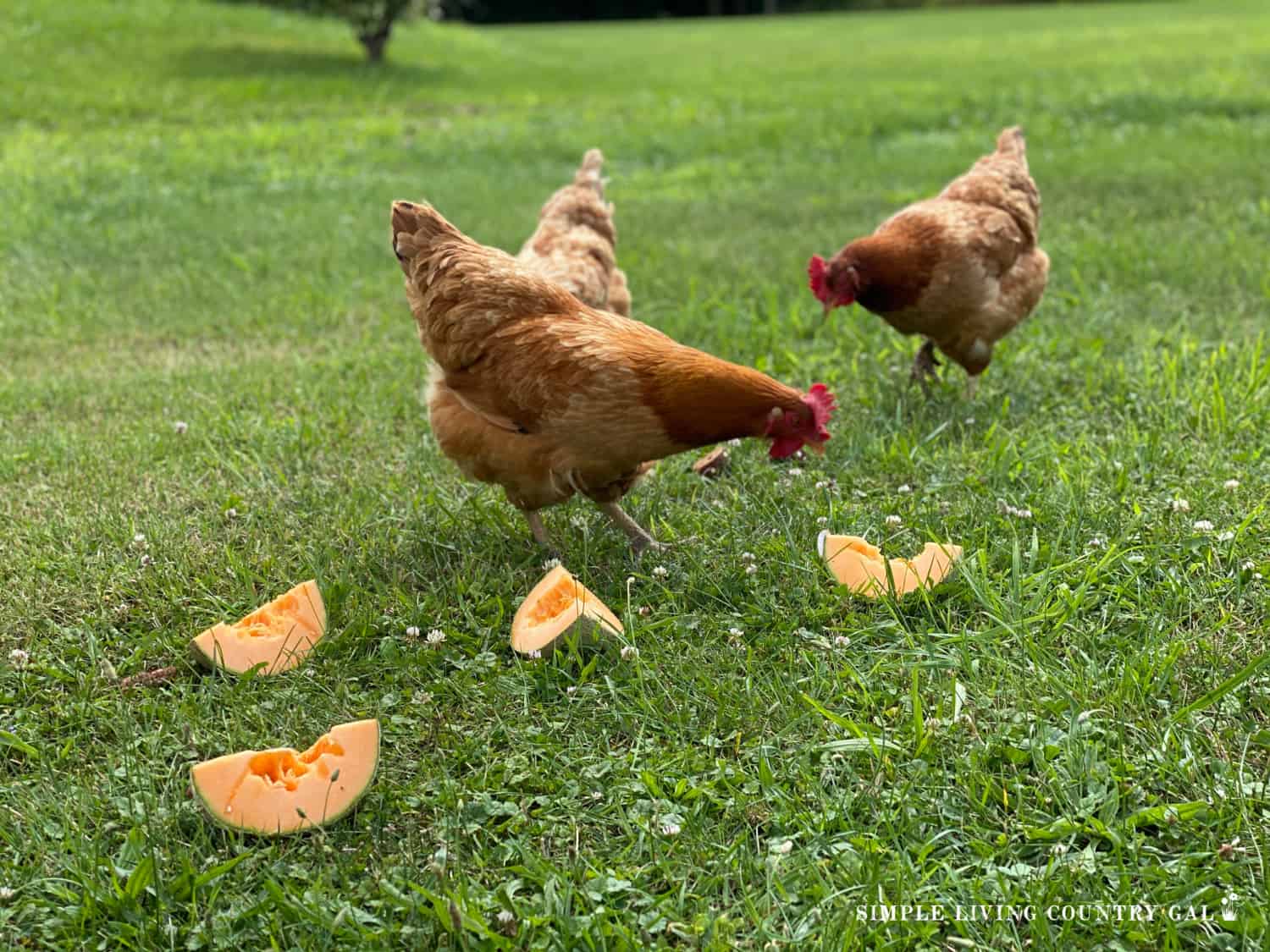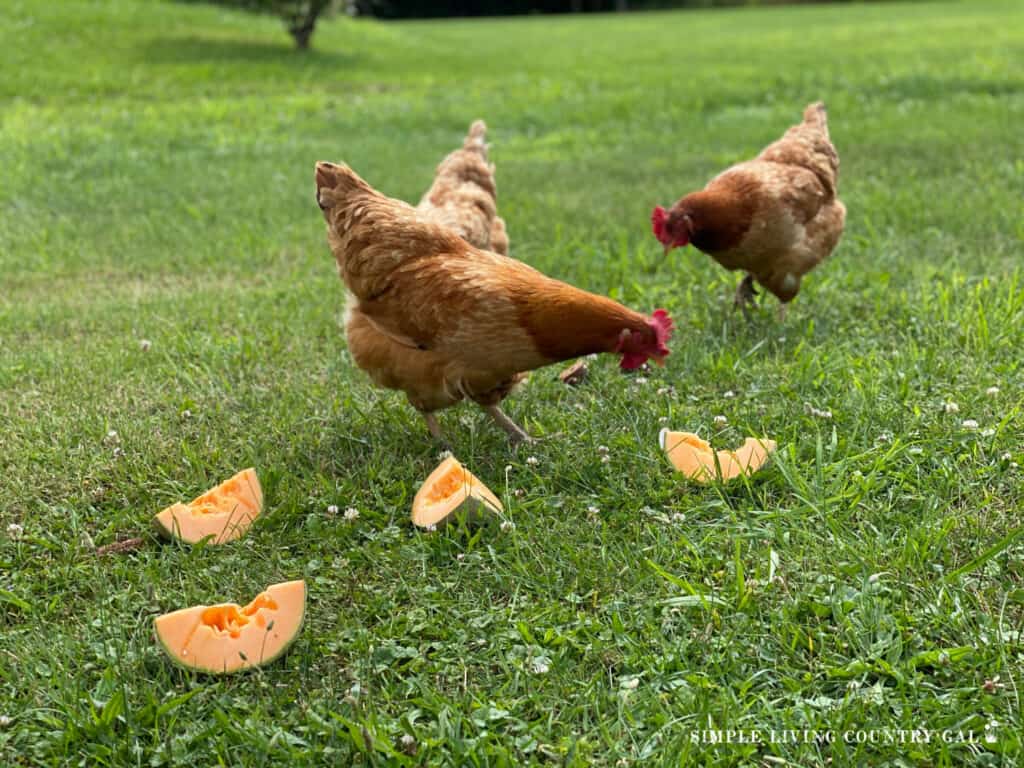 Keeping chickens requires daily care and maintenance to ensure the health and well-being of your flock. By following these basic tasks and regularly checking on your chickens, you can create a happy and healthy environment for them to thrive in. Always stay up-to-date on best practices and consult with a veterinarian if any concerns arise.
Use your daily chicken care checklist to stay on track with your backyard flock.
More Chicken Care Resources: