Learn from an Amish Lifestyle – Get More Done In Less Time
One of the perks that come along with living in the country is you are surrounded by Amish families. There is something about a buggy heading down the road that takes me to a place of peace.
That Amish lifestyle of a slow way of life that is free from distractions and wasted moments is something I would love to be a part of. A great reminder that living a simple life is a great way to create a life we enjoy.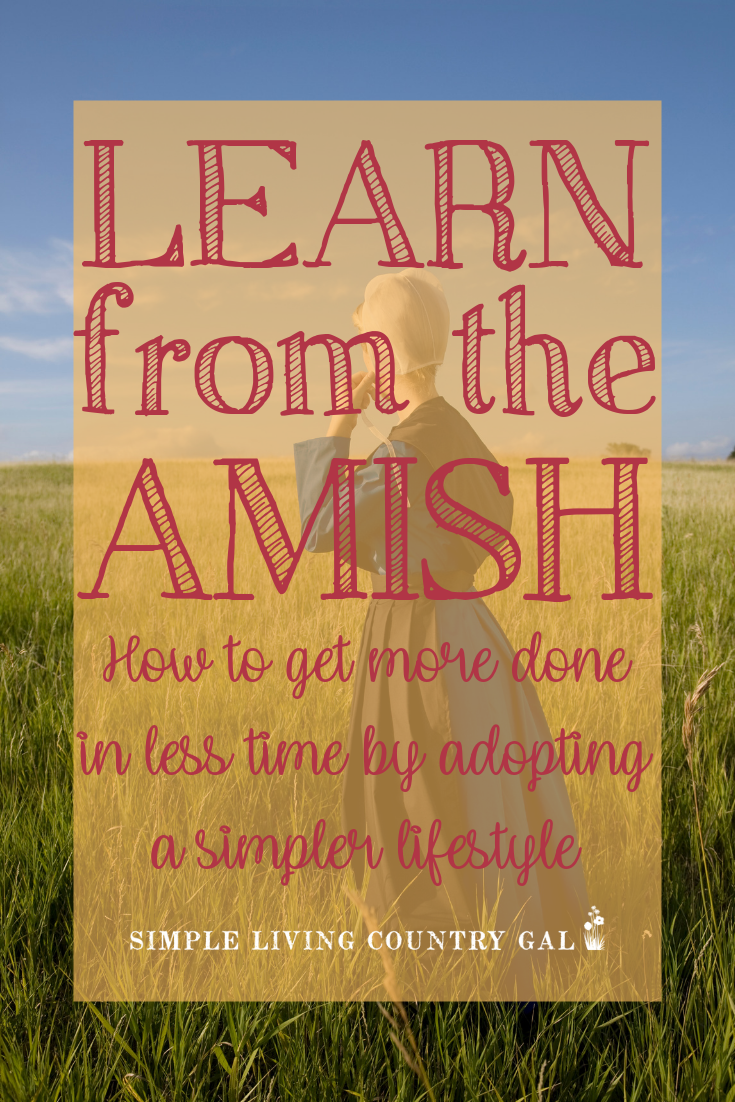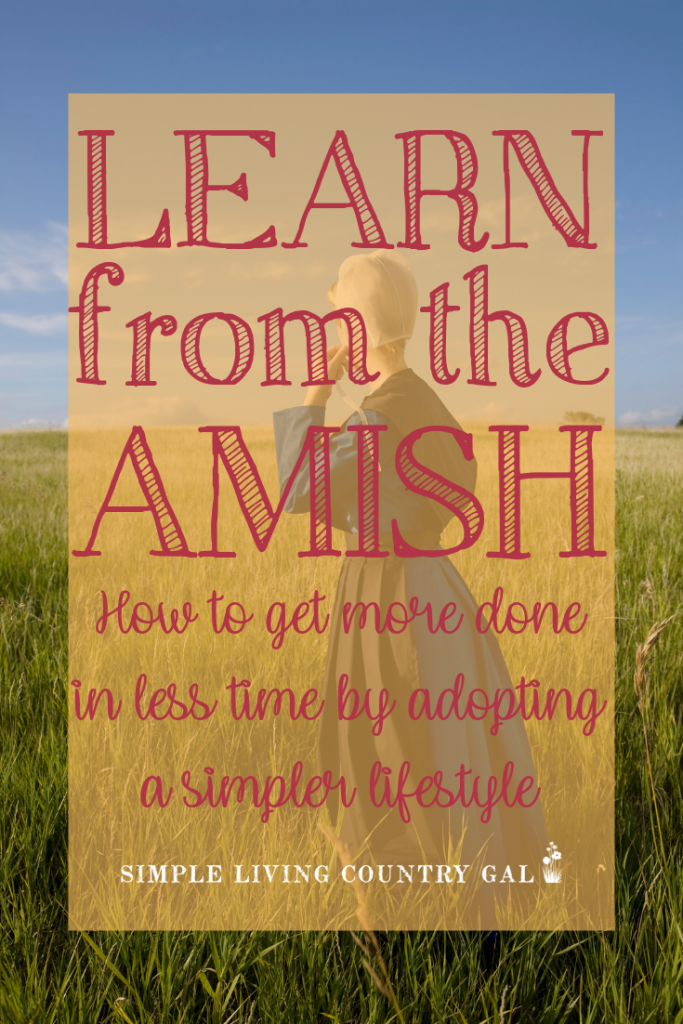 Another part of the Amish life I love is their work ethic.
The Amish homes that are near us always have such neat and tidy lawns. Gardens are free of weeds, and there are very few vegetables, if any, left out in the garden to rot.
Clotheslines are always full of clothes drying in the wind no matter the weather and men are always working in the fields.
It amazes me just how much the Amish can get tasks done without the use of many modern conveniences that litter our own lives.
But then I remember they are also free from most of the distractions that haunt us on a daily basis. Things that distract us enough to keep us from getting our to-do list completely done.
READ: 13 Tips For Slowing Down
Things like Facebook, social media, television, smartphones, and even radios can keep us from focusing on the task at hand.
And because we are more likely to be without that focus, we tend to take a. bit longer to accomplish items that need our attention.
I decided to try things out, living life at least partially as the Amish do just to see if I was able to get more done.
I shut everything off.
The phone, TV, Radio, and computer. I let my mind be in the moment and keep my focus on the tasks at hand.
At first, it was kind of creepy—all that silence.
Then something pretty amazing happened.
I got busy.
I just started doing things. I grabbed my list and just went from item to item checking things off like a mad woman.
Before I knew it had completed most of my weekly to-do list in less than a day. In.Less. Than. A. Day.
How crazy is that?
I was so incredibly surprised at the amount of distraction-free work I accomplished that I kept right on going. Killing that entire list in one day.
Boom.
That little experiment made me realize that the Amish are onto something here. By living an Amish lifestyle and being present in the moment, I was able to do all the things in (much) less time.
Without all the distractions, the Amish have their minds focused on what is being done—giving 100% to the task at hand. And because of this, they can do things in a less stressed manner.
They are not jumping from job to job because they are easily distracted. They are, instead, focused and productive. Two things very few Englisher are able to be for more than 10 minutes at a time.
Sure, this is all well and good, but how do we implement these tips into our own lives?
Simple….
Cue the checklist, please!
How To Live Like The Amish lifestyle And Get More Done
Step #1 It all begins with a list
As with anything I teach, you will not get too far without a good list. Grab a piece of paper and write down everything that needs to be accomplished this week. I like to sort things out by category just a bit to make them easier.
SLCG PRO TIP: You will not have ALL of these items on your list. The big and the very small. The key is to get it all down on paper and have a thorough list. This list will then be your guide that will help you pull the top 3 things in each section that need your attention this week.
House cleaning – any and all things that need to be cleaned
Laundry – gather clothes, wash, dry, iron, and put them away.
Food prep – weekly menu, shopping list, baking, lunches
Errands – current lists, budgeted money, Dr. appts/misc appts.
Outside – flower beds, gardens, lawn care
Paperwork – bill paying, budget, mail, filing
Homestead/Farming – animal care, crop care, vehicle maintenance, outbuilding care.
Misc – home repairs, crafts, sewing/mending, decluttering, organizing.
Job/work – I would suggest a separate list here and a separate time frame to work on it.
Step #2 Pick a day
Choose a full day, or several partial days, that you will be able to work on your top items from your list. Put this date on your calendar right now….IN INK. This date/s is now set in stone and cannot be moved.
Yes, this will be your Amish lifestyle day!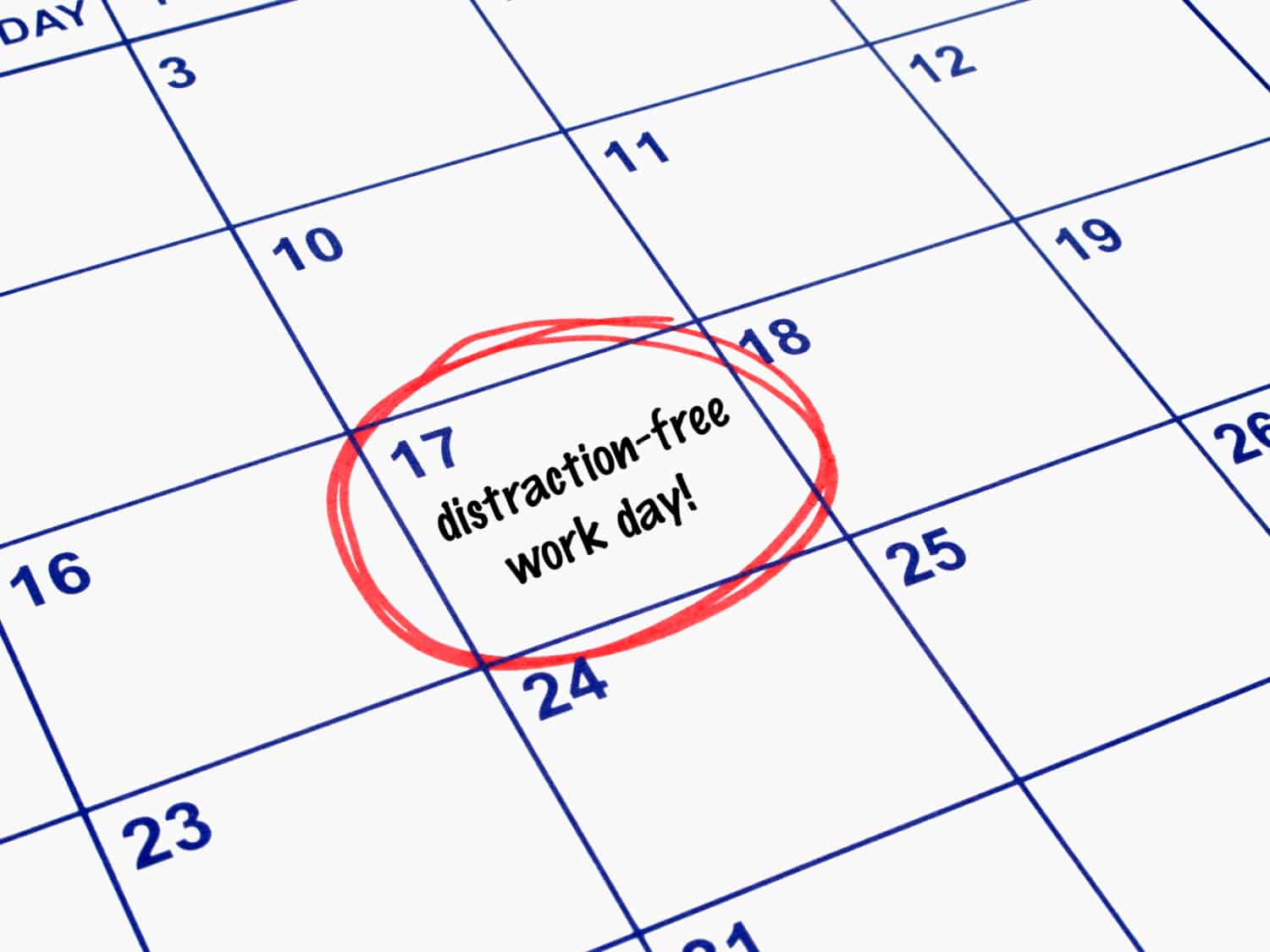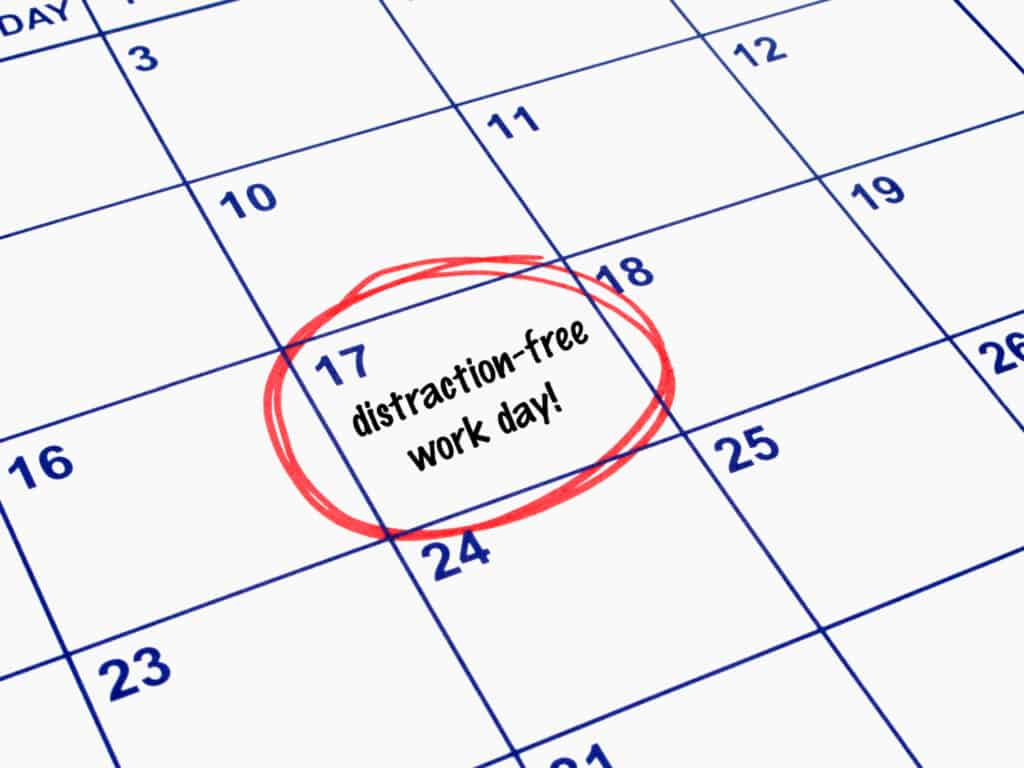 Step #3 Unplug and focus
Remember, we are taking a cue from our Amish friends and their productive Amish lifestyle.
Shut those phones off! No computer. No radio. No television.
Keep your focus on the project at hand and keep your head in the game. When you pay attention to only what is in front of you, you will be amazed at how much you can actually get done.
So much so, in fact, that you may just keep on going doing more than you ever thought possible. No more half-finished chores or projects.
Just think, a made bed can quickly end up in a completely decluttered room!
Step #4 Dress the part
If I am in sneakers and dressed to work, I will do much better at getting things done. Don't trick yourself into thinking you can be just as productive in slippers and PJs.
Dress without distractions. Dress the part and get more done.
Step #5 Just do it
Grab your list and a highlighter, and get busy. You know how much time you have. No excuses…you need to get it done. Get your head into the game and work on one item at a time.
You will be amazed at how focused you will be adopting a productive Amish lifestyle, all without any distractions at all.
I used to jump from job to job, from chore to chore, running like crazy and never getting anything done. Now that I have shut it all off, I can stay on the project at hand and get things done much more efficiently.
Step #6 Don't get distracted
If you see something else that needs to be done while you are working, then stop and write it down on a new list for next week.
This will keep that new job from nagging you because you now know the focus will be paid later, and you can keep going on the task at hand.
This is why a thorough list from the beginning is so important. It keeps you from stressing about forgotten things.
I like to look at my list as a living and breathing thing. Something that changes from day to day. I can add to it whenever I need to, always being confident that all the things are finally getting done.
Step #7 Work smarter not harder
Do the toughest job first when your motivation and energy are at its peak.
Nothing keeps me moving more than checking a tough job off my list. By getting the biggest chores out of the way early and working your way down the list from hard to simple, you will keep from losing your mojo.
There is this great book called: Eat That Frog by Brian Tracy that I highly recommend. This one book has completely changed things for me. I am now getting so much more done simply because I do the hardest, most important jobs first.
Step #8 Keep things realistic
Now I am not saying this system will help you to declutter your entire home in an hour. What I am saying is that by unplugging and focusing, you will get more done in less time.
As you get more done, you will see where bigger projects need to be taken care of. Like cleaning out your kitchen cabinets. Yes, it can be tempting to dive right in while you are unloading the dishwasher, but I caution against that.
READ: HOW TO ORGANIZE YOUR PANTRY
Instead, save big projects like this for big days.
You can tackle one large project a weekend until you are all caught up or even just one project a month. As you get better at working this way, you will find bigger jobs less overwhelming and easier to accomplish in less time.
READ: Lessons Learned From An Amish Visit
Step #9 Lead by example
The best part about living like the Amish is your family. As they see the change in your home and in you they will begin to see the benefits of unplugging.
You can begin helping your family unplug by the no-tech dinner rule. Do a complete unplug for every dinnertime meal and encourage everyone to talk more.
SLCG PRO TIP: Place a pretty basket like this one on your kitchen counter. Have family members place all electronics inside until dinner is over.
Still, having trouble getting the kids to unplug for dinner? Try playing High-Low.
Each person tells the low for their day. Something that upset them or made them sad. Discuss what would have made the situation better or how they could handle things next time.
After everyone has spoken, each person then tells the high for their day. Something that made them smile or made someone else smile. This is a much more fun and great way to end the meal.
The best part about this game is hearing about everyone's day without getting the old "nothing" response when you ask. By making it a routine and fun dinner-time game, your family will actually take more notice of their day and what is happening around them just so they will have something awesome to report on at dinner.
Step #10 Unplug to sleep better
Another tip from a productive Amish lifestyle is to read every evening.
The Amish spend time as a family or by themselves reading something fun or informative. This is a great way to calm and quiet your mind so you can get to sleep quicker and stay asleep longer.
It is a proven fact that those that fall asleep with their phones or with the television are getting a less restful sleep. Those folks are also the ones that tend to wake up tired and never fully rested.
I rarely see the Amish yawn. Have you ever noticed that?
They wake up early, almost what we call the middle of the night, and start working right away. They literally go full board most of the day long.
Whenever I come in contact with an Amish friend, they are wide away and quite pleasant. It is obvious they are sleeping better. That alone is worth it to me to shut off and unplug before bed.
It amazes me how much we have to learn from those that do it all by hand. Where some folks think the Amish are behind and out of touch, I believe they have found the key to a happy life.
Shut it off and be present in your day.
Get more done with less effort. Own less so you are cluttered less. Eat better so you live healthier. All of these things are what I want in my own life. By having an "Amish" day or two each week, I am hoping I can do just that.
What do you admire about the Amish lifestyle? Share in the comments below, we would love to hear from you.
More Amish Resources: