30+ ways for simple thrifty living
I am not a fan of the term frugal living. I think over the years, people feel frugal means deprived. Instead, we are going to coin a new phrase and get folks excited about saving money again. What is simple thrifty living and how can it help you living a simple life?
Saving money is a large part of homesteading successfully and my goal is to help you find unique and easy ways to keep as much money in your pocket as I can.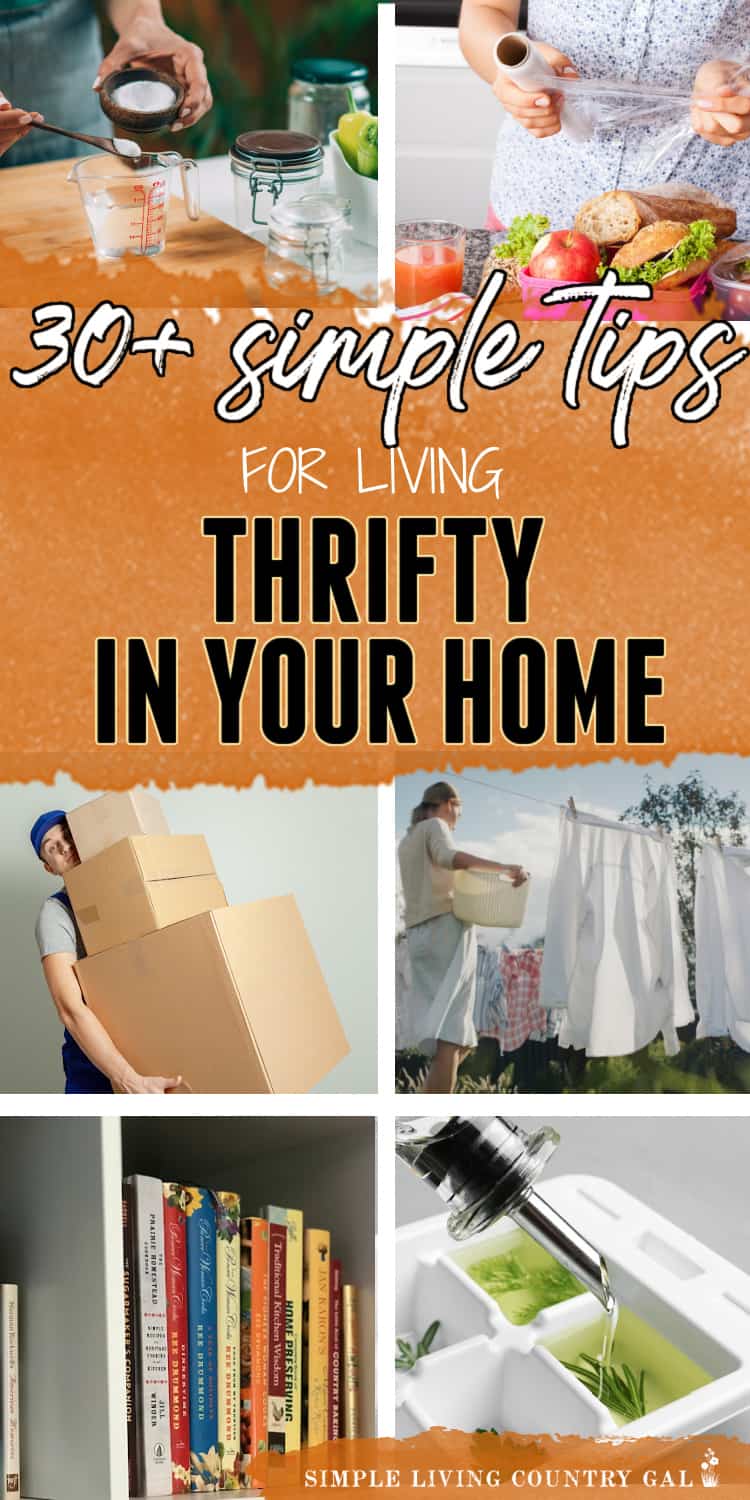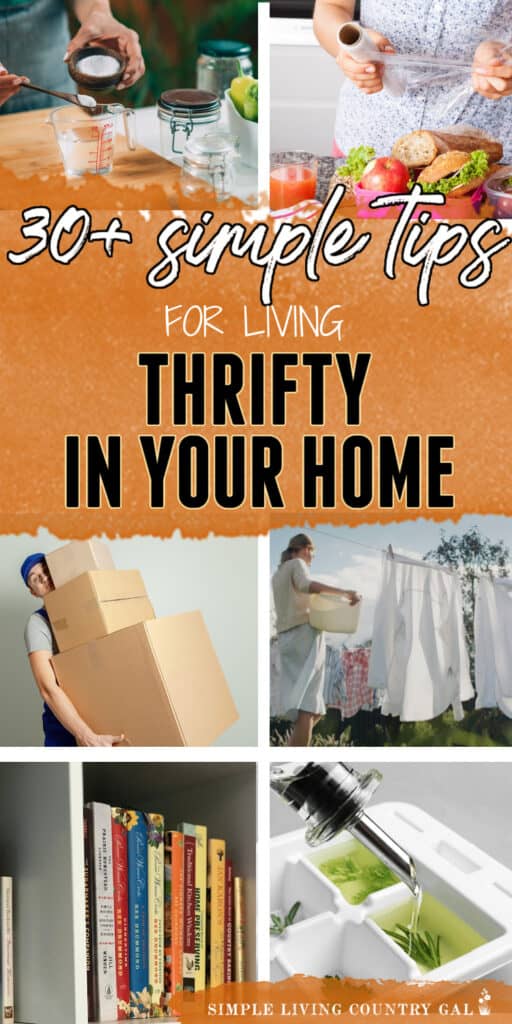 Simple thrifty living is a refreshing take on frugal living, one that doesn't involve feeling deprived or restricted. The goal of simple thrifty living is not just about saving money, but it's also about finding creative and practical ways to make do with what you have and conserve resources. In today's fast-paced world, where consumerism is at its peak, it's important to take a step back and embrace simple thrifty living as a way of life. By doing so, we can not only save money but also reduce our environmental impact and live a simpler, more fulfilling life.
Living thrifty is all about using the resources you have as well as the skills you know to reduce purchases and reliance on outside resources. It combines cutting back with being happy with what you have. Freeing up space and transforming your home from a storage unit to a hub that keeps you happy and comfortable.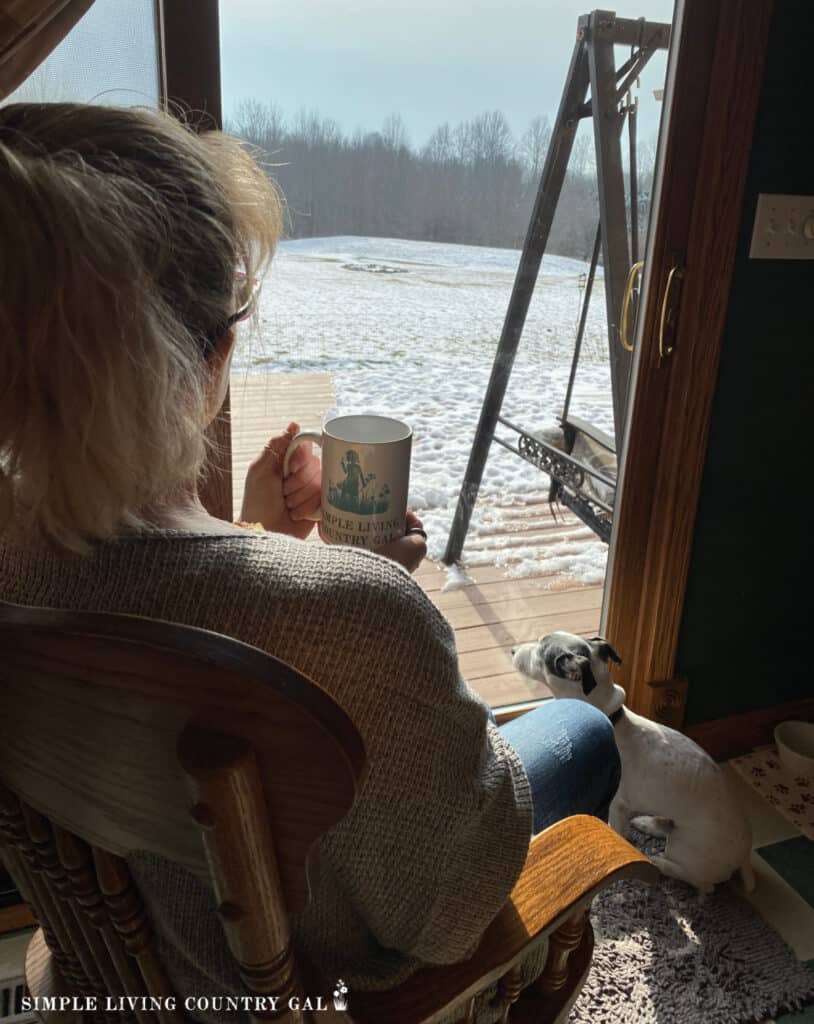 How can you live a simple and thrifty life?
Transforming from a consumer to a person that embraces simplicity can be a big ask. Let's break it down into different areas so you can work on one at a time.
Simple Thrifty Living Tips:
#1. Reduce, reuse, and recycle – Before heading to the store or online to buy, try to repurpose or fix what you have. This not only saves money but also reduces waste. Sometimes what you think is broken needs an update or a new part. Pull out the manual or call customer support for help before you replace.
#2. Cook at home – Eating out can be expensive and often leads to eating more food than we normal would. Cooking at home not only saves money but also allows you to control the ingredients and portion sizes. If you love the food at your favorite restaurant, look online for a copy cat recipe. More often than not you will find your favorite dish that you can now replicate at home.
#3. Embrace second-hand – Many items can be found at thrift stores, garage sales, or online platforms such as Facebook Marketplace for a fraction of the retail price. You can purchase clothes to wear, outdoor gear, gifts that you can repurpose for others, even furniture.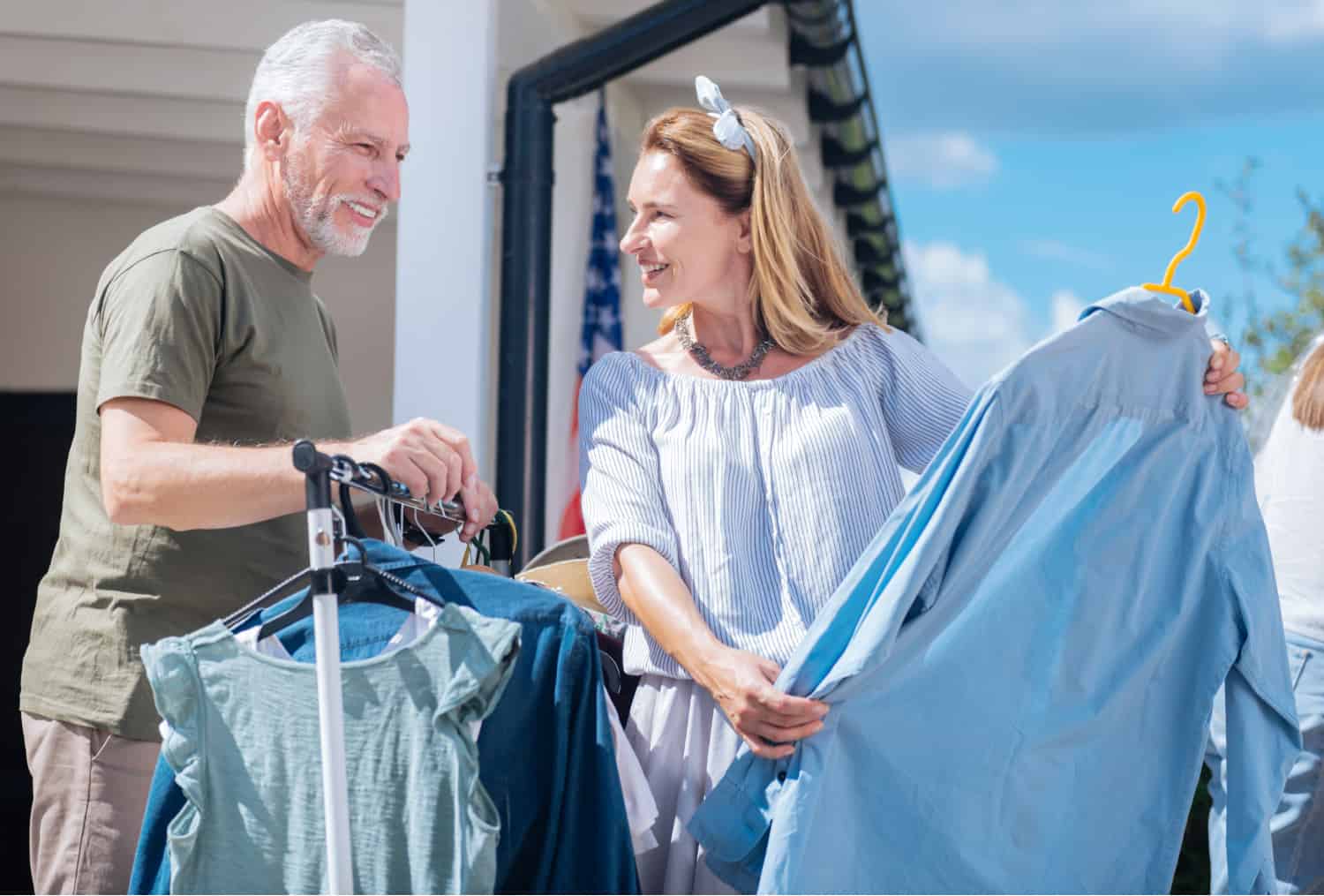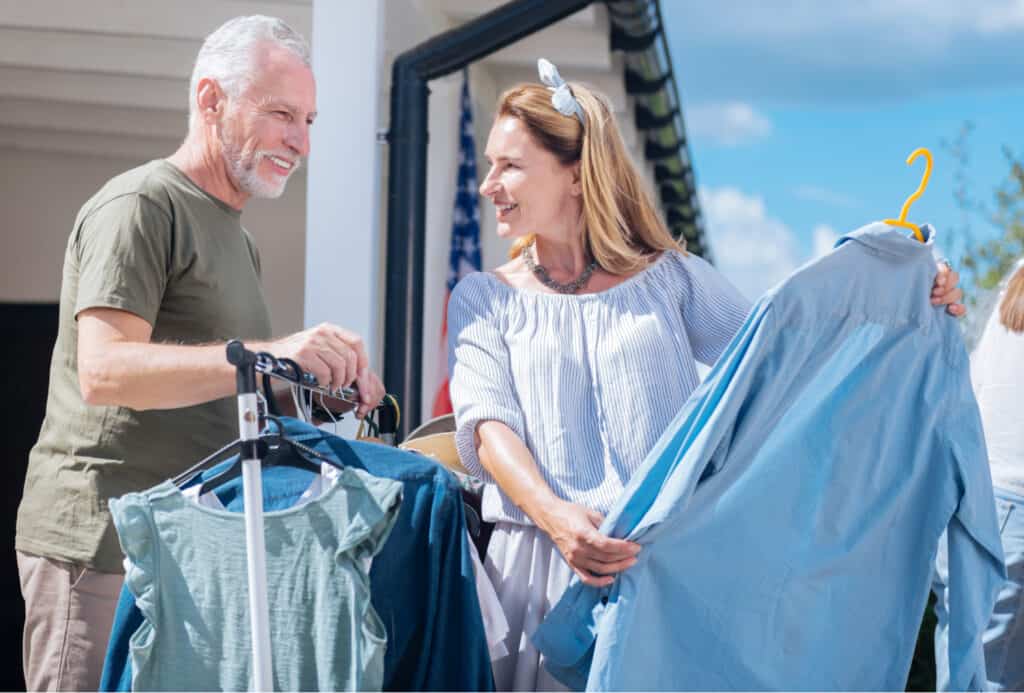 SLCG Pro Tip: Not a fan of buying online? Set up a swap with friends or family members! Invite 5-10 people over asking them to bring 10 or more items in a certain category. Lay everything out and let your guests go shopping. This is a fun way to build community as well as save on purchases.
#4. Buy in bulk – Purchasing items you use often in bulk can save money in the long run. Things like toilet paper, flour, rice are all good items to buy in bulk. Be sure to have containers to keep perishables in so they last and stay fresh.
STOREGANIZE Flour And Sugar Containers Airtight (5.3L/4pk) Great Canisters Sets For The Kitchen pantry, Large Food Storage Containers With Lids, BPA Free
Grain Rice Storage Bin Food Containers Set Leak Proof Locking Lid, Large Storage Boxes Plastic Cereal Pet Food 15kg(18L), Grey,2packs
Komax Biokips Extra Large Food Containers, 20lb Food Storage Bins with Lids & Scooper, BPA Free Airtight Kitchen Storage Containers to Store Dry Food, Cat/Dog Food Storage Container (13 x 10 x 7.5)
House Naturals 4 Gallon Square Plastic Bucket, Food Grade BPA Free containers, Made in USA, (Pack of 2)
#5. Grow your own food – Whether it's a small herb garden, a container garden in your kitchen, or a full-fledged vegetable patch, growing your own food can save money on the foods you eat. Be sure to follow the tips for what to grow and the best way to grow it for your area.
More Food Growing Help:
#6. Use public transportation or walk/bike – Not only is using public transportation or walking/biking better for the environment, it also saves money on gas and car maintenance. If public transportation is not an option, set up a car pool with friends or coworkers.
#7. Practice minimalism – Decluttering and simplifying your possessions not only creates a more peaceful living space, but can also save money by reducing unnecessary purchases. Get rid of things you do not need or use and free up space in your home.
READ: How to Declutter Your Home Room by Room
#8. DIY projects – Instead of hiring someone to do home repairs or improvements, try learning some basic DIY skills and tackle them yourself. You can find "how to" videos on just about anything online, just be sure you are not voiding the warranty by fixing things yourself.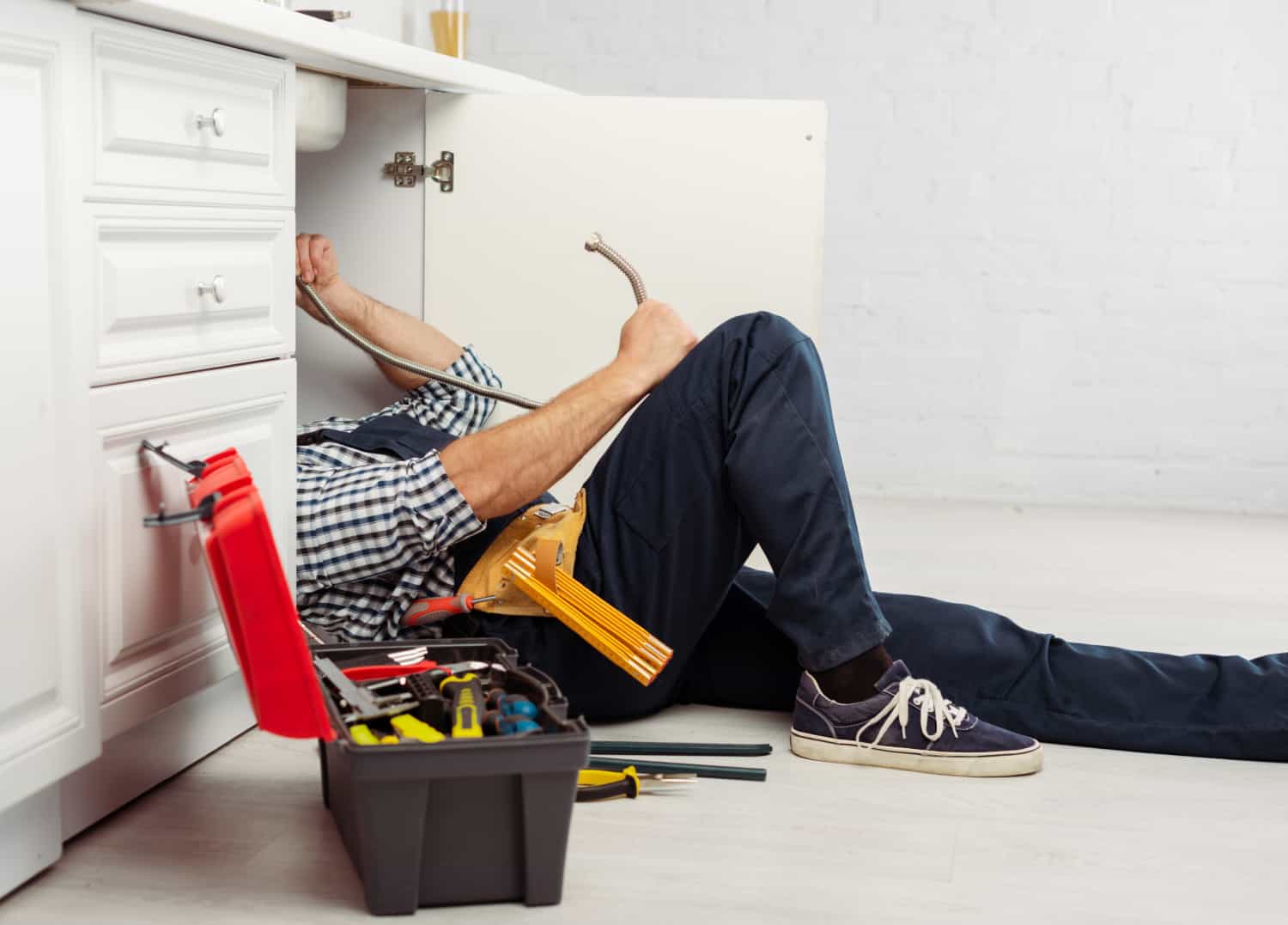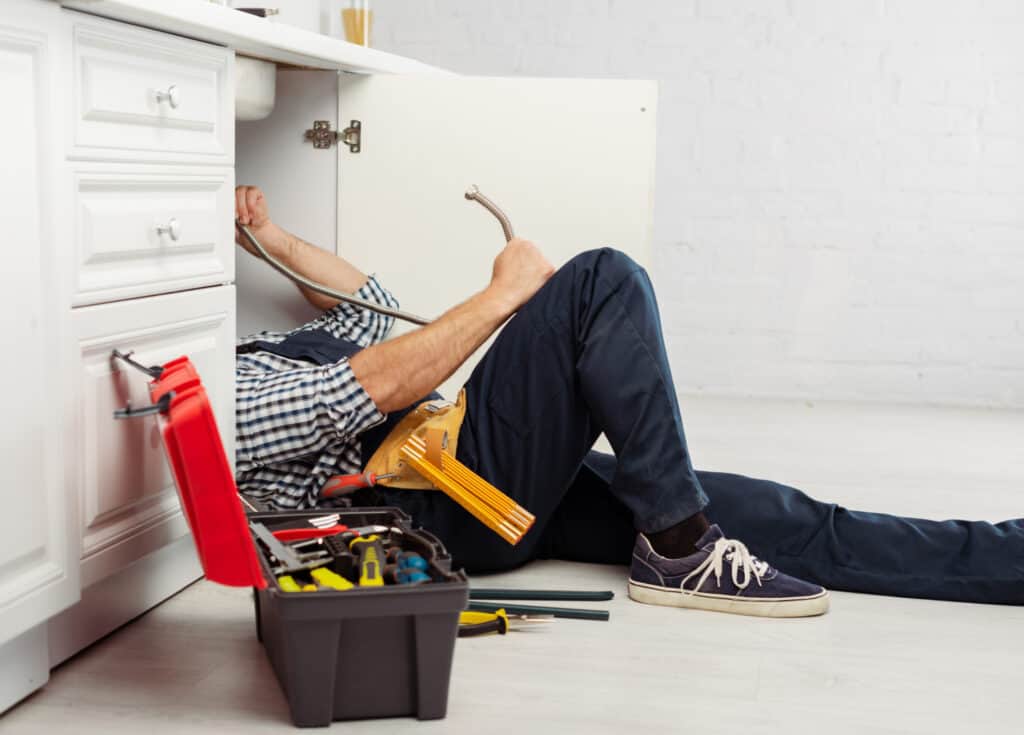 #9. Utilize free resources – Take advantage of free community events, libraries, and online resources for books, movies, music, and more. Sign up for local Facebook pages in your area so you can be alerted to events. These events are a great place to meet new people and make valuable connections.
#10. Don't buy on impulse – Before making a purchase, take some time to think about whether you really need it or if it's just a spur-of-the-moment desire. Impulse buys can add up quickly and eat into your budget. Instead, make a list of items you truly need along with the estimated cost. Work to save the money before you invest giving yourself time to decide if you really do need or want the item.
#11. Use coupons and loyalty programs – Take advantage of coupons and loyalty programs offered by stores to save money on groceries and other household items. Sign up for Ibotta or Rakuten online and use the points you earn to buy gift cards.
#12. meals ahead of time – By planning out your meals for the week, you can avoid buying unnecessary items at the grocery store and also reduce food waste. You can also double up recipes that you know your family loves and freeze to use on busy nights.
More Meal Tips:
#13. Buy generic brands – In many cases, generic brands offer the same quality as name brand products at a lower cost. Consider trying out some generic options to save money on everyday items.
#14. Negotiate prices – Don't be afraid to negotiate for better prices, especially when buying big-ticket items like furniture or appliances. You might be surprised to know that even big stores like Walmart will haggle prices.
#15. Take advantage of discounts – Many stores offer discounts for students, seniors, or members of organizations such as AARP or AAA. Make sure to ask about any potential discounts before making a purchase.
#16. Cut back on expensive habits – Regularly spending money on activities like buying coffee or going to the movies can add up quickly. Consider cutting back on these expenses and finding more affordable ways to have fun and relax.
#17. Find a side hustle – If you have the time and energy, consider finding a part-time job or freelance work to bring in some extra income. Turn what you love into a money maker.
A few ideas are:
Dog sitting
Baking
Prepping meals
Babysitting
Organizing
Gardening
Driving older folks or the Amish
#18. Prioritize saving – Make sure to prioritize saving money every month, even if it's just a small amount. Over time, your savings will add up and provide a safety net for unexpected expenses like repairs or car medical.
#19. Stay informed about sales and deals – Keep an eye out for sales, deals, and promotions at your favorite stores. Sign up for email newsletters or follow them on social media to stay updated.
#20. Seek financial advice – If you're struggling with managing your finances, consider seeking help from a trusted financial advisor or counselor. They can provide personalized advice and strategies to help you reach your financial goals. Additionally, there are many free resources available online for budgeting, saving, and investing tips. Look for free online seminars to attend.
#21. Find free entertainment – Instead of spending money on expensive activities or events, look for free entertainment options in your community such as parks, museums, or local festivals. Pack a picnic lunch and go hiking on a new trail or have a family game night with homemade pizza.
#22. Avoid unnecessary debt – While some forms of debt may be necessary (such as student loans or a mortgage), try to avoid taking on unnecessary debt. This includes high-interest credit cards or financing purchases that you could save up for instead. Save up for purchases by either opening a savings account or starting a money envelope system.
#23. Shop smarter – Before making a purchase, do your research and compare prices at different stores or online. Consider buying secondhand items or using coupons to save money. Post on Facebook for what you are looking to purchase to see if anyone has one they are willing to sell. Use #ISO (in search of) so people know your post is a request.
#24. Help things last longer – Add water to fabric softener at a ratio of 1:1 to double the time it lasts. Or invest in reusable options such as wool dryer balls.
Wool Dryer Balls 6-Pack, XL Size, 100% Organic New Zealand Wool, Reusable and Handmade. Natural Fabric Softener, Reduce Wrinkles and Decrease Drying Time (Grey)
Wool Dryer Balls Organic XL 6-Pack by Ecoigy, Reusable Natural Fabric Softener for Laundry, Dryer Sheets Alternative, New Zealand Wool, Speed Up Dry Time, Cut Energy Costs
HOMERHYME Microfiber Cleaning Cloth – 12 Pack Cleaning Towels, 12.6
Spray Mop for Floor Cleaning, Domi-patrol Microfiber Floor Mop Dry Wet Mop Spray with 3 Washable Mop Pads & Refillable Bottle, Dust Cleaning Mop for Hardwood Laminate Tile Floors, Gray
Gecocious Paper Towels Reusable Cotton Cloths-12 PACK Surprise Prints Absorbent Kitchen Cloth Paper Towels Washable Roll-Zero Waste Alternative Napkins 10×12 Inches (Only Towels)
#25. Learn to say no – It's important to learn how to say no to things that are not within your budget or financial goals. This can be difficult at times, but prioritizing your financial well-being is not only crucial but it's also a great way to put yourself and your family finances first.
#26. Continuously educate yourself – Learn new skills that can save you money. Make your own soap, candles, or cleaning supplies. You might be amazed at what a good cleaner white vinegar and baking soda are!
#27. Make it instead of buying it – Make the foods you usually buy, like granola, cookies, or bread. Not only will you save money but you will give yourself a much healthier option.
#28. Keep track of your progress – Regularly review your budget and track your spending, savings, and investments. This will help you stay on track and make adjustments as needed. Have a monthly finance meeting with your partner to be sure you are still in line with your goals.
#29. Seek professional help if needed – If you're struggling with managing your finances, don't be afraid to seek help from a financial advisor or counselor. They can provide personalized advice and help you create a plan to improve your financial situation.
#30. Live healthy – Do you best to eat right, exercise, practice calming techniques, do home projects safely, and regularly visit your doctor for checkups. Being healthy is much cheaper than getting help when you are sick or injured.
#31. Celebrate your successes – As you work towards your financial goals, don't forget to celebrate your achievements. This will help motivate you to continue making smart financial choices and stay on the path towards financial stability. Remember, good financial health is a marathon, not a sprint. Keep going and celebrate your progress along the way.
Simple thrifty living is not just about saving money or cutting back on expenses. It's a mindset and lifestyle that prioritizes financial stability and long-term goals. By following these tips, and focusing on your own skills, resources, and homestead supplies you can work to be more self-reliant on your home rather than dependant on big box stores.
More Simple Living Inspiration:
You can find this post and others at the Homestead Blog Hop!