Keeping your animals safe is a concern of every owner and that is especially true for goats. They have a tendency to get into trouble without meaning to. This article on woven electric fence for goats will help you create an area that is safe and secure.
Goat fence ideas that help you to make the best choice for raising your dairy goat herd.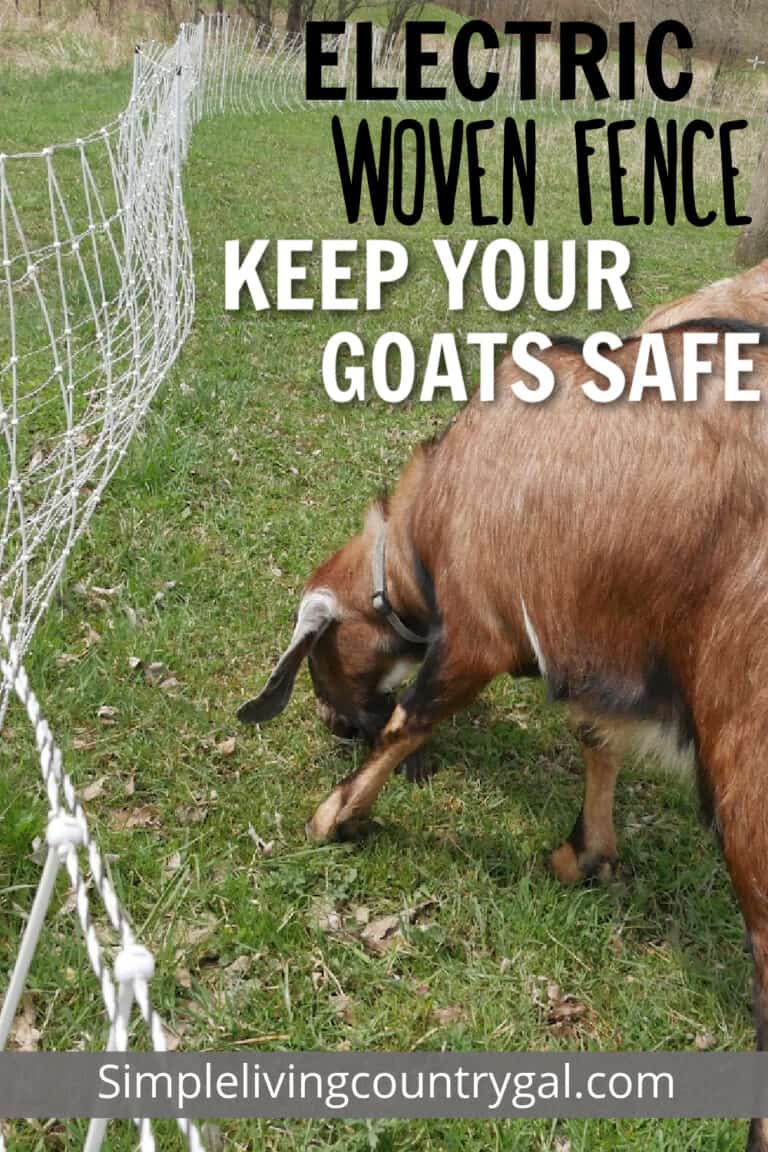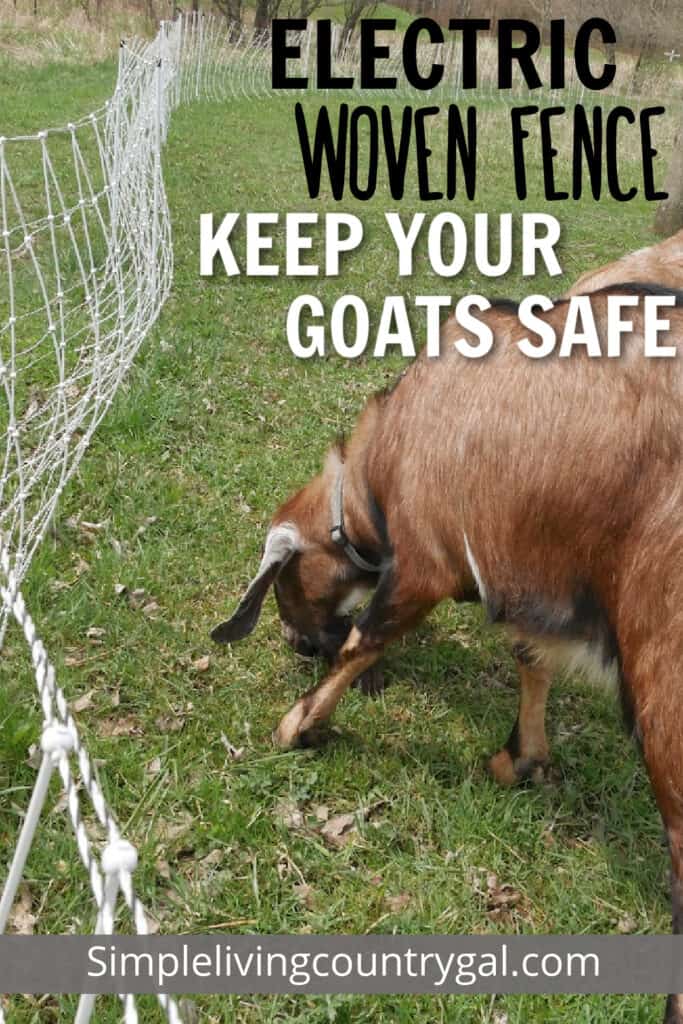 Woven electric fence is a popular choice among goat owners for creating a secure and safe grazing area for their animals. This type of fence combines the durability of woven wire with the added security of electricity, making it an ideal solution for containing goats.
What is Woven Electric Fence?
Woven electric fence, also known as electric fence netting, is strands of electrified wires that are woven in a grid-like pattern. It is very lightweight, making it a good option for rotational grazing. The openings are small, which is helpful if you raise smaller goats like Nigerian Dwarf or American Pygmy.
Woven electric fence does well for keeping animals and predators out as well. Stray dogs, coyotes, and deer all seem to stay away from this style of fence.
How much fence do you need for goats?
You will want to have about 200 square feet of pasture area for each goat in your herd. If you raise larger breed goats, such as Nubians or Alpines, you will want to have more space. If you live in a wet area, you may want to incorporate rotational grazing. This is where you move the herd around to give the pasture time to recover before your herd grazes in that area again.
Where can you purchase woven electric fences?
You can purchase this type of fencing online or at a livestock supply store in your area. Amazon actually sells the fence we use with our goats, and we are very satisfied with how it works. You will need to purchase a full kit if you are using this fence for the first time.
Prefabricated Electric Fence
Solar Energizer
Grounding rod
Fence tester
Connectors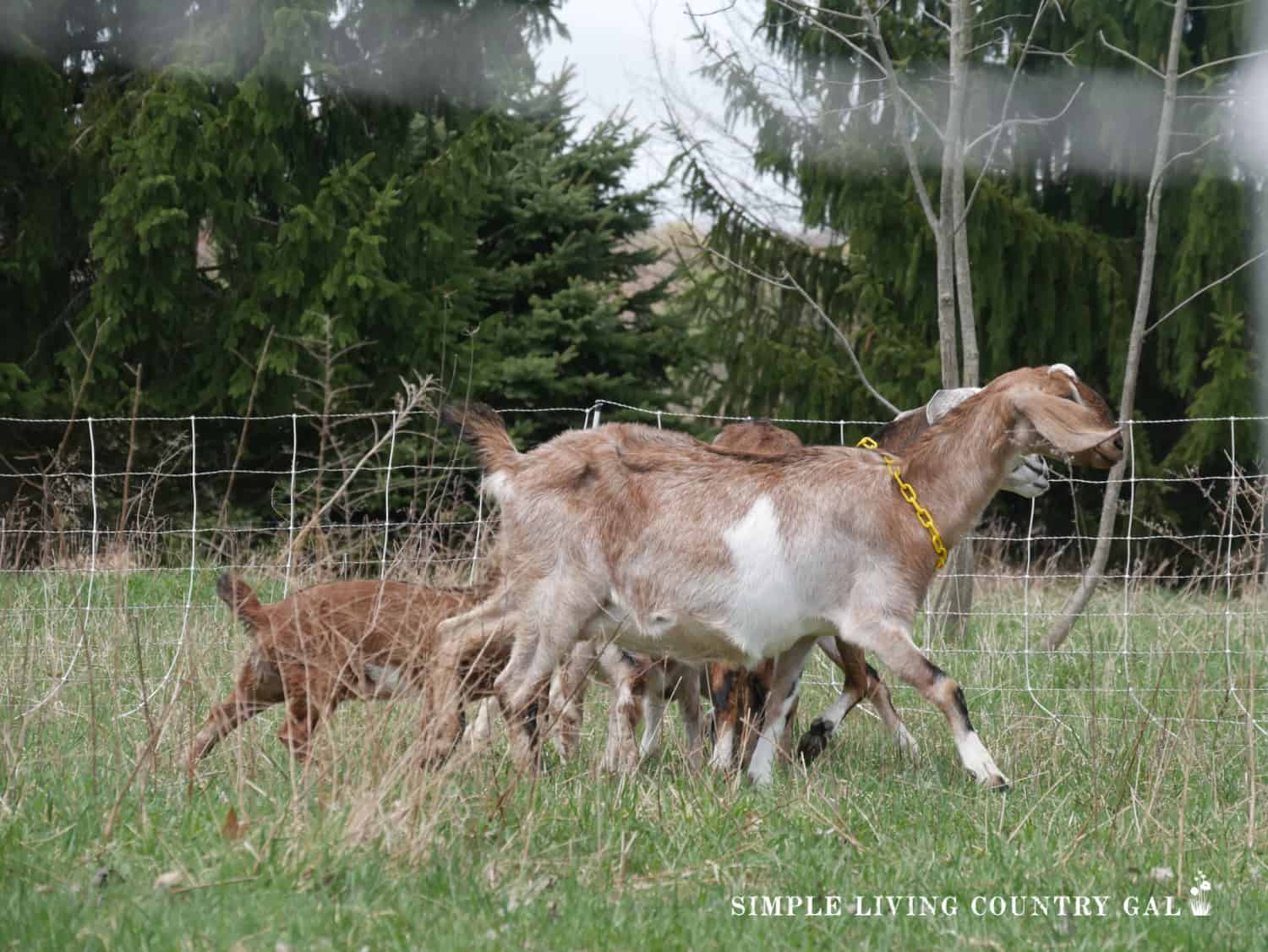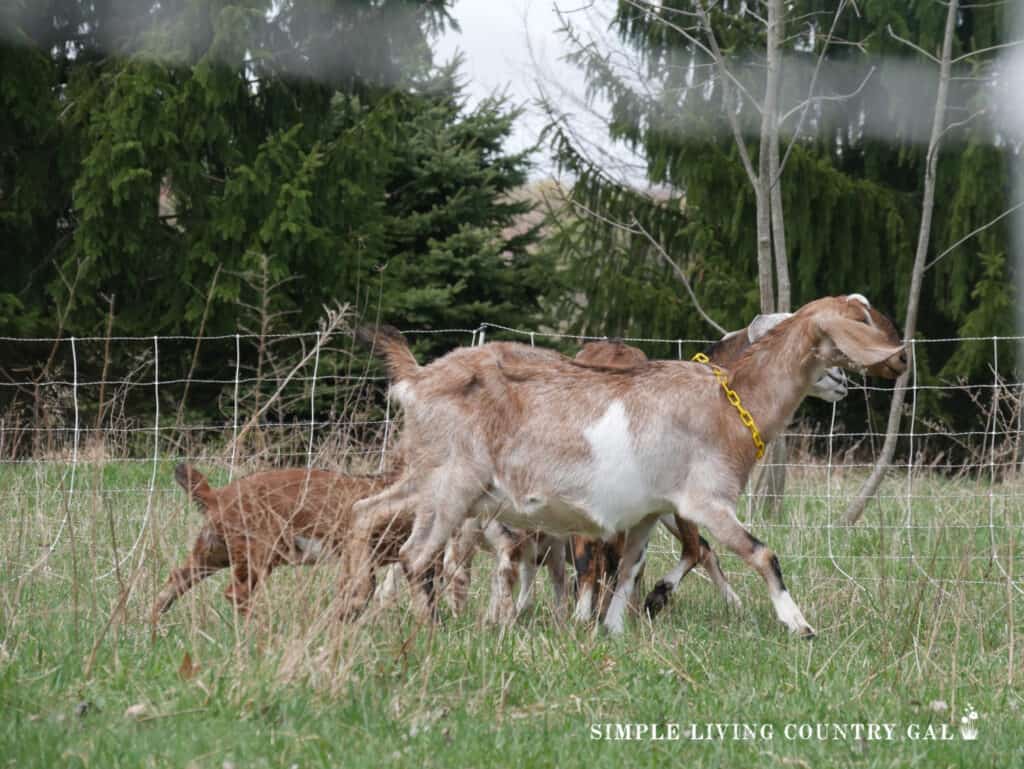 How to set up woven fencing.
Setting up this style of fence is easy and one of the reasons I prefer it to other types of fencing. I can move the fence without needing help, and that gives me quite a bit of freedom.
Step #1. To set up woven fencing, you will first need to install the grounding rod. This should be at least 3 feet long and placed in the ground about 5-10 feet from the fence.
Step #2. Install your solar energizer near a sturdy post or building.
Step #3. Connect the energizer to the grounding rod and then to the fence using connectors.
Step #4. Test the fence to make sure it is working properly and that there are no gaps or areas where the wire is not conducting electricity.
Step #5. Finally, you will need to train your goats to respect the fence, and that means letting them out while the fence is hot until one of your goats touches it with its nose and gets zapped. Don't worry, it's just a quick sting, but it's enough to teach your goats to stay away and inside where they belong.
For more fence training tips, read our guide here.
Woven Fence Upkeep
There are a few things you will need to do in order for this fence to work the best.
#1. Grass Maintenance
You will need to keep the grass cut down around the base of the fence to ensure the electric current is running without interruption. We mow the grass down low where the fence is about two times each month.
Turn off the electricity to the fence.
Pull the fence out of the ground and move it off to one side without overlapping it.
Mow down a wide path.
Replace the fence in the middle of the path.
The ease-way will give your goats a path to walk in the pasture as well as keep the electric current running smoothly.
#2. Routine Inspection
Every month or so, walk the fence and look for any rips or tears in the wire. You can use a repair kit to fix the issue if you see any.
Fence Line Feeders:
TMEE Hay Feeder Goat 2 in 1 Horse Sheep Hay Rack with Grain Detachable Grain Tray Wall Mount or Hanging Feeder Heavy Duty Galvanized Steel Hay Basket for Cattle Cows Livestock in Farm
Rugged Ranch Products 4 Foot Long Outdoor Heavy Duty Mini Galvanized Steel Pasture Hay Feeder for Goats, Sheep, and Miniature Horses, Silver
2 Pack Feed Trough and Waterer Bucket with Clips, for Goat Chicken Duck Sheeple Dog Piglets Deer Goose, Turkeys, Goat Feeder Supplies, 4.5 Quart (Appearance Patent Product)
Solution4Patio Galvanized Steel Livestock Feeder W/Wheels, 2 in 1 Hay & Grain/Salt Feeder, Heavy-Duty Large Capacity Sheep Feeding Cart, Easy to Clean for Goats, Sheep, Horse, Ponies #B808A01-US2
GZHDIAN Hay Rack, Galvanized Metal 2 in 1 Hay and Grain Feeder, Pasture Feeder, Livestock Feeder with Moveable, Hay Feeder for Goats, Cow, Horse, Sizes (59.1
The Pros of Woven Electric Fence
Woven electric fences offer many advantages over traditional fencing methods. Some of these pros include:
Cost-effective: Woven electric fences are much more affordable than other types of fencing options, making it a great solution for those on a budget.
Easy installation: Woven electric fences are relatively easy to install compared to other types of fencing. This means you can have your fence up and running in no time.
Good visibility: The woven design of the fence allows for better visibility, making it easier to keep an eye on your goats and other animals within the fenced area.
Customizable: Woven electric fences come in a variety of wire spacing and heights, making it easy to customize the fence according to your specific needs and preferences.
Effective deterrent: The electric current running through the fence serves as an effective deterrent for both larger predators and smaller animals, preventing them from breaking into your pasture.
Safe for animals: Woven electric fences are designed to deliver a low amperage shock, making it safe for your goats and other animals. This will not cause any harm or pain but instead will serve as a gentle reminder to stay within the fenced area.
Long-lasting: When properly maintained, woven electric fences can last for many years, providing a long-term fencing solution for your pasture.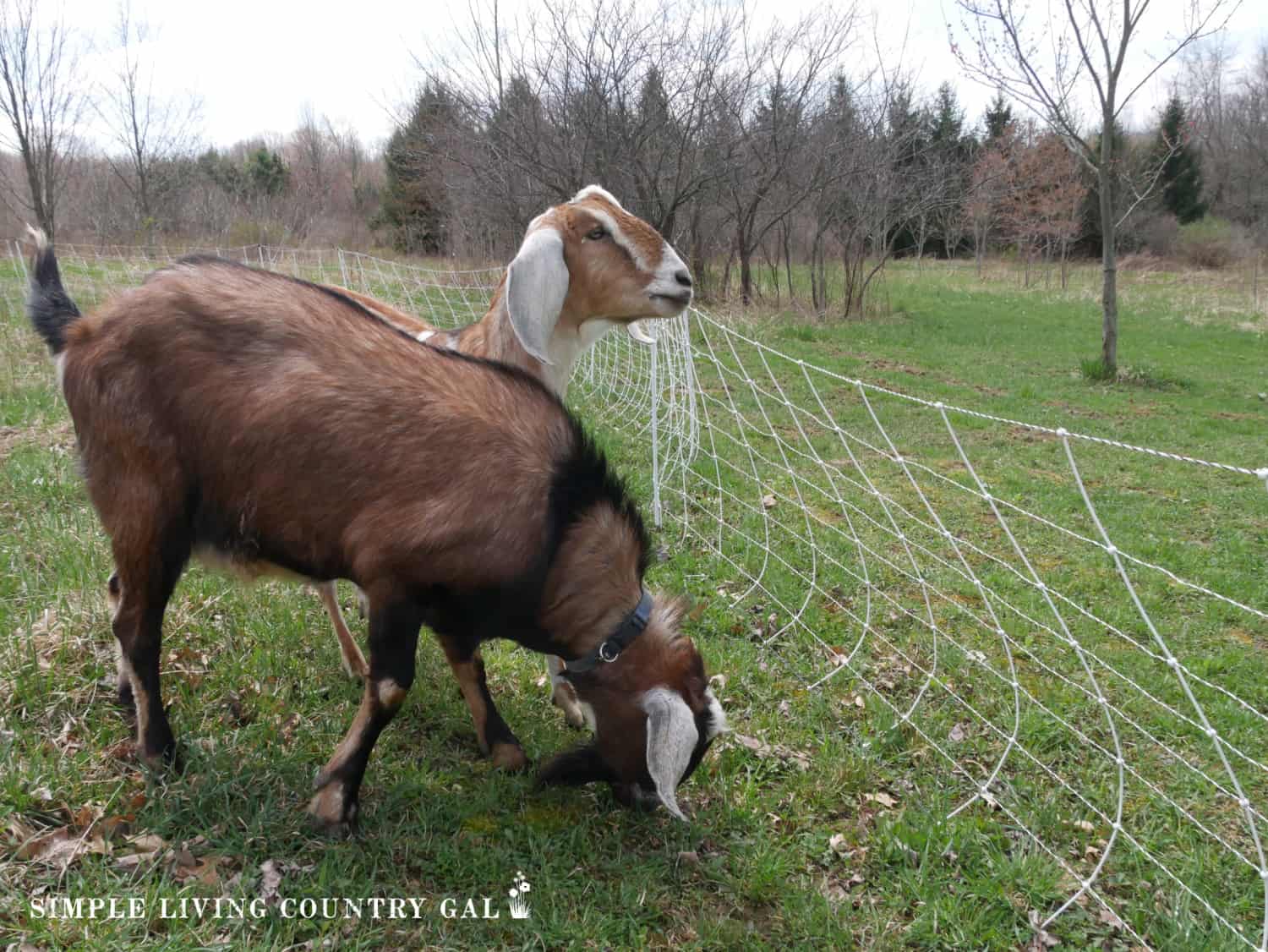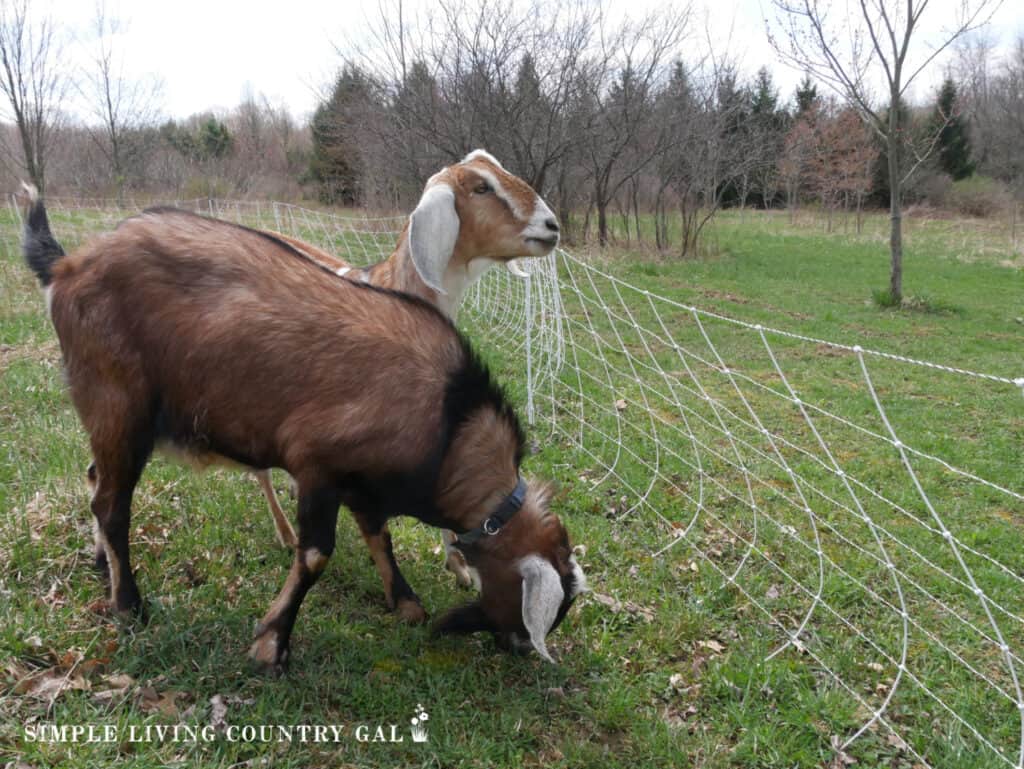 The Cons of Woven Electric Fence
While woven electric fences have many benefits, there are also some potential drawbacks to consider before choosing this type of fencing for your goats. These include:
Power source required: As the name suggests, woven electric fences require a power source in order to function. This means you will need access to electricity or the use of a solar-powered energizer.
Regular maintenance: While woven electric fences require less maintenance overall, they still need to be checked regularly for any damaged wires or other issues. If not properly maintained, the effectiveness of the fence may decrease.
Installation costs: The initial cost of installing a woven electric fence may be higher than traditional fencing options, as it requires specialized equipment and materials.
Limited visual appeal: Woven electric fences may not be as visually appealing as traditional fencing options, especially for those looking for a more natural or rustic look on their property.
Additional Considerations
When deciding whether a woven electric fence is right for your goat herd, there are a few additional considerations to keep in mind. These include:
Environment: Woven electric fences will need to be taken down and stored in winter weather where snow fall is an issue. Goat behavior: It's important to consider the behavior of your goats when choosing fencing. Woven electric fences may not be the best option for particularly curious or stubborn goats who may try to test or escape through the wires.
Maintenance: As mentioned, woven electric fences require regular maintenance to remain effective. This includes checking for damage and ensuring all wires are properly charged. It's important to factor in the time and effort required for maintenance when considering this fencing option.
Cost: Woven electric fences can be a more affordable option compared to traditional fencing, however, if you have a large area to fence in, you may need to purchase multiple rolls, and that can raise the cost to a level that is more than you budgeted.
Woven electric fencing can be a suitable and effective option for goat owners looking to contain their herd. It works great to keep your goats inside where you want them as well as keep potential predators out. It is a budget-friendly option and is easy to move and install. Even though this fence does require routine care and maintenance we still consider it a top option for pasturing dairy goats.
More Goat Fence Options: