The biggest question I get asked about decluttering a home is "where do I start?"
I know it can be so overwhelming when you have a project this size. Especially one that is in your face day in and day out. Clutter can be contagious. If your home is cluttered it can easily spill over to your finances, your job, even your head can be cluttered with to-do lists and unfinished projects.
Things can get buried under the clutter, important things and that in turn can cause stress in your relationships, your home and even your life.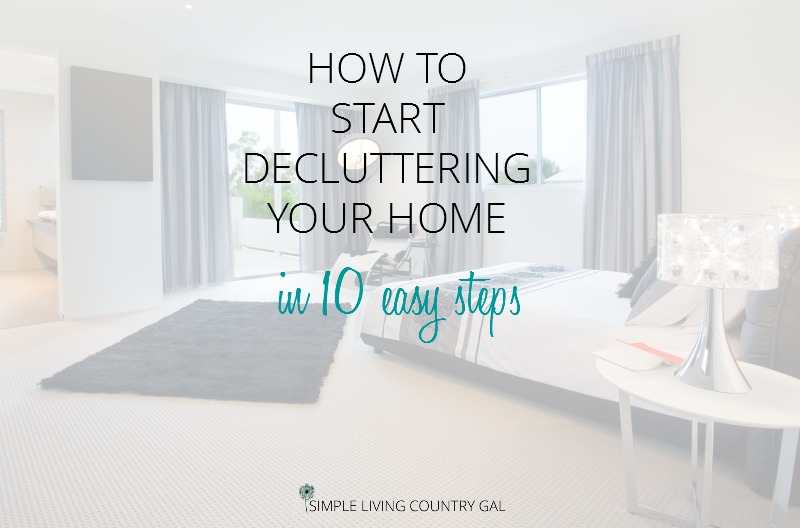 With so many things affected by clutter, it is not surprising that clutter can actually make you sick. Both physically and emotionally.
Don't worry though, I have been where you are right now. And I have made it to the other side. Yep, I went from cluttered to organized. And you know what? If I can do it, you can too. I promise!
Confession time. I used to hide my dirty dishes in the oven.
I know, right?!
Then one night my boys decided to make a pizza. They turned the oven on without checking inside and I am sure you can guess what happened next. They just about burned my house down!
That was the slap in the face that I needed. My clutter issues where endangering my family. Dramatic? Maybe. Effective? You betcha!
knew I needed to get things cleaned up and quick.
I forced myself to clean things up and clean things out. I walked into our most lived in room and just started. I put on music and tuned everything else out.
It wasn't easy, but it was necessary. For my family and myself.
And you know what? It is the best thing I could have done. I love my home now! It is my sanctuary, my zen. I love to be here and I love to have people over.
And life is sooooo much easier!!
Now, it's your turn. If you're ready to start decluttering, let's get your very first room streamlined shall we?
How To Start Decluttering Your Home. 10 Easy Tips.
Tip #1 Take out the trash
I like to call this one of the Three Crucial Steps to Decluttering. Just take a trash bag and walk around your home. If you see any trash at all grab it and keep on going. Don't touch anything else, do not get distracted. Just remove the trash and move on. Papers, napkins, tissues, pop/soda cans, newspapers, magazines, whether you recycle it or trash it the point is to remove it.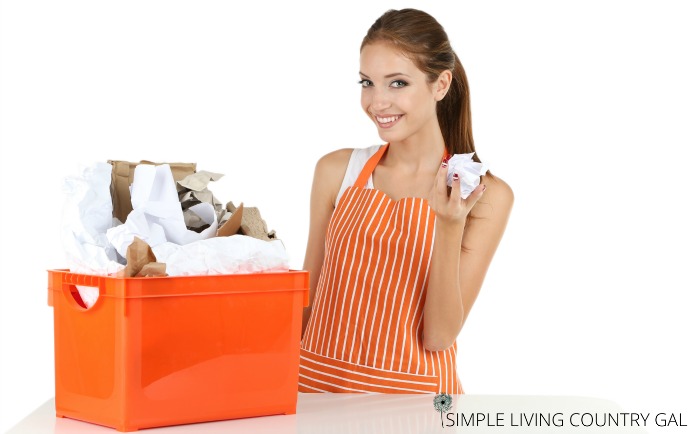 Tip #2 Dishes belong in the kitchen
If you have kids at home like I do you may have to do this tip every….single…..day…. I am not sure what it is about my boys, but water glasses can be found scattered throughout my home when they are around. This little tip takes just a few minutes and can go a long way to clearing out some of the visual clutter in your home.
Tip #3 Make a weekend basket
This is my favorite "new" tip I learned and I LOVE IT. Have a basket for all papers and reading materials. A clothes basket, a plastic basket or even a box will work perfectly. Keep all papers that need read over or paid attention to in this basket. Whether you have a nice one that can remain out or a basket that you keep in a closet or spare room. The simplicity of this tip is awesome.
As soon as you come across any papers that cannot be thrown away such as mail, toss it in the basket. Make a date with your basket every week, for me that is the weekend. Knowing that your basket will get attention every week will keep you on top of financials and keep your home from being overrun by paper clutter. I have this awesome huge hinged basket and I just love it. It has a lid, fits perfectly on my bookcase and holds quite a bit.
Please know that I realize everyone is at a different stage of decluttering. When I first began I had 5 clothes baskets of paper to go through. It took time to widdle that down but now I have graduated to a smaller basket that I can easily get through weekly.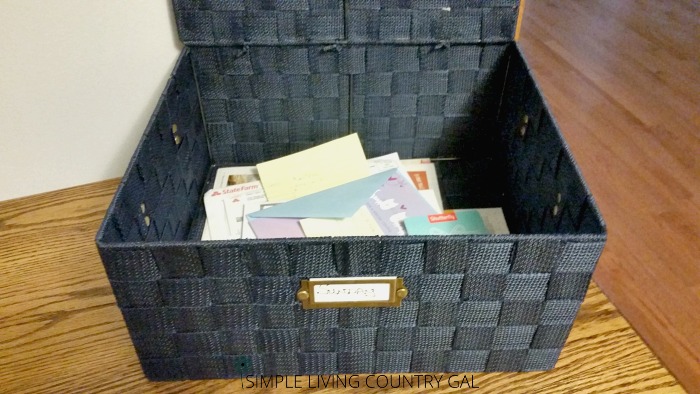 Tip #4 Command center
Whether your kids are young or grown and on their own like (most of) mine, having a family command center is a lifesaver. I think once your kids move out you need one more than ever.
I am constantly coming across things that I no longer need but I know my boys will want. Being able to put that item in a basket for them keeps the clutter down in my home and keeps me from forgetting to give it to them.
This also works well with mail which you will continue to get for a while after they move out. Whatever it is, if it's for them put it in their designated spot. Try these super affordable baskets for your own command center.
I love these baskets because they are collapsible and have handles for easy labeling.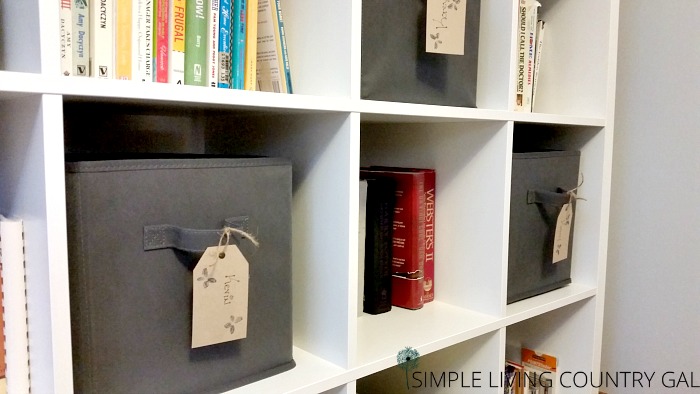 If you have younger children this tip can be a lifesaver. Lunch money, permissions slips, report cards can all get lost in a cluttered home. Having a system set up for these items will help keep the school clutter under control better than you think. You can read just how easy it is to set one up here.
Heck, even if you don't have any children at all a family command center is too important to skip. Having a central hub to your home is a game changer for anyone that has a problem with things falling through the cracks.
Tip #5 I love hampers!
These perfect and super inexpensive hampers are amazing at keeping clutter down. I have several of these perfect and super inexpensive hamper baskets and love how much they hold and how easily compact they are. They come in different sizes and are easy to carry around. Here are some uses for these hampers that may just help you out with the clutter.
Kid's stuffed animals.
Blankets in the family room.
Pillows
Dirty clothes-so easy to carry to and from the laundry room.
Linens-if you do not have a place to house sheets and extra blankets this works perfectly.
Pet toys-use a small one for your pet's toys and keep in the corner of your room.
Check the baskets out here and find your own awesome way to use them!
Tip #6 Trunk it
My friend does this tip and I really love it and it's a super simple way to start decluttering. If you come across anything you no longer want, take it and put it out it into the trunk of your car right now. Keep a large box inside to house items that you want to donate. Clothes, dishes, toys, books. Whatever it is. Try to fill that box up each week. If this is scary for you, you can start with a smaller box. Whenever you are out running errands, make a point to stop and empty your box at a church or donation center. It will help others and help you as well.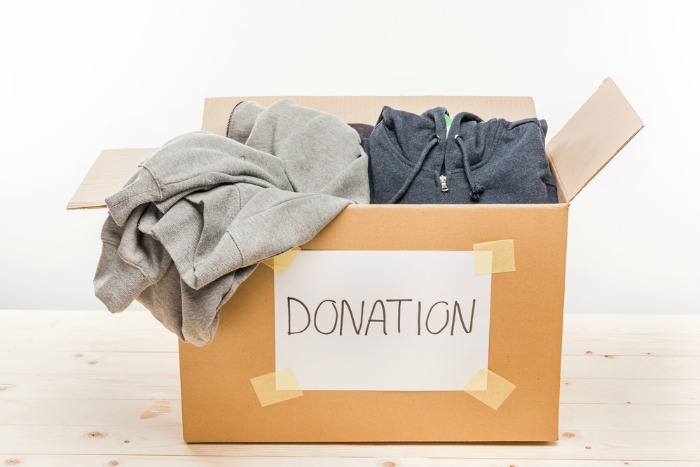 Tip #7 Stop the paper
If you are having a problem with paper find a way to eliminate all that comes in. You can go paperless for most if not all bills. Read magazines online rather than subscribe and recycle all newspapers by using them in your garden or send them to your local recycling center.
Tip #8 Nothing new
If you have an overstuffed closet maybe it's time for a hard Knox rule. Nothing new in-until you take 3 old out. Let's think about it for a minute. Clothes are uber expensive today. When you are paying $30 (or more) for a nice top, why bring it home and hang it in a closet where it is getting mangled?
Clothes need to be treated with care, so make sure your clothes can hang freely without being crushed. Purchase no–slip hangars like these that keep shoulders from stretching out and as a new item comes in or if you have a top that you simply love, put it on one of your new hangars. After a month, only the clothes on those nice hangars are ones you love and should keep. The rest you can begin to donate (remember the box in your trunk??) to others that will love them for you.
Tip #9 Tough love time
STOP!
Do not buy anything else. If you are really serious about the clutter and just can't deal with it anymore, THEN STOP BUYING THINGS. Yes, it's really that simple. Make a commitment to yourself and your home. Nothing new comes in until you have the clutter under control.
Tip #10 Set up systems
From here on in as a new item comes into the home put it where it belongs right then and there. If you only have a system set up for paper clutter, then do it for only the new paper that comes in. Train yourself (and others) to respect the systems you worked so hard to establish. By using them actively you will slowly see the clutter dissipate. If you want a crash course in system creation, you can read more about it here.
Related posts: What You Can Do When Organizing Doesn't Work For You.
I know you are overwhelmed, I get it. The thought of decluttering can paralyze anyone!
There is clutter in your house and you just don't know where to start. Here is your where…..Stop what you are doing right now and look around you.
Find 5 things you can get rid of this very second. Go ahead, I will wait right here until you get back.
yes….I…..am…..waiting……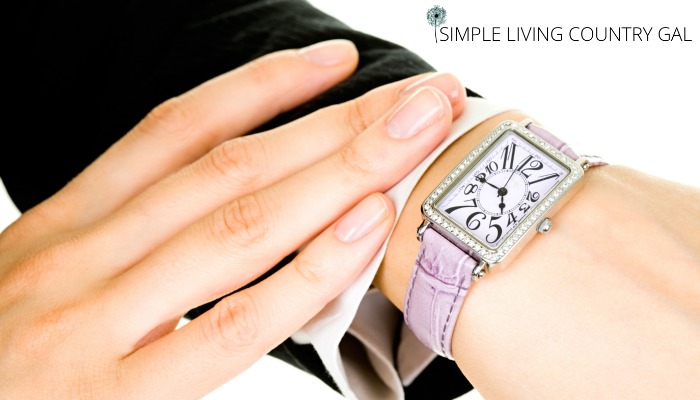 Did you do it? I hope you did!!
Every big project, even one this big has to start somewhere and if you just removed 5 things, then you got your start and the rest will be easy.
Follow these tips and between each tip remove 5 more things. By the time you are done, you will have removed 50 things from your home all the while setting up workable systems to keep your target areas under control!!
And remember why you are doing this.
The finish line is a streamlined, organized and tidy (or at least close to it) home. A place where you can recharge your batteries and relax. Your home will be cozy and it will be peaceful just like it should be.
And the best part? Decluttering is contagious!
Hey!!! Want even more decluttering tips??? Then you need to jump on over and read my super popular post:
A few final thoughts, I get it….really seriously get it. I was a HUGE clutter but. But YOU do not have to be one! Follow these tips, read all my other posts and you can finally begin to see light at the end of the tunnel. These tips are all the ones I used to take back control of my house. These are the same tips my own boys use in their homes. Why? Because they are super simple and THEY WORK.
Don't wait.
Take the first step.
And take back your house and make it a peaceful home again.
Do you need even more help? Drop me a line right here and get specific tips that will help YOU. 🙂