How To Make A Price Book, Save Hundreds!
When our family was young and all four of my boys still lived at home we were on a tight budget. I am talking hard to believe tight. I had to really pull out all the stops to keep finances in check.[spacer height="20px"]
Our grocery budget was one area I was constantly working on to lower. I think I tried anything and everything to get that number down. Some things helped and some things totally backfired. One tip that really helped was the price book.[spacer height="20px"]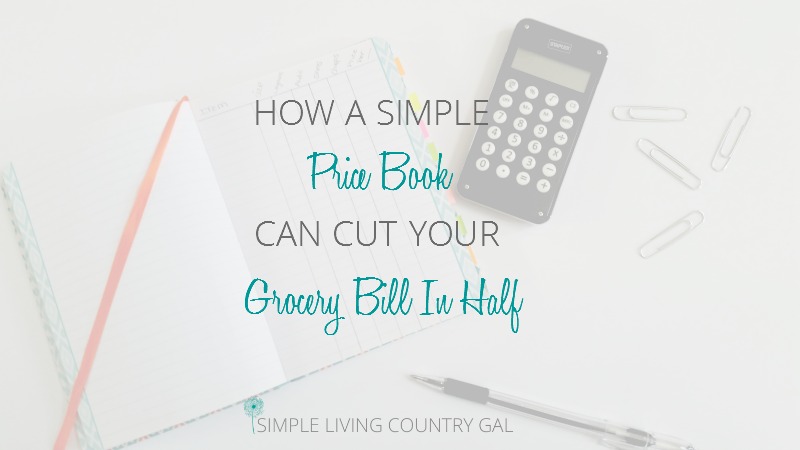 This post may contain affiliate links. If you click on one of my affiliate links and make a purchase, I may receive a commission for referring you. This in no way affects your price. Please know that I only recommend resources and items I believe in and highly recommend.
A price book is a small book where you keep track of prices on items you use on a regular basis. I thought this could possibly be the game changer I was looking for and it turned out to be right.
This one tip alone saved me over $150 dollars a month!
Now, I am not going to sugarcoat it. Setting up a price book takes time, lots of time. But trust me, it is worth the time investment. To make it easier I broke it down into steps. Cuz, that's how I roll.
Step #1 Create your own.
Find a notebook that is small. You really want to find something that will hold all the prices you need, is easy to organize, and small enough to fit in your purse. Remember, you will take this book every time you go to the store, so keep it compact.
Step #2 Section it off.
You can either do this alphabetically or by aisle. It is all a matter of preference. Small tabs will help segment off different areas making things a bit easier to find. You will need a column for each store, one listing the size of the item and one listing the price per oz.
[spacer height="20px"]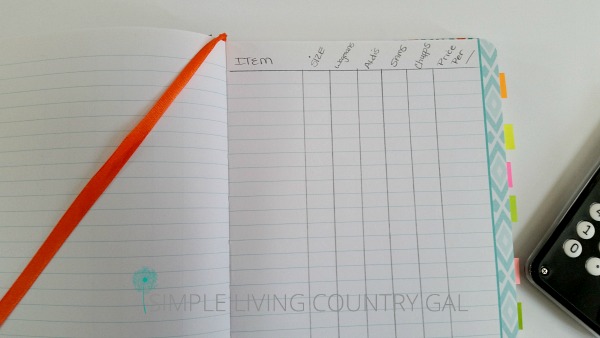 Step #3 Print out my free printable instead!
Since I want to make things really easy, and because I know your time is super valuable, I created a printable just for you. You can get access to the price book printable and other great printables by signing up for my uber amazing newsletter at the bottom of this post.
Easy Peasy kids!
When you print out the price book, you can flip the paper and print again. Once finished fold in half and you have a compact price book all ready to go! I left room in the price column so you can list out the price per size. I have found this is by far the easiest way to ensure you are getting the best value.
[spacer height="20px"]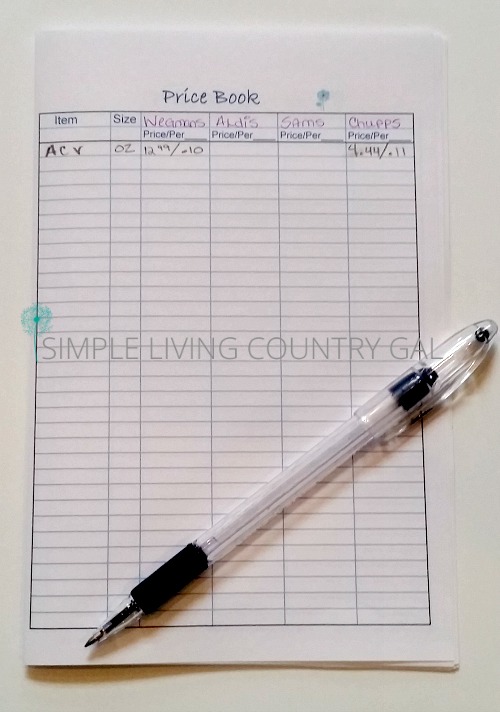 Step #4 Mark out some time.
This isn't something you can rush. So, plan to do one store at a time so you can get the best record. When I first did my price book I spent about 20 minutes in each store. *Note: Most people do this from their receipts but I prefer to do it in-store. I want to make sure I am getting the regular price and not a special or sale. Plus I am a visual person, so doing this in person was a good education on the different products out there.
Step #5 Visit every single aisle.
There really is no way to remember everything you use in your home, so you will need to visit every aisle. Look at each item and jot down everything you use regularly. I would not recommend items that are treats or seasonal. The book needs to be easy to use, the more you cram into it the harder it is to find things later.
Step #6 Use a pencil.
This is a silly but important tip. Write everything in pencil. I guarantee you will be changing it.
Step #7 Record regular price and unit price.
It is important to list the regular price only so you will truly know when a good deal arises. I also include the price per ounce. This way when I am comparing I know the absolute best price no matter what the size is. Bigger is NOT always cheaper. I have noticed boxes getting smaller and prices getting higher.
Don't let manufacturers take advantage of you, record the price per ounce to always ensure you get the best possible deal.
[spacer height="20px"]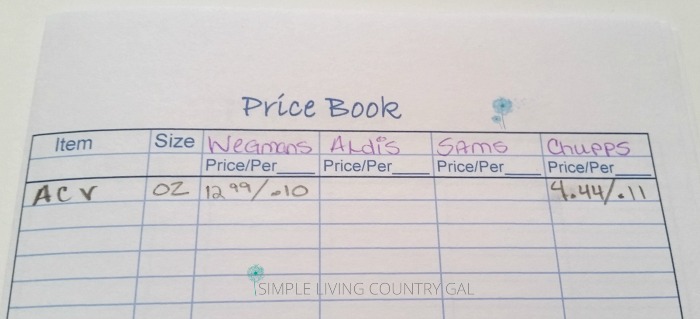 Step #8 Never forget your book!
Once the book is done you will have a gold mine at your fingertips. Keep that little book with you at all times. If you stop in a store for a quick shop and you see a deal on ground meat, just refer to your price book to see if it is worth a purchase. If it is, stock up friend!
From here on in you will never look at grocery shopping the same again. Instead of blindly shopping your way through a store, you will now always be checking for the lowest price on everything you buy.
Pretty crazy right?
You will be amazed at how much this magic book is going to save you!
Although time-consuming to set up, a price book can really lower your grocery budget. Educate yourself on the prices of items you use every month and you will never overpay again.
This is a game-changer friends! Learn to outsmart your grocery store and keep more of your hard-earned money in your pocket.
[spacer height="20px"][thrive_leads id='2935′][spacer height="20px"]