How To Make A Price Book, Save Hundreds!
This is a classic tip from my younger years as a mom, but with how prices are today, I think it is time to bring this tip back. If you are looking for easy ways to save money on the food you purchase, this article on how to set up and use a price book will change everything.
Living a simple life embraces the skill of frugal living. Use this as your starting point for transforming your grocery budget into a tool that saves you money every single trip.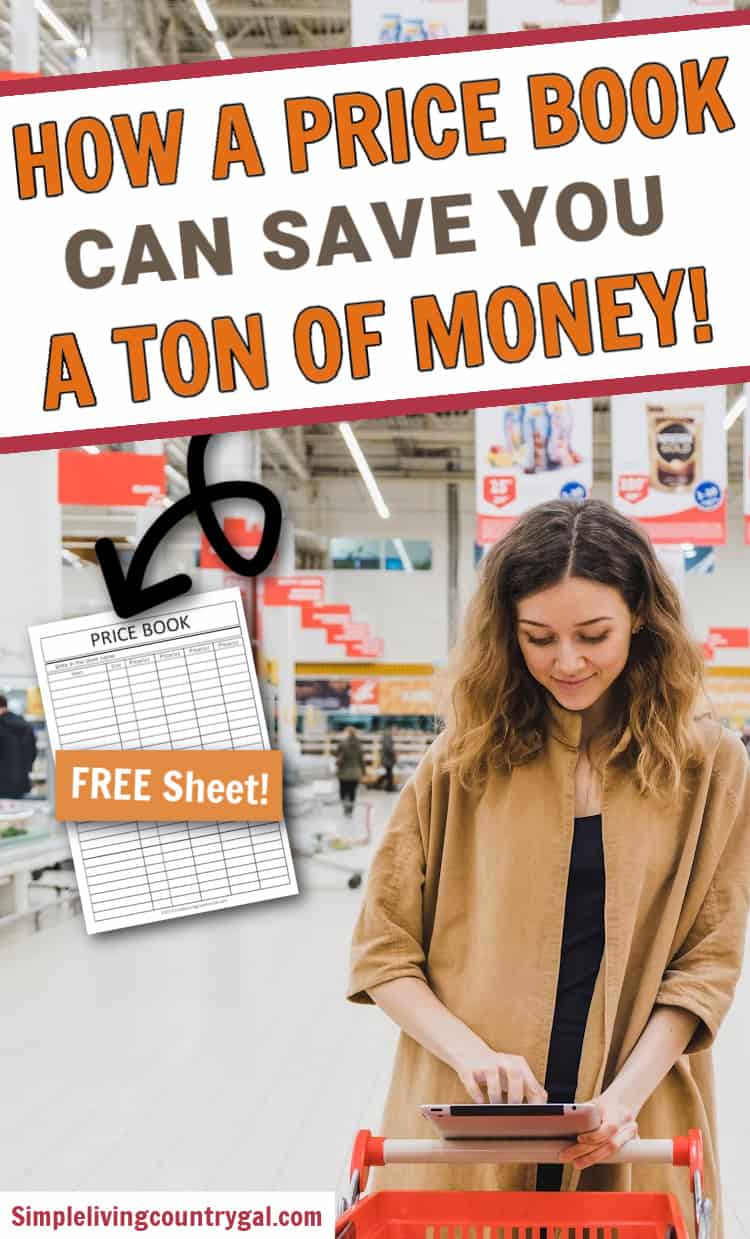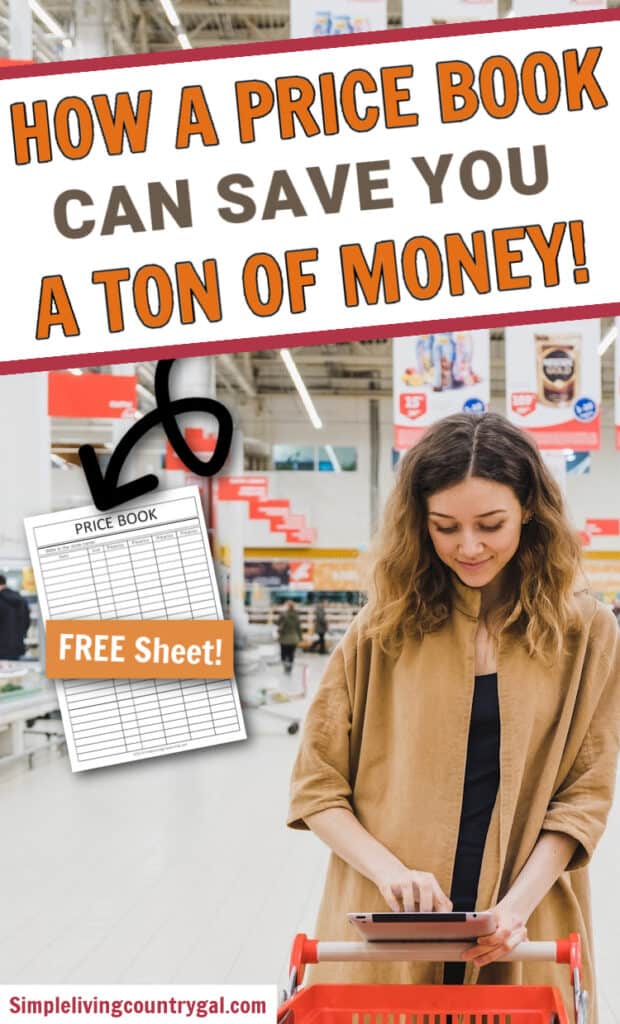 When our family was young, and all four of my boys still lived at home, we were on a tight budget. I am talking hard to believe tight. As I look back on it now, the ways we saved money may seem a bit ridiculous today.
This is especially true with how I worked to save money on our food budget. I think I tried anything and everything to get that number down. Some things helped, and some things backfired.
Luckily the tip I am going to share with you today was one that worked so well that I continued to use it for many years.
What is a price book?
A price book is essentially an organized collection of prices, making it easier to know when certain items are on sale or which store has the best deals.
You can set one up in a small notebook or you can create a document on your smartphone. With a price book, you can easily compare prices and find the best bargains ensuring you are always paying the lowest price for the things you routinely purchase.
The good news about a price book is, once you get it set up I can save you hundreds of dollars every single month.
How to Set up a Price Book
Setting up a price book does take some time. But trust me; it is worth the time investment. To make it easier, I broke things down into steps.
Step #1 Choose a platform
I am a visual person, so for me, a small notebook is the best way to set up a price book. If you prefer digital, you can use Google Docs or Google Sheets on your smartphone.
If you choose to use a notebook, look for one that will easily fit inside your purse. I have found over the years that keeping it with me at all times ensures I continually use it whenever I am shopping.
I prefer to use a notebook that allows me to add and remove pages as needed. A disc journal or small ring binder are great options. Just know they are a bit big and may not fit inside of a small purse.
Step #2 Section it off
Once you have chosen your platform, you will next need to choose how to lay it all out. You can either do this alphabetically or by aisle in a grocery store. It is all a matter of preference. Using small colored tabs will help segment different areas and help organize your notebook more efficiently.
Next, have a column for each store, one listing the size of the item and one listing the price per oz.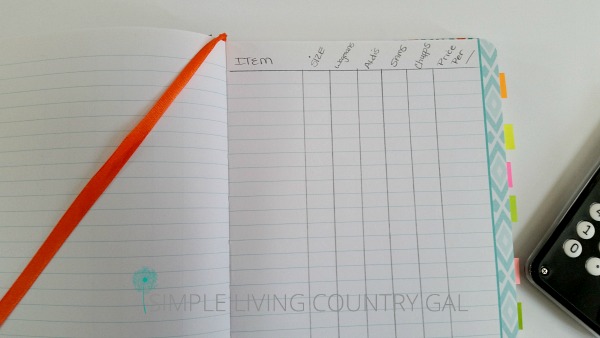 Your goal with your price book is to list out the average cost of items you routinely purchase at each store you shop at. List out the stores you visit only to make this resource efficient and easier to use.
Step #3 Print out my free printable instead!
Since I want to make things easy and because I know your time is super valuable, I created a printable just for you. You can access the price book printable by using the link below.
When you print out the price book page, you can flip the paper over and print it again on the backside. Be sure to print out as many pages as you need. Once finished, you can cut the pages and punch holes on the side to insert them into your binder.
Or, you can fold the pages in half, creating a stand-alone price book that you can start using right away.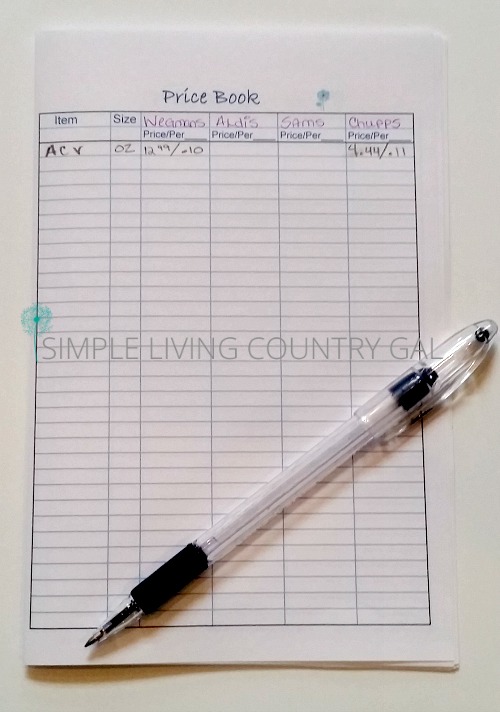 Step #4 Mark out some time
Setting up a price book does take some time. I find that working on one store at a time is the best way to get an accurate record.
Start by writing down items that you routinely purchase. You can look in your food pantry, refrigerator, or freezer. Once you have a beginning list, you can then start recording prices from any receipts you have to refer to. This is a great way to jumpstart your price book.
When you are ready, take your book to the first store on your list so you can record prices. Plan on about 20 minutes per store.
Step #5 Visit every single aisle
I like to go down every isle so I can see what items I want to add. Since I am a visual person, this works best for me. As you see an item you routinely buy, write the name in your price book along with the size you routinely purchase.
Step #6 Use a pencil
Be sure to write everything in pencil. The reason is sizes, prices, and names all change often. By writing in pencil, you can more easily make changes as they come up.
Step #7 Record Price by Ounce
Put the price per ounce in the column under the store you are in. By pricing by the ounce, you can be sure you are getting the best deal even if the manufacturer changes the sizes, which happens more than you may realize.
It is important to list the regular price only so you will truly know when a good deal arises.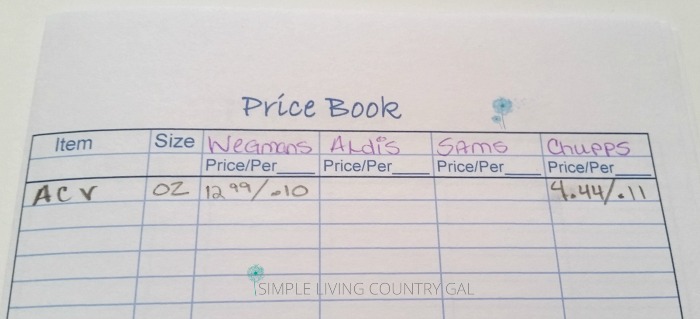 Step #8 Never forget your Price book
Once the book is done, you will have a gold mine at your fingertips. Keep that little book with you at all times. If you stop in a store for a quick shop and see a deal on ground meat, just refer to your price book to see if it is worth a purchase. If it is, you can confidently stock up.
From here on in, you will never look at grocery shopping the same again. Instead of blindly shopping your way through a store, you will always be checking for the lowest price on everything you buy.
You will be amazed at how much this magic book will save you!
Although time-consuming to set up, a price book can lower your grocery budget significantly. Educate yourself on the prices of items you use every month, and you will never overpay again.
Learn to outsmart your grocery store and keep more of your hard-earned money in your pocket.
More Frugal Living Resources: