We've all been there. You are at the Doctor having something looked at and they want you to come back in 6 months for a recheck. So you make the appointment and 6 months later you forget all about it. Now, not only are you forced to reschedule but in some cases, you are charged a "no show" fee as well. It's time to organize your schedule, but how?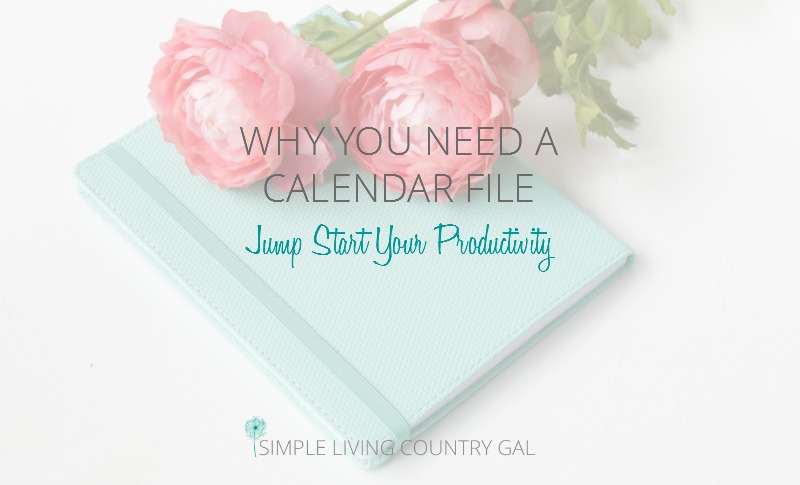 So, how do I combat this problem?
Simple, I have a calendar file[
What is a calendar file? Simply put a calendar file is a holding file for all the items that you need to remember at a future date. Writing things on your calendar is one thing, setting up reminders on your phone is another…..but having all items pertaining to those dates in one easy to find place, is a game-changer.
I have a file folder in my desk drawer labeled "Calendar". This is where I keep anything and everything that pertains to what is written in my planner. Sure you can write down important dates and appointments, but what do you do with the paperwork or notes that go along with those dates?
This file will hold all those papers in one easy to find spot and help to better organize your schedule.
Items in my file folder right now include doctor appointment cards, notes for my tax accountant, party invites, mulch prices along with contact information and summer camp registration dates.
I cannot tell you how this one simple tip has saved me time and time again. If you have not used a calendar file get ready to change your life with my silly simple tip!
How to use a calendar file organize your schedule
Step #1
Get yourself a file folder and put it in an easy to access location. I like to keep mine inside my desk, but a pretty basket in your kitchen will work just as well. The tip is to keep it easy. If it's easy to use….you will use it.
Step #2
Place all items along with any relevant information in the file for easy access. I put anything and everything in my calendar file. (I have even included notes of gift ideas for hard purchase family members.) This way you will always know where time-related items are and can easily get to them.
Step #3
When writing out your calendar for the month, refer to your file. I will page through every item whether it pertains to the current month or not. I find refreshing my memory of upcoming personal events helps to keep me on top of things.
Step #4
Find any items that pertain to the current month and write them on your calendar. Clip any information found in the file to the calendar so you have it handy when the date arrives and then add an * on that date to remind yourself.
If a date requires attention, I will include a note in the file as well. For example, if I have a dinner party invite, I will put a note on the invite to remind me of what dish I am to make, if there are any allergies to consider and also to bring a hostess gift.
Step #5
Remove any items that are no longer needed to keep things cleaned out.
And that is it! No more forgetting previously made appointments. No more missing signups for summer camp. No more missing your window for starting seeds in time for spring planting. No more forgetting to bring a gift to a party.
NO MORE!
This is so simple it's silly and that is why it works!