How To Make An Insanely Effective Grocery List
Okay kids, get ready for an entertaining, witty post full of funny tales and cliffhangers that will leave you laughing and fully entertained.
NOT
This is one of those boring detailed posts but one you just can't skim over.
Why?
Because I am going to teach you how to not only save loads of money but also loads of time.
I am going to teach you the art of making an insanely effective grocery list.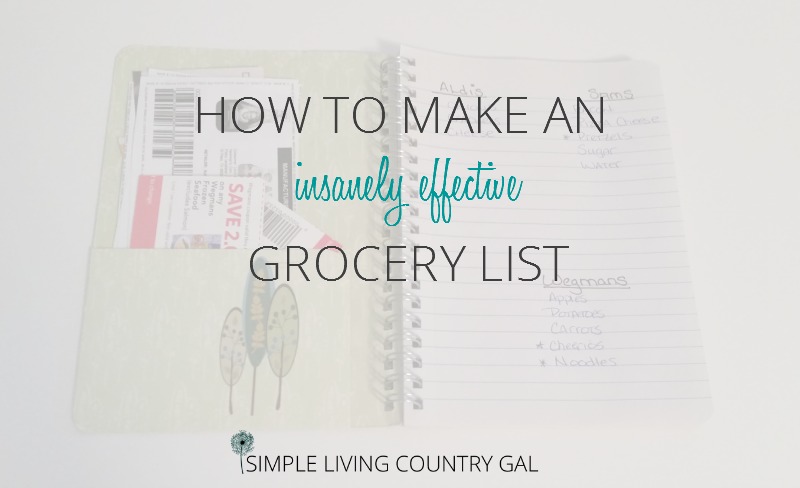 When most folks visit the store, they are there just to grab a few things. A gallon of milk, some bread and maybe a box of cereal for the kids. As they walk down the isles, items begin to magically make their way into their shopping cart.
They do a mental check of their pantry at home and put in a few boxes of pasta just in case they are out. Soup, salad dressing, cheese.
Oh, look, a sale on chips. Let's get a bag or two since we are here.
Before they know it, they have a full cart and are faced with a $115 bill. Out comes the credit card for this unplanned purchase and not another thought is made.
It's only food after all and we all need to eat, right?
The worst part is, once they are home they realize what they bought, they had plenty of. And even worse, they are still out of spaghetti sauce that they totally forgot all about.
To me, there is nothing worse than wasting time and money all in one shot.
Okay, let's fix this, shall we?
How To Make An Insanely Effective Grocery List
Start your list early
I keep an ongoing list on the front of my fridge at all times. Everyone in the family knows if it's not on the list it will not get bought.
Do not be tempted to skip this step. I don't care how good you are, there is no way to make an effective list in 5 minutes before you run out the door.
Remember the trick is to be thorough. Every little thing needs to be on the list.
Ninja Tip: Get into the habit of adding items before you run out. If you get into this habit you will never run out of something again.
Remember to include your spices, baking ingredients, mixes, and any paper products like foil and parchment paper. A thorough list is the key to this all working. Treat this list like it is an extension of your home and always visit it as a reminder that it is there.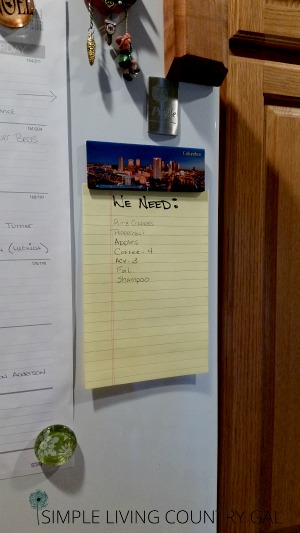 Go one step further and include a quantity
Another tip is to write how many you need. Our goal is to decrease how many trips we make to the store. If you want to save money…stay out of the stores.
Such a simple and super effective tip!!
So, if you drink a lot of coffee let's say, don't just write down "coffee" but instead write down "Coffee-2 bags". Be thorough so you remove the guesswork come grocery shopping day.
Break your list down by store.
If you are like me and do your shopping at more than one store, then break your list down by store to keep things efficient.
I use a small notebook to hold my final list. This book is perfect since it has pockets for any coupons I need. By listing items by the store I can get in and out quicker with fewer distractions that may cost me money.
Keep track of your "couponed" items
Another tip to an insanely effective shopping list is to use coupons wisely. I like to put an asterisk * next to items that I have a coupon for. One asterisk for each coupon so, let's say I have 3 coupons for an item I will simply put 3 asterisks.
I do this same tip for online coupons as well.
Remember, there is nothing worse than going to all the trouble to find those money saving items, the trick is to do whatever you can (old school or not) to remind yourself of them.
As I buy the items I move the coupons from one pocket of my folder to another. This way once I get to check out I can just grab those coupons and know that the correct items are in the cart making for a smoother (and quicker) checkout.
Make a menu
Now, I see you rolling your eyes, but this post is titled an Insanely Effective grocery list and if you want insanely effective, take a few minutes to make a menu.
Did I really just say a few minutes? I sure did. It takes me just 10 minutes to make a weekly menu and 20 for a monthly.
No excuses kids!
If you have never made a menu, read my post here on how. Once you have a menu you will know exactly what you need and how much, keeping you on track and on budget.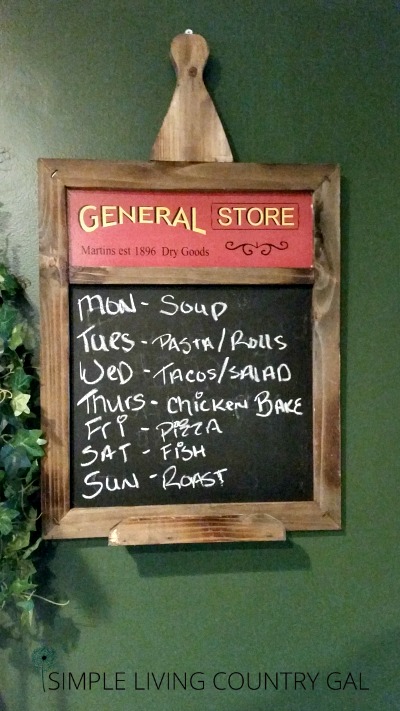 Organize your list
This is my game changer tip. Most of us are not new to shopping so we pretty much know what is where in the store. Make your list in the order (or at least close) to which isles they may be found in.
This will one tip alone will cut your shopping time and distractions in half.
If you are new to shopping most stores have the same layout. Produce is first, with meat, dairy along the outside. The interior houses your canned goods, cereal, baking, pasta, drinks, and snacks each in their own isles.
At the very least get like items listed together until you get the feel of things.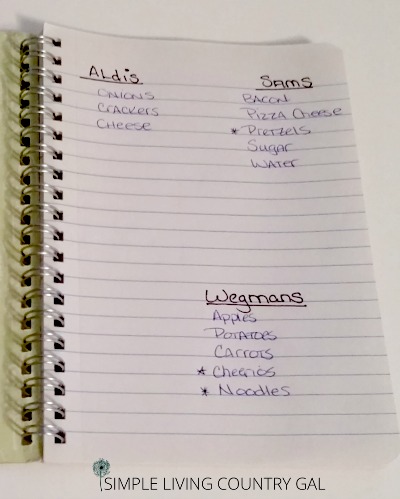 Order online
I just love this tip!
More stores now have the option to order online, pay, and even choose your pick up day.
Imagine shopping from your recliner and stopping at the store only to find your groceries all bagged up and ready to go.
Some stores will even load them for you.
If you don't have this option at your local grocery store you can find most groceries at Amazon.com.
Game changer!
Take cash and only cash
This one can be a bit tricky to get used to. My advice is to keep track as you go.
Most cell phones have a calculator which really helps. Simply type your final budgeted amount into your phone's calculator. Then as you shop just subtract out the amount as you go. this will help you to stay on budget.
Check it off as you go
I know another obvious point, but you would be surprised how NOT doing this tip can be a time waster.
Once it is crossed off the list it is done and you can move on more easily to the next item. You would be amazed at how things can get lost on a list when you are not crossing off as you go.
Ninja Tip: If you forget a pen ask to borrow one at the service desk. They are usually pretty helpful if you ask. A silly simple tip that can save more time than you think.
There you have it, my old school yet incredibly helpful tips on how to make an insanely effective grocery shopping list.
If you follow these tips you will not only cut your grocery time in half but never run out of items again.
I know some of you are electronic list makers and I applaud you for it. I, on the other hand, am old school. I need paper and pen in hand to be efficient.
The most important thing is to find what works for you and use it. If you make it complicated you will not do it, trust me on this. Keep it simple, keep it efficient and use all the time and money you save on bigger and better things.