If you struggle with clutter and long to have a more simplified home, then today I have the help you need. How to conquer Surface Clutter will get you back on track to creating a more simplified homestead.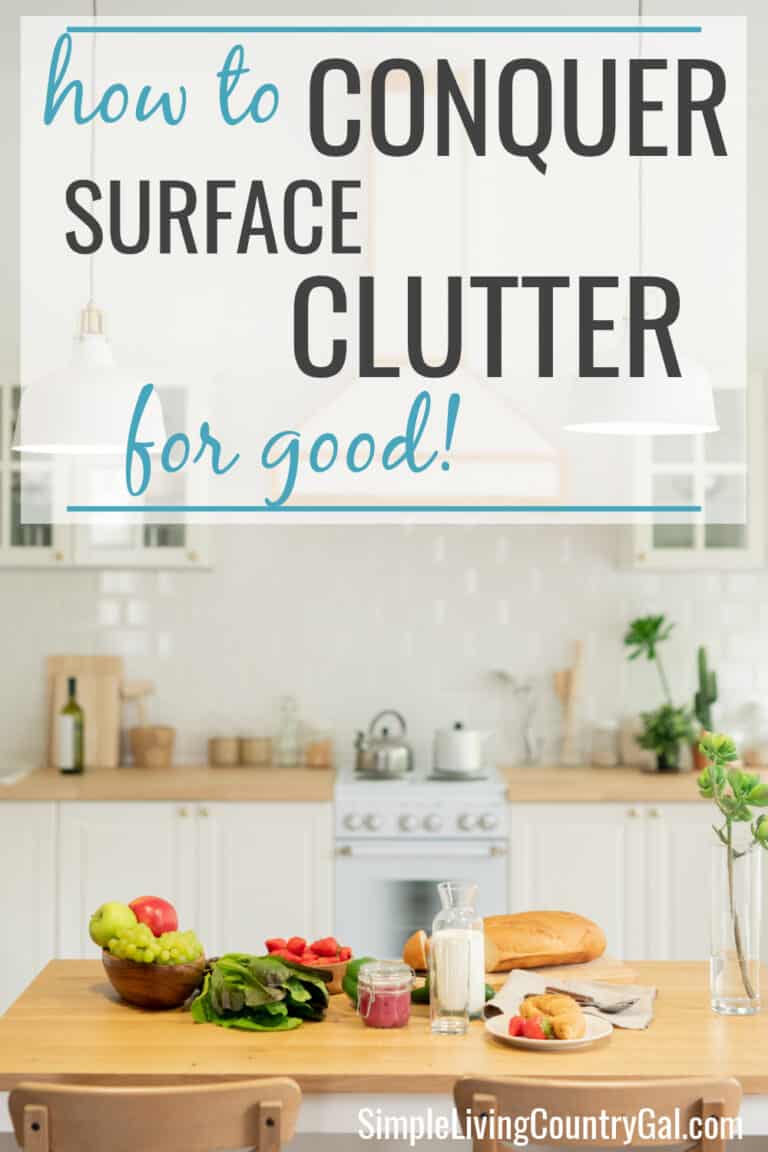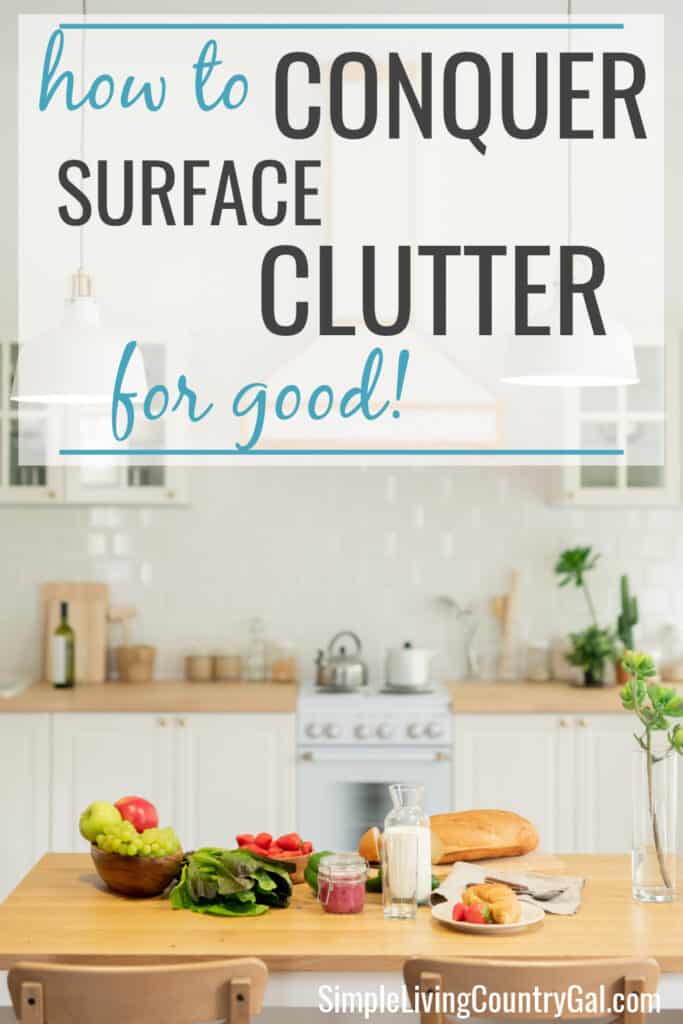 One of the biggest frustrations I hear from my fellow declutters is the neverending piles covering every surface of their homes. I get it, even I have to sleep with one eye open when it comes to this type of clutter.
Surface clutter is a force of its own. Empty counters are like a magnet calling for items to flock to its shiny surface. Sure you may start out neat and tidy and but before the week is through you have piles of randomness all over your tables and counters. If you are here to conquer surface clutter then read on good friends, I've got some tips for you!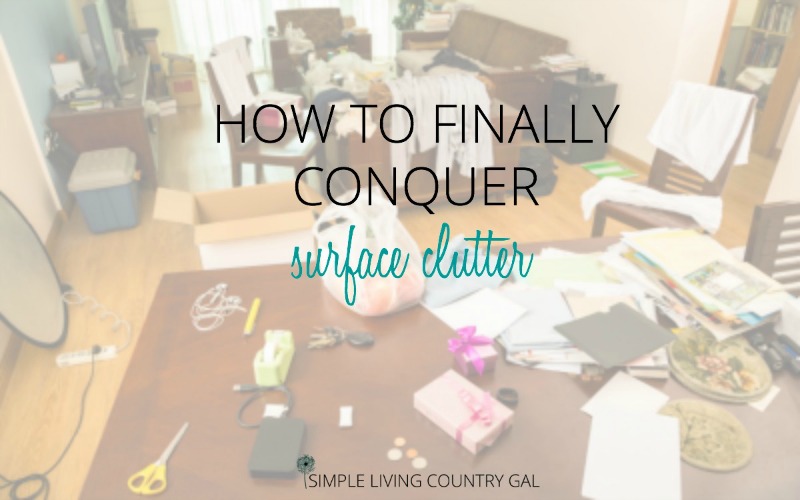 Unfortunately, there is no magic wand to stop surface clutter and that's the bad news. The good news is all in all getting rid of clutter is actually quite easy. And there is more than one plan of attack for you to pick from so you can finally get rid of the mess once and for all.
As homesteaders, we are always looking for ways to make things easier. To set up a home and life that is more simplified so we can get through our days with less fuss and stress and chaos. That is why removing the extra stuff we really do not need is so important. To balance out the room with have with the items we need is the key to decluttering and organizing each room in our homes.
How to conquer surface clutter
Tip #1 A place for everything and everything in its place.
I know, probably not what you wanted to hear but hear me out. If you have a home for your things and you make a goal of always putting them where they belong when you are done using them, the clutter will not end up on your counters. Our grandmothers were definitely onto something when they said "A place for everything and everything in its place." Have a home for your things so you know where they are when you need them and after you are through using them put them away.
Ta-da! No more surface clutter.
Tip #2 Put the piles in baskets to deal with later.
The problem with tip #1 is not all of our things actually have a home. So what then? That is where this amazingly simple basket tip swoops in to save the day. I have a basket in every room of my home. Into that basket goes any items that either need put away and I am just too lazy to do it right now (ha, full disclosure!) or items that simply do not have a home yet.
This is by far my favorite organizer. Baskets are super easy to use, simple to set up, and look great in any room.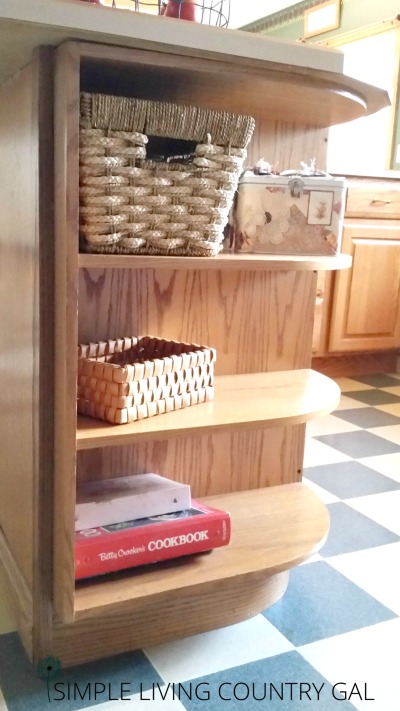 The most important part of this plan is to make sure you do not ignore these baskets. Set a day right now and make that "basket day". This will be the day that you go through any clutter baskets you have set throughout your home. For example, if you choose Friday as your basket day, that is the day you go through every basket and put away any items that have a definite home. The remaining items (those without a home) can be dealt with now by finding a home for them or dealt with later on your next basket day. As you get better at organizing you will find it easier to choose homes that make sense for each item.
Read: Use Catch-All Baskets to Reduce Clutter
Tip #3 Keep clutter, clutter.
Let's get real. Clutter should never include these four items. Clothing, dishes, toys, or trash. If you look around your home right now and you see any of these items, get up and take care of them. I promise you it should not take longer than a few minutes to gather up dirty clothes and toss them in the laundry room, dirty dishes and put them in the sink, toys into the kid's toy box, and trash in the trash can. From here on in those items should be put where they belong and nowhere else. Listen it's easier to do it along the way rather than spending the time to do it after it builds up.
Make this the next habit you instill and watch your future clutter issue slowly disappear. Because after all, you can clean it up and put it all away but if you don't change your habits you will be right back where you started.
SLCG Pro Tip: Laundry room too far away? Use these large baskets to corral clothes and keep your rooms neat and tidy!
Tip#4 The never-ending paper clutter.
This beast can be a bit tricky to tame. When you are constantly getting hit with more and more paper every single day how on earth are you supposed to keep up with it? Here is a new clutter-free habit to start using right away.
Never put papers on an open surface. You can either use tip #2 and toss it into a basket set aside just for daily mail or you can deal with things right away.
As soon as a single piece of paper comes into your home you have 3 decisions to make.
Toss it in the trash

Deal with it immediately

Put it in a pile to deal with later
When you have a paper you need to deal with but not at this moment, what do you do? You put it on the nearest table or counter, right? Sure you do, that is exactly what I used to do. The problem is before you know it that important paper gets shuffled or covered or lost completely by all the other things laying about. What if instead, you had a spot to put all of these papers that need your attention but not this very second?
Cue the Sunday basket.
This tip was given to me by one of my readers and it is by far my favorite decluttering tip EVER and will help you conquer surface clutter forever!
I have a basket in my office that is nice and big and bonus…has a lid! Oh, I just love hidden clutter! Haha! You can find my favorite basket here.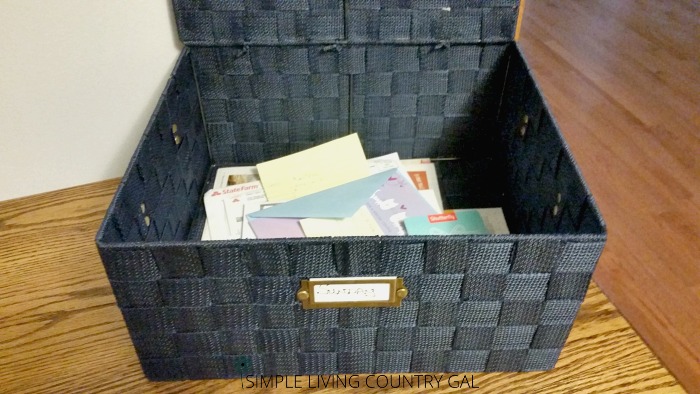 Each day as papers come into my home I will put papers that need my attention in that basket. Then on Sundays, I will spend some time on my comfy couch with my basket, pen, and stack of post-it notes. I will go through every single piece of paper and either take care of it now or make notes on a post-it and schedule that task on my planner for the upcoming week.
Since I have implemented the Sunday Basket I have removed 90% of my paper clutter and cleared off just about every surface in my home.
Try it, I promise….you will like it!!
Read: Dealing With Paper Clutter
So, let's do a quick recap on how to conquer surface clutter
#1. Have a home for your things and put them away as soon as you are done with them.
#2. Use baskets in each room to hold your clutter until later.
#3. Always take care of clothes, dishes, toys, and trash right away.
#4. Use a Sunday Basket to eliminate all paper clutter and never miss a bill payment again!
When you have a plan for clutter it really helps to see things in a different light. The things you use the most must have a home and so they are no longer lost in a pile and priority is given to what is important. Be aware of the tools you are using whether that be getting dressed, cooking dinner, or watching television. When you are conscious of the things you are using to do something you can then be more alert to where you are putting them when you are finished. The more you put things all the way away, the less you will have lying out and just like that your surface clutter will be a thing of the past.
Have a plan and stick to it so before you know it clutter is a thing of the past. Now you can use this game plan to conquer your own surface clutter for good.