Fun And Easy DIY Thanksgiving Place Settings
Thanksgiving might just be one of my favorite and most enjoyable holidays. Learn now to make some fun and easy thanksgiving place settings for your holiday table this year.
It is where all the stars align with my favorite things. Food, family, and football. I even love all the prep work that it takes to pull off hosting this large dinner. From the food to the decorations and yes even the DIY Thanksgiving place settings, I love all of it.
Psst, want to know the secret to a stress-free Thanksgiving? READ MORE HERE!
The way I feel about it, my family and friends are trusting me to hold this holiday and I truly want to make sure they have the very best time possible.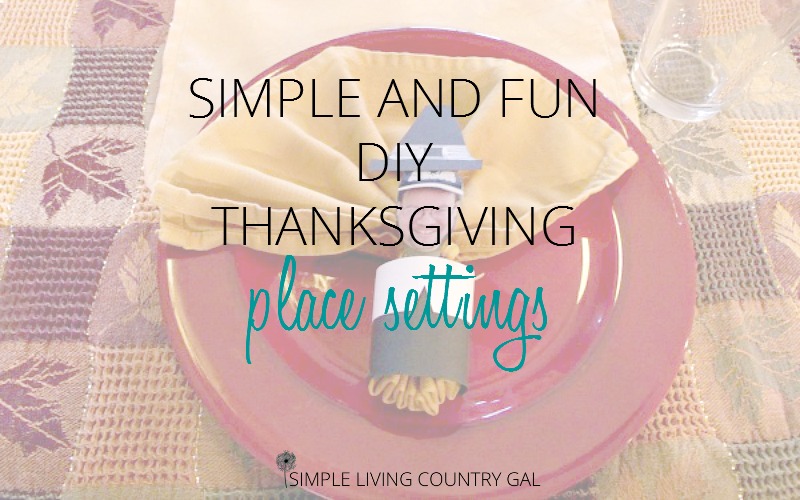 Hosting dinner is a chance to really get your creative juices flowing. From the menu to the centerpieces, it is a great and fun excuse to pull out all the stops.
One of my favorite parts of the table is the place settings and every year I try to come up with something new. Something fun. And it has gotten to be a part of the day that my family actually looks forward too.
I want my guests to enjoy the holiday, so I like to keep things casual, light and yes, maybe even a little silly. I find that this helps to set the tone for a fun and relaxing day.
If DIY scares you just a bit, don't let it.
These are beyond simple. So simple in fact that I can barely label them DIY. And the supply list is even easier. All you need is a little paper, some tape, scissors and maybe a glue stick or two.
DIY Thanksgiving Place Settings
What turkey is sitting here??
Several years ago I wanted to really change things up a bit. Make our dinner a bit more interactive for my guests. I came up with a way to get everyone a bit more involved with the dinner and decided to make place settings that required a little guesswork.
I took some fall-colored card stock and decorated the outside with leaf stamps and stickers. I folded the card so it would stand up on the plate grabbing my guest's attention.
Inside I glued 2-3 childhood pictures. If I had more I would put one or two on the back as well. Since quite a few of my guests were family, I had most of these photos on hand. The others simply took a quick phone call.
Most people were more than willing to dig up a few embarrassing pictures for me.
As people began looking at the place settings things got a little rowdy. My family began running from plate to plate laughing at the awful pictures I had dug up. All I can say is the 70's was not an attractive era for anyone.
At the request of my horrified family members, I was not given permission to use their place settings on here. Cowards.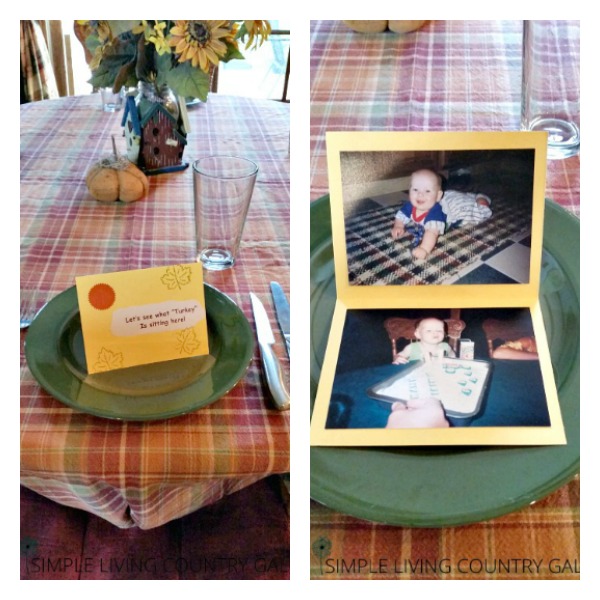 That was truly a fun year and I still have all of those cards today!
Pilgrim People
Keeping with the same "embarrass my guests at all costs" theme I create little pilgrim people.
I found this idea on Pinterest and it was super simple to make. I was able to create all 13 pilgrims in an hour, so that is a perfect time frame for these adorable settings.
You only need black and white card stock and again some old and awful pictures of your guests. This time you need just one photo but you will have to cut the picture so make sure you okay with that before you commit to this project.
Again my guests were laughing at the silly site of pilgrims on every plate. Another hit and costs very little to make. 🙂

Pretty Simple Paper Pumpkins
There are some years that silly just doesn't make its way to our table. These simple yet lovely paper pumpkins are a great way to get your guests to the right seat and show off some of your crafting skills in the process.
Don't panic, this is still a beginner-level craft you can easily do.
Cut strips of matching construction paper 3/4 of an inch wide by 11 inches long.
Gather the strips of paper into a stack and using a needle punch a hole through the paper. Be careful here!
Insert a brass fastener, also known as a brad, into the hole you made in step #2.
Using green paper creating a few curled ends that resemble the vine of the pumpkin.
Using yellow, brown, or orange paper cut out a leaf.
Take the other end of the paper strips and stack them up as you did in step #2. On top of the stack put the green vine and then the paper leaf. Using a needle punch in a hole.
Attach another fastener to hold it all together.
Fan out the strips until you have a round shape and press down gently so it will sit easier on the table.
Put the guest's name on the leaf and place one on each plate.
Super simple and adorable too!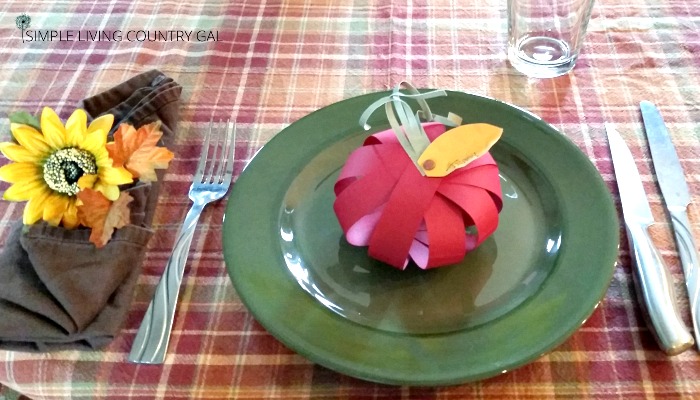 Simple Thanksgiving DIY Thank You Card
This last DIY place setting is just a simple card made of card stock. To be perfectly honest I was completely without an idea that year and this is what I came up with.
As a last-minute idea, guests were encouraged to write a few things they were thankful for. They were then asked to take the cards home and keep them as a reminder of all the good they have in their lives.
This surprisingly last-minute idea became a favorite DIY of Thanksgiving. So often we are busy with life and rarely remind ourselves daily of what we have to be truly thankful for.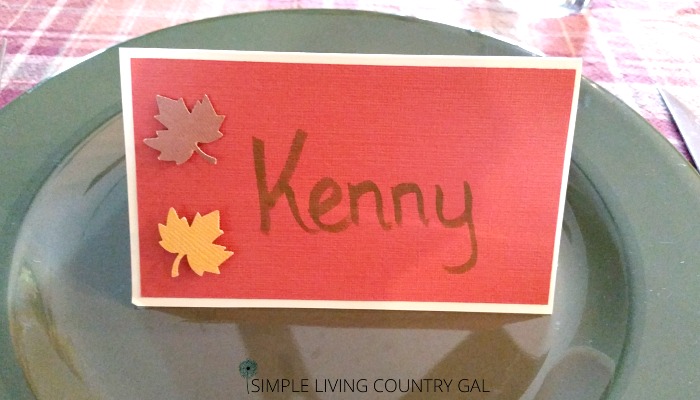 Remember you don't have to go all Martha Stewart to have an impressive Thanksgiving. Keep it simple, keep it fun and enjoy the day with family and friends.
What DIY Thanksgiving Place Settings have you use and loved? Share below in the comments, I would love to hear from you!