chicken coop cleaning schedule
When raising animals, they require a lot of care. From food and water to shelter upkeep and maintenance, and that can be pretty overwhelming. I am going to help you out with a chicken coop cleaning schedule for the entire year so you can turn the overwhelm into an efficient coop care routine.
My goal is to help make raising chickens easier so your entire flock is healthy and thriving year-round, and that all begins with a clean and safe home.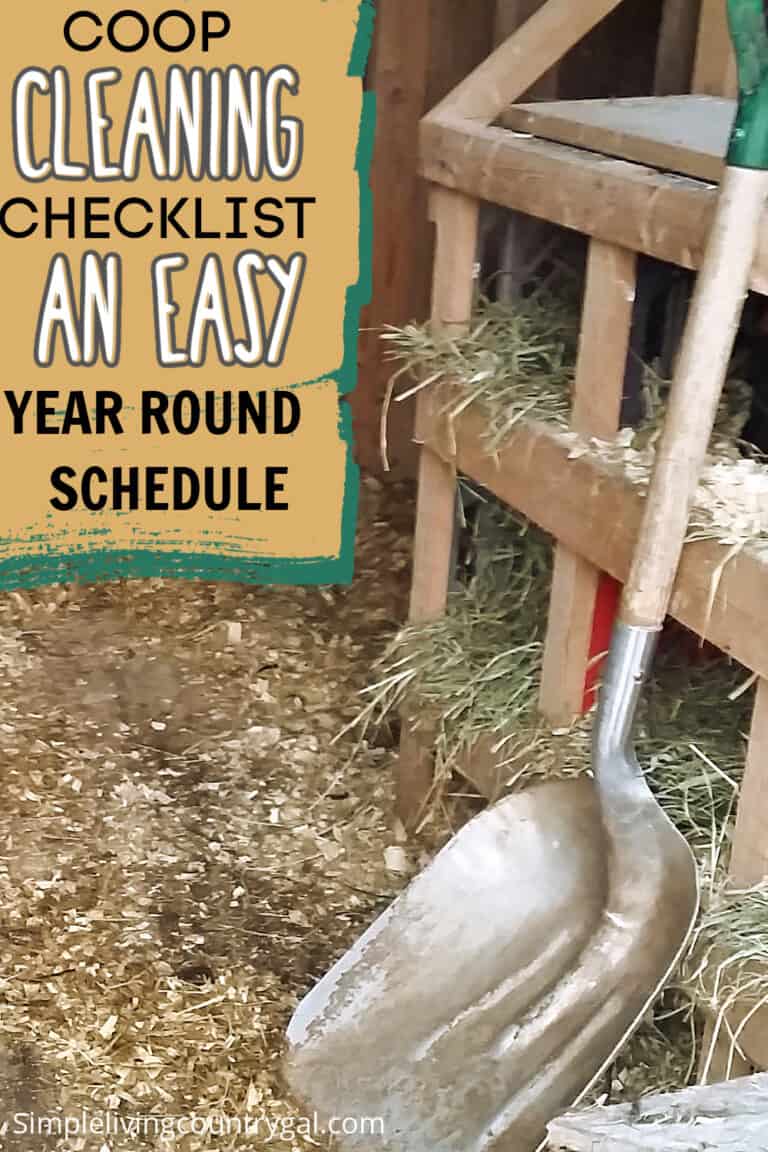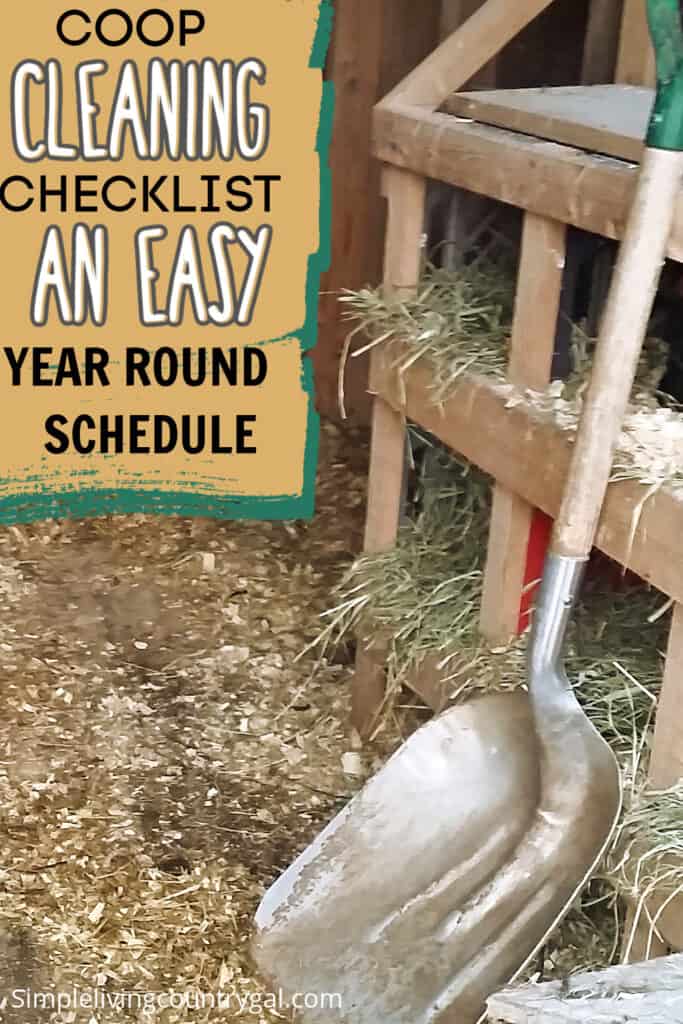 Raising chickens can be a rewarding experience, but it also comes with a list of chores that need daily, weekly, and monthly attention. To help simplify things a bit, I have put together a chicken coop cleaning schedule for the entire year. By following this schedule, you can turn what might seem overwhelming into a routine you can stick with.
What happens if you don't clean a chicken coop?
If you do not regularly clean and maintain your chicken coop, it can lead to serious health issues for your flock. A dirty coop can harbor bacteria, pests, and molds that can cause respiratory illnesses, infections, and other diseases in chickens. It also creates an unpleasant living environment for your chickens which can affect their overall well-being and egg production.
How often should you empty and clean out a chicken coop?
The frequency of cleaning your chicken coop will depend on the size of your flock, the type of bedding and roosting material used, and the weather conditions. Where we live, we do a full cleanout of our coop each spring and summer. This also allows us to check for any issues with the coop and make repairs to keep predators out.
Tools for Easier Coop Cleaning
MLTOOLS | Rake | Shovel | Sieve | 3-in-1 Garden Tool | R8279
Harris Farms Poly Shovel | Non-Corrosive & Chemical Resistant | Designed to Handle Heavy Loads | Comfortable D-Grip Handle
4 pcs Extendable and Washable Microfibre Feather Duster,13
QEP 5 Gallon Mixing Bucket – 90 mil HDPE
Bates- Paint Scraper, 10 in 1 Painters Tool, Paint Scrapers for Wood, Painters Tool, Painters Knife, Paint Scraper for Painting, Putty Knife, Metal Scraper, Spackle Tool, Putty Scraper, Knife Scraper
Chicken Coop Cleaning Schedule
There are things you will want to do with your coop daily, weekly, monthly, and seasonally. Let's break things down for each time frame to make it easier for you to see the routine in action.
Daily Coop Cleaning Tasks
Daily spot cleaning of your coop is essential to this overall schedule being efficient. We like to use scrape boards in heavily soiled areas to keep the coop cleaner. A scrape board is a small board that is placed under the roost to catch chicken droppings.
Take any scrape boards to your compost area and scrape them clean. Replace in the same area.
Remove any heavily soiled bedding and replace it with fresh material if needed.
Spot clean any droppings in nesting boxes.
Clean any soiled waterers or feeders.
Weekly Coop Cleaning Tasks
Once a week it is good to do a bit more upkeep in the coop, if it is winter and you are incorporating the deep litter method, only remove bedding that is overly soiled.
Clean and disinfect waterers and feeders.
Remove any heavily soiled bedding.
Add a layer of fresh bedding as needed.
Take a closer look at the nesting boxes, clean them out if necessary, and replace any soiled bedding.
Scrape the roost with a paint scraper.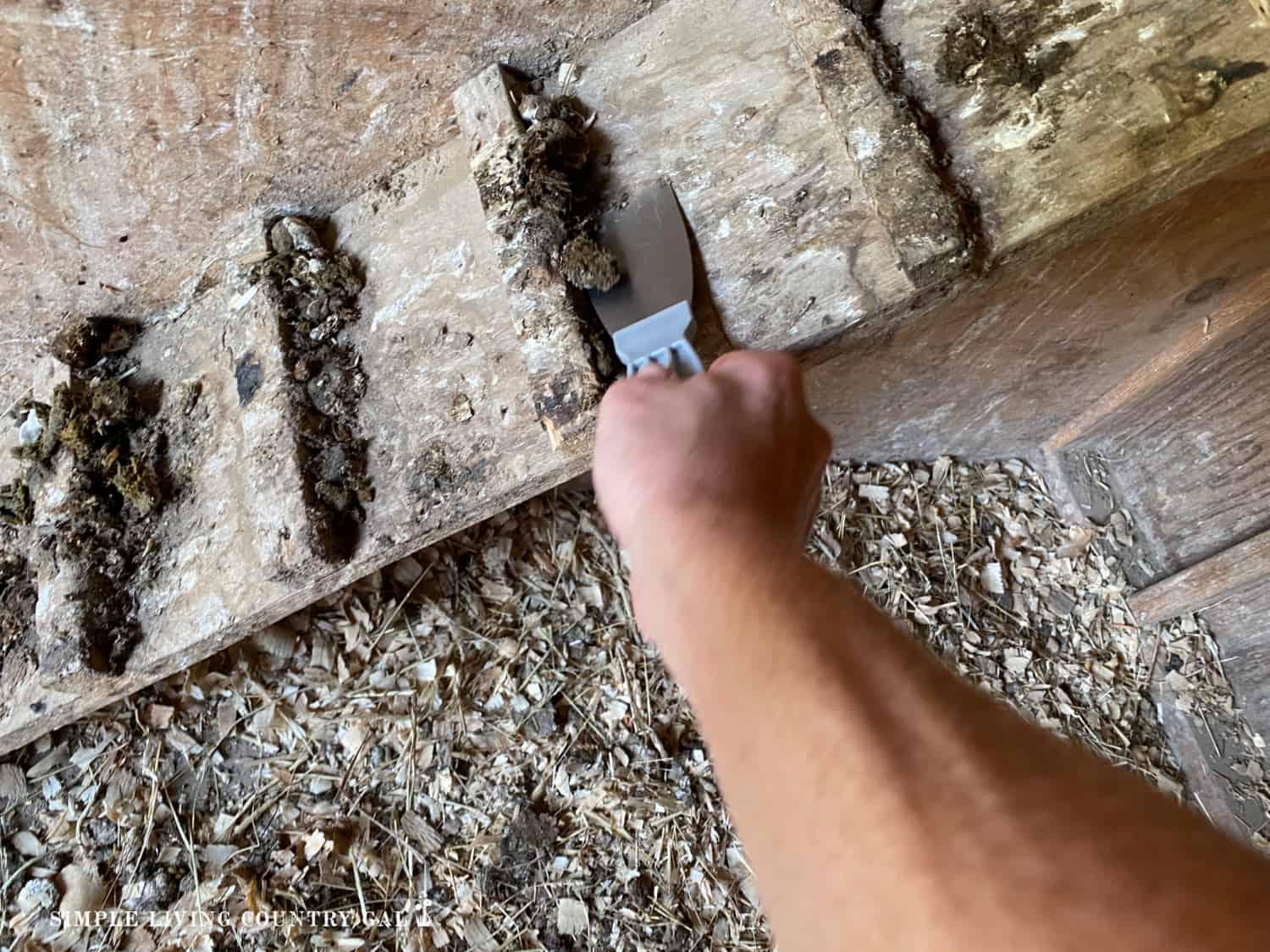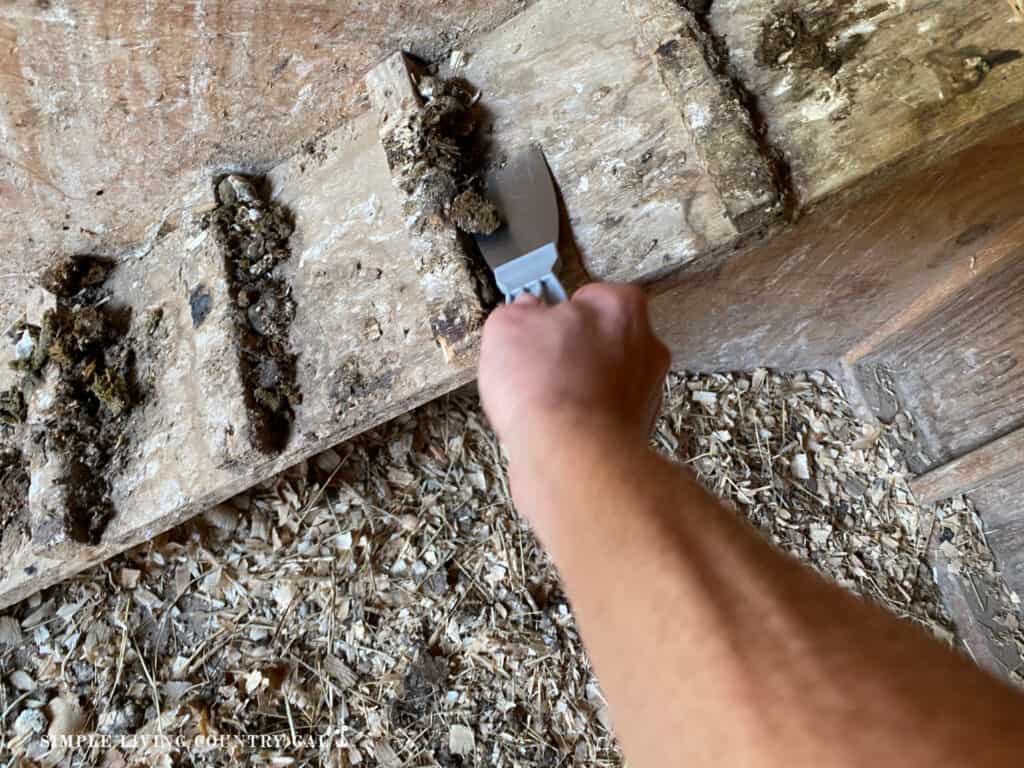 Monthly Coop Cleaning Tasks
Once a month we like to inspect the coop and look for any issues that may need our attention. We also walk the outside run doing the same thing. The quicker you can find and fix an issue the better your flock will be.
Deep clean the inside of your coop using a mild detergent and warm water. Rinse well and allow to fully dry before adding fresh bedding.
Check for any signs of pests and take necessary measures to eliminate them.
Inspect the coop for any repairs or maintenance that may be needed.
Clean any vents removing dust and cobwebs.
Seasonal Coop Cleaning Tasks
Twice a year, we like to do a full clean out of the coop. This ensures our flock is going into the harder seasons with a fresh clean living environment.
Empty out the coop of anything that is removable such as nesting boxes, feeders, and waterers.
Remove all bedding and thoroughly clean the walls and ceiling of the coop with a broom.
If you have access to water, hose the interior down from floor to ceiling.
Use a safe spray disinfectant, or you can DIY a coop cleaner.
Allow the coop to air out and dry completely before replacing it with fresh bedding.
Inspect the outside of the coop for any repairs or maintenance that may be needed.
Clean and disinfect any equipment used in the coop, such as feeders, waterers, and egg collection baskets.
Following a consistent cleaning schedule for your chicken coop, you can help keep your flock healthier and your chore list more reasonable. Regularly monitoring and maintaining their living space not only helps prevent illness but also ensures they have a clean and comfortable environment to live in.
More Coop Care Resources: