best chicken watering system
If you want healthy chickens, the most important thing is to ensure they are hydrated at all times. To help, this list of the best chicken watering system will guide you on the setup that will fit both your coop and your flock.
Raising chickens that are laying eggs consistently throughout the year centers on their health. If you want the healthiest flock, water is the key. Let's get your water set up where it needs to be.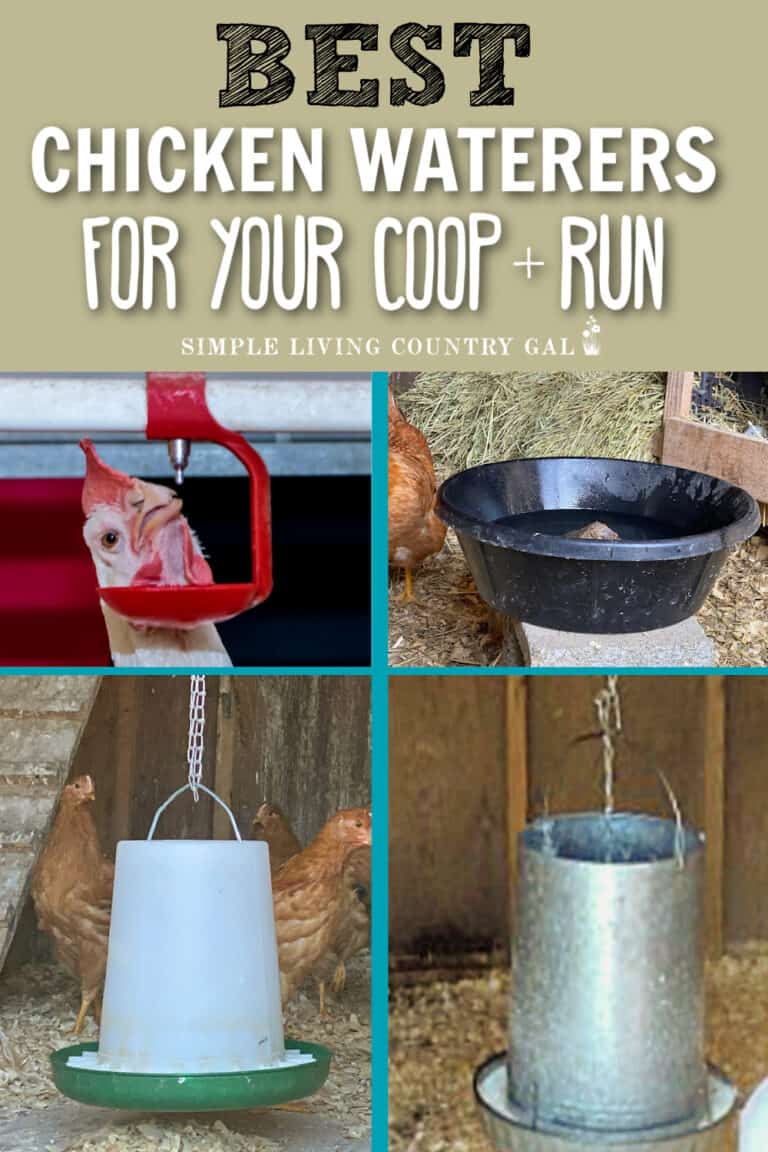 Water is essential to the health and well-being of backyard chickens. As a responsible chicken owner, ensuring that your flock has access to clean and fresh water at all times is crucial for their overall health. With so many chicken watering systems available on the market, choosing the best one for your coop and flock can be overwhelming. We'll guide you through the different options out there, along with the pros and cons of each.
Before we get into the specific types of the best chicken watering system, it is important to understand the basic needs of chickens when it comes to water. On average, healthy chickens will drink about 1-2 cups of water per day. During hot weather or when laying eggs, they may need up to 3 cups. Chickens also prefer their water to be clean and fresh, so it is essential to change the water frequently.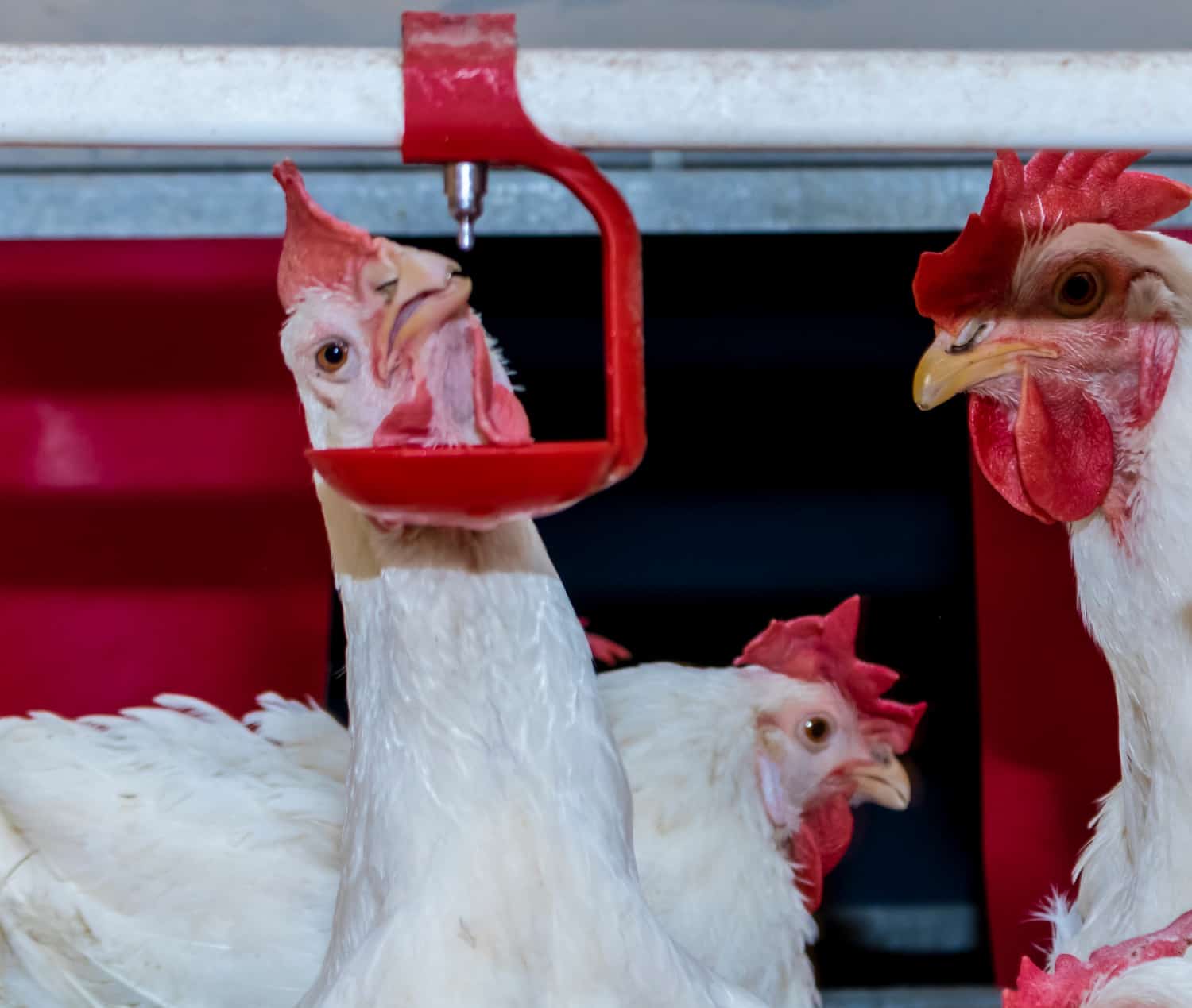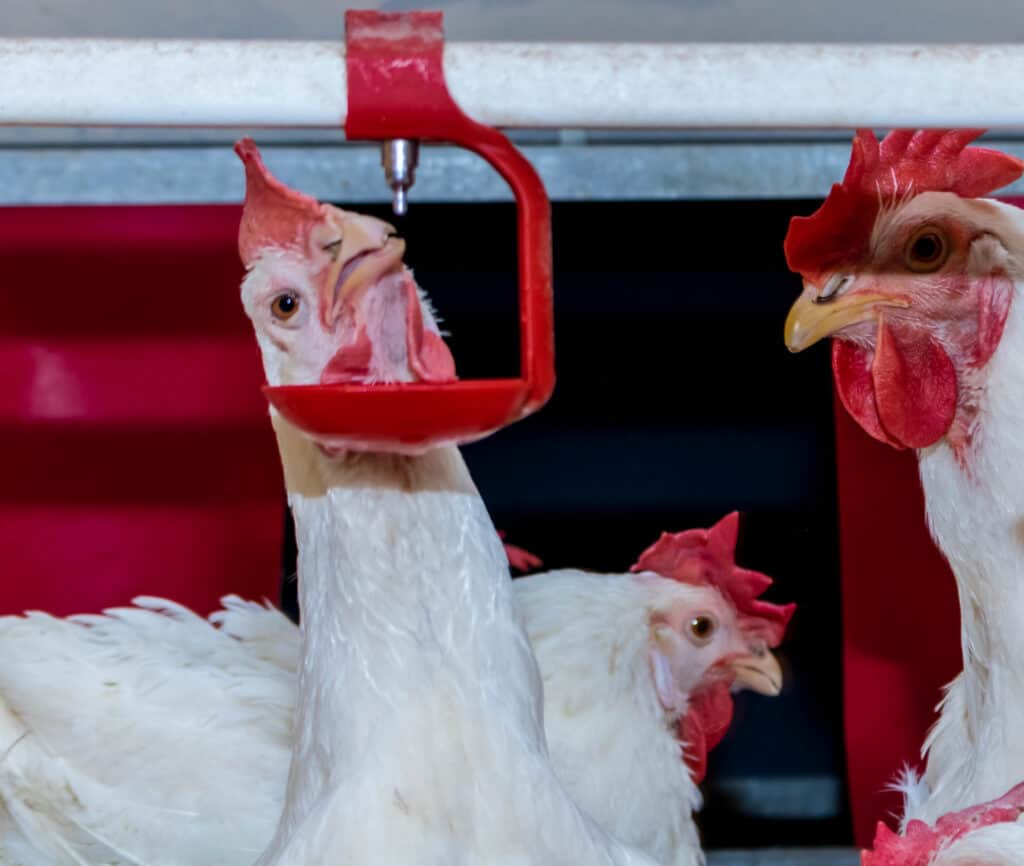 How many water sources should you have for your chickens?
As a general rule of thumb, it is recommended to have one watering system for every 6-8 chickens. This ensures that all chickens have access to water without overcrowding or competition. It is also advised to place multiple waterers in different areas of the coop as well as the outside run, especially if you have a larger flock. This will prevent dominant chickens from monopolizing the water source and ensure that all chickens have equal access.
SLCG Pro Tip: If you free-range your chickens, place a few water bowls out where they spend a lot of their time. We have found that chickens can get so involved in scratching they forget to return to the coop to drink. By having extra bowls outside of the coop, your chickens will stay hydrated throughout the day.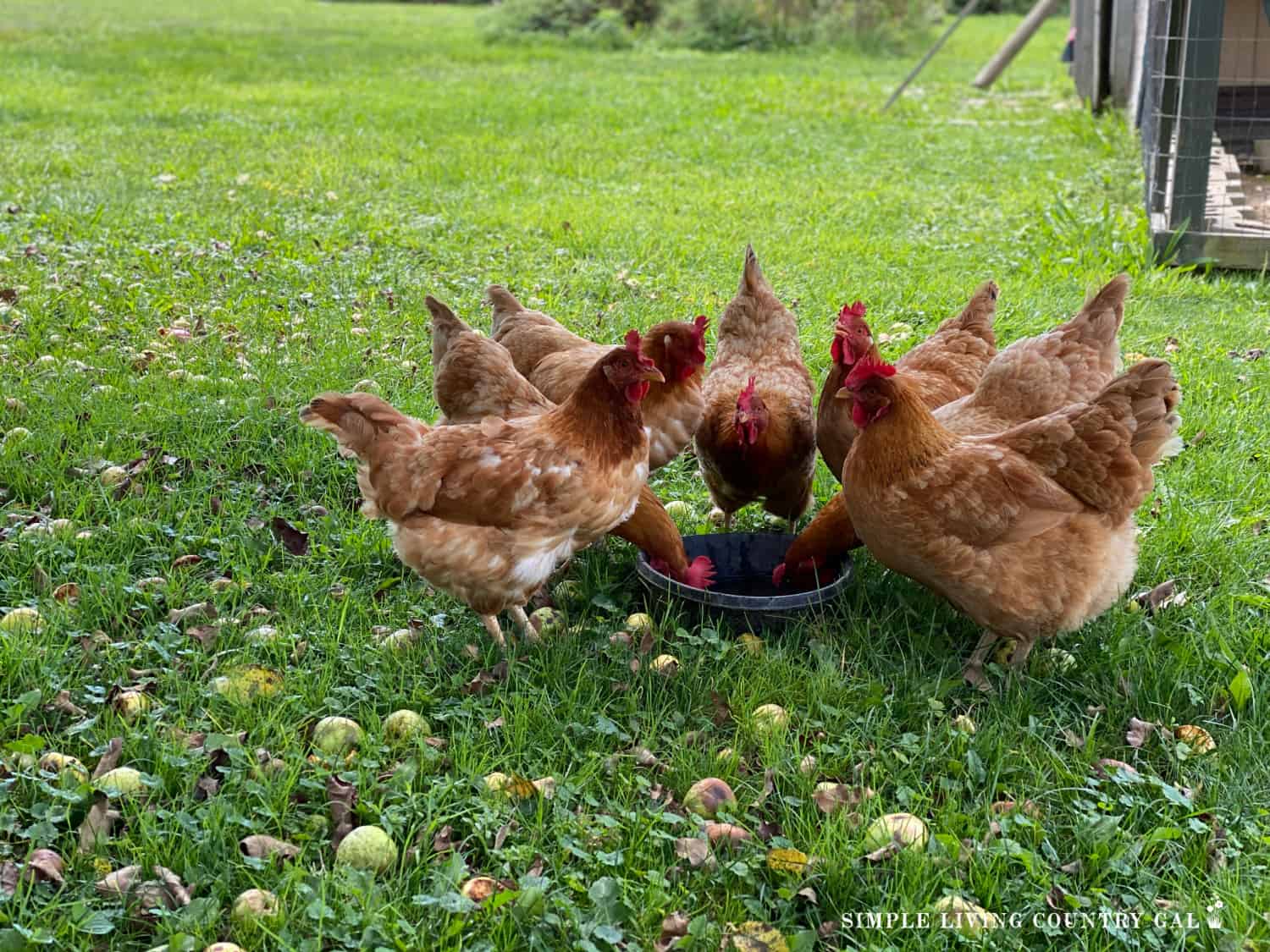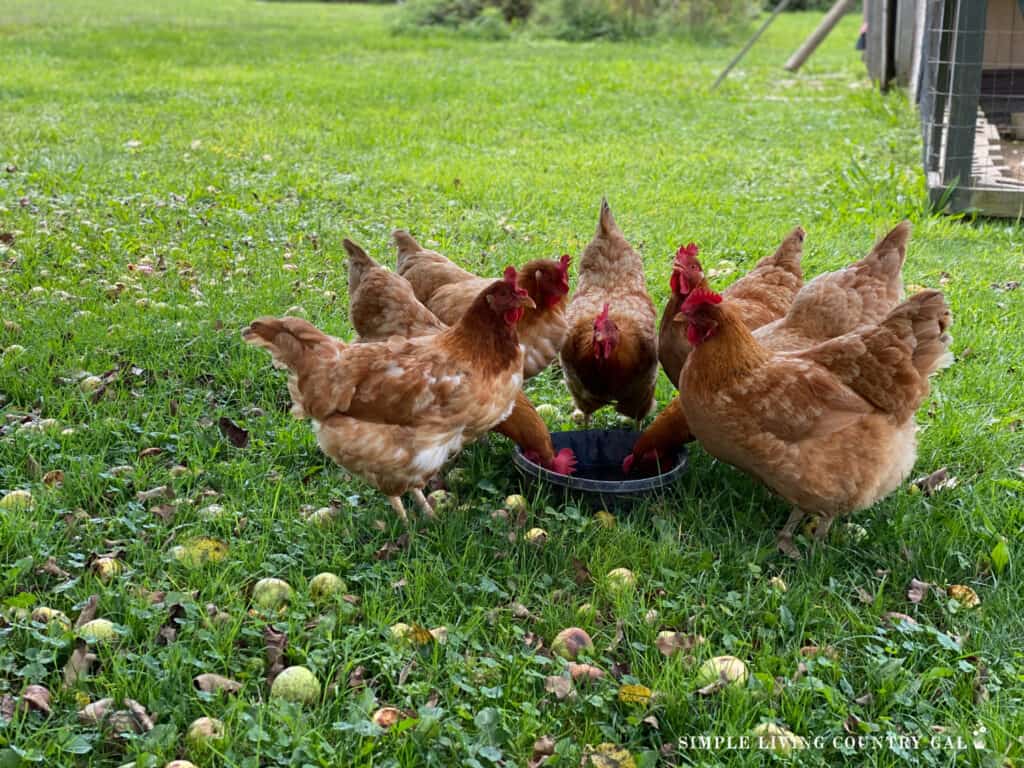 Types of Chicken Watering Systems
Many of the waterers listed below we have tried in our own coop. It is important to know that all of these waterers are a great option; however, the choice you make will depend on the size of your flock and where you live. Keep those thoughts in mind when deciding.
Traditional Waterers
These are the most common types of chicken watering systems and are typically made of plastic or galvanized metal. They come in various sizes, with the most common being 1-gallon and 5-gallon options.
Pros:
Easy to clean and maintain
Inexpensive
Can be placed both inside or outside the coop
Cons:
Need frequent refilling
Prone to freezing in cold weather
Can be easily tipped over
Manna Pro Hanging Chicken Waterer for Chicken Coop | Holds 2 Gallons of Water | Harris Farms Galvanized Steel Double Wall Poultry Drinker ,Silver
Harris Farms Hanging Poultry Drinker, 3.5 Gallon
Plastic Poultry Drinker (3 Gallon) – Little Giant – Heavy Duty Plastic Gravity Fed Water Container Jar (Red) (Item No. 7906)
Automatic Waterers
These systems are a more advanced option, as the water is automatically refilled as chickens drink. They typically consist of a reservoir and a bowl or nipple system for the chickens to drink from.
Pros:
Reduces the need for frequent refilling
Keeps water clean and fresh
Can be connected to a hose for automatic refilling
Cons:
More expensive upfront cost
May require some setup and maintenance
(5 Pack) Lil Clucker Large Automatic Chicken Waterer Cups | Chicken Water Feeder Suitable for Chicks, Duck, Goose, Turkey and Bunny | Poultry Water Feeder Kit (Orange)
304 Stainless Steel Automatic Livestock Waterer with Float Valve and 39 inch Water Hose(one end 3/4"), Automatic Animal Water Bowl for Dogs,Horse,Calf,Chicken,Goat, Livestock Horse Waterer Dispenser
GIFANK Automatic Chicken Waterer Float Controlled, 3 Gallons Poultry Waterer Dispenser with Hose Attachment, Poultry Automatic Drinking Accessories for Chicks, Duck, Goose, Turkey
Nipple Waterers
Nipple waterers are becoming increasingly popular among chicken owners. They consist of a nipple attached to a water source, allowing chickens to drink by pecking at the nipple. This type of system requires a higher upfront cost but can save water and prevent contamination.
Pros:
Saves water
Keeps water clean and fresh
Can be connected to multiple watering systems
Cons:
May require some setup and maintenance
Chickens may take some time to adjust to using the nipple
ZenxyHoC Chick Waterer 1L with 1 Horizontal Chicken Nipple Drinker Red (Pack of 1)
RentACoop 2 Gallon Chicken Waterer – Horizontal Nipple Setup (Corner Placement)
RentACoop DIY Waterer Kit – Horizontal Side Chicken Nipples with Dribble Dishes + Installation Piece (6 Pack)
Rubber Bowls
Rubber bowls are an easy way to supply water for your chickens. They are durable, easy to fill and clean, and easy for your chickens to use. They are inexpensive and very durable but do get dirty more easily than other options. Rubber bowls are our top pic for the best chicken watering system, because they stand up the best in our cold winters.
Pros:
Very inexpensive
Easy to fill
Stands up well to cold winters
Cons
Can get dirty and dusty more easily
Can tip over, causing a wet coop – Tip! Add a large rock to keep the bowl from tipping.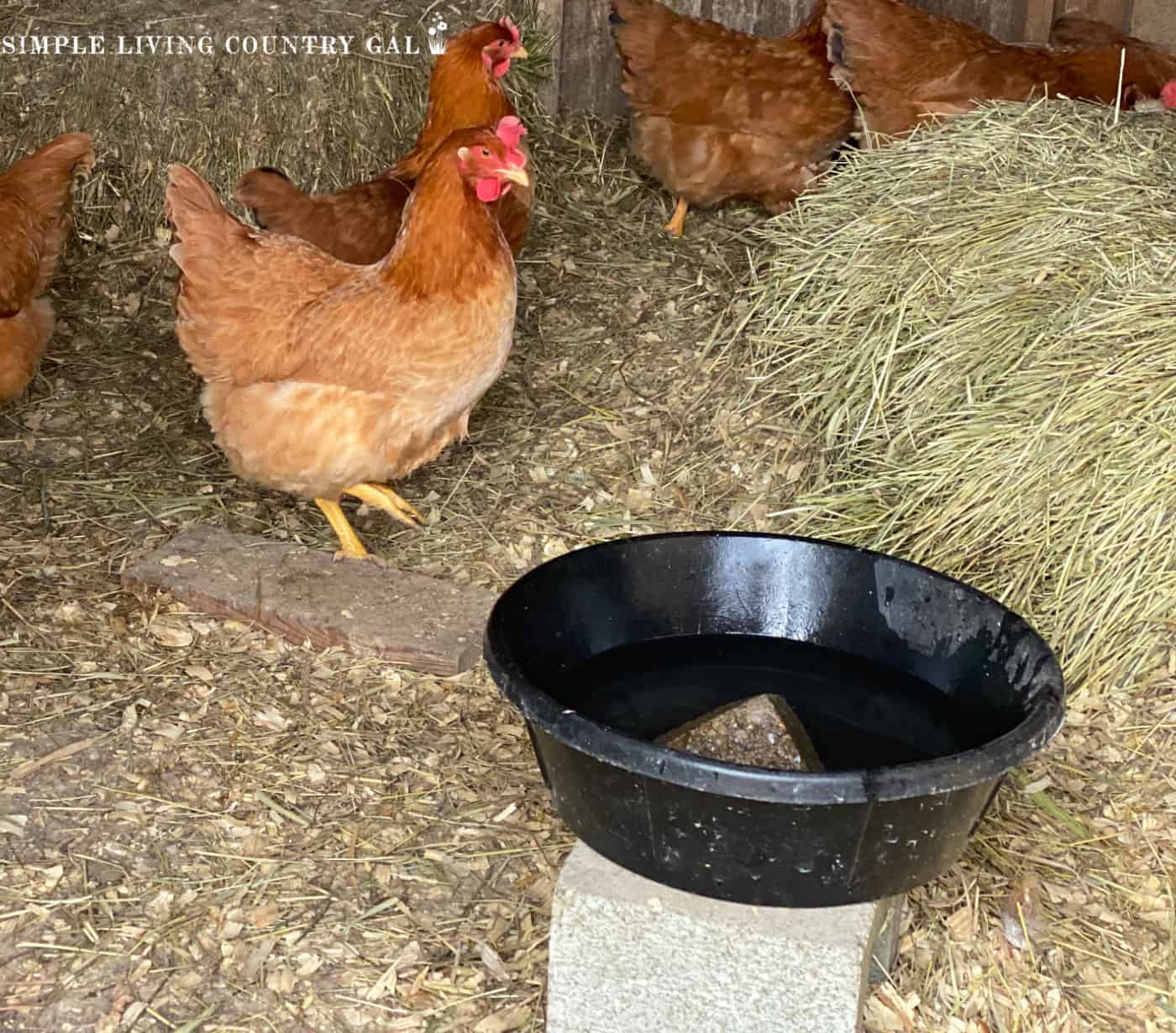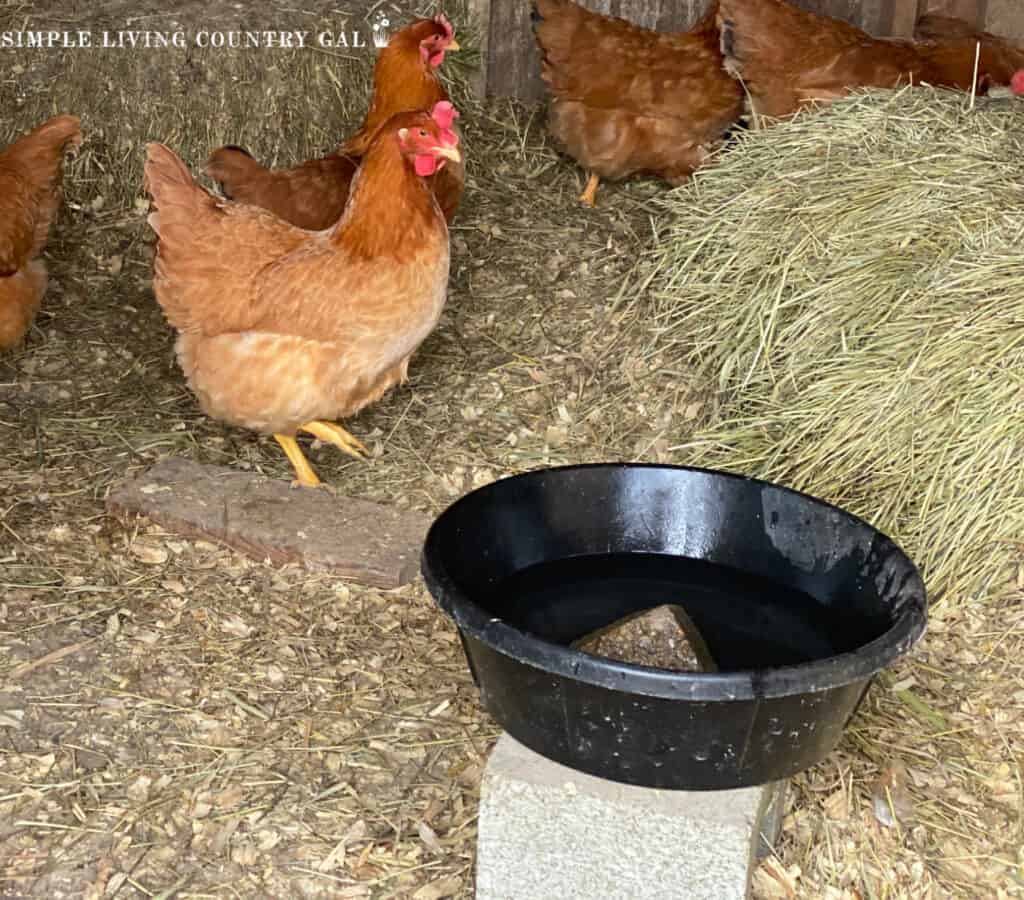 What are the best waterers for winter?
During the cold winter months, it is crucial to have a reliable waterer that won't freeze over. Here are some options that can work well in colder climates:
Heated traditional waterers: These can prevent water from freezing and are usually more affordable than other heated options.
Heated automatic waterers: These systems use electricity to keep the water at a consistent temperature, preventing freezing.
Insulated waterers: These can help keep the water from freezing in cold temperatures but may not be as effective as heated options.
Heated buckets: Some chicken owners use heated buckets to provide water for their flocks during winter. However, these may not be suitable for all types of chickens and require constant monitoring.
Rubber bowls: These stand up the best to cold winters because you can bend them and more easily remove any frozen water inside.
It is crucial to regularly check and refill waterers during winter to ensure that chickens have access to clean, unfrozen water. It may also be necessary to add electrolytes or other additives to the water during this time to keep chickens hydrated and healthy. So, it is essential to choose a waterer that can withstand cold temperatures and provide consistent access to fresh water for your flock.
How can you encourage chickens to drink more water?
If you want your chickens to drink more water, be sure to clean and maintain each waterer regularly. Not only will chickens ignore dirty or stagnant water, but it can lead to health issues for your flock if they do drink it, especially in colder temperatures when they may already be more susceptible to illness. It is recommended to clean and refill waterers at least once a day, more frequently if necessary.
There are a few other ways to encourage chickens to drink more throughout the year by adding items to the water bowl that your chickens enjoy.
In the summer:
Ice
Frozen produce
Leafy greens
In the winter:
Add warm water
Make a mash
Leafy greens
Apple cider vinegar
Adding these items will not only help keep your chickens hydrated but also provide additional nutrients and electrolytes to their diet. It is important to note that adding too much apple cider vinegar can be harmful, so it is best to consult with a veterinarian or do thorough research before using it as a water additive.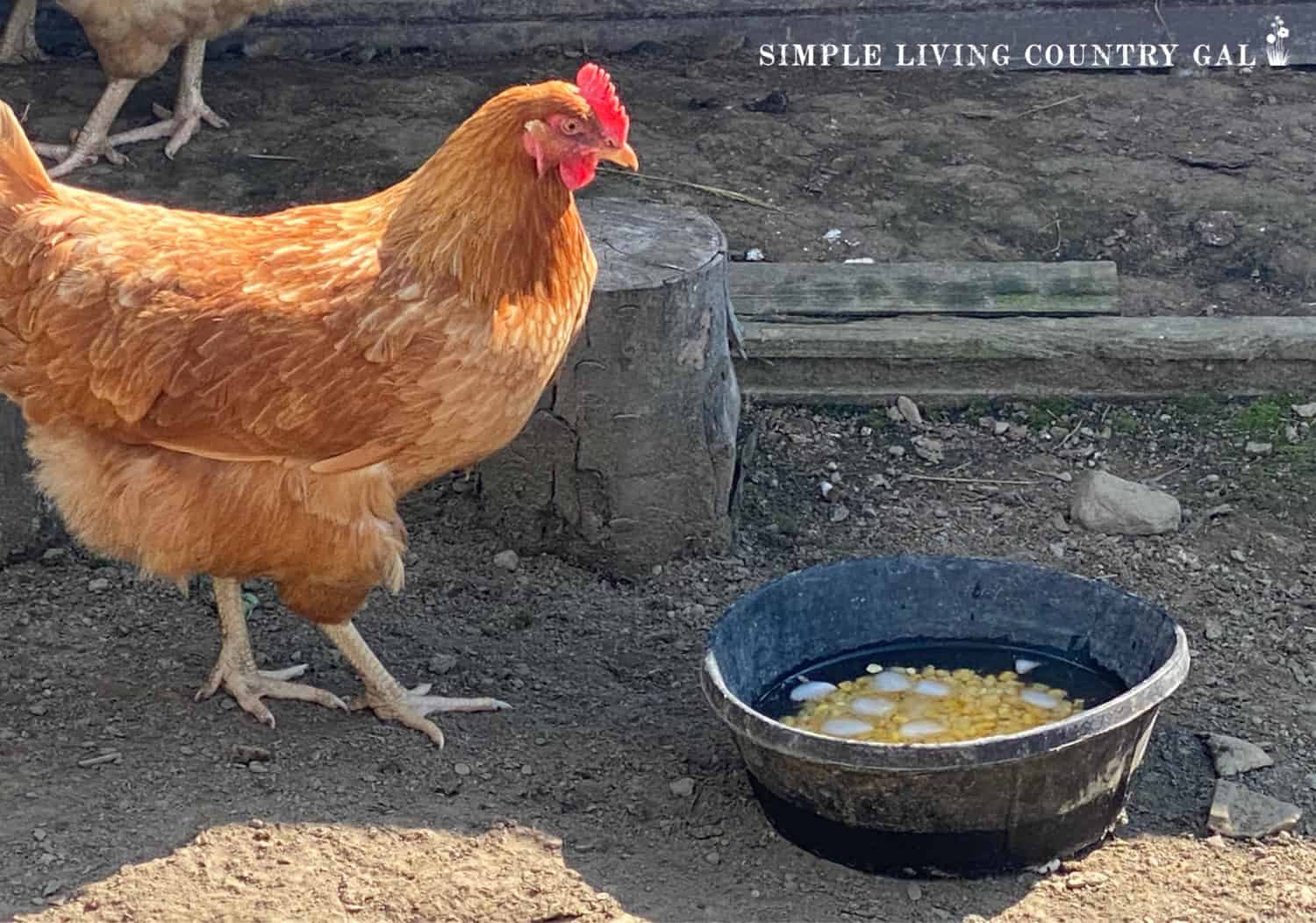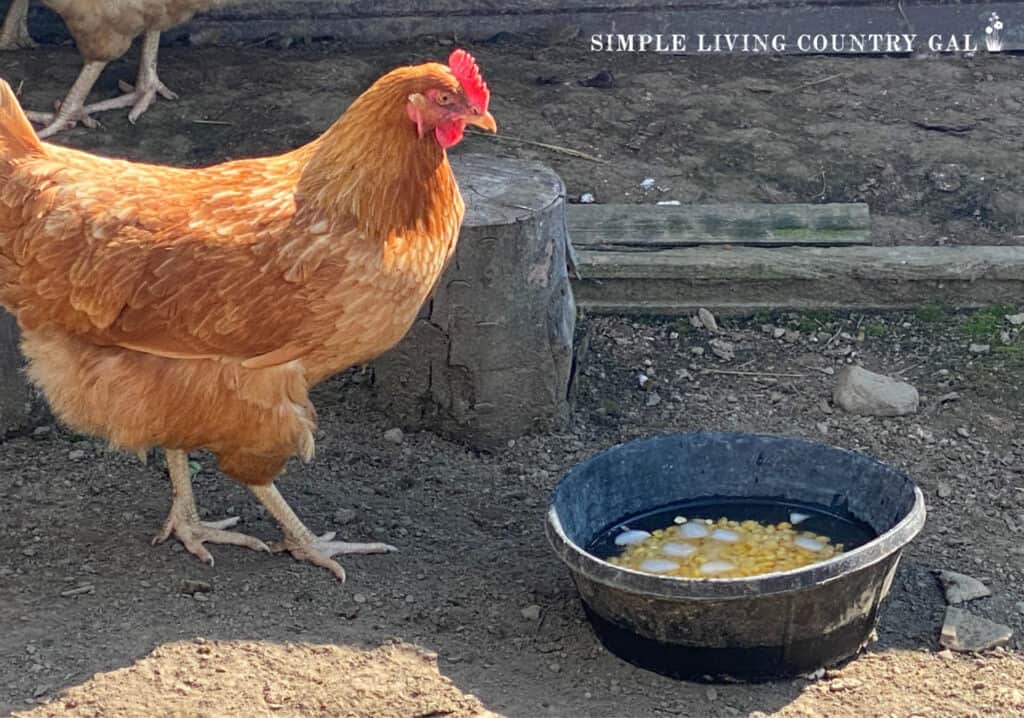 How can you tell if a chicken is dehydrated?
It is essential to regularly monitor the health of your chickens and be aware of any signs of dehydration. Some common symptoms include:
Lack of energy
Sunken eyes
Dry or pale combs and wattles
Decreased egg production.
If you notice any of these signs, it is important to provide your chickens with fresh water and monitor their drinking habits. If symptoms persist, consult a veterinarian, as dehydration can quickly become severe if left untreated.
SLCG Pro Tip: A simple test to check for dehydration is to gently pull up on the skin on the back of a chicken's neck – if it doesn't immediately spring back into place, the chicken may be dehydrated. Use the tips above to encourage them to drink more fluids.
Providing clean and sufficient water is essential for the health and well-being of your chickens all year round, but even more so during winter. By choosing the right type of chicken waterer, regularly cleaning and maintaining it, as well as providing multiple water sources, you can ensure that your flock has access to fresh water at all times. Refer to this list of best chicken watering system when adding another source to your coop.
More Chicken Care: